Disclosure: This post has been sponsored by Angie's BOOMCHICKAPOP. All ideas and opinions expressed are sincere and my own.
Cinco de Mayo is fast approaching and it seems to have become everyone's favorite excuse to get together, celebrate spring, eat tacos, and drink margaritas. I'll pretty much take any opportunity to eat tacos and drink margs so, yes please. No one wants to be a short order cook at their own party though, so I've come up with some do-ahead ideas and shortcuts to keep all the same festivity and feel without any of the stress. Read on for my margaritas by the pitcher, easy chicken tacos, and appetizer and dessert shortcuts from Angie's BOOMCHICKAPOP.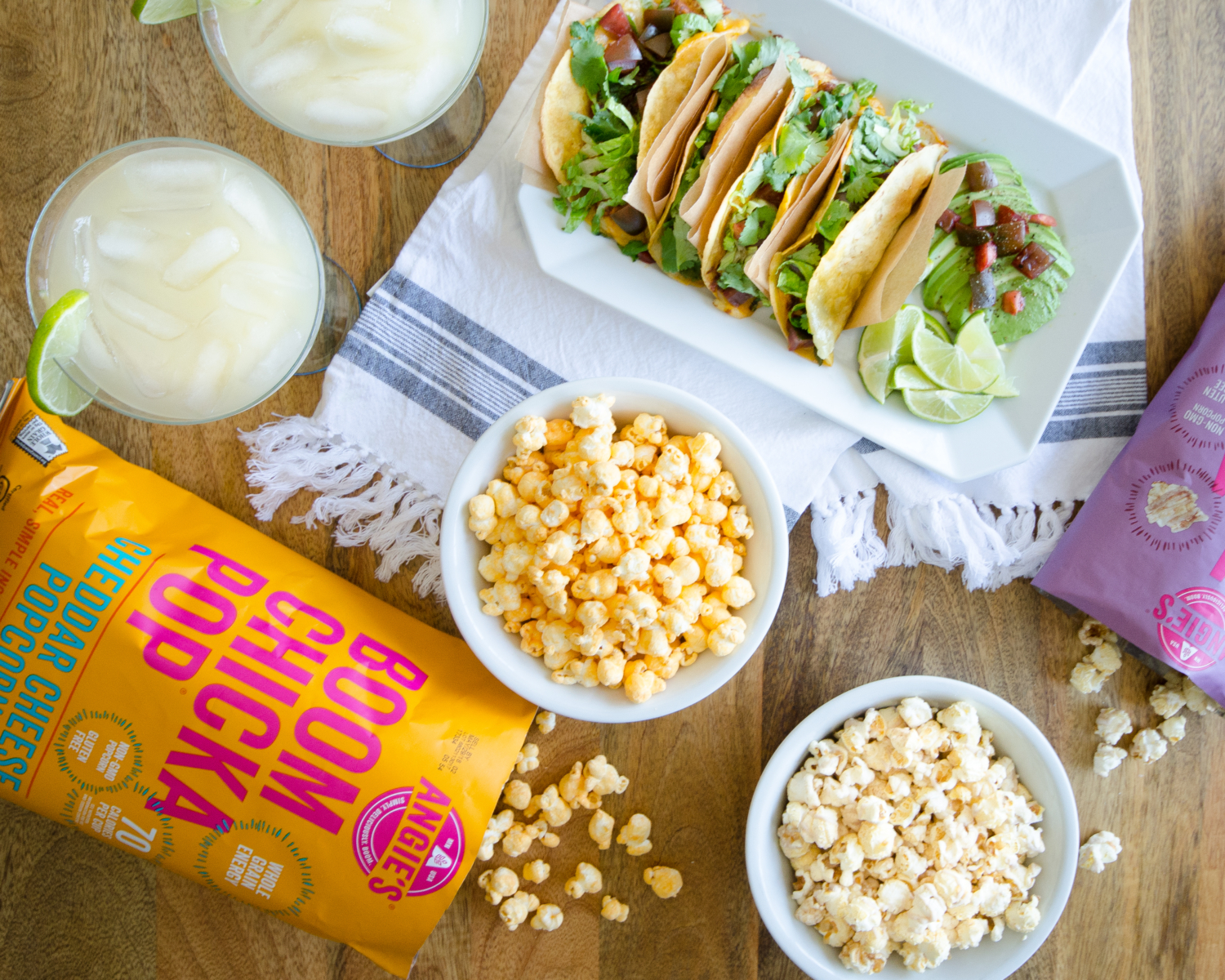 Easy Cinco de Mayo Party
Margaritas
Can you even have a Cinco de Mayo party without margaritas?? I mean, I know you can, but why would you want to?! Years ago I took my favorite by-the-glass, fresh margarita recipe and turned it into a pitcher recipe. Meaning, instead of standing at your counter feverishly squeezing limes and lemons while your guests wait for their drinks, you make a pitcher or two ahead of time and then just pour away. Click HERE for my fresh margaritas recipe.
Appetizers
Are you ready for the easiest Cinco de Mayo appetizer ever? Angie's BOOMCHICKAPOP Cheddar Cheese Popcorn, sprinkled with just a little chili powder. I swear, everybody seems to love popcorn, and yet it's not something you see at parties all that much. The Cheddar Cheese Popcorn flavor is perfectly cheesy without being overwhelming or overly coated in cheese and that sprinkle of chili powder gives it just the right dash of Mexican flavor. So even though it will take you all of three minutes to prepare this appetizer, I guarantee you it'll be one of those things people will totally love. If you want to get fancy, try putting the popcorn in paper cones. You can use a stand like this to hold everything up. And if you don't want to get fancy…bowls work just fine too :) I've been buying Angie's BOOMCHICKAPOP popcorns for years – I've always appreciated that they are made with real, simple ingredients and that it offers a better for you out-of-the-bag snack option for my family. And now putting an easy Cinco de Mayo party spin on it? Even better.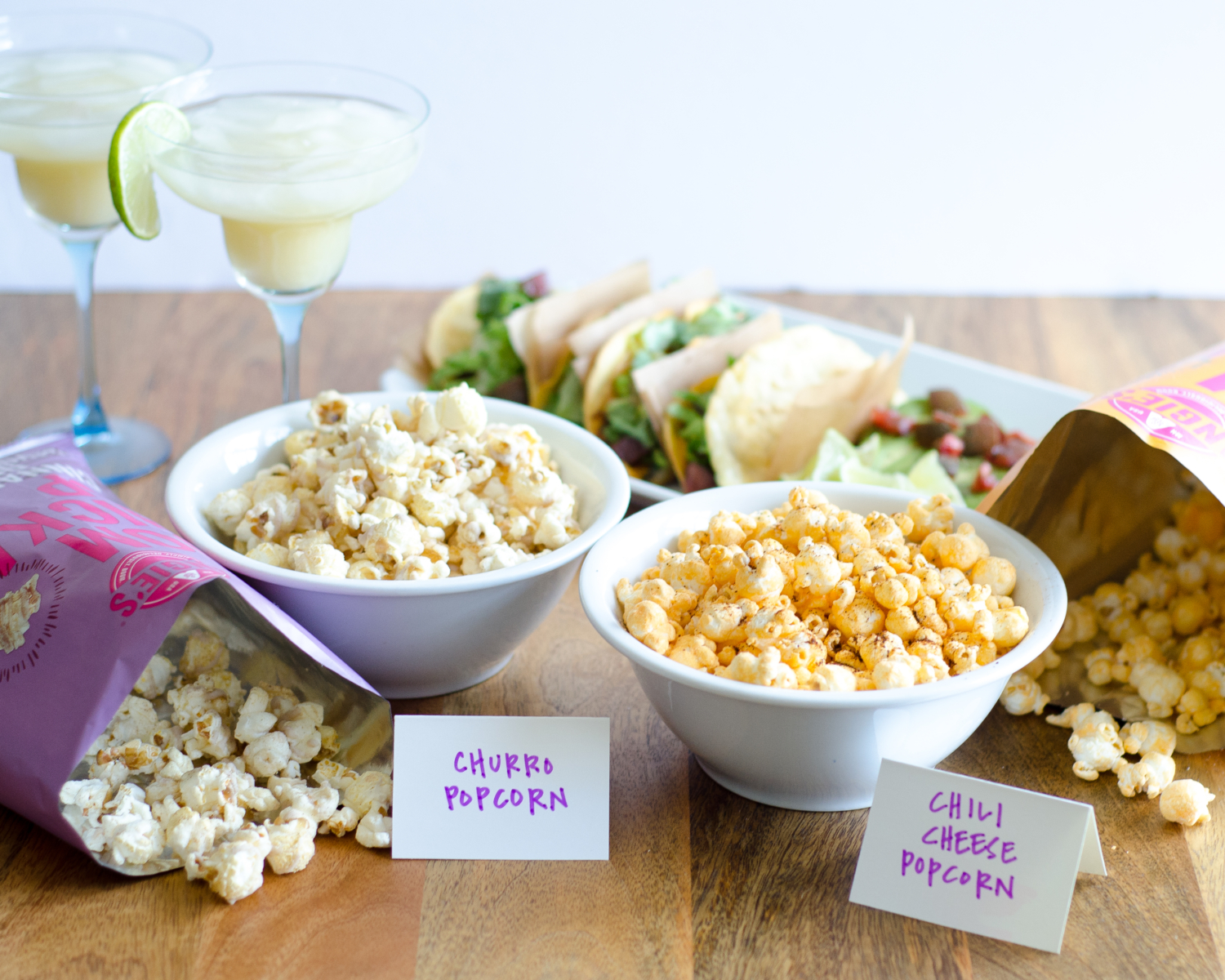 Chicken Tacos
I have made a lot of tacos over the years. They're one of my (and family's) favorite things to eat. I recently tweaked my taco preparation a bit and I'm never going back to the old way. Here's how to make foolproof and totally delicious chicken tacos.
Preheat the oven to 450º.
Finely chop an onion and sauté in a tablespoon of olive oil over medium heat. Meanwhile, slice boneless skinless chicken breasts into bite-sized pieces. When the onion is starting to brown, add the chicken to the pan. Sprinkle with chili powder, smoked paprika, cumin, oregano, onion powder, and chipotle chili powder (if you like a little heat). I don't measure the spices, just do a light coat of each over the surface of the chicken and then stir to coat. Sprinkle some salt on there too. Let the chicken sauté, stirring it occasionally, until it's cooked through. Remove from the heat.
Meanwhile, chop tomatoes, lettuce, avocado, and cilantro.
When you're ready to assemble your tacos, lay corn (or corn and wheat blended) tortillas on a parchment-lined baking sheet. Top each with a generous handful of shredded cheese and place in the oven for 5-7 minutes until the cheese has melted and the edges of the tortillas have started to brown.
Remove the tortillas from the oven and immediately fill them with the cooked chicken, tomatoes, lettuce, avocado, and cilantro.
One of the main reasons I LOVE making tacos this way is when you fold the warm, cheesy tortillas up around the filling and let them sit that way for a minute they hold their shape. And there's just something about that 5 minutes in the oven that makes them extra delicious, all melty and crispy and wonderful. Plus, prepping them this way means that they're mostly make-ahead, which is always best for parties! You can get everything ready, including your tortillas on baking sheets topped with cheese, before your Cinco de Mayo party, and then just pop them in the oven and do the assembly at the last minute.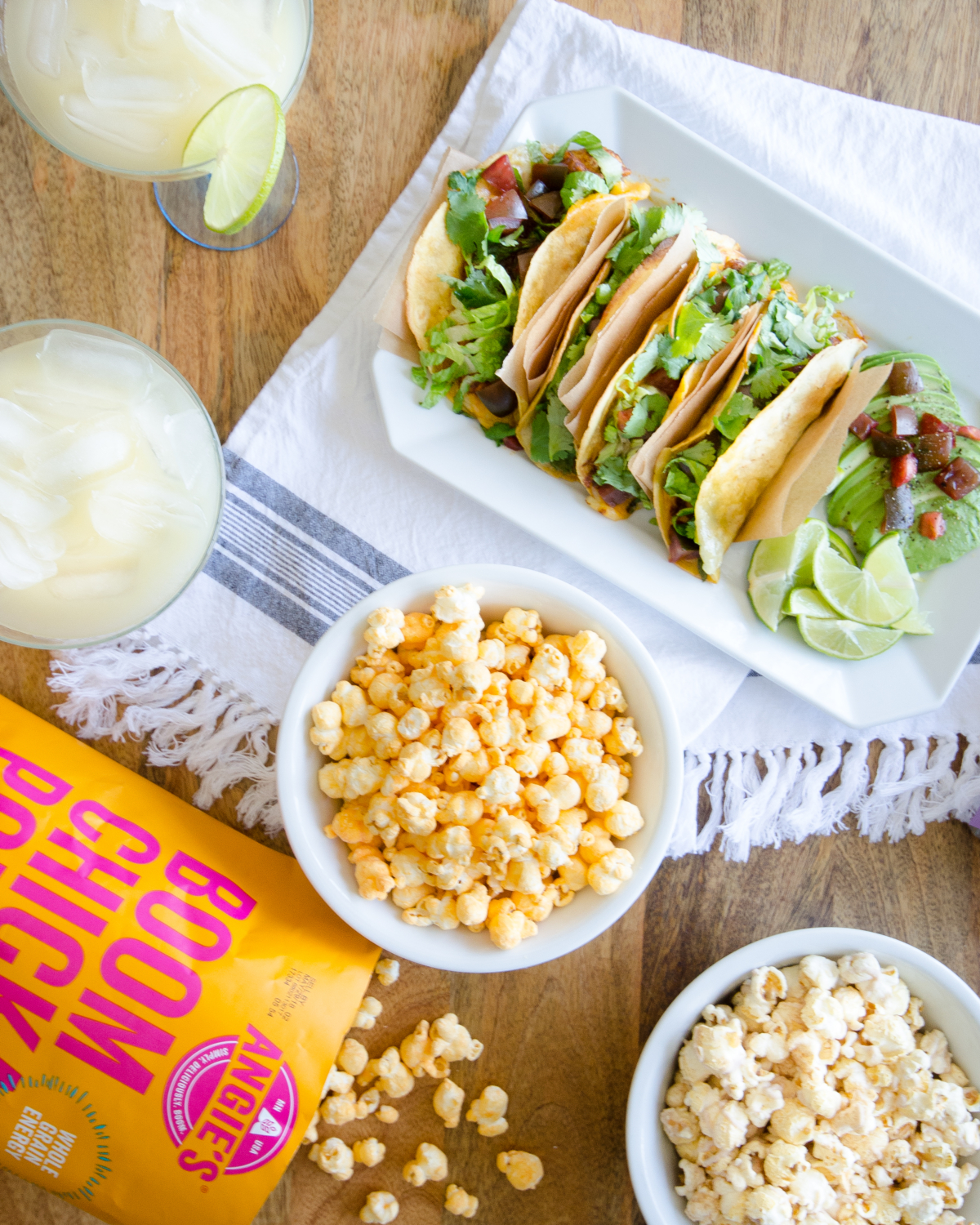 Dessert
My favorite Mexican dessert of all time, and one I've actually made for Cinco de Mayo gatherings before, are churros. But you really have to make them on the spot and it's time consuming and messy (and totally delicious) but not something I'm going to do all the time. I gave Angie's BOOMCHICKAPOP Cinnamon Roll Drizzled Flavored Kettle Corn a try and, you guys…it basically tastes like churro popcorn. I am kind of embarrassed to even admit this to you but while I was taking the photos for this post…I ate an entire bag of it. But that's not something I do often so no biggie. It is so good. If you look closely, you can see the cinnamony drizzly bits that make this popcorn taste so decadent (and it's made with whole grain popcorn, so score).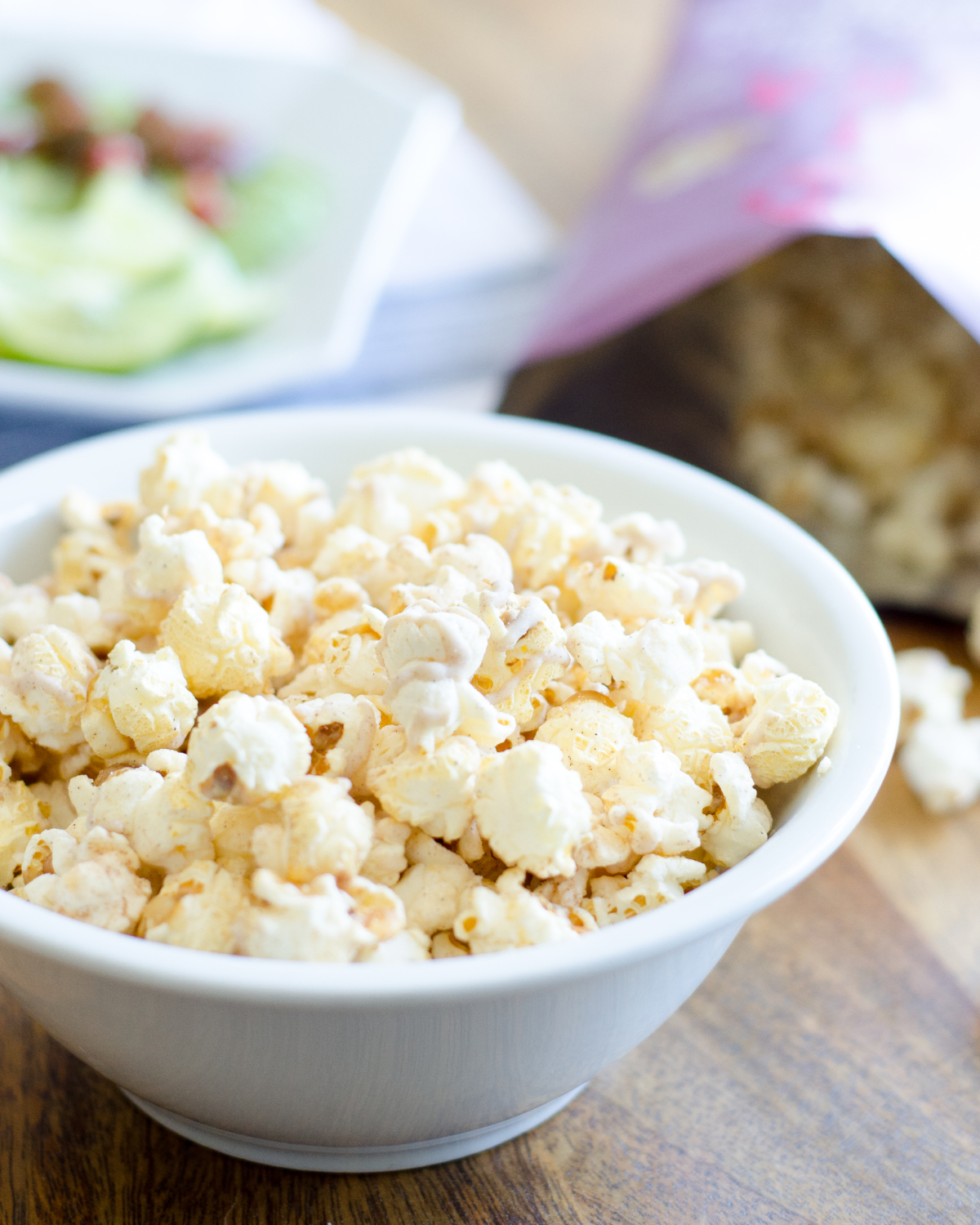 And there you have it – four simple things for a totally easy and totally tasty Cinco de Mayo party. Grab your sombrero, pour yourself a margarita, and have some fun with your friends without breaking a sweat!