Wait…Keto Mini Pumpkin Cheesecakes? Gluten Free Mini Pumpkin Cheesecakes?? What exactly is happening here?!? It's actually been a little while since I posted a recipe but even so…I've never been a keto or a gluten free eater so you may be confused. Let me explain.
I very happily joined a group of my blogger friends to share quite possibly the most delicious collection of pumpkin recipes you have ever seen, organized by the ever lovely Kristen from Ella Claire. But I've been eating keto (and by default gluten-free) for the past week or so. The reasons why are complicated and I'm planning to share all about that with you later this week, but for pumpkin recipe purposes today I wanted to make something I could actually eat and so came up with this keto mini pumpkin cheesecake recipe that is very, very delicious, super easy to make, and a winner of a fall dessert recipe whether you are keto, gluten free, or just a regular old eater!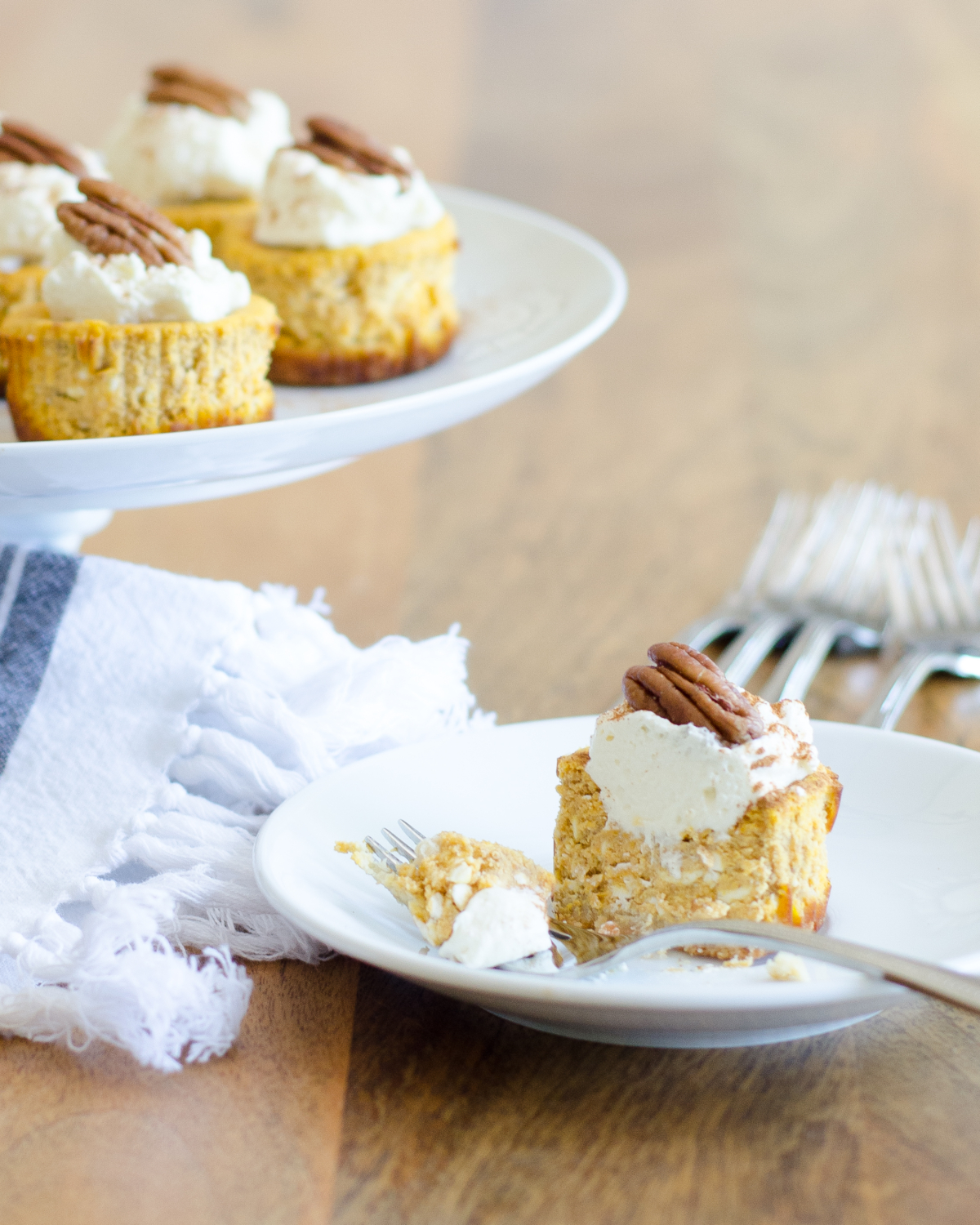 These keto mini pumpkin cheesecakes are the perfect little bite of something sweet, with just the right mix of creamy, nutty, sweet, and a subtle spice profile that includes cinnamon, ginger, and cloves. Not to be an enabler…but if you are following keto, you could totally eat these for breakfast and feel okay about it. Just saying. And they take mere minutes of prep time. Win-win in every way, really. I made these over the weekend for a dinner party and saved the leftovers for my girls to taste and they've been practically begging me to make them again this week.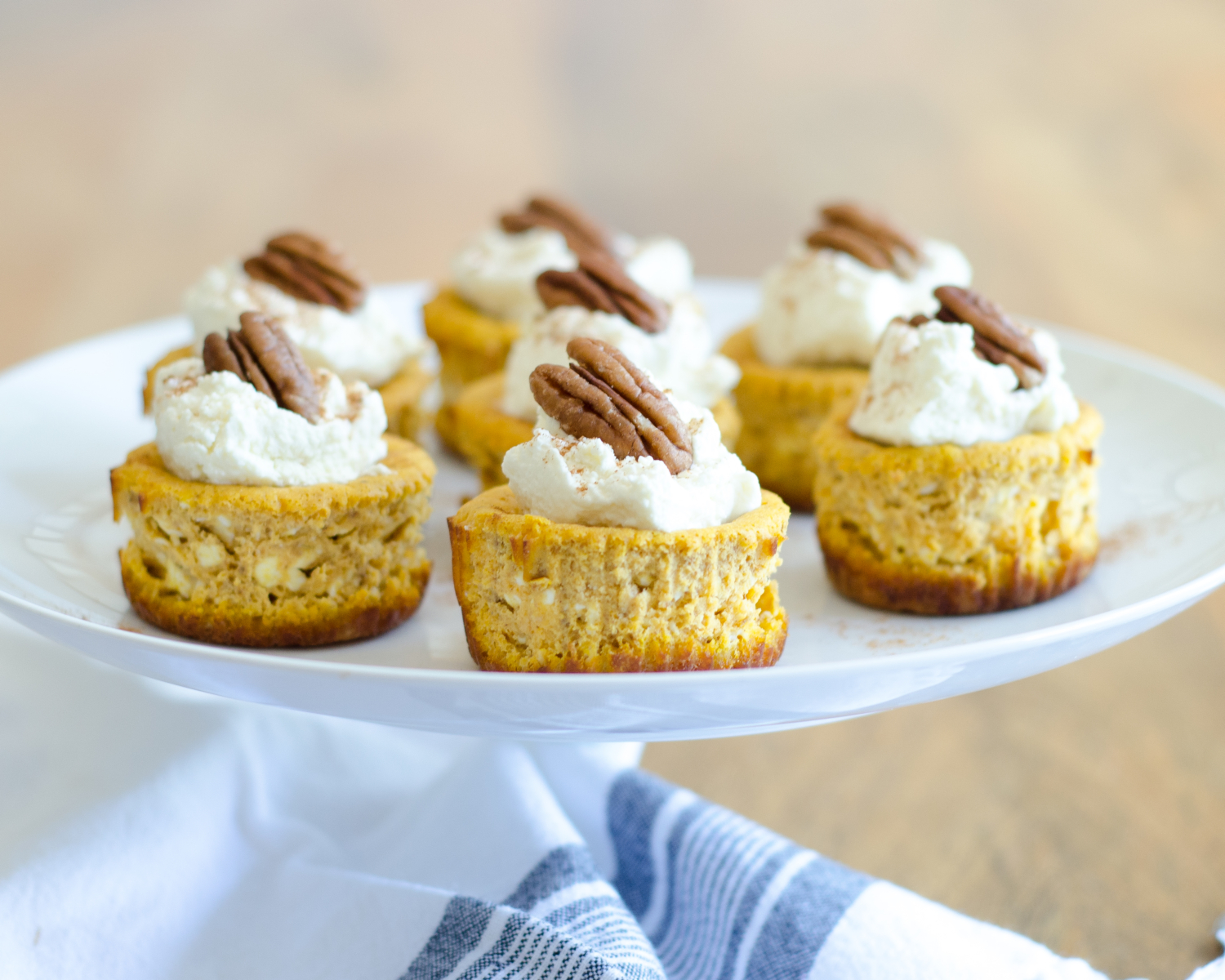 Even if you're not on a special diet, these mini pumpkin cheesecakes are a winner. You can substitute regular sugar for the sweetener I use in the recipe (a natural sweetener called erythritol that has 0 net carbs) and get the same little pumpkin nuggets of deliciousness.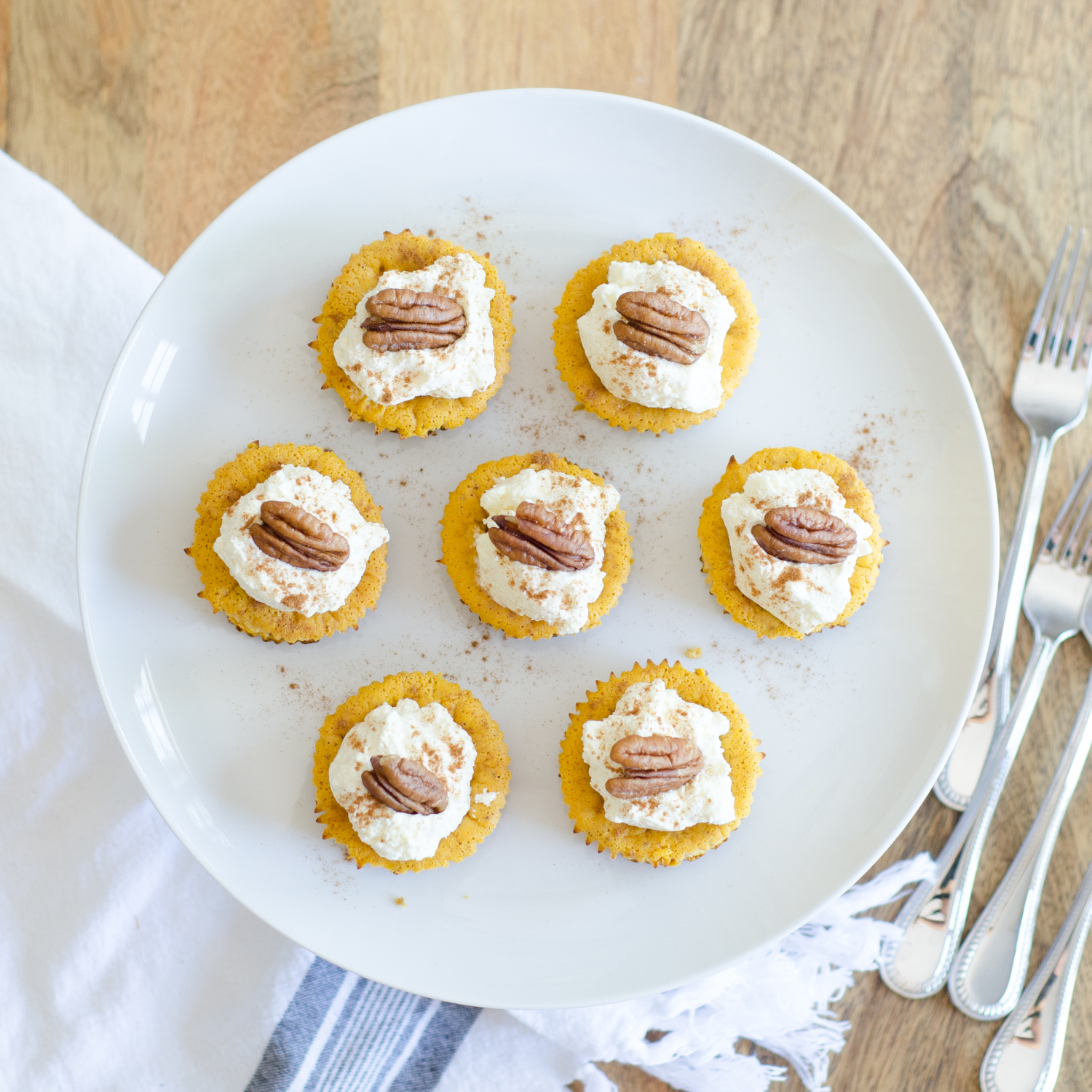 A couples notes on supplies – I bought these muffin tins a few years ago and have never looked back. They're a dream to clean. And if I can help it, I'll never use any cupcake/muffin liners other than these ones. Nothing seems to stick to them and if you've ever endured unwrapping a delicious fresh muffin or cupcake that half sticks to your wrapper when you try to eat it, you know how amazing this is!
I've included macros beneath the recipe but those do not include the dollop of whipped cream and pecans I topped my keto mini pumpkin cheesecakes with. Those two additions will only slightly change the macros, though.

Keto Mini Pumpkin Cheesecakes (Gluten Free)
Delicious keto mini pumpkin cheesecakes that are also gluten free. The perfect easy dessert for fall!
Ingredients
1¼ c. almond flour
2 tbsp. Swerve confectioners sweetener
3 tbsp. butter, melted
-------
8 oz. canned pumpkin
⅔ c. Swerve confectioners sweetener
½ tsp. cinnamon
¼ tsp. ginger
⅛ tsp. cloves
¼ tsp. salt
½ c. heavy cream
12 oz. cream cheese, room temperature
4 eggs
(optional) whipped cream and pecans for topping
Instructions
Preheat the oven to 350º. Place 16 paper cupcake liners in muffin tins.
In a small bowl, combine the almond flour, 2 tbsp. Swerve, and 3 tbsp. melted butter until well mixed. Spoon into the cupcake liners and press with your fingers until even. Bake for 5 minutes until lightly golden and set.
Meanwhile, place all of the remaining ingredients (except for the optional toppings) in a medium bowl and mix with a hand mixer until smooth. Pour the pumpkin cheesecake filling over the crusts and bake for 20-23 minutes until set. Let cool to room temperature and then refrigerate until you're ready to serve them. They keep well in the fridge up to a couple of days.
Macros
(1 mini cheesecake per serving)
174.5 calories
15.6 g fat
5 g protein
2.4 g net carbs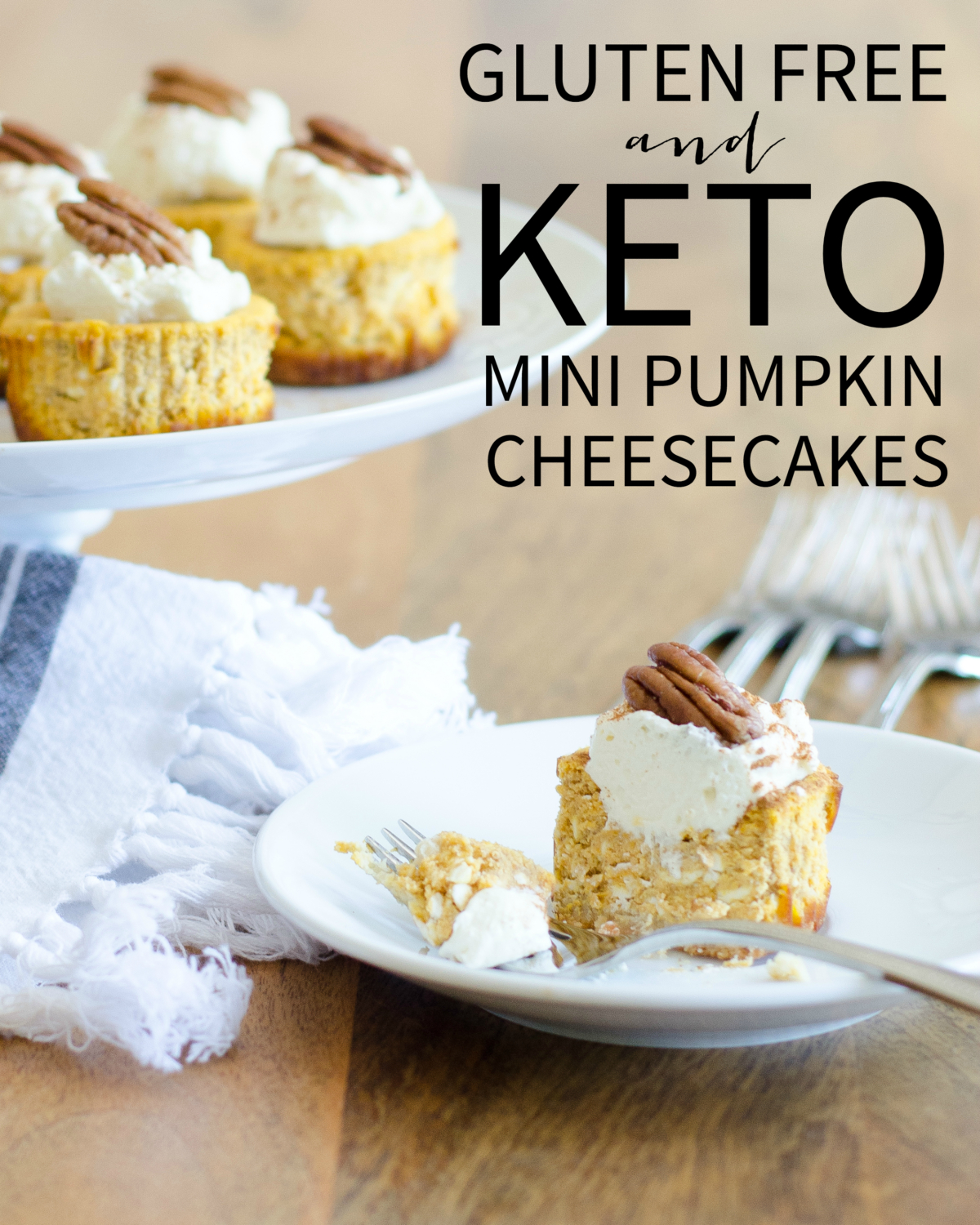 Make sure you check out all of the other pumpkin recipes linked below – there is so much to love!
Pumpkin Snack Cake with Cream Cheese Frosting by Ella Claire | Pumpkin Pie Baklava by A Burst of Beautiful | Keto Pumpkin Cranberry Scones by Home Stories A to Z | Baked Pumpkin Donuts by Boxwood Avenue | Nutella Pumpkin Spice Croissants by Craftberry Bush
Pumpkin Spice Butter by Tidy Mom | Pumpkin Peach Smoothie by Nesting with Grace | Orange Pumpkin Pie by So Much Better with Age | Pumpkin Sugar Cookies by Zevy Joy | Pumpkin Spiced Rooibos Latte by Farmhouse on Boone
Pumpkin Bread Pudding by Love Grows Wild | Mini GF + Keto Pumpkin Cheesecakes by The Chronicles of Home | Pumpkin Spice Cranberry Muffins by Anderson + Grant | Pumpkin Butter Goat Cheese & Bacon Appetizer by Nest of Posies | GF Pumpkin Muffins by Maison de Pax
Pumpkin Whoopie Pies by Inspired by Charm | Pumpkin Fettuccine Alfredo by Town and Country Living | Pumpkin Custard by My Sweet Savannah | Mini Pumpkin Pies by Nina Hendrick Design Co. | Pumpkin Spice Waffle Recipe + Dessert Bar by Summer Adams