It's time for monthly favorites again! I shared last month's September Favorites a little later in the month but tried to get closer to the beginning of the month here for October Favorites. Here's a look at my favorite wardrobe pieces for October! Keep reading for specifics on each item.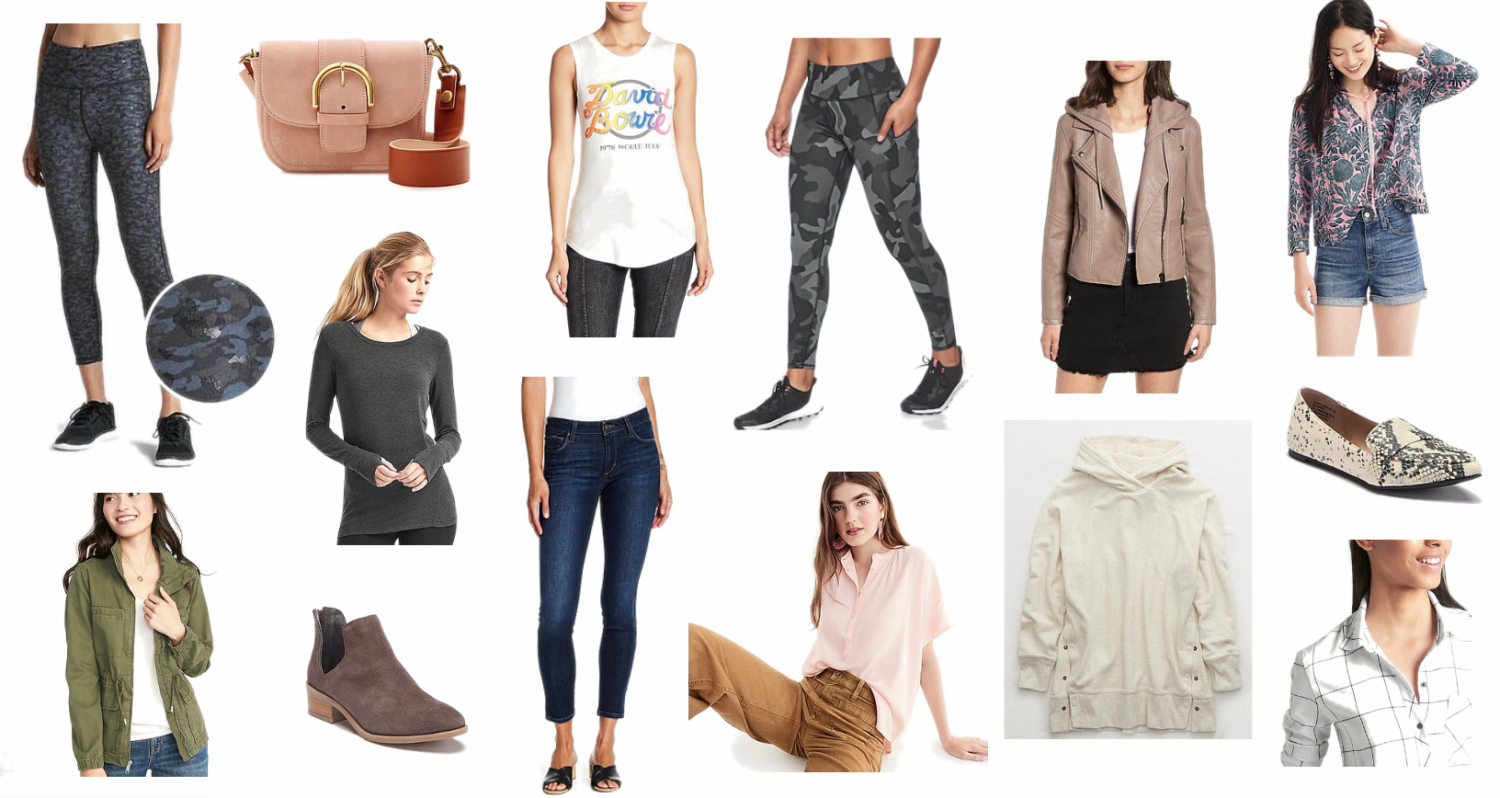 Left to right: Navy camo leggings | Suede purse | David Bowie tank | Black camo leggings |
Faux leather jacket | Cotton silk peasant blouse | Utility jacket | Long sleeved workout tee |
Gray suede booties | Ankle length jeans | Drapey popover shirt | Side snap sweatshirt |
Snakeskin flats | Plaid flannel shirt
I'm having a little bit of a moment with camo (as evidenced by the fact that there are two pairs of camo leggings on this month's favorites list)! When it comes to workout clothes, I'm usually a solid on the bottom, pattern on top kind of gal. But I love these blue camo leggings. The pattern is subtle and dark enough to keep it from looking super busy and yet there's enough going on to sort of subtly disguise (ahem, camoflauge) your bottom half. The high waist is super comfortable and slimming and in general I think these pants are just the whole package – really comfortable, really cute, and really functional!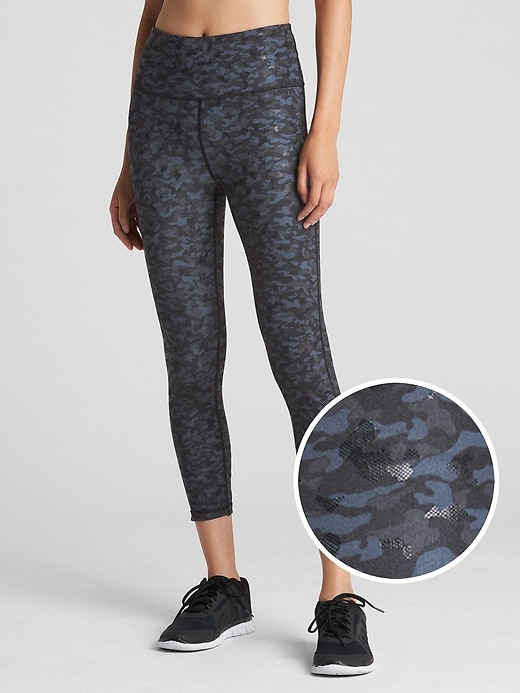 I love love love a crossbody purse. Nothing falling off your shoulder and both hands free to move about! I had a hard time choosing between the blush and army green colors of this purse but ultimately decided on the blush. It just seems to go with everything and I like that the color is seasonless and will work twelve months of the year. It's a great size (not too big, not too small) and the luggage-inspired strap really adds a little something extra in terms of detail. The strap is also removable so you can use the purse as a roomy clutch too. I super recommend this crossbody if you're in the market for a new petite purse!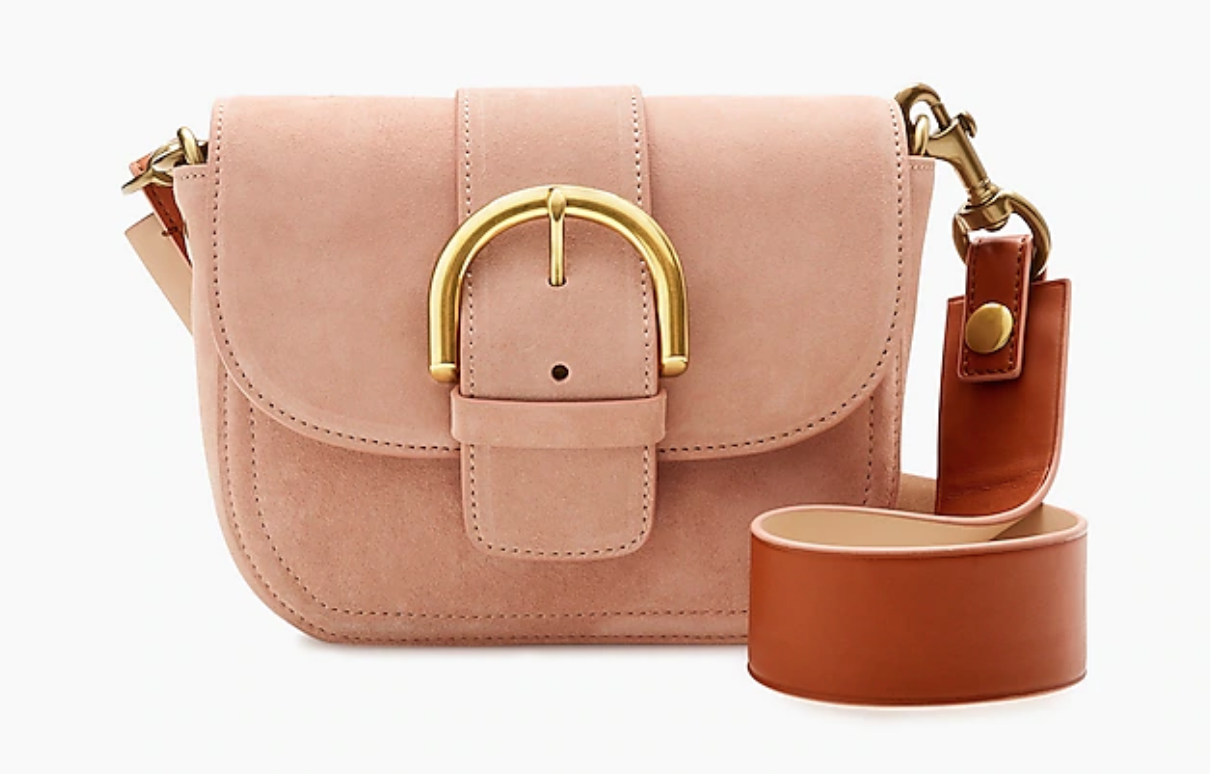 My favorite tees to work out in lately are muscle tees. I find the high neck really flattering and comfortable. This isn't technically a workout tank but I'm using it as one! It's perfectly soft and thin to keep you cool. This is my second rock-n-roll tank I bought lately (I shared this Pink Floyd one last month) and have been wearing at the gym and I literally get more compliments on these tops than on anything else I wear. Go figure. I mostly snapped this one up because I was born in 1978 but it's turned out to be a favorite because it's so comfortable!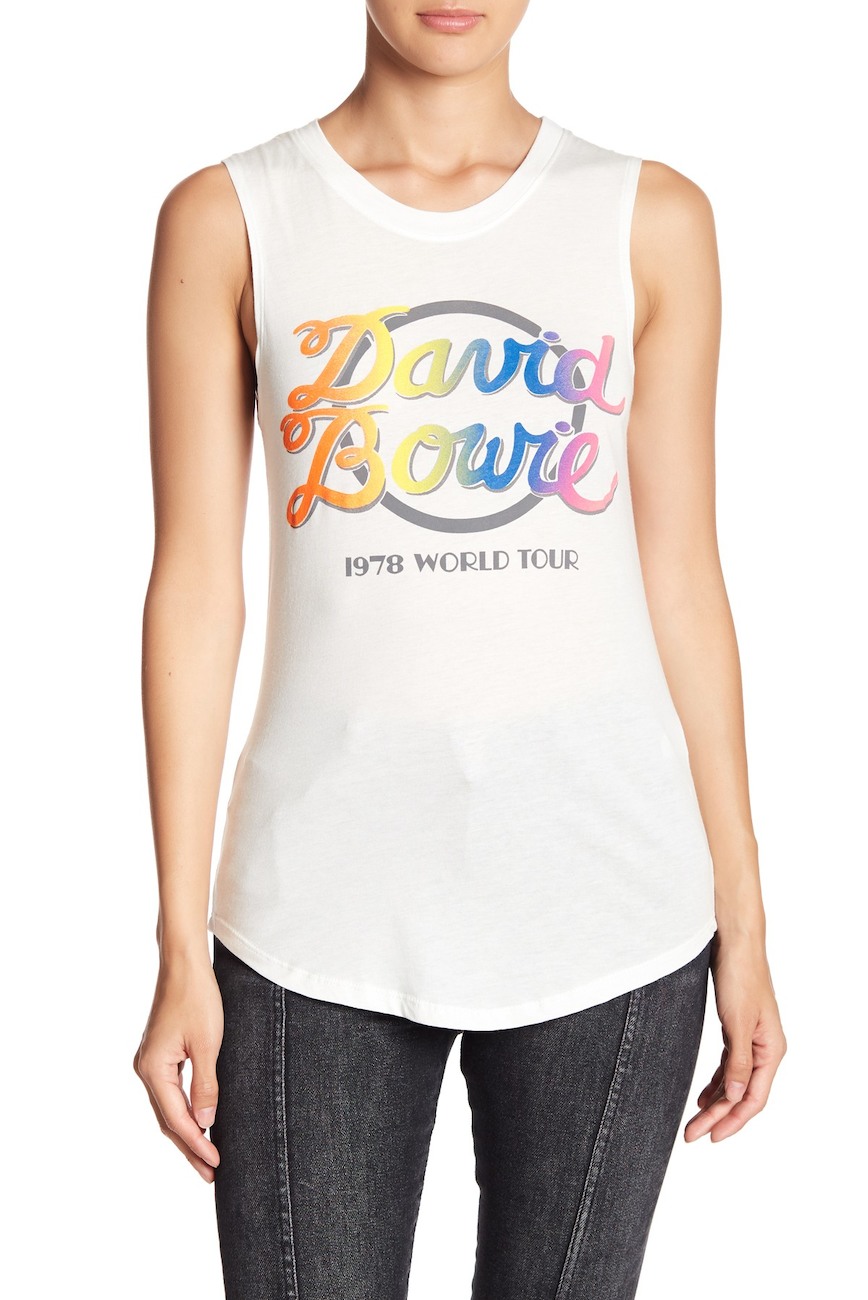 More workout wear, and more camo! I guess you can tell where my head is these days. I spotted these leggings a couple weeks ago on my friend when we were at Orange Theory together (see my review of OrangeTheory HERE). I texted her later basically saying, "Heyyyy, where'd you get your pants and wanna be twins?" And she was gracious enough to send me the link and now they are mine too. The camo pattern is a larger scale than the ones I shared earlier in this post so they do feel a touch "busier," but I still find the dark pattern forgiving as patterned leggings go! And the quality on these is really excellent. They're smooth and really feel like they suck you in in all the right places.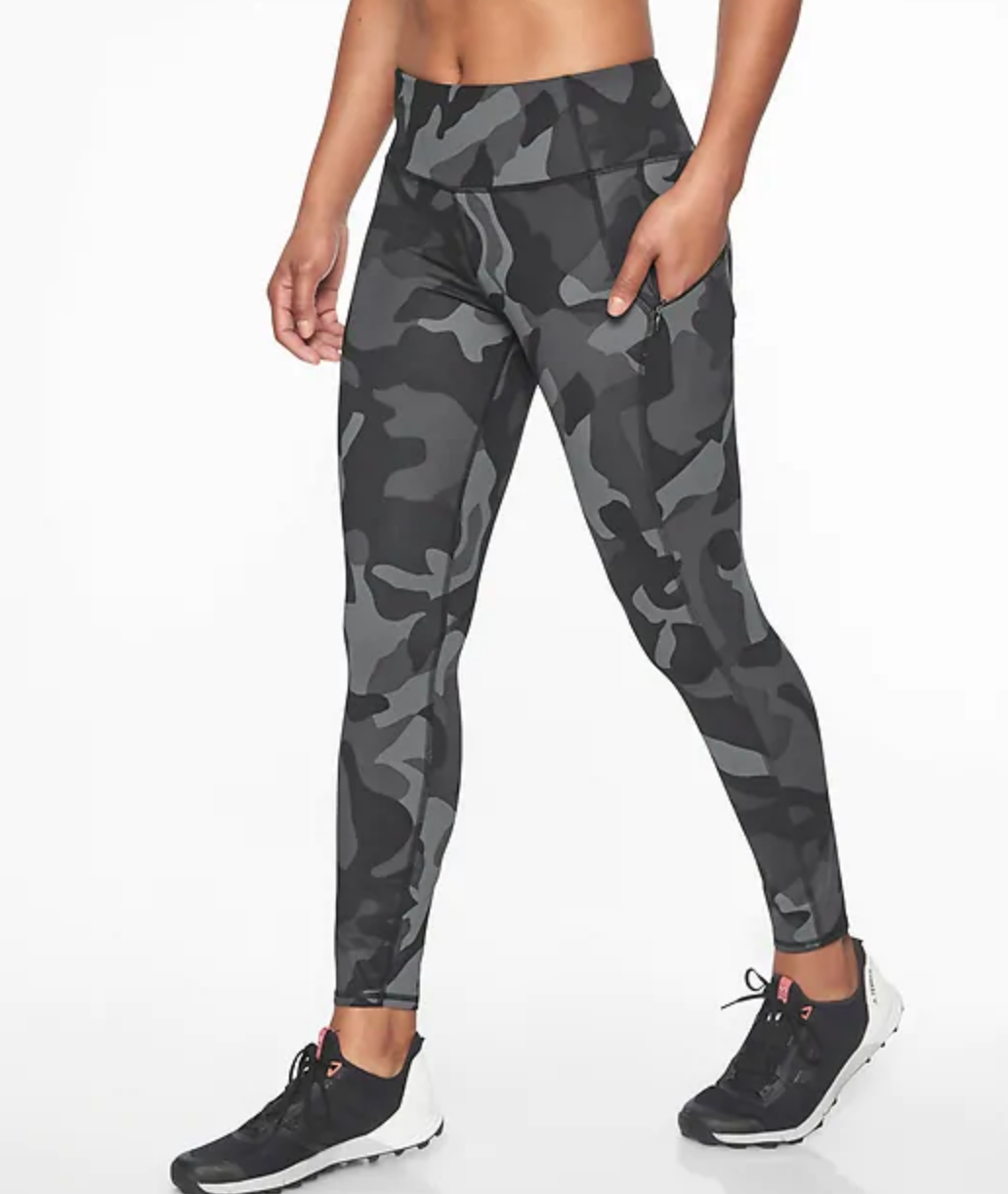 This is the most versatile jacket you'll have in your closet. Pinky swear. It manages to be everything I need it to be. With the hood attached, it's perfect with athleisure and lends a cool but casual vibe to whatever you're wearing. Take the hood off (it snaps on and off easily inside the neck) and it transforms into a dressier leather moto jacket that's great for evening. I have worn this jacket so much already. The vegan leather is really soft and lovely and the price point is awesome for a jacket like this. It also comes in black and a gorgeous deep teal color.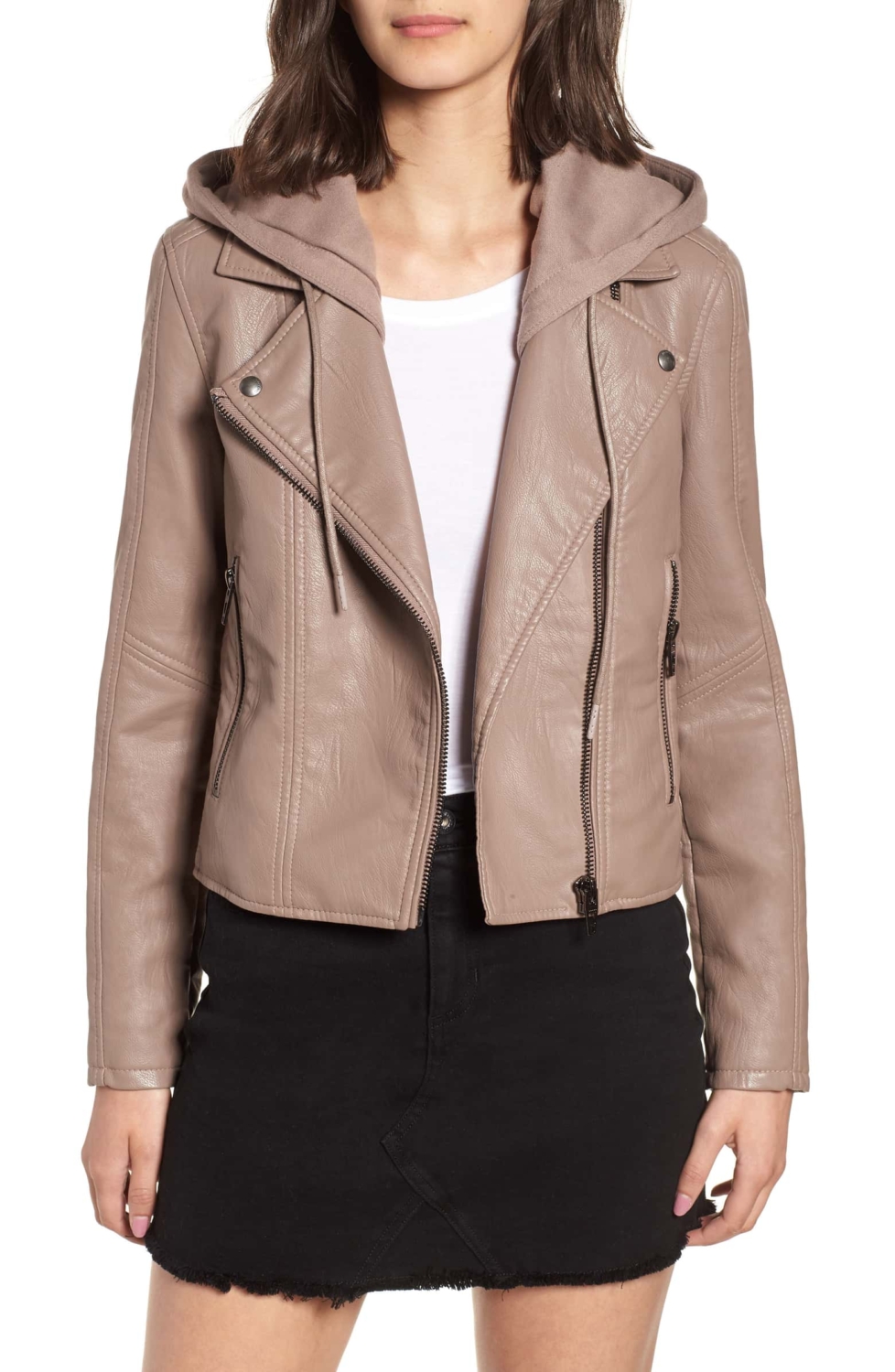 Ahhh, I love a peasant blouse! Remember this one from my September Favorites? They're effortlessly pretty and feminine. I watched the one here for months (it was always excluded from promos) but now it's on sale (over 40% off) AND you can tack on extra promos too! It's a dreamy cotton silk blend and the pattern is just gorgeous, with special little details like grosgrain ribbon trim at the neck, subtle ruffles at the neck and chest placket, and hemstitching at the sleeve cuffs and bottom hem.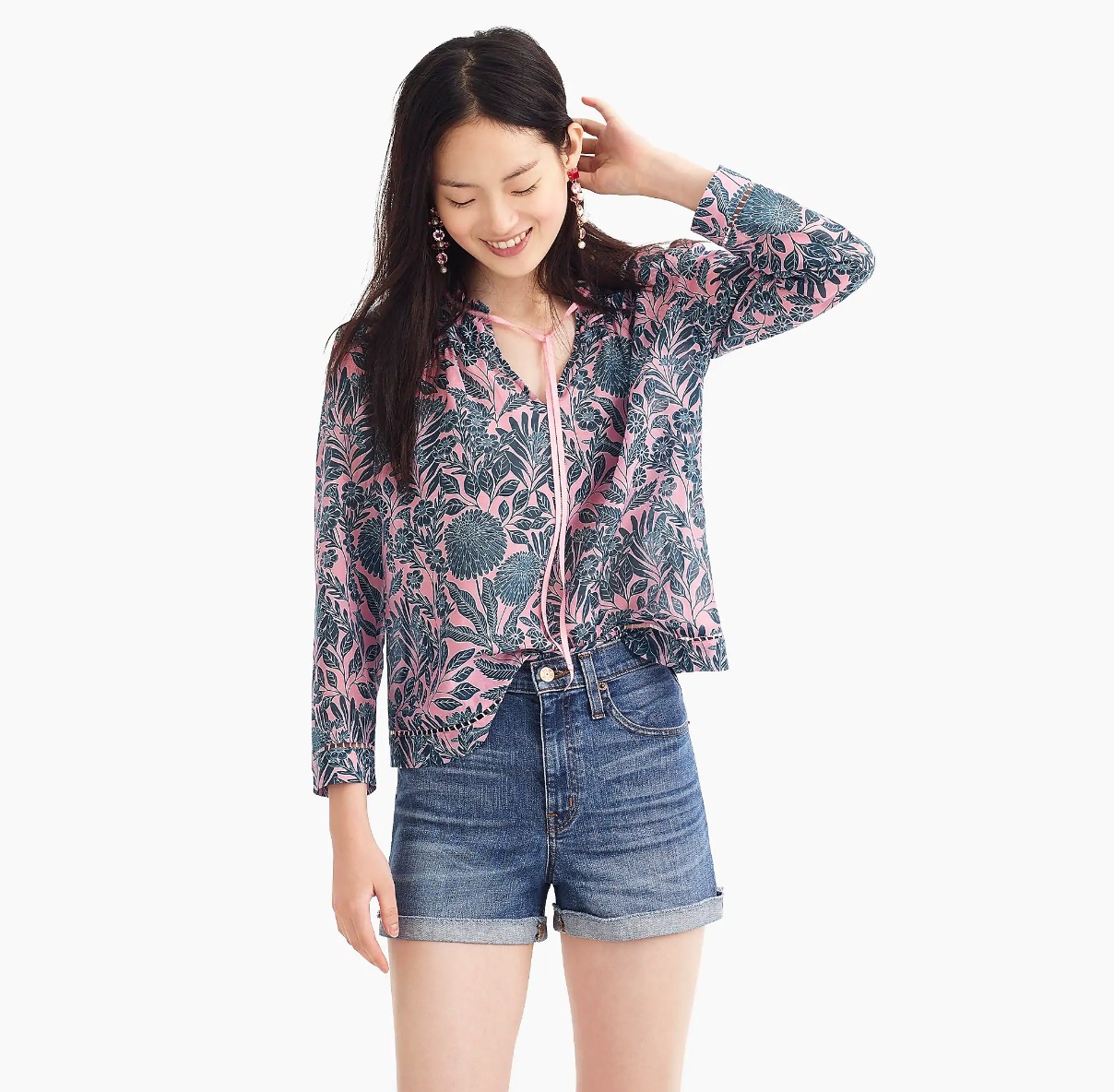 This is a closet staple for me three years running. It's the perfect fall and spring jacket and the green color goes with almost everything. I wear this jacket over and over and over. You can't beat the price too!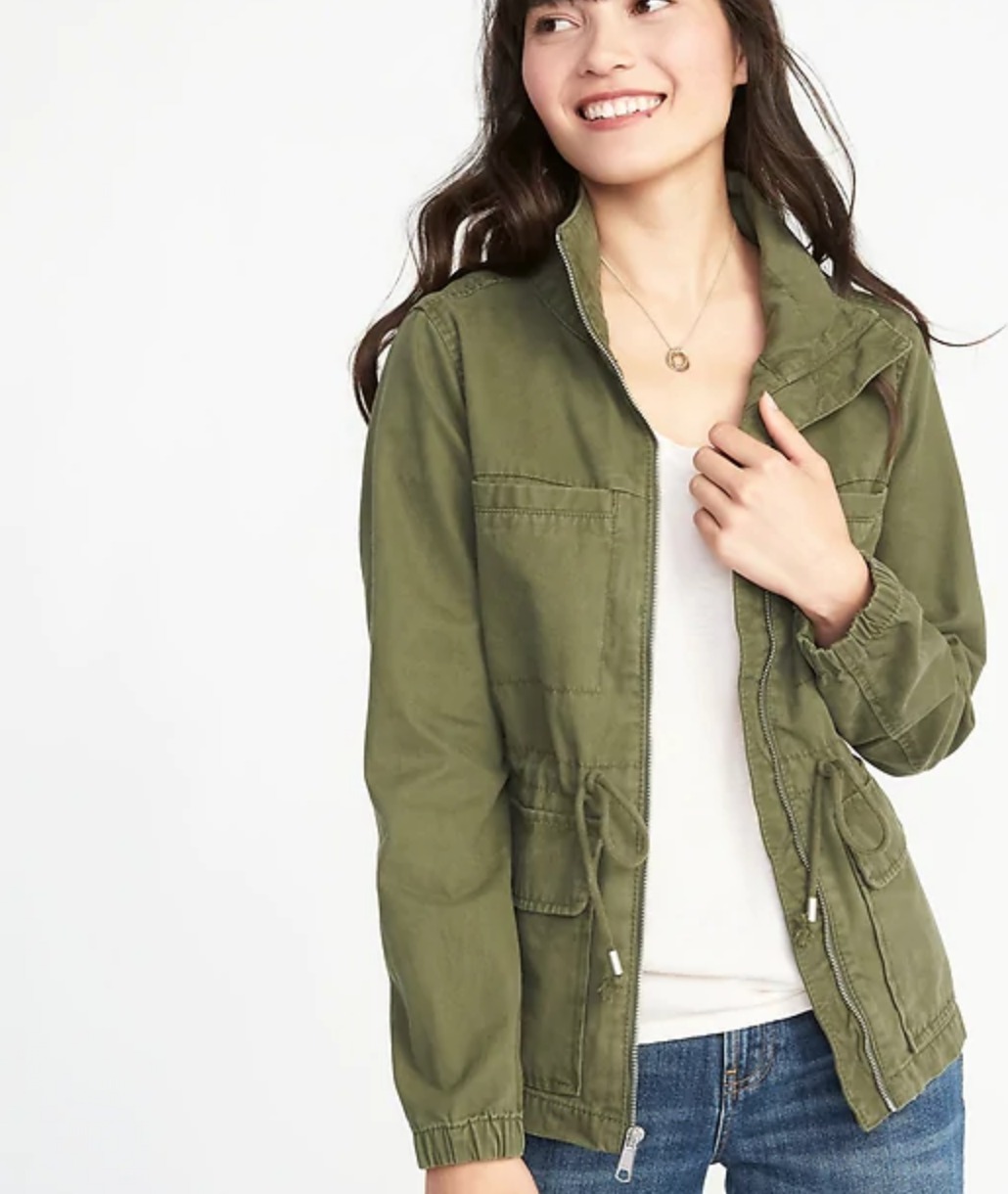 I've been getting up early to work out a couple days a week and a lot of those early morning have a chill to them lately. I bought a couple of these long-sleeved workout tees last year and they were the ones I found myself reaching for over and over. They're so soft and comfy. I added this color to my workout wardrobe this fall, but there are tons of color options available.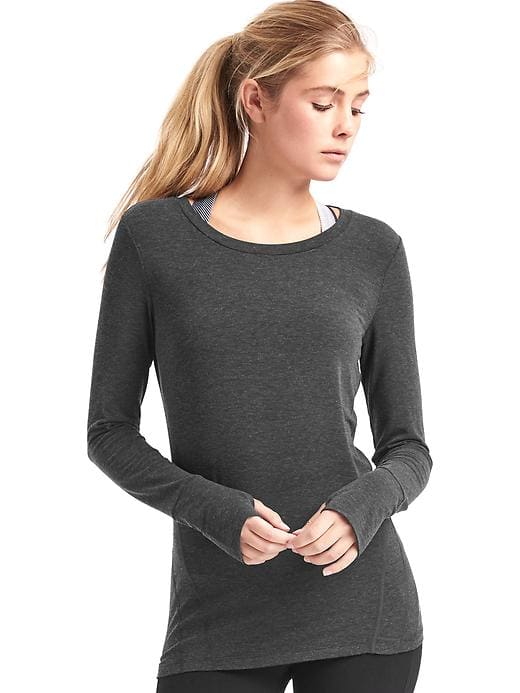 Last winter I bought a pair of taupe split shaft booties (super similar to these ones) and I almost wore them out they spent so much time on my feet. I bought them on a whim but they wound up being my most worn shoes, maybe of all time. I wore them with dresses, jeans, skirts, you name it. I came across this darker grey-brown color recently and think I may just need to add another color option into my shoe wardrobe. They're 40% off the full price and available in all sizes right now!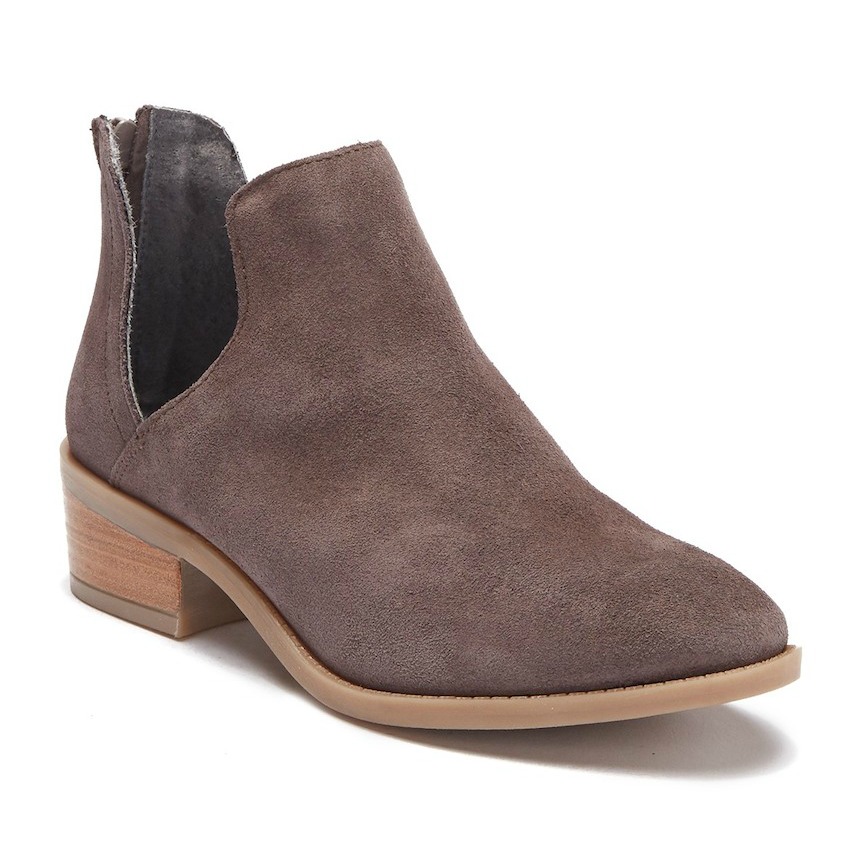 I gave these jeans a try and had one of those very, very rare moments where I put on a new pair of jeans and basically thought, "Oh wow, these look good on me." Why are great-fitting jeans so hard to find?? Everything about these was flattering on me – the dark wash, the cut of the leg, and the ankle length is absolutely perfect for wearing with booties. I'm 5'8″ so if you're shorter you may need to have them hemmed or flip them up at the bottom but either way, these jeans are the best fitting ones I've tried on in a long time.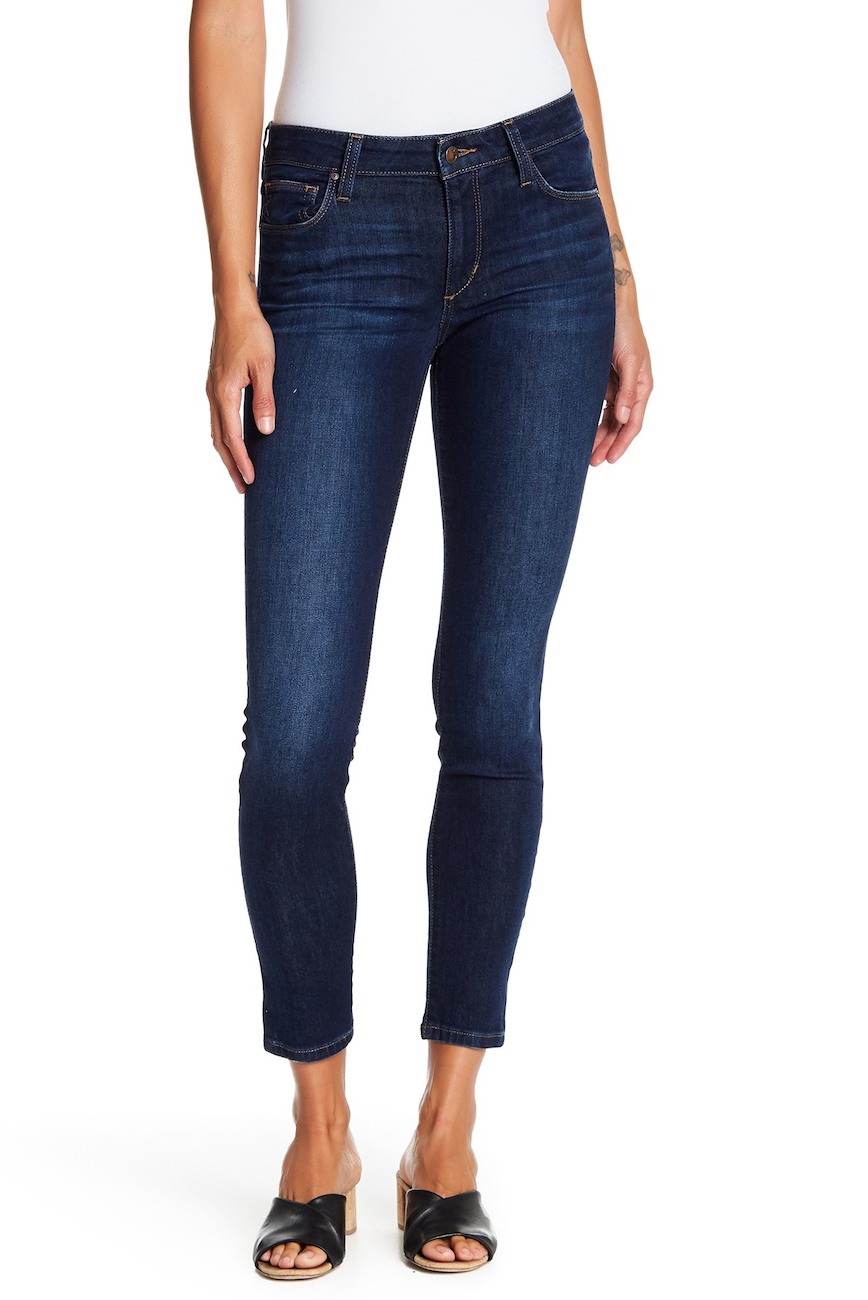 I loved this shirt so much I bought it in two colors – this blush pink and a dusty green too. It's just long enough in the back to wear with leggings and is perfectly easy and chic. I love it untucked with a pair of skinny jeans or leggings, and layered under sweaters (like this one from my September favorites that I wear constantly) or a leather jacket like the one I shared above when the weather gets cooler. Such a great, affordable wardrobe staple.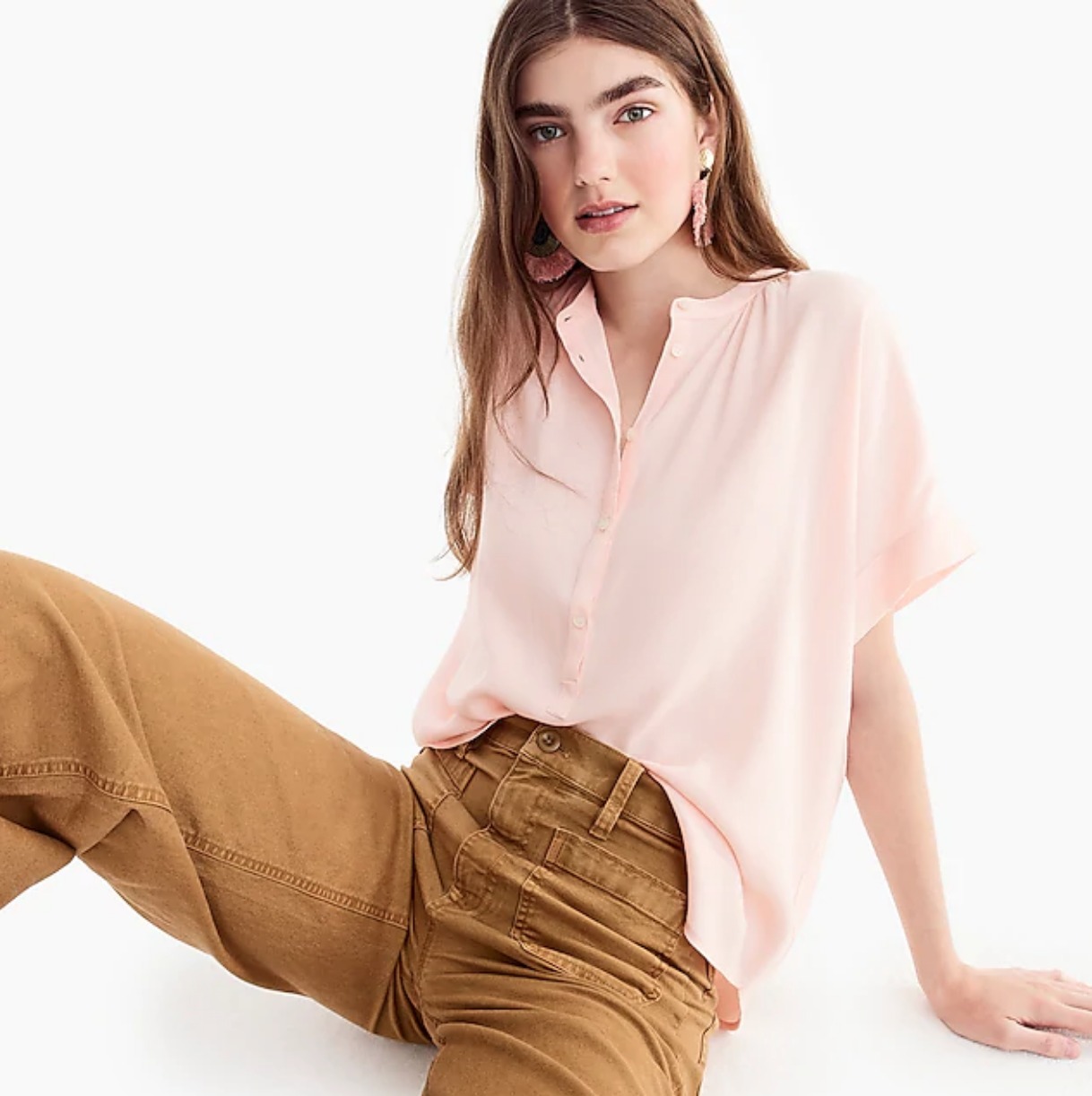 I looooove a cozy oversized sweatshirt! This one is long enough to wear with leggings, can be worn with workout wear and athleisure, or skinny jeans for a casual weekend look. I'll be wearing this everywhere from sports sidelines to the grocery store to the couch on movie night. Casual, comfortable perfection and the snap detail adds a little something that elevates it above your average sweatshirt. It comes in three other colors as well.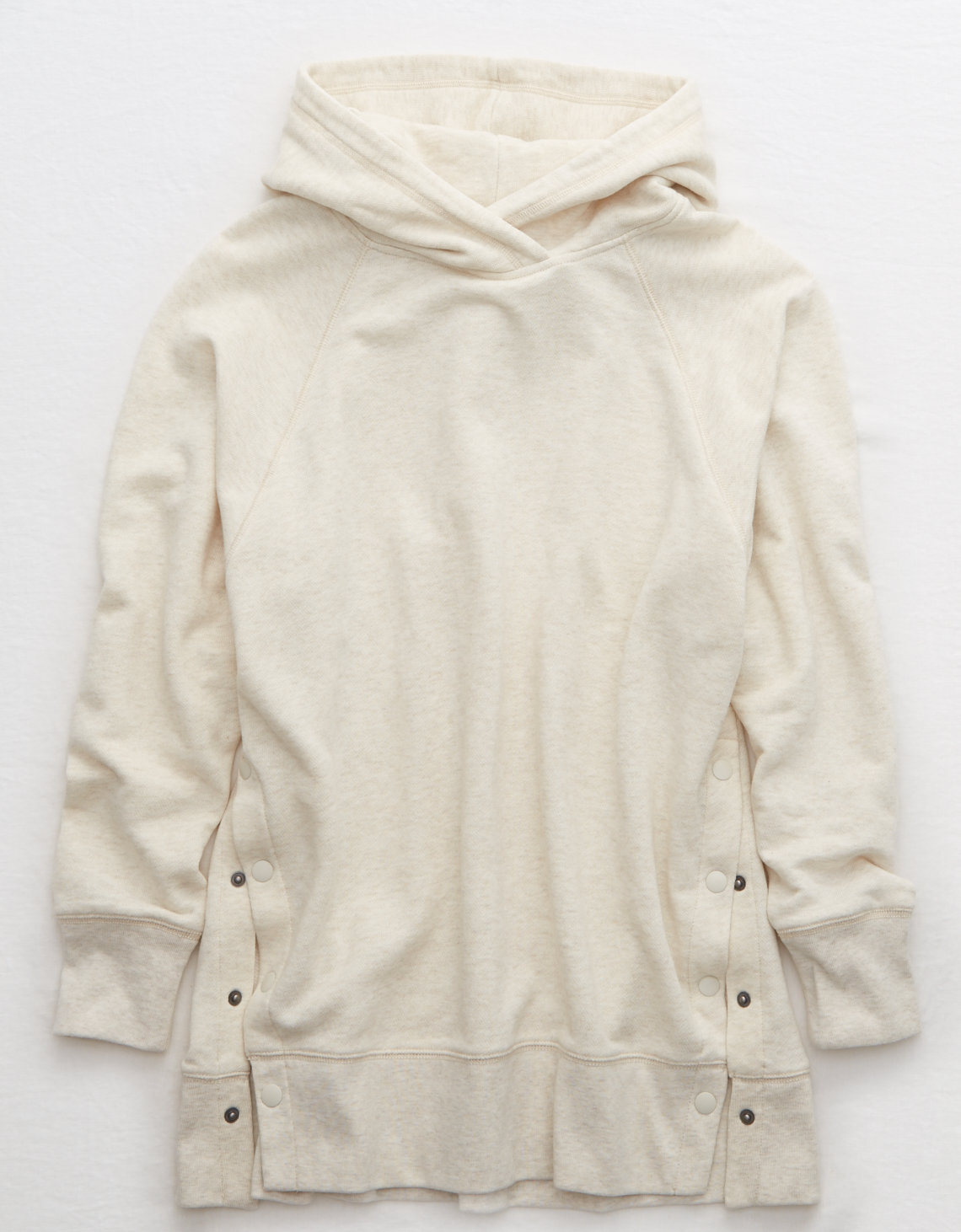 I have an old pair of leopard print flats that are such a great neutral pattern but they're not really that comfortable (my feet grew a half size after my last pregnancy). I spotted these snakeskin flats recently and think they'll be the perfect replacement. The pointed toe keeps the loafer style from looking too masculine and the pattern makes these flats chic enough for a casual evening out, yet still casual enough for everyday wear.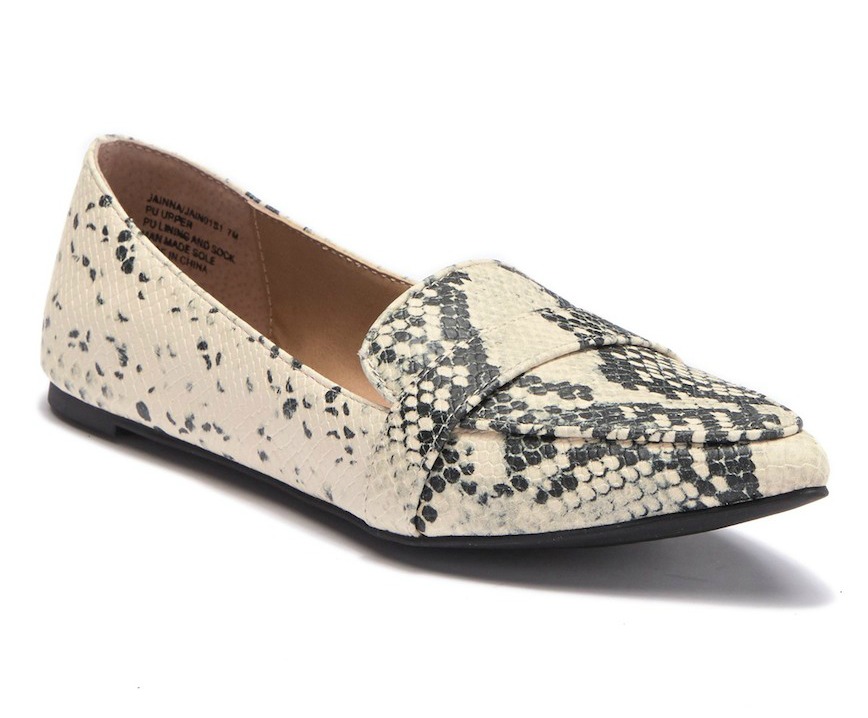 Hands down, my favorite shirt from last year, and I saw it's still available this year. It's priced super well and you will live in this shirt. It's soft as butter and I reach for it over and over. You will not regret buying this shirt.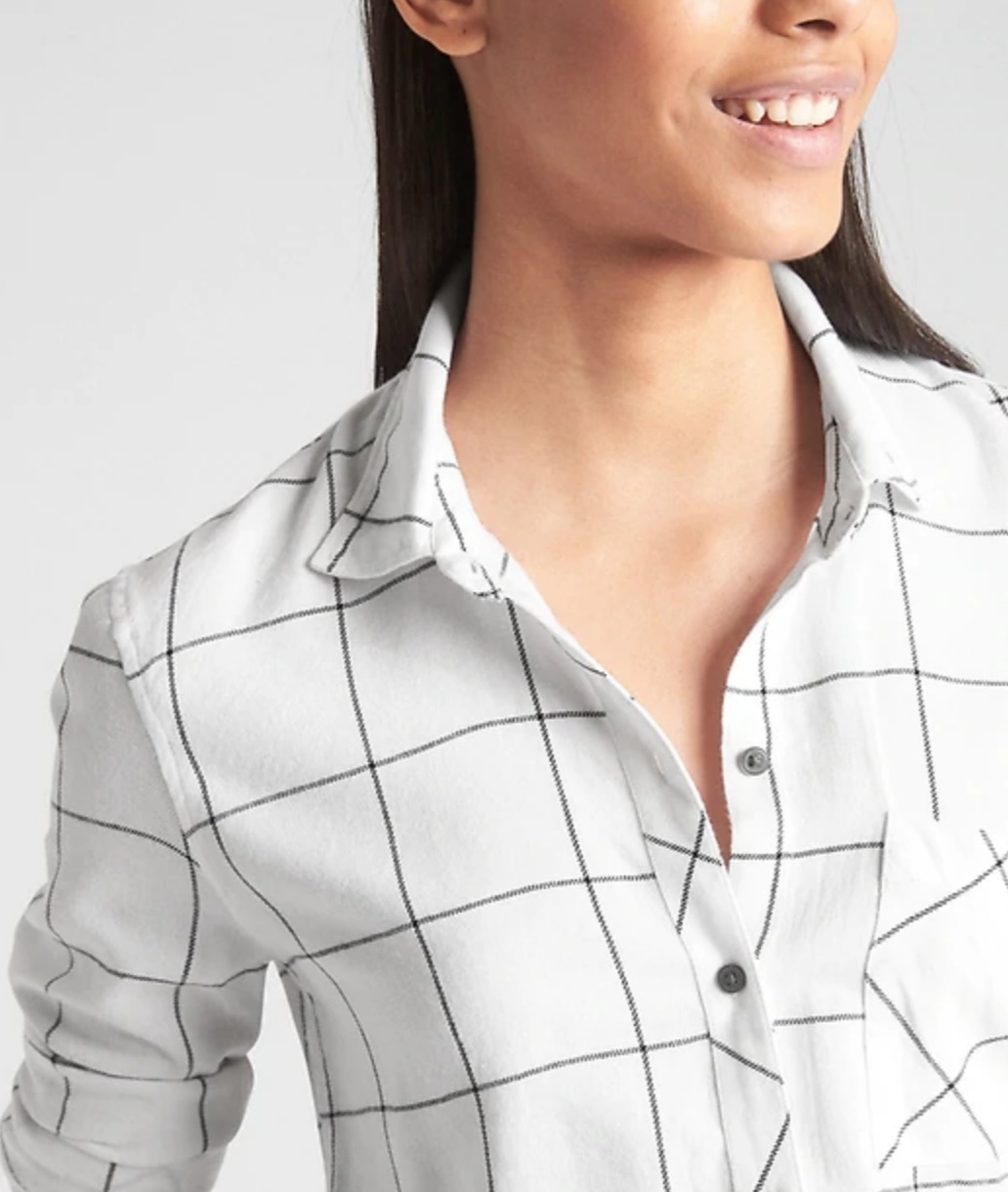 That's all for this month! I'll be back in November with more favorite things that caught my eye.