Today is one of my favorite days on the blog every year – Christmas house tour day here at The Chronicles of Home! This is my third year as a part of Jennifer Rizzo's Holiday Housewalk and I still feel really humbled to be in the company of such talented people. I pore over the tours every year and really love seeing how everyone decorates their houses for Christmas. The tours will continue over the course of this week and are meant to give you lots and lots of different decorating ideas for decking your own house this Christmas season. If you're coming here from French Country Cottage, thank you so much for taking the time to stop by here! I always leave Courtney's site with my jaw on the floor, she has such an incredible knack for creating beauty.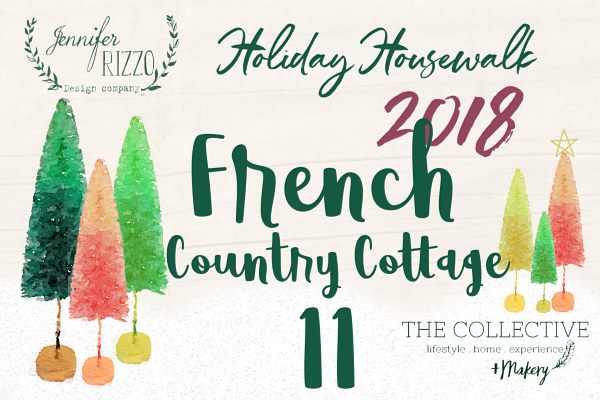 My house is a classic, center-entrance New England colonial, so you come in the front door and the dining room is on the left and the living room is on the right. Those are the three spaces I decorated and photographed this year and I tried to take a few shots that would give you a sense of the flow of the rooms. Right inside the front door I hung a fresh boxwood wreath. Trader Joe's sells them every year for an amazing price and I always grab at least one! I added a cluster of gold bells and my favorite black and ivory striped grosgrain ribbon for a clean, simple look.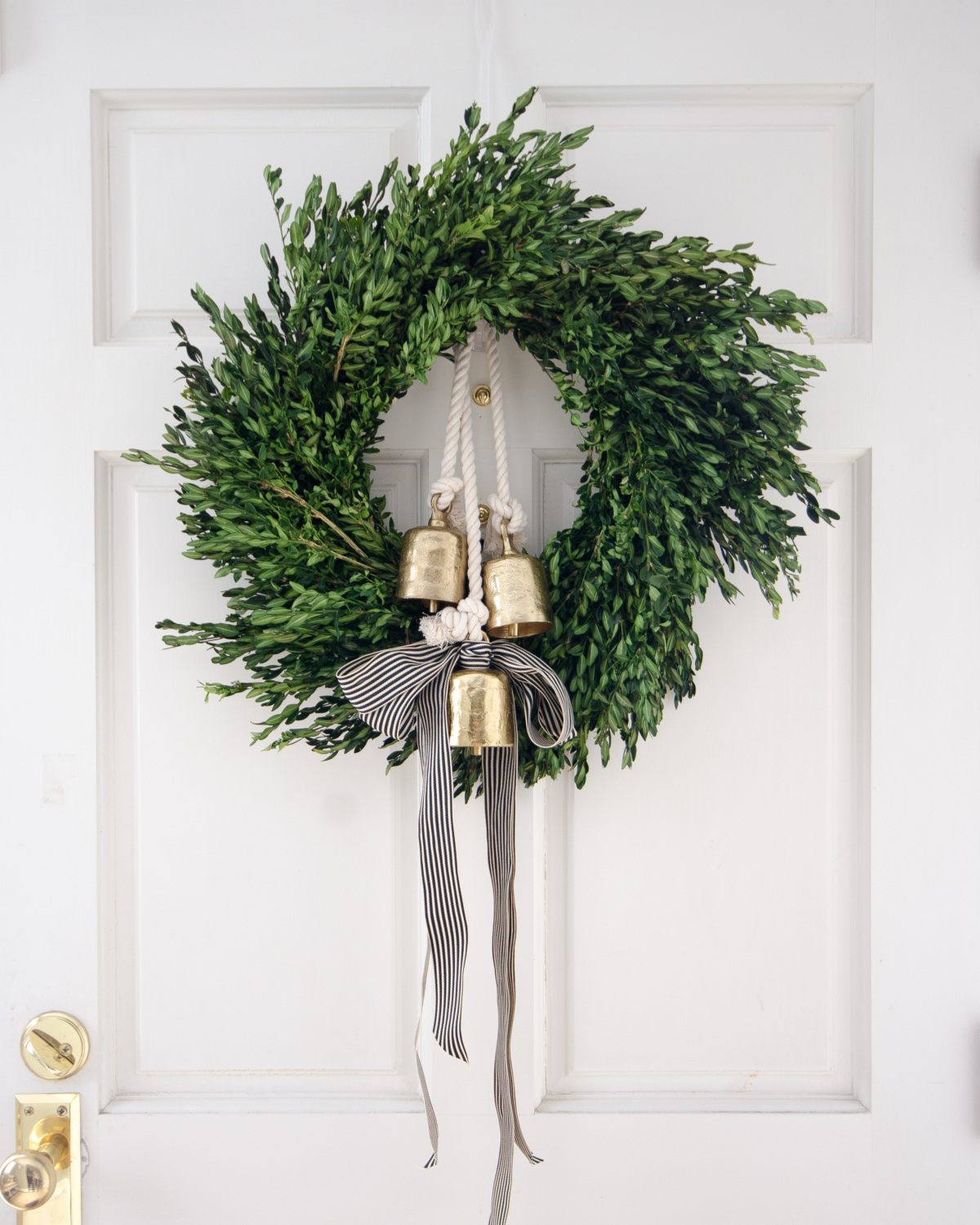 gold bells
black and ivory ribbon
The staircase is straight ahead when you turn from the door and I used the same pre-lit garland on the banister as last year but with a few new additions.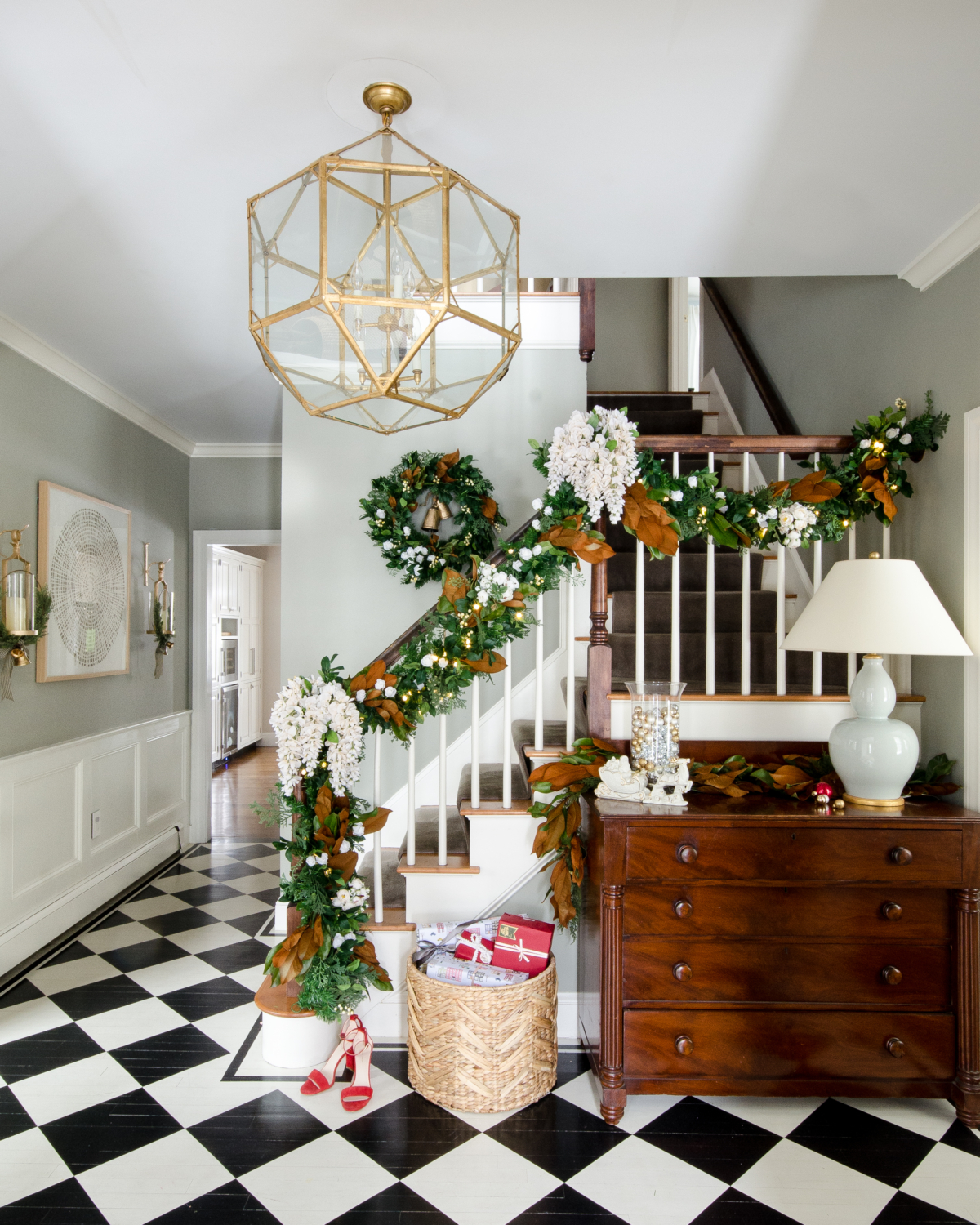 Gold pendant light
Table lamp (and a similar one)
Wall candle sconces
Gold bells
I was walking around Michaels this fall looking for some Christmas inspiration and kept coming back to the different white flowers. I wound up coming home with some weeping flower clusters, white rose bouquets, and single white rose stems. I tucked them throughout the garland for a whimsical, updated-traditional holiday banister look. A friend wound up with bunches of extra magnolia branches from a local nursery and she gave me a literal armful of them. I started tucking them into the garland among the greenery and the flowers and I love the warmth that they add.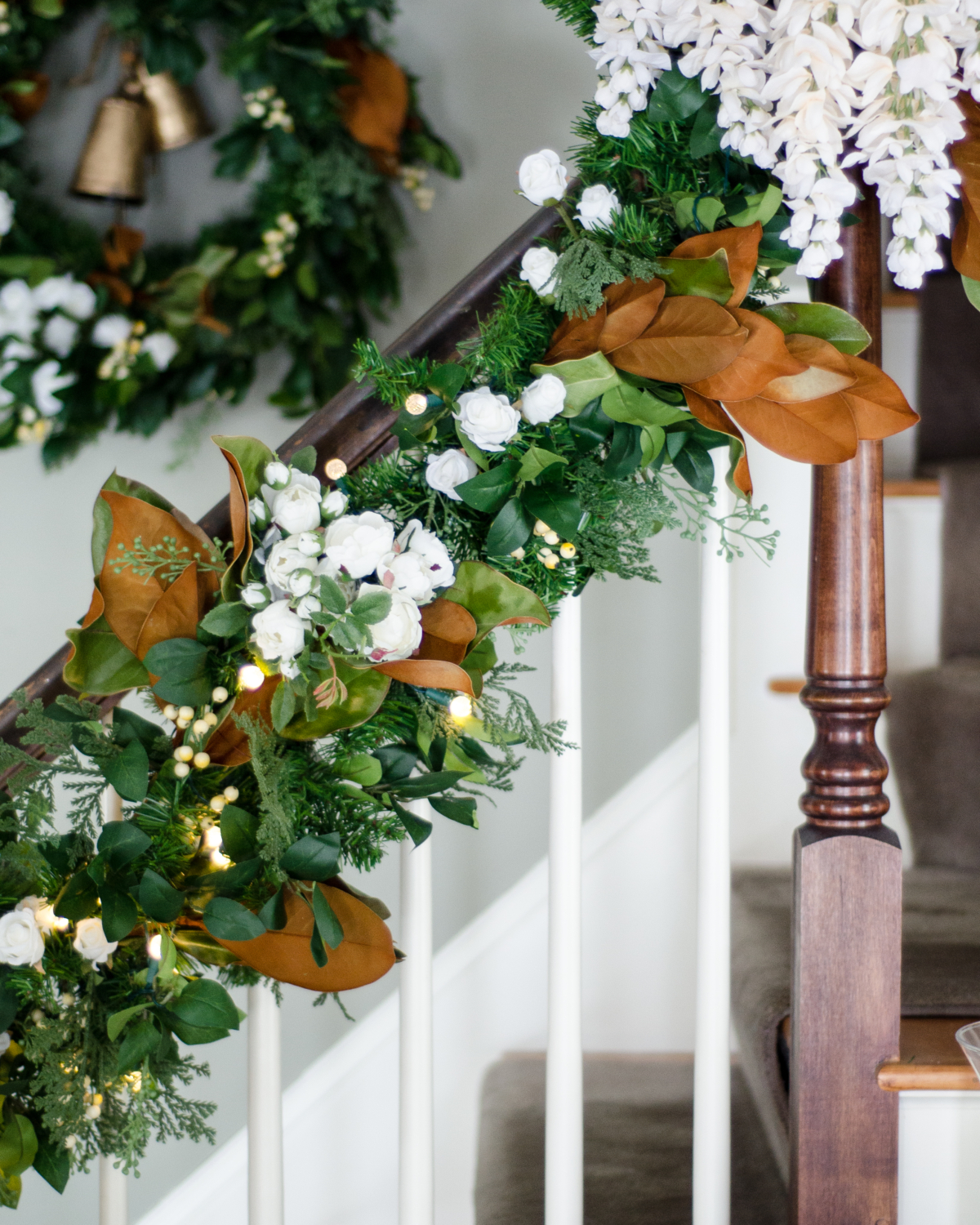 I also took down the artwork that usually hangs on the wall behind the staircase and hung this wreath, which I embellished with the same white roses and magnolia leaves. I also hung (surprise!) more gold bells. I don't think I can hang Christmas wreaths without gold bells anymore, it's my favorite holiday look.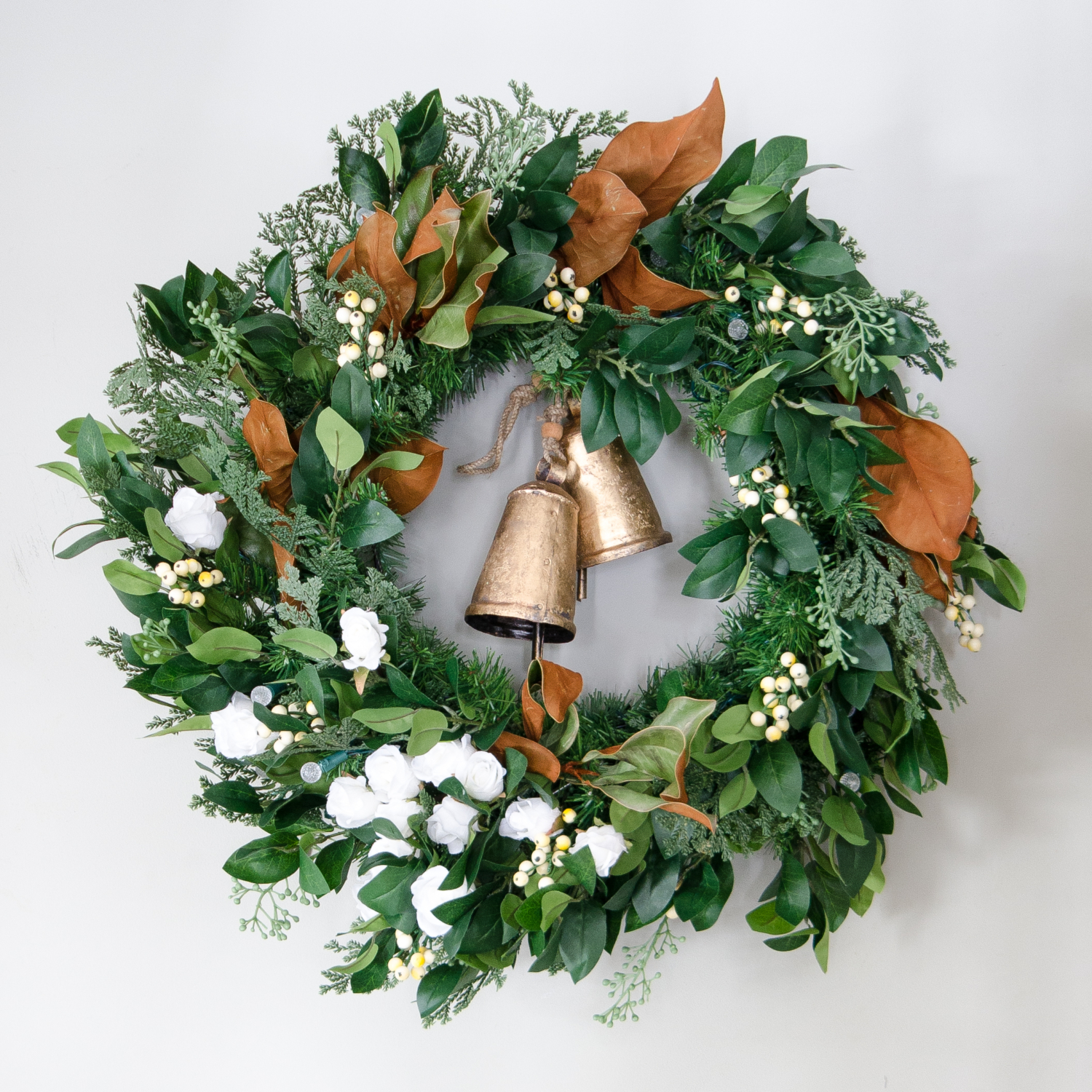 gold bells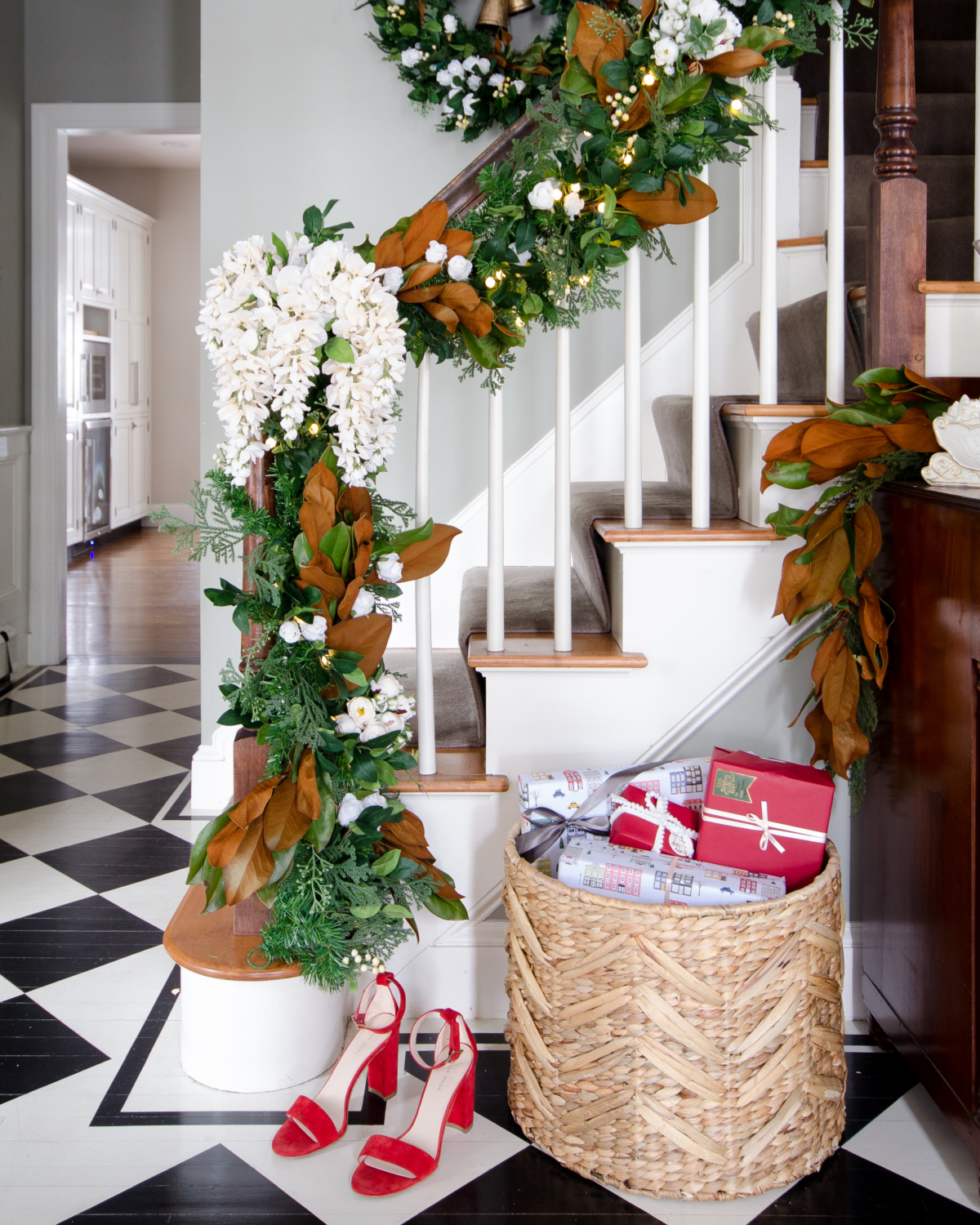 When you turn to the left of the staircase, the dining room is straight ahead. I recently changed the paint color in here and this is the first time I'm showing it here on the blog. I LOVE the way the dark, moody color came out.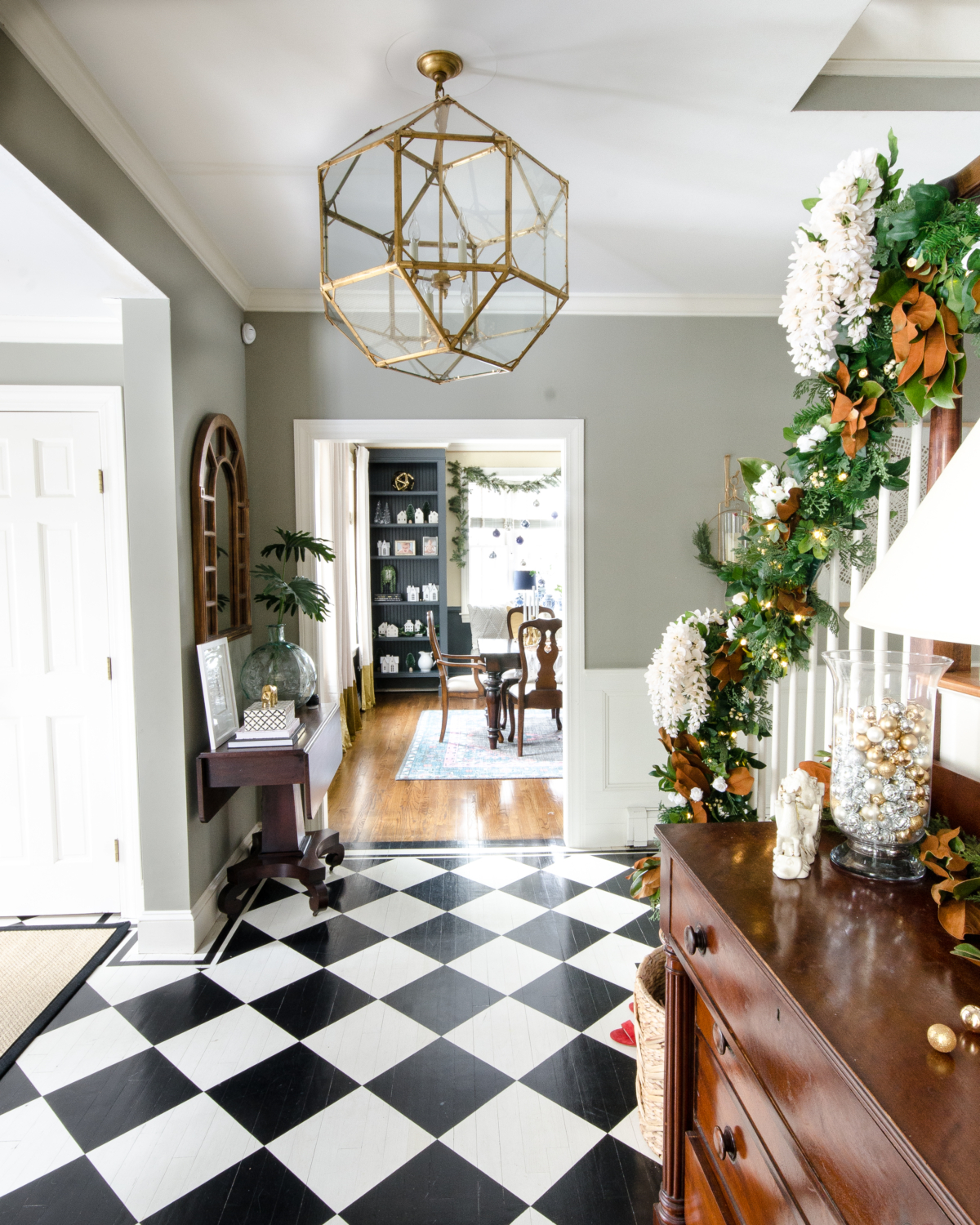 I always have a collection of blue and white pottery pieces on the bay windowsill in the dining room and decided to hang my blue and white glass ball ornaments and some mercury glass ones across the front of the window this year. I hammered tiny nails along the top of the window casing and then hung the ornaments using clear filament.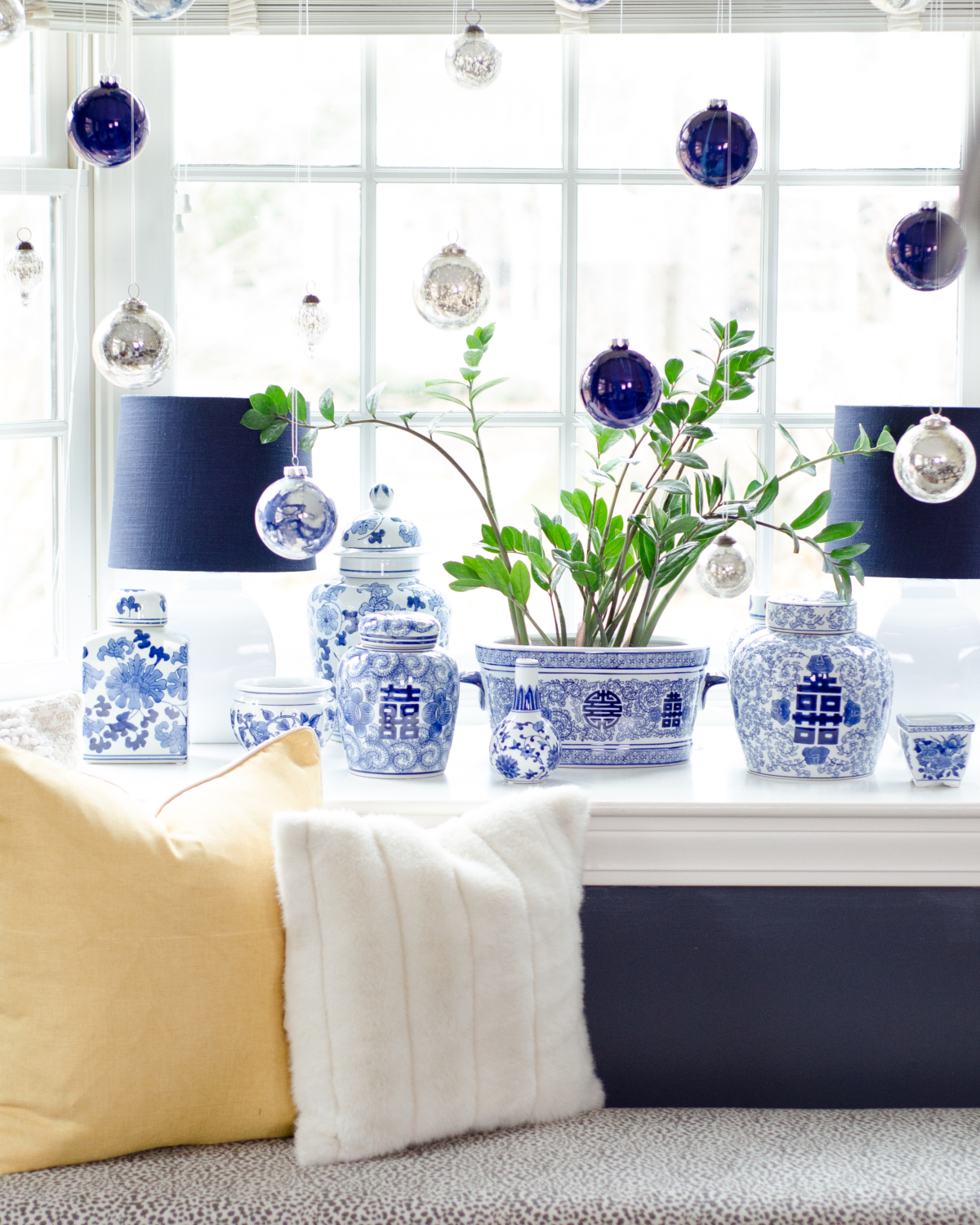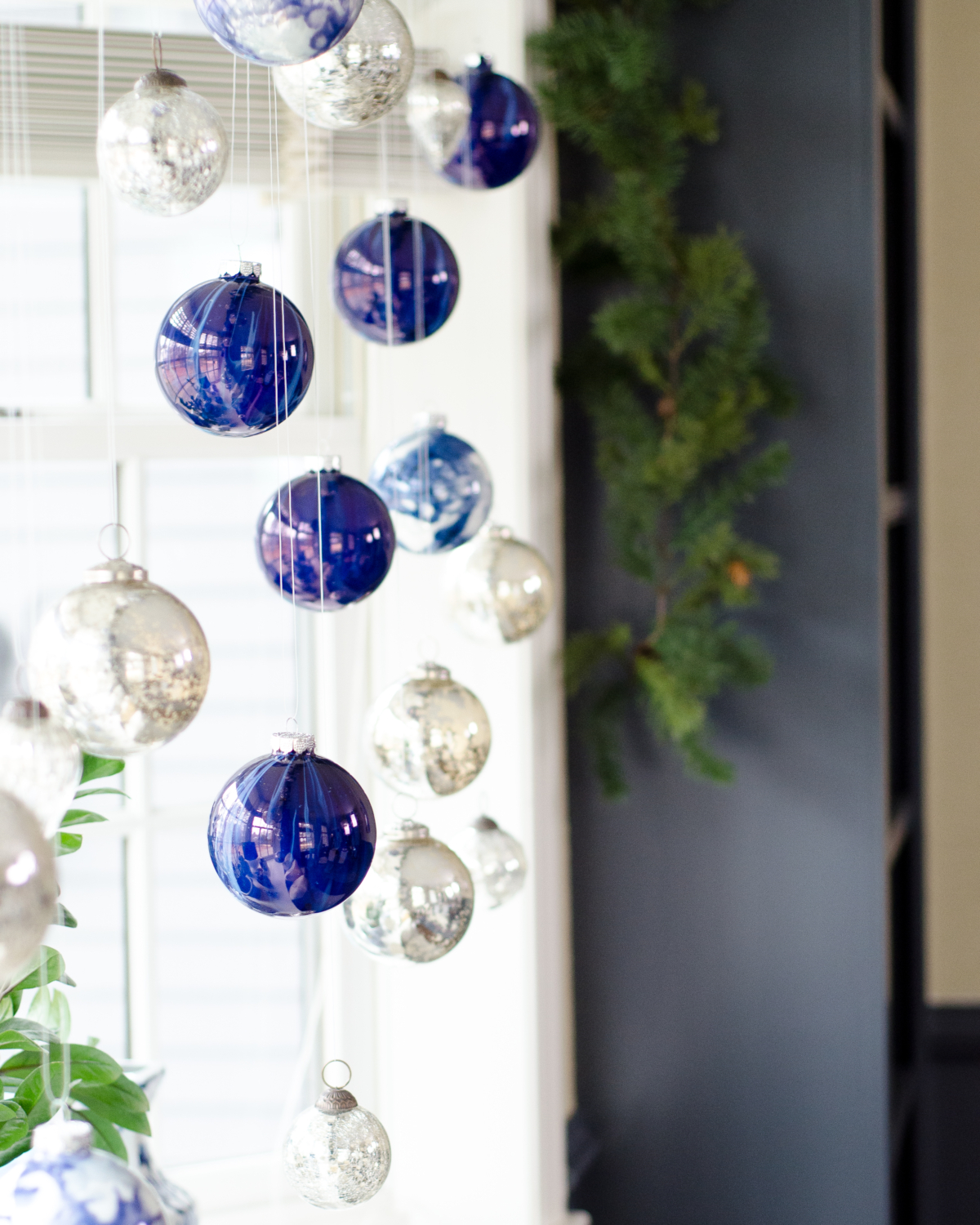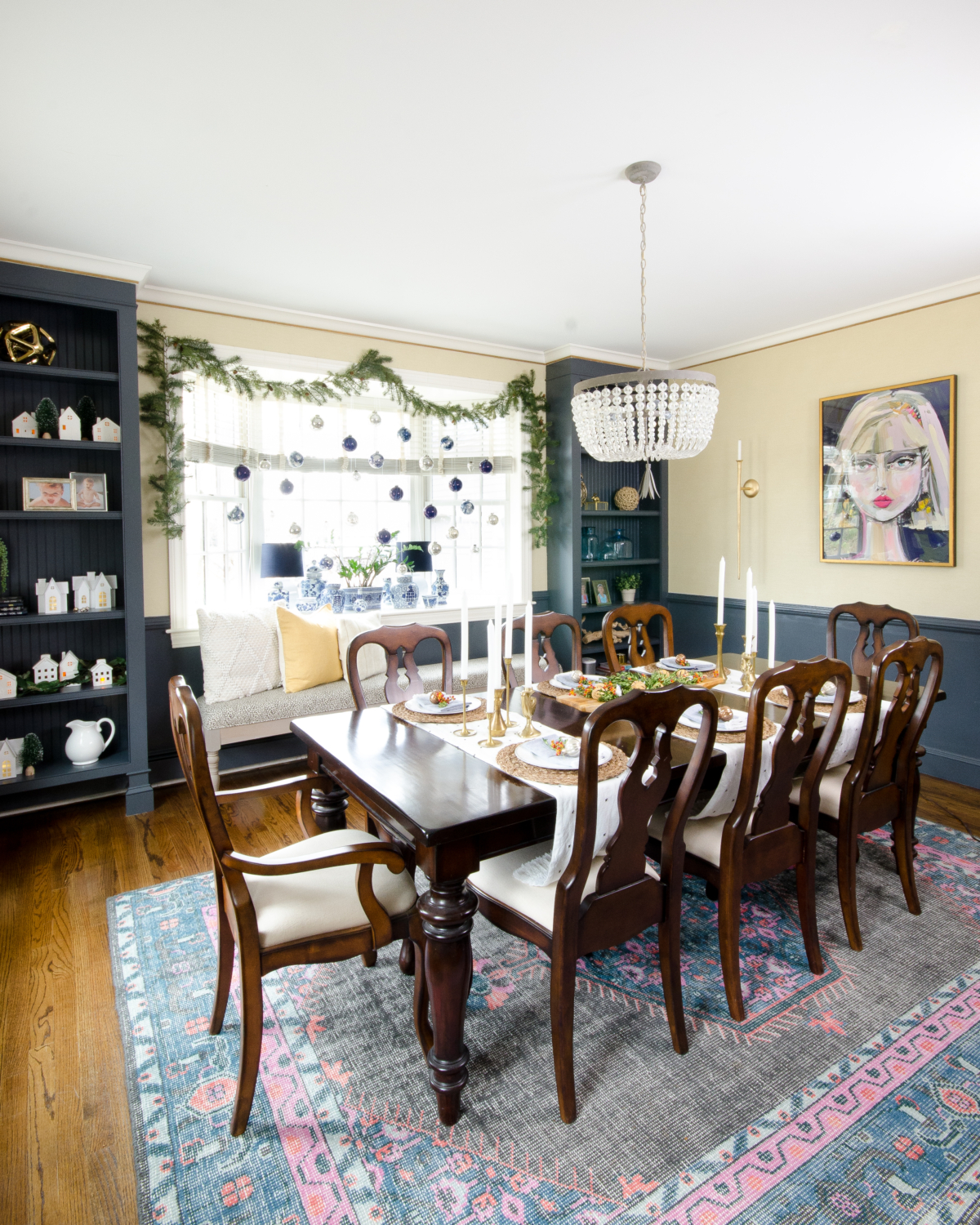 art print
art frame
wall candle sconces
table runners (similar and similar)
woven placemats
My collection of little white ceramic houses is still going strong. They've become one of my favorite things to pull out of the Christmas bins every year. I love the way they pop against the new dark bookshelves in the dining room this year.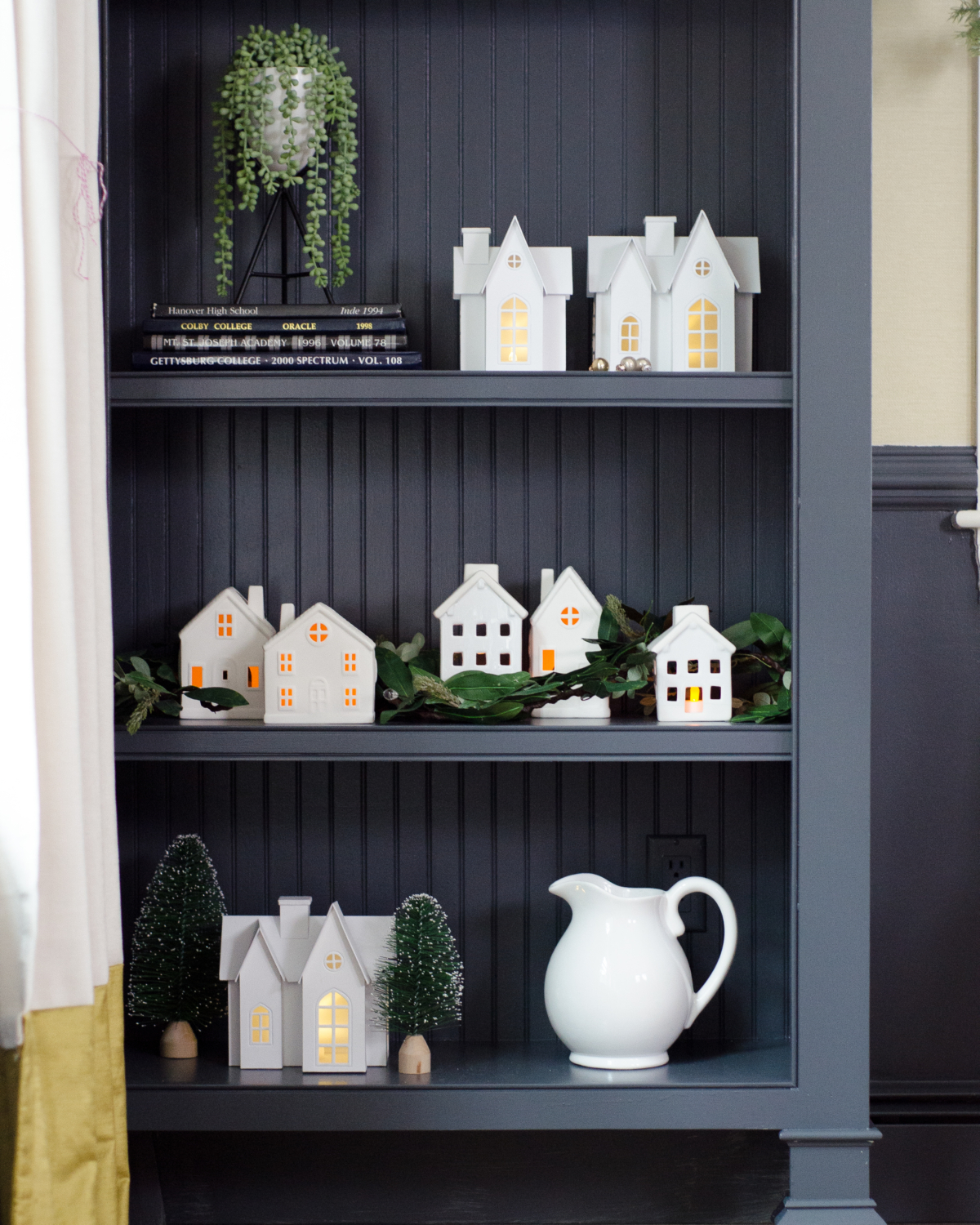 ceramic houses
I kept things pretty simple on the table – clean black and ivory runners, woven placemats, and a centerpiece made of boxwood and bittersweet clippings from my yard. I couldn't resist tucking those little blue and white bird ornaments in too.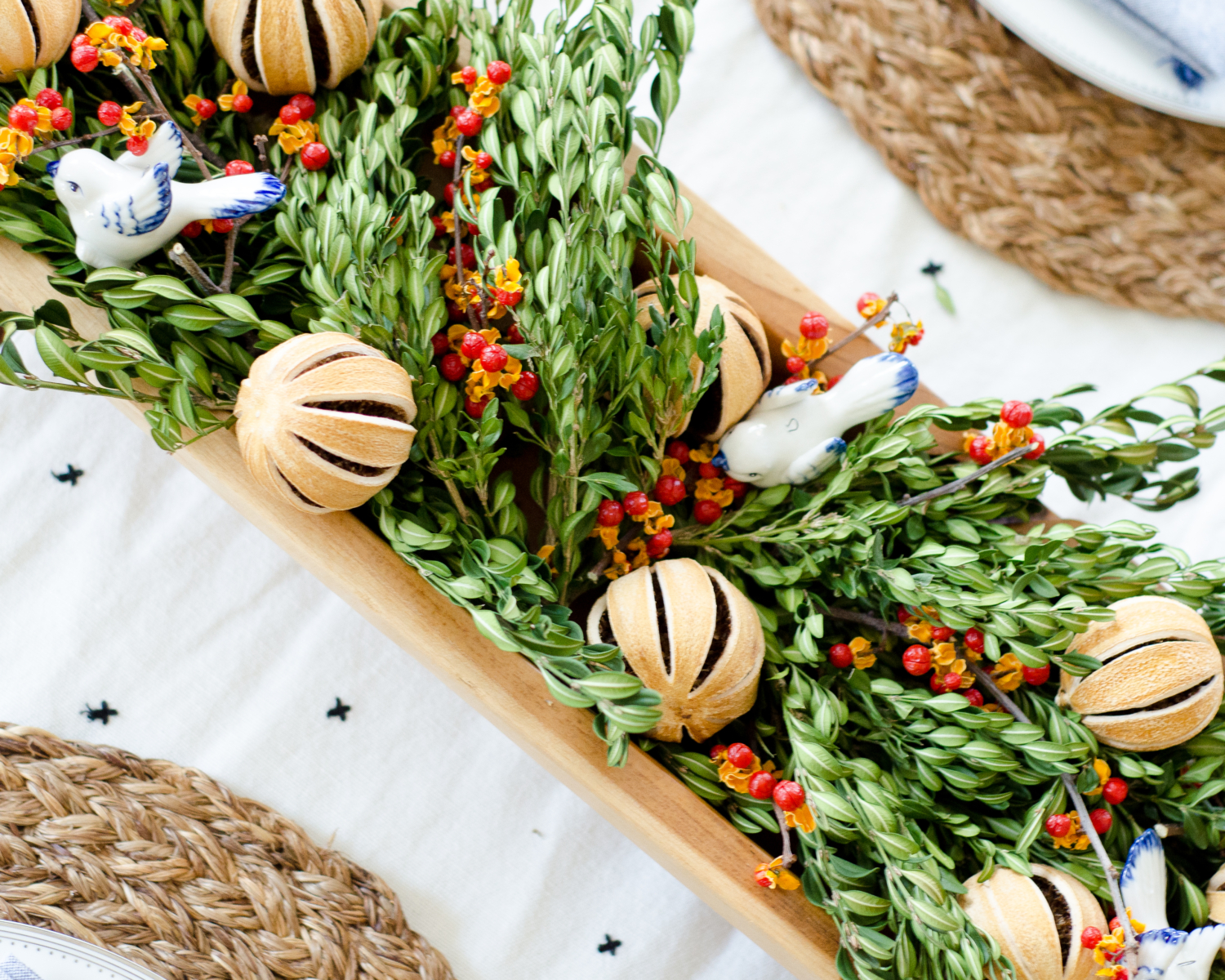 table runner (similar and similar)
blue and white bird ornaments
dried oranges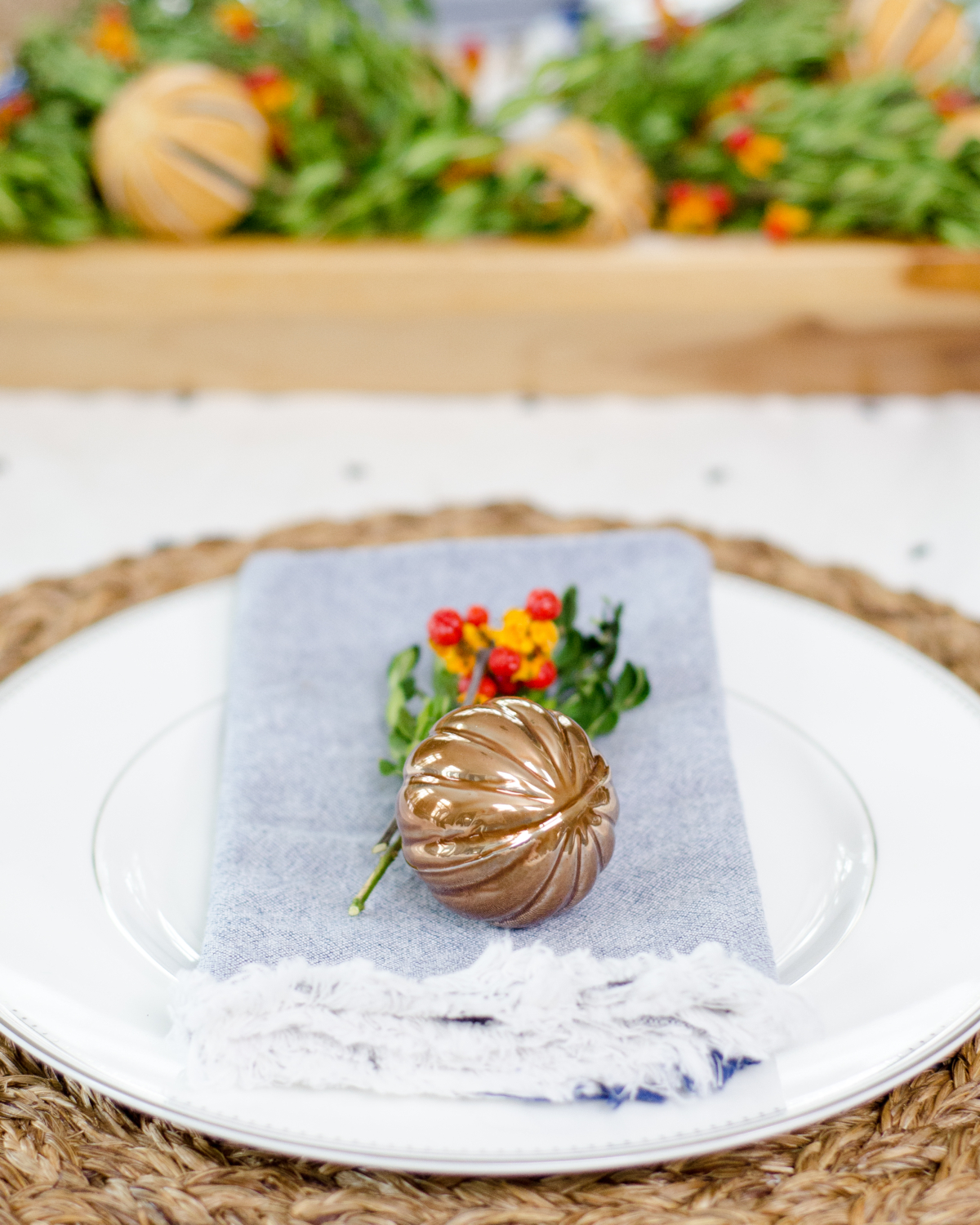 Across from the dining room sits the living room, where the tree is definitely the star of the show.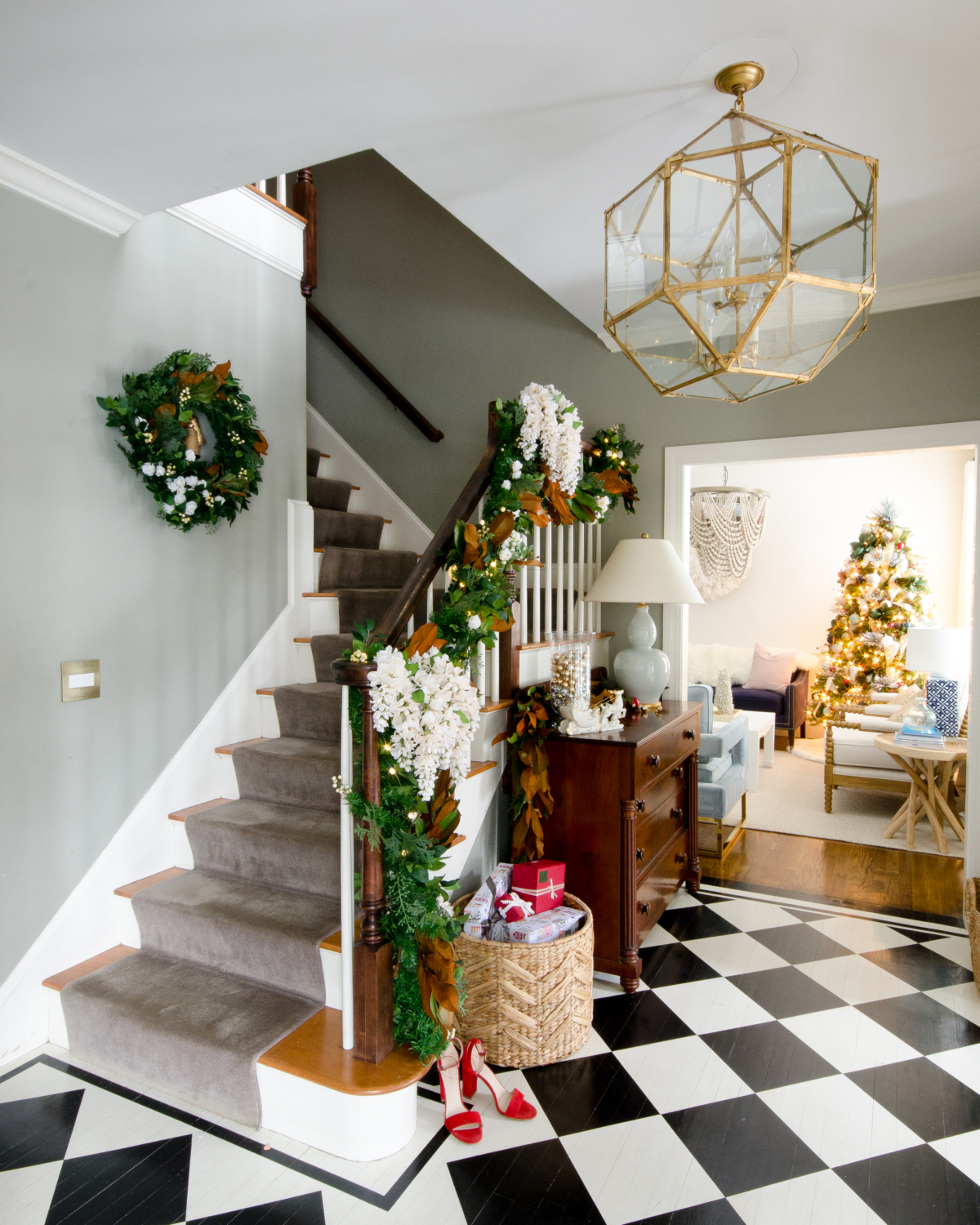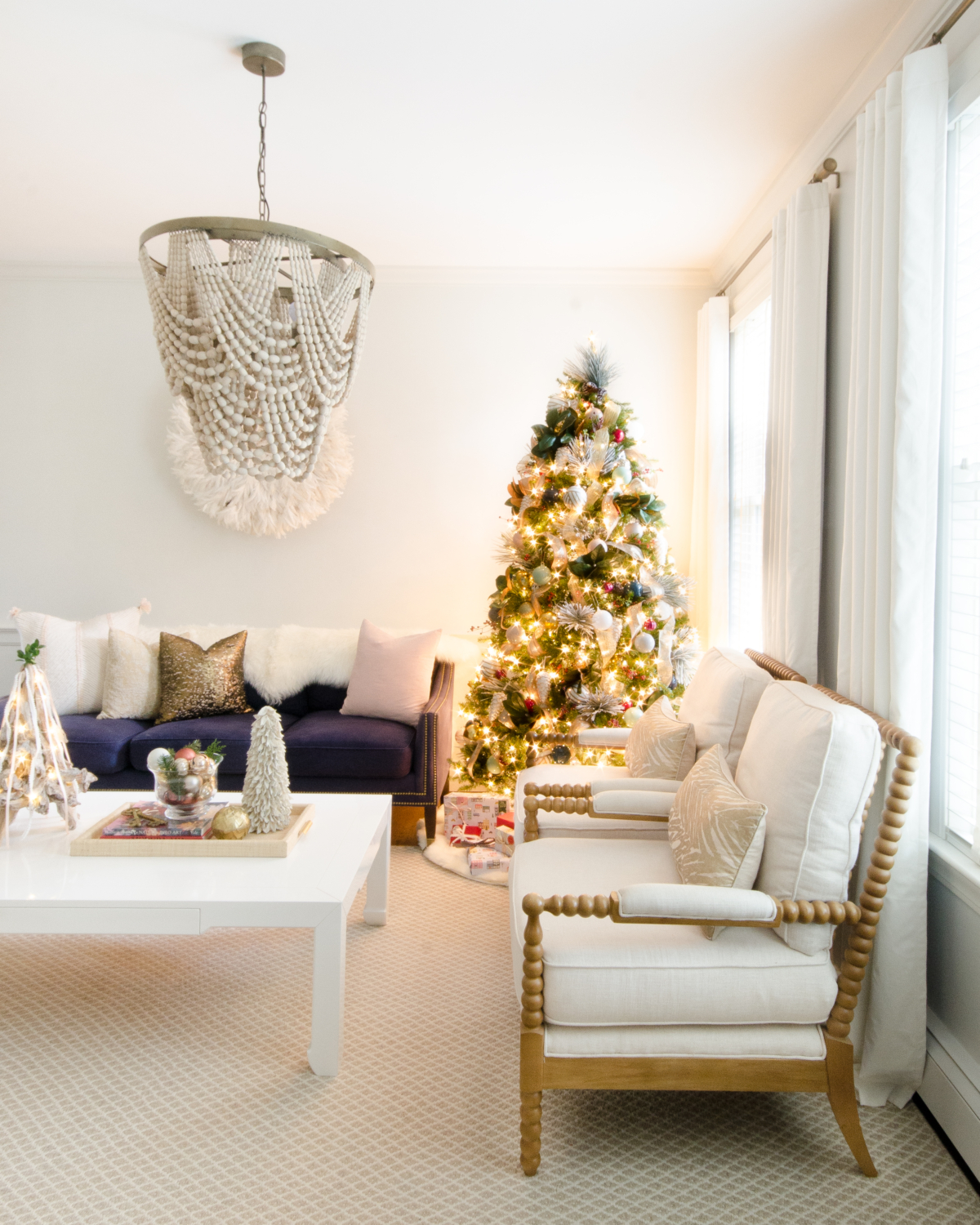 ball ornament set
velvet drapes
spool chairs
sequin pillow
rug
beaded pendant light
juju hat wall hanging
Artificial trees can be a little hole-y sometimes and I like to fill the spaces with botanical picks from the craft store and wide wired ribbon for a really full, lush look. This year I added some frosted pine boughs, magnolia bunches, red berry branches, and a few different gold ribbons.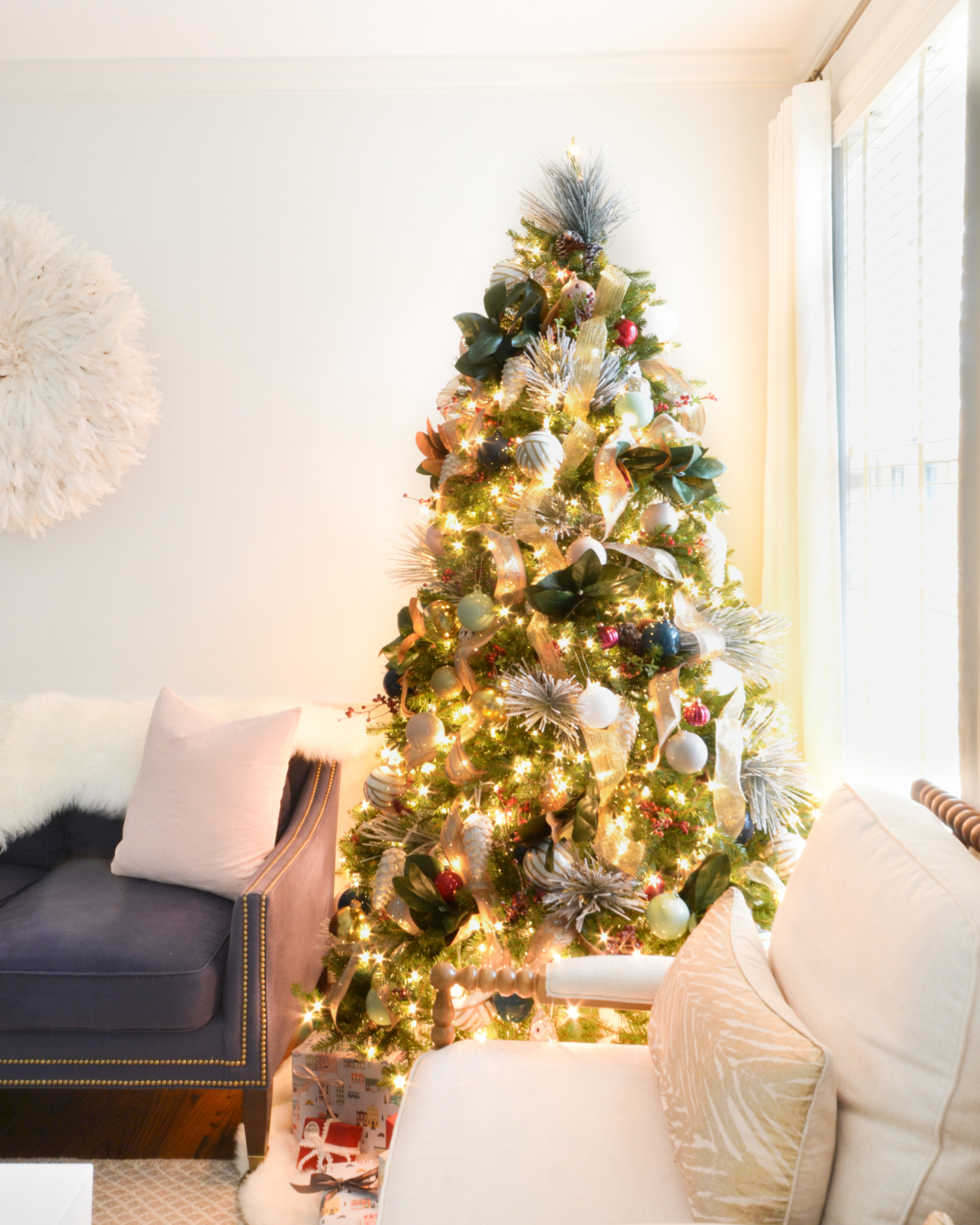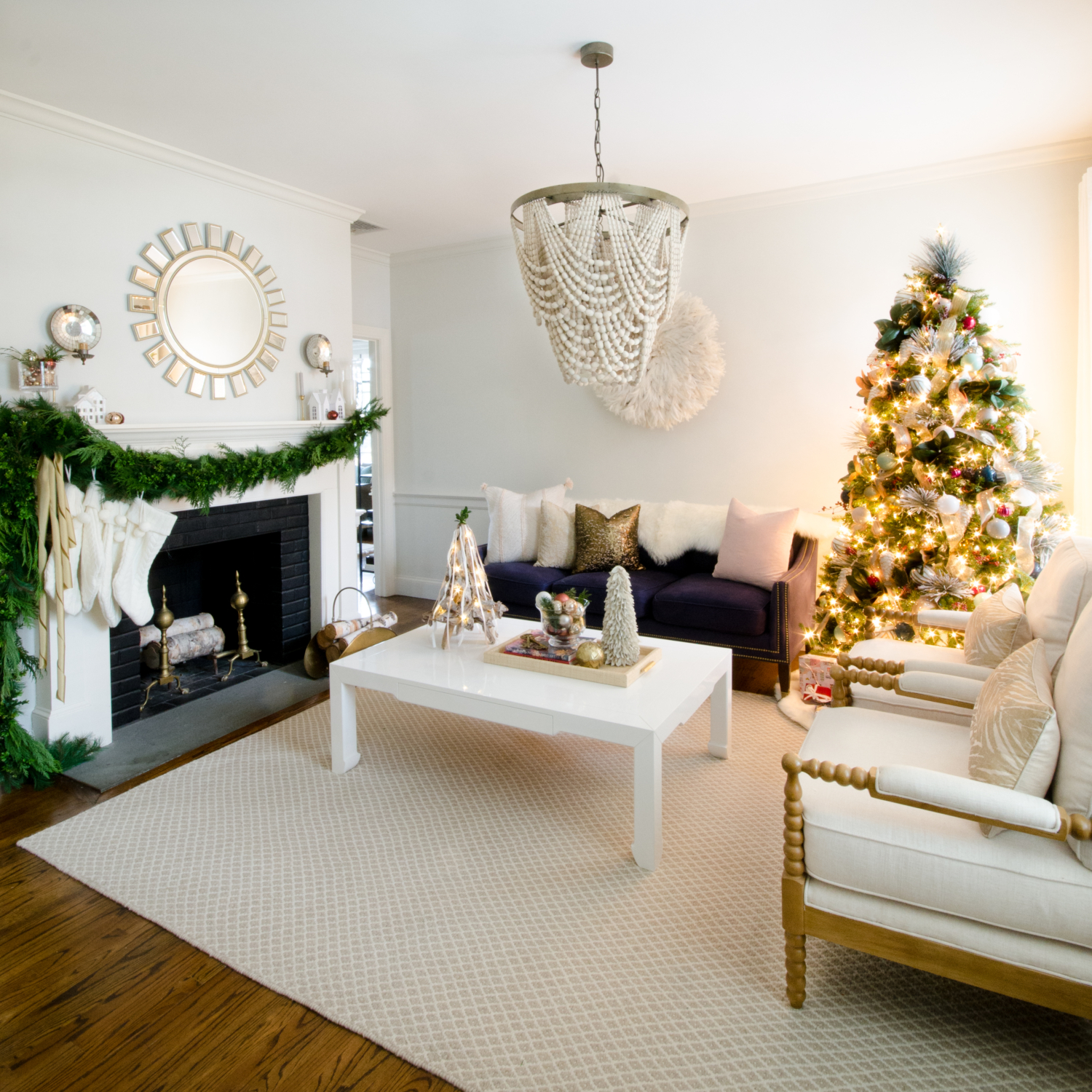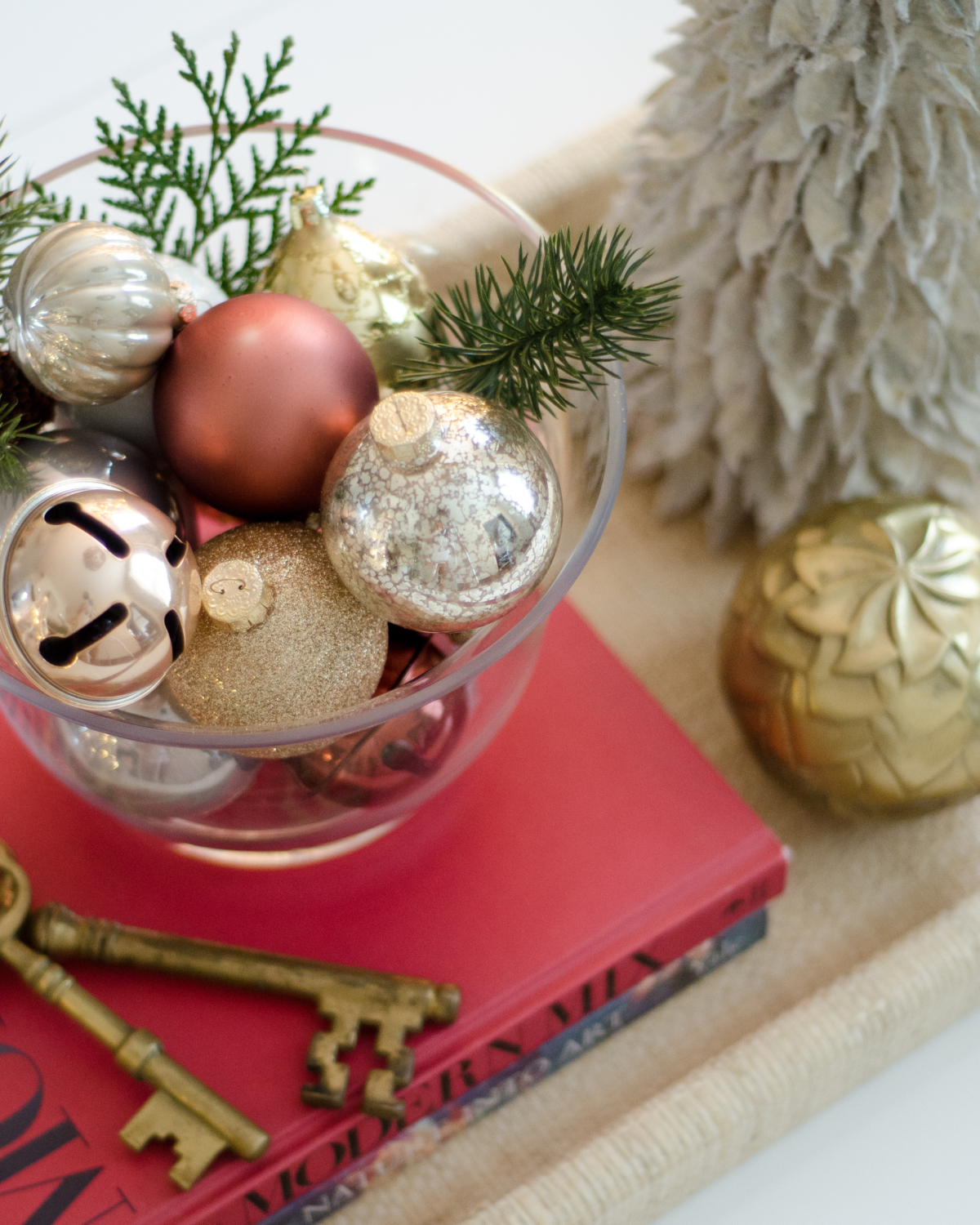 I decided to keep the mantle garland this year really simple. Just a faux pine garland I've had for years layered under a faux boxwood garland, some fresh greenery cut from the yard tucked in, a cluster of gold ribbon ringlets, and my cable knit stockings. I use these clear damage-free hooks to secure garland to my mantle every year.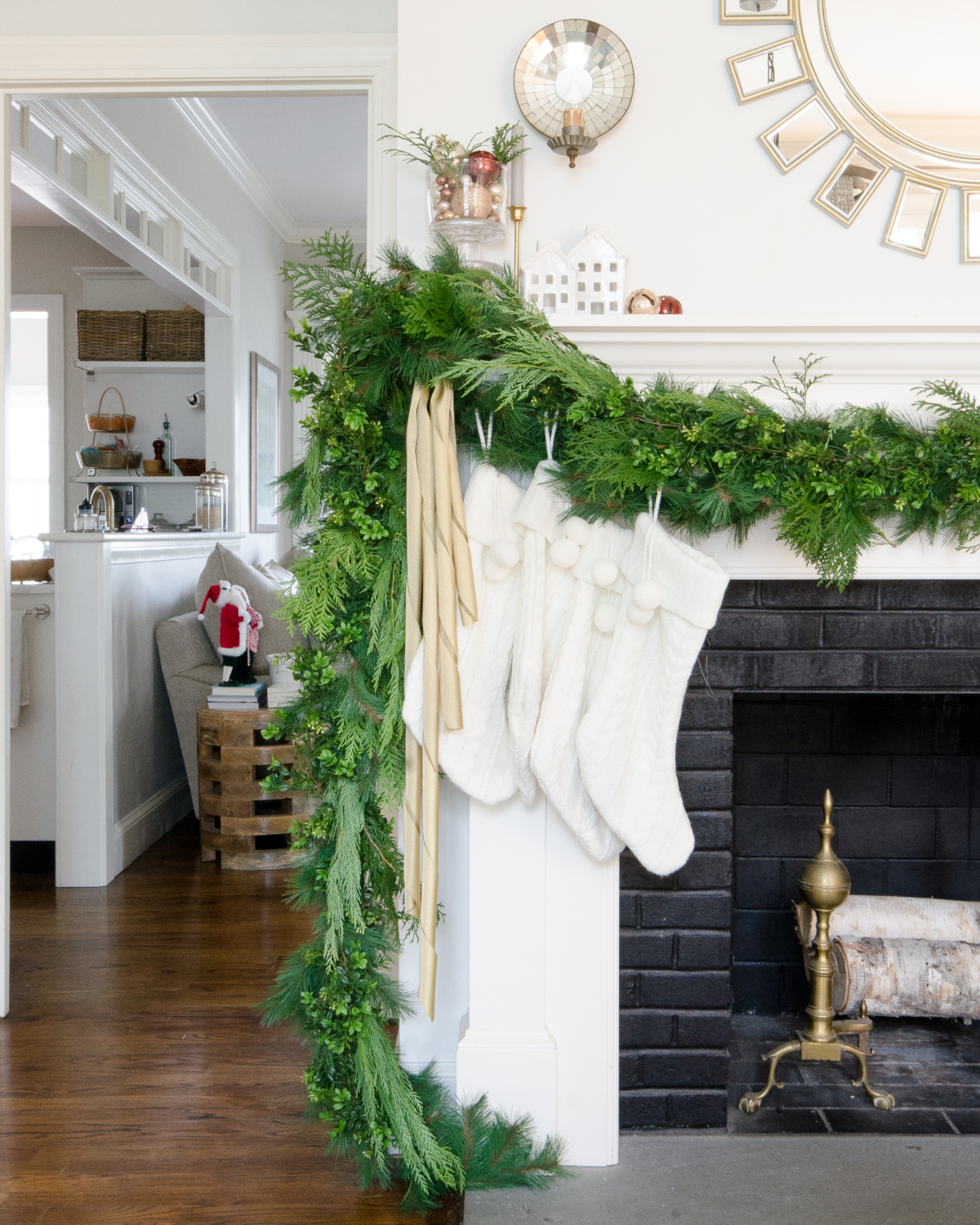 faux pine garland
faux boxwood garland
clear damage-free hooks
cable knit stockings
And of course my favorite little houses made another appearance here too.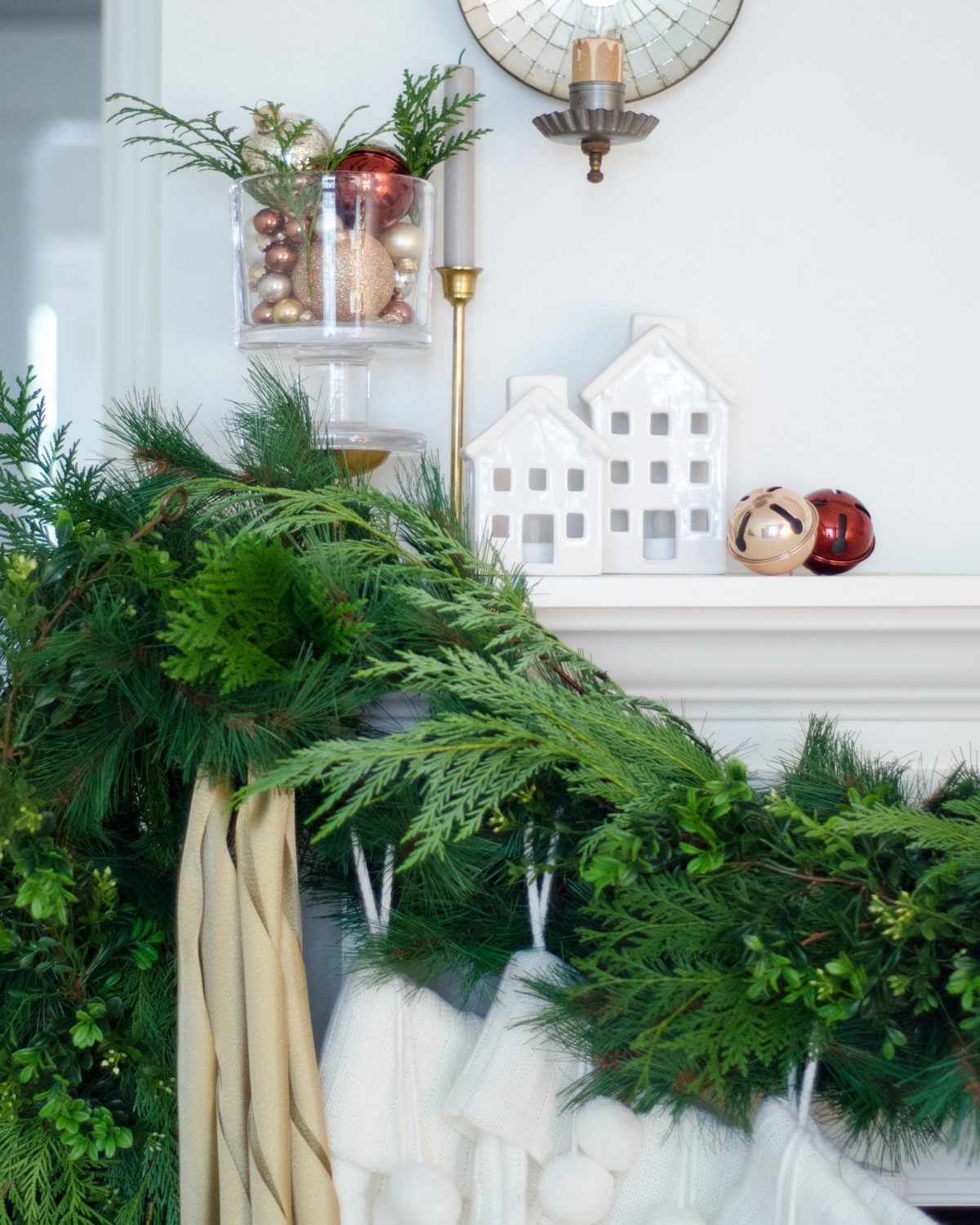 ceramic houses
That's it for this year! I hope you enjoyed the tour and be sure to keep moving through the 2018 Holiday Housewalk by visiting the next stop, Jeanne Oliver!