An easy and sinfully delicious overnight french toast recipe featuring Hood Vanilla Eggnog, cinnamon, and pecans. This post has been sponsored by HP Hood®. I created this recipe and all ideas and opinions expressed are my own.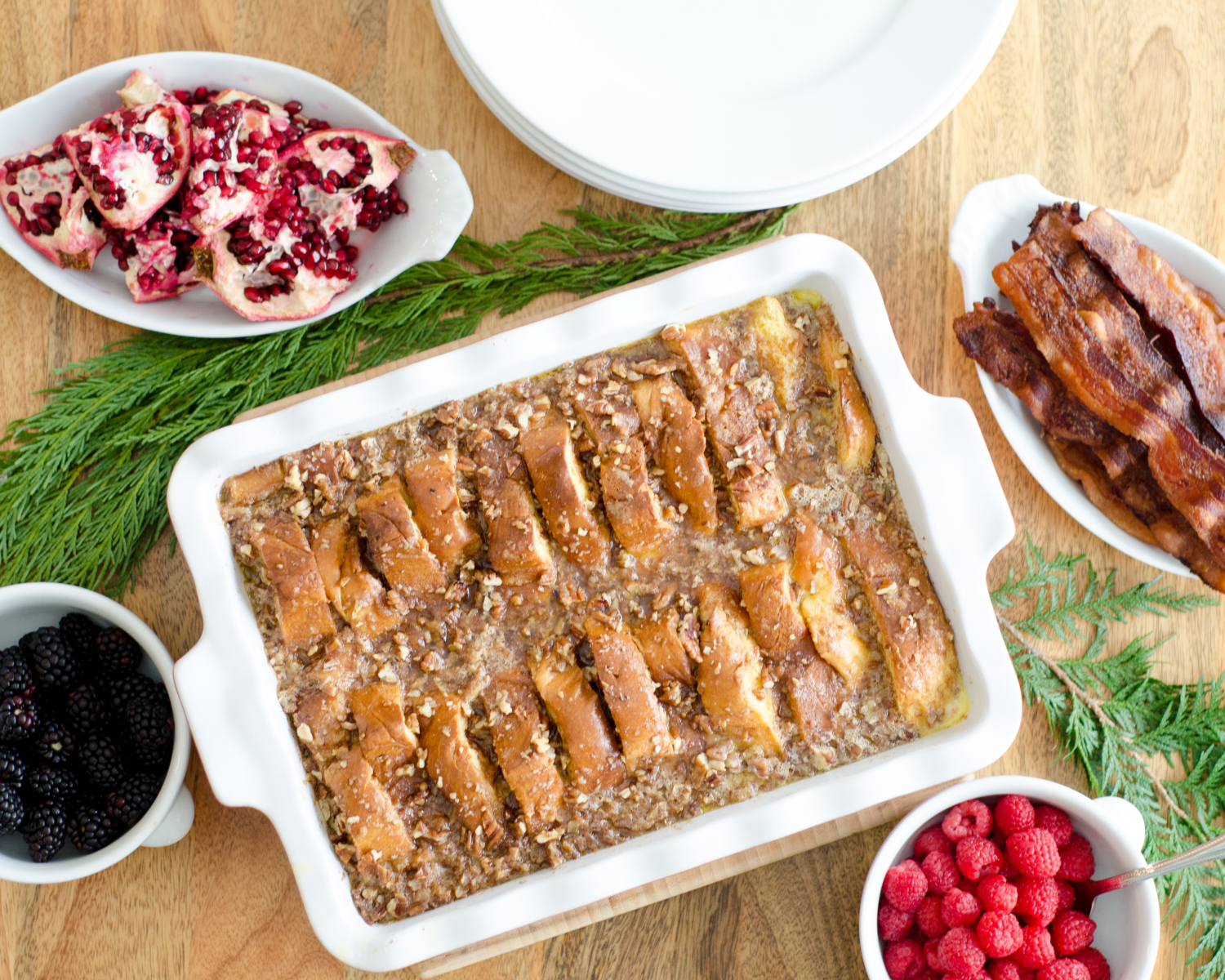 The holiday season is upon us and that means houseguests and feeding loads of people. Which, truth be told, I totally love! My secret (not really a secret, but anyway…) to stress-free entertaining and overnight guests is to do everything ahead of time. And if not everything, as much as you possibly can. This lets your guests relax because they don't feel like you're killing yourself because they're there and also lets you actually chill and enjoy time with everyone instead of slaving away in the kitchen while everyone else is hanging out! I came up with this overnight french toast recipe especially for when you have overnight guests. You assemble the entire thing the day before and then when you wake up in the morning just pop it in the oven and sit back with your coffee and your guests.
The assembly part itself takes no time at all too. Just three steps, really. Cutting and stacking the buttery brioche in a baking dish, whisking a creamy, vanilla-y eggnog mixture together and pouring it over, and sprinkling everything with a cinnamon pecan streusel-y topping. The result? Pure holiday breakfast magic.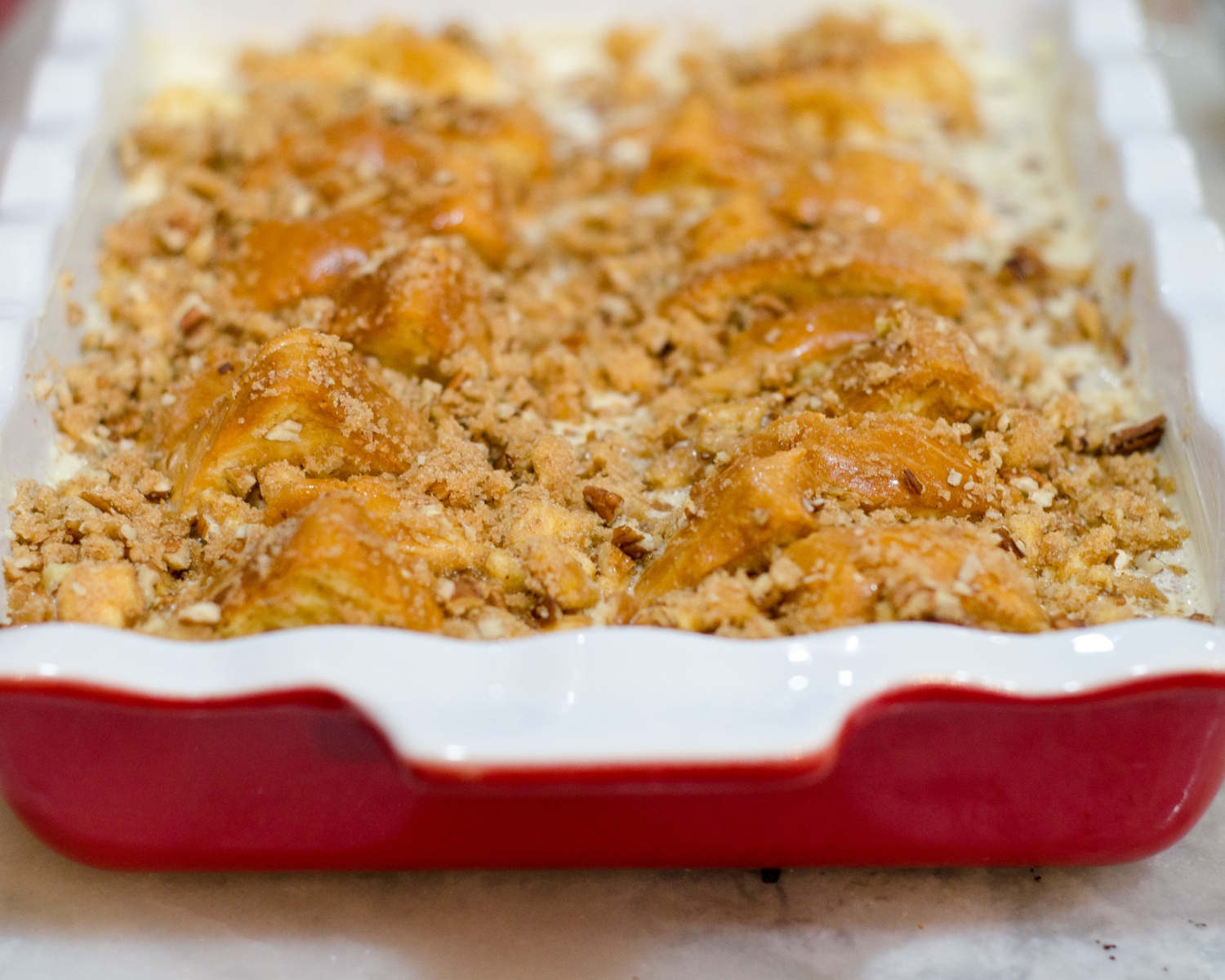 Using Hood Vanilla Eggnog as the base for the custard makes for an extra decadent and festive overnight french toast. Hood Eggnog is a holiday favorite for a reason – it's super delicious! I may have snuck a small glass while I was making this overnight french toast. My husband's been using what's left in his coffee and I think he'll be a little sad when Hood Eggnog season is over (it's only available for a limited time every year). Hood also has Golden and Light varieties of their eggnog but I knew the vanilla was perfect for my overnight french toast recipe – pure vanilla, milk, cream, egg yolks, and sugar. All I added for the overnight french toast custard was a little salt, nutmeg, and more eggs. So easy and so, so good.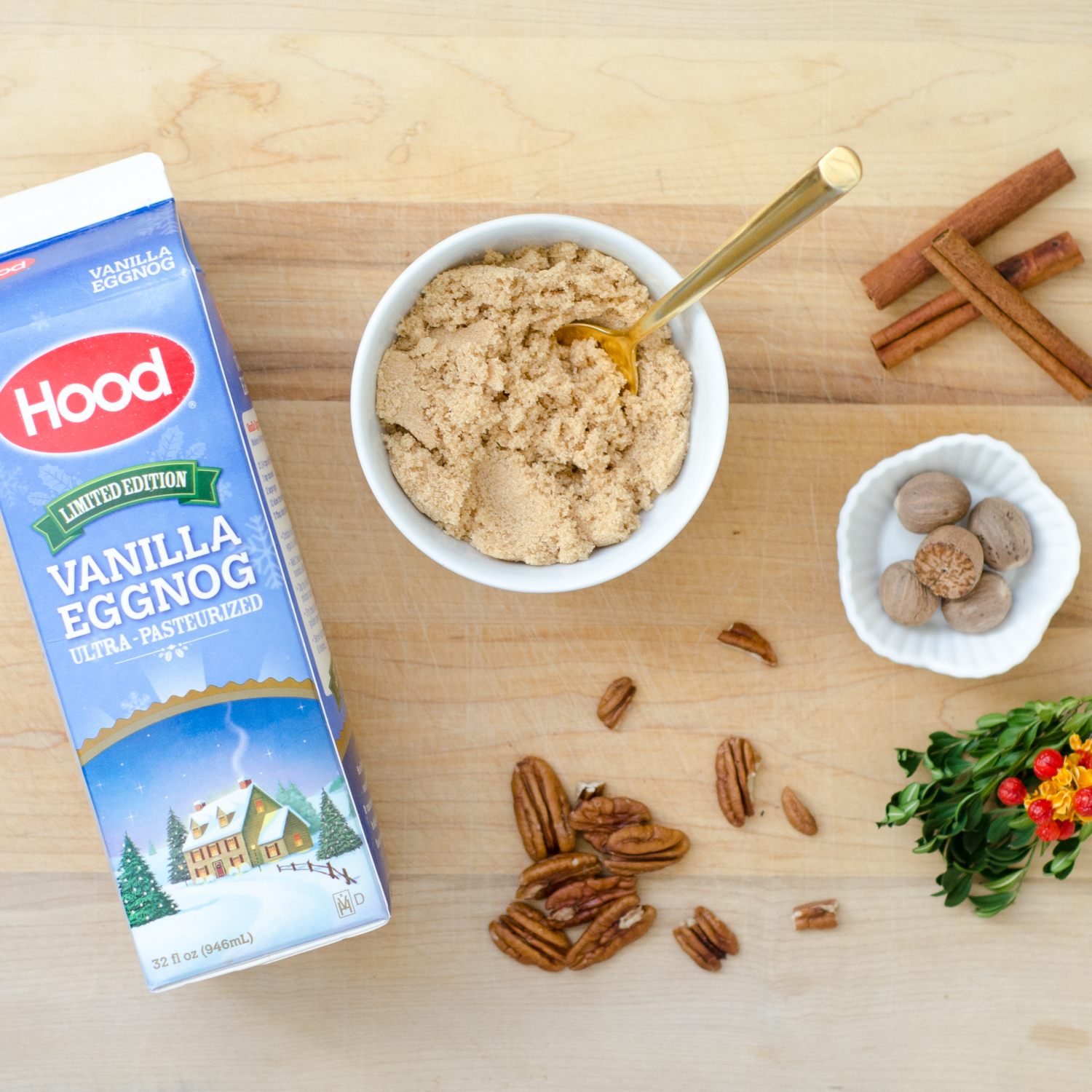 Now let's talk about that streusel part. Butter. Brown sugar. Cinnamon. Pecans. Dusted generously over the top of eggnog-soaked brioche and if you're feeling really hands-on (I was) pushed down in between the brioche slices too so every single bite you take tastes like butter and cinnamon and eggnog. It's seriously dreamy.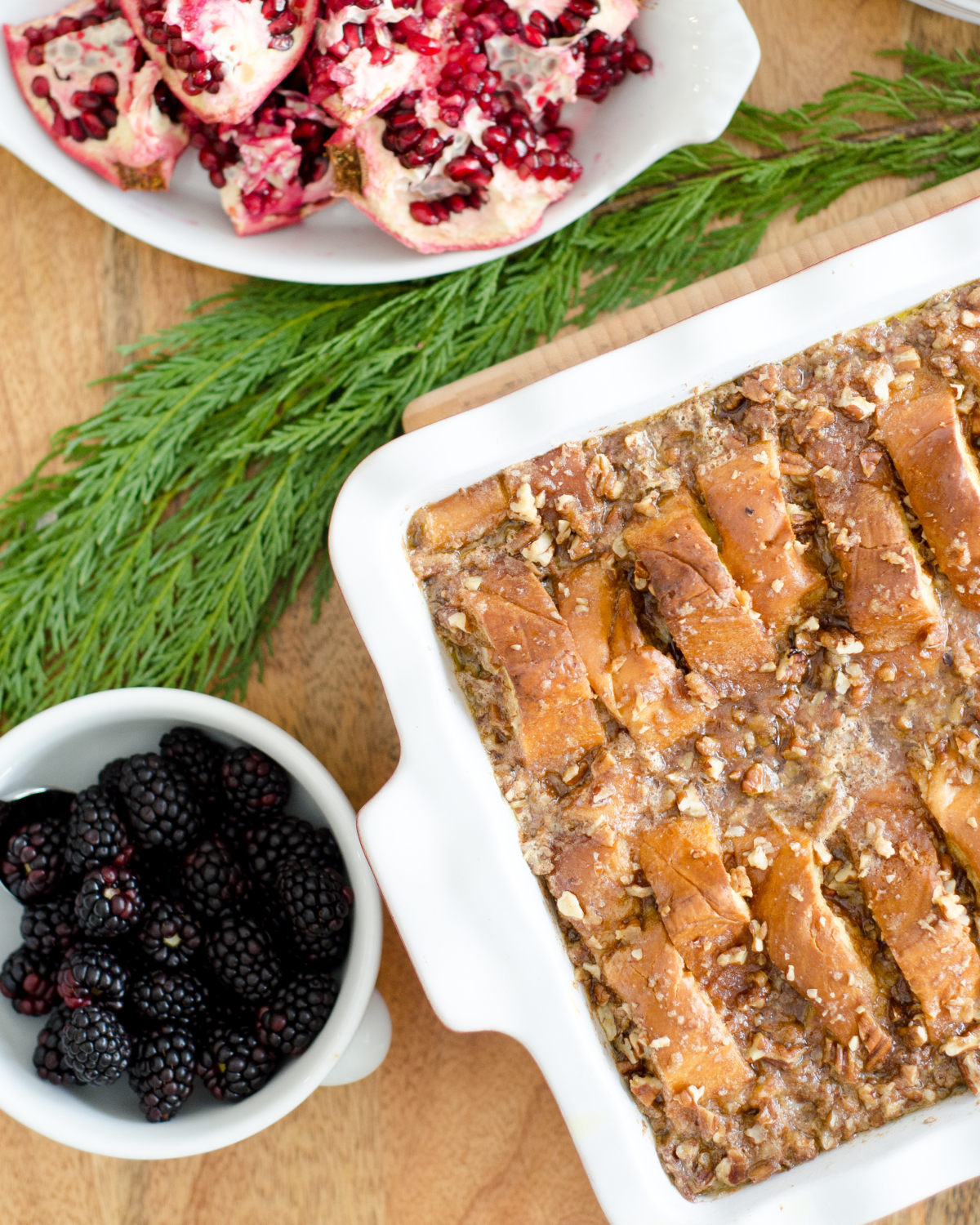 You can find Hood Eggnog at most grocery stores this time of year so head on out and grab some so you can make this overnight french toast. It's so easy to put together and will wow your guests! For more information about the flavors and for recipes using Hood Eggnog, visit Hood.com, or find Hood on Facebook or Instagram.
If you're looking for more easy holiday breakfast ideas here are recipes for my easy Beligan waffles, pumpkin muffins with fresh cranberries, poached pears with yogurt, nuts, and seeds, overnight cinnamon bun bread, and easy cinnamon buns.

Overnight French Toast Recipe - Holiday Breakfast
An easy and sinfully delicious overnight french toast recipe featuring Hood® vanilla eggnog, cinnamon, and pecans.
Ingredients
Sliced brioche loaf, about 1 lb. total
8 large eggs
3 c. Hood® vanilla eggnog
½ tsp. salt
½ tsp. ground nutmeg
½ c. butter, softened, plus extra for buttering the dish
1 c. dark brown sugar
¾ c. chopped pecans
1 tsp. ground cinnamon
Instructions
Generously butter a 13x9x2 baking dish.
Slice the brioche into triangles and arrange them in two rows, with triangle points sticking up.
Crack the eggs into a large bowl and use an electric mixer to beat them on high until lighter in color and slightly thickened, about 3 minutes. Whisk in the eggnog, salt, and nutmeg. Slowly pour the eggnog mixture over the brioche so it has time to soak in a bit as you go. Push the bread down with your hands, if necessary, to allow all of the bread to soak up the custard.
Place the softened ½ c. butter, brown sugar, pecans, and cinnamon in a medium bowl. Use a pastry cutter to combine everything until it resembles coarse sand. Spread evenly over the top of the brioche and use your hands to push some of the topping down in between the bread slices. Cover with plastic wrap and refrigerate overnight.
In the morning, preheat the oven to 350º. Remove the plastic wrap and bake in the oven until the french toast is puffy and golden, 35-40 minutes.