Happy new year, blog friends! Like everyone, I'm majorly feeling the organization bug this January and I've been working on tidying my house and compiling ideas for you so we can all start the year organized! Today, I'm sharing some kitchen organization ideas with you – specifically how I keep my kitchen drawers neat and organized and how I sort and keep important papers (including the veritable mountain of paper that comes home with my kids every day from school).
I have a stack of drawers in the kitchen that I gave some attention to organizing recently and it has made a world of difference in how efficiently my family uses this area!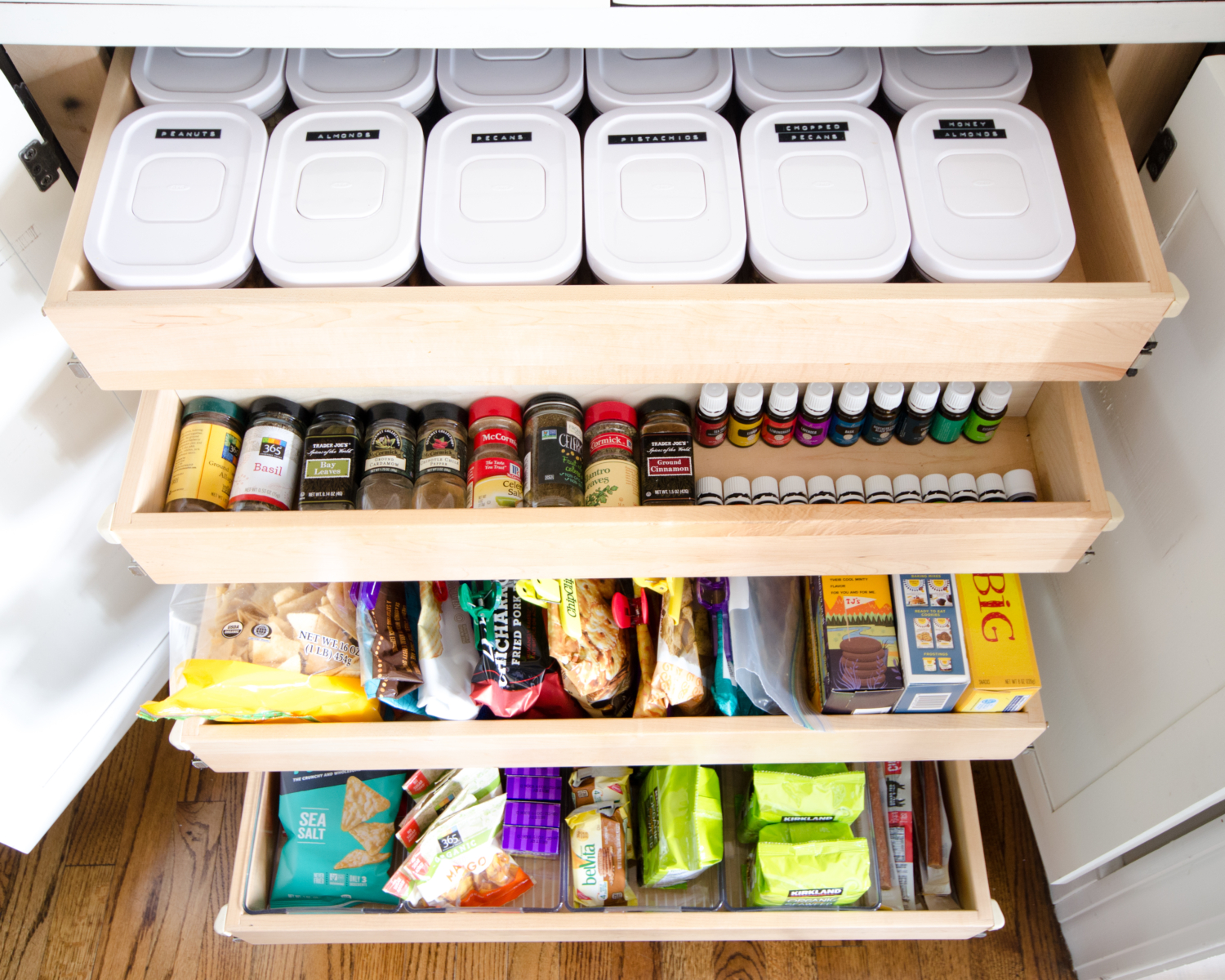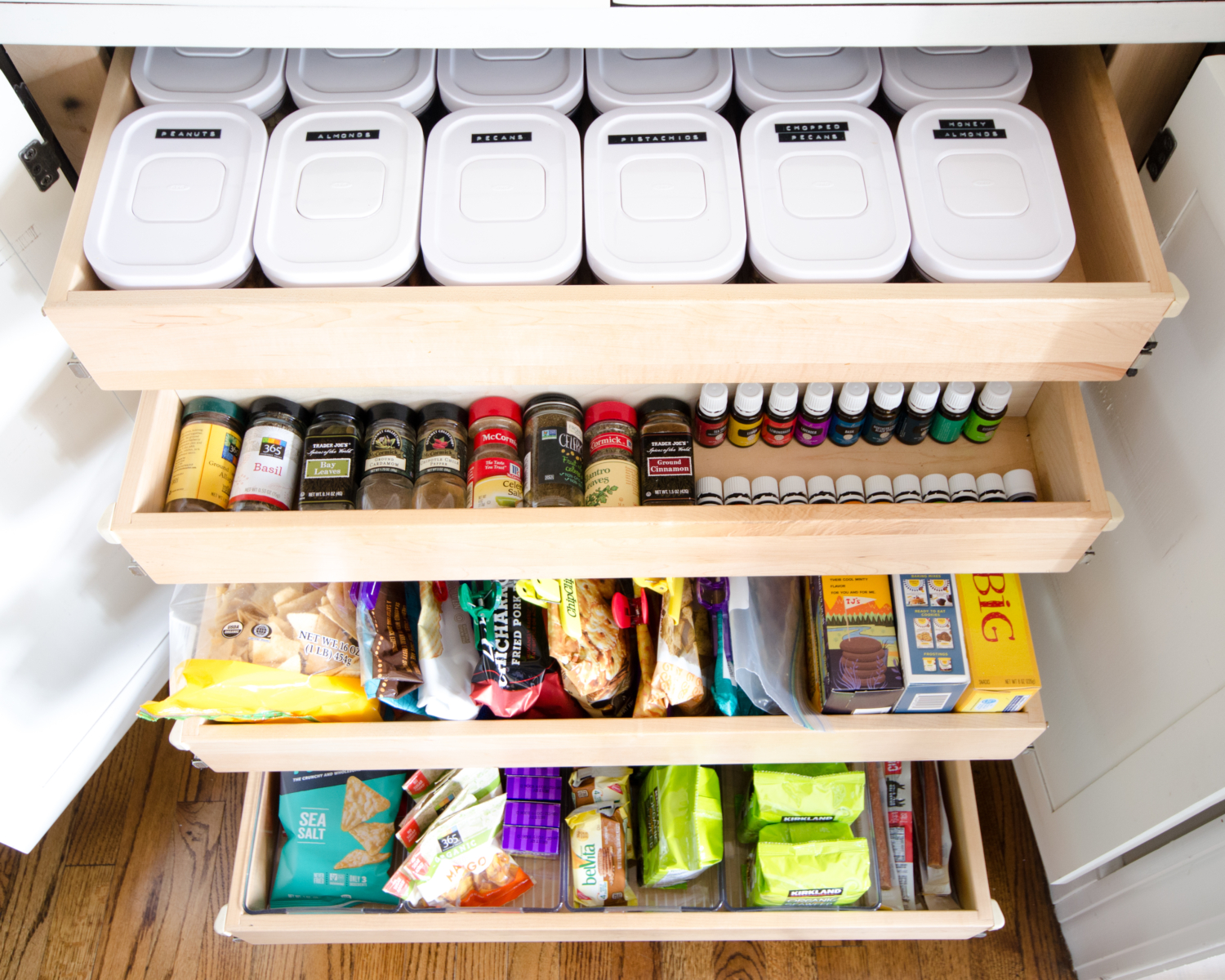 How to Organize Snacks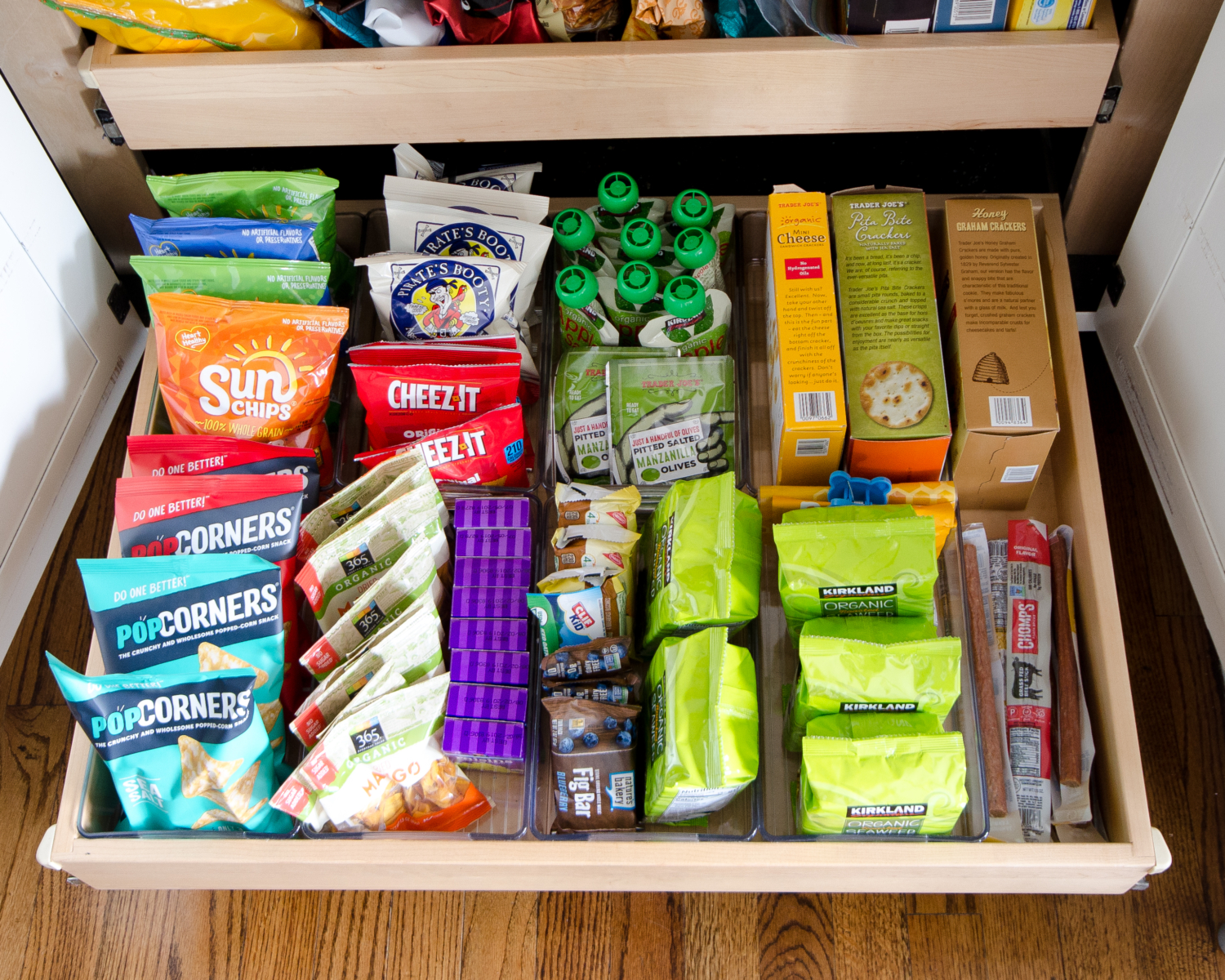 A big part of kitchen organization is making sure that you can find what you need quickly. My kids take two snacks to school every day. I usually pack them fruit for one of them and then let them pick something from our snack cabinet for the other. That task got a lot easier for them and less stressful for me when I invested in some clear storage bins to hold all of the snacks. Instead of a messy tangle of bags that they had to dig through (which took forever), they can now open the drawer and see exactly what we have in seconds. It's amazing, and it makes it easier for me too to see what we have and what we need. I did some research and found a great alternative to the pricey acrylic containers a lot of organization stores carry – you can find them HERE. There are lots of different sizes and package combinations available depending on the size of your space.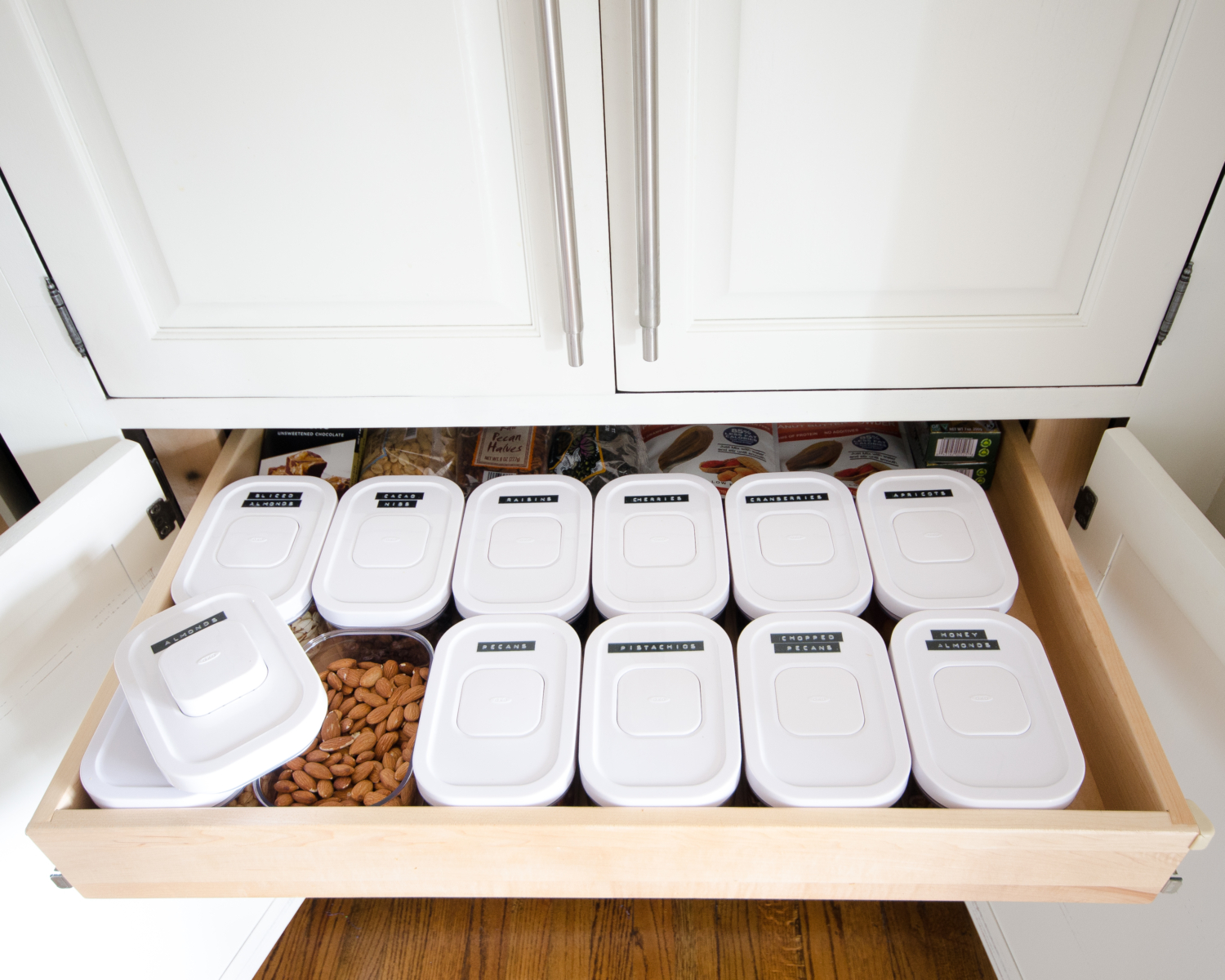 I keep all of our nuts and dried fruit (a favorite snack for all of us so we have lots!) in another of the drawers here and the mess was driving me half mad. The bags were left open half the time so things were always going stale and/or spilling out all over the drawer. I decided to put everything in these super cool airtight containers and it's made me very happy. You just press a little button on top to give the containers an airtight seal. So, so simple, and everyone seems able to open and close these little guys with no spills or other mishaps. Since you can't see what is in the containers from the tops, I made labels with this label maker.
How to Organize Spice Jars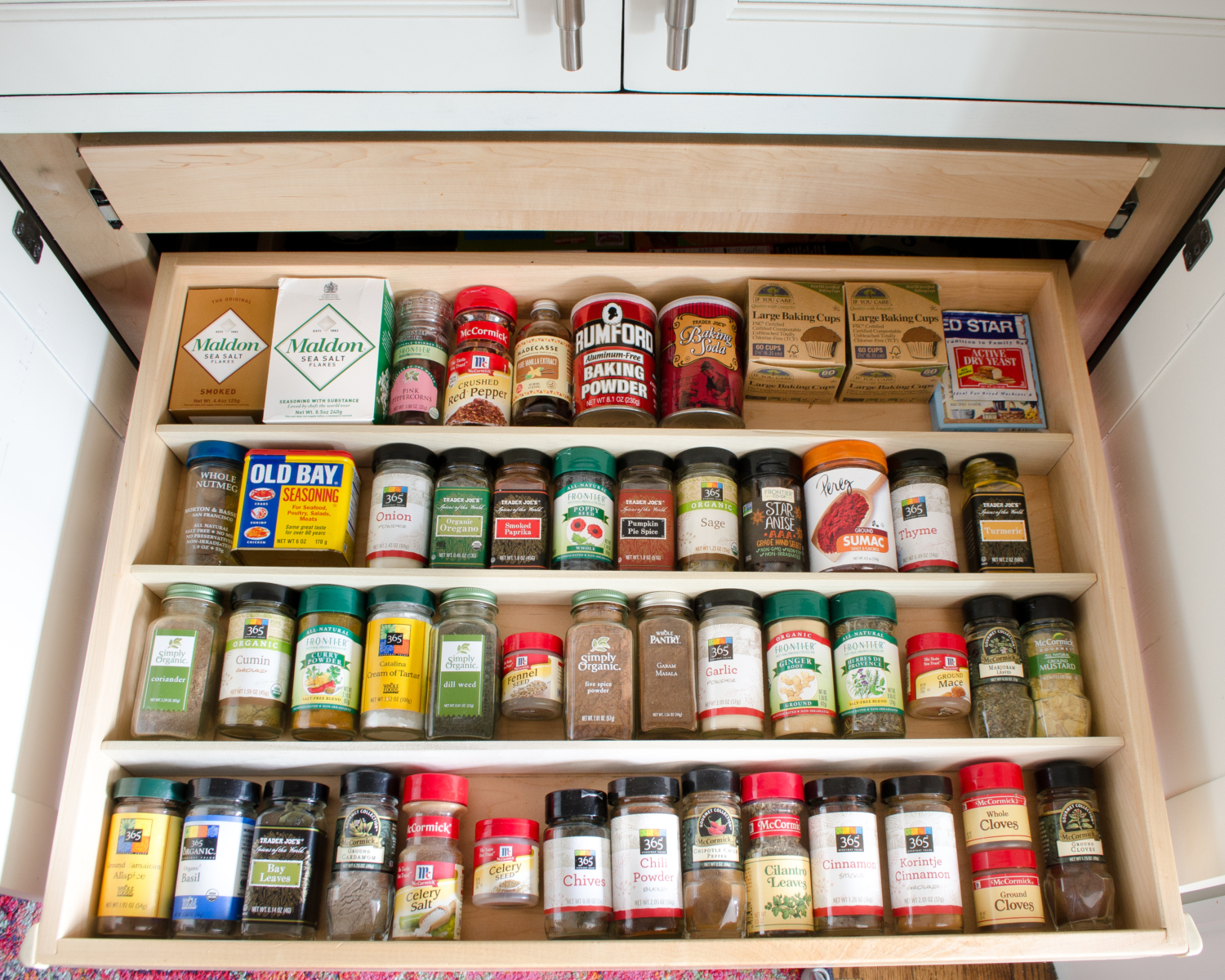 I also have a drawer here where I keep spice jars (which I'm kind of dying to transfer to pretty matching jars like these). But even without matching jars, the super easy custom dividers I made a couple years ago have made this drawer look and function so much better than it was before. You can find the tutorial for making the dividers HERE.
How to Organize the Junk Drawer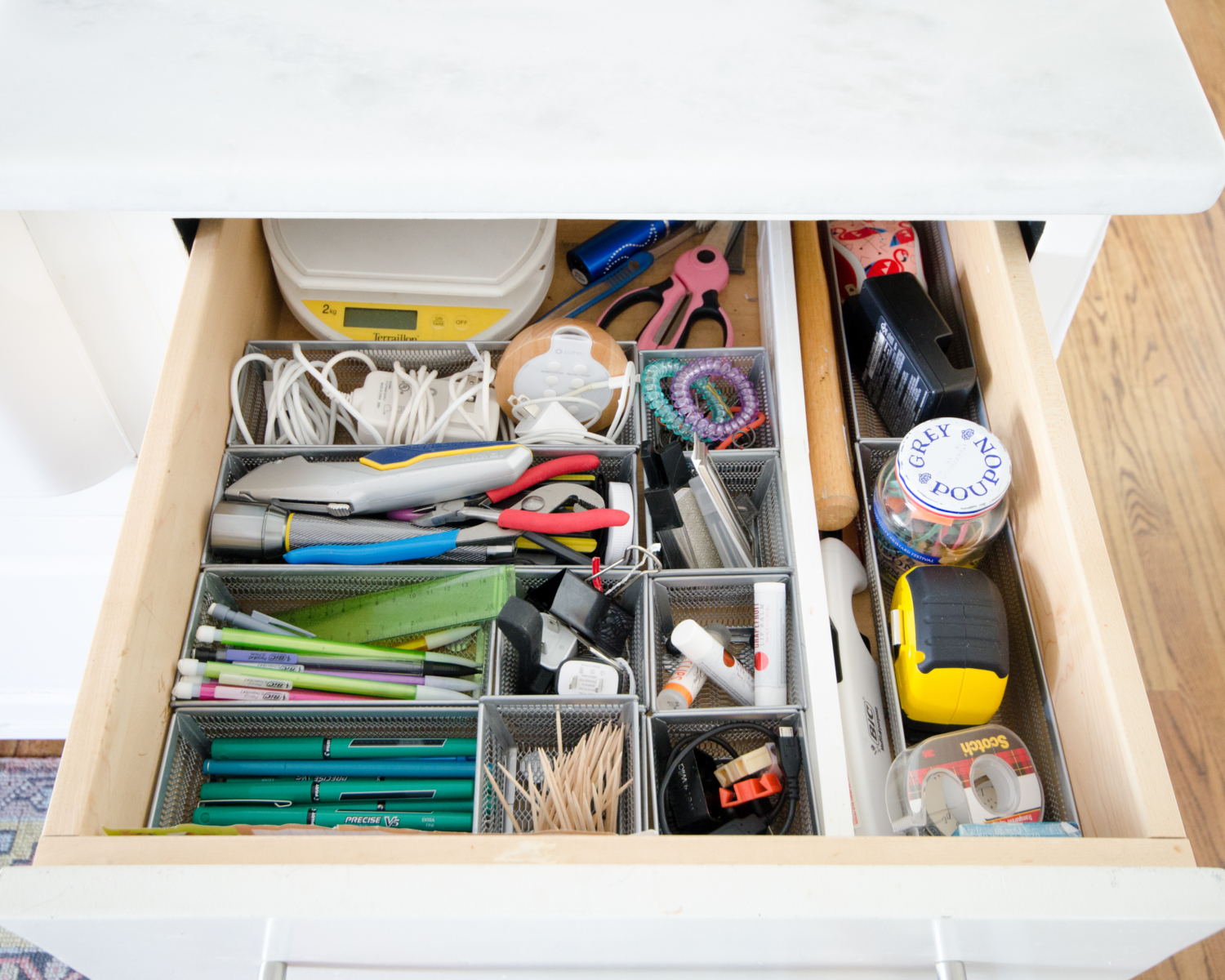 We all have this drawer somewhere in the kitchen, right? For me, the junk drawer holds pens, pencils, toothpicks, chargers, tape, scissors, lip balm, rubber bands, small tools, a food scale, calculator, ponytail holders, my camera charger…and probably a dozen other random things! Clearly this drawer would be an unholy mess without a little organization effort. I've used these mesh drawer organizers for years now and they really work to keep everything tidy and easy to find. I have a combination of 3×9 bins and 3×3 bins.
Another part of my kitchen organization is managing the flood of paper that comes in daily from both the mail and my kids. The kitchen is a natural drop zone and things start to pile up on the counters fast without attention. I have a couple easy systems in place that help me keep everything organized.
How to Organize Important Papers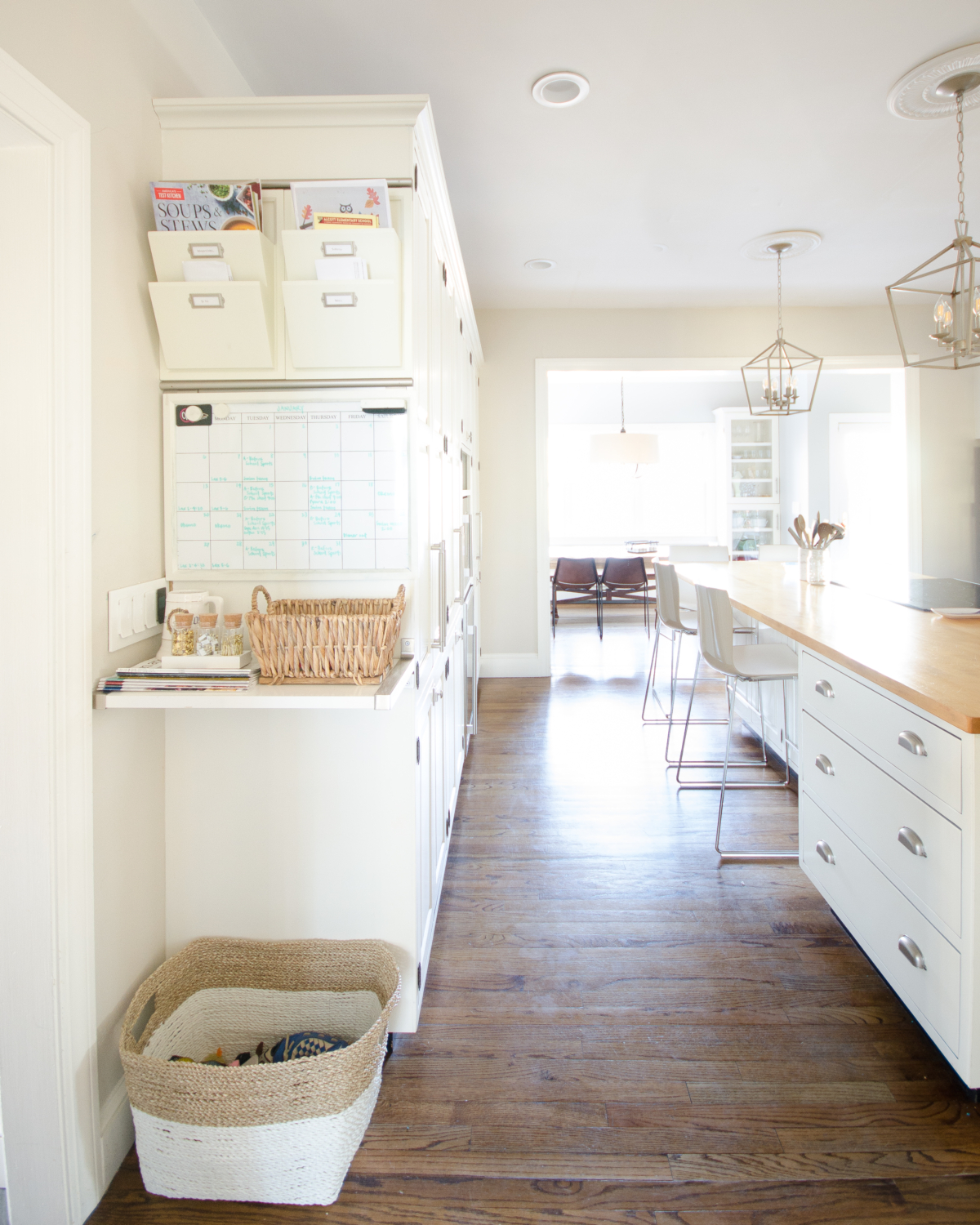 These wall-mounted letter bins have been a lifesaver in terms of helping me keep the mail sorted and organized. I bought them years ago and they're easy to use and they work! I labeled them with the four categories I most needed – bills, school, magazines, and to-do. So when the mail comes in I do a quick sort into these categories, pop them in the bins, and I'm done until I need to access them. The bins also come in grey and black.
How to Organize Kids' Papers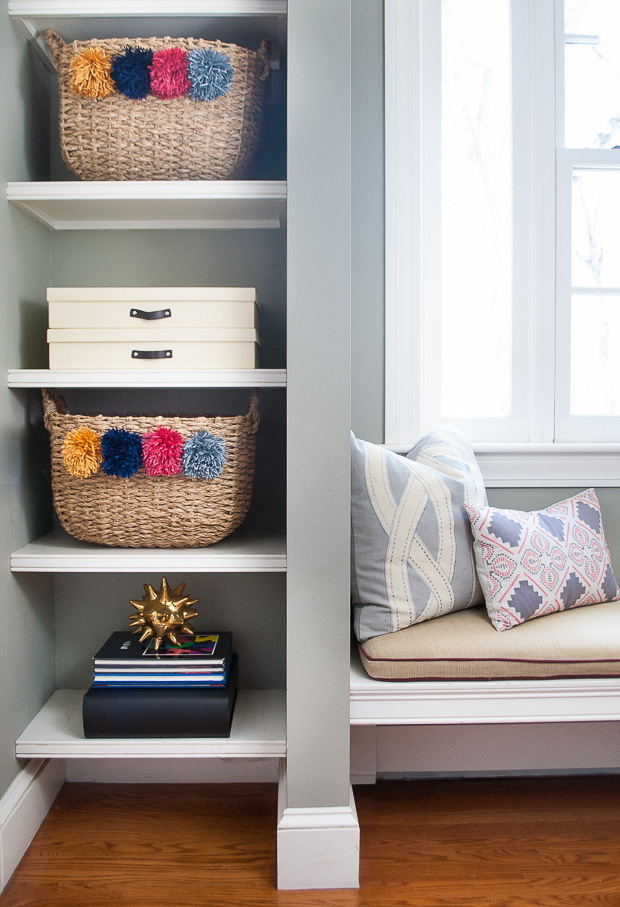 The other big paper culprit that can stand in the way of kitchen organization is kids' papers. My kids come home with a mountain of paperwork every week. And my first rule that helps keeps this mountain from becoming all-consuming is that you have to be ruthless in culling it. I keep very little of what comes home with them. If it makes me laugh or makes me tear up a little, it stays. I kept an All About Me page from my younger daughter in first grade saying she wanted to learn about goblins and had a baby brother. Neither true and it cracked me up. I kept a writing piece from my older daughter in third grade telling why she admired her dad and wanted to be like him when she grows up. If it will someday remind me of how little they were, I keep it – tiny handprints and drawings of people where the arms come out where the ears should be. But most of the rest of it goes. What does make the cut goes into the fabric boxes in the photo above. They're wide and can fit most things that come home from school, and if a paper is too big I just tuck it under the boxes. It's not a fancy system but it works as far as letting me keep sentimental things all corralled in one place! These boxes are similar to what I use.
The fabric boxes don't actually live in the the kitchen but it feel like part of my kitchen organization since that's where all the school papers land first!
I'm putting together some additional organization ideas for you for other parts of the house and will be back soon with sources and photos. In the meantime, I hope these easy kitchen organization ideas help you tidy up and streamline your daily life!