For this month's favorites post I decided to put together a group of pieces perfect for holiday dressing. I think I have everything covered from family dinners to girls' nights, from cookie swaps to holiday parties. I'll do a try on for you of the pieces I own (which are most of these!) on my Instagram Stories so you can see how they fit and how I'd suggest wearing them for different events. I'm aiming to get it all filmed and uploaded later today or tomorrow so you can have your shopping list ready to go for the big Black Friday and Cyber Monday sales! You can find my last two months' favorites posts HERE and HERE.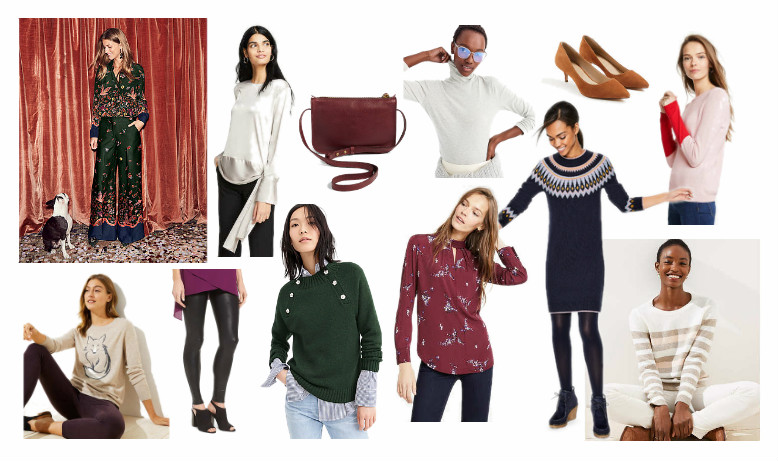 (clockwise, L-R)
Green wide leg pants | Green silk shirt | Tie waist blouse | Burgundy crossbody purse | Tissue turtleneck | Suede pumps | Colorblock sweater | Stripe sweater | Fairisle sweater dress | Floral foldover neck blouse | Sweater with jeweled buttons | Faux leather leggings | Fox sweater
Let's start November Favorites off with my favorite of all the favorites this month.
Wide leg pants and silk shirt
I don't even know how to express to you how OB-SESSED I am with this outfit. It's two separate pieces – wide leg pants and a silk shirt – and the look of the two of them together is absolutely showstopping. Worn with heels, the wide leg pants give you legs for days and there is something undeniably chic and unexpected about the pairing of the matching top and bottoms. They're pricey (but are already 30% off this week!) but here's how I can justify the investment. Worn together, you have the ultimate holiday party outfit (or any special occasion outfit, for that matter). You can also break the set apart though and wear the pants with a simple fitted sweater for a more casual but still refined look. And the shirt is incredibly versatile for any occasion – I've already worn it with jeans and booties for a casual but still nice look out to dinner. If you're going to buy one thing (okay, actually two) off this list today, I'd go for these.
Tie waist blouse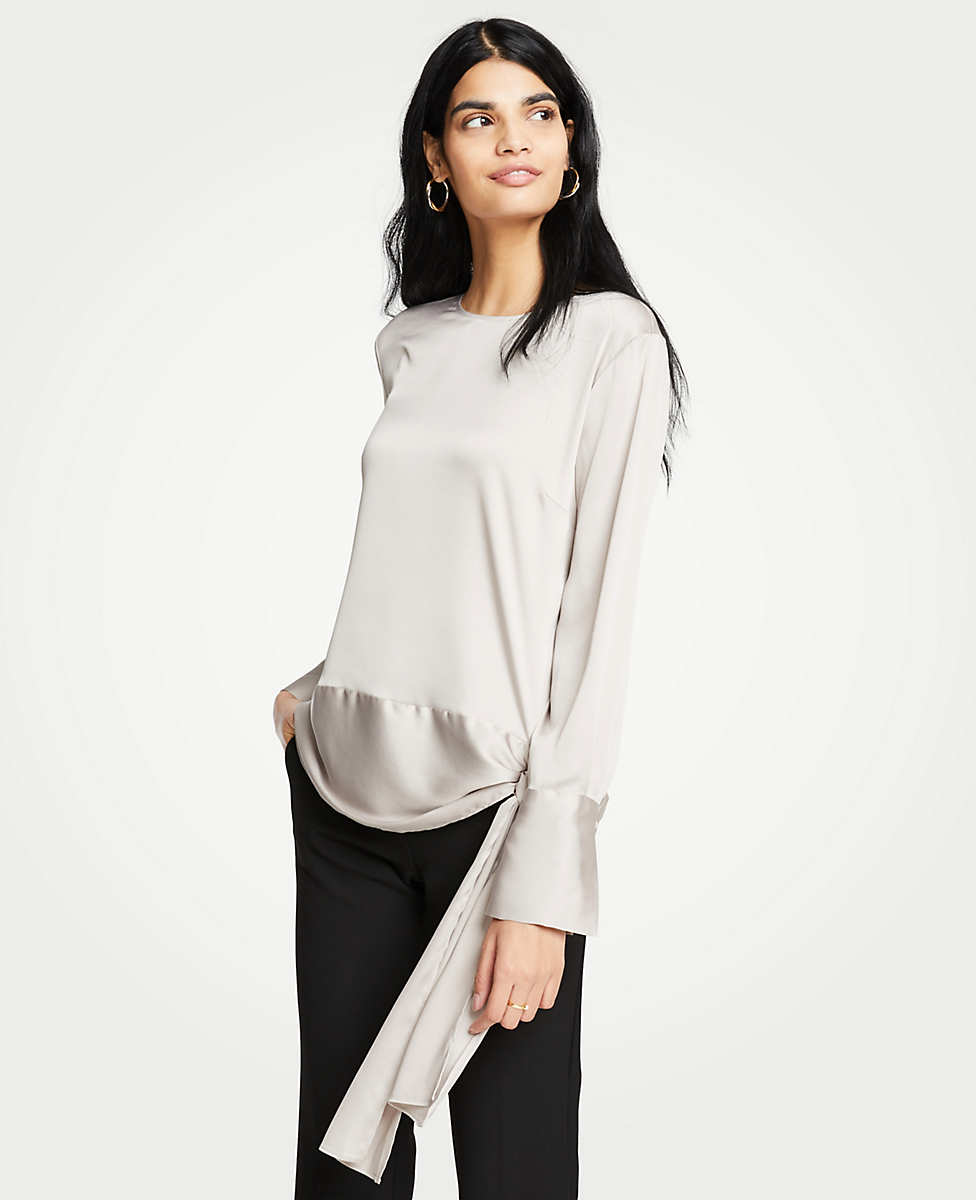 Tie waist blouse
I love the simple elegance of this drapey, tie waist top. I love the idea of pairing this with slim black pants (I've had these ones for years and they're the perfect cross between a pant and a legging) and strappy heels (in black or even red!) for a classically beautiful holiday party look.
Foldover neck blouse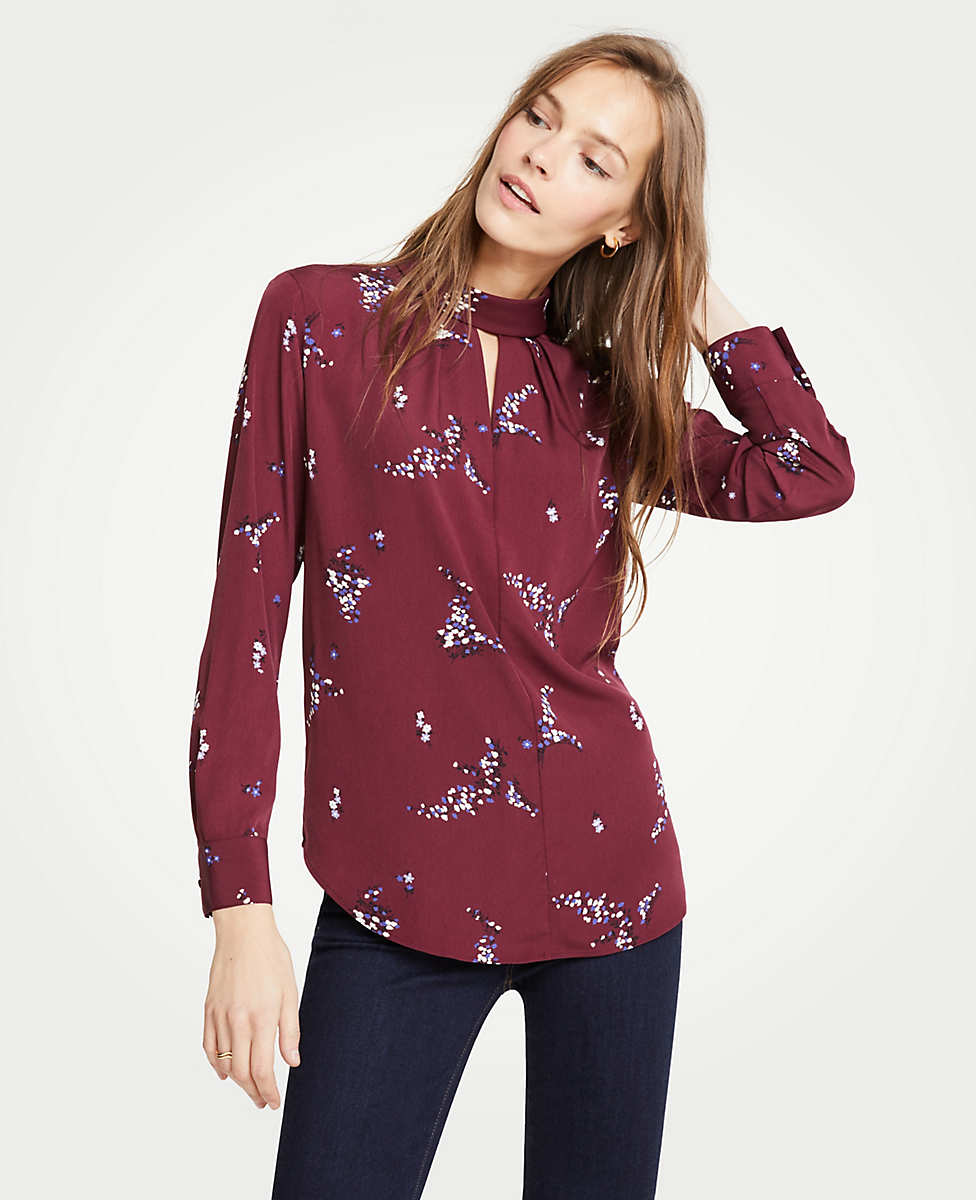 Foldover neck blouse
I love the print on this blouse and the cut of the shirt is maybe even better. It's so interesting and unlike anything else I've seen. I love this with white jeans and strappy heels for a dressier holiday look or with dark jeans (like these or these) and booties or pumps for a girls' or date night.
Fairlisle sweater dress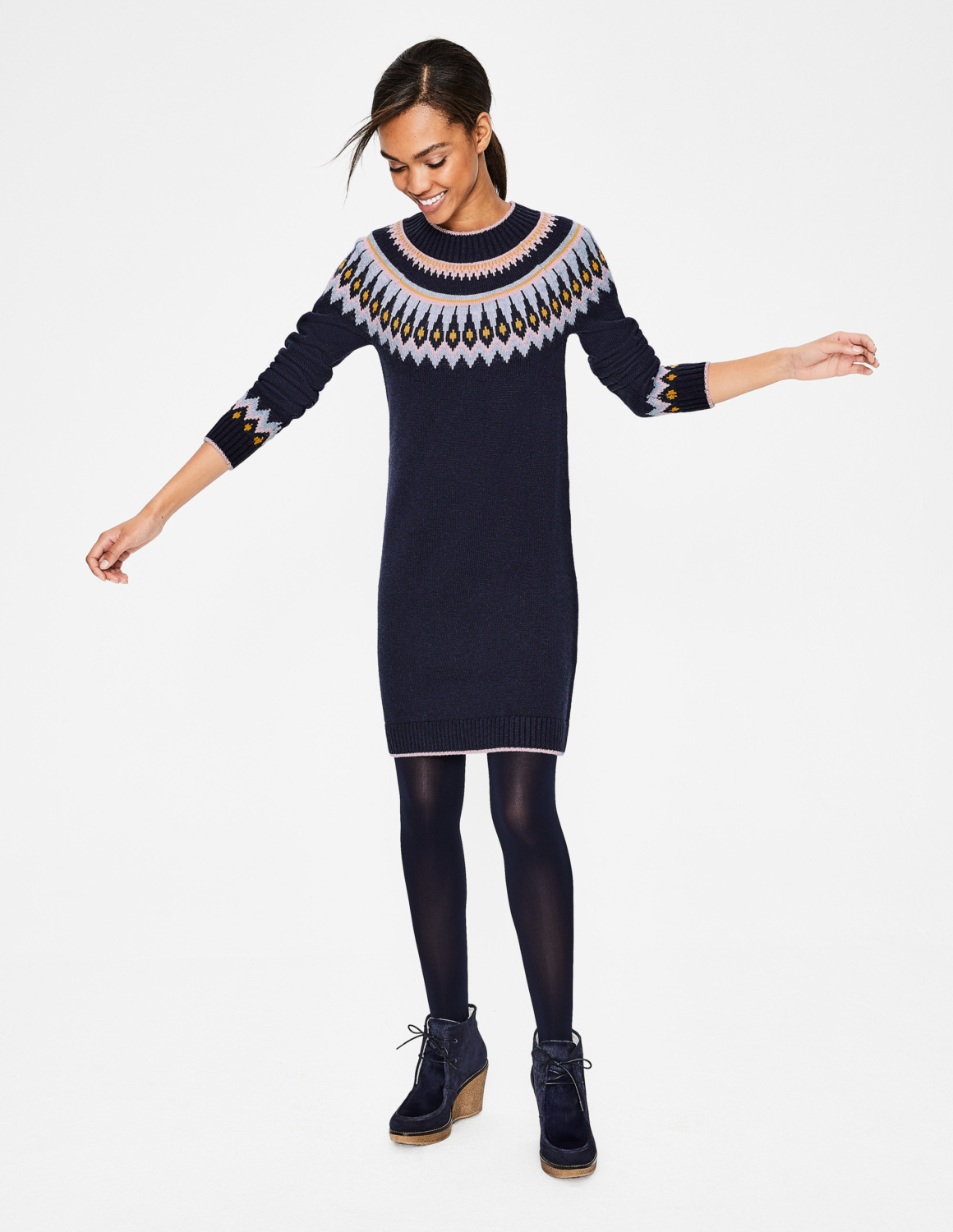 And the award for coziest item on this month's favorites list goes to……this sweater dress. I love that the fairlisle pattern is echoed at the sleeve cuffs and it's just cozy and pretty and perfect for a family holiday outing or just general holiday lounging (Christmas Day, perhaps?). I'm kind of obsessed with those wedge booties too…
Tissue turtleneck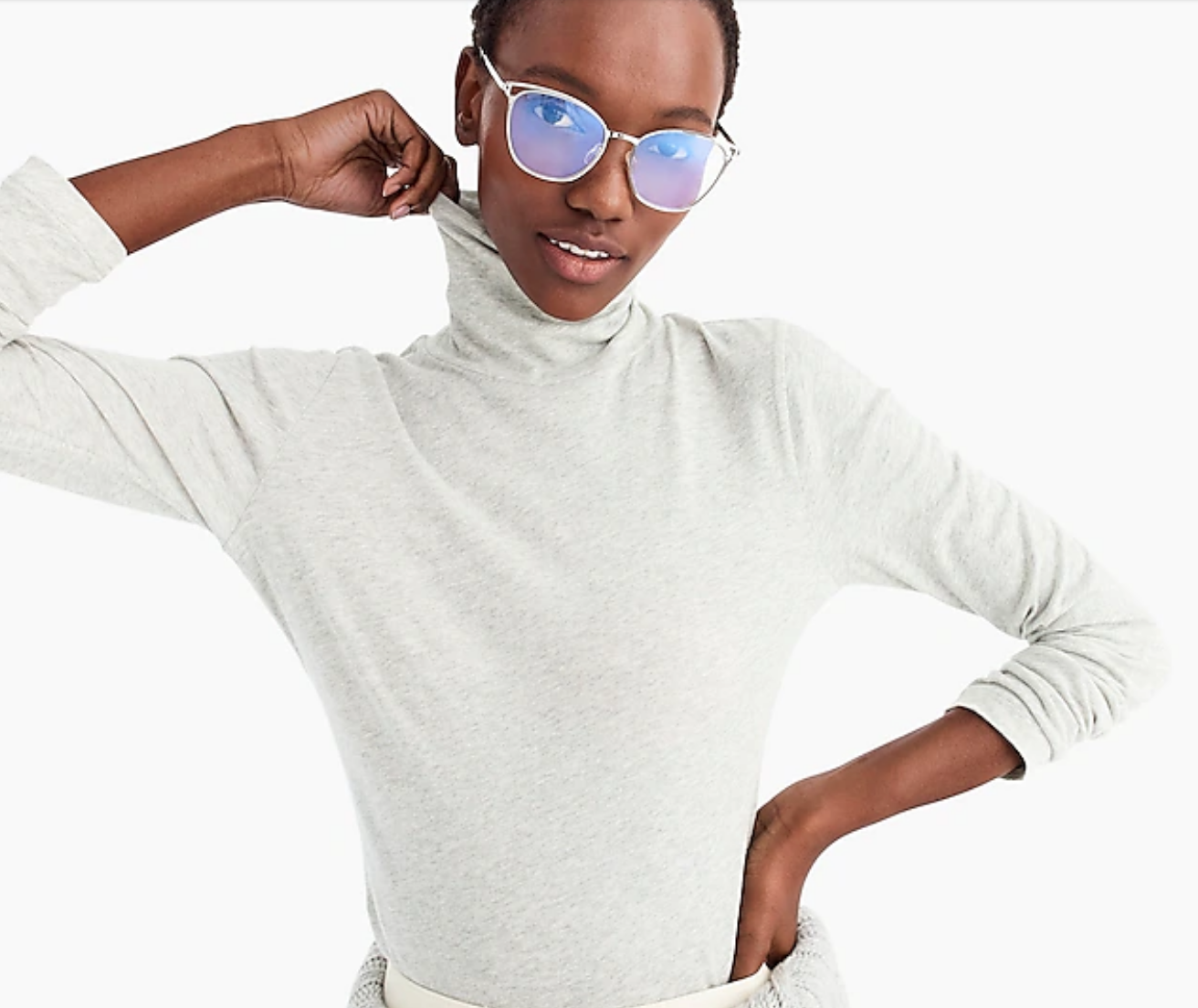 Tissue turtleneck
I know this probably seems like a totally random addition to this list, but hear me out. I first bought this soft, thin turtleneck last year and now I have it in four colors. It's the perfect simple top to pair with any holiday skirt or pants when you want said skirt or pants to be the focus and your top to just be a quiet complement. I've worn these turtlenecks over the past year with a wool and sequin skirt, red wide leg pants, a satin pleated skirt, and a leather skirt. They go with everything and are super cheap. An absolute wardrobe staple.
Fox sweater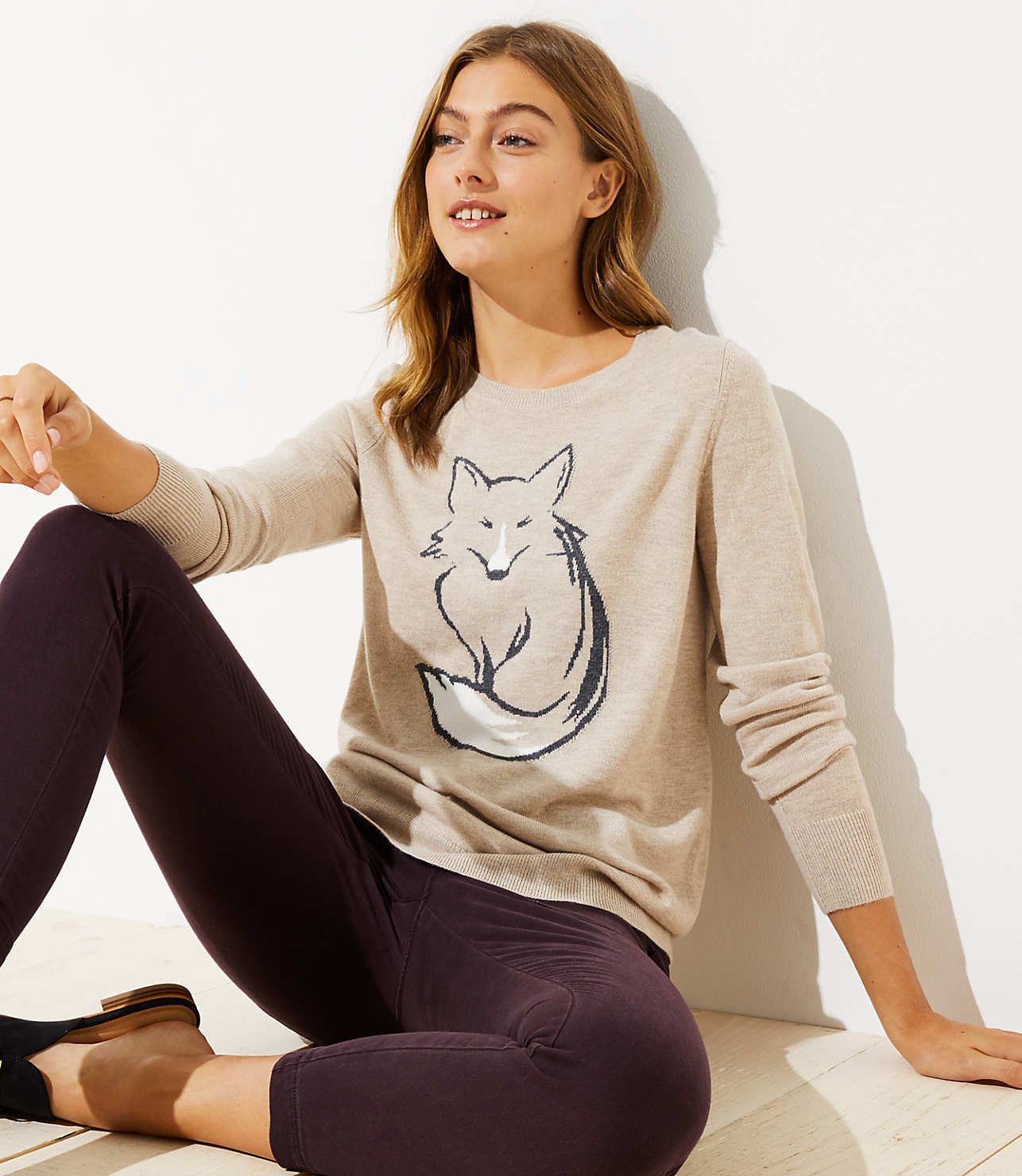 Fox sweater
I happened upon this adorable sweater in store a couple weeks ago and was immediately drawn to it. It's so soft and lightweight and the fox graphic on the front gives it that little something extra. It looks amazing with white jeans for a slightly dressier casual look or with grey-washed black jeans and booties for everyday.
Colorblock sweater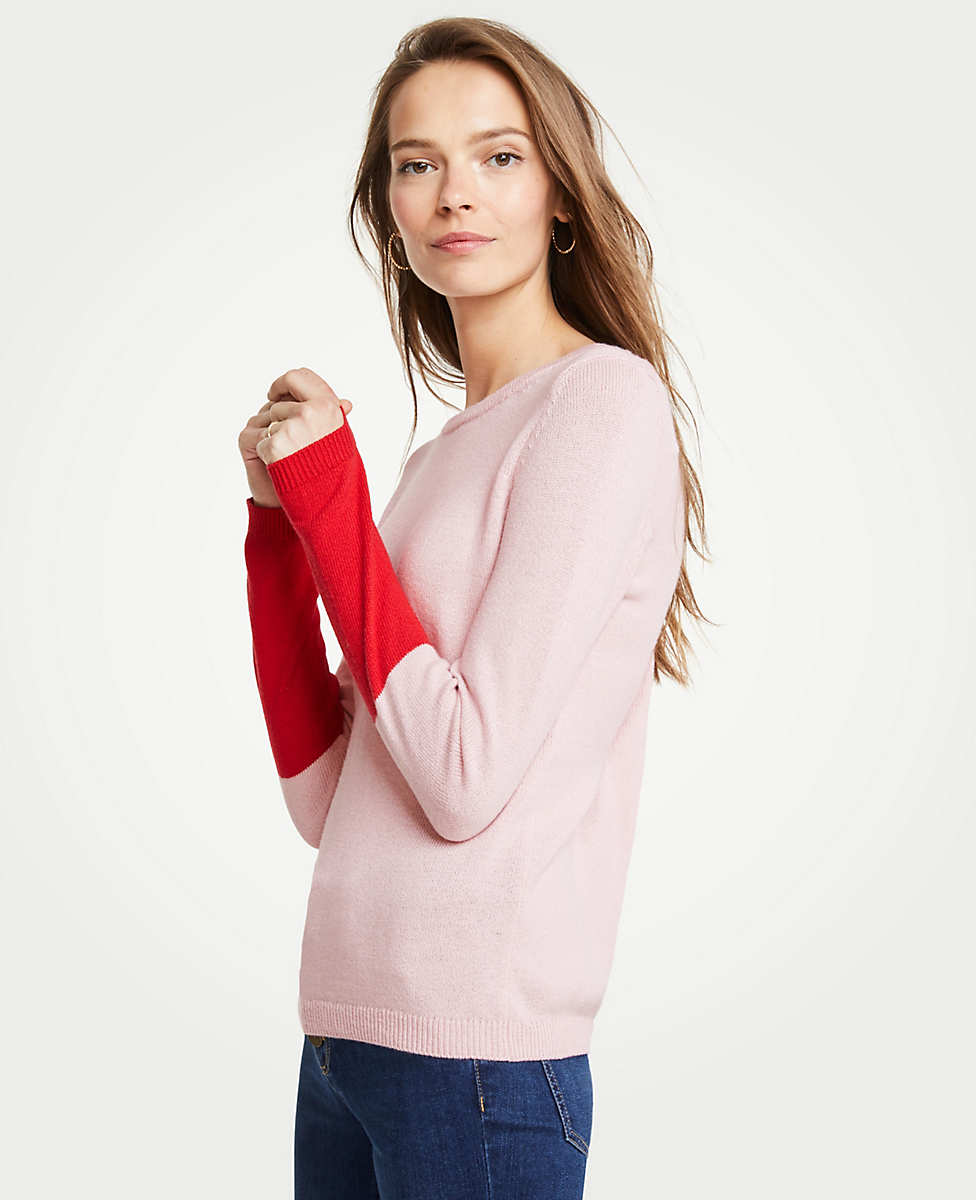 Colorblock sweater
I've been pining over this cashmere sweater for a couple months but couldn't bring myself to spend that much on a sweater (even a beautiful, heavenly soft one). Then I spotted this colorblock sweater with the same color profile that is much, much less expensive and I went for this instead. It's a great festive color combination but not so "holiday" that you can't wear it the rest of the winter too. I love it with dark denim like these skinny jeans or these flare ones.
Jeweled buttons sweater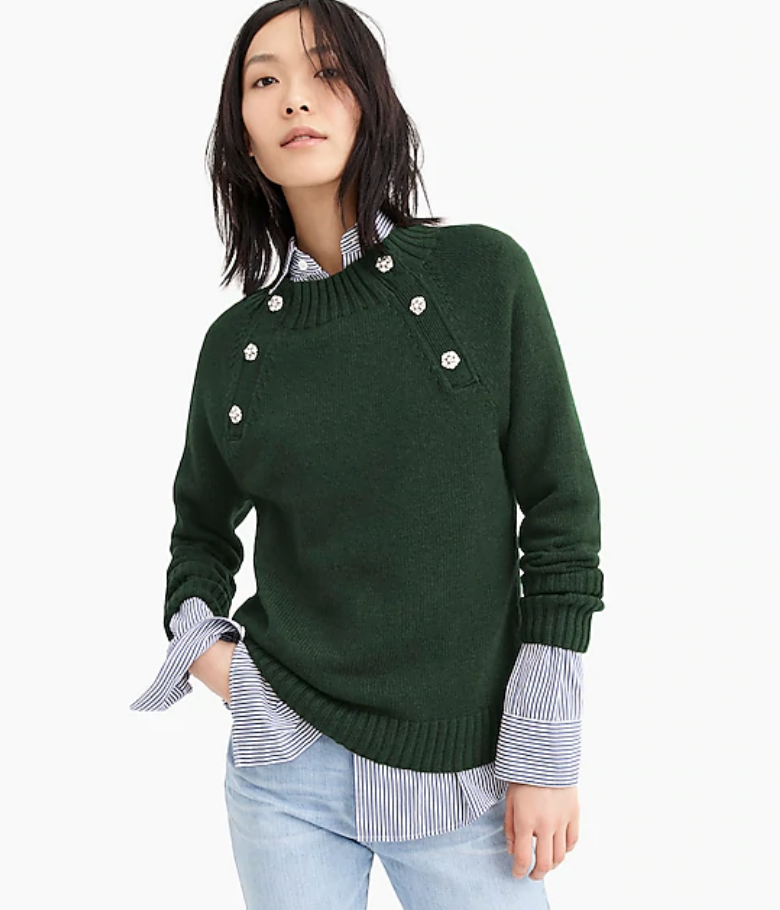 sweater with jeweled buttons
I feel like this beauty is the anti-ugly holiday sweater. Those jeweled buttons take it from a regular old crewneck sweater to a legitimately beautiful crewneck sweater. I'm super into this green shade but it comes in a bunch of other colors too. This would be great for a cookie swap or casual family gathering with skinny jeans and booties and it's another of those pieces that you'll wear long after the holidays have passed.
Stripe sweater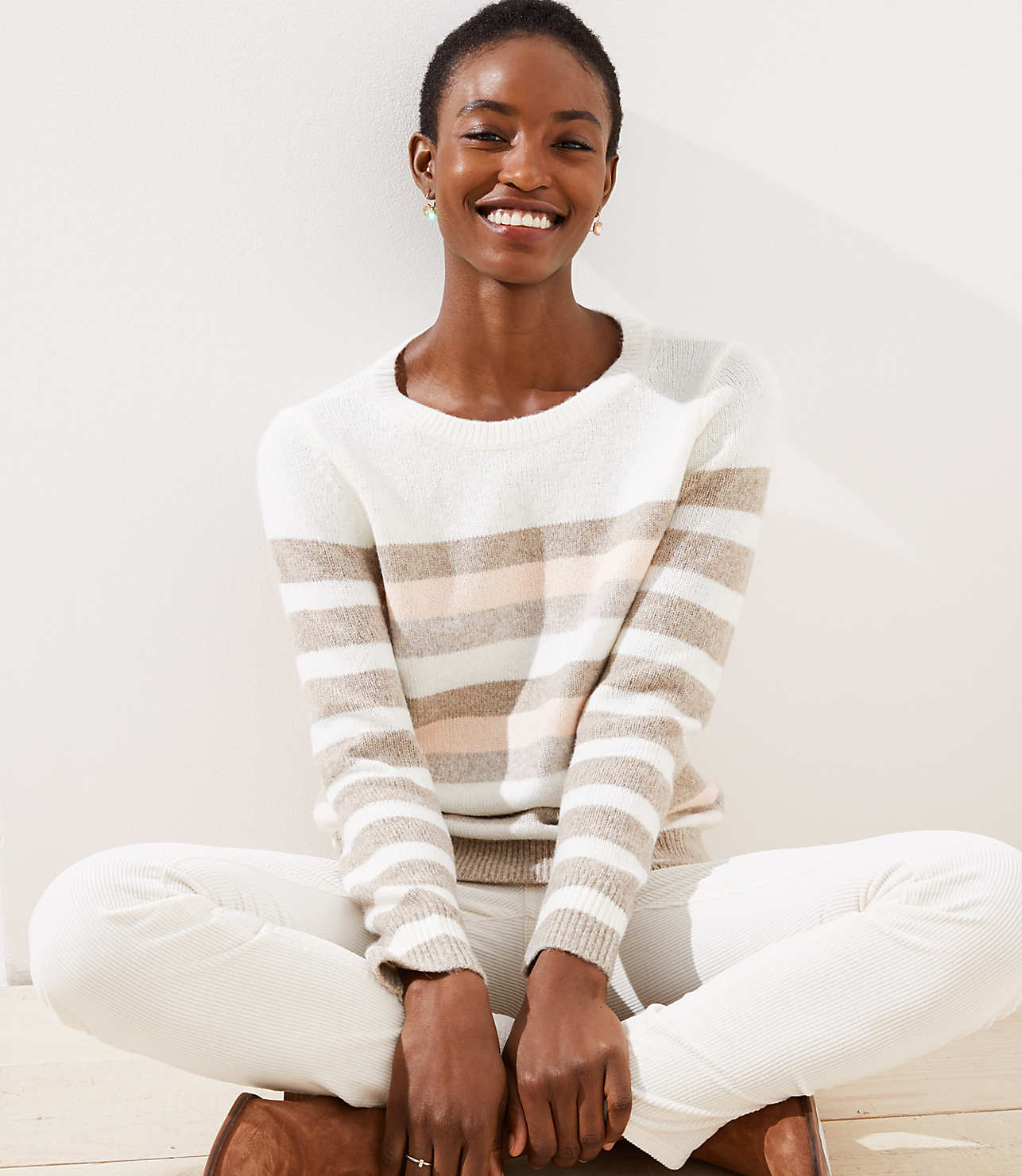 stripe sweater
I love the soft palette of this pretty stripe sweater, especially as it's pictured here with winter white cords. Just simple and classic and pretty for any laid back holiday gatherings like a cookie swap or a tree lighting, but throw on some heels and skinny jeans and you could easily take this look to a holiday dinner.
Suede pumps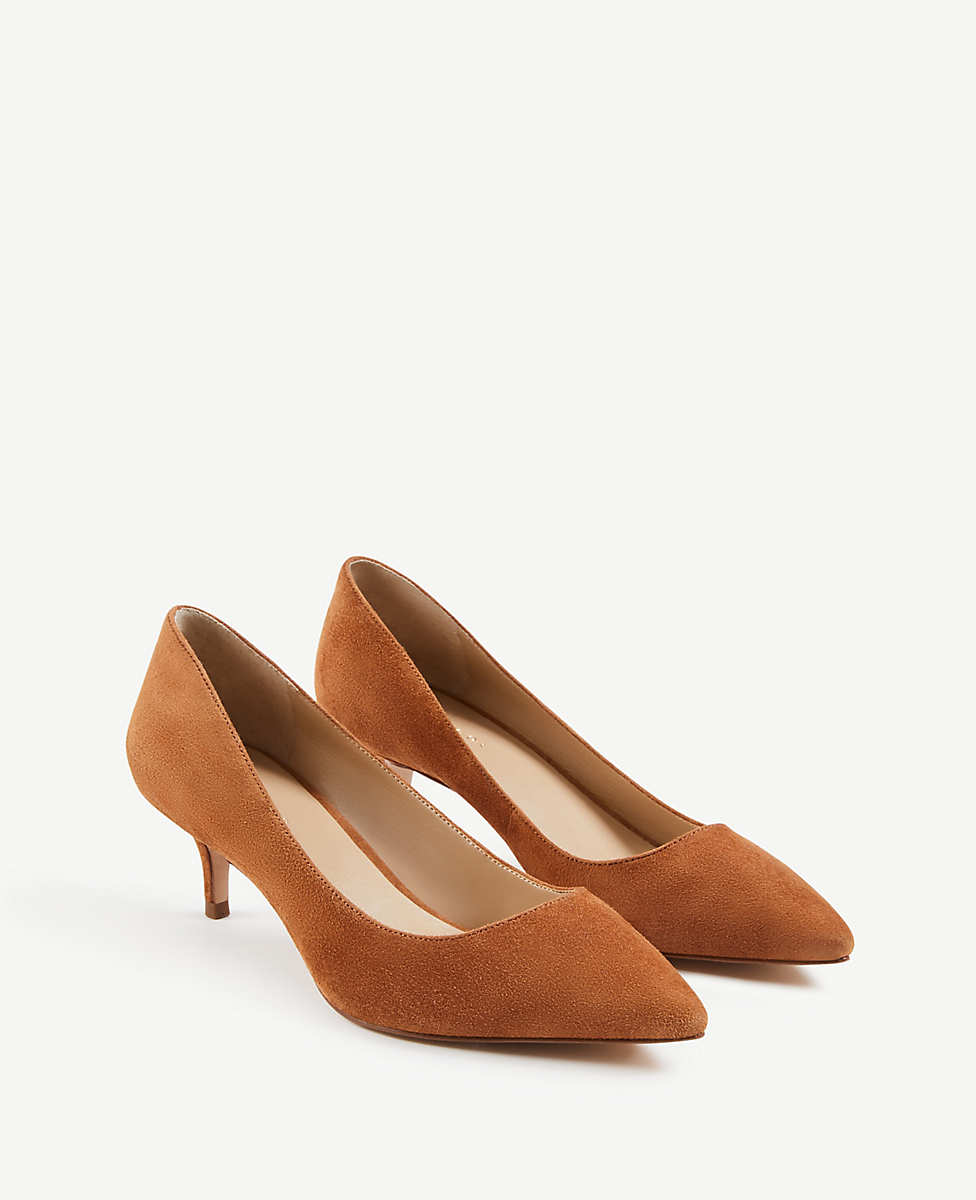 suede pumps
Speaking of heels…these camel suede pumps are perfect. With everything. And they have a super comfortable mid-heel that you can stand in for hours at a party and not need to resuscitate your toes the next day. Put these on with jeans and any top and you have an instantly chic outfit.
Burgundy crossbody purse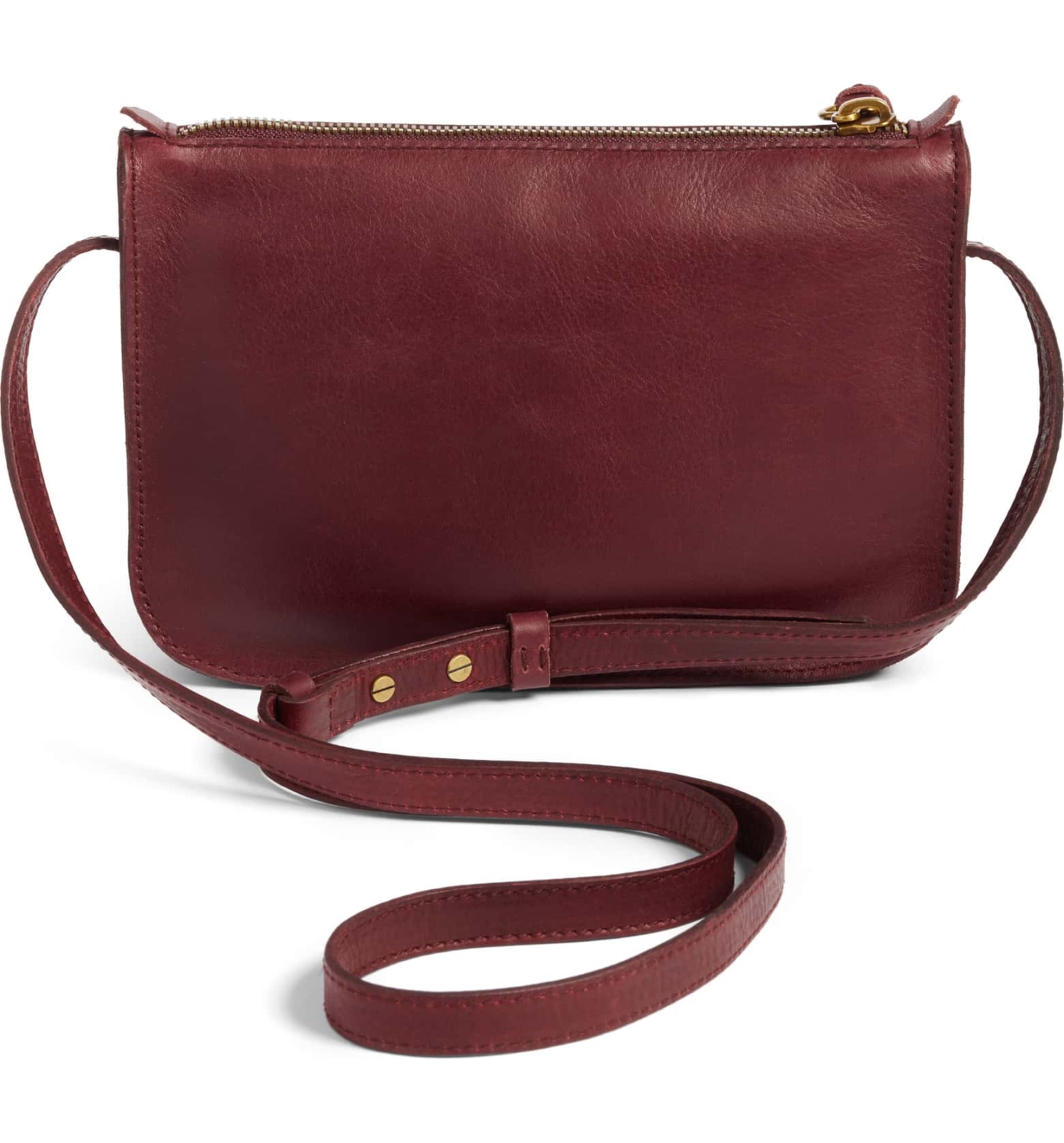 burgundy crossbody purse
I've had a crossbody purse in this color for a few years now and I wear it almost nonstop in the fall and winter. It's such a great unexpected neutral and goes with everything, and I love the ease and comfort of a crossbody bag.
Faux leather leggings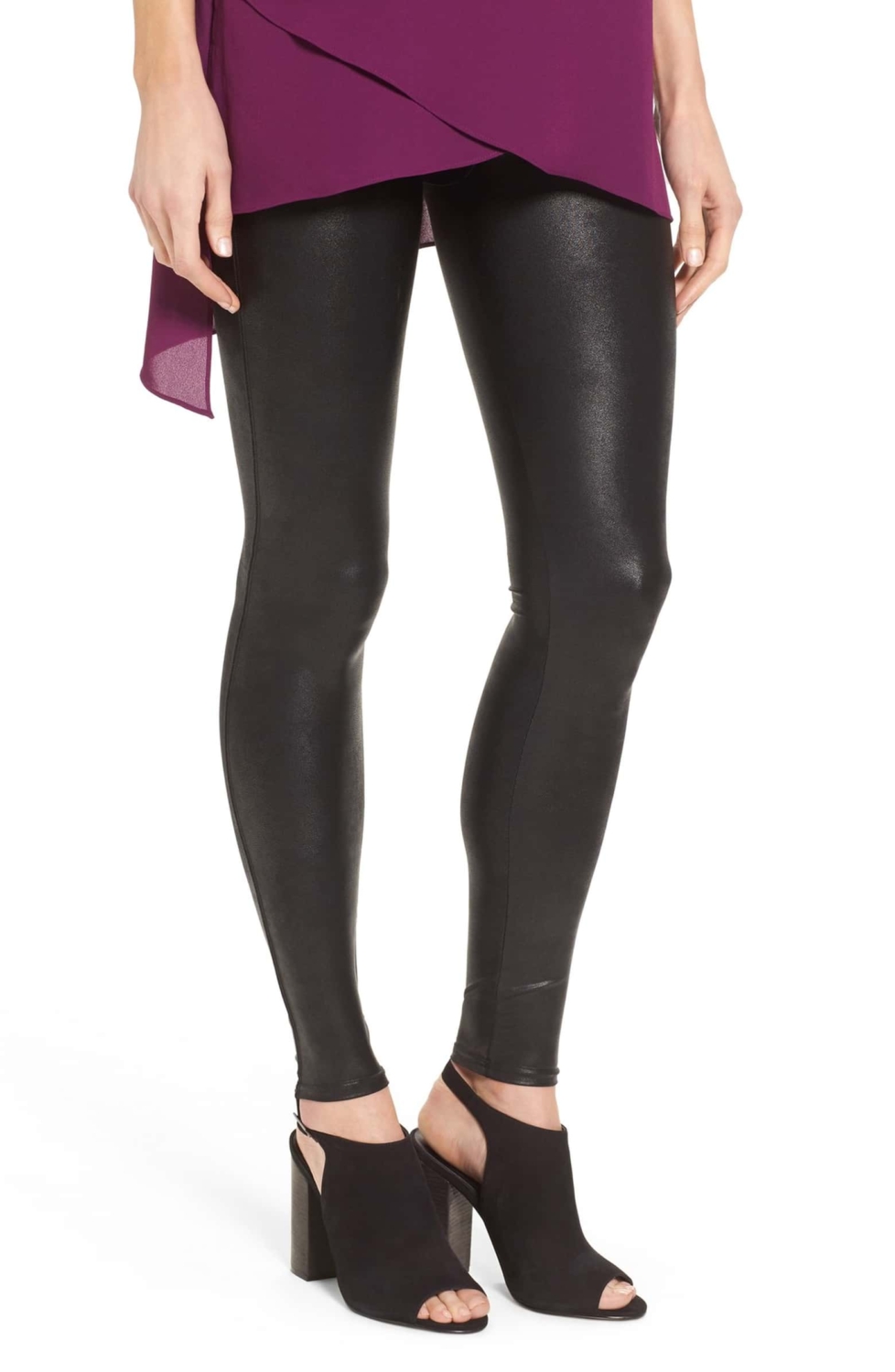 faux leather leggings
I've been singing the praises of these faux leather leggings for awhile now. What I love most about them is that when you pair them with heels and a blouse they're perfect for any holiday party or night out, but with a cozy sweater and booties they're good (and comfortable!) for just hanging out any old day. I've worn these to death in the few months I've had them!
Happy holiday party season, and have fun picking out your outfits!!