Easy recipe for making homemade Take 5 Peanut Butter cups – the ultimate peanut butter cups with caramel, pretzels, and peanuts inside!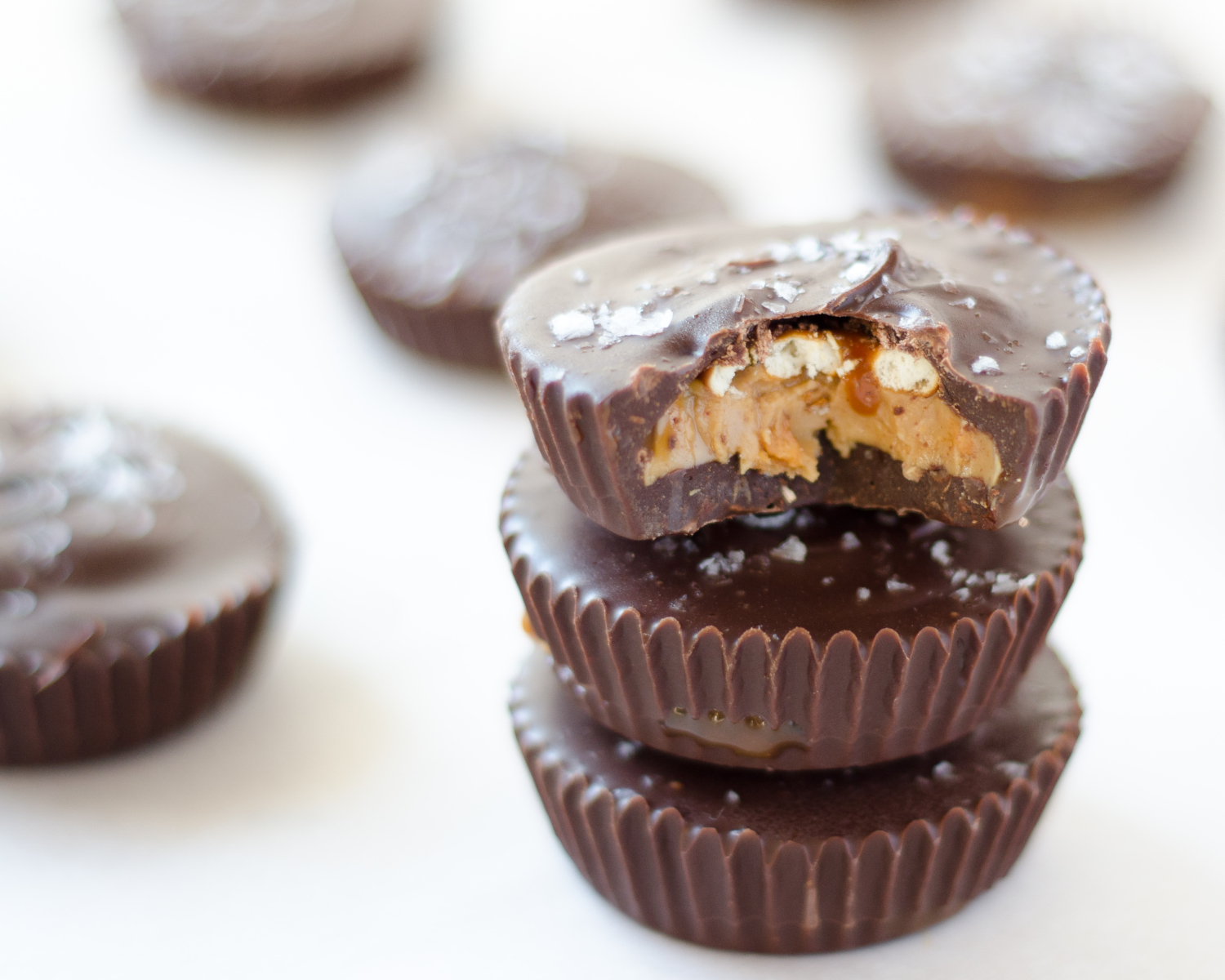 Perhaps it's because we're just coming off of Halloween, but when I was brainstorming ideas for a Christmas treat recipe to share with you for the latest installment of the Tastes of Home series organized by Kristen of Ella Claire, I couldn't get homemade Take 5 candy bars out of my head. Have you had the store-bought kind? They're sweet and salty perfection with 5 layers (hence the name) – chocolate, peanut butter, peanuts, caramel, and pretzels. Sooooo good. And I thought probably even better made at home with better quality ingredients.
I was right.
I decided to put all that homemade Take 5 goodness in a peanut butter cup package for the neatest and prettiest presentation. If you haven't made homemade peanut butter cups before they're so easy! Topped with a little Maldon sea salt that looks basically like snow, they're perfect for holiday gifting if you package them up prettily.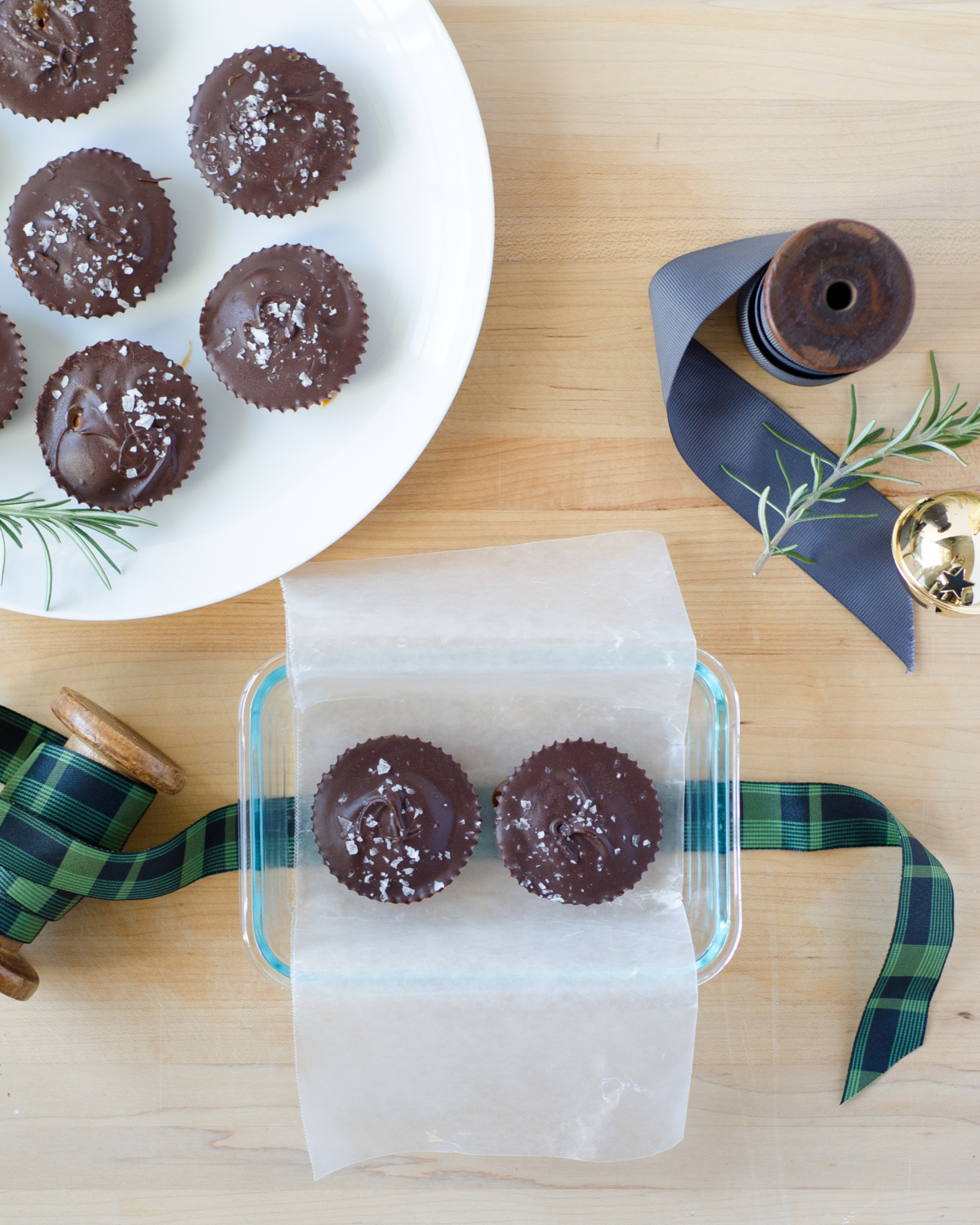 To keep things simple, because goodness knows we could all use a couple shortcuts during the holiday season, I used crunchy peanut butter to get both the peanuts and the peanut butter in there, and I used store bought caramel. I love Trader Joe's fleur de sel caramel sauce, but any dense caramel sauce would work great.
The one little issue I had was getting the sides of the homemade Take 5 peanut butter cups to be solid chocolate so none of the fillings would leak out, but I figured out a solution that worked great. After freezing the base layer of the chocolate I spread a little melted chocolate around the sides of each cup. I think the easiest way to do this is to make yourself a makeshift piping bag out of a ziptop bag with a corner snipped off, filled with melted chocolate. Then you just squeeze a rim of chocolate around the outer edges of each cup and the cold from the cupcake pan will freeze it semi-solid pretty much right away. Then you can continue to fill with peanut butter and caramel without any of it leaking out the sides once they're finished.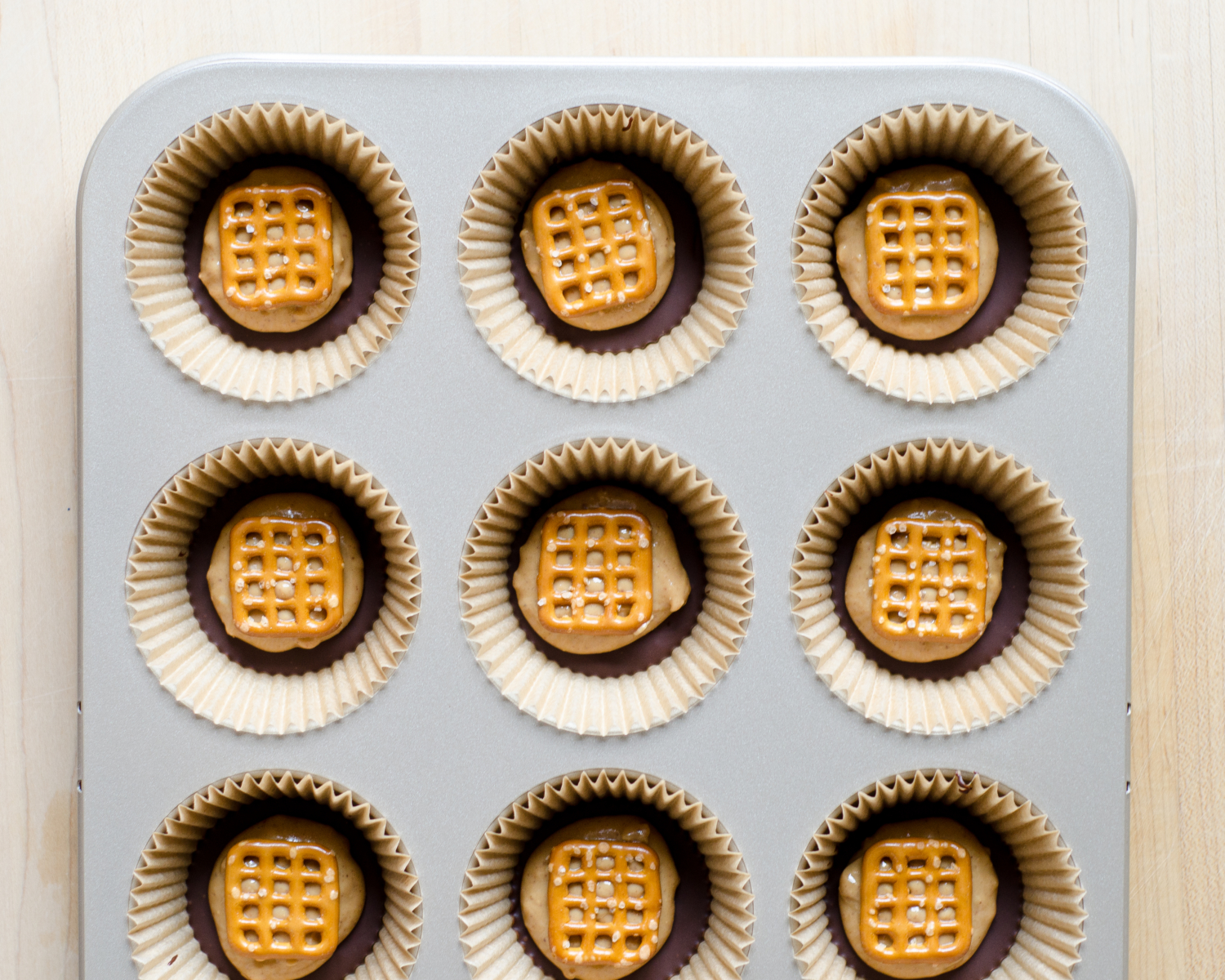 Here are just a few notes on supplies that I found helpful.
I have fallen deeply in love with these paper muffin liners. Nothing sticks to them, not cupcakes, not muffins, and not these Take 5 peanut butter cups. They are brilliant.
You can use any kind of small pretzels but I'm partial to pretzel snaps for this recipe. Specifically these ones.
This tiny scoop makes portioning the chocolate, peanut butter, and caramel in this recipe super easy. Don't fill it quite to the top with each layer and you'll get the perfect amount. It's great for making drop cookies too!
There's nothing particularly Christmasy about these homemade Take 5 peanut butter cups but they are delicious, and people love delicious things, so go ahead and gift someone a few of these this year. It's fine if that someone is yourself.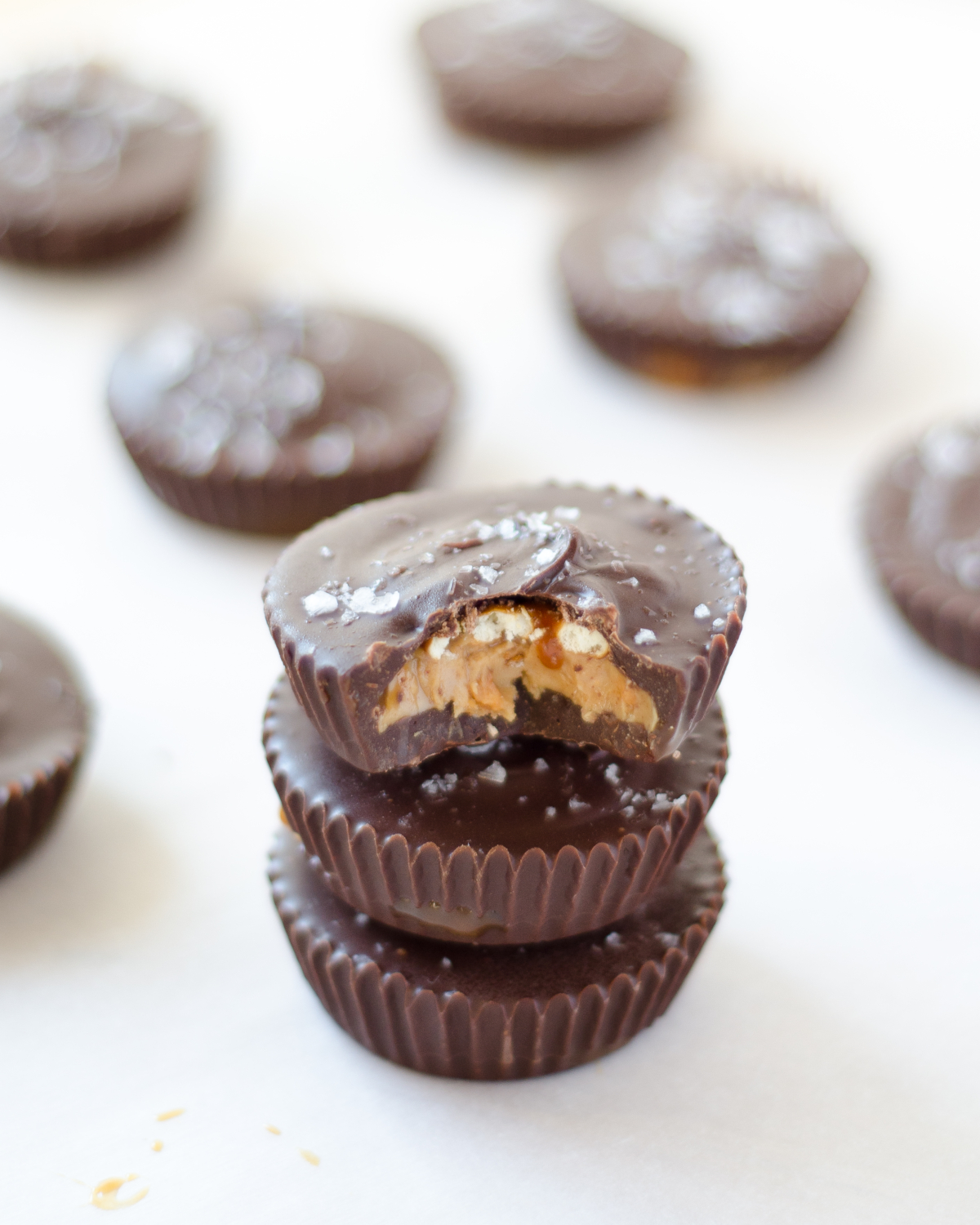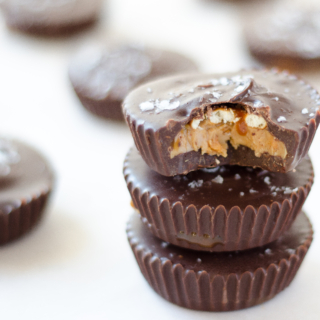 Homemade Take 5 Peanut Butter Cups
The ultimate sweet and salty peanut butter cups filled with peanuts, peanut butter, caramel, and pretzels.
Equipment
Muffin tin

Muffin cups (nonstick)
Ingredients
15

oz

semisweet chocolate chips

3/4

c

crunchy peanut butter

unsweetened

12

pretzel snaps

3/4

c

thick caramel sauce

Maldon seas salt
Instructions
Place a muffin liner in each of twelve muffin cups.

Put slightly more than half the chocolate chips in a microwave safe bowl. Microwave for 30 seconds, then stir. Microwave for another 30 seconds and stir again until the chocolate is melted.

Spoon about a tablespoon of the meted chocolate into each muffin cup and use a small spatula or spoon to smooth it evenly across the bottoms of the cups. Scoop the remaining melted chocolate into a ziptop bag and seal the top. Place the muffin tin in the freezer for 15 minutes.

Remove the muffin tin from the freezer. Snip a small corner off the ziptop bag and squeeze a rim of chocolate around each muffin cup. Use a spoon or spatula to spread some of the chocolate up the sides a little if needed. Return to the freezer for 5 minutes.

Scoop a little less than a tablespoon of peanut butter into each muffin cup and top with a pretzel snap. Press the pretzel down to make sure it sticks into the peanut butter. Freeze for 10 minutes.

Spoon a little less than a tablespoon of caramel into each cup. Freeze for 10 minutes.

Melt the remaining chocolate in a microwave safe bowl the same way you did the first batch. Scoop about a tablespoon of chocolate into each muffin cup and smooth the tops. Sprinkle with a little Maldon sea salt. Return to the freezer.

These can be kept frozen or can be eaten at room temperature. Remove the paper liners before serving or packaging.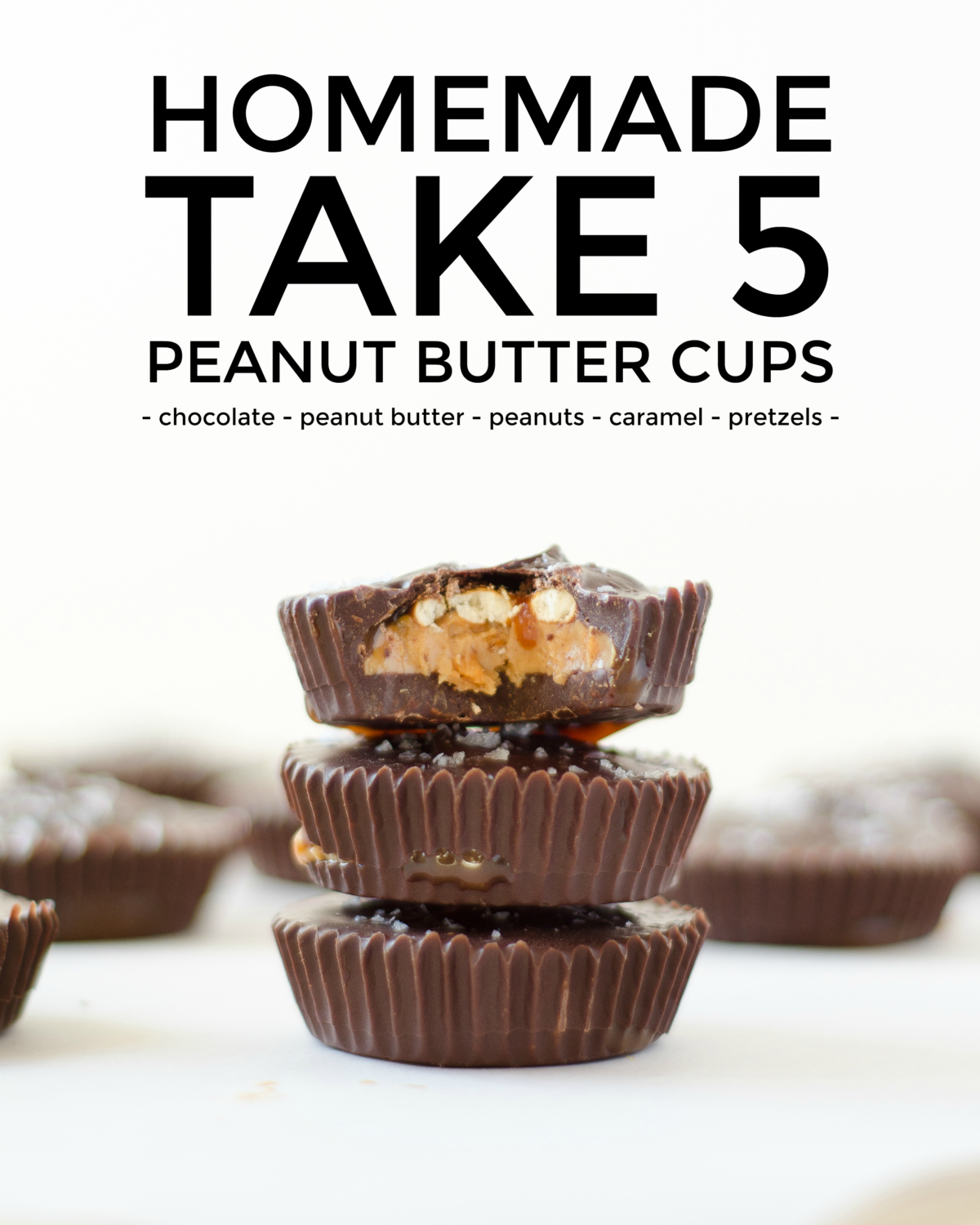 Click the links below for more gorgeous and delicious holiday treat recipes!
Peppermint Whipped Cream
by Ella Claire & Co. |
Fondant Christmas Cupcakes
by Craftberry Bush |
Old Fashioned Peanut Brittle
by anderson + grant |
Dairy Free 6 Ingredient Salted Caramels
by Zevy Joy |
No Bake Healthy Coconut Bars
by Tidbits
Easy Peppermint Bark
by Jenna Kate at Home |
Black Walnut Christmas Cake
by Inspired by Charm |
Chocolate Covered Marshmallows with Salted Pretzel Topping
by Boxwood Avenue |
Christmas Popcorn
by Town and Country Living |
Snowman Cheese Ball
by Julie Blanner
Slow Cooker Candied Pecans
by Live Laugh Rowe |
Fudgy Peppermint Coconut Flour Brownies
by Farmhouse on Boone |
Hot Peppermint Mocha
by Shabbyfufu |
Homemade Take 5 Peanut Butter Cups
by Chronicles of Home |
Slow Cooker Chocolate Peppermint Pretzels
by Nest of Posies
Berry Topped Chocolate Cake
by French Country Cottage |
Pecan Butter Tart Bars
by So Much Better With Age |
Chocolate Pinecones
by My Sweet Savannah |
Peanut Butter Fudge
by My 100 Year Old Home |
Simple Holiday Fudge
by House 214 Design
Coffee Cake
by Rooms for Rent