Easy recipe for rich, hearty, but light creamy mushroom soup.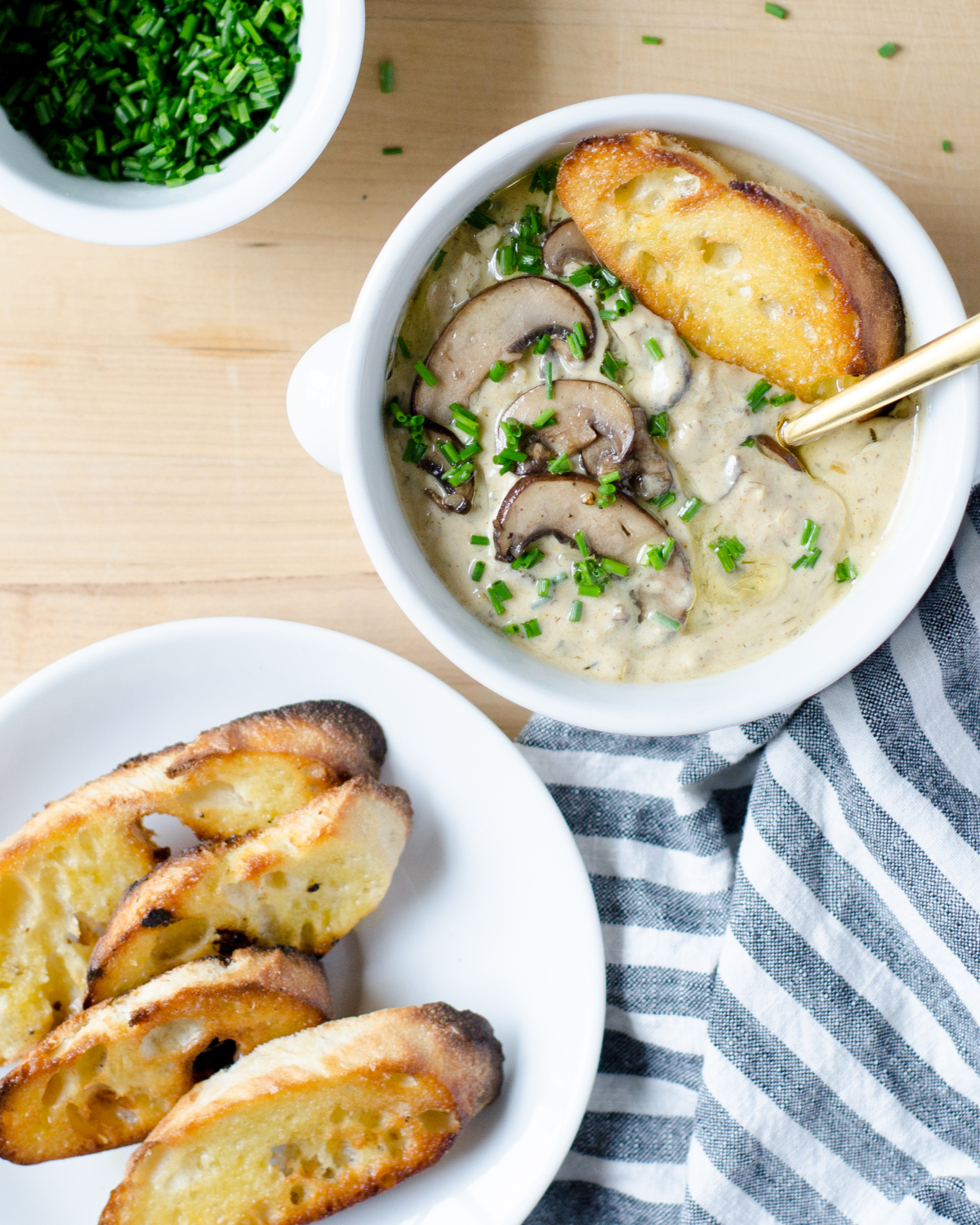 One of my absolute most favorite things about fall is the return of soup season. A bowl of soup and a fresh, lightly toasted baguette are pretty much my ultimate dinner combo. When Kristen from Ella Claire was organizing a fall soups tour I really had to think long and hard about which recipe I wanted to share because I almost can't play favorites among my many beloved soups (like curried cauliflower soup, beef and butternut chili, or Asian broth bowls). But I kept coming back to creamy mushroom soup, which is just one of my favorite comfort food soups of all time.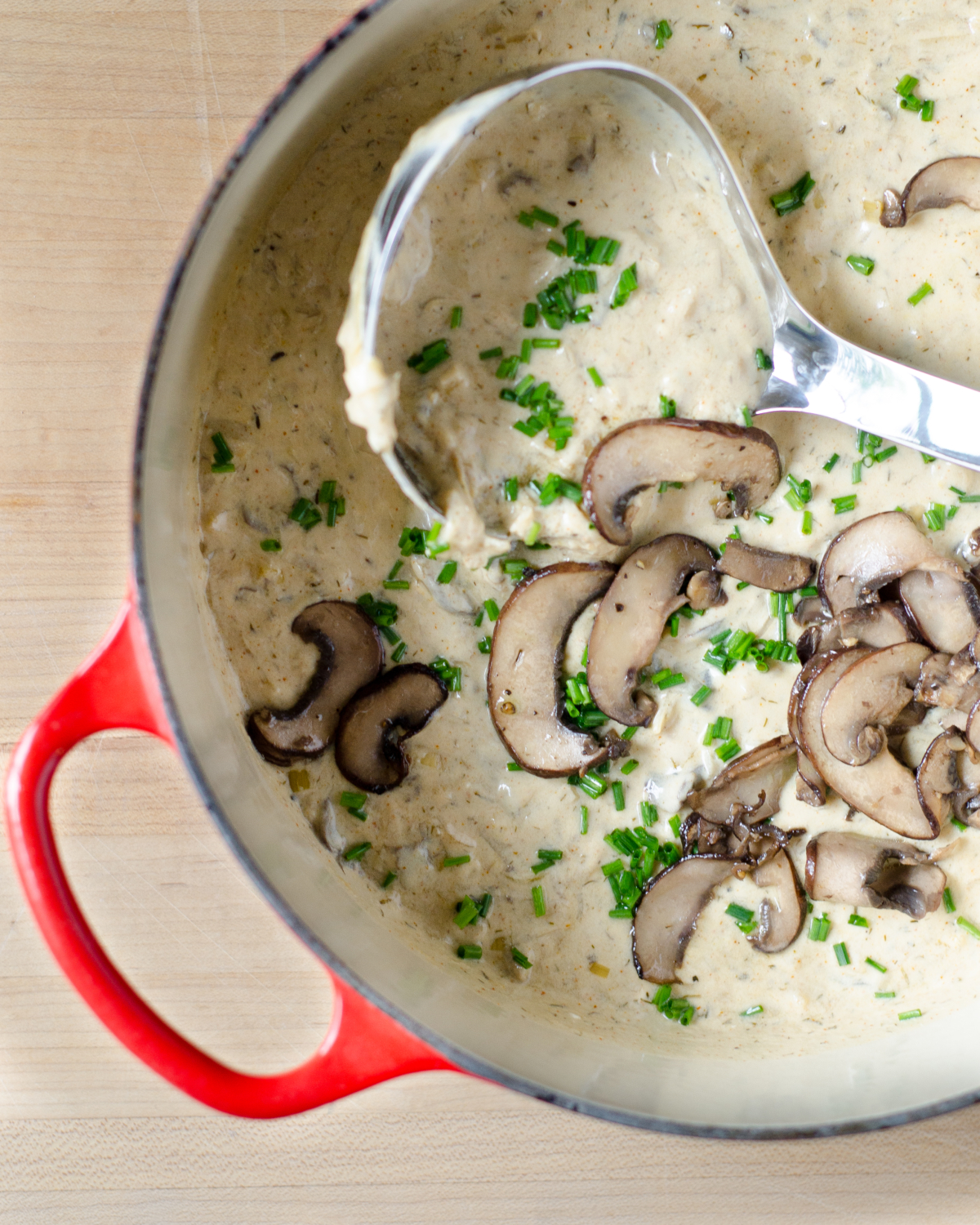 But instead of my usual creamy mushroom soup with half & half and heavy cream (very delicious but most definitely not light), I set out to come up with a recipe for light creamy mushroom soup that was just as flavorful and rich and deeply satisfying with a lot fewer calories.
I took a few cues from Hungarian mushroom soup recipes to bump the flavor intensity up a little – specifically the addition of dill, paprika, and soy sauce. It sounded a little strange to me but they really took my old faithful mushroom soup recipe up a few notches.
And how did I keep this light creamy mushroom soup both creamy and light? The secret ingredient is reduced-fat cream cheese. Softened in the microwave and then stirred into the soup, it makes the soup richly creamy and lends a lovely slight tang.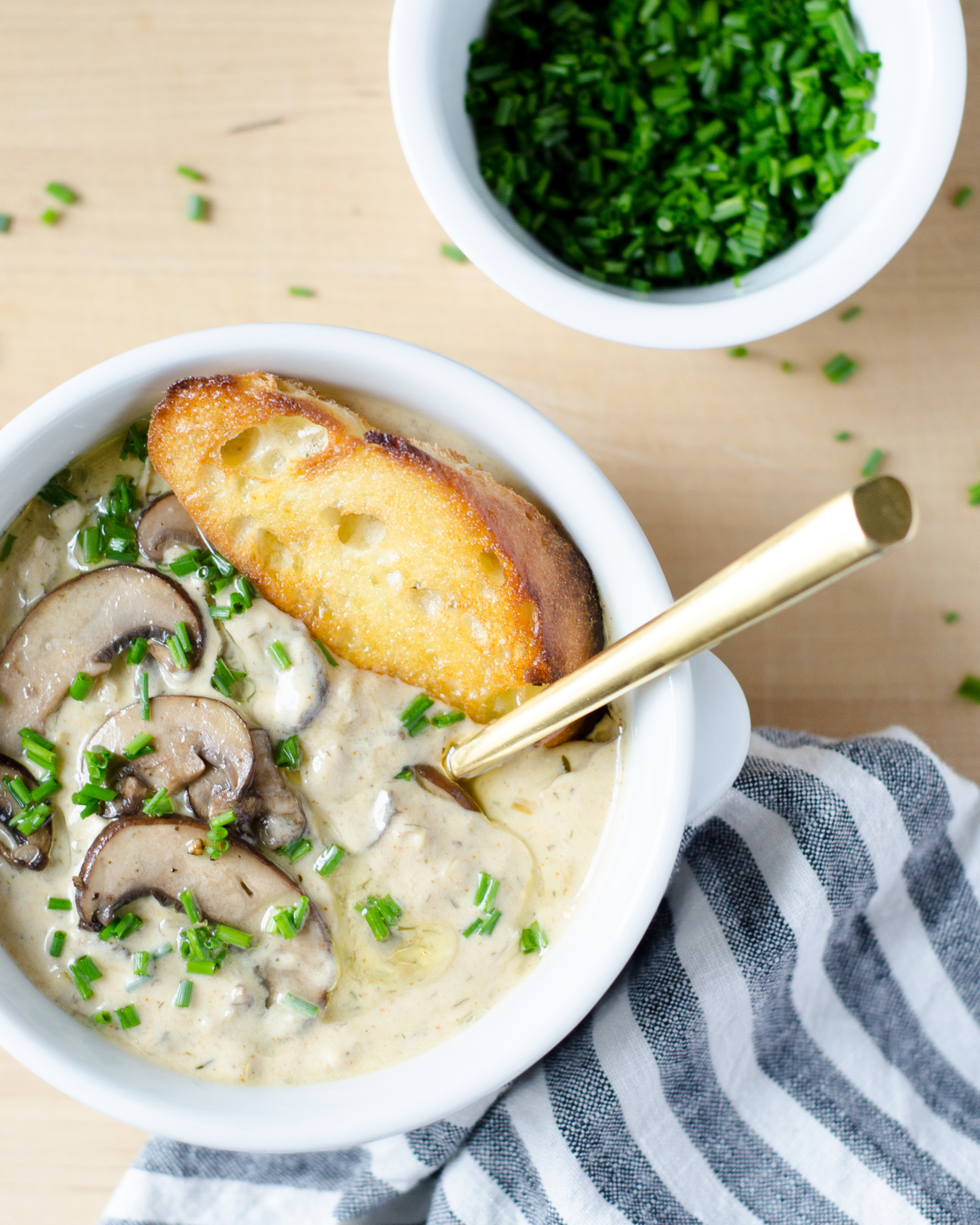 Then if the thyme and dill and paprika and tender mushrooms and creamy broth are not enough to leave you in ultimate fall soup heaven, you can add a little drizzle of truffle oil on the top of your bowl and really go full immersion with the earthy mushroomness of it all. I like a little sprinkling of chives on top too because they are both perfectly mild and because they are so darn pretty.
And then if you really want to join me in my own personal fall soup nirvana land, get your hands on a lovely fresh baguette, and maybe toast it just a little, and maybe smear it with a little melty grassfed butter, and maybe dunk that buttery, toasty baguette in your light creamy mushroom soup that does not even taste light at all, and maybe take a big old bite of all that goodness together, and maybe you too will be a little bit happy that it is getting cold enough to be soup weather.
So my experiment turning my favorite traditional creamy mushroom soup into light creamy mushroom soup was a success! In fact…I might even like this lighter version better than the original. Go figure.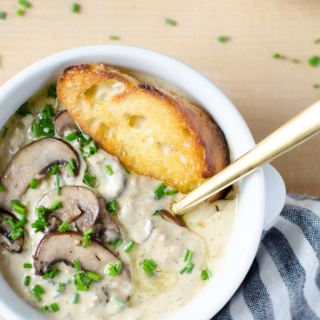 Light Creamy Mushroom Soup
A rich, creamy light mushroom soup that's still the ultimate comfort food.
Ingredients
2

tbsp

olive oil

2

c

yellow onion

diced

10

oz

cremini mushrooms

sliced thin

4

oz

shiitake mushrooms

sliced thin

1/4

c

flour

1

c

white wine

4

c

chicken broth

1/2

tsp

dried thyme

2

tsp

dried dill

2

tsp

paprika

2

tbsp

soy sauce

1

tsp

salt

8

oz

light cream cheese (neufchatel cheese)

truffle oil

for drizzling (optional)

chives

chopped, for garnish (optional)
Instructions
Heat the olive oil in a large pot over medium heat. Add the onions and sauté until soft, 5-7 minutes. Add the mushrooms and sauté another 5-7 minutes until they have softened and started to brown at the edges.

Sprinkle the flour over the top and stir to combine. Let cook for 1 minute. Add the wine and use a wooden spoon to scrape up any browned bits from the bottom of the pan.

Add the chicken broth, thyme, dill, paprika, soy sauce, and salt. Stir to combine and bring to a boil. Reduce the heat and let the soup simmer for 15 minutes.

Place the cream cheese in a microwave safe bowl and microwave for 30-60 seconds, until softened. Ladle a little of the broth into the bowl and whisk until smooth. Add more broth if needed to get a nice smooth consistency. Pour the cream cheese mixture into the soup and stir until it's all mixed together.

Serve the soup topped with a drizzle of truffle oil and a sprinkle of chives if desired.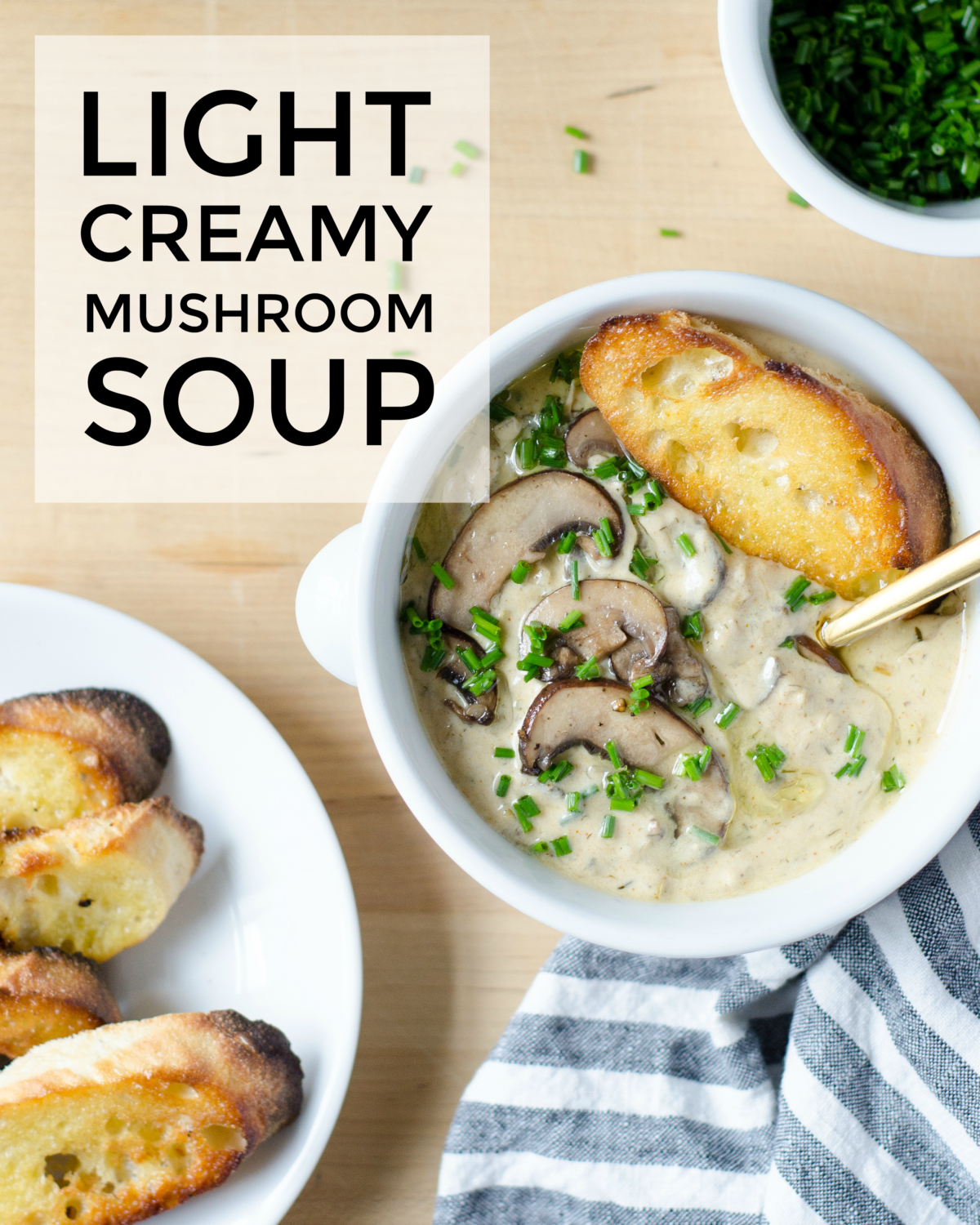 Easy Slow Cooker White Bean and Ham Soup
by Ella Claire & Co. |
Creamy Cauliflower Soup
by Tidbits |
Butternut Squash Minestrone
by Nest of Posies |
Light Creamy Mushroom Soup
by The Chronicles of Home |
Corn Chowder
by On Sutton Place
Crockpot Chicken Noodle Soup
by Live Laugh Rowe |
Apple and Celeriac Soup
by Inspired by Charm |
Chicken Gnocchi Soup
by Tidy Mom |
Chicken and Dumplings
by House 214 |
French Onion Soup Bowls
by Shabbyfufu
Sausage Tortellini Soup
by My 100 Year Old Home |
White Chicken Chili
by Rooms For Rent |
Roasted Pumpkin & Garlic Soup
by Home Made Lovely |
Healthy Halibut Chowder
by Town and Country Living |
Homemade Chicken Noodle Soup- Japanese Udon
by Happy Happy Nester
Creamy Low-Carb Roasted Cauliflower Soup
by Summer Adams |
Dairy Free Cream of Broccoli Soup
by Zevy Joy |
Butternut Squash and Pear Soup
by Nick + Alicia |
Harvest Lentil Soup
by French Country Cottage |
Creamy Asparagus Soup with Bacon and Lime Creme Fraiche
by My Sweet Savannah