An earthy, flavorful, and easy fall appetizer featuring truffle almond pesto, apples, prosciutto, and thyme.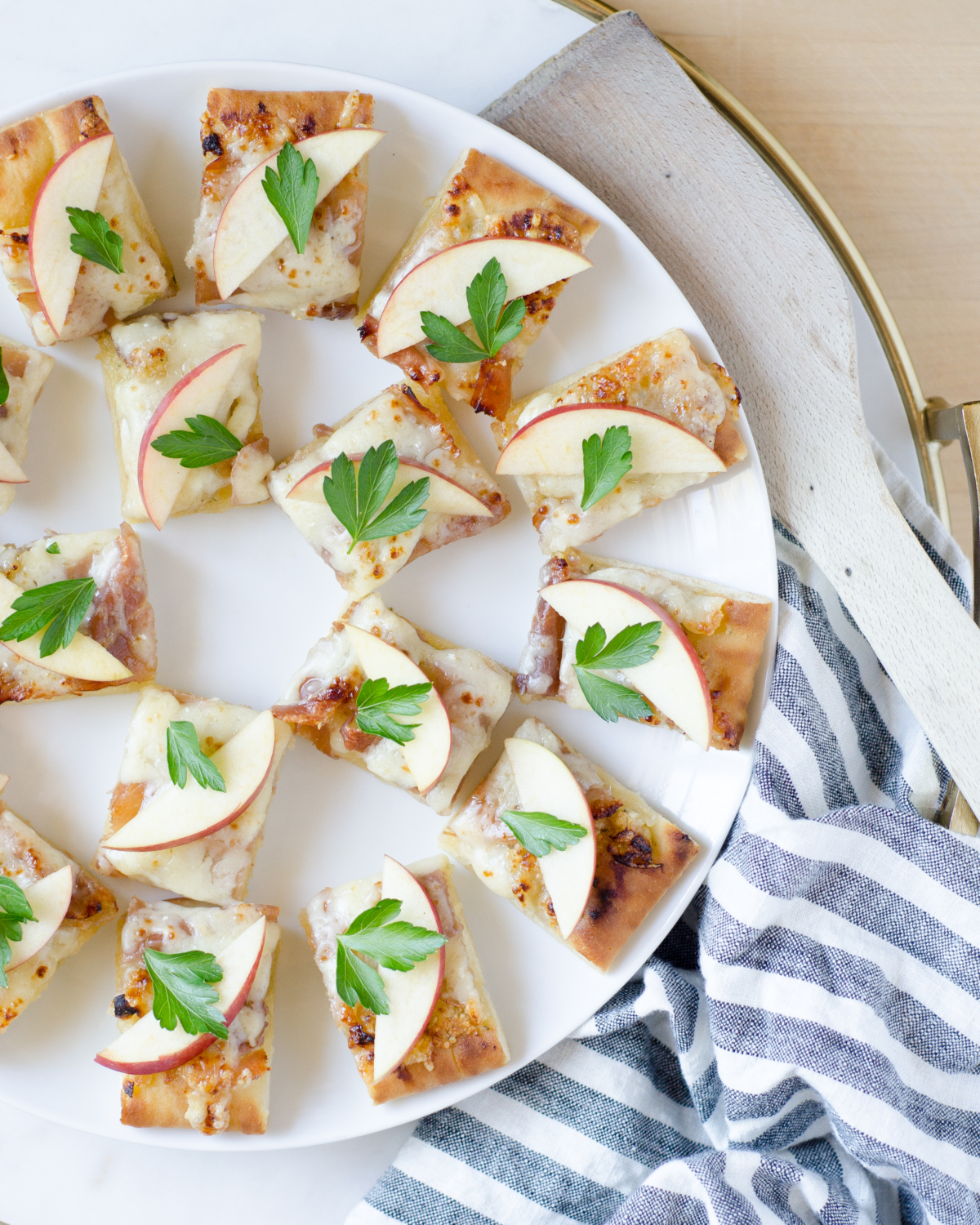 I have another fall recipe for you today, a fall appetizer flatbread that features an easy homemade truffle almond pesto, prosciutto, gruyere cheese, and apples. It's sweet and salty heaven and is basically fall appetizer perfection. Make sure you read through to the end of the post for the simple recipe as well as links to fifteen other fall appetizer recipes some of my blogging friends are sharing today as well.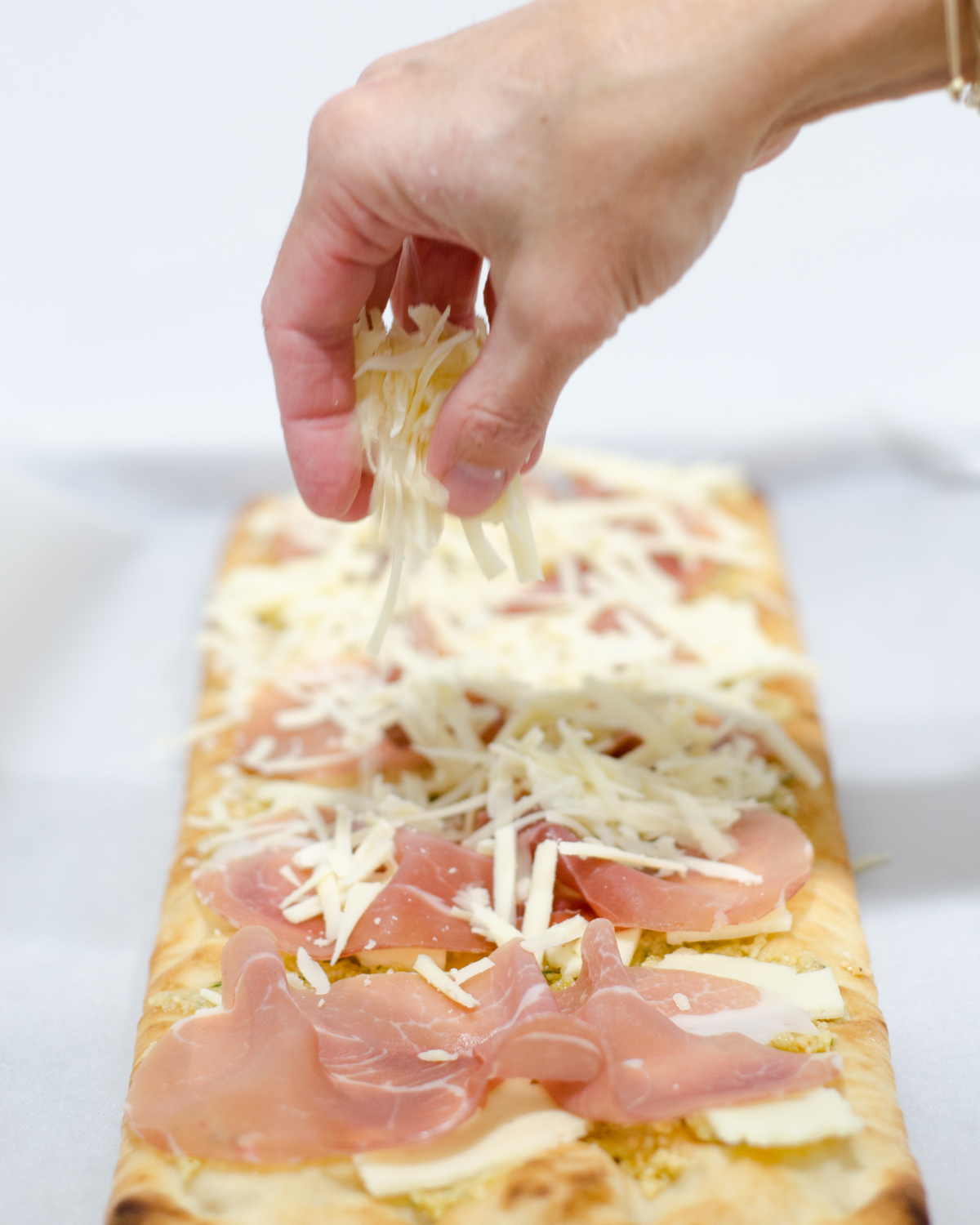 For the base of this flatbread, any premade pizza crust or focaccia bread will work. I love Trader Joe's rectangular pizza crusts that are sold with the breads in stores. I used another favorite Trader Joe's product in this recipe too – their truffle marcona almonds. They're so good just for snacking but they add a truly magical earthy, umami layer to this fall appetizer flatbread. Especially when blended with olive oil, honey, and thyme to make a dreamy nut pesto that is perfectly truffley and just lightly sweet. If you don't live near a Trader Joe's, I found these truffle almonds you can order online.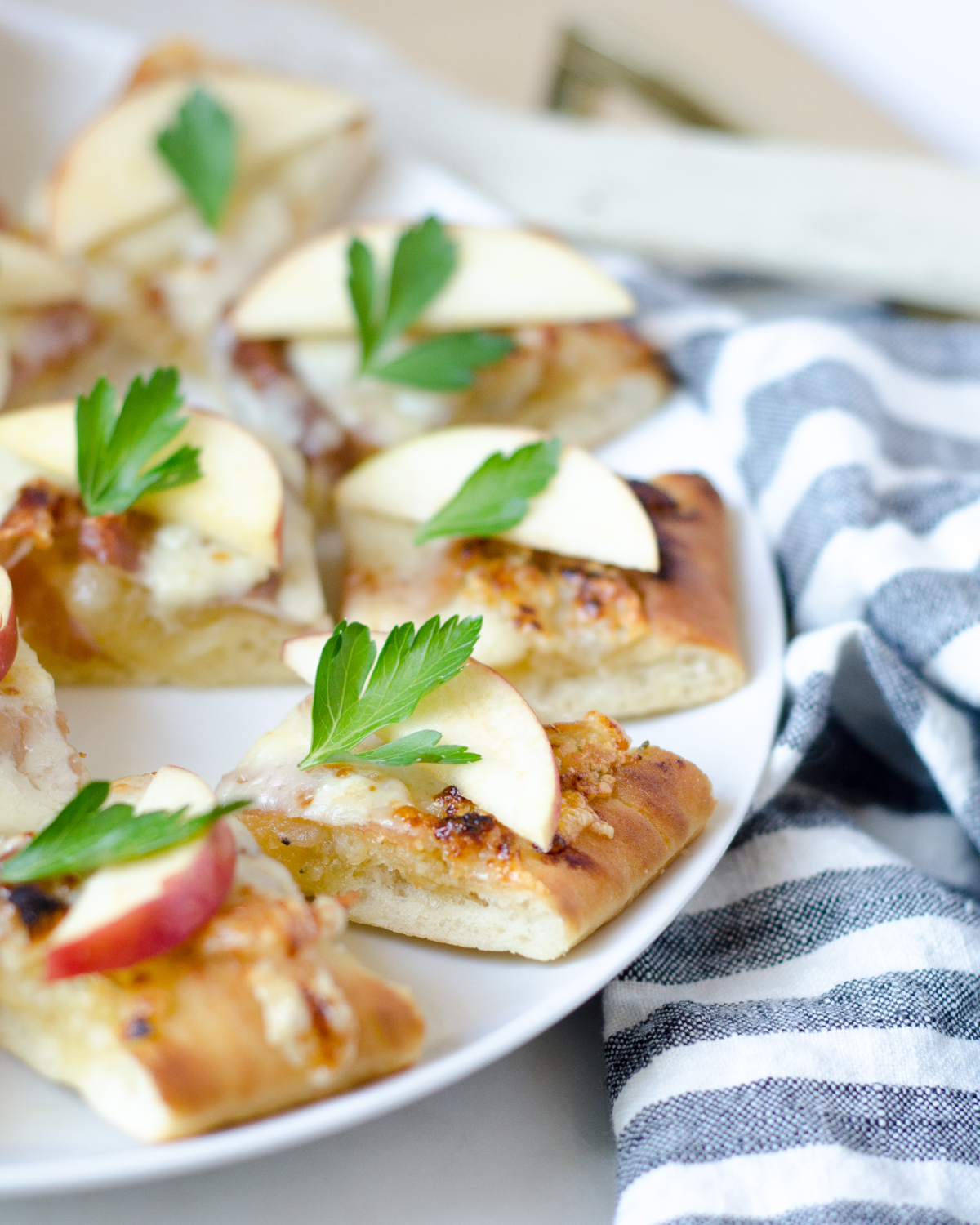 After you've made the nut pesto (lickity split in a food processor) and spread it over your awaiting bread product, all there is left to do is layer on your other toppings and pop it in the oven for a quick bake. It's pretty much that easy.
Eight minutes later you crown your melty, cheesy, nutty masterpiece with some juicy apples and crown yourself master of the fall appetizer. Congratulations.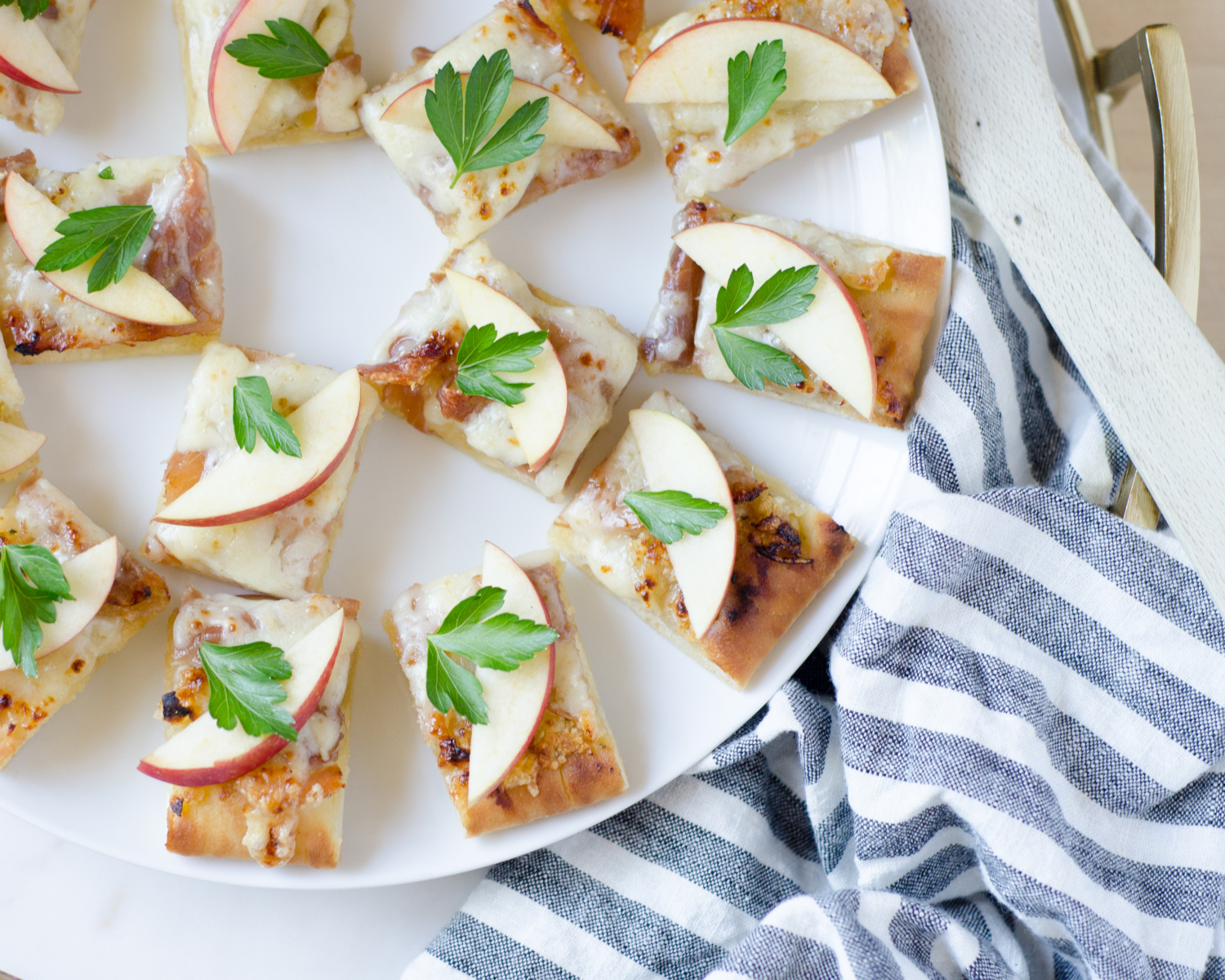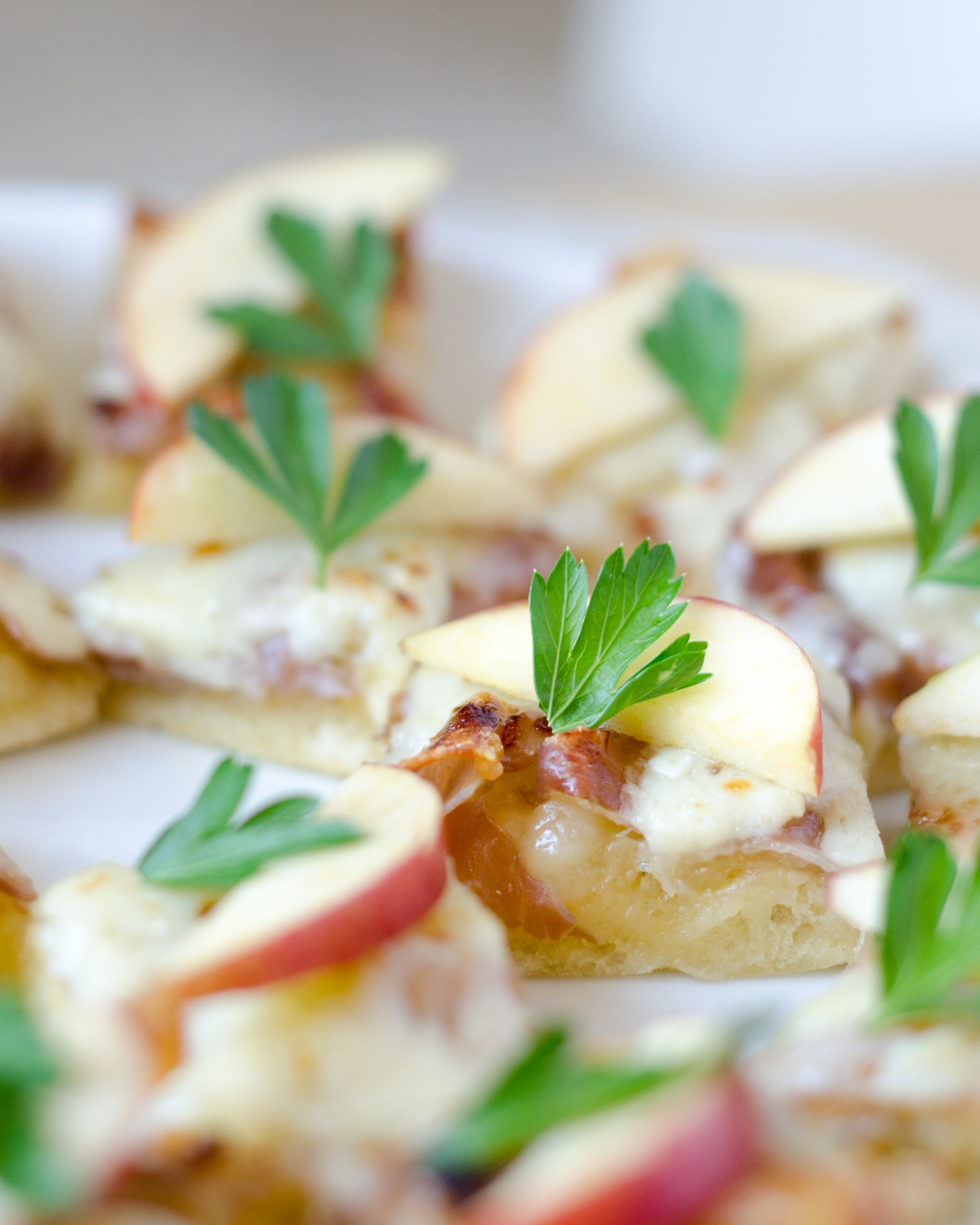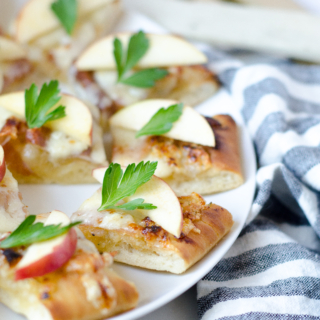 Truffle, Prosciutto, and Apple Flatbread
An easy and delicious fall appetizer featuring a simple truffle almond pesto, prosciutto, nutty gruyere cheese, and juicy apples.
Ingredients
1

c

truffle almonds

1/4

c

olive oil

extra virgin

2

tbsp

honey

1

tbsp

fresh thyme

chopped

1

package

pizza crust, flatbread, or focaccia

4

oz

Havarti cheese

shredded

3

oz

prosciutto

sliced thin

4

oz

Gruyere cheese

shredded

2

tbsp

flat leaf parsley

chopped

1

apple

cored and cut into thin slices
Instructions
Preheat the oven to 450º.

To make the nut pesto, combine the truffle almonds, olive oil, honey, and thyme in the bowl of a food processor. Pulse until the almonds are finely chopped. Taste for salt and add a little if necessary.

Place the flatbread on a parchment lined baking sheet. Spread the almond pesto evenly across the surface of the flatbread. Top with grated Havarti cheese, then the prosciutto, then the Gruyere cheese.

Place in the oven and bake for 8 minutes, until the cheese has melted and started to bubble and the edges of the flatbread are golden and lightly toasted.

Sprinkle the flatbread with parsley then cut into two-bite sized squares or wedges and top each serving with an apple slice.
Looking for more fall appetizer ideas? Try my gluten free fig prosciutto bites or walnut, pear, and prosciutto crostini. You can tell I like Gruyere cheese and prosciutto together, ha!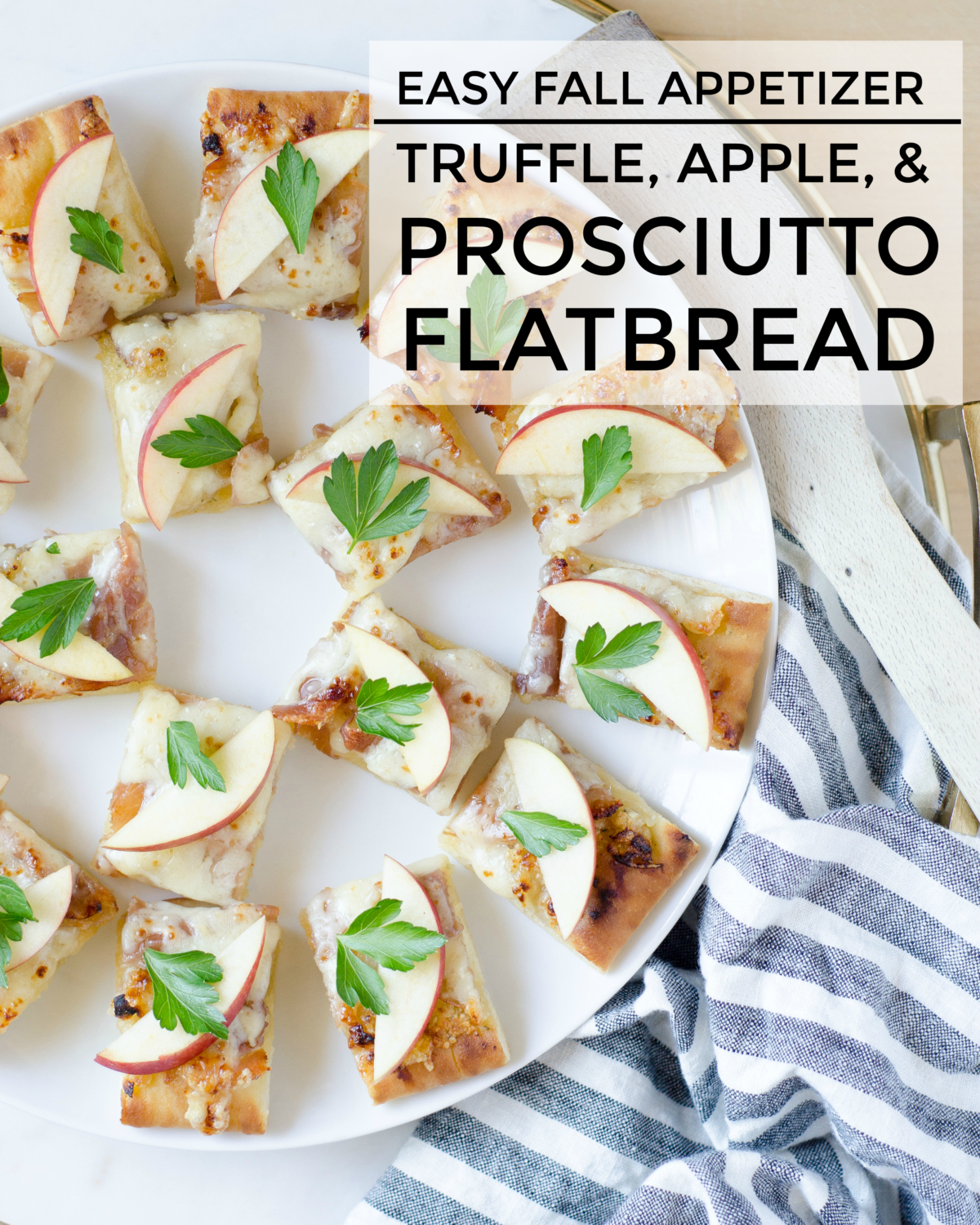 Here are links to the other fall appetizer ideas my friend are sharing today!
Delicious Warm Cheddar Cheese Dip
by Ella Claire & Co. |
Baked Brie & Walnut Puffs
by On Sutton Place |
Baked Delicata Rings
by Inspired by Charm |
Baked Brie with Figs and Honey
Fall Charcuterie Platter
by Craftberry Bush |
Truffle, Almond, & Apple Flatbread
by The Chronicles of Home |
Lady Mary's Crab Canapes
by Town and Country Living |
Roasted Grapes on Baguette
by Tidbits
Zucchini Tart with Goat Cheese
by My Sweet Savannah |
Mini Pumpkin Pies
by Shabby FuFu |
Ground Beef Stuffed Peppers
by Farmhouse on Boone |
Fall Charcuterie
by Happy Happy Nester
Roasted Garlic Hummus
by Home Made Lovely |
Smoky Cheese Ball
by Tidy Mom |
Easy Skillet Brie
by French Country Cottage |
Gluten + Dairy Free Herbed Boursin with Cranberry Almond Crackers
by Zevy Joy
Baked Cheese, Pear and Prosciutto Cresent
Roll by Julie Blanner |
Rosemary Cashews
by Rooms for Rent