It's 2019 Christmas tour time and for the fourth year now I'm participating in the Holiday Housewalk, hosted annually by Jennifer Rizzo. You can find my previous Housewalk tours here – 2016, 2017, 2018. The Housewalk is a weeklong celebration of Christmas decorating and Jen has curated an absolutely beautiful group of homes. Over the week, 33 of us open our virtual doors to you and show you how we've decorated our homes for Christmas in hopes that you'll find inspiration for your own Christmas decorating this year. The 2019 Christmas tour begins with Jen's own house – if you click HERE or on the image below you can start the tour from the beginning. At the end of each post you'll find a link to the next house on the tour so you can go house to house. It's like a Tour of Homes that you can do in your PJs by the fire. Cheers to that!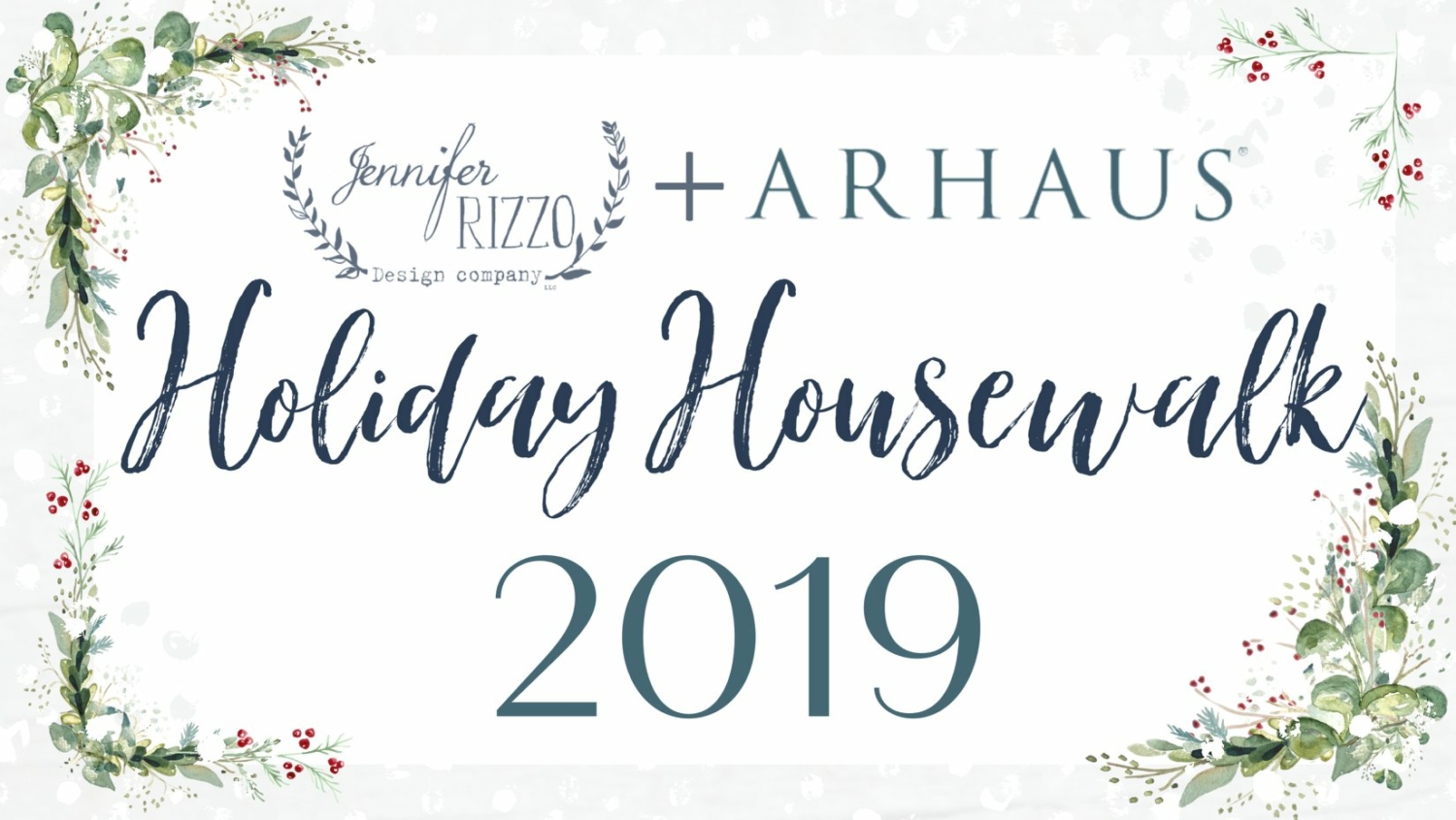 In case you missed the house before me on the 2019 Christmas tour, be sure to stop by Annie's blog, Zevy Joy, to see what she's done this year. She has a really pretty, soft, cozy aesthetic that I think you'll love.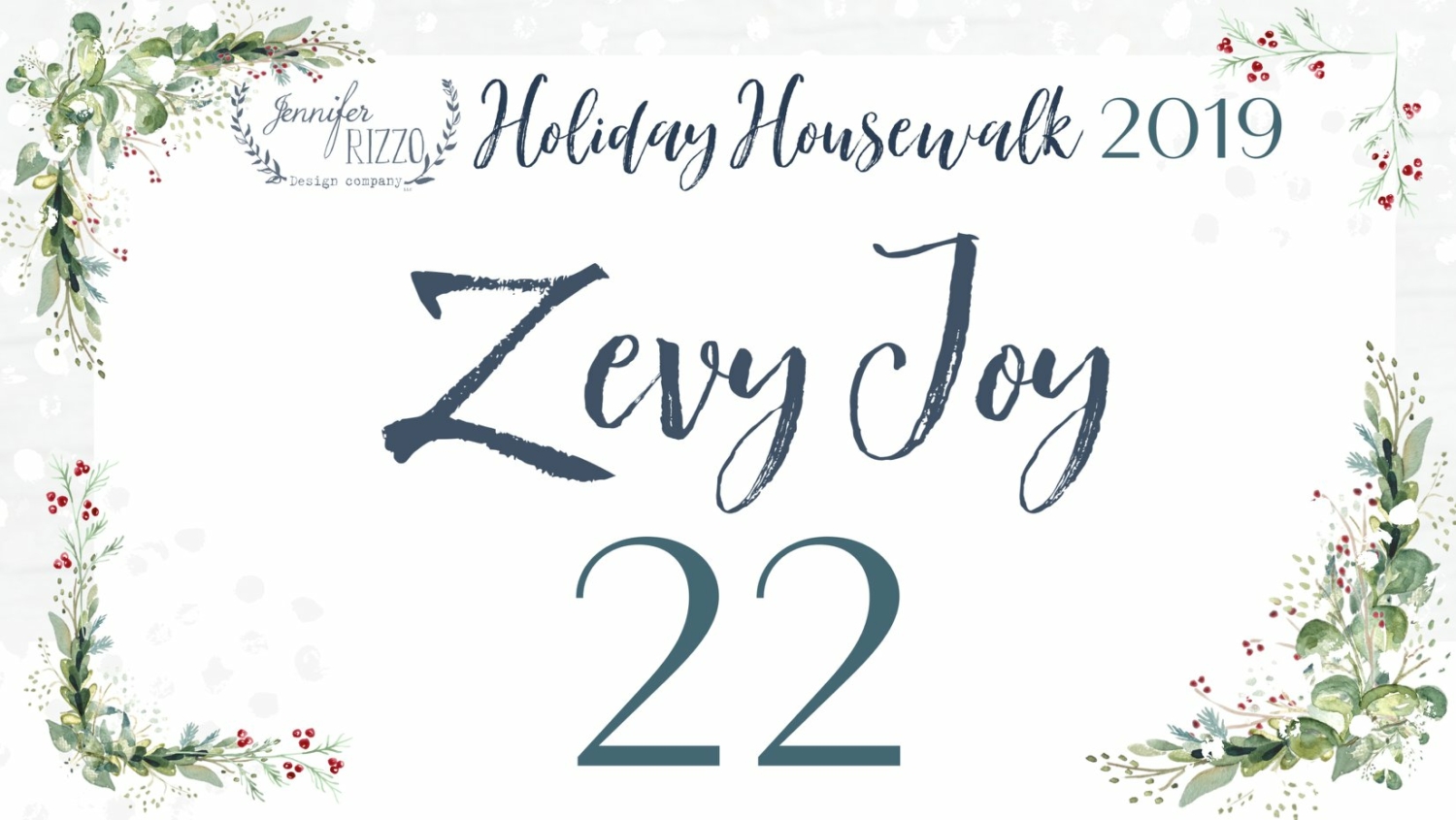 Let's start in my entryway to kick off my 2019 Christmas tour, where you would actually walk inside if you were really here. I've gone big the past couple years with the garland on my banister but I was feeling a very, very simple look this year. Just a spare faux garland with tiny pinecones (this is a similar one), a few bunches of eucalyptus that I preserved, and some ivory velvet ribbon. Maybe it's where my head was this year, but simple really appealed to me.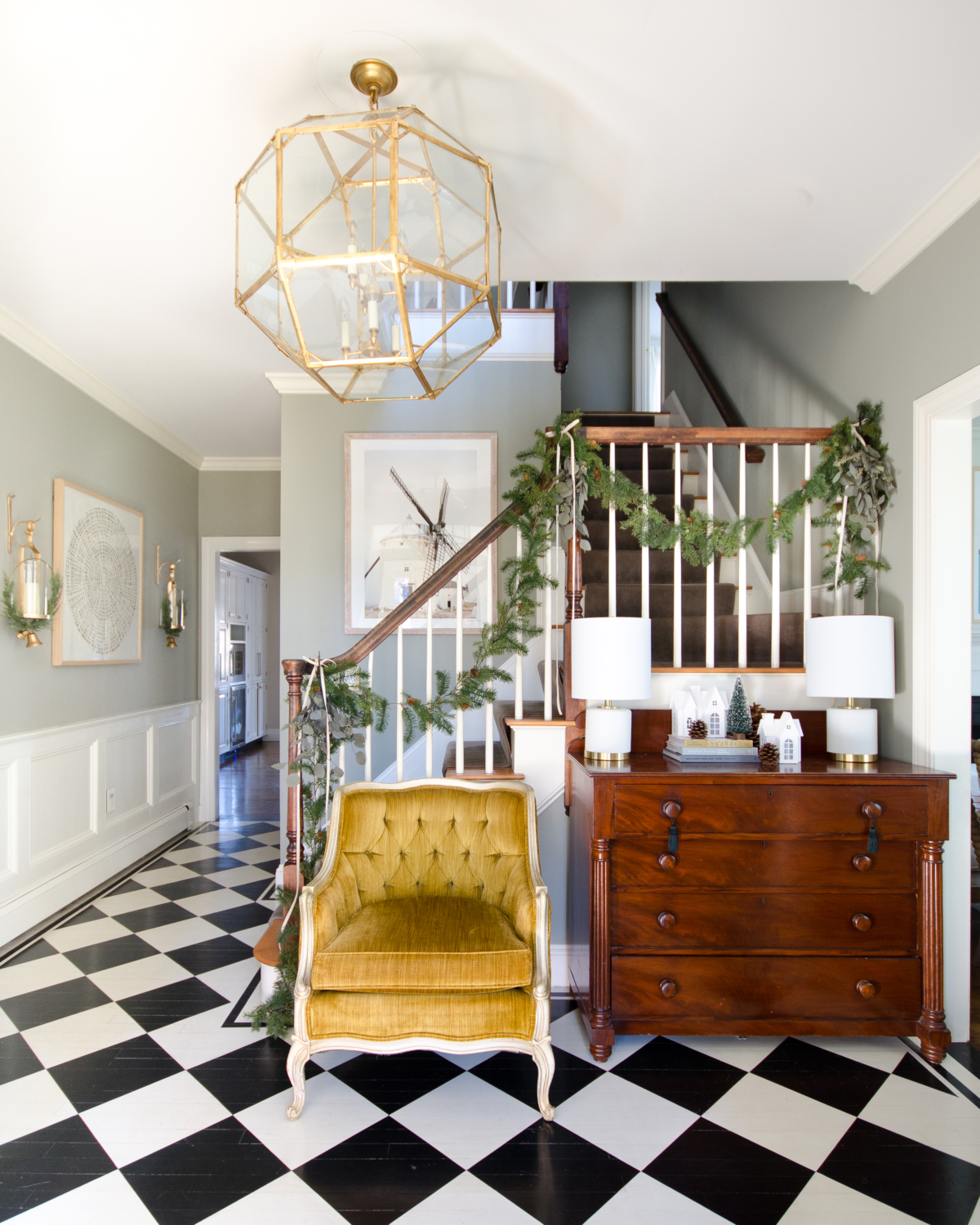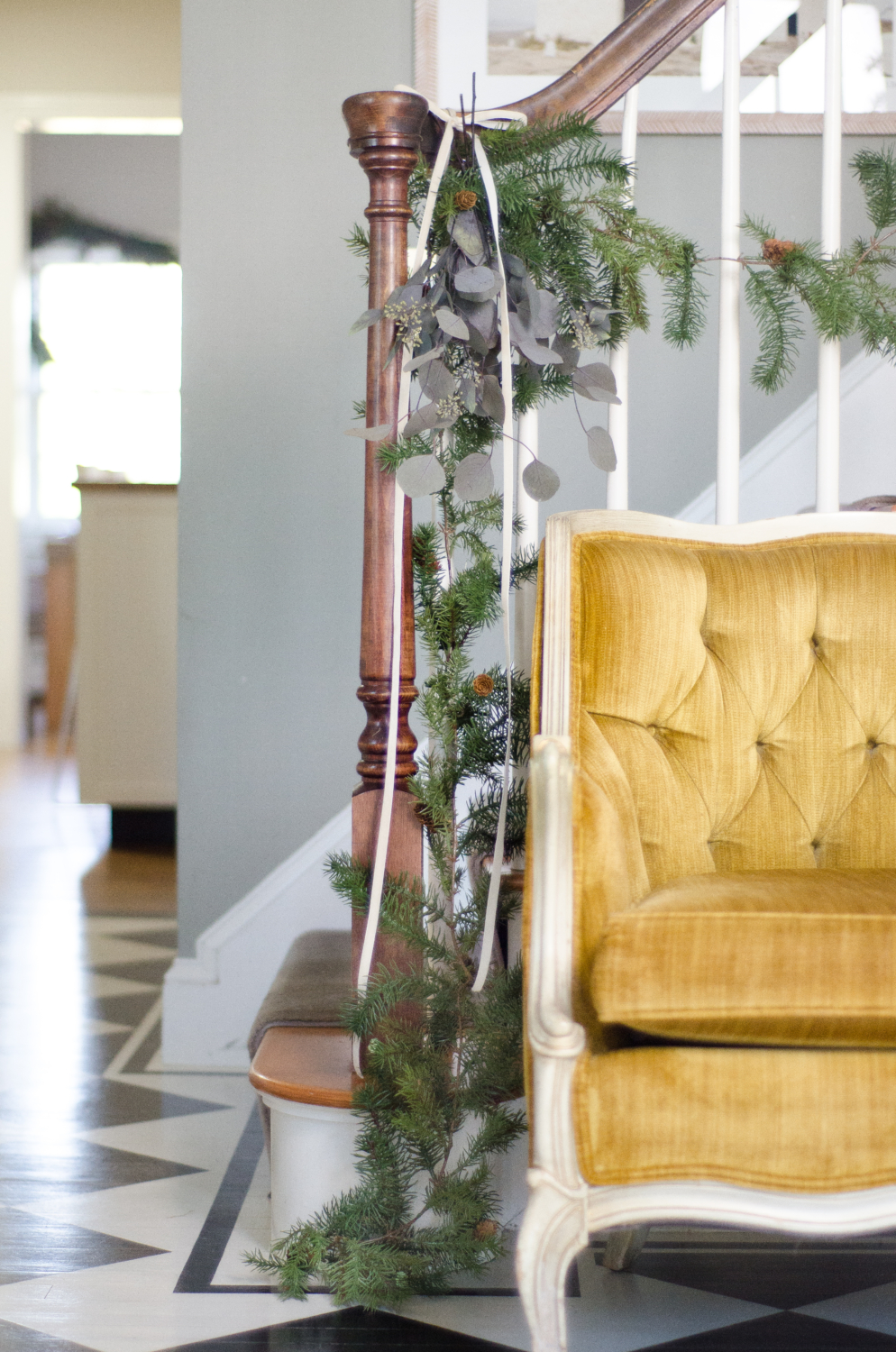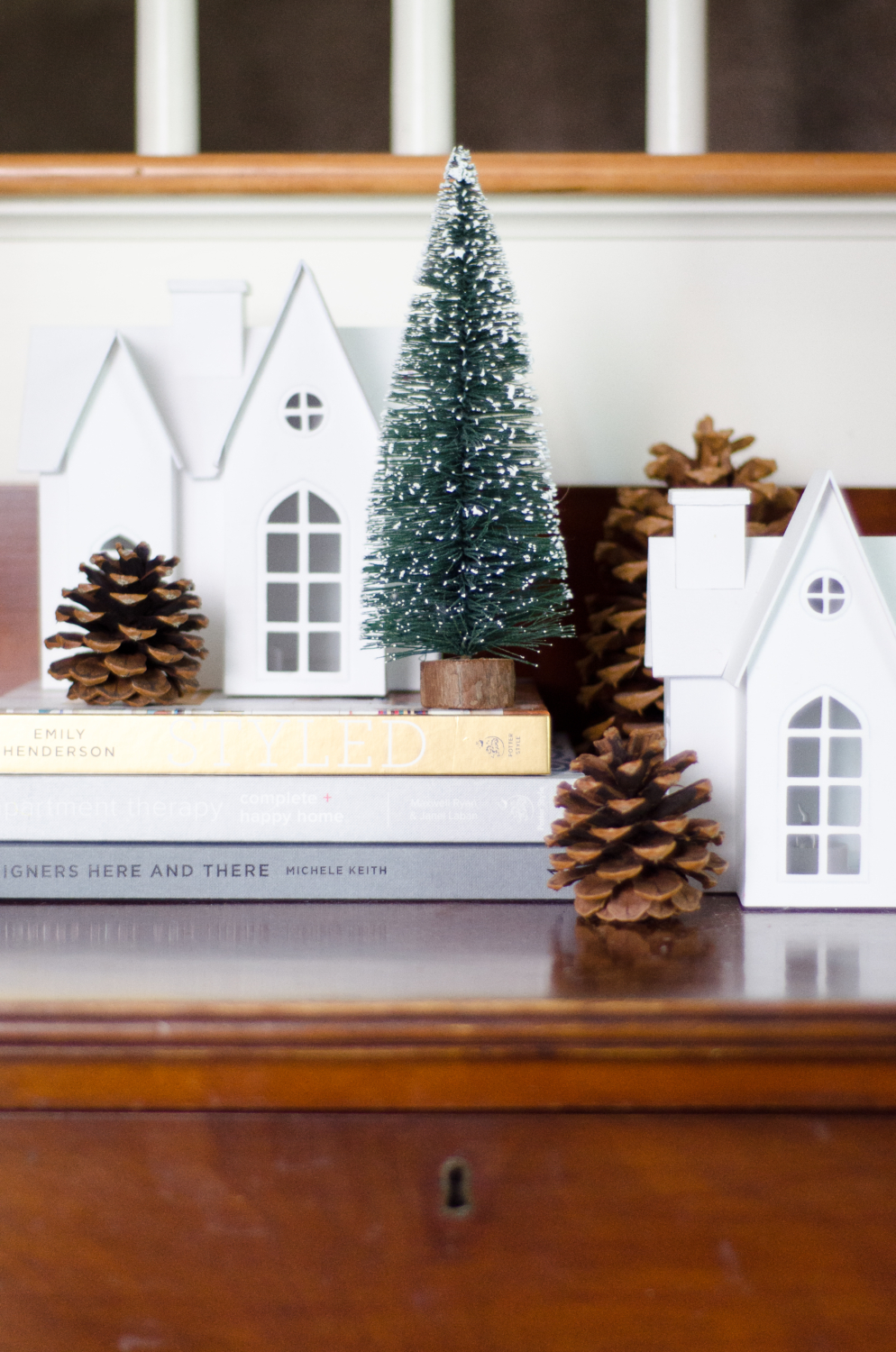 Let's continue the 2019 Christmas tour by walking straight down the hallway into the kitchen. If you look closely at the cabinet above the refrigerator you'll see we're in the middle of making some tweaks to our cabinets. They didn't get finished quite in time for my Christmas photos, but there's a dose of real life for you, ha!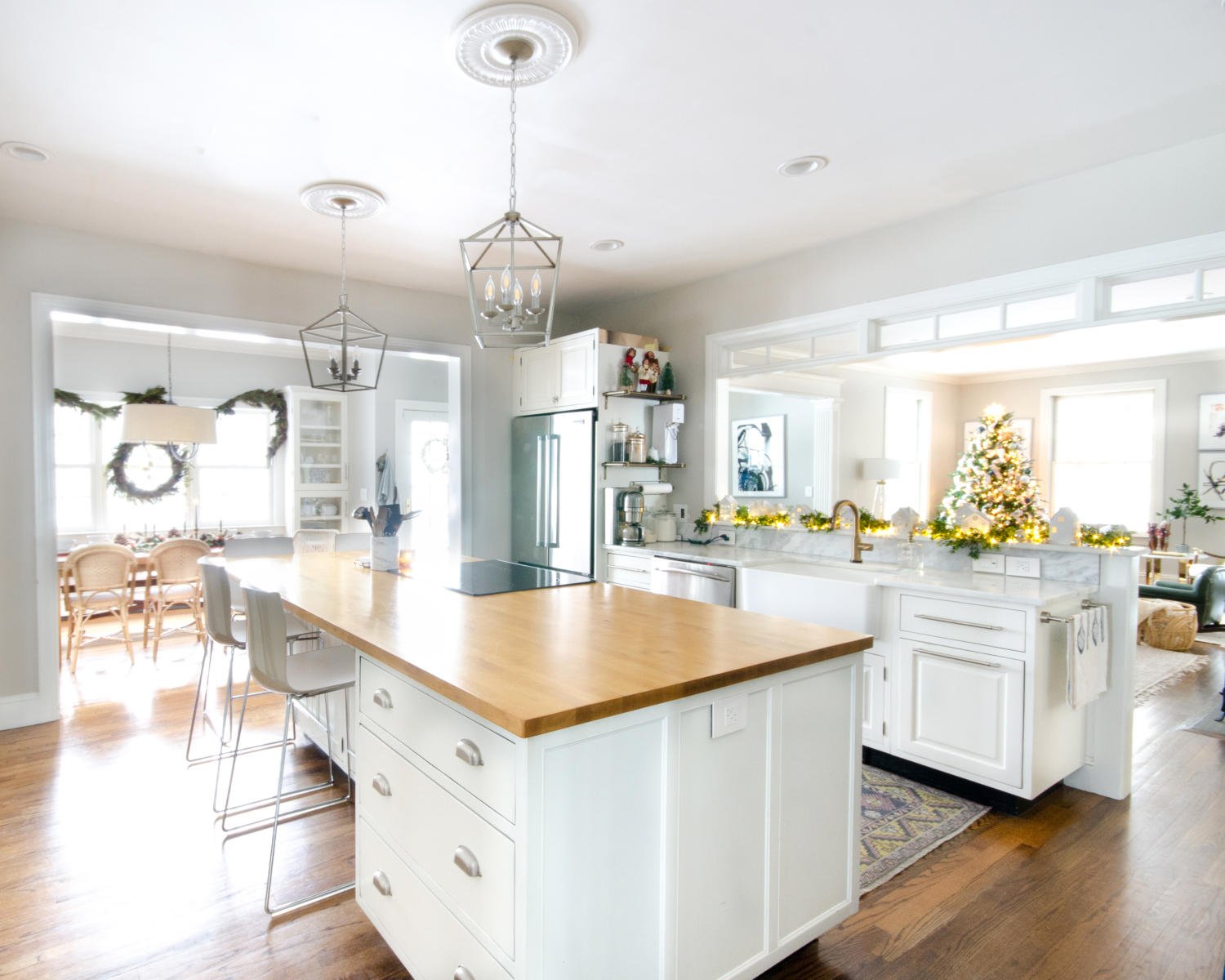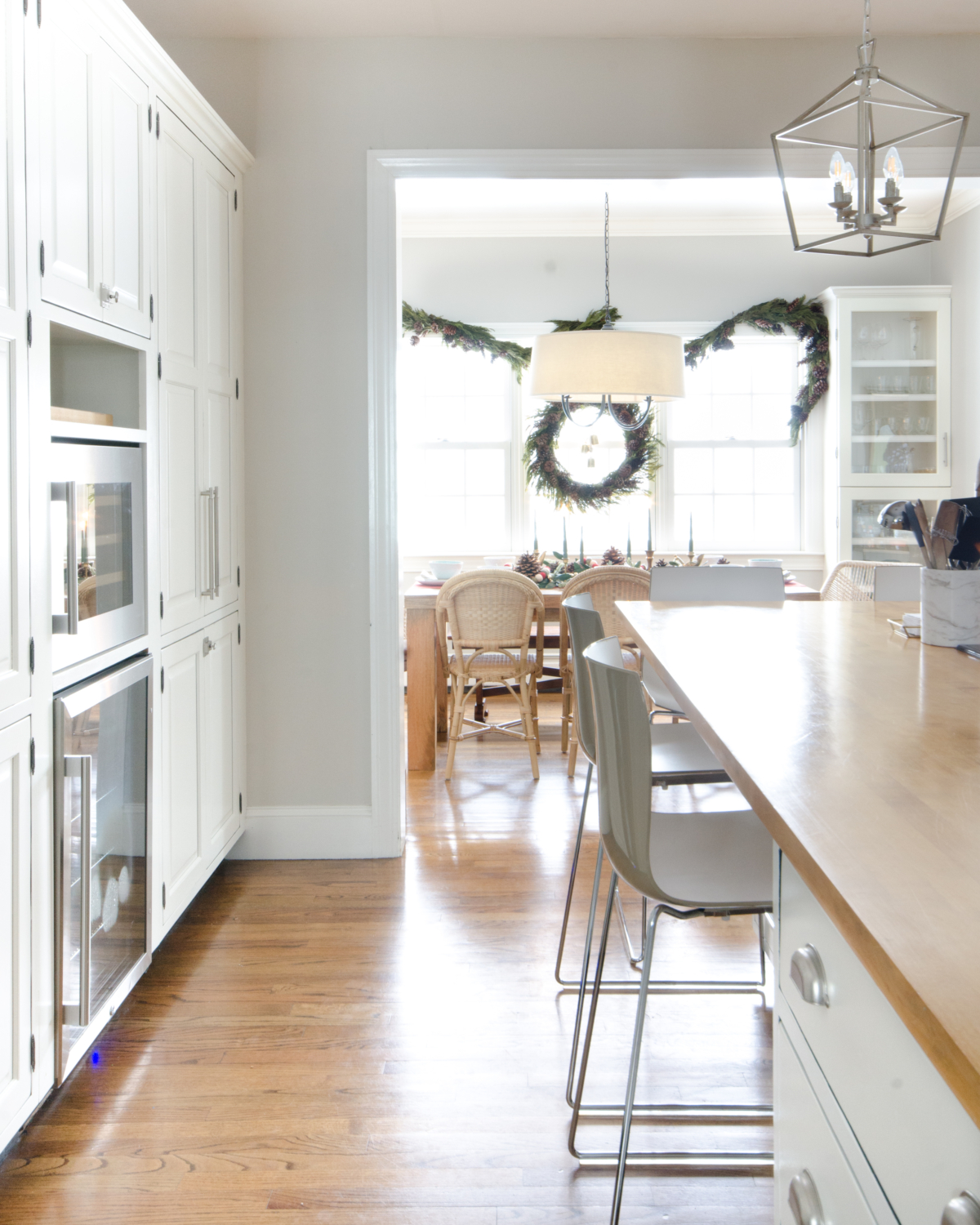 I worked with Garnet Hill to put together the decorations in my kitchen eating area. I'll have more details for you on all of this next week but here's a little peek at what I did.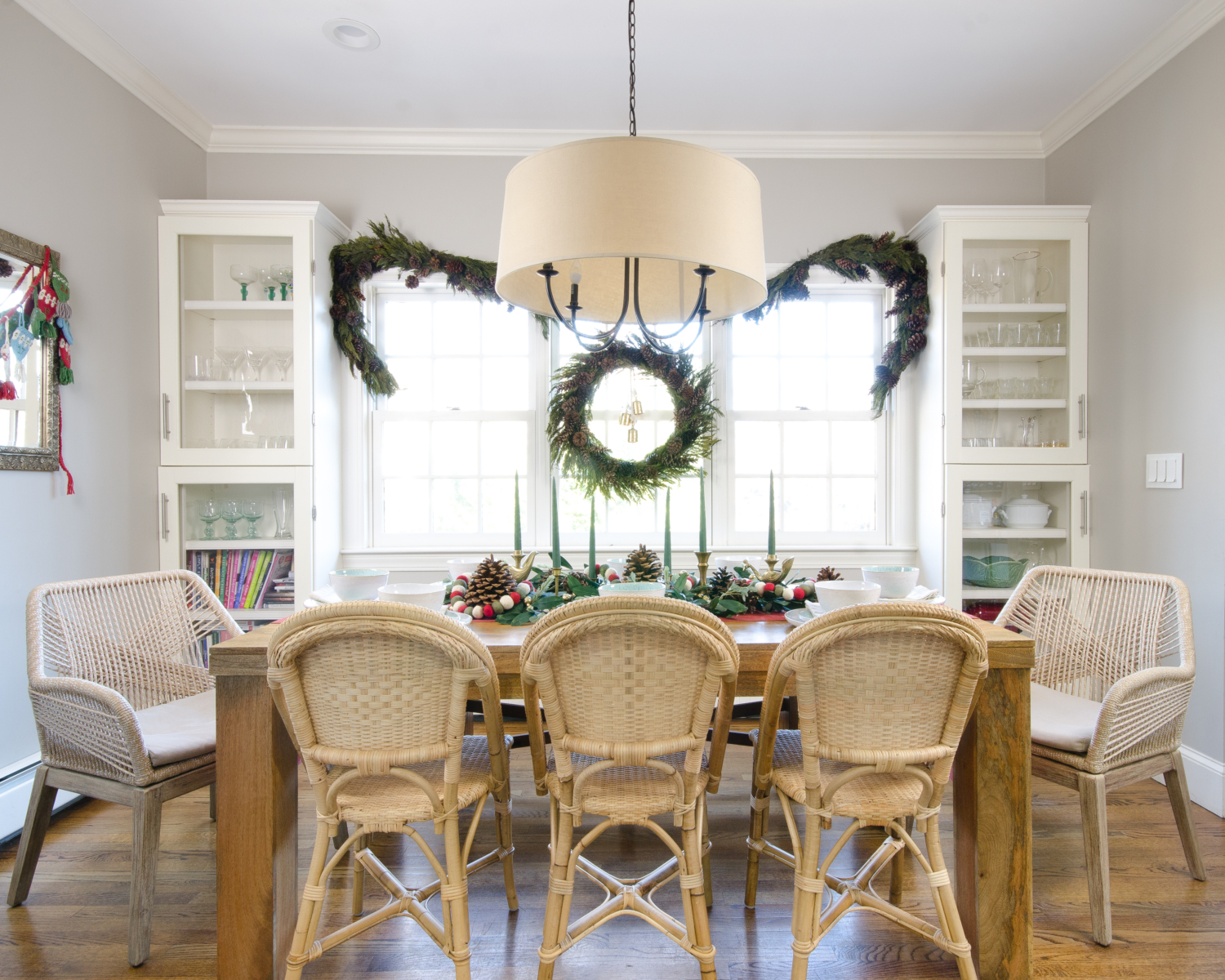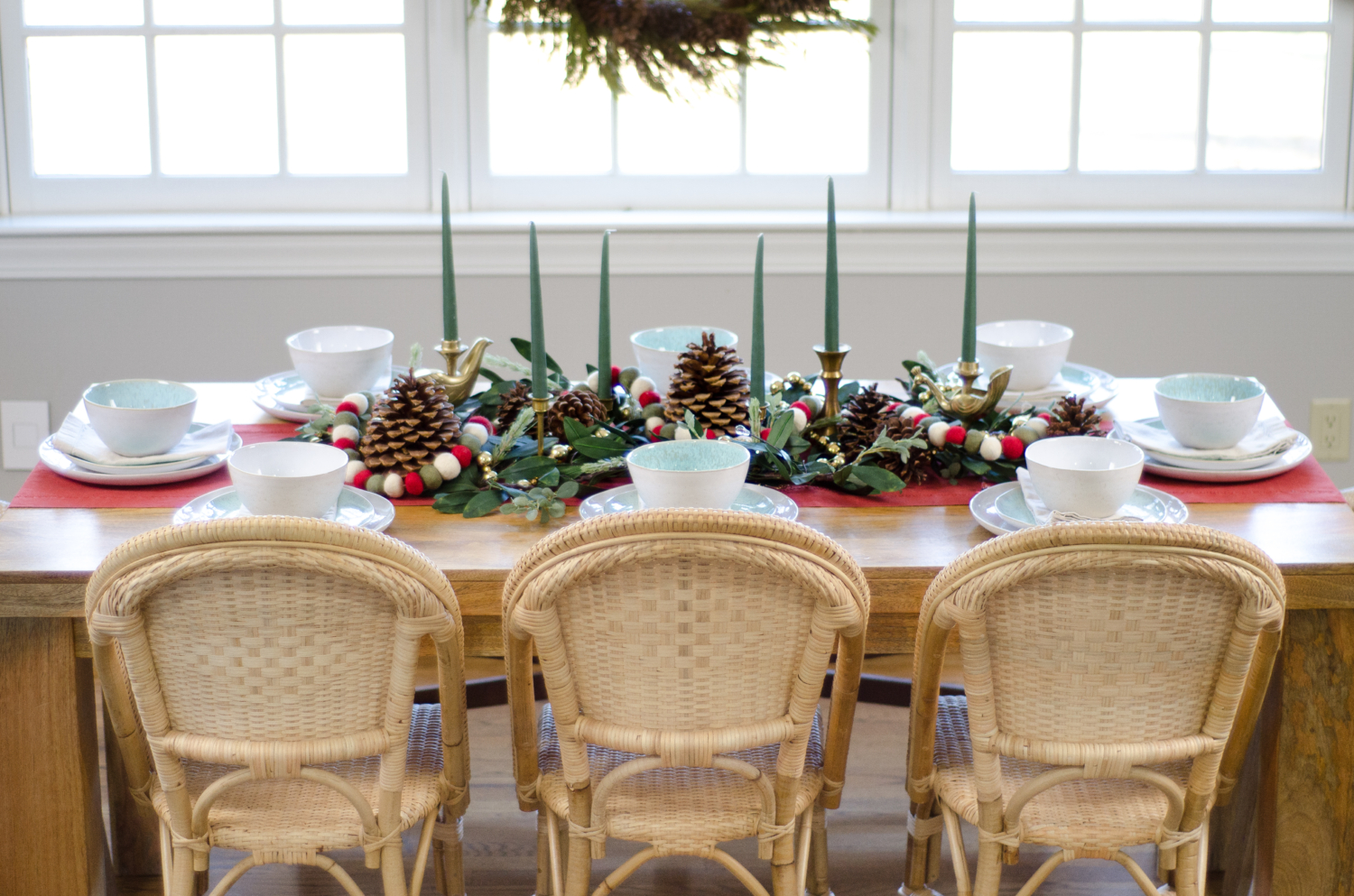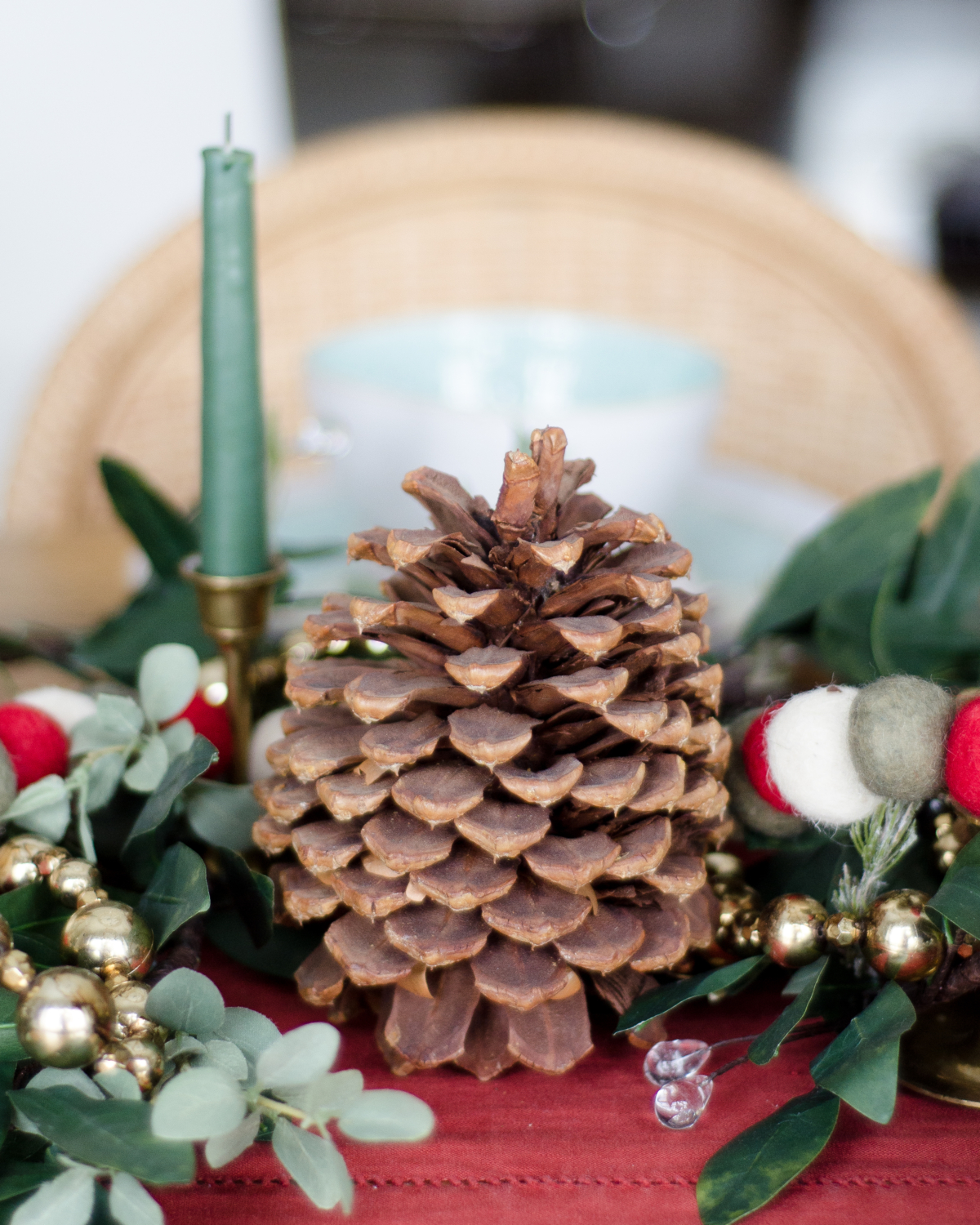 I added a few of my Byers' Carolers (made a couple towns over from where I grew up) to my new refrigerator shelves and brackets. The brass band along the edges of the shelves is such a pretty detail.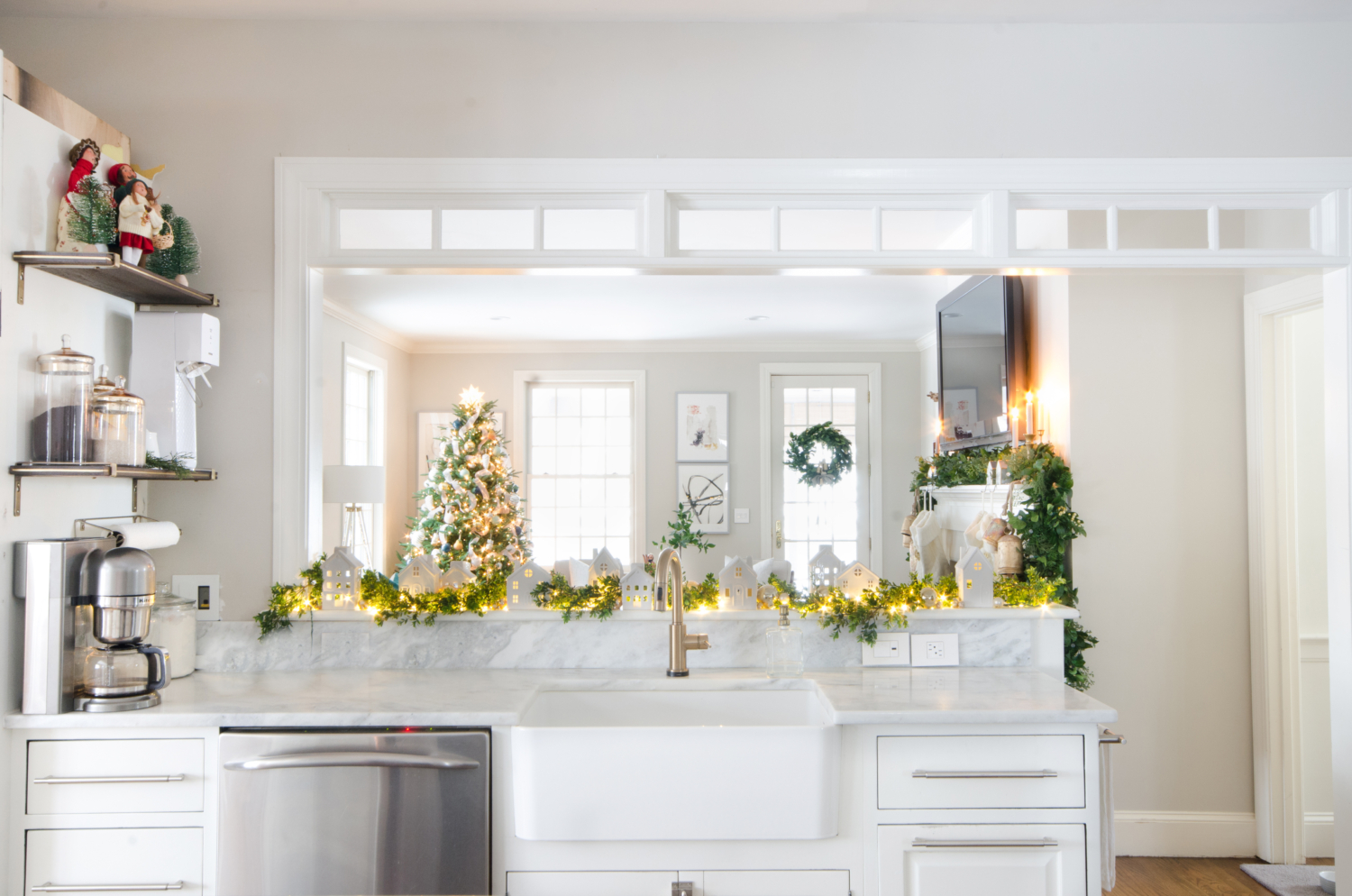 I move my collection of white ceramic houses around the house every Christmas and decided to line them up along the ledge between my kitchen and family room this year. I wound a faux boxwood garland around them and some white twinkle lights because I absolutely cannot get enough white twinkle lights in my life this time of year!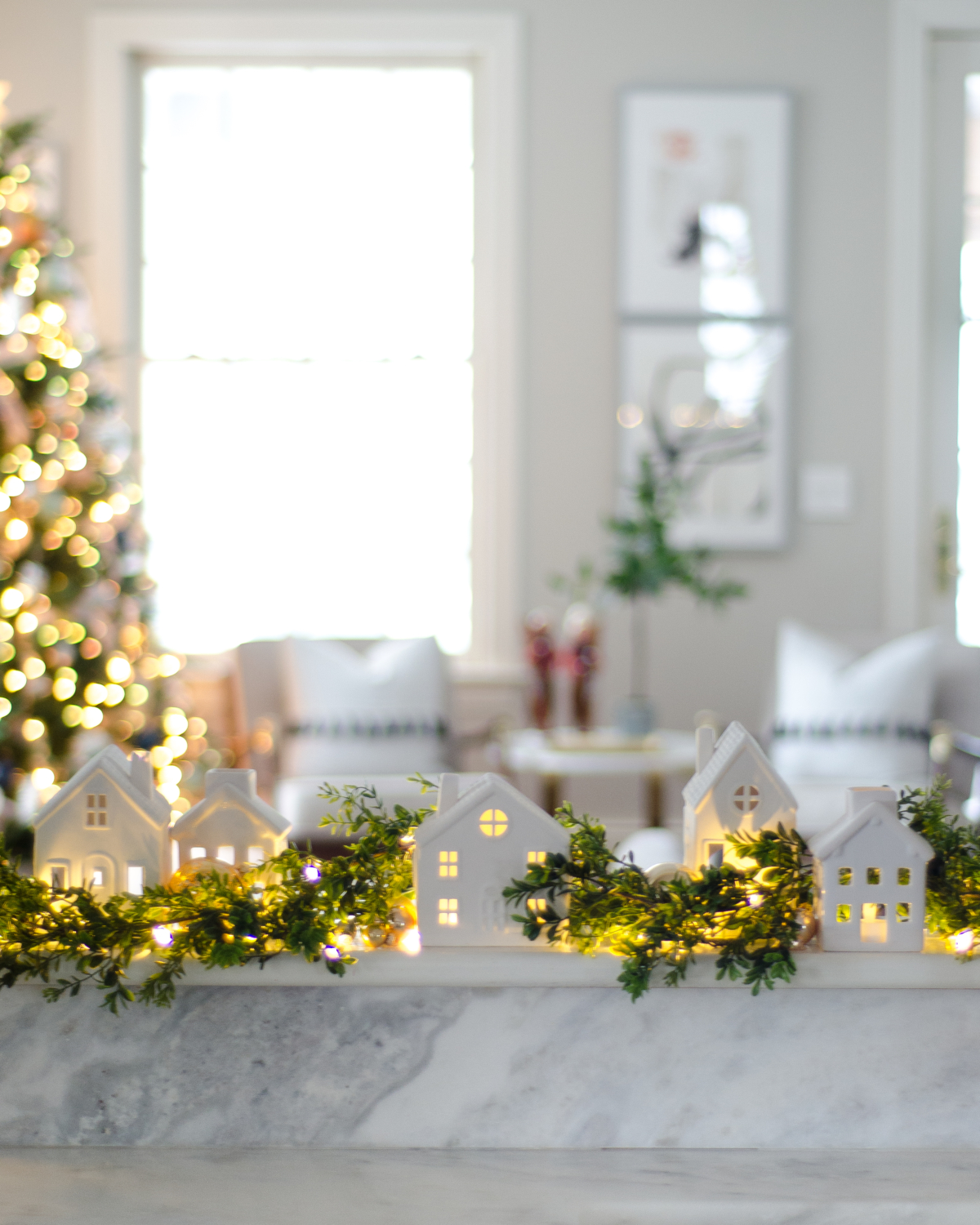 I kept things mostly the same as they always are in my family room, just shifted my wood and brass chairs to the side so I could put my Christmas tree in the corner.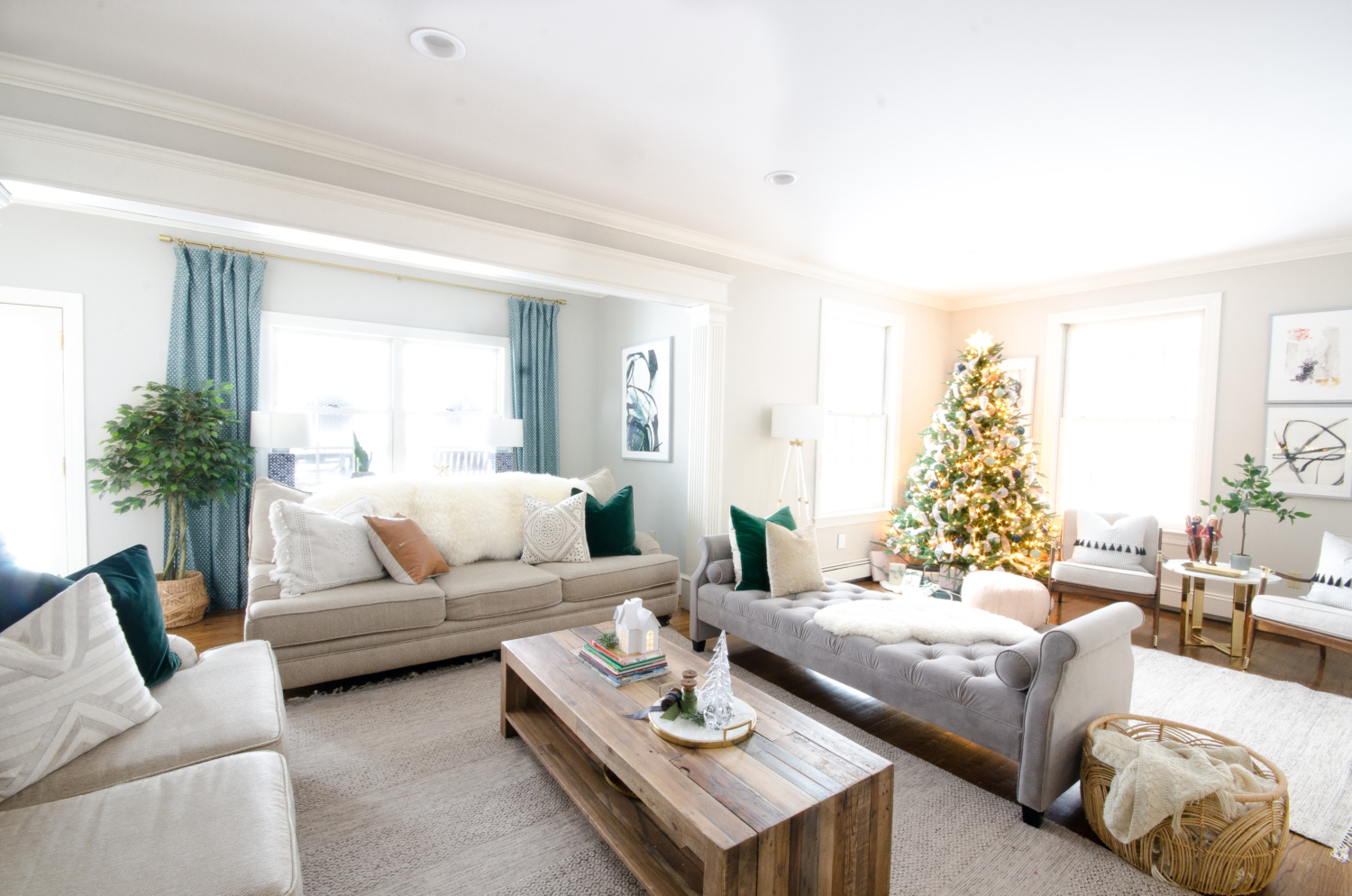 These beautiful glass trees are made where my husband grew up in New Hampshire. They're pricey but they're so special. I actually keep them on a shelf in my dining room year round but I like to put them front and center around Christmas. I found the large wooden spools for a couple dollars at an antique store in my town.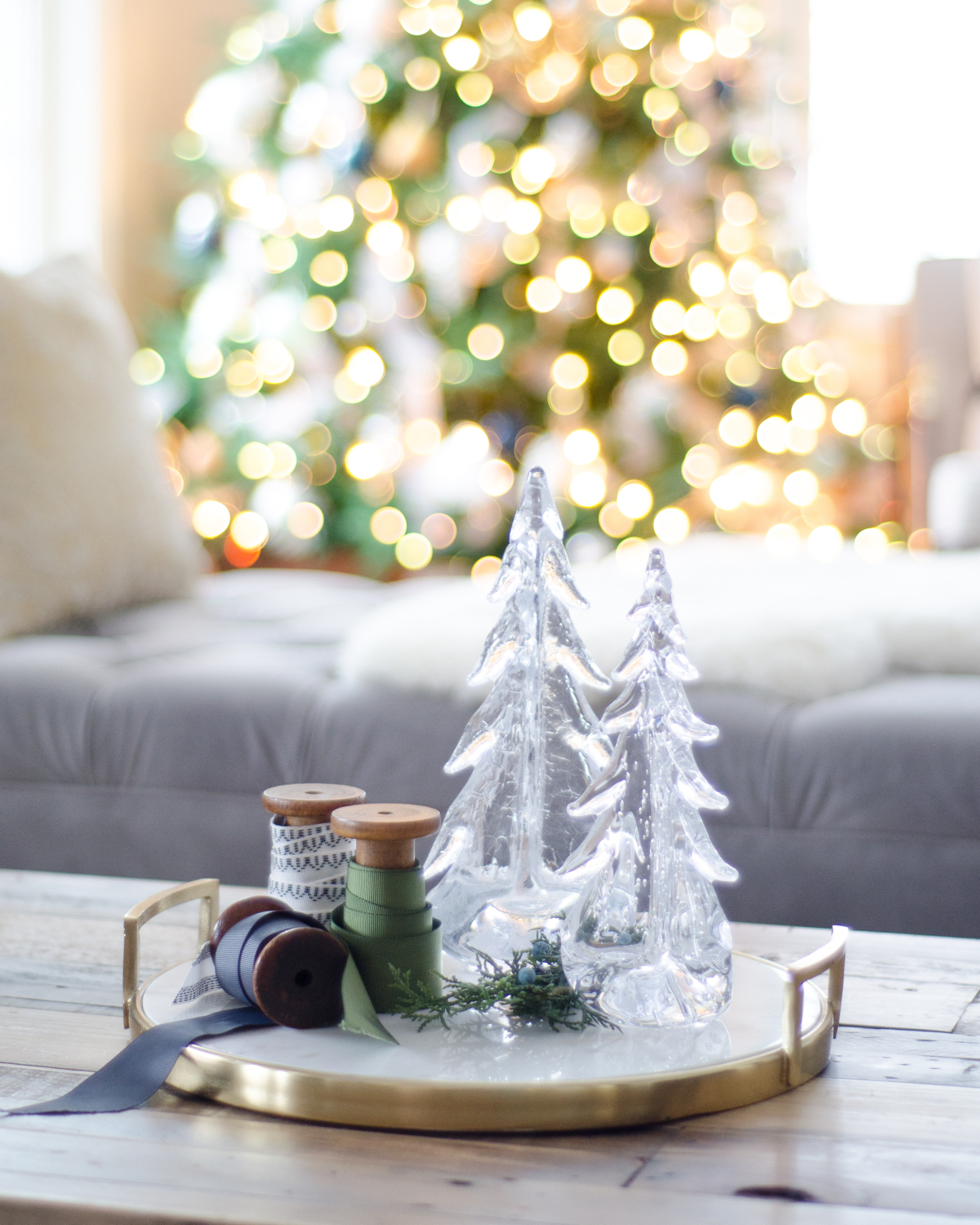 Growing up, my mom put the Christmas books away with all of the other decorations every year and I would get so excited to see and read them again every year when she brought the boxes down from the attic. I don't know that my girls feel quite the same way but it still gives me a little thrill of happiness to see the Christmas books I have now when I bring them out. The Christmas Magic has become a new favorite, the illustrations are so beautiful and it's such a sweet, simple Christmas story.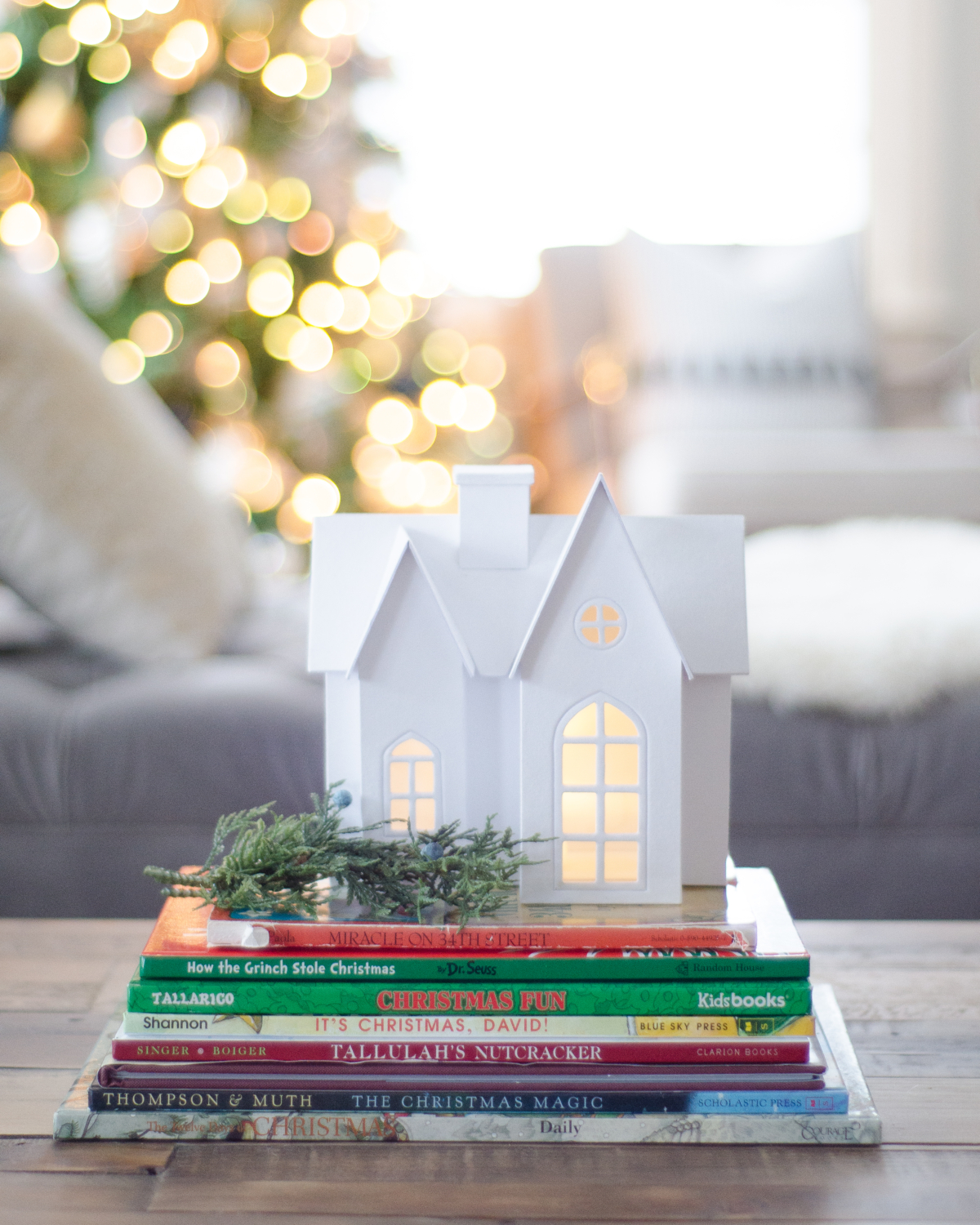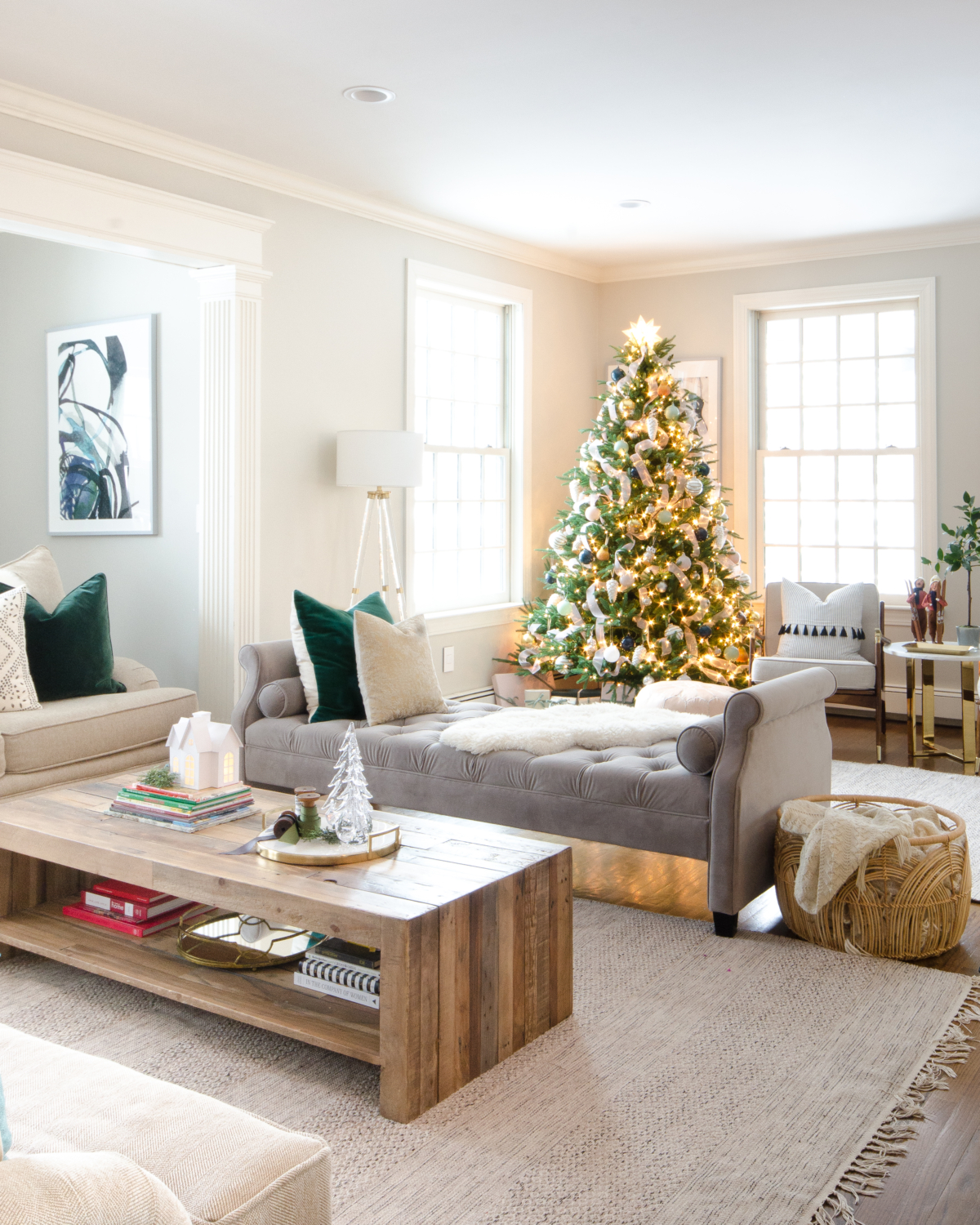 I used a collection of white, gold, and bronze ornaments Kat and Annie sent me a couple years ago as well as this set that I bought last year. I wanted a little warm color on the tree too and tried red at first but I just wasn't feeling red in here this year. I bought some pale pink ribbon and tried that on the tree instead and it was just the thing. A wired blush velvet ribbon is what I really wanted but this affordable sheer ribbon worked great and was delivered in just a few days.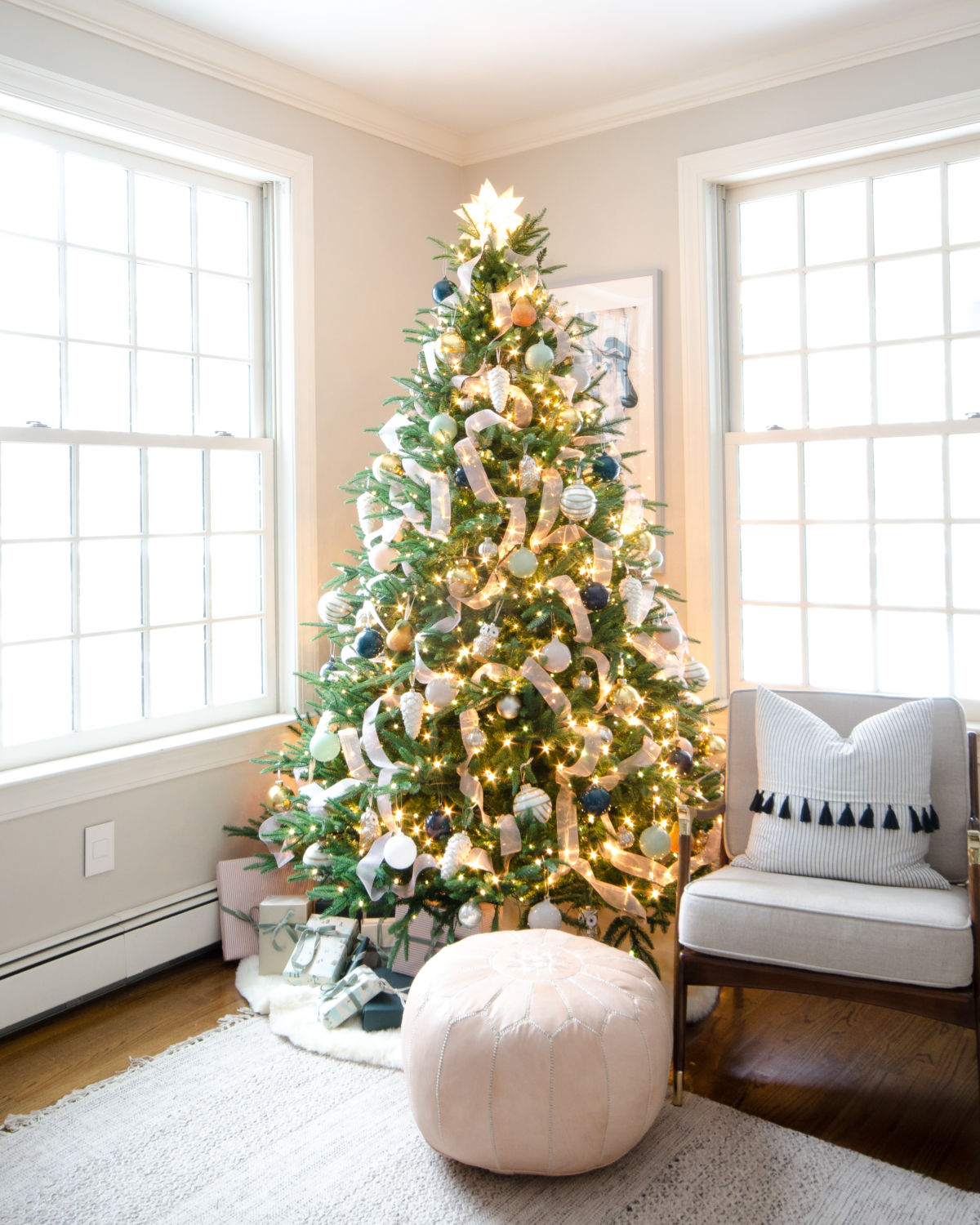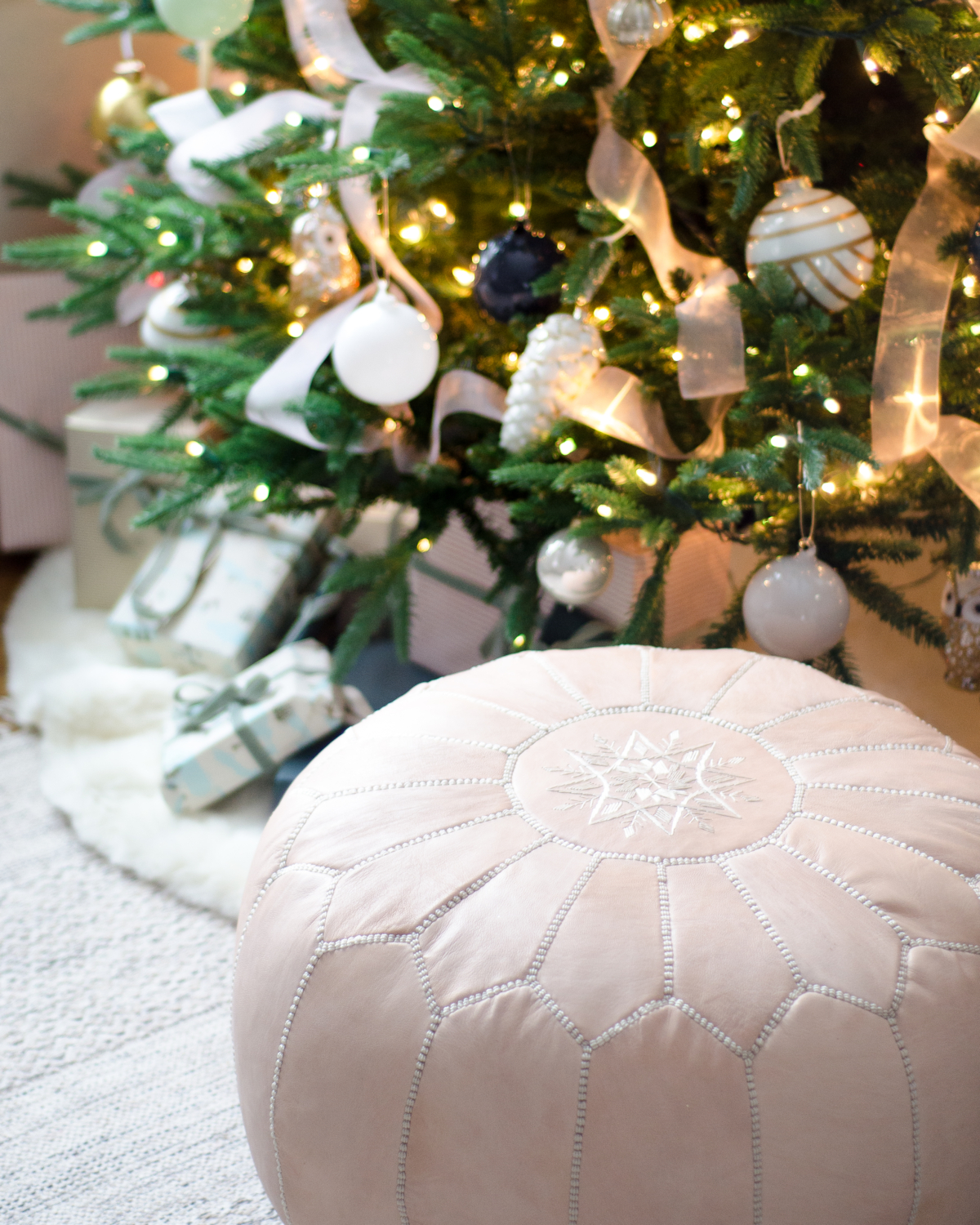 I often get a lot of my Christmas wrapping paper at Home Goods but Target had a few that were too cute to pass up this year. I bought this set and this set and found the dusty green velvet ribbon at Marshalls.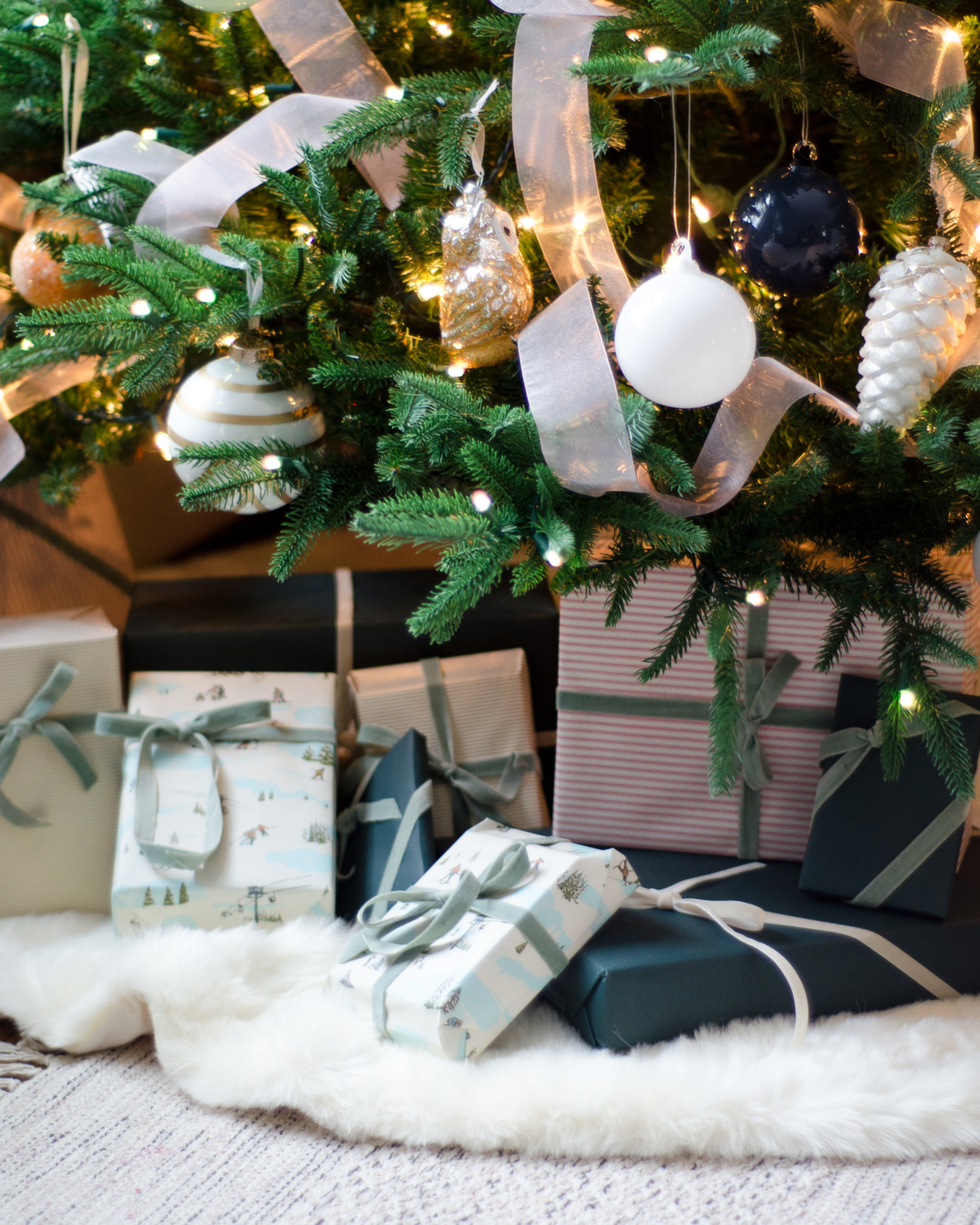 I started collecting gold bells a few years ago and they're on practically all of our doors and wreaths and mantles now. There's no going in and out of the house these days without a full bell salute! This set of three large bells looks like it was discontinued but the same company has a slightly different set with an imprint on the gold that I actually think is gorgeous. You can find them HERE. How many bells is too many for one gal? There is no such thing. That is the answer.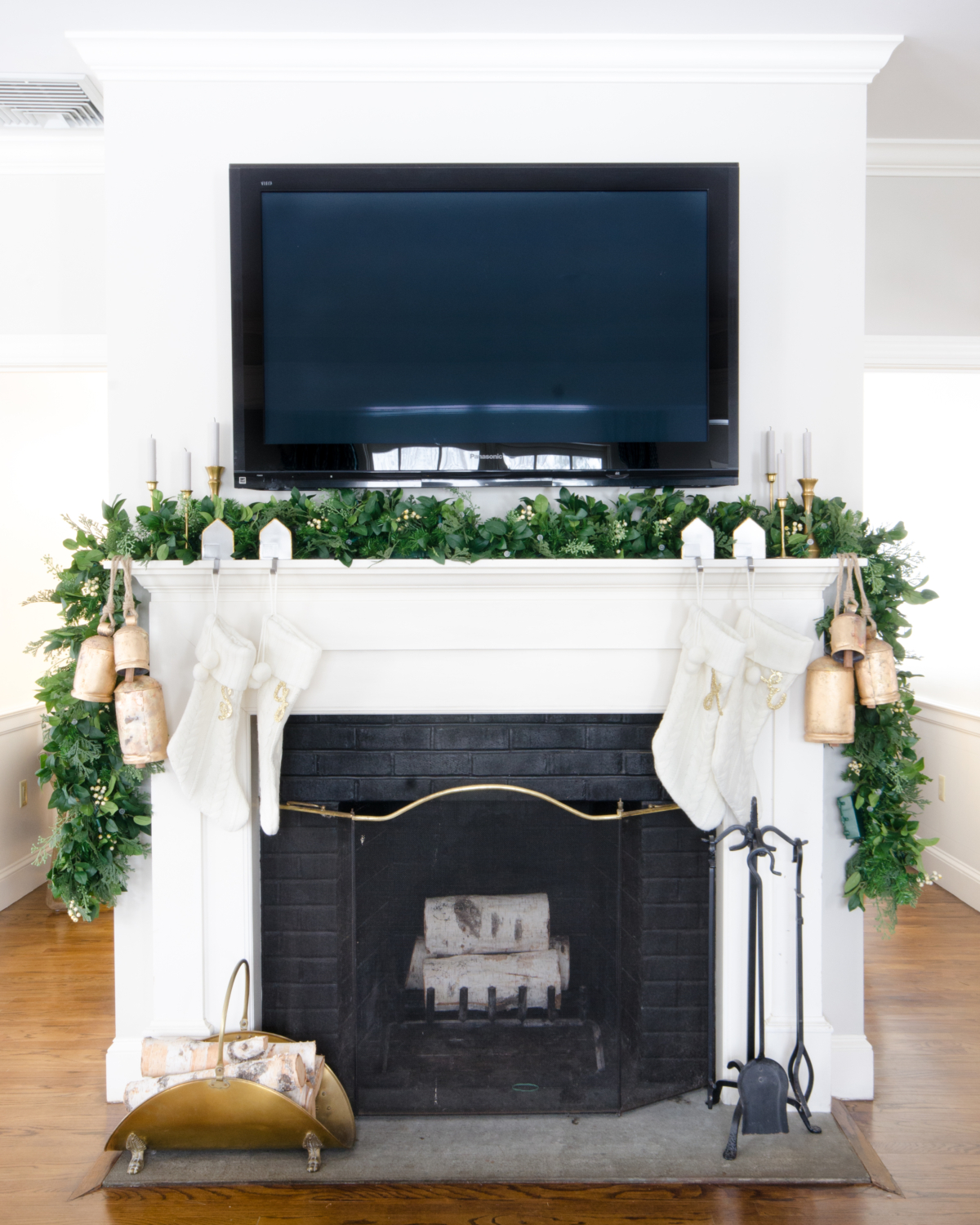 See that tree peeking out at you from the background? She's new around here and I'll be telling you more about her next week.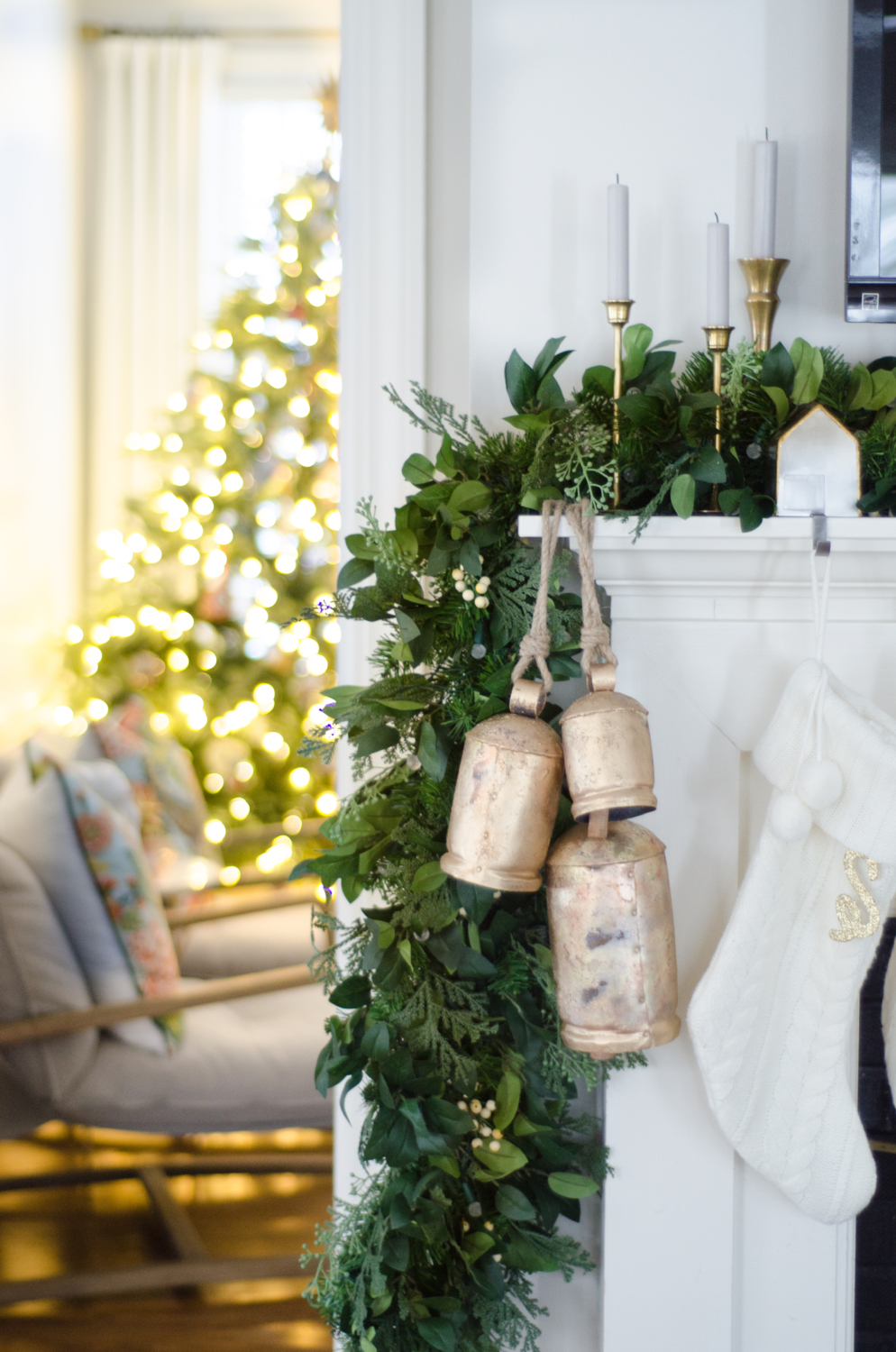 I usually have a set of Chiang Mai Dragon pillows in the family room but I swapped them for these balsam green velvet beauties for Christmas. I think I may actually leave them here through the winter, I love the way they work with the blush pink, white, black, and beige I have in this room.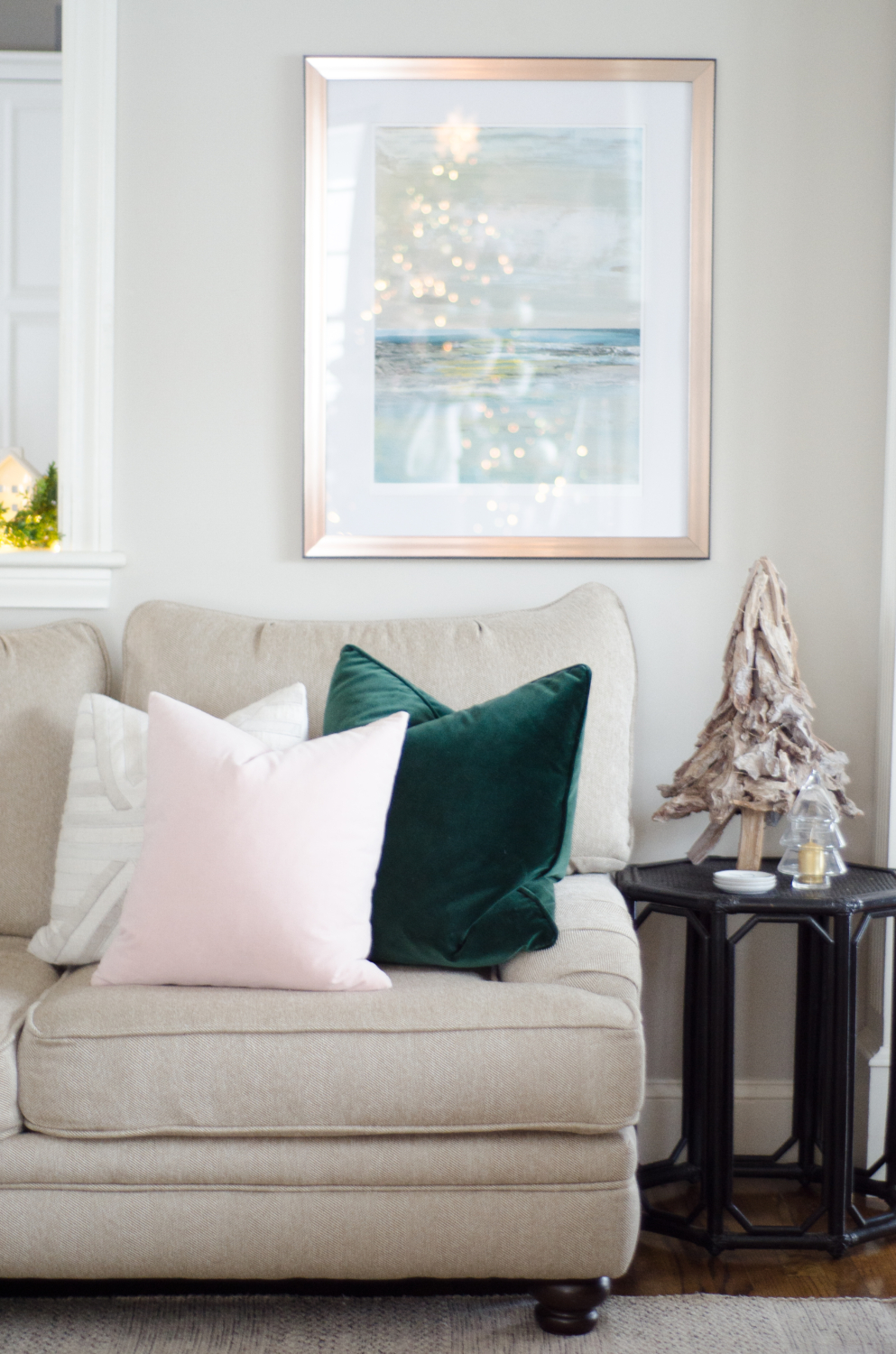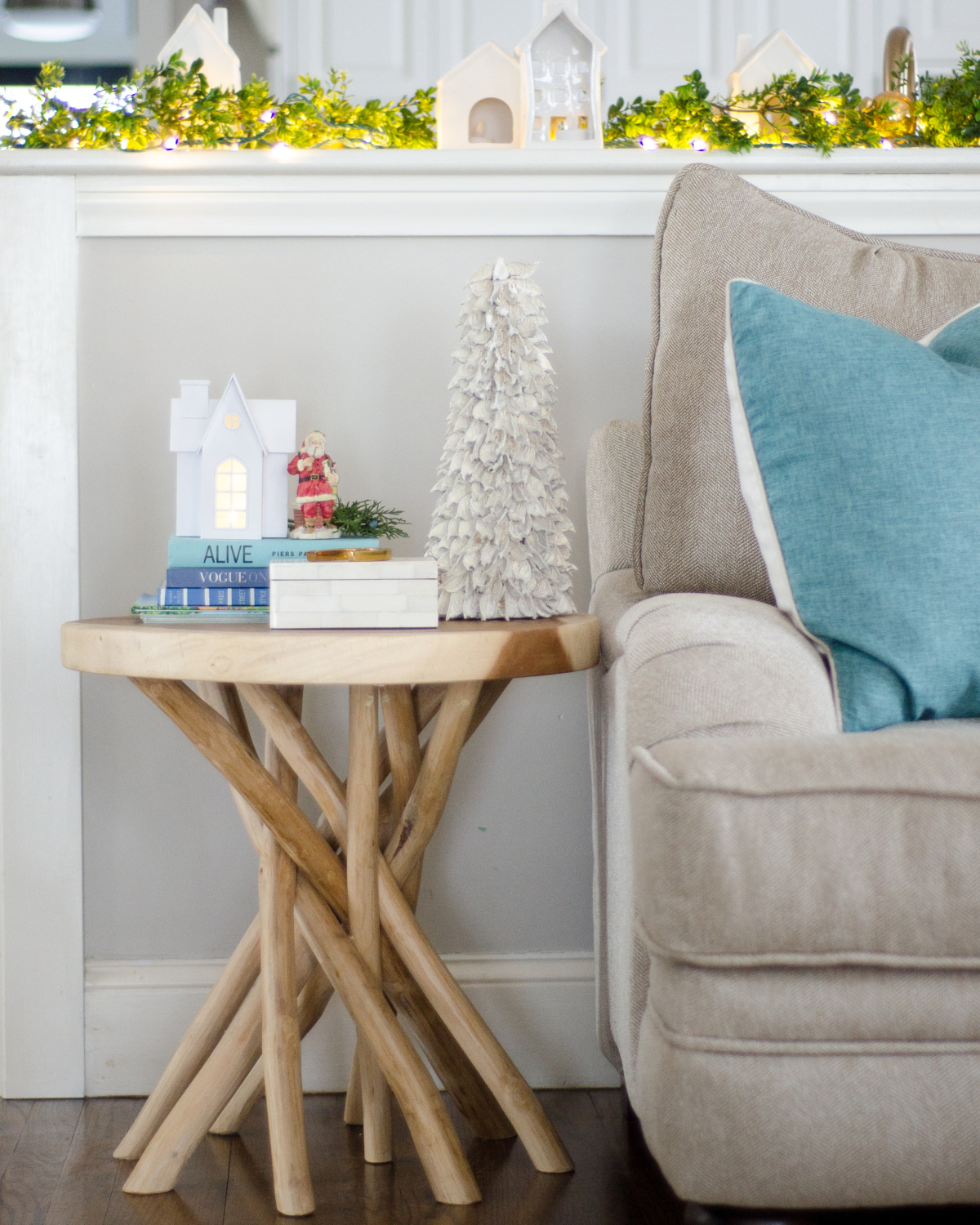 And that wraps up my 2019 Christmas tour! I hope you enjoyed the look around and that you found some inspiration for yourself. To continue with the Housewalk, visit Sheila's blog, Maison de Cinq, for some French-inspired Christmas decorating.