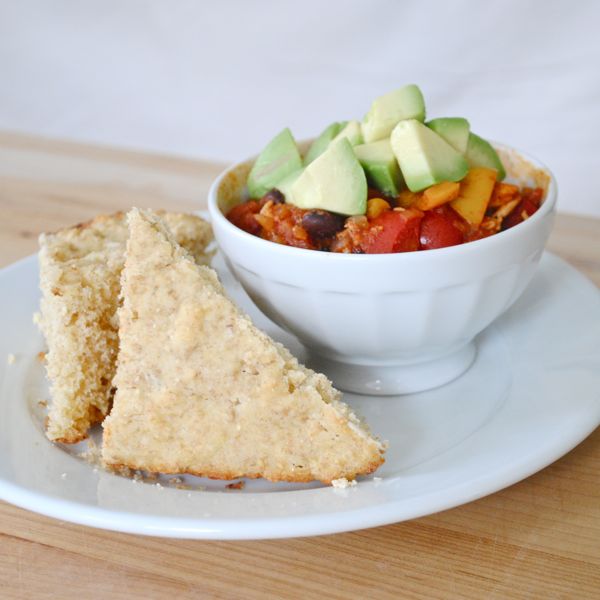 This chicken chili has been a family favorite for several years now.  It's based on the Barefoot Contessa Chicken Chili here with just a few small changes.
It's great comfort food – hearty, rich, and warm – but still manages to be light, fresh, and healthy.  I like to top it with a little shredded sharp cheddar and some diced avocado.  Whole grain cornbread is the perfect accompaniment (recipe coming tomorrow!).
If you are hung with turkey leftovers come Friday, this would work beautifully as turkey chili with the extra meat.
Chicken Chili with Black Beans and Bell Peppers
Ingredients
4 c. yellow onions (3 onions), chopped
2 tbsp. olive oil
2 cloves garlic, minced
2 red peppers, cored, seeded, and large-diced
2 yellow peppers, cored, seeded, and large-diced
2 (15 oz.) cans black beans, drained and rinsed
1 tsp. chili powder
1 tsp ground cumin
2 tsp kosher salt
2 (28 oz.) cans whole tomatoes in puree, undrained
4 large boneless chicken breasts or leftover shredded meat from a roast chicken or roast turkey
shredded sharp cheddar cheese
diced avocado
Heat olive oil in a large pot over medium heat.  Add onions and cook until translucent, 10-15 minutes.  Add the garlic and cook for 1 more minute. Add the peppers, black beans, chili powder, cumin, and salt.  Crush the tomatoes by hand or with a potato masher.  Add to the pot and stir gently to incorporate all ingredients.  If using leftover chicken or turkey, add the meat to the pot here.Bring to a boil, then reduce the heat and simmer, uncovered, for 30 minutes, stirring occasionally.
If using chicken breasts, continue reading.  If using leftover meat, you are finished!
Preheat the oven to 350º.
Rub the chicken breasts with olive oil and place them on a baking sheet.  Sprinkle with salt and pepper.  Roast 35-40 minutes, until just cooked.  Let cool slightly.  Shred the meat.  Add to the chili and simmer, uncovered, for another 20 minutes.
Serve with shredded cheddar and avocado.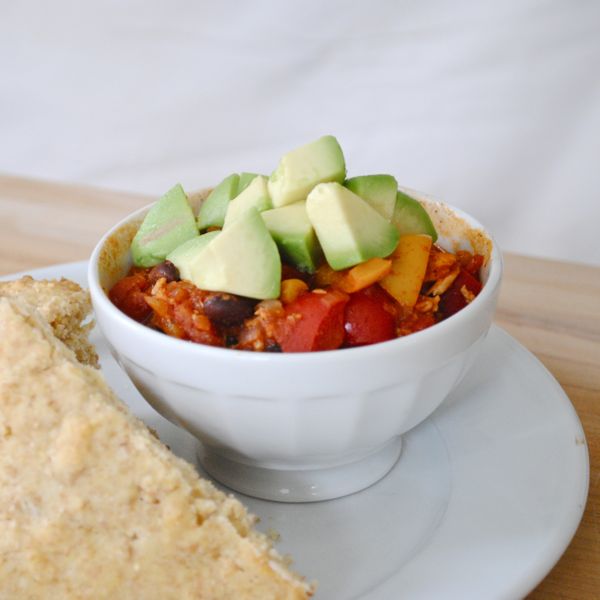 Click here for a printable recipe.