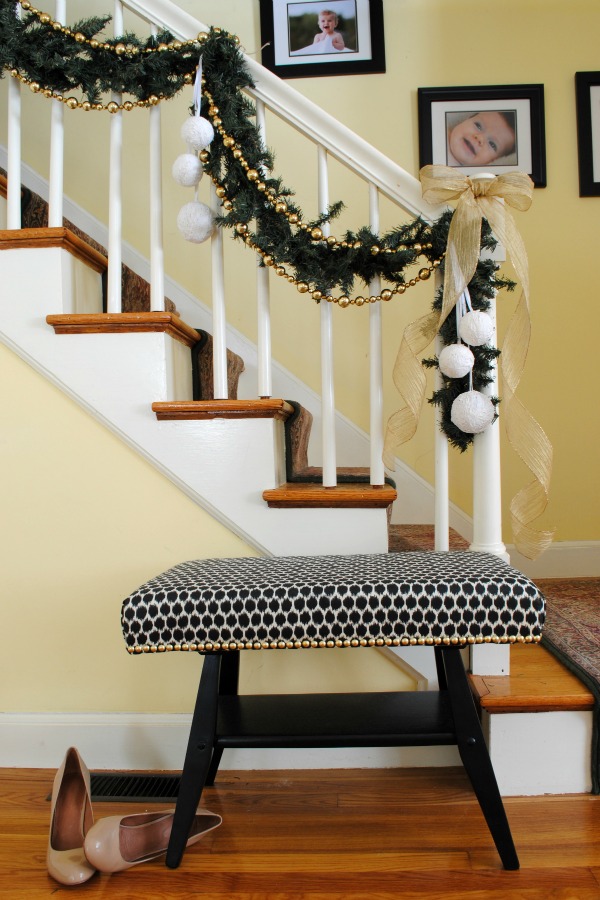 For our banister last Christmas season, I foraged fresh greens from our yard and tied them up to make a fresh garland.  It looked lovely.  Until a couple sets of little hands picked and petted and rubbed and I found myself having to vacuum under the stairs every day.  Every day.  So this year I went fake.  Our tree is, and always will be, real – I could never give up that delicious piney aroma – and I'll cut some fresh greens for the higher reaches of our house.  But for this year, at least, the hall is decked in falsies.  I have to say, I don't notice it as much as I thought I would.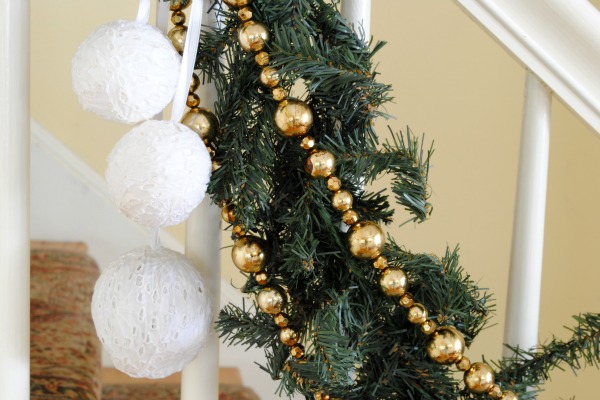 I draped some antique-gold beaded garlands with the evergreen one and made some simple ornaments to hang from the points where the garlands are tied to the banister and I'm totally loving the understated, glam-meets-country vibe.
I'm not really much of a crafter, but there's something about this time of year that brings out the crafty bug even in me.  These ornaments almost couldn't be easier and are great for your tree or hung in clusters on your front door with a swag or along a banister, as I've done here.
You'll need a few styrofoam balls (I used two different sizes) from a craft store like Michael's.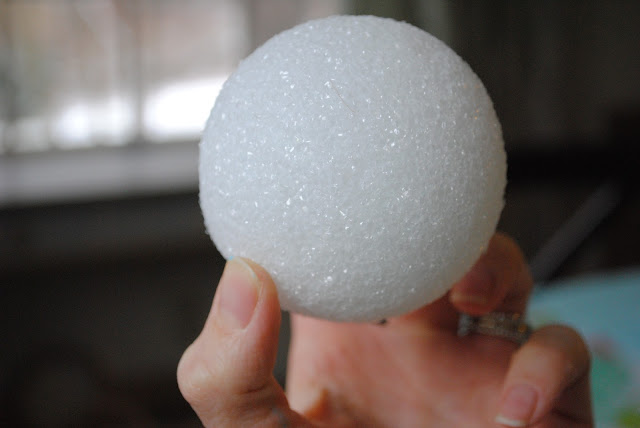 Then cut long strips of any fabric you like.  In this case, I had some white eyelet from an old skirt that had a hole in it.  I cut the strips about two yards long each.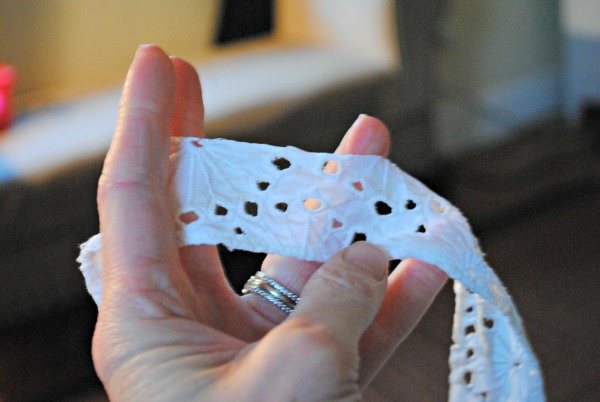 Then wrap and wrap the fabric strip around the ball, overlapping so you cover all the styrofoam.  When you get to the end, secure it in place with a few flat-head pins and attach a ribbon or rope in a loop with another pin for hanging.  That's it!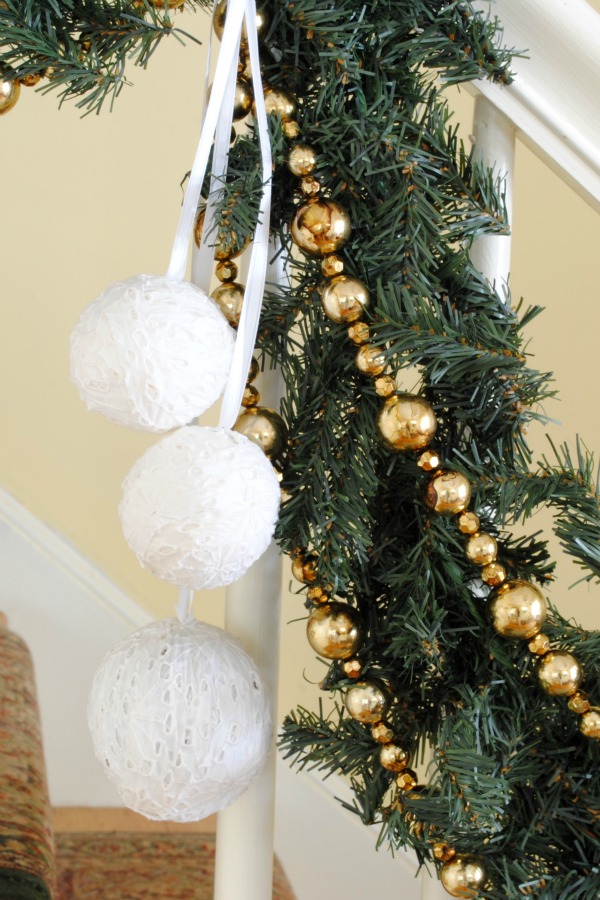 I think they're so charming and add a sweet touch to my stairway this year.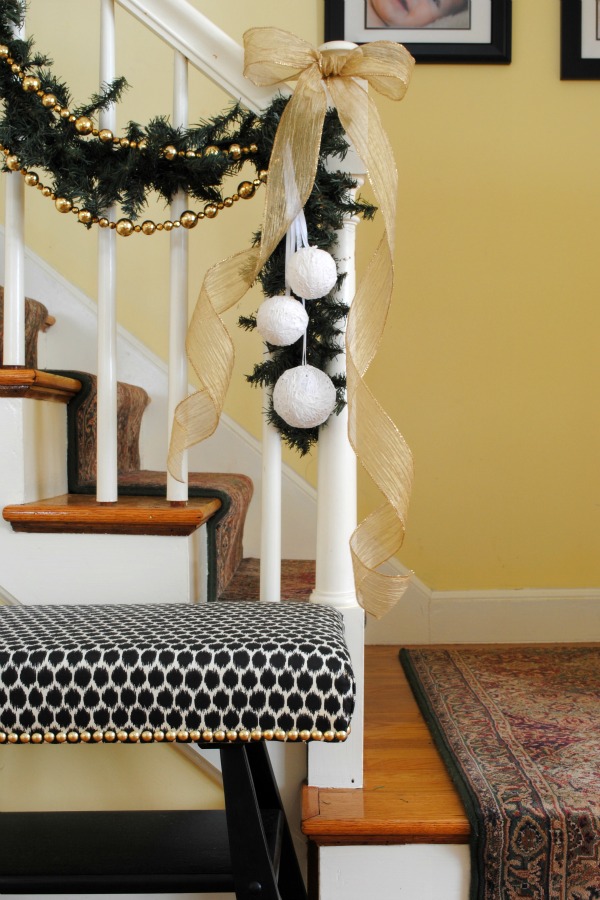 I was feeling a little camera happy this weekend so here are a couple more shots of the entryway!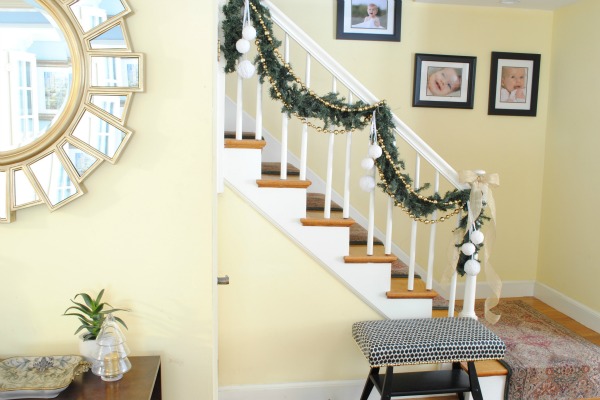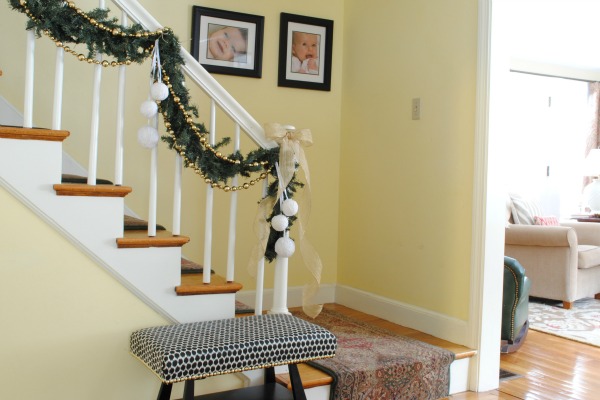 Did you do any decorating this weekend?
Linking this craft to the first day of the Christmas Cheer parties over at Hi Sugarplum!