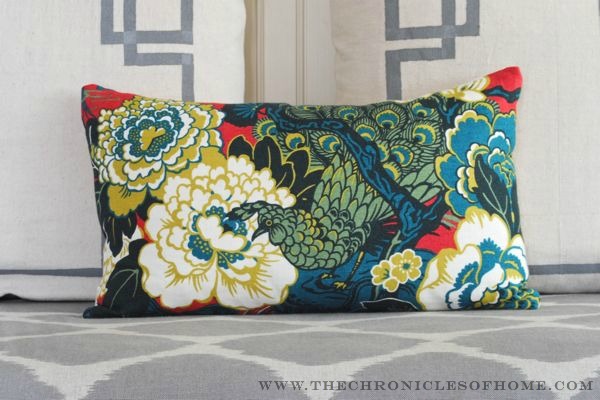 We have a new addition to the upholstered kitchen bench I made last spring (see its stages here, here, and here)…this little rectangular pillow covered in Schumacher's gorgeous Shanghai Peacock fabric.
I first spotted it on Danielle's blog the beginning of this month and pretty much knew instantly it was the pop of color I wanted for the bench. You see, there's been a little shift happening in my kitchen these last several months as I've brought in more neutral colors, and I've been loving all the soft grey accents on the console table, this ikat bench, the hand-painted pillows, and the new drapes (photos to come soon!) with the antique white cabinets and beige marbled floor tiles. However…things suddenly felt a little too neutral.
The rich teal and warm red colors in the Schumacher fabric work really beautifully with the grey. I have a few other small bits of red in the kitchen (my stand mixer and teapot) and the runner I usually use on the kitchen table is aqua so this fabric really pulled it all together.
I ordered the pillow from Bell and Whistle on Etsy (Schumacher fabrics are only available to the trade so I couldn't order the fabric and make this myself). Melissa, the owner of the shop, was so easy to work with and made this custom size for me and shipped it out super quickly. The quality is great and I couldn't be happier.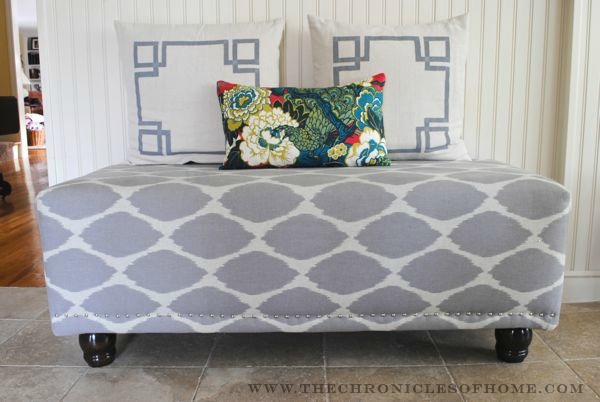 I'm thinking of painting the gilded console table in here teal now but I'll wait until I share pictures of the new drapes to get your take on that. I have a feeling it'll be one of those things I'll either love or hate right away so the question is whether to take the leap or leave it as it is.
Hope you have a great weekend!!