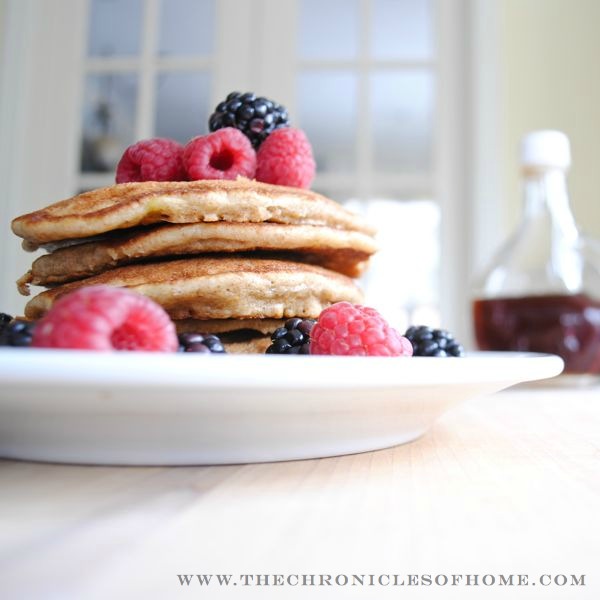 This has become my go-to pancake recipe and I usually make a batch at least once a week, often on the weekends when I can spend a little extra time flipping pancakes at the stove. It makes a lot – about twenty 3″ diameter pancakes – which is great because the leftovers rewarm beautifully in the microwave when we're looking for a quick breakfast mid-week.
When they're fresh off the griddle I love to serve them topped with a drizzle of pure maple syrup and a pile of fresh berries.  For a quick on-the-go meal during the week, I warm them and spread them with peanut butter or almond butter and a little apricot jam to make "pancake sandwiches."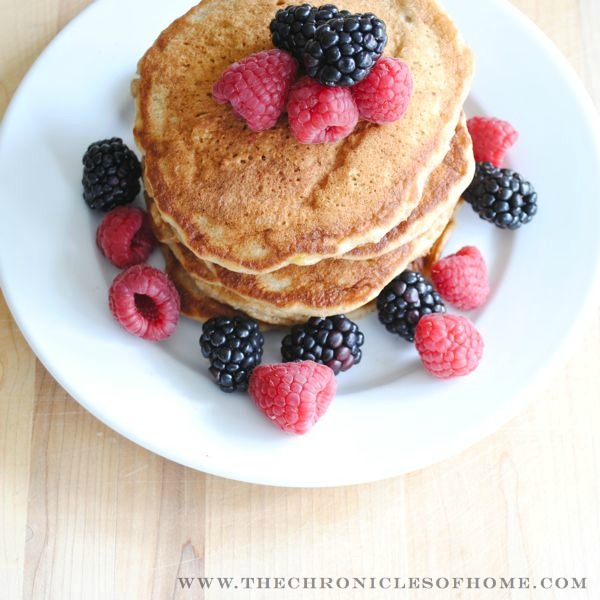 As far as pancakes go, buttermilk ones are sort of the gold standard. When you're looking for a fluffy, pillowy, nostalgically good pancake, buttermilk is what will get you there. And while I do have a soft spot for old-fashioned white flour buttermilk pancakes (my grandmom's are the absolute best), when I feed them to my daughters several times a week I like to put a little more nutritional punch into them and make sure they're going to keep us full through the morning.
This multigrain version of a classic buttermilk pancake includes whole wheat flour, cornmeal, oats, and flax seed meal.  It swaps honey for most of the white sugar as well.  You can expect a fluffy, lightly sweet pancake with a bit more tooth and heartiness to it than a traditional buttermilk pancake.  For me, it's just the right mix of classic and healthy.
This would be the perfect start to this first weekend of the new year – absolutely delicious and still great for you!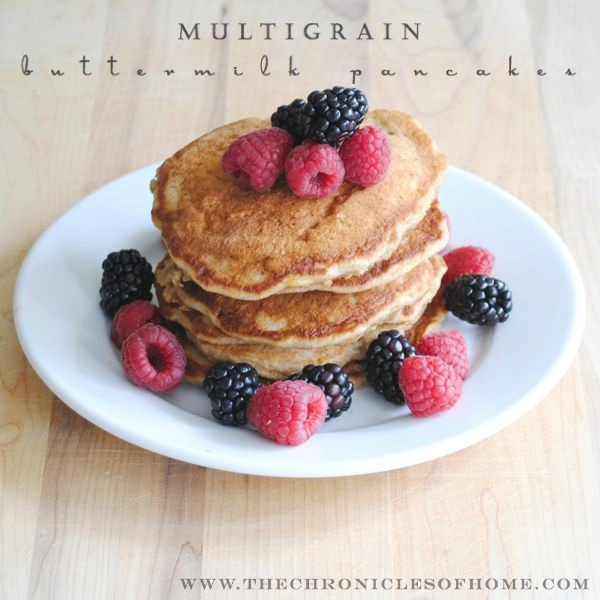 Multigrain Buttermilk Pancakes
1/4 c. old fashioned oats
1 3/4 c. buttermilk, at room temperature*
3 eggs, at room temperature*
Heat a griddle or nonstick frying pan over medium heat.
Whisk all of the dry ingredients in a large bowl to blend.  
In a separate bowl, whisk the buttermilk, grapeseed oil, honey, and eggs until combined.  
Pour the wet ingredients over the dry and fold with a rubber spatula until just combined.  The batter should be a bit lumpy.
Drop a slice of butter onto the griddle and spread it around.
Spoon several tablespoons of batter in four puddles onto the hot pan and let cook for a few minutes, until little bubbles form and the underside is golden.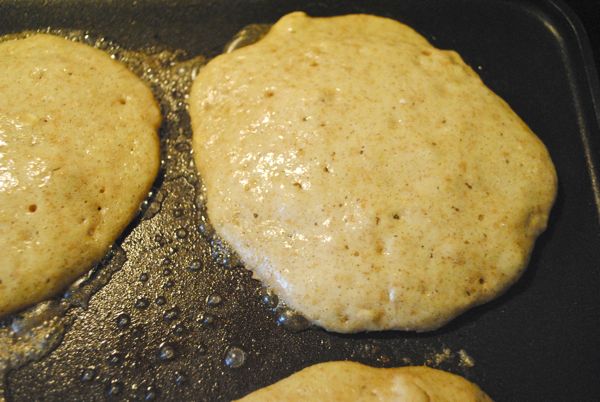 Flip and cook another few minutes, until pancakes are cooked through. 
Serve warm with pure maple syrup and fresh berries.
Adapted from "Four-Grain Flapjacks" in The Joy of Cooking.
*To bring buttermilk to room temperature quickly microwave it for 20-30 seconds in a glass measuring cup.  To bring eggs to room temperature quickly, let them sit in their shells in a bowl of hot tap water while you prep the other ingredients. 
Click here for a printable recipe.
Linking to The Shabby Nest, Craftberry Bush