I'm up today in the Modern & Fresh Fall Tour hosted by Kristen from KFD Designs and Lindsay from The White Buffalo Styling Co.
I had so much fun putting together some fall accents around the house and really focused on the things I always seem to be drawn to when it comes to decorating my house – mostly traditional with a bend toward rustic and a sprinkle of glam.
I love the antlers that are everywhere in home decor right now but I just can't get over this shivery feeling inside at the thought of bringing the actual horns of a dead animal into my house. It's like floral denim – I like it on others but not on me.
My homáge to the antler craze this fall comes in the form of branches I foraged in my yard and sprinkled with glitter, mounted on a wood plaque, and hung with a black satin ribbon on the inside of our front door.
Here are the details on how I put this glittered faux antler project together.
I love the colors of white and heirloom pumpkins and created a little vignette in our entryway using a collection of them.
I made the little chalkboard out of a picture frame and used both a chalk marker and regular chalk to add a quote about autumn leaves.
If only we aged as well as leaves do!
Here's the easy tutorial on turning a picture frame into a chalkboard.
In the dining room, I added a simple wooden box centerpiece filled with a white-berry garland and a few mini-gourd candles I bought years ago.
I love the juxtaposition of the rustic box with the more glamorous crystal candlesticks and our silver and white wedding china. I am exceedingly low-maintenance when it comes to table settings – I never iron table linens and the accents I love most are simple hemstitched linens, lightly rumpled placemats, and the warm glow of candlelight.
I'll share details on how I made the centerpiece box out of scrap wood soon!
The last area of our house where I added some fall touches is the living room.
Our mantle can only accommodate pretty low-profile objects because of the TV mounted above it, so I went scavenging in the yard again and came back with a collection of branches that I spray painted gold and lay across the back of the mantle. I added a few more mini white pumpkins in the front and a handful of antique hydrangea stems in a glass vase.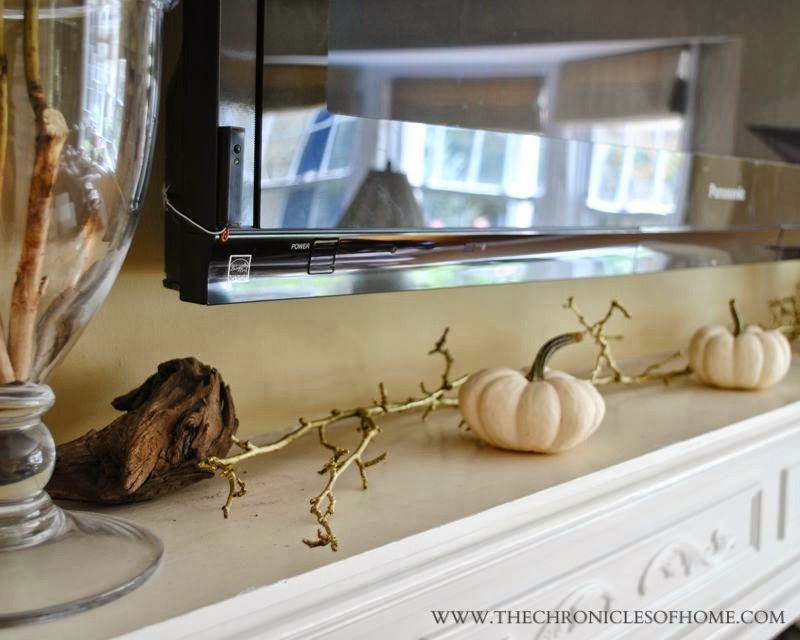 I also added a glass bowl of teensie mini pumpkins to the coffee table and brought out our birch firewood to sit by the fireplace.
Several of the pillows in the living room are crewel knit and feel especially cozy this time of year.
I hope you enjoyed the peek inside our house this fall, and don't forget to check in with Bethany tomorrow to see how she's incorporated fall into her beautiful home!
Tutorials on making some of the projects pictured here:
* * * * *