Remember those baked pumpkin cinnamon-sugar doughnuts I shared with you last week?
I went and turned them into pumpkin doughnut cupcakes.
Which, as far as I know, is not an actual thing. But I like the round shape for making a pretty frosting design so I went with it.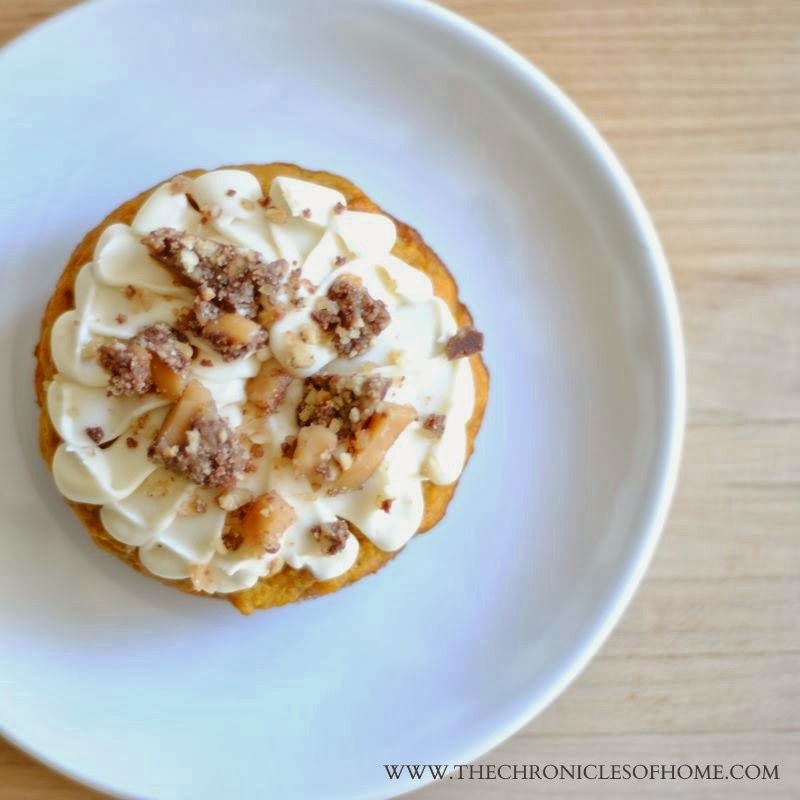 And I sure as heck would make them again, they were a delicious indulgence!
I'd recommend eating them the day you make them – the texture just doesn't hold up the same beyond that. You could try freezing them right after baking, too – I've had good success with unfrosted baked doughnuts – I'm just not sure how the frosting would take to freezing.
Hope you have a happy weekend!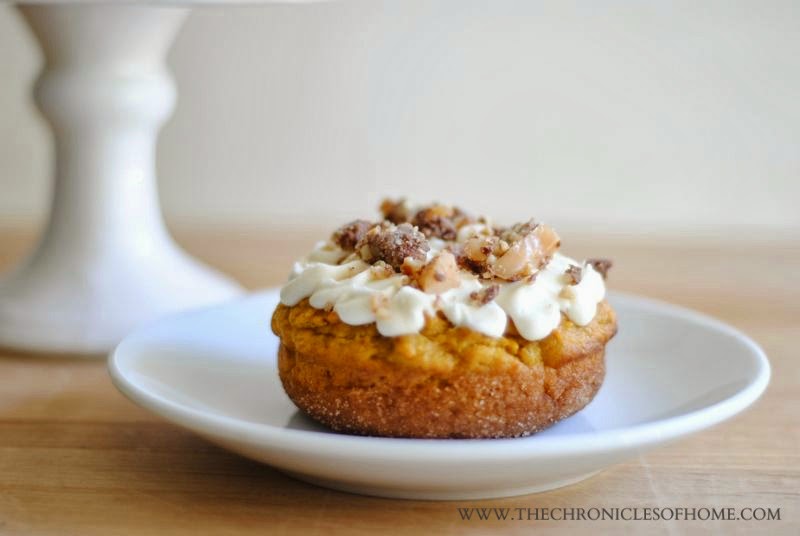 Pumpkin Doughnut Cupcakes
cooking spray
3 c. flour
2 1/2 tsp. baking powder
1/4 tsp. baking soda
1 tsp. coarse salt
1 tsp. pumpkin pie spice
6 tbsp. canola or grapeseed oil
4 tbsp. unsalted butter, melted
1/3 c. buttermilk
15-oz. can pumpkin puree
3/4 c. dark brown sugar
2 eggs
– – – – – – –
1/2 c. salted butter, melted
2 tsp. ground cinnamon
1/2 c. sugar
– – – – – – –
6 oz. cream cheese, room temperature
3 tbsp. unsalted butter, room temperature
2 tbsp. maple syrup
1/2 tsp. vanilla extract
2 c. powdered sugar
– – – – – – –
Pepcid no prescription
Flomax No Prescription
chocolate covered toffee bars, chopped
Preheat oven to 350º. Spray two doughnut pans with cooking spray.
In a medium bowl, whisk flour, baking powder, baking soda, salt, and pumpkin pie spice. In a large bowl, whisk oil, 4 tbsp. melted butter, buttermilk, pumpkin puree and brown sugar until well combined. Beat in eggs. Add flour mixture and fold with a rubber spatula until the flour is incorporated.
Spoon the batter into a gallon-sized zip-top bag and use scissors to cut one of the corners open in a large hole. Squeeze the batter into the doughnut pans, filling them almost full. Bake 25 minutes – a toothpick inserted into the center should come out clean.
Let cool in pans about 5 minutes, then tap out onto a cooling rack. Let cool another 10 minutes.
Meanwhile, melt 1/2 c. salted butter in a shallow bowl. Combine the sugar and cinnamon in another shallow bowl. Dip one side of a doughnut in the butter first and then the cinnamon-sugar to coat the exterior well with the sugar. Return to the cooling rack, sugar side down, and repeat with the rest of the doughnuts.
While the doughnuts cool further, use an electric mixer to combine cream cheese, 3 tbsp. butter, maple syrup, vanilla, and powdered sugar until smooth. Spoon into a piping bag and decorate the tops of the cooled doughnuts in any pattern you like.
Top with chopped toffee bars.
Makes 12.
Click HERE for a printable recipe.