Now, when I say "dummies" I am not referring to any of you. I'm referring to me. Because when it comes to flower arranging I am a hopeless beginner.
Last week I had the chance to attend a flower arranging class at Copper Penny Flowers in Concord, MA, and it was such a fun evening out for me. Beyond just the fun of a few hours out with girlfriends kid-free, though, I feel like I learned so much. I've never had anyone break down for me how to put together an interesting and cohesive flower arrangement.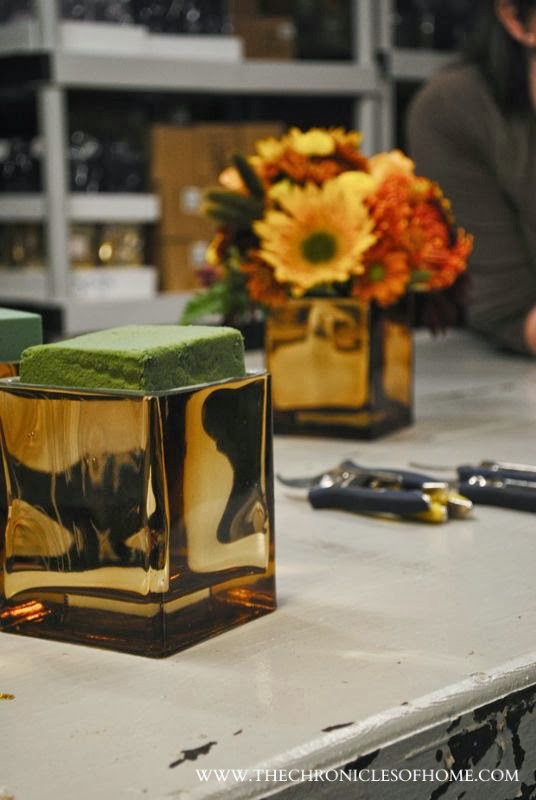 And, believe me, I needed it. Up to now, I've always stuck to a bunch of one kind of flowers because that requires very little skill to arrange. Pop them in a vase and you're done! And, while I still do like the look of a bunch of hydrangeas or peonies or tulips, I'm so glad I have a few flower arranging tips under my belt now.
So if you too are a floral beginner, hold on tight because I'm about to spill some tips!
The first tip that Jennifer, the woman who runs Copper Penny, gave us, was to use floral foam, which you can buy at flower shops or craft stores.

First float the foam in a bucket of water and after just a few moments you'll notice it has sunk below the surface of the water. Take it out and push it into the vase or container you'll be using for your arrangement. Then take a knife and lop off any excess that it sticking up above the tp of the vase.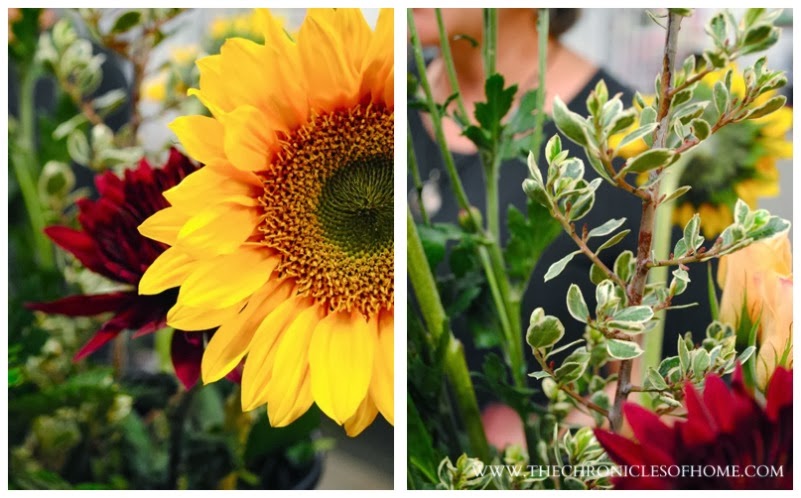 Jennifer had a gorgeous selection of flowers and greenery for us to work with. Her advice was to chose one or two focal flowers then supplement with some smaller accent flowers and plants.
We started with a few different kind of greenery, and this was my biggest lesson learned – start with the greenery. I would have thought greenery was the last to go in, but Jennifer actually suggested starting with the greenery as the base and then filling in the other flowers afterwards.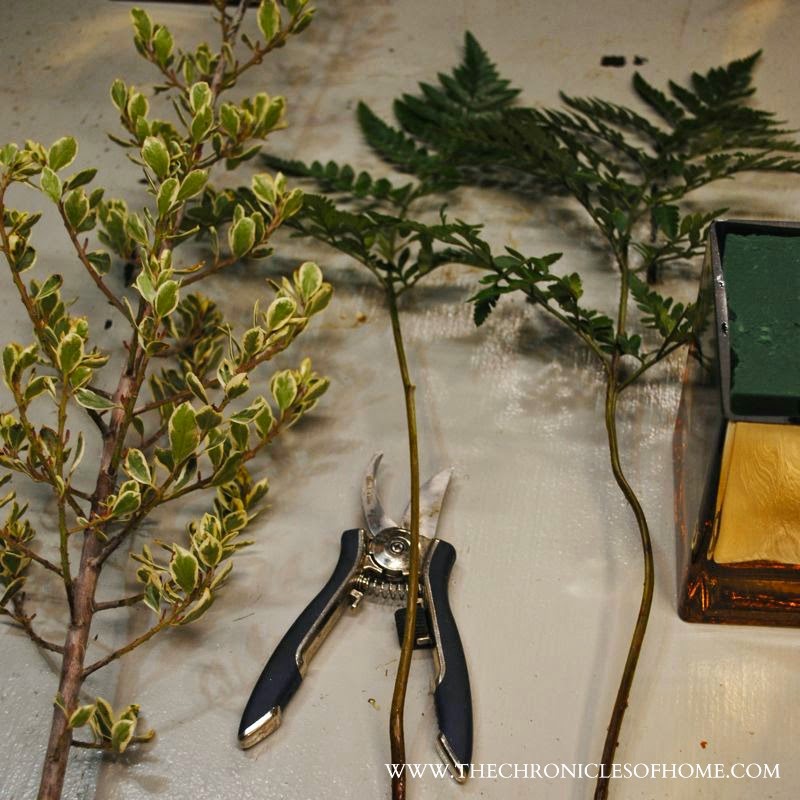 We used sharp (pruning??) shears to cut the stems at an angle. Most of them I cut really short, and Jennifer said for a compact arrangement like we were making, this was the way to go. Some were only a few inches tall by the time I cut them down.
From here, I'll walk you through a quick 6-step process for how to put together a simple arrangement.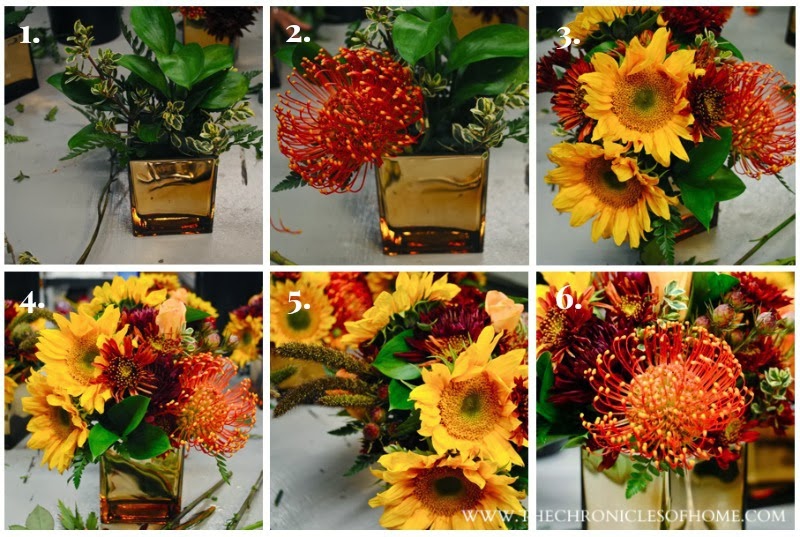 Zocor no prescription
fucidin no prescription
Work with a few different colors and textures of greenery, Cut the stems at an angle, remove any bottom leaves, and stick into the foam about an inch deep. The greenery sets the size and shape of your arrangement, so play close attention to height and shape here.
Next up add your main focal flower. You'll want to put this where you imagine the "front" of your arrangement will be.
Then add any other focal flowers – in this case, three sunflowers. Since I wanted this arrangement to look nice from all sides, I arced the sunflowers across the arrangement diagonally so a focal flower was visible from all sides.
Next we took some different-sized mums and filled in any holes, making sure, especially, to cover up any foam showing at the top of the vase.
The last additions were some little buds and fuzzy stems (that is the formal name, of course).
Stand back and admire your handiwork!
We had lots of scraps and small flowers left over so Jennifer gave us these adorable little baskets and we tested our new-found skills on free form mini arrangements.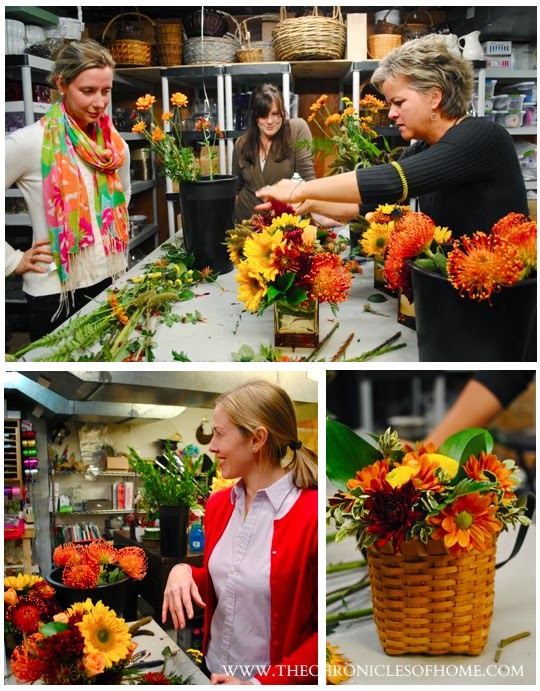 I've been ogling my arrangement all week and am so excited to apply what I learned on my own, without the supervision of a professional.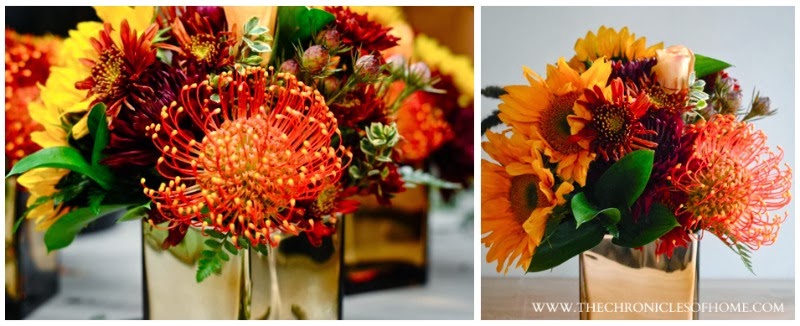 After the class, we hopped over to a new restaurant in Concord that just barely opened. In fact, most people didn't know it had opened, which is probably the only reason we got in. I tried to make a reservation to go back again soon and they don't have anything for the next eight weeks! We are obviously a little starved for good dining here :)
But we sampled some of the delicious food, enjoyed a cocktail, and caught up. Don't you always feel so refreshed after a night out with friends? I sure did.
I'm already brainstorming my next flower arrangement. I'll be sure to share – and I guess then we'll really see how much I learned.

* * * * * * *
I'm thrilled to be working with Haagen-Dazs as a DIY brand advocate on their "
Moment for Me
" campaign. The campaign is all about recognizing and appreciating little moments we grab for ourselves in our busy lives. They arranged for this class, but all tips and opinions are my own. I'm so happy to be part of such a positive campaign!
This is not a sponsored post.
buy Cialis Soft
Buy Trazodone online