I can get stuck in a rut with vegetables sometimes. I always love them and am always happy eat them, but after weeks of the same few veggies sides showing up at the dinner table, I sometimes find myself wanting something more.
That's kind of how this dish came about. I was bringing a vegetable to a potluck dinner and it didn't feel quite right to show up with a bowl of roasted broccoli and say, "Ta-daaaa!"
Though I love roasted broccoli.
I started digging through my (significant) number of Bon Appetit back issues and came across a recipe for roasted carrots, parsnips, turnips, and brussels sprouts with a nutty gremolata topping.

Sounded perfect, looked pretty, and would travel well…but…Scott's not nuts about parsnips, brussels sprouts seemed risky with being so polarizing for many people, and turnips are one of the only foods I really just don't like. I think they taste like a cross between ammonia and dirty socks.
I decided to take a few of my favorite roasted veggies instead – carrots, broccoli, cauliflower, and green beans – and do a twist on the recipe with them instead.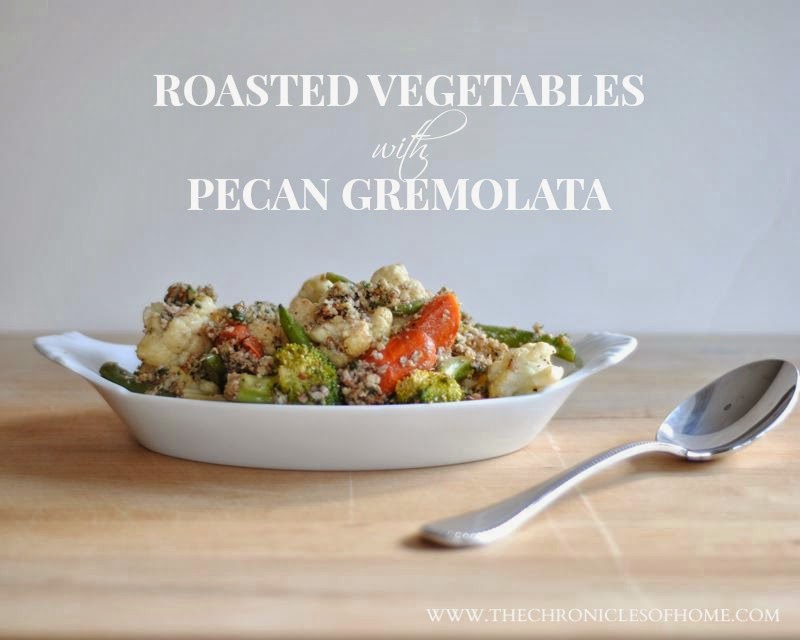 Buy Abilify online
Lexapro no prescription
I loved it so much I made it again last weekend to go with a chuck roast – the easiest entree ever, I will share the recipe (if you can even call it that, it's so easy) next week. Through the whole meal, my four year old kept saying, "I LOVE this dinner. Mommy, I REALLY love this dinner." Which was awesome and adorable and flattering. It feels so good to see your kids clean their plates without a single, "Take another bite. Please eat your food. Take another bite." crossing your lips.
I'm making this for Thanksgiving this year as well and think it might be the perfect vegetable side dish. Not so over-the-top that is takes away from any other part of the feast but also a little more special than your average weeknight vegetable.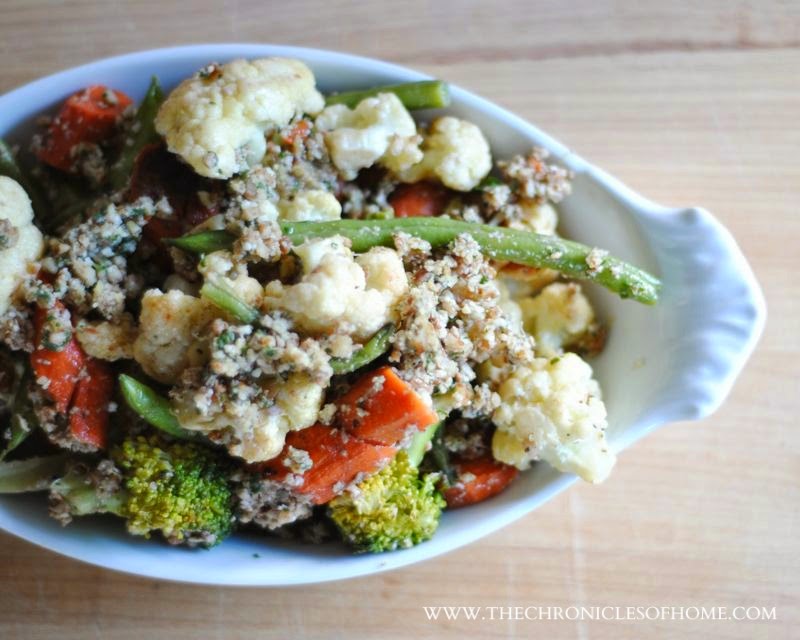 But the great news is that it requires very little effort to make. You toss a whole bunch of veggies in the oven with some olive oil, garlic, salt and pepper, whiz the topping in a food processor for 10 seconds or so, and that is pretty much it. So you totally can make this one of your weeknight go-tos.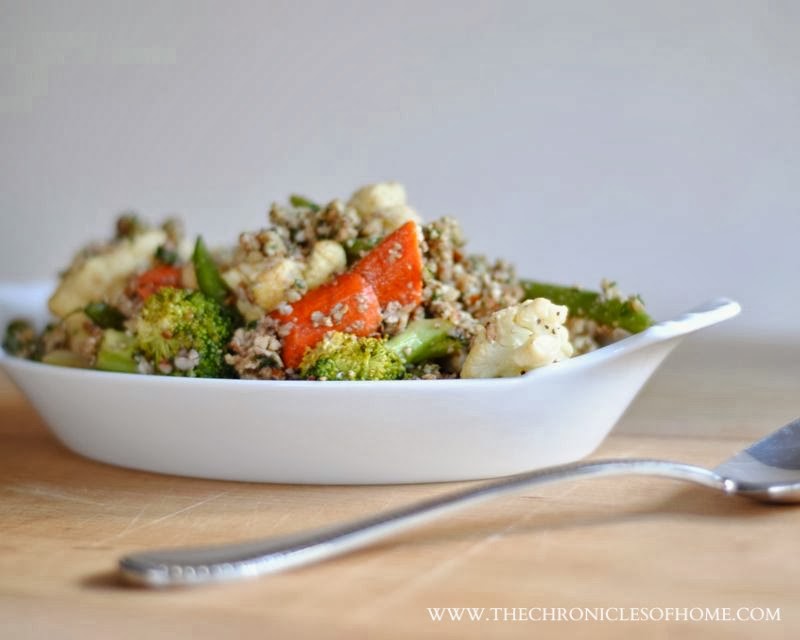 Roasted Vegetables with Pecan Gremolata – serves 8-10
Ingredients
8 large carrots, peeled, trimmed, cut into 1″ pieces
1 head cauliflower, trimmed and cut into large florets
1 large head or several small heads broccoli, cut into large florets
2 c. green beans, trimmed
1/4 c. olive oil, divided
4 garlic cloves, crushed
3/4 c. pecans
1/4 c. grated parmesan cheese
1/4 c. flat leaf parsley
1 tbsp. lemon juice
1 tbsp. lemon zest
Preheat oven to 425º.
Toss carrots on a roasting pan with 1 tbsp of the olive oil and season with salt and pepper. Roast in the oven for 20 minutes.
Meanwhile toss cauliflower, broccoli, and green beans with the remaining 3 tbsp. olive oil, the garlic, and season with salt and pepper. When carrots come out of the oven, spoon some of the remaining veggies onto the same baking sheet to form a single layer and spread the rest on another baking sheet. Place both pans in the oven and roast an additional 15 minutes.
While vegetables are roasting, put pecans, parmesan, parsley, lemon juice, and lemon zest into a food processor and pulse until nuts are finely chopped. Don't go too far or you will make pecan butter!
When vegetables are finished roasting, toss them all together on a large platter or in a large bowl and top with the gremolata. Serve warm or a room temperature.
Click here for a printable recipe.
Zyban Without Prescription
buy Sildenafil no Prescription