Exactly one week ago I shared my powder room makeover with you, and I've already made a few tweaks.
That was fast, huh?
I had given so little thought to the vanity and floor in the powder room because Scott and I knew we'd update the vanity and re-tile the floor at some point down the line. I got so caught up mooning over the
beautiful new wallpaper
and the dangly light fixture and the bright new wainscoting that I completely disregarded the brown elephant in the room.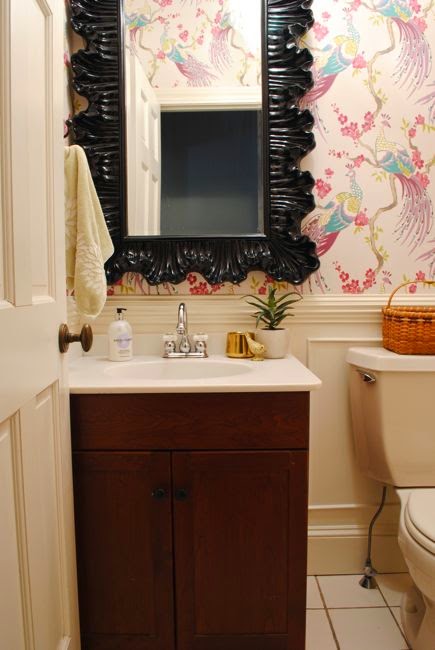 It wasn't until I was looking over my own post last week that the brown vanity just kind of jumped off the screen and slapped me across the face, with a resounding, "What are you thinking?! Paint me black and give me some new jewelry, woman!"
The quickest and easiest parts of this whole powder room makeover were just the touches it needed for me to really feel like it's finished now. I still expect we'll update the tile and purchase a new vanity eventually, but I am very okay with how things look, and will happily live with the powder room like this for as long as we need or want to.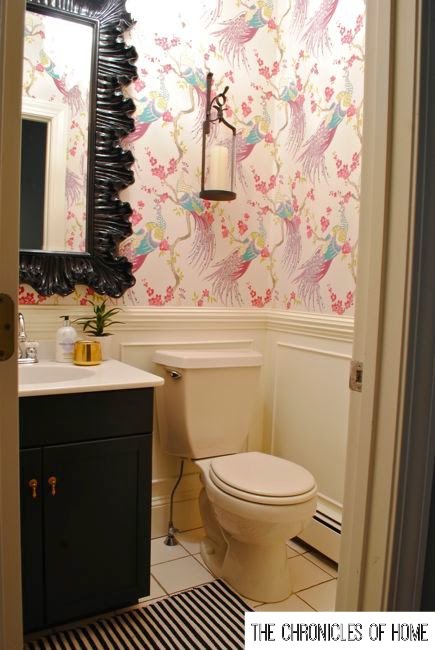 I rolled a coat of semi-gloss black paint onto the existing vanity and replaced the knobs with
these drop pulls
, that I brightened with a little Rub-n-Buff.
The style of the pulls is really lovely and the gold against the black is so striking.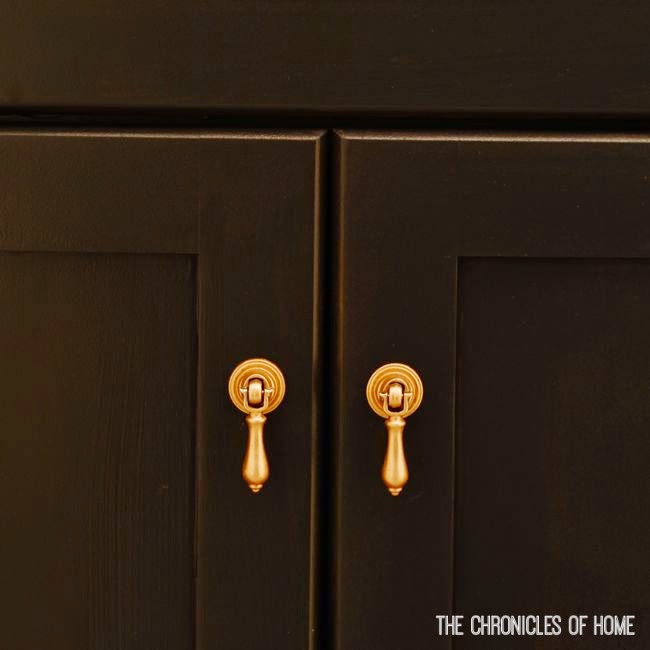 To disguise the tile floor, which is not offensive but a little outdated and ho-hum, I layered a simple black and white striped flat-weave rug from Home Goods. I really like how the classic geometric pattern plays against the very colorful and curvy wallpaper.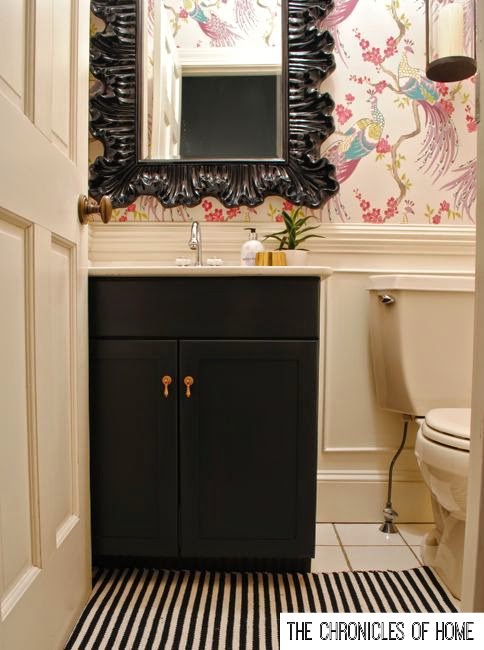 I also added a wall-mounted candle lantern above the toilet. I knew I wanted something simple on the wall – nothing that would take away from the wallpaper – and this lantern, which I already had, was the perfect solution.
Here's a side-by-side of the one week difference.
And the beginning to end steps!
This definitely reminded me of the power of paint and also how much I like rooms that have some black in them. It always feels like a grounding force to me, and just instantly adds polish.
So with that I am putting my hands in the air and stepping away from the powder room. On to the next project!
Check out my tutorials for how to install a compound chair rail, how to install wainscoting, and how to hang paste-the-wall wallpaper for more steps on how I got from before to after!