I have a new addition to introduce you to – she's petite, classic but modern, has a warm muted shine about her, and works like a boss.  I think I shall call her Rapunzel for her long, golden looks.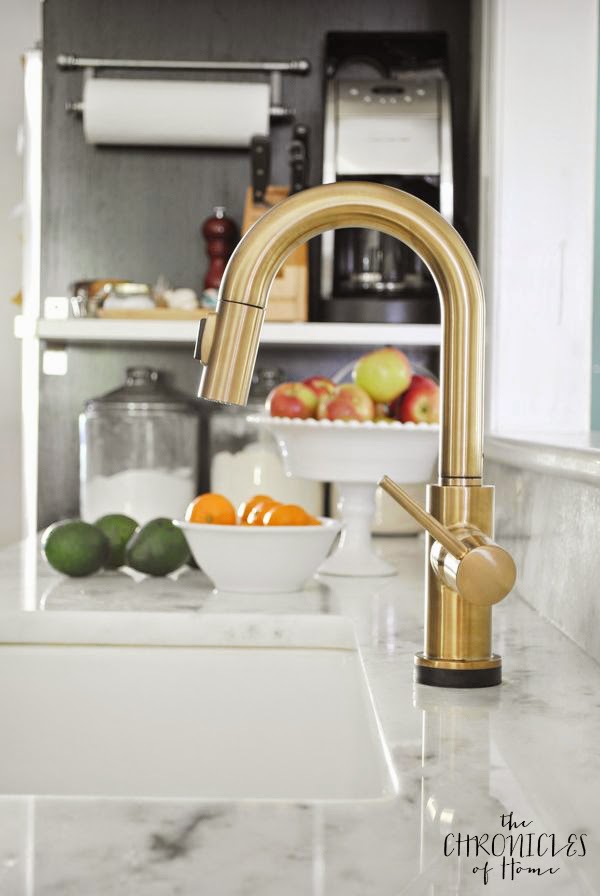 I hadn't exactly been planning to replace our kitchen faucet but then this amazing thing happened. Delta Faucet Company invited me to a blogger event (fantastic blogger event) at their headquarters in Indianapolis.  And on top of all the doting they did while we were there, they gave all of us a new faucet, showerhead, and toilet – details to come on all of these awesome pieces.
For the faucet, we were able to choose from a few of their Touch 2O pieces and, you guys, they are SO COOL.  My daughters are bananas for it and I'm worried our household water consumption is going to increase exponentially.  There have been several stern discussions about wasting water around here this week.
The gist is, when you leave the handle in the open position, you just have to give any part of the faucet a tap and the water turns on and off like magic.  You can use your hand, finger, wrist, arm, foot, nose (yes, we have tested all of these).  Besides the pure coolness of it, I am loving this feature when I have messy hands from cooking or when my daughters rub the soap onto their hands before turning on the water.  Which, you know, happens ALL THE TIME.  No more slimed faucet handles.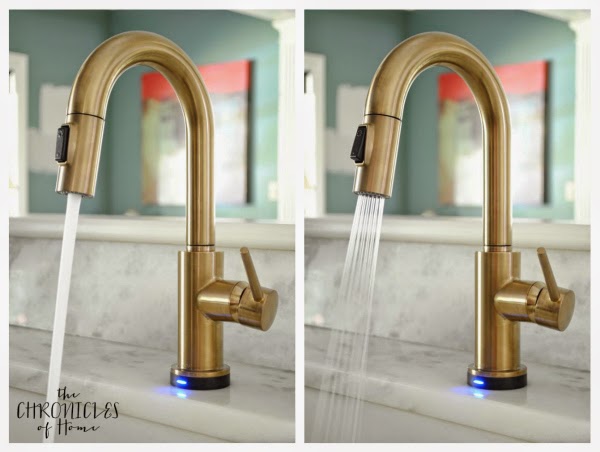 Can we talk about the color for a minute?  It's gold but not in-your-face gold.  The color is actually called Champagne Bronze which is kind of perfect.  It's got more yellow than an antique bronze but is a really rich, deep, sophisticated version of gold.  It looks divine with stainless steel appliances – the finish echoes that of stainless but with a warmer tone.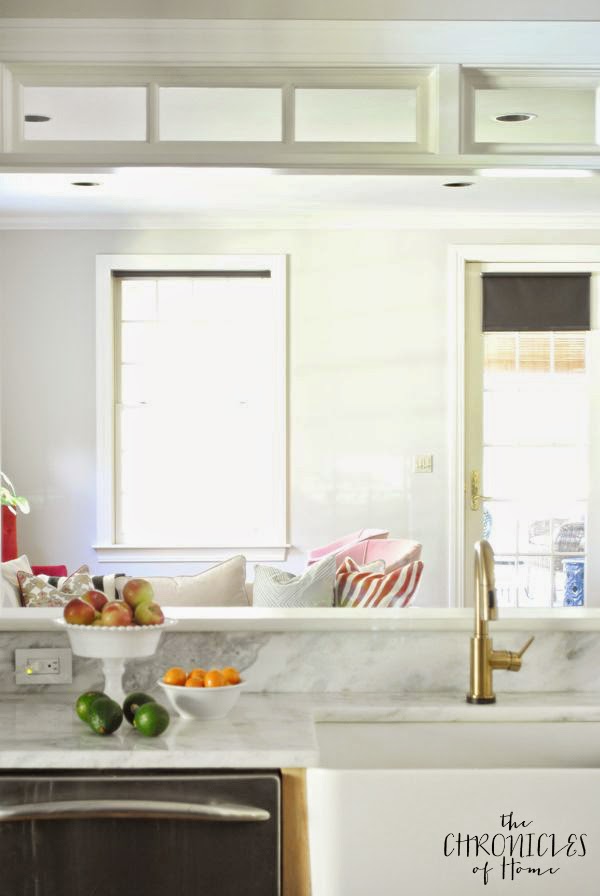 I went with the more petite Bar/Prep Trinsic Kitchen Faucet because of how the kitchen faucet sticks up above the ledge between the kitchen and family room.  It's the absolute perfect size.  There is the exact same faucet available in full size too, though – Full-Size Trinsic Single Handle Pull-Down Kitchen Faucet (Touch2O Technology).
Scott had a bit of an, "Uhhhhhhh…are we doing the whole kitchen in gold?" reaction but he too has been wooed by the cool factor of the Touch 2O.  And one of Scott's many great qualities is that he generally trusts my plans for the house.  I can tell he's having trouble wrapping his head around my plan to add a few touches of this brushed gold around the kitchen but he's letting me run with it.
I am positively twitchy about actually getting the cabinets painted and adding new hardware.  I can see it all so clearly in my head.  I'm probably looking at late October before I have the time in my schedule to start the painting, but I daydream about how it will all look all the time lately.
My gorgeous new faucet is keeping me suitably distracted for now though.
And you might find it curious that I'm not offering a faucet-installation-tutorial since that's usually the way of things around here.  I was jammed under the sink, working in about 6 inches of space between the garbage disposal and the wall and could barely fit my own hands, let alone a camera.  Now that I kind of know what I'm doing, and knowing that pretty much every faucet in the house needs to be replaced, you can expect an actual tutorial sometime soon.  The directions that come with the faucet are pretty easy to follow though, so give it a shot if you're feeling ambitious!
* * * * * * *

*Delta Faucet Company gave me this faucet and paid for a trip to their headquarters.  All opinions, however, are mine and sincere.  I LOVE their products!
*affiliate links used