If it feels like my kitchen makeover progress has been spread out over about a year, well, that's because it kind of has. Large-scale projects like this, that I'm doing mostly myself, always take me some time to pull together. I still have the island to paint but the things I had hoped to update in the kitchen when we bought this house have almost all been done now. I still want to make some tweaks to the stove and oven areas but those will come later.
Today I'm showing off the new black and gold kitchen pendants I installed over the island, which I totally love.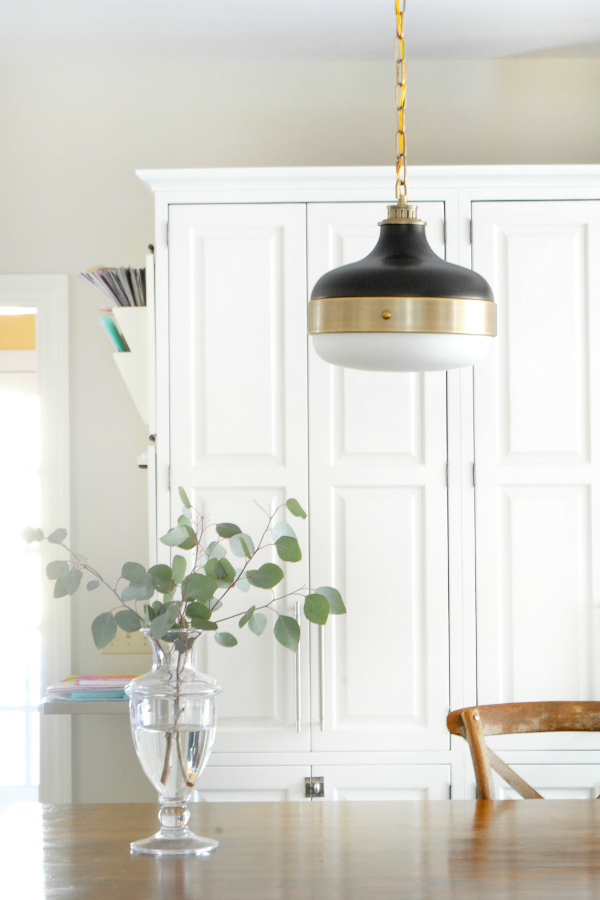 Last year I converted the recessed lights over the island to pendant lights, and while I really liked the lantern-style pendants, they wound up being a pretty poor choice for lighting over the stovetop. All the bits of grease that rise into the air while cooking collected inside the glass and made the lights looks perpetually cloudy and dirty. I had to completely disassemble them every time they needed to be cleaned, which wound up being about once a week to really keep them looking nice. That was too high maintenance for me.
So I went on the hunt for something lower maintenance, knowing that I didn't want to sacrifice good looks. I checked out some more modern styles as a counterpoint to the traditional style of my kitchen. When I came across the Feiss Cadence pendant, I was instantly drawn to its sleek style and I loved that the brushed gold band echoed the finish of my kitchen faucet.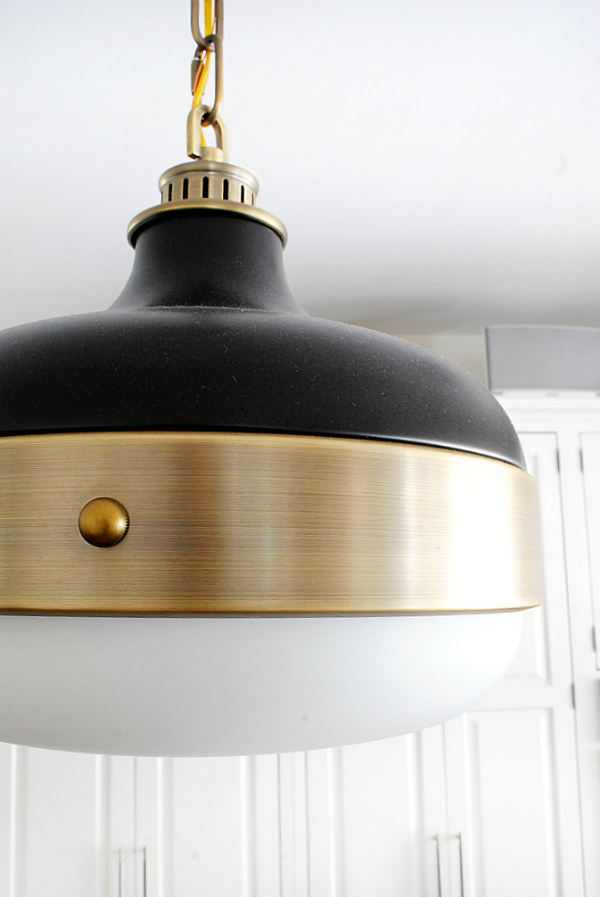 I've had these in the kitchen now for about a month and I love them. They remind me of the popular Hicks pendant, which I've always liked, but at about 1/3 of the cost.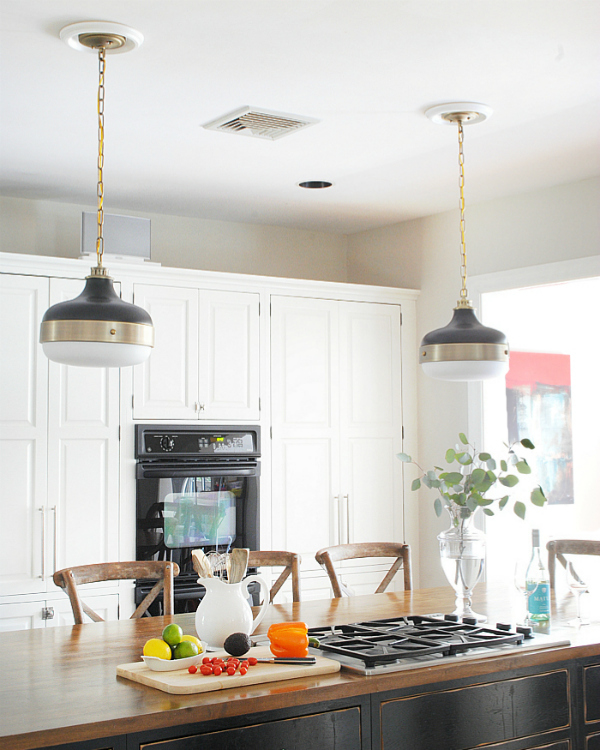 I've read before that home photos with something alive in them – a person, a pet, a plant – are the most appealing to people because they feel real. So lately I've just been going with the little pink-clad girl often floating through my photoshoots :)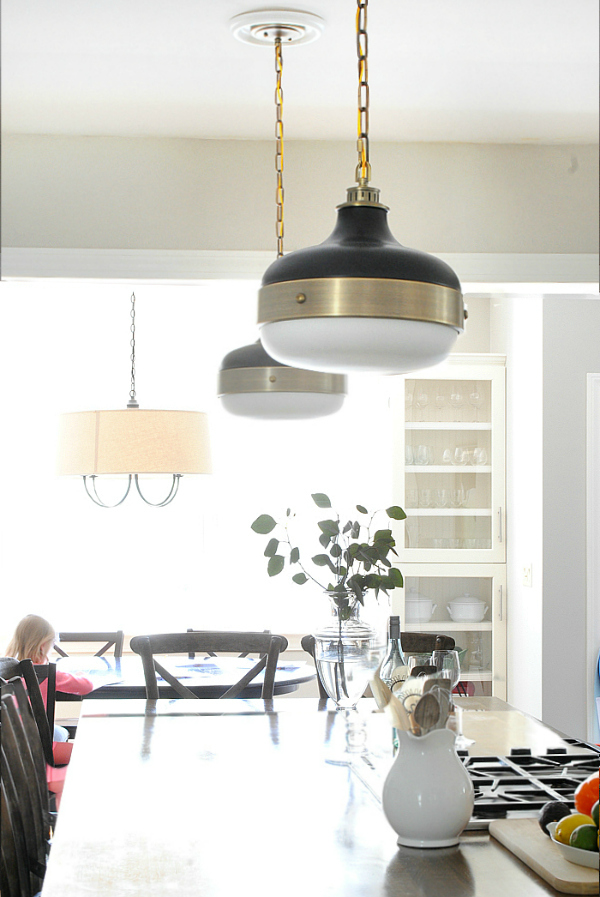 I can't recommend these lights enough – they're affordable, striking, modern but classic, and give off nice soft light. They're exactly what I wanted for the kitchen without knowing they were exactly what I wanted before I found them.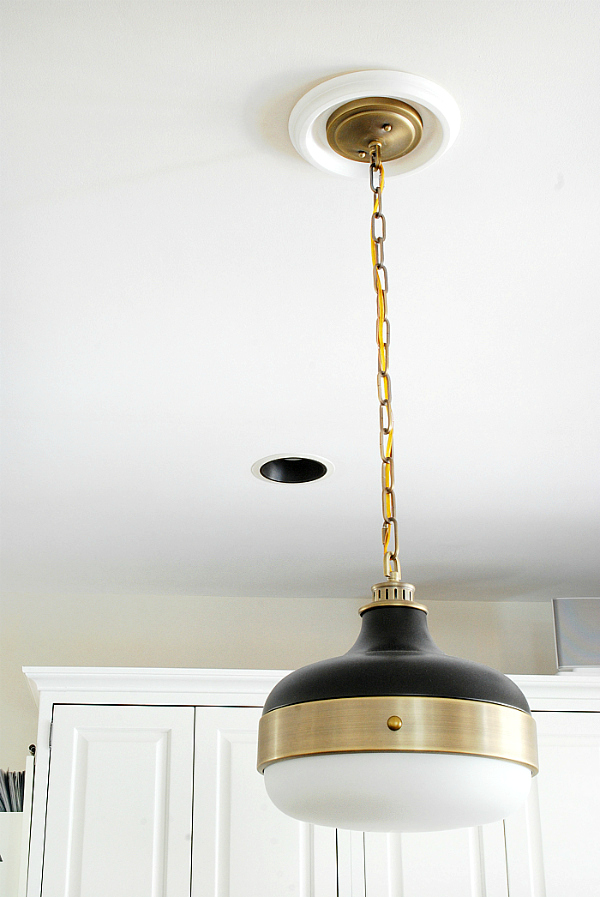 You can see more details on the Feiss Cadence pendant HERE. It also comes in a polished nickel finish and a smaller 8″ size.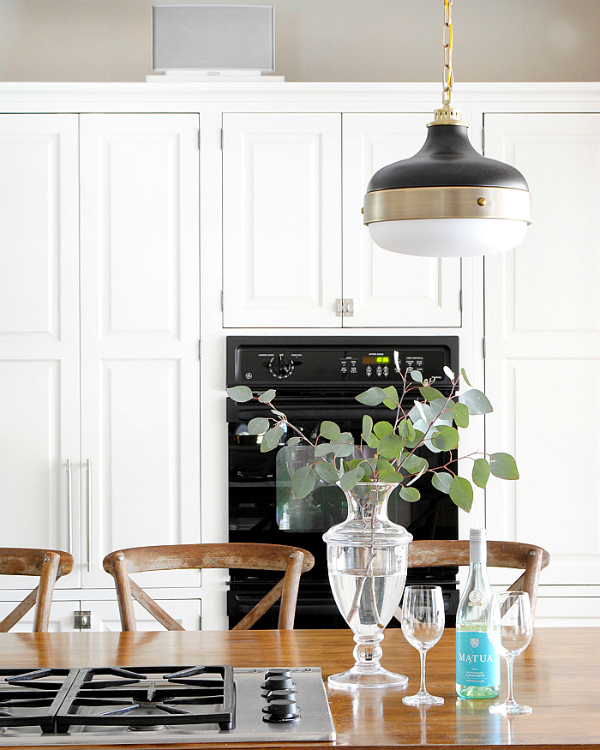 You can catch up on the other projects I've done in my kitchen here:
Convert recessed lights to pendant lights
New counter and sink
Transom windows
New kitchen faucet
How to paint kitchen cabinets – a video tutorial
Lamps Plus provided me with the pendant lights featured in this post but all ideas and opinions are sincere and my own. As always, I only share products I truly love.