How's that for an abrupt shift from twinkle lights and Christmas mantles?!
Rest easy, I'm not going to use potty talk, I just want to talk to you about the bathroom. And specifically, some pretty cool new technology just recently released by Delta Faucet Company, whom I love. Like LOVE love (gorgeous gold kitchen faucet case in point).
I was lucky to spend a few days out at their headquarters in Indianapolis this past June with a group of home and design bloggers and while there Delta unveiled their absolute newest toilet technology to us – the FlushIQ toilet. As toilets go, it's a looker. Sleek and shiny and in stark contrast to the rest of the bathrooms in my house with twenty year old toilets, positively glowing white.
But looks aside, the cool factor of this toilet is held in what my daughters call "the magic button." You see, this toilet has no flush handle. Instead it has what looks like a little button, but is not a button at all in fact, it's a sensor borne of much research and development out at the Delta HQ.
To flush the toilet, you simply hold your hand in front of the sensor. The sensor also detects if water levels reach a dangerous level and won't flush further. Read: this toiler will never overflow. The sensor also changes color to tell you if there's a clog situation happening. It changes to a different color to let you know if there's a leak somewhere that's causing the toilet to waste water (and you money). Brilliant.
The toilet was also a breeze to install, even for a couple of homeowners (ahem) who have no prior toilet installation experience.
The other bit of technology introduced when I was at the Delta HQ was their Temp2O showerhead. When you turn the water on, there's a screen that turns either blue, purple, or red and tells you the exact temperature of the water coming through the showerhead. Don't mind the colors in my photos – in real life the screen is true blue, purple, and red.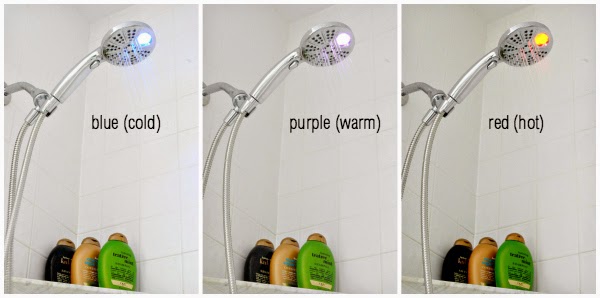 We chose to install this in our master shower but it is genius for a kid's bathtub – no risk of ever burning them because you can literally see the exact temperature of the water.
It's nice for adults too because you kind of figure out your ideal shower temperature and can adjust perfectly before you ever step in. A luxury, yes, but it sure is nice. 106º feels purrrrfect this time of year when the house is a bit cool and it's positively frigid outside.
And the installation takes maybe five minutes. Maybe.
So my love affair with Delta's products continues. These two new additions to our master bath have majorly upgraded the rather outdated space, and I remain completely impressed with how much research goes into Delta's products.
*I was given this toilet and showerhead, as well as an expenses-paid trip to Indianapolis, by Delta Faucet Company, but all opinions expressed are sincere and my own. I would never share products I didn't actually love with you.