Pom pom charms are absolutely everywhere right now, and pom poms on Christmas stockings aren't really anything new either, but I sort of combined the two to make the cutest, most versatile little colorblocked pom pom charms that are a really colorful and whimsical touch hanging from the mantle with our stockings this year.
You can buy a pom pom maker but guess what?  You already have a pom pom maker attached to your body – your hand!  Here's how I made the colorblocked pom poms.
Start with your first color of yarn and hold it in place over your index and middle fingers.
Wrap the yarn pretty snugly around your fingers about 70 times.  I know this sounds like a lot of wrapping but it goes super fast. Carefully pull your fingers out of the wrapped yarn then cut about a 6″ piece of yarn and thread it through the middle of the wrapped yarn.
Tie it in a tight knot. Repeat with your second color of thread so you have two tied little bundles. Now cut a longer piece of yarn, about 8″ or 9″, and thread it through the centers of both colors. Tie them together in a knot so the knotted parts of each color are facing each other. Slip a sharp pair of scissors in between the looped part of each color, one at a time. and snip the looped threads. You'll be left with a wild, shaggy pom pom.
For the hanging string, cut a long piece of yarn – as long as you want, really – and loop tie the ends together.
Separate the yarn about like this:
Then wrap the hanging string around the center, push the looped side through the knotted side, and pull looped end up to tighten the hanging string around the pom pom.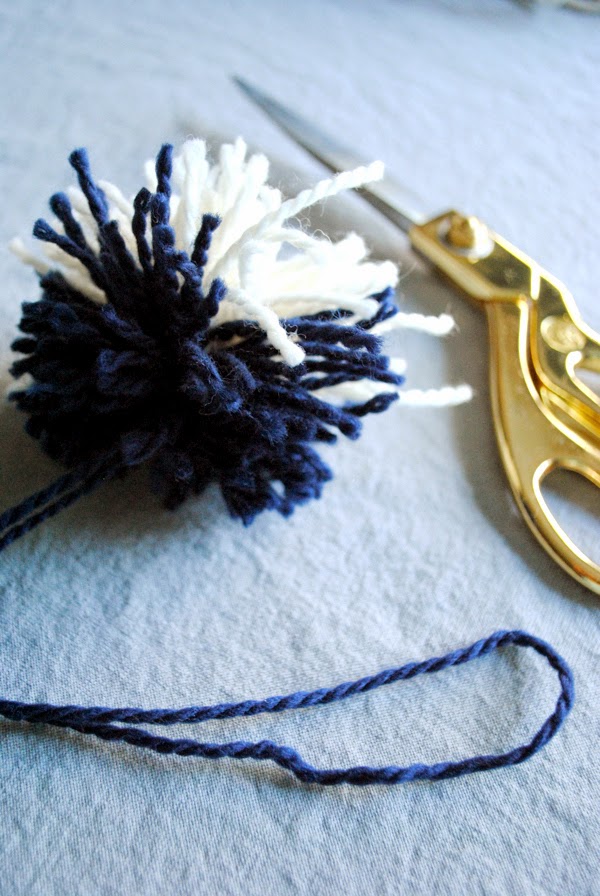 Now it's time for a haircut!  You can trim any way you like – I wanted a pretty dense, compact pom pom so I cut off quite a lot and tried to make the finished pom pom as round as possible.
Once I had made the three different colored pom poms I hung them over the stocking holder one on top of the other and braided the strings together.
They're such a festive accent and I love how they look hanging with our Christmas stockings.