Have you noticed the trend in kitchens to add gorgeous, saturated, beautifully-aged rugs and runners? I have loved that look from the moment it first crossed my field of vision. But after waffling for practically two years, I ultimately decided not to put vintage rugs in my kitchen, even though I absolutely adore the way they look. Instead I opted for vintage style kitchen rugs, with the same general look I wanted but some serious upsides (for me) over vintage. What swayed me away from vintage? Here's a quick rundown.
A pair. I wanted two matching rugs on either side of my kitchen, which has an uncommon layout (sort of a double galley). Finding two vintage rugs that matched, in the different sizes I wanted, was not likely. Most vintage rugs are one-of-a-kind, which is part of what makes them so special.
Price. Matching rugs notwithstanding, I needed the runner on one side to be about 10′ long. A vintage runner that size would likely run $600-$800 or more.
Maintenance. One of the two rugs is between my kitchen sink and my stove, which means lots of food bits drop while I prep and cook. The rug on the other side is underneath the counter stools, where my young daughters eat almost every meal. I knew I would be heartsick the first time a cup of yogurt or applesauce flipped off the counter and splattered across an expensive vintage rug.
Comfort. I spend a lot of time standing in the kitchen and I wanted something soft and cushy underfoot. Vintage rugs tend to be thin, as a function of both style and age.
Ready to see the rugs I chose?! They may look familiar if you're not a first-time reader here…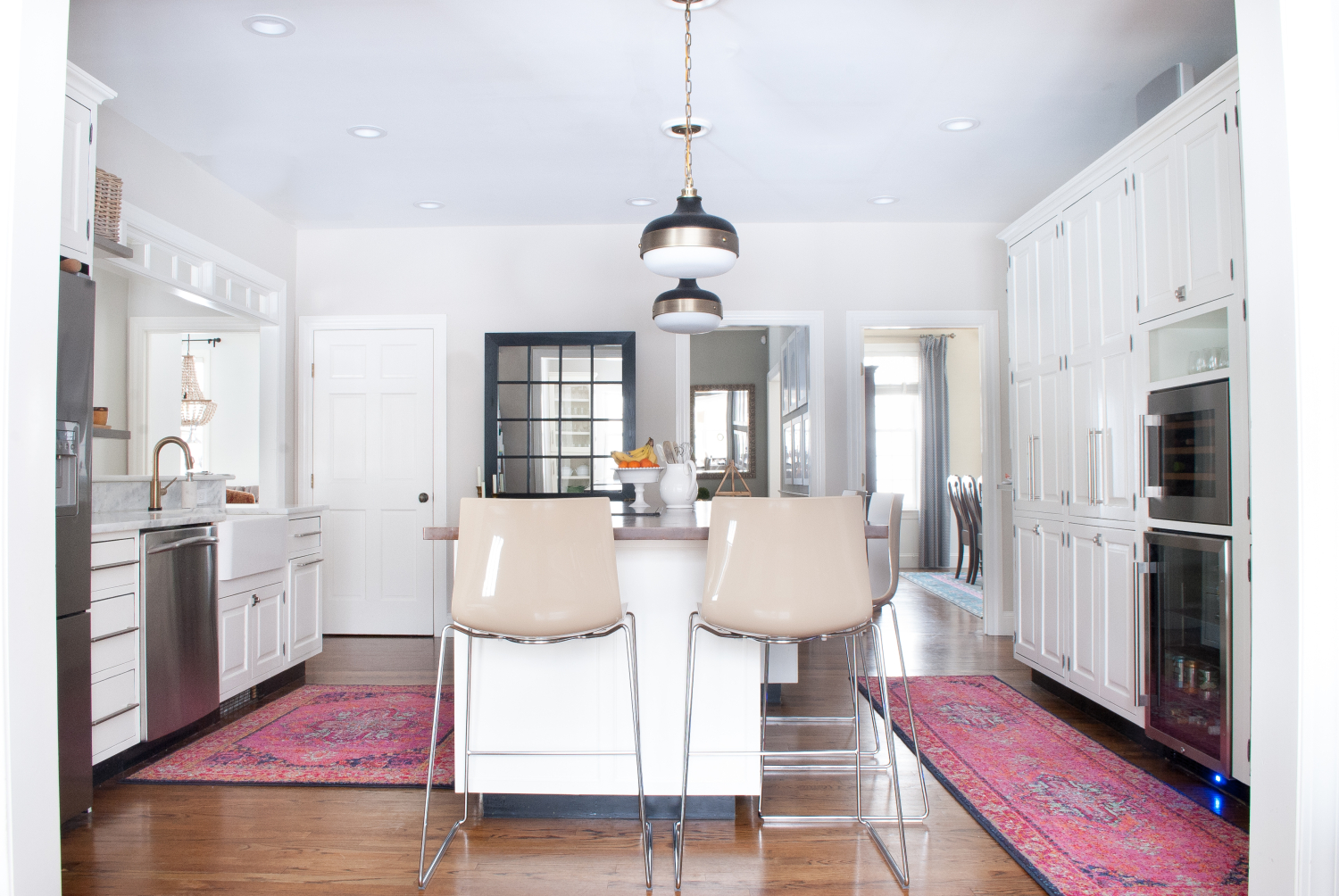 rugs
kitchen faucet
kitchen sink
island pendants
counter stools
Yep…they're the same exact rugs I have in my entryway.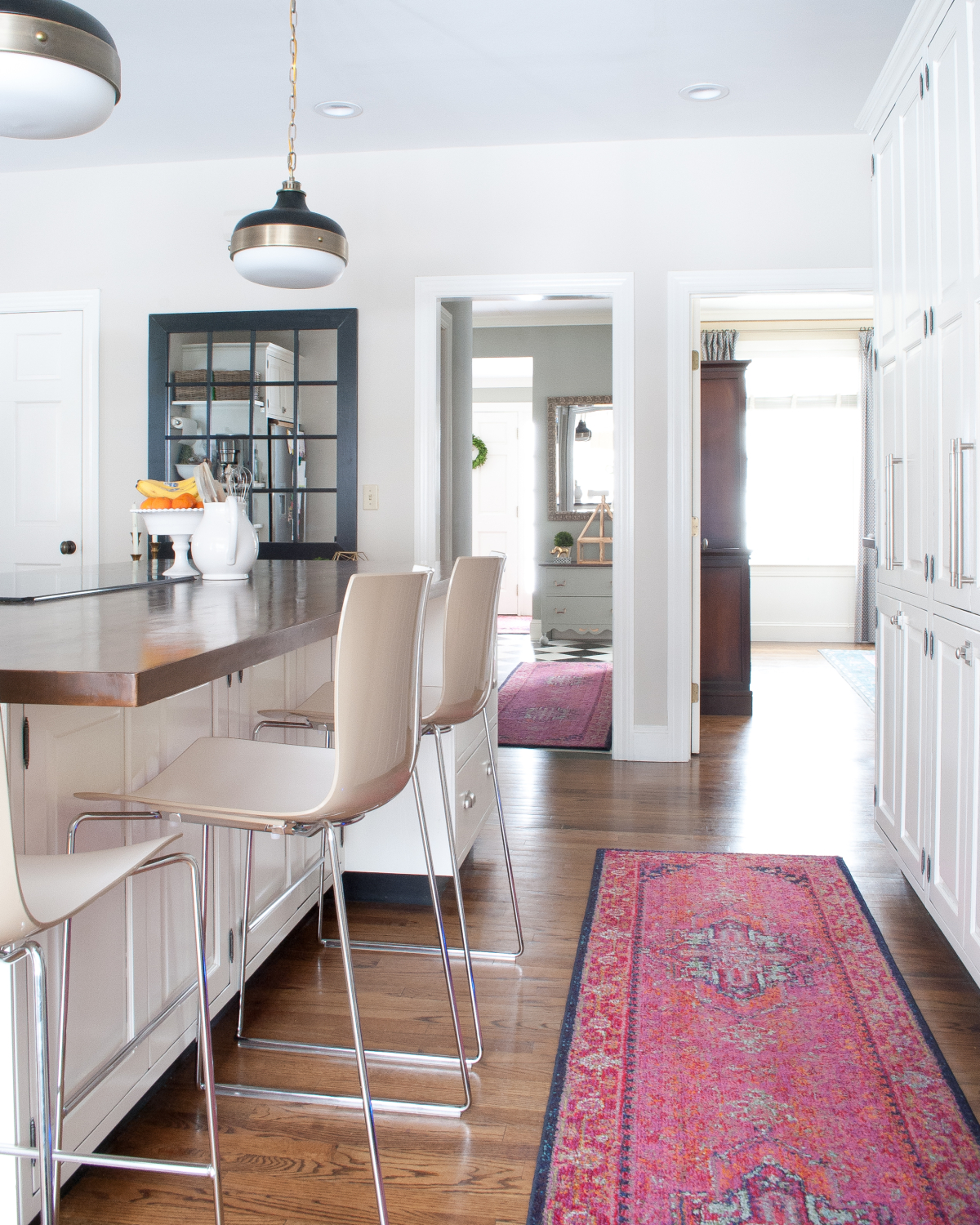 I have loved these rugs so much since I put them in the entryway that I kept coming back to them when I was considering options for the kitchen. They're super affordable as rugs go – the runner is $180 and the rectangular rug between the sink and stove is $170.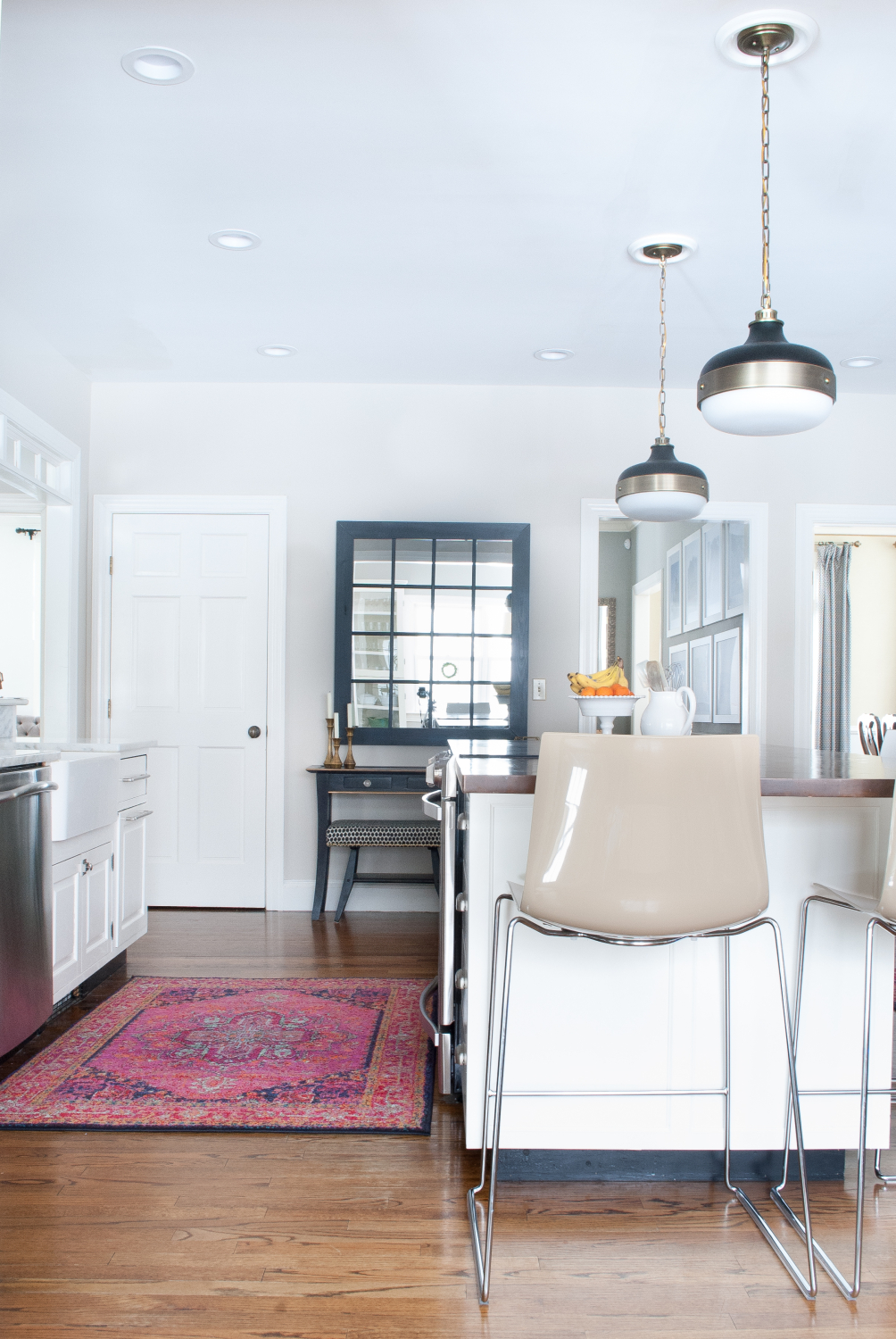 They hide dirt and spills like little rug magicians and clean super easily – they can even be taken outside and hosed off if necessary! The polypropylene construction means they are workhorses as far as handling high traffic, dirt, and spills. Unlike most polypropylene rugs, these have a thick pile, like a plush wool rug, so they are super soft and cushy underfoot.
I think the performance of these rugs would have won me over anyway, but they also give me the aesthetic I was after – a traditional pattern in bright, deep colors, like the vintage rugs I so admire. I feel like I got the best of both worlds – the look I wanted and the functionality I needed.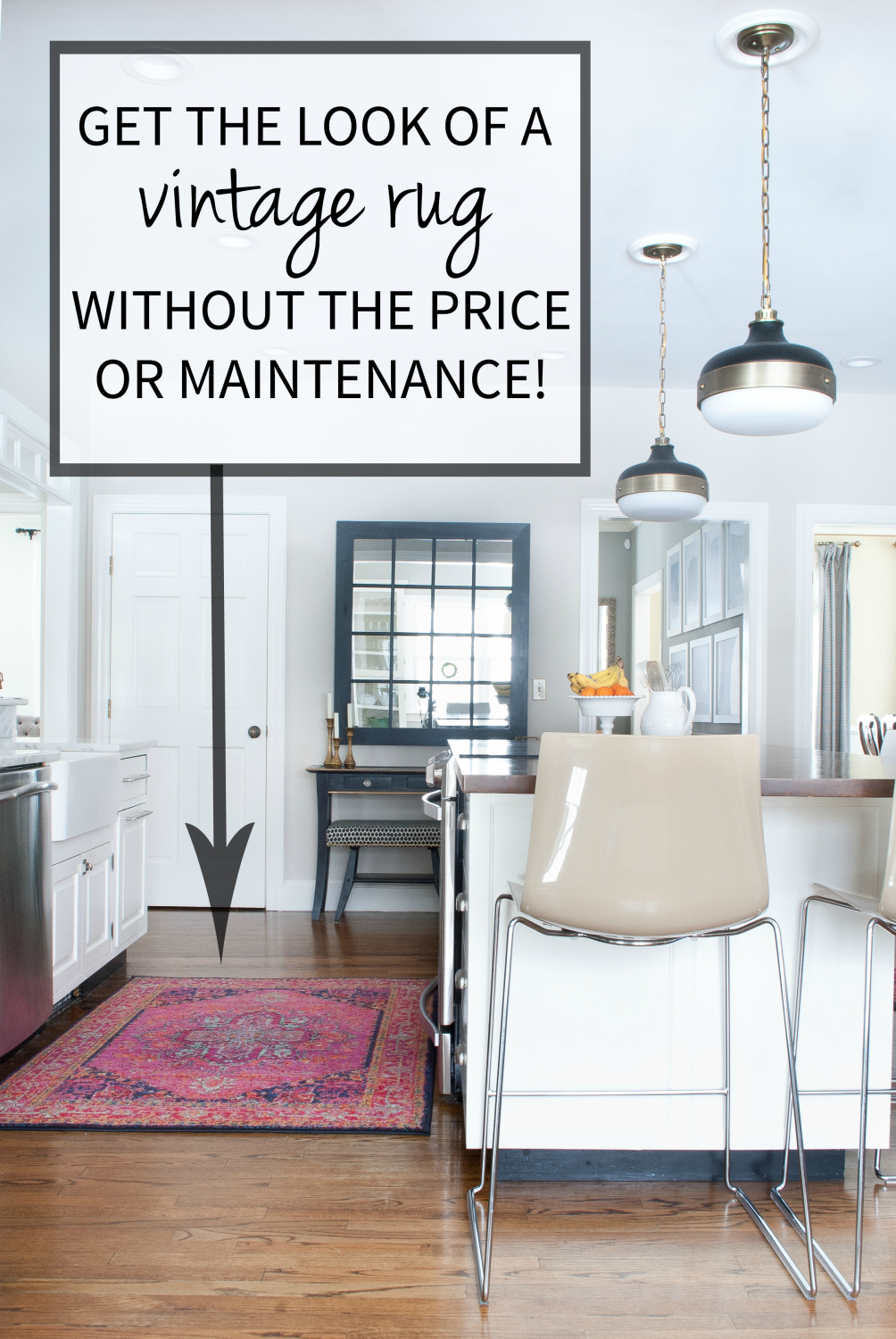 I am such a tremendous fan of these rugs for so many reasons…probably obvious considering I have four of them in my house now! I really can't recommend them highly enough.
There are plenty of kitchen layouts and personal lifestyles that would make a vintage rug a great fit for a kitchen, and if that is you, I have to recommend you check out The Vintage Rug Shop, which has a constantly evolving selection of beautiful vintage rugs, as well as pillows, textiles, and throws.