I don't have many collections, and I've never really felt compelled to start one, with one exception. Every time I came across a collection of blue and white pottery I stopped and stared for a little while. It's a classic, timeless look and that cobalt blue drew me in every time. A couple years ago I bought a small potted plant at Whole Foods that was in a little blue and white pot, and I also acquired a teeny blue and white pot at some point as well. And there my "collection" stood for years. In the meantime the bay windowsill in my dining room sat mostly empty for the past couple of years while I figured out what I wanted to put there. And then I was looking through my friend Mallory's spring home tour and her blue and white pottery collection hit me like a ton of bricks. That was exactly what I wanted to do in the bay window.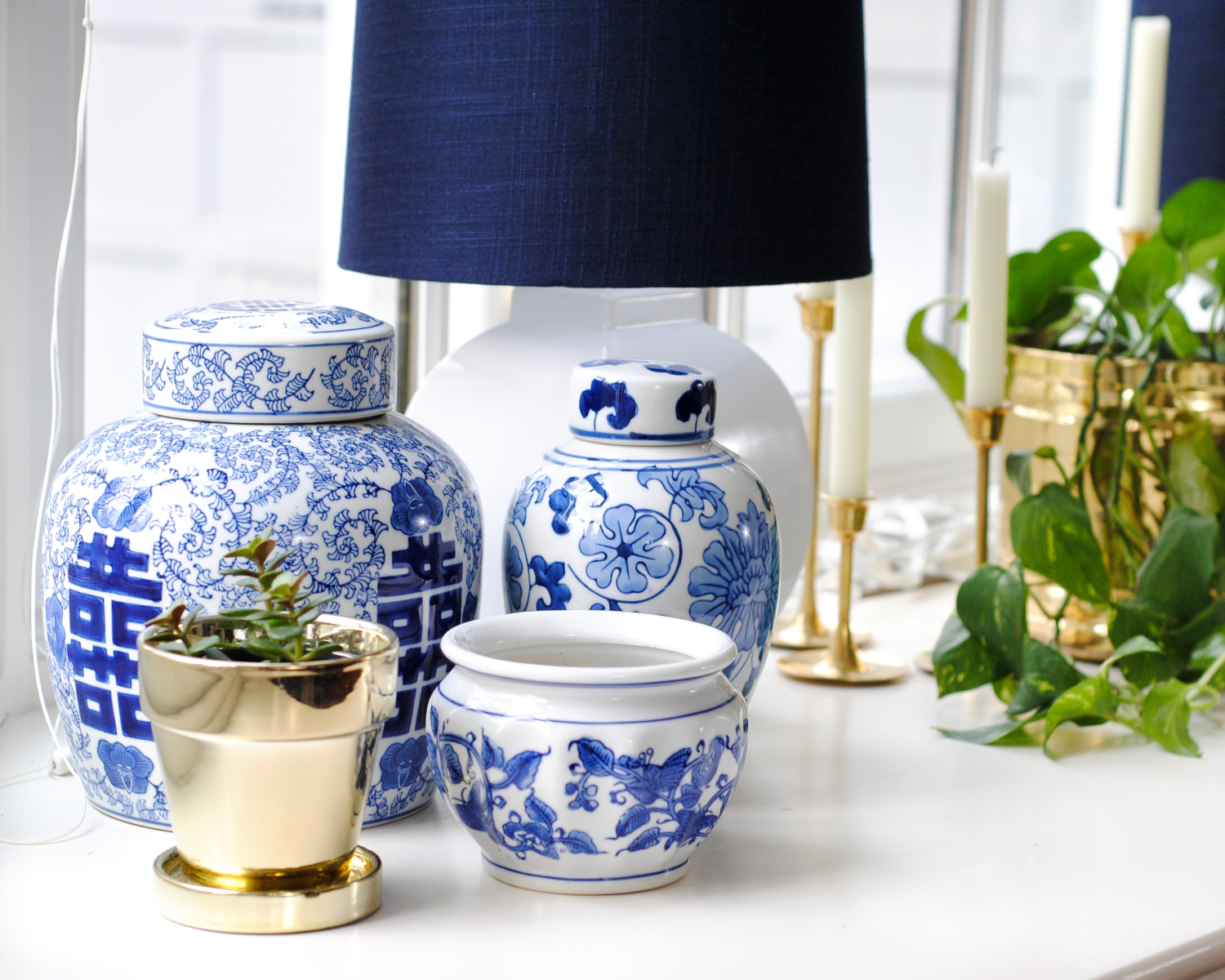 I had those two little blue and white pots already and bought four other jars to give a respectable start to my blue and white pottery collection. I did not want to break the bank on this collection though, and so spent some time combing different sites to find the best prices on styles I liked. I also found a couple at my local Home Goods. You can shop the online pieces here:

There were so many great ones at One Kings Lane, I stopped linking them all, but if you click HERE you can see all of my search results. There are so many beautiful choices and some really awesome prices.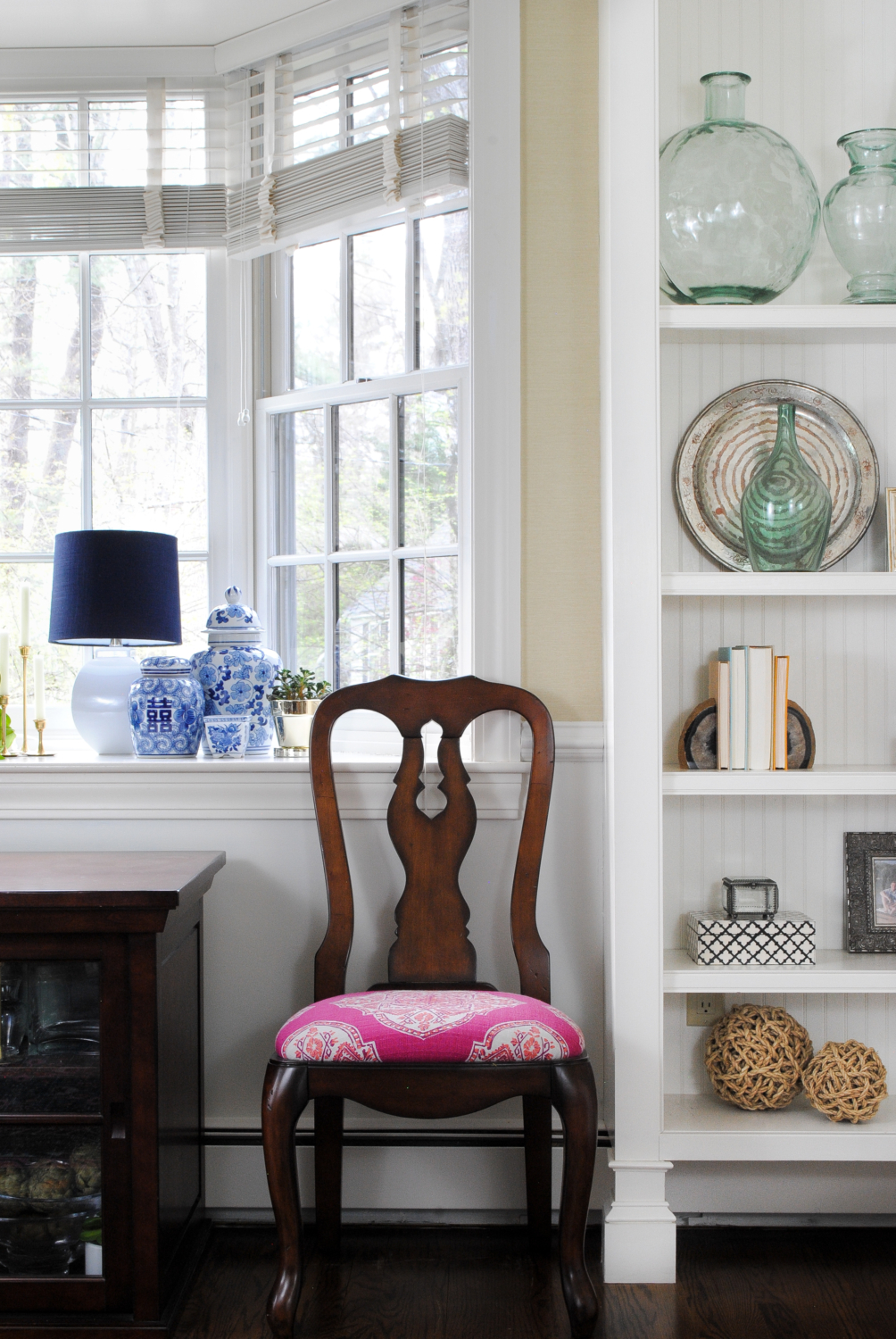 So now my only dilemma is this. I sometimes have to fight the urge to arrange everything with near-perfect symmetry. It's just how I'm wired, but I've come to appreciate asymmetry as well. My first instinct was to arrange the blue and white jars in a symmetrical configuration with the lamps and plants I already had on the windowsill.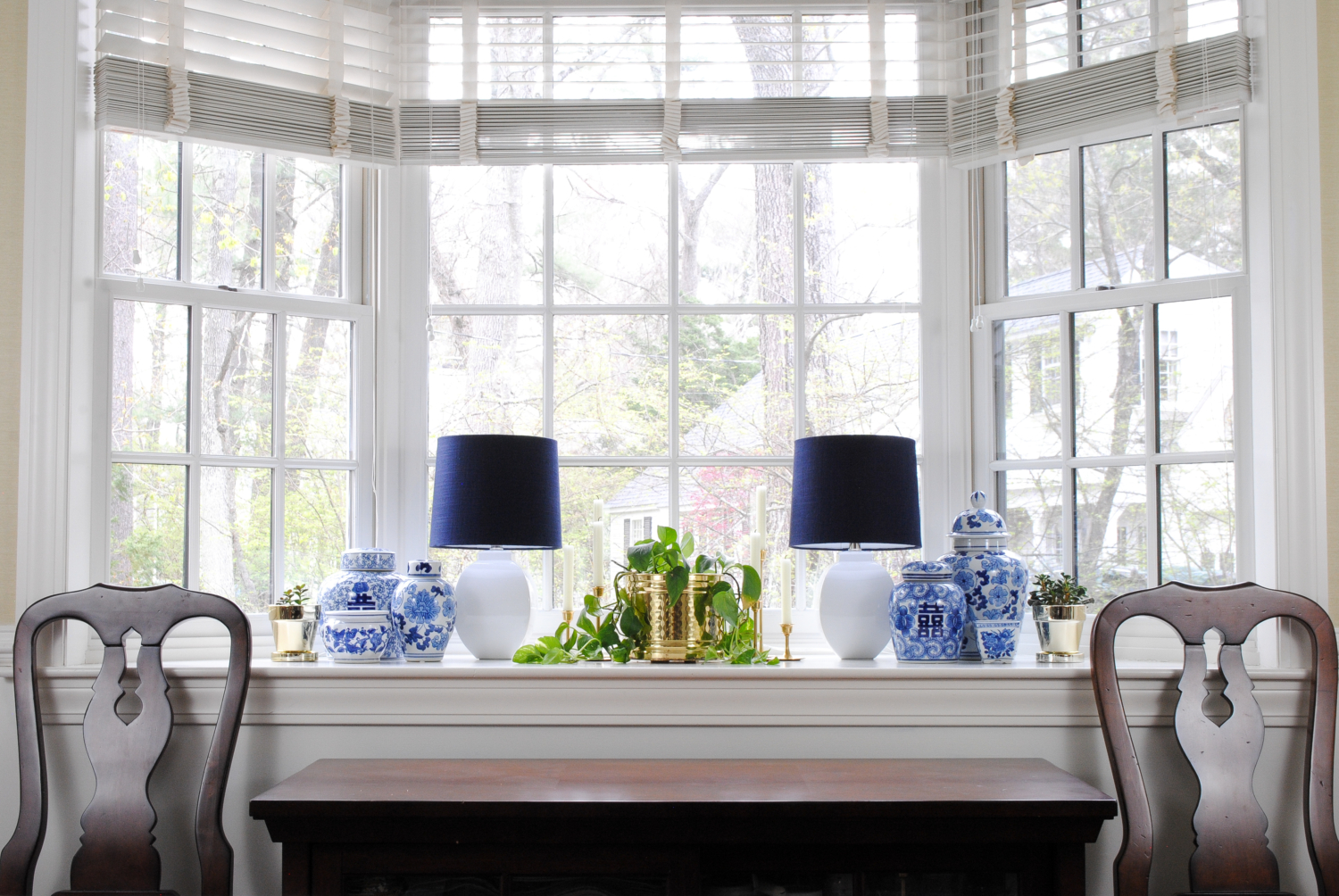 But then as I was photographing the window, I started thinking maybe it would look better with all of the blue and white jars clustered in the center together.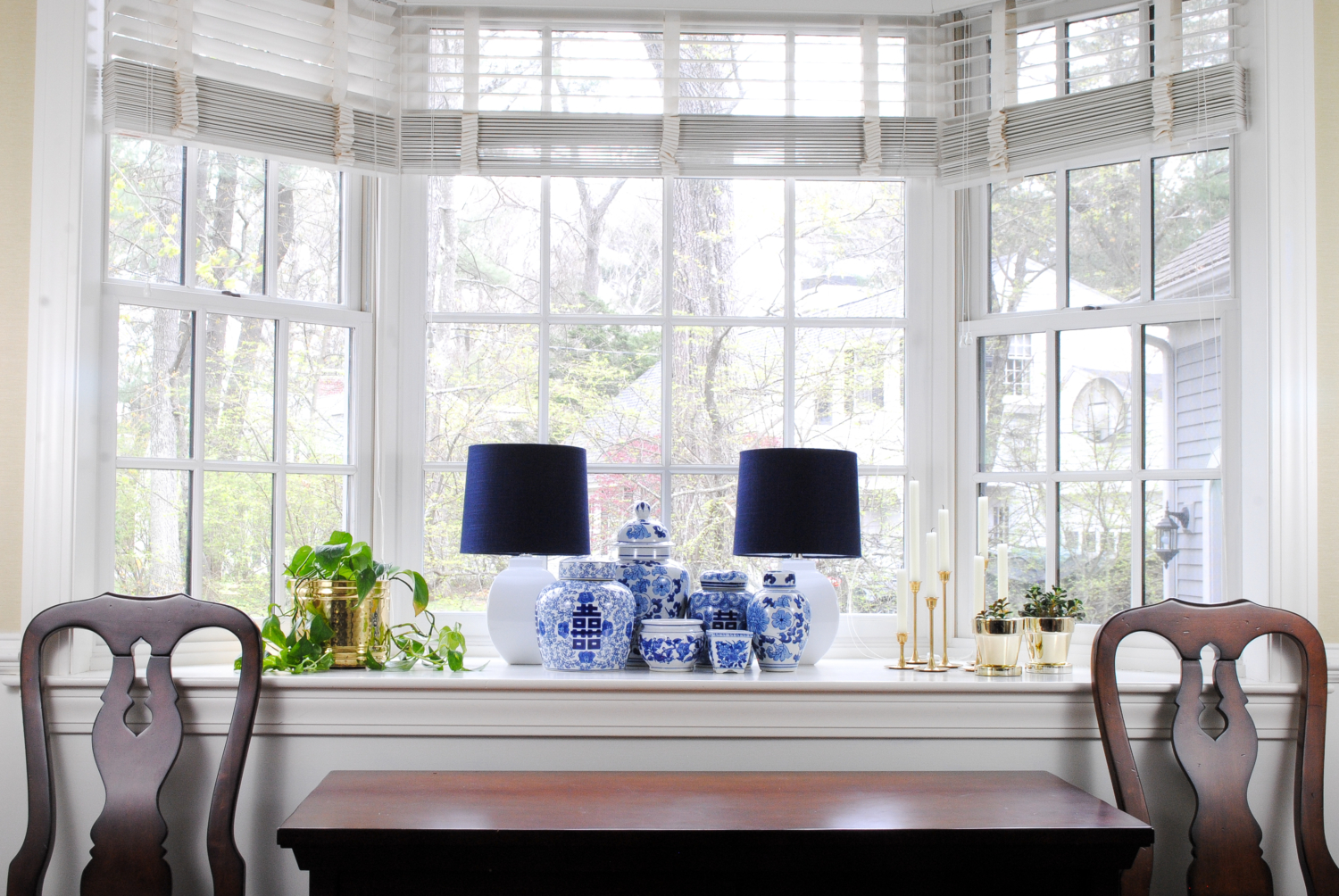 And now I have stared at both of these arrangements for so long trying to decide which is the better look I am starting to go crosseyed and can't make heads or tails of it anymore. So I would love to know…does one jump out at you? Tell me in the comments below, or I may actually drive myself crazy arranging and rearranging my pretty little pots.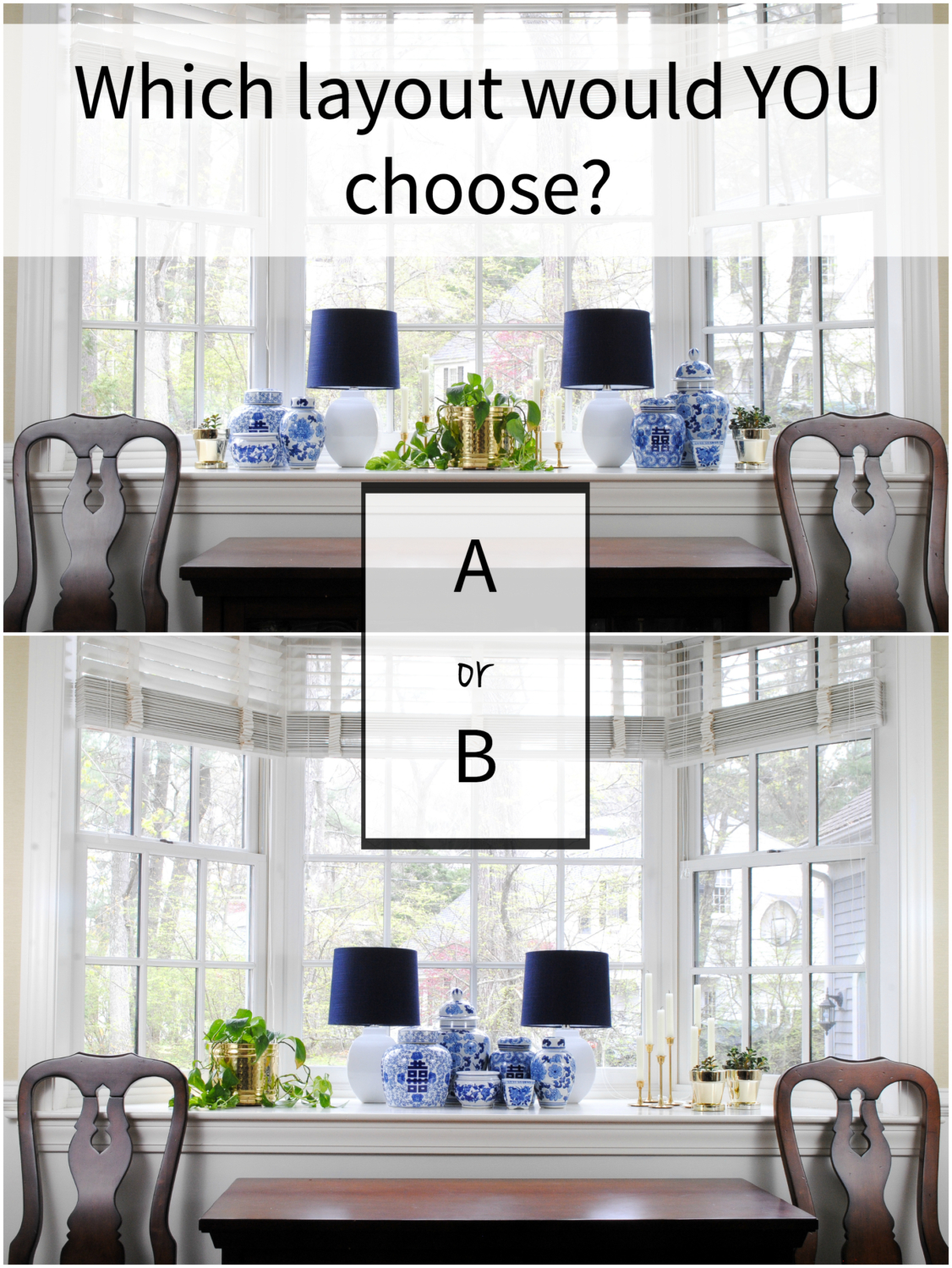 Either way, it makes me happy seeing this bright little cluster when I walk past the dining room, and I'm glad to have started a blue and white pottery collection after thinking about it for so many years.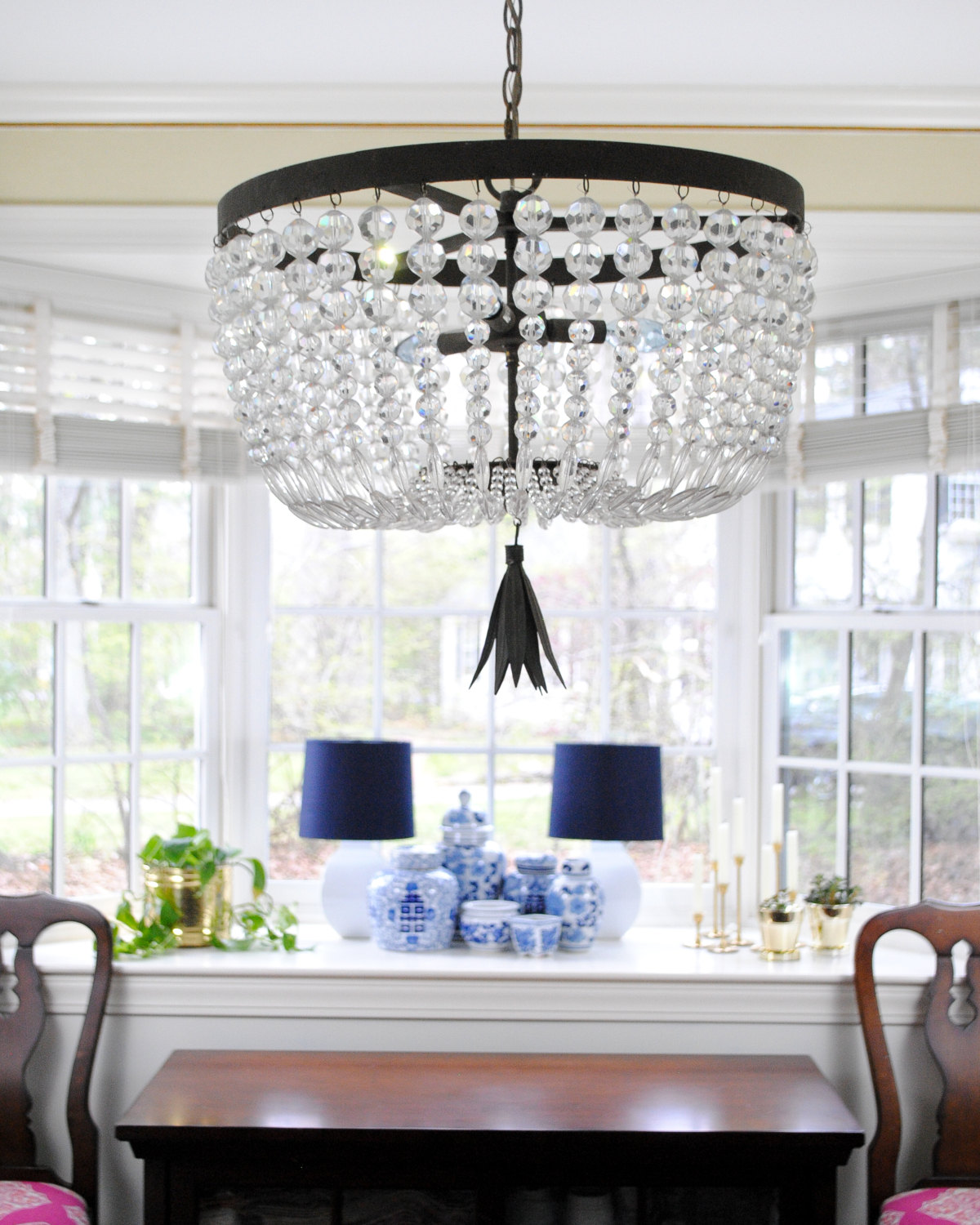 If you're looking for a unique Mother's Day gift idea, starting a small collection for your mom with three jars in different sizes and patterns would be a great gift, and you could spend well under $100 on it.

I know I will be keeping an eye out for new pieces to add to my collection, perhaps a few vintage ones to round out the new.
Do you have things you love to collect? How do you display them? And don't forget to tell me which layout you prefer. I need a fresh perspective!