Key lime pie is one of those recipes everyone has heard of, most people love, and almost no one has every tried to make themselves. And it is possibly the easiest pie to make at home. A press-in crust (no rolling pin!) and a filling that consists of exactly three ingredients – it doesn't get much easier than that. And much like my spinach artichoke dip, classic key lime pie is a dessert I love to make for parties. It's a little bit unexpected and always a huge hit.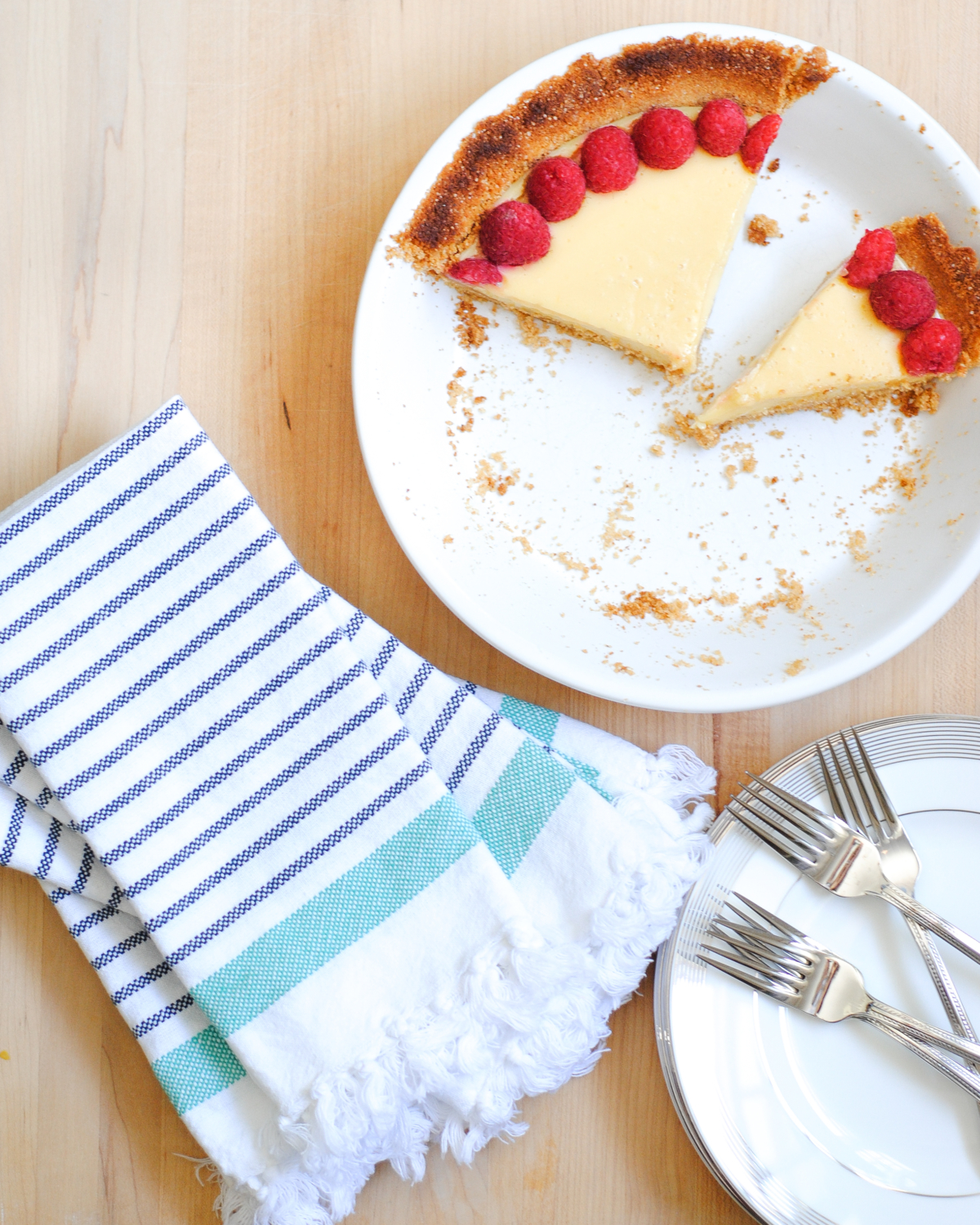 white pie plate | napkins
For me, key lime pie is perfectly sweet-tart and, really, graham cracker crust and fresh, vanilla-scented whipped cream make everything better, don't they? I love to line the rim of key lime pie with fresh raspberries. It's not traditional but it adds some pretty color and the taste of raspberries with the lime-y filling is so good.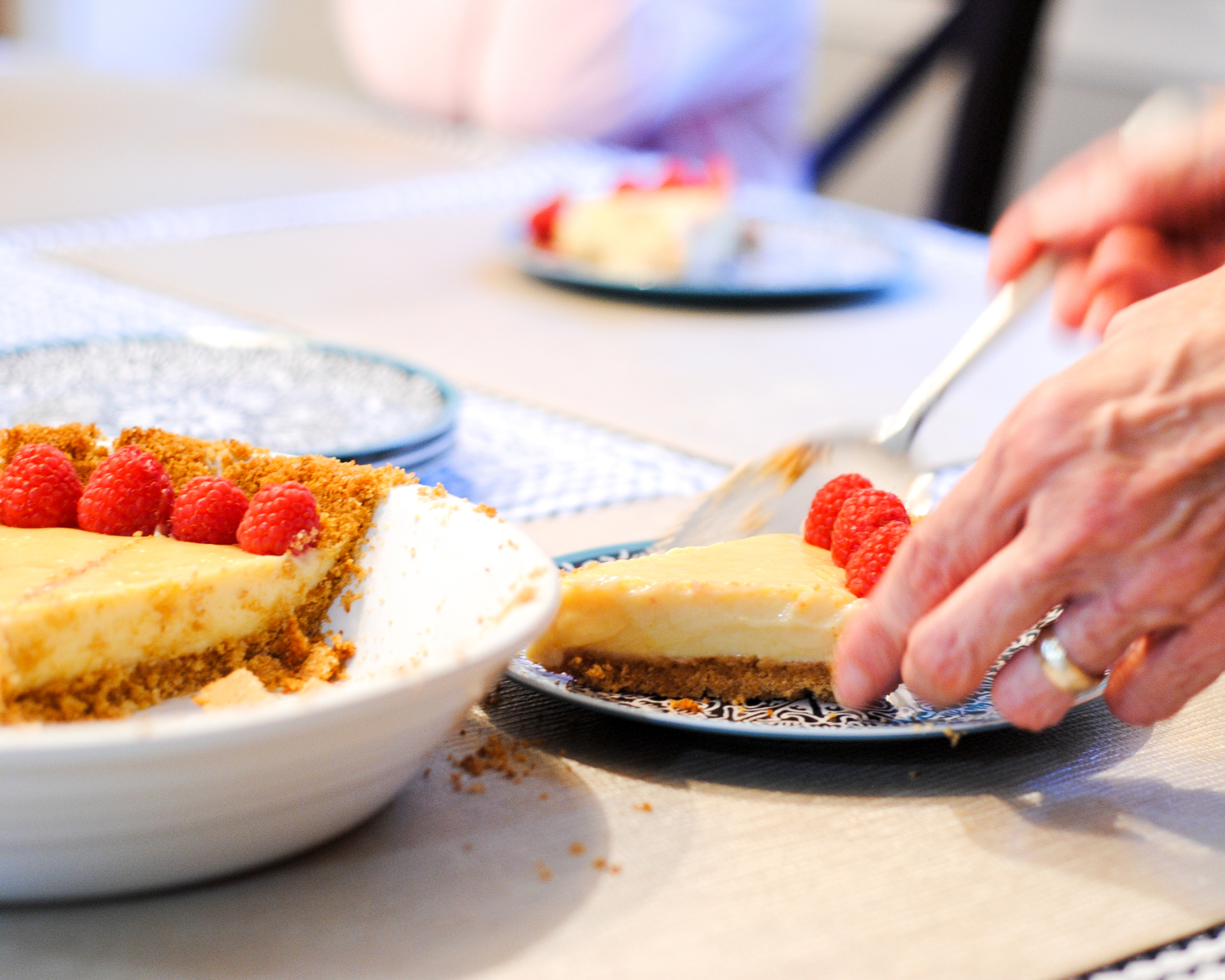 To be puritanically accurate, you must use actual key limes for this pie. But as I live in Massachusetts and have never seen a real key lime in my life, I've come up with a few suggestions, and while not all 100% traditional, they are all 100% delicious, and isn't that what we're really after here anyway? So, for this pie you can use:
2/3 c. key lime juice, fresh or bottled (like Nellie & Joe's)
1/3 c. freshly squeezed lime juice, 1/3 c. freshly squeezed lemon juice
2/3 c. freshly squeezed lime juice
2/3 c. high-quality bottled lime juice (like Santa Cruz)
Any way you choose, you will be left with a deliciously tart pie, even if it is not actually key lime pie. But I'm just going to call it that anyway.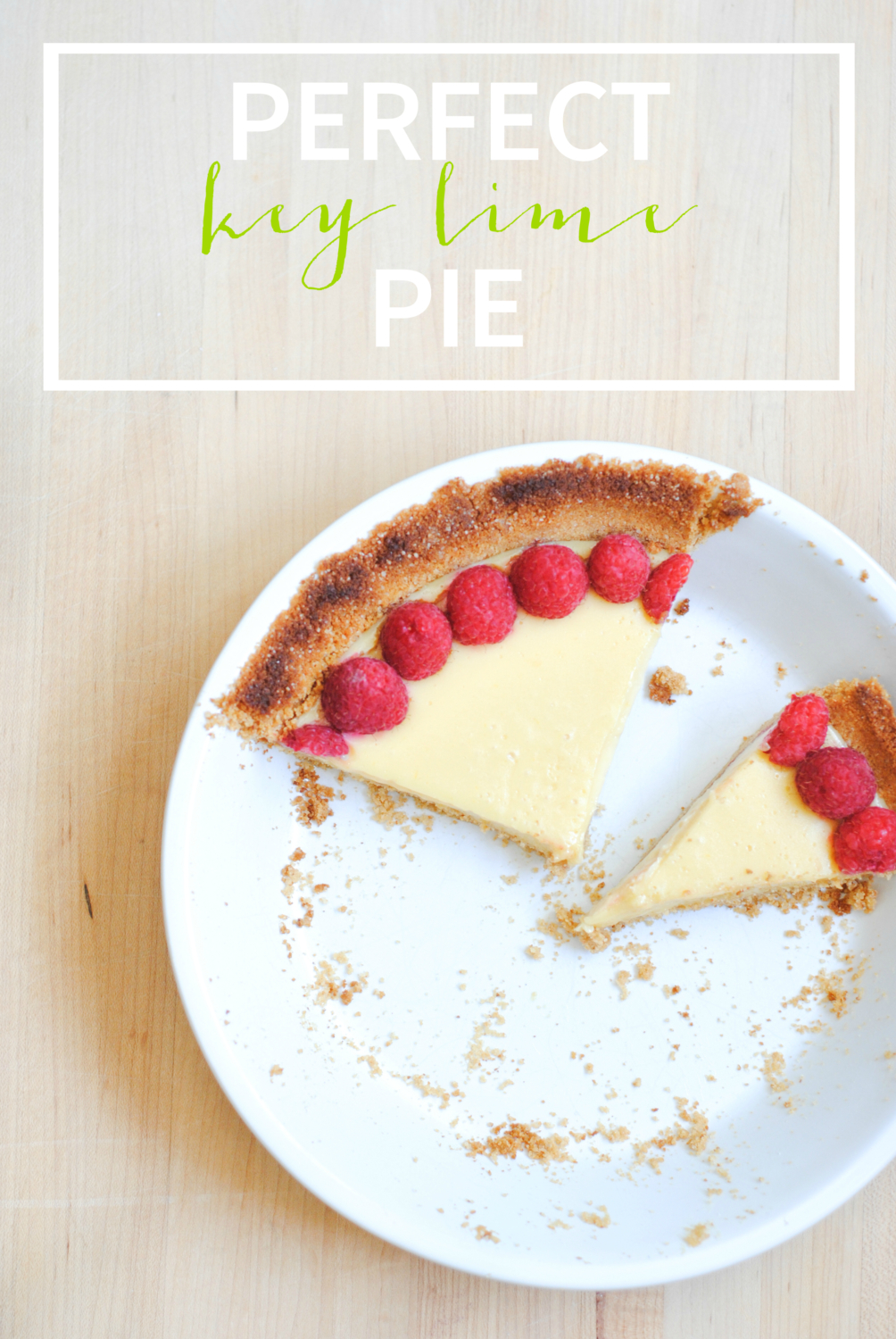 Perfect, Classic Key Lime Pie
Perfect, classic key lime pie, with less than ten minutes of work. A dessert everyone loves!
Ingredients
1¼ c. graham crackers (usually one paper-wrapped sleeve)
5 tbsp. unsalted melted butter
4 tbsp. sugar, divided
pinch of salt
3 egg yolks
1 14 oz. can sweetened condensed milk
⅔ c. key lime, lime, or half lime and half lemon juice (fresh or high-quality bottled)
fresh raspberries
½ c. heavy cream
½ tsp. vanilla extract
Instructions
Preheat the oven to 350º.
For the crust, place the graham crackers in a food processor and process until finely ground. Add the melted butter and 3 tbsp. sugar and pulse until the crumbs are evenly moistened. Press the mixture into the bottom and up the sides of a 9-inch pie plate. Bake until the crust is golden, 6-8 minutes. Remove from the oven and set aside.
For the filling, whisk egg yolks, sweetened condensed milk, and lime juice in a medium bowl until very smooth. Pour into the baked crust and bake for 10 minutes, until the filling has set. Cool on a wire rack.
Once cool, line the outer edge of the filling with fresh raspberries and refrigerate until you're ready to serve.
To make the whipped cream, place heavy cream, 1 tbsp. sugar, and vanilla in a medium bowl and beat with an electric mixer until soft peaks form. Serve pie topped with whipped cream.