Summmmmerrrrrrr! My favorite. I love the windows open all the time, the eating outside, the beach and pool days, feeling air and sun on my skin, just all of it. Today I'm sharing some summer touches around my house as part of Blogger Stylin' Home Tours hosted by The White Buffalo Styling Co. If you're coming here from Our Storied Home, welcome! Amanda has a great story and style, doesn't she?
My summer decorating style is very low key. I clean up the screened porch, cut flowers from the yard, and pretty much call it a day. Our lilacs have just finished blooming here but I cut armfuls of them when they were in full force and had them all throughout the house. My daughter got a bouquet of pale purple lilacs on her nightstand – the smell is so heavenly.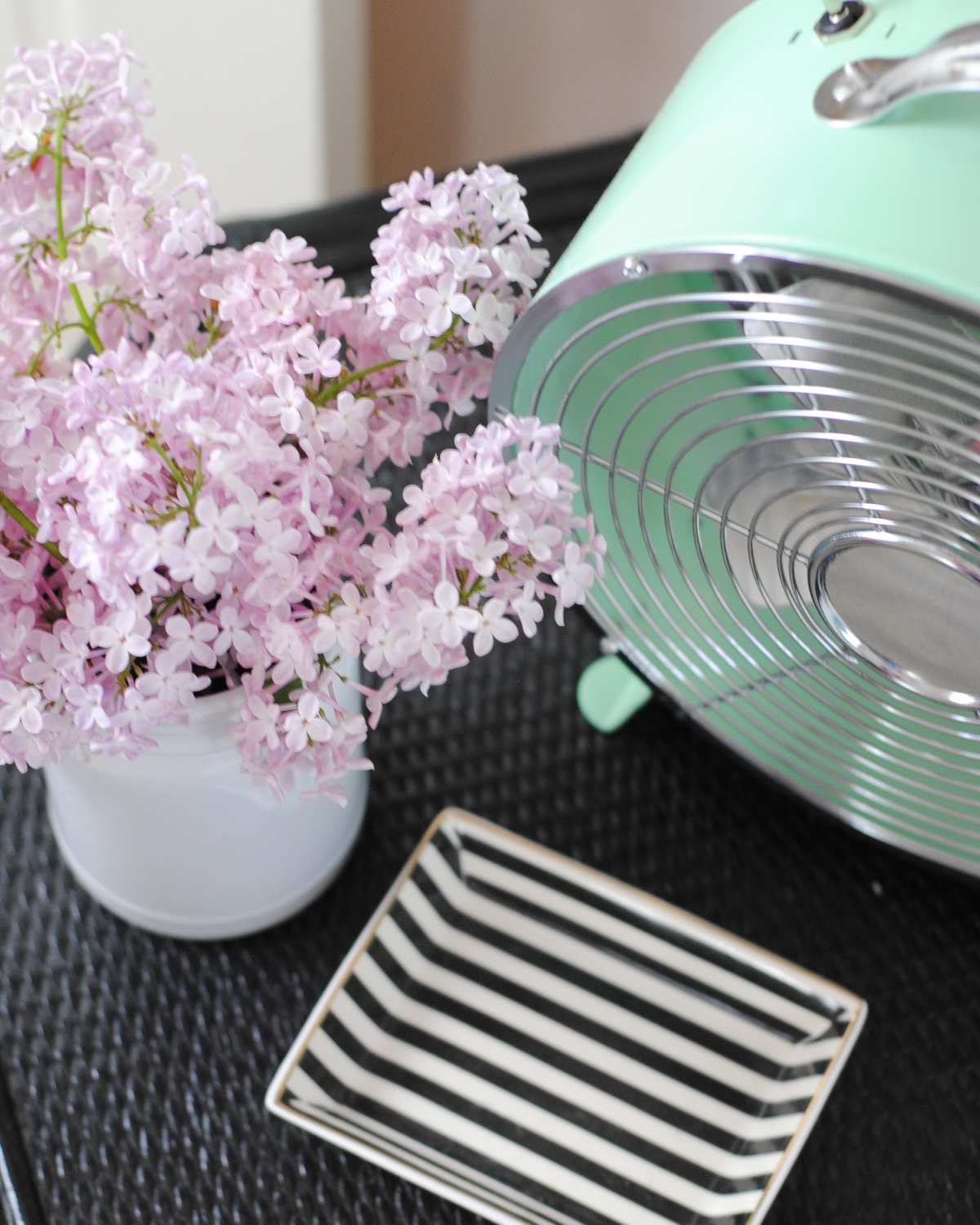 I also updated her mattress and bedding recently, and while it does look summery, this will all stay year-round.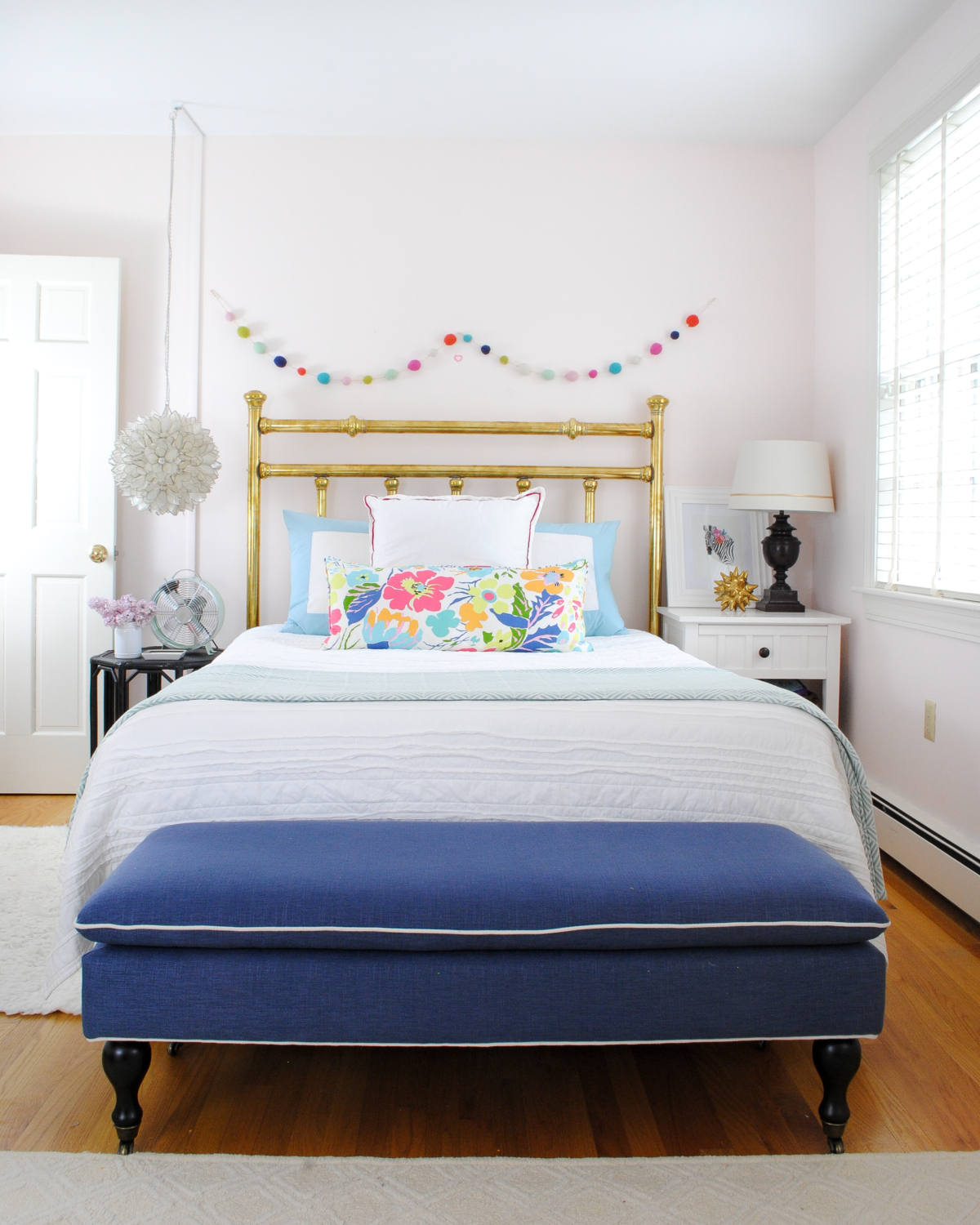 SHOP THE ROOM: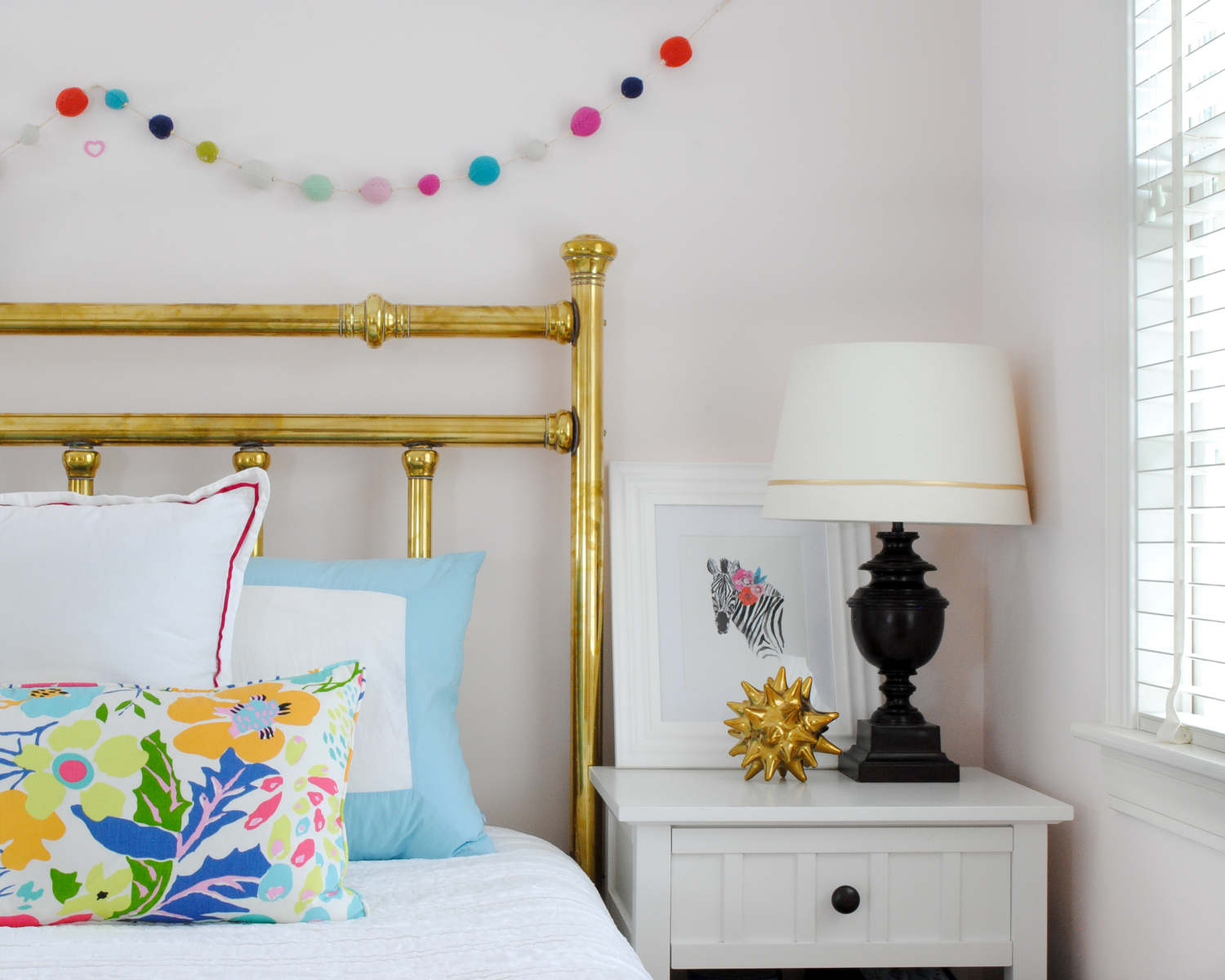 I also had lilacs in the dining room for a recent dinner party. These pale pink lilacs have the most intense fragrance. This one bowlful perfumed the entire downstairs. I was in heaven.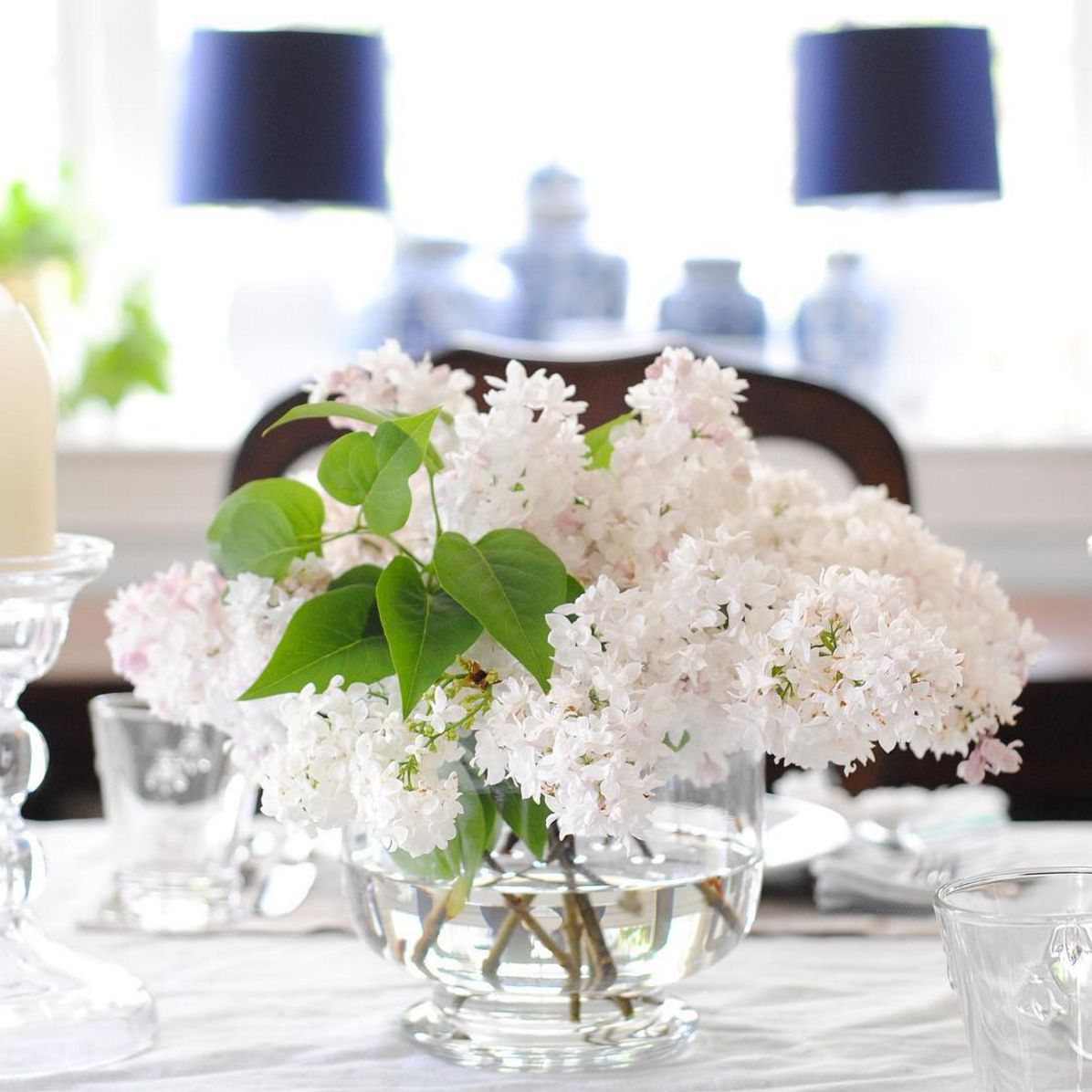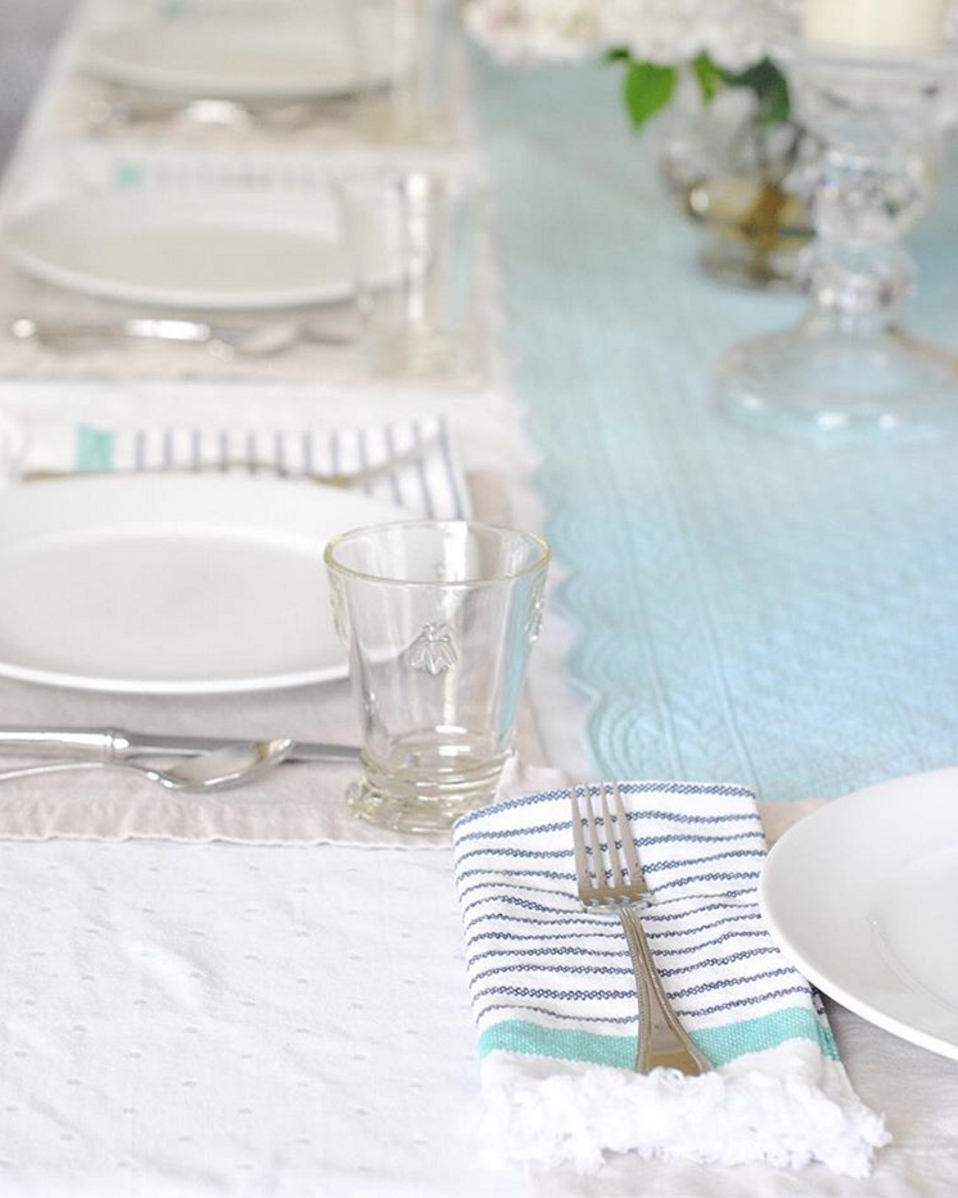 SHOP THE ROOM:

Let's take a peek on the screened porch now, which I've mentioned before is my favorite room. Possibly because its season is fleeting – we really only get to use it for three or four months and then I stare at it longingly through the door the rest of the year. The pollen has been so bad this spring/summer we still can't really use the porch because everything is thick with yellow dust just a few hours after cleaning. So I have all the furniture under a tarp right now and I check the pollen forecast like a madwoman every morning hoping one of these days I will see that the worst is behind us so I can uncover my favorite room! I let everything breathe long enough to show you what it looks like this year, though.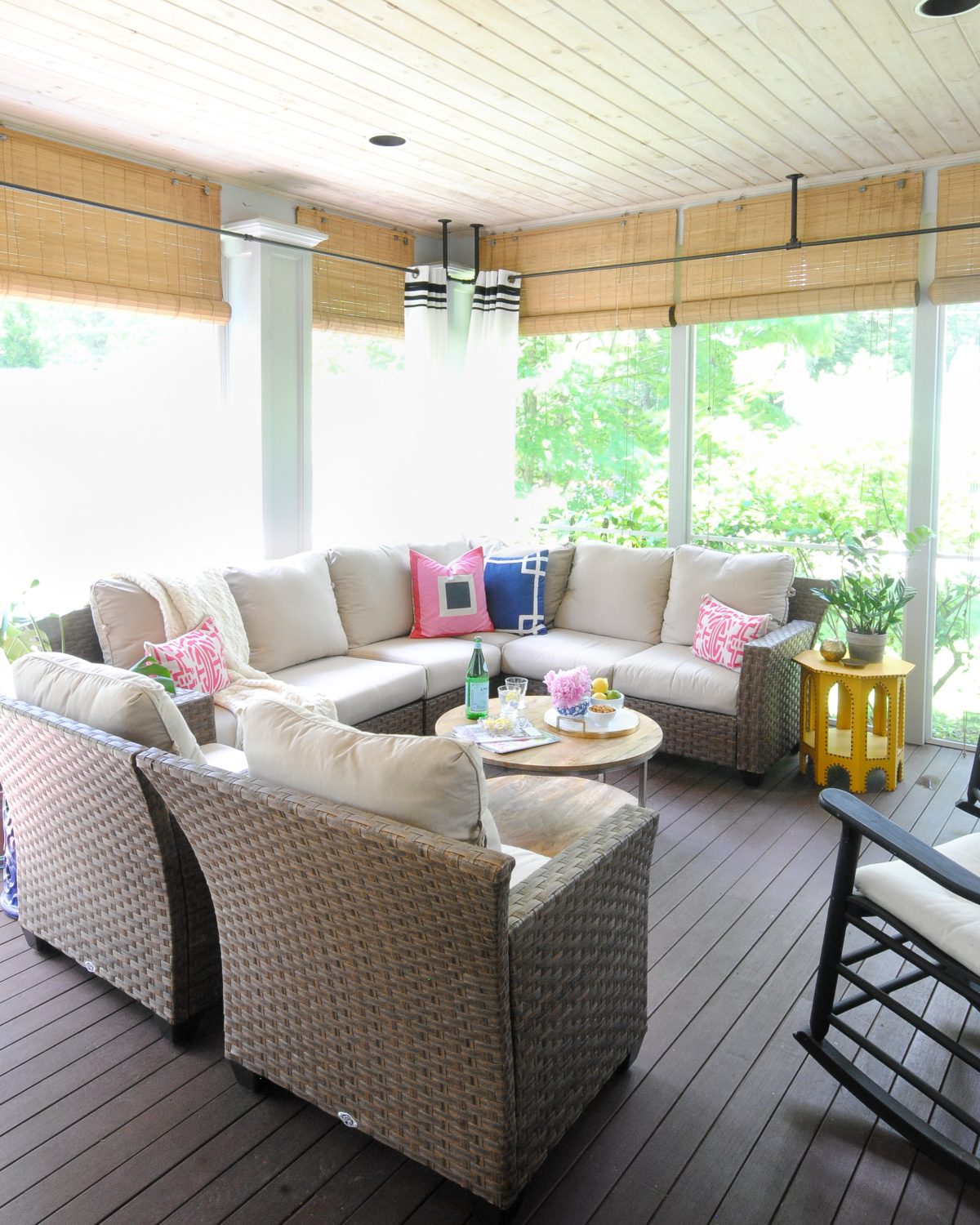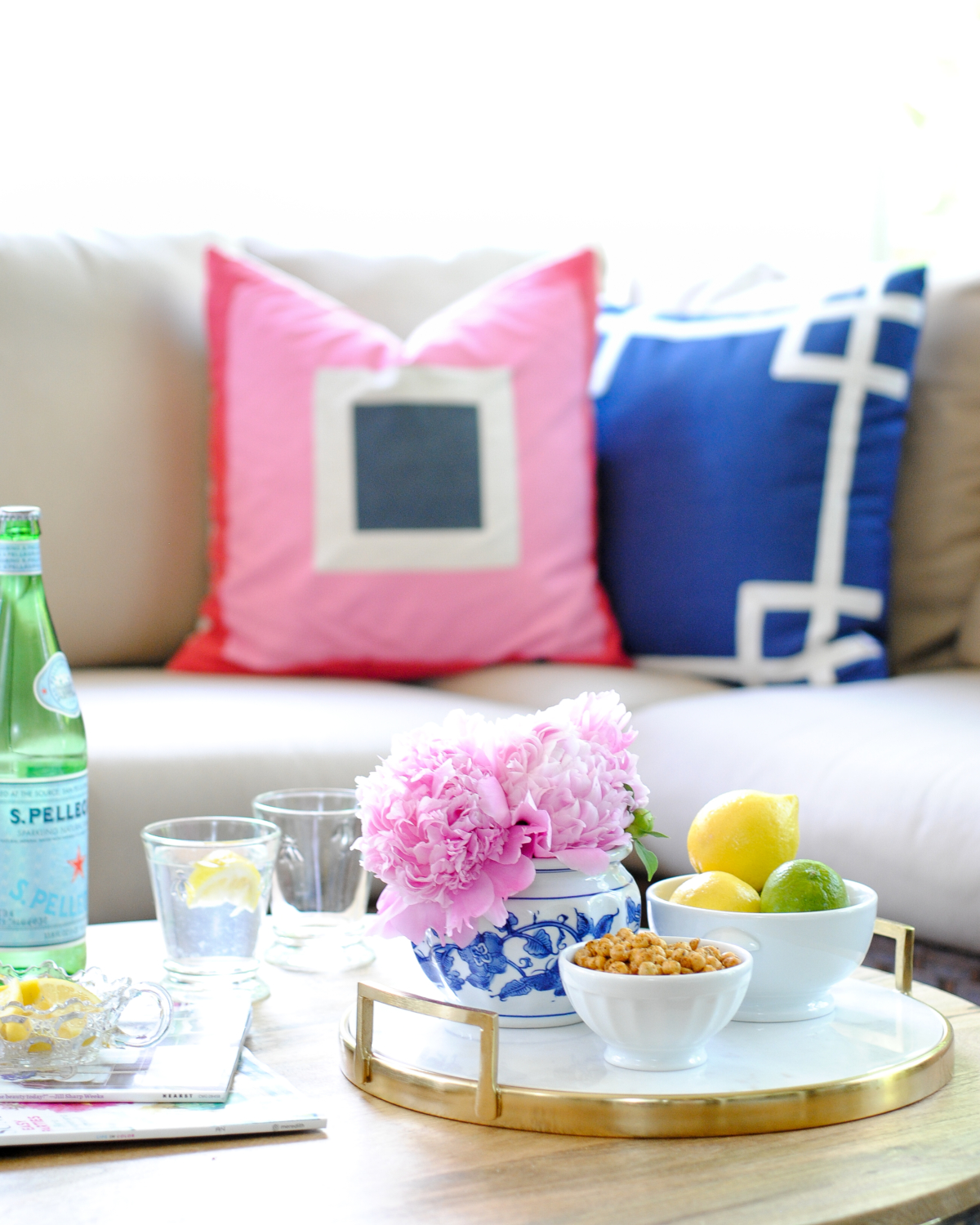 SHOP THE ROOM:

I shuffled some pillows around but things are largely the same as last summer, and I still love it just as much.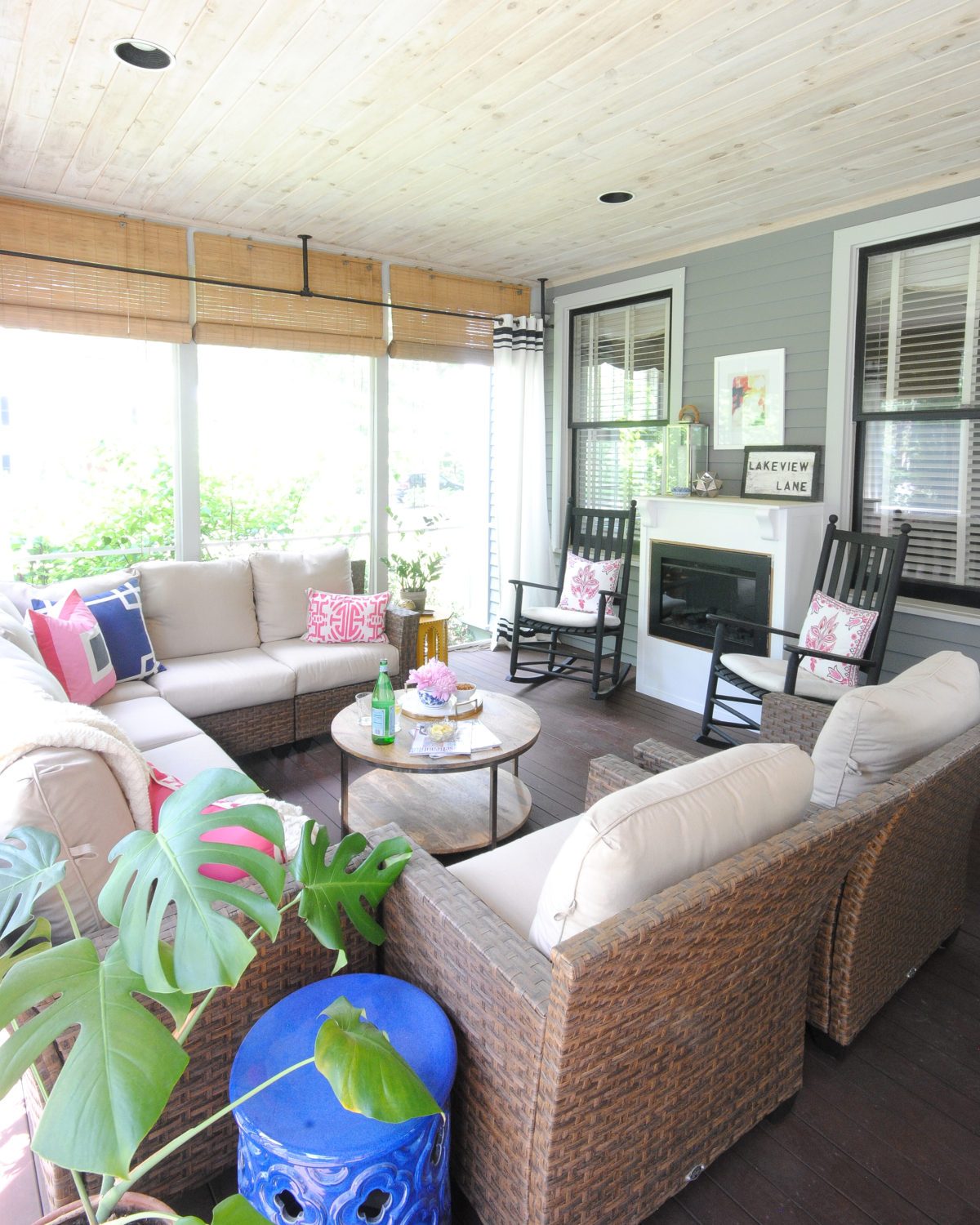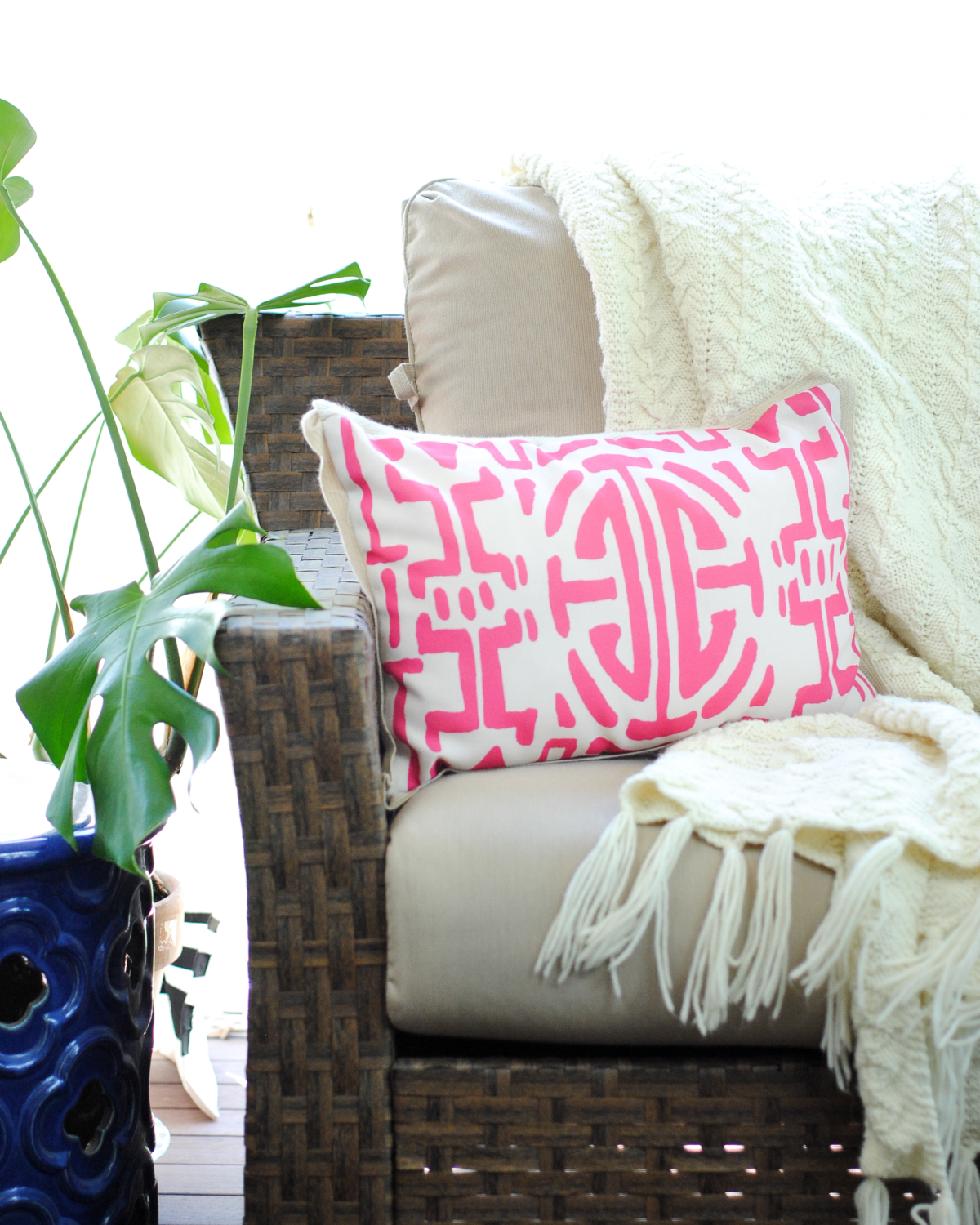 My peony plants are absolutely bursting right now, to the point that I think I am going to have to start giving them away. I didn't think it was possible to have too many but…I think I have too many. It's like a glorious peony jungle in the garden next to the porch so I am cutting them left and right to bring inside.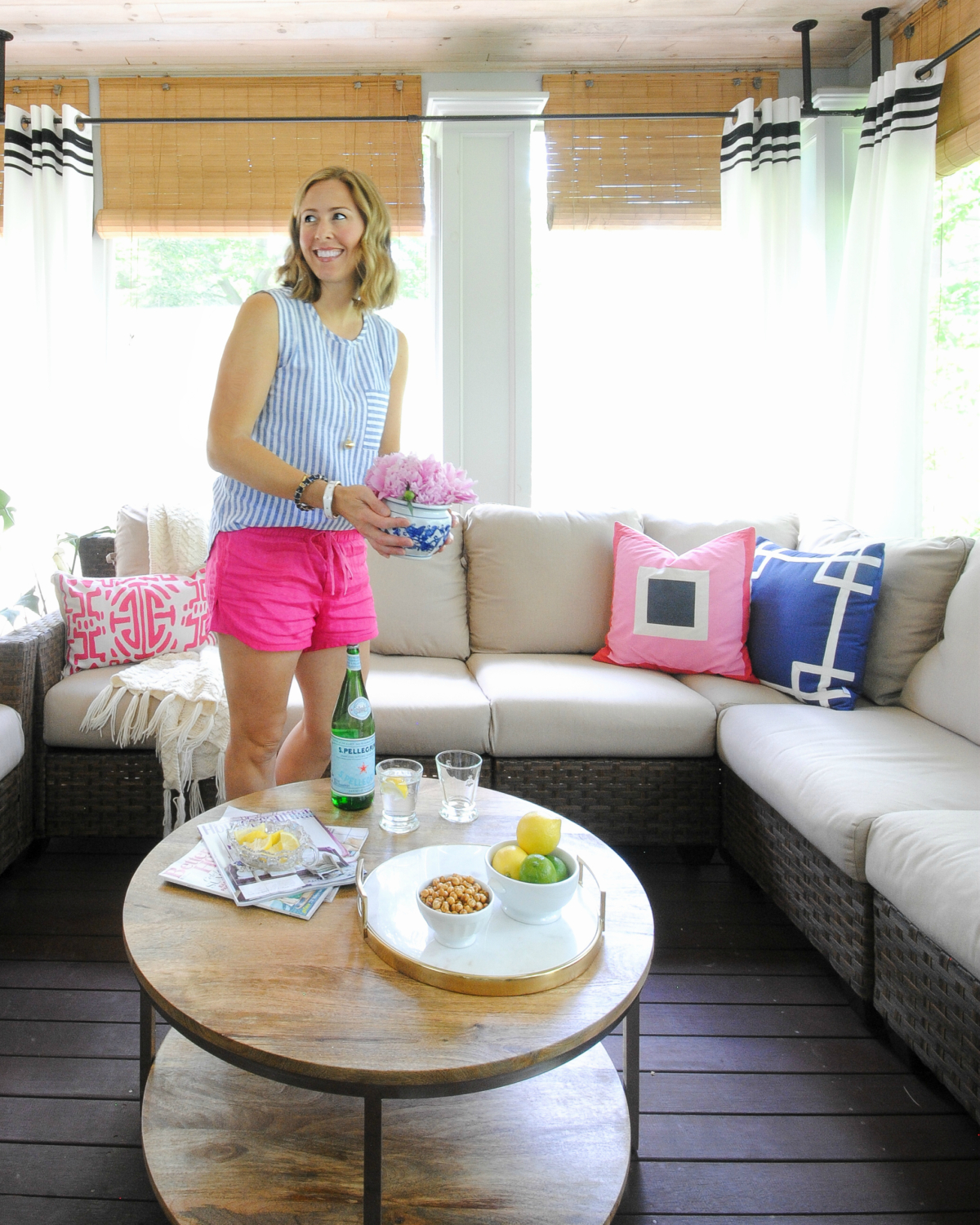 Comically, I managed to dress in pretty much the exact same colors as the porch, but that deep pink and blue of any shade are pretty much my favorite colors in home or wardrobe, so maybe it's not all that surprising after all.
Hello, beautiful.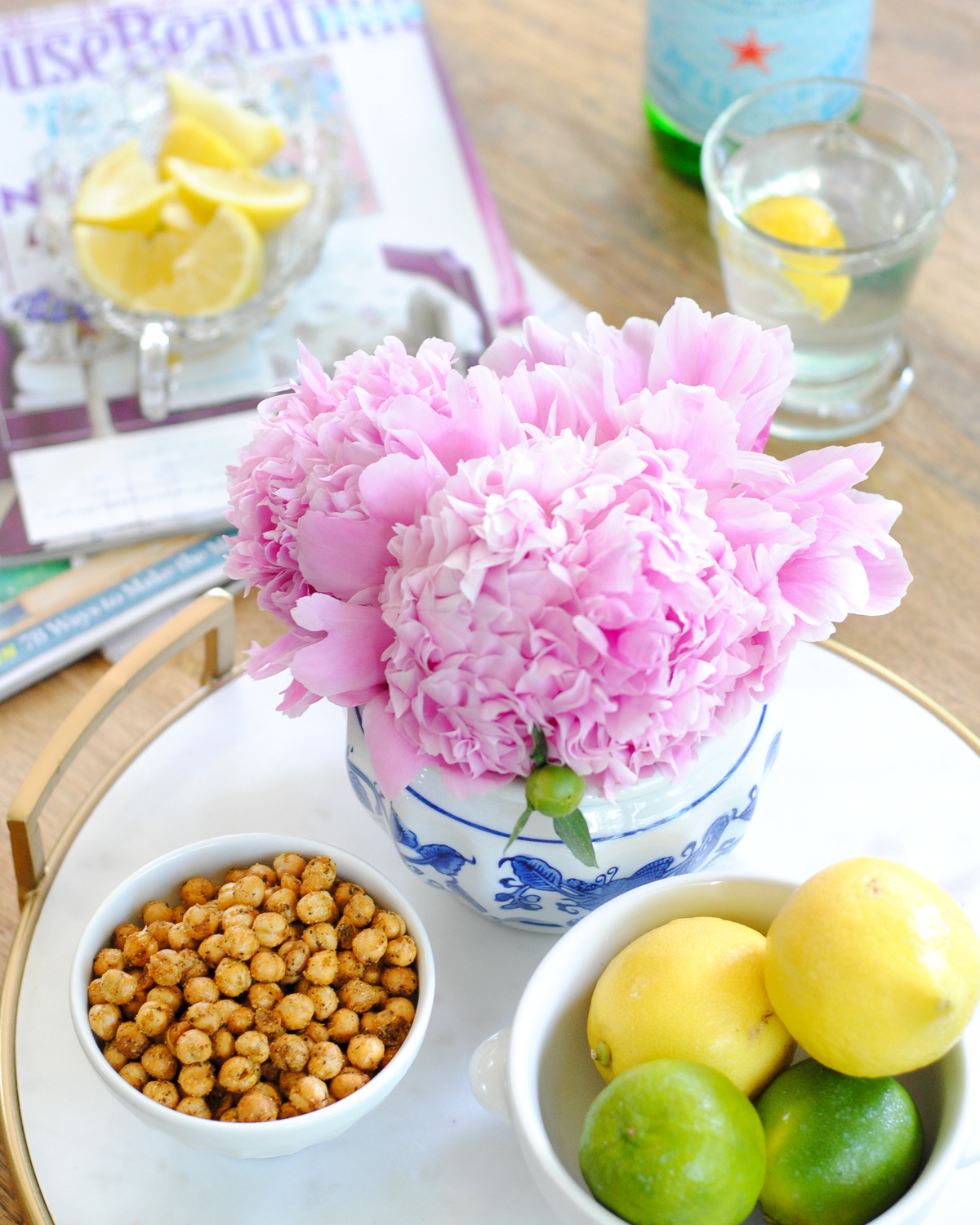 I am going to have to keep you waiting for the biggest part of our summer home tour this year – the finishing of our deck (plans and progress here, here, here, and here) and paver patio. There are a lot of moving parts right now and it pretty much looks like a dumpster collapsed in the backyard but we are nearing the finish line and I think it's going to be so good. Can't wait to share it all with you. In the meantime, make sure to check out the rest of the tours this week for loads of summer decorating inspiration. Next up is Life on Virginia Street (I love Sarah, she is such a sweetheart and has a great eye for design) and you can find links to the rest of the tours below. The links will be working starting at 6 a.m. EST on the day they're listed. Thanks so much for joining me today!
Monday
The White Buffalo Styling Co.
Cuckoo for Design
Bliss at Home
Eclectically Vintage
Dimples and Tangles
A Designer at Home
Claire Brody
Julie Blanner
Tuesday
Nesting with Grace
Place of My Taste
Our Storied Home
The Chronicles of Home
Life on Virginia Street
Simple Stylings
Restless Arrow
Wednesday
Inspired by Charm
Hunted Interior
Sarah M. Dorsey
Primitive & Proper
Swoon Worthy
HI Sugarplum
Brittany Makes
Burlap & Lace
Thursday
My Sweet Savannah
Jennifer Rizzo
Circa '34
StyleMutt Home
SG Style
Bright Green Door
A Creative Day Blog
Dwellings by Devore
Friday
Craftberry Bush
The House of Silver Lining
The Makerista
withHEART
The Wicker House
My Fabuless Life
Iron & Twine
House of Hipsters