Last June I shared plans for my older daughter's bedroom with you, and then never updated you on the progress. This has most definitely been a real-time makeover, and while I'm close to being finished, there are still a few things to wrap up before it's truly done. Sometimes I can bang a project out in a few weeks and sometimes it takes a year. This one has taken longer, but I do love how it's come together and especially love how happy Ada is with her big girl bedroom. And I'm okay that it has taken longer than some other projects – it's given us time to live with the space and make design decisions based on how she uses it.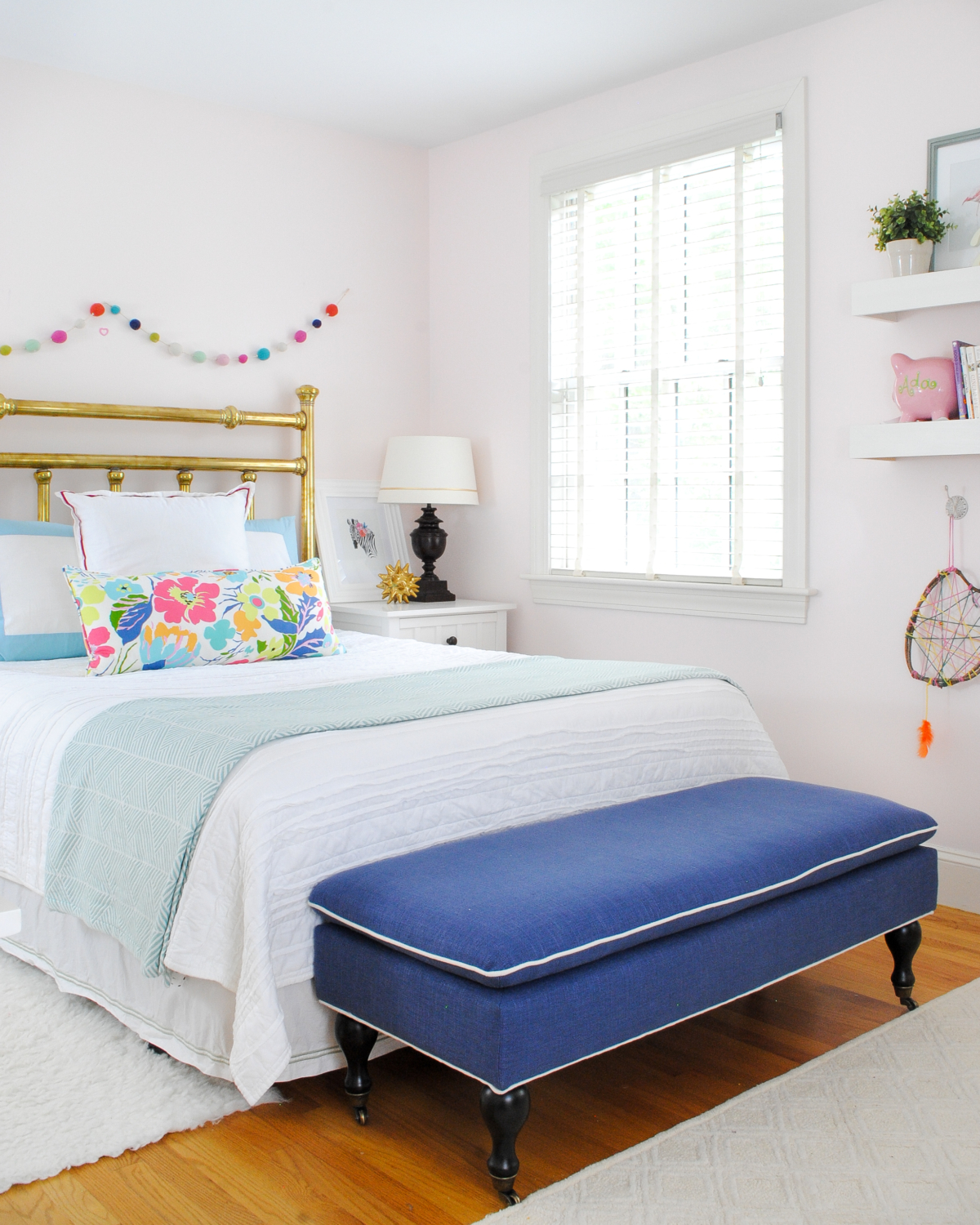 Ada had been sleeping on a hand-me-down mattress from my in-laws, which we were very grateful to have as a guest room mattress in our last house, but it was getting rather old and despite a thick foam mattress topper, it was probably the least comfortable mattress in our house. When I decided to move the queen bed to Ada's room and the twin beds to the guest room (see the latest update in the guest room here), I did feel a little guilty that she was getting an old saggy mattress to sleep on every night.
It may have taken me a year to remedy but now she has the most comfortable mattress in the house – the Triton Gel Memory Mattress from GelFoamBed (make sure you scroll to the bottom for a code to get $50 OFF a new mattress!).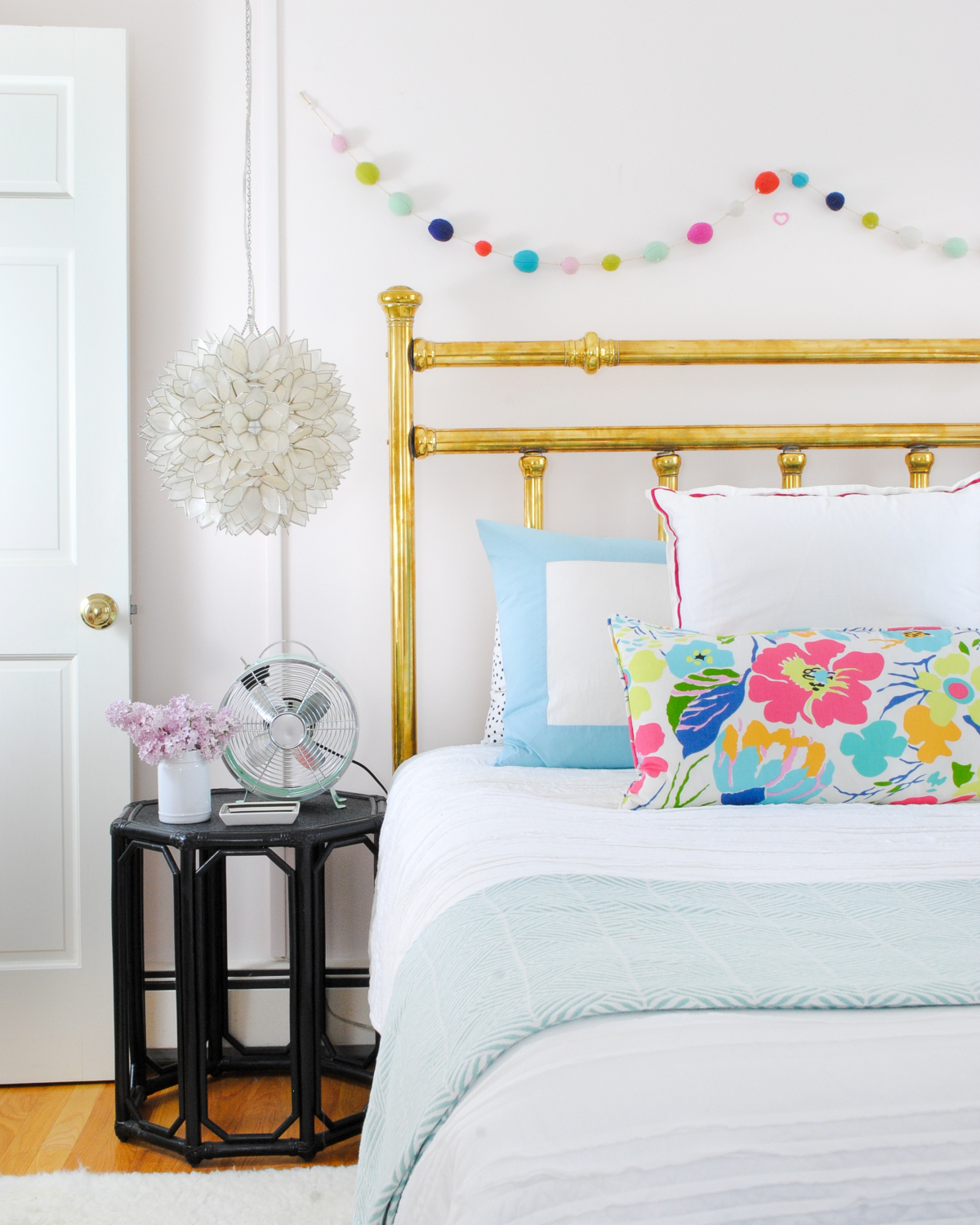 I wish there was a way for me to actually show you the comfort of this mattress through a computer screen. Ada thinks it's hilarious that every time I lie on her bed now I say, "Ohhhhmygosh I love your bed." I chose the medium firm for her and it kind of cradles you when you lie on it but also has excellent support. I think it might be my perfect mattress (too bad it's not mine!).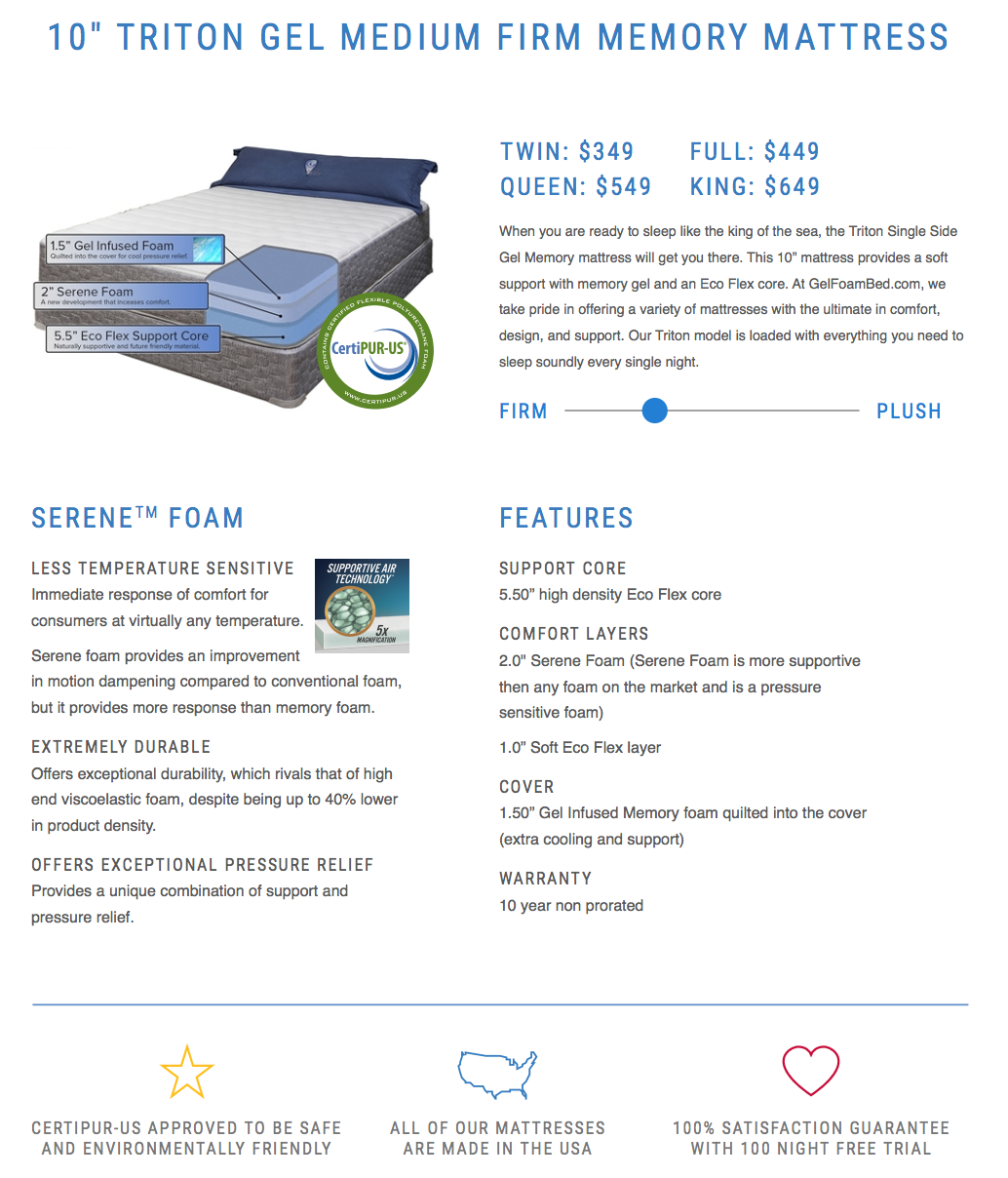 I know buying a mattress online might seem dicey but GelFoamBed offers a 100% satisfaction guarantee – you can sleep on the mattress for 100 nights and if you decide you don't like it, they'll pick it up and refund you. Each mattress also comes with a ten year warranty. For those of you concerned about fitting a mattress up the stairs, Ada's mattress was shipped in what looked to be an impossibly small package – about the size of a rolled up 5×8 rug.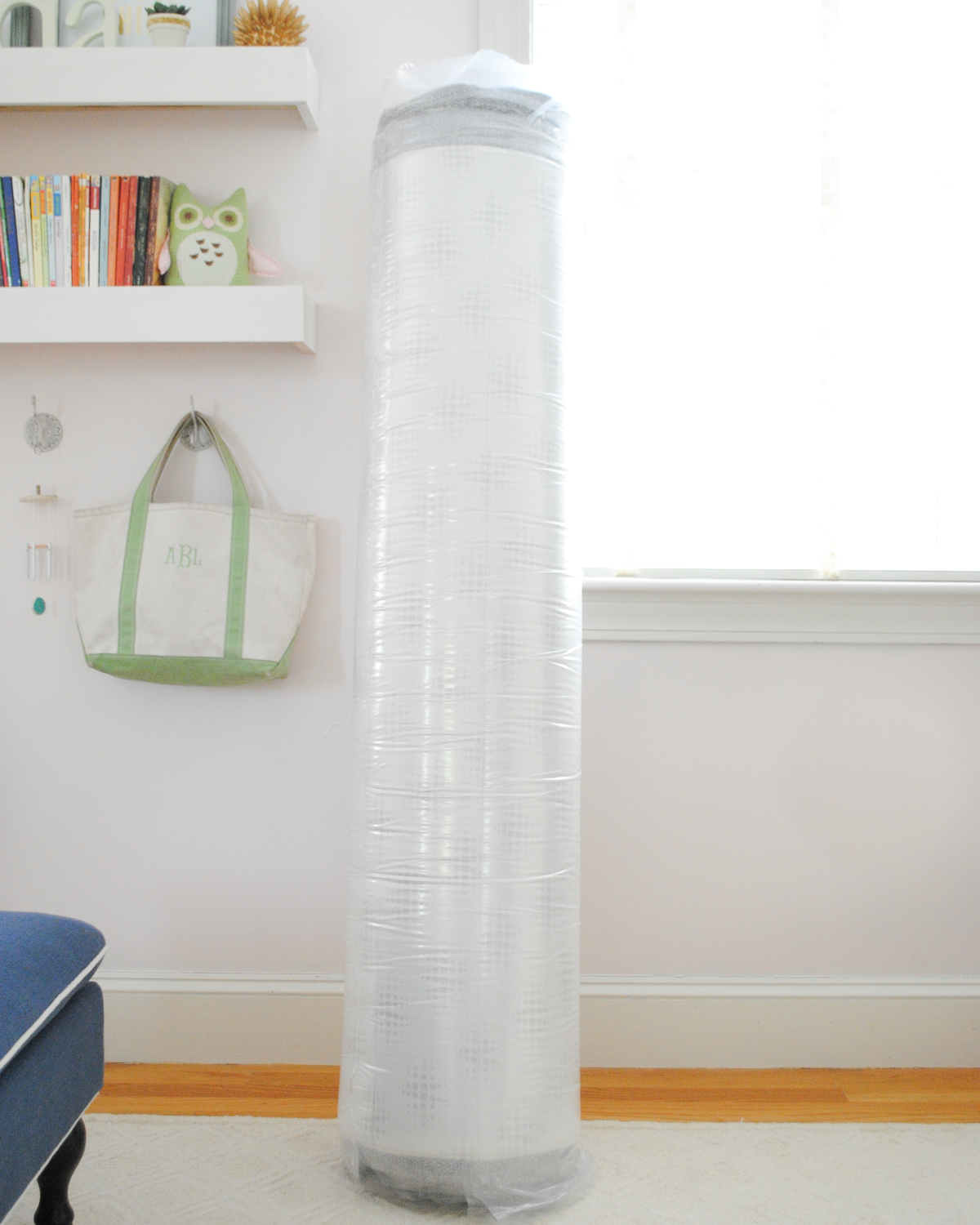 Once you release it from its plastic packaging, though, it almost instantly fills out to full size. It was the most tremendous thing to watch, I could hardly believe a full-sized mattress popped out of this tiny package.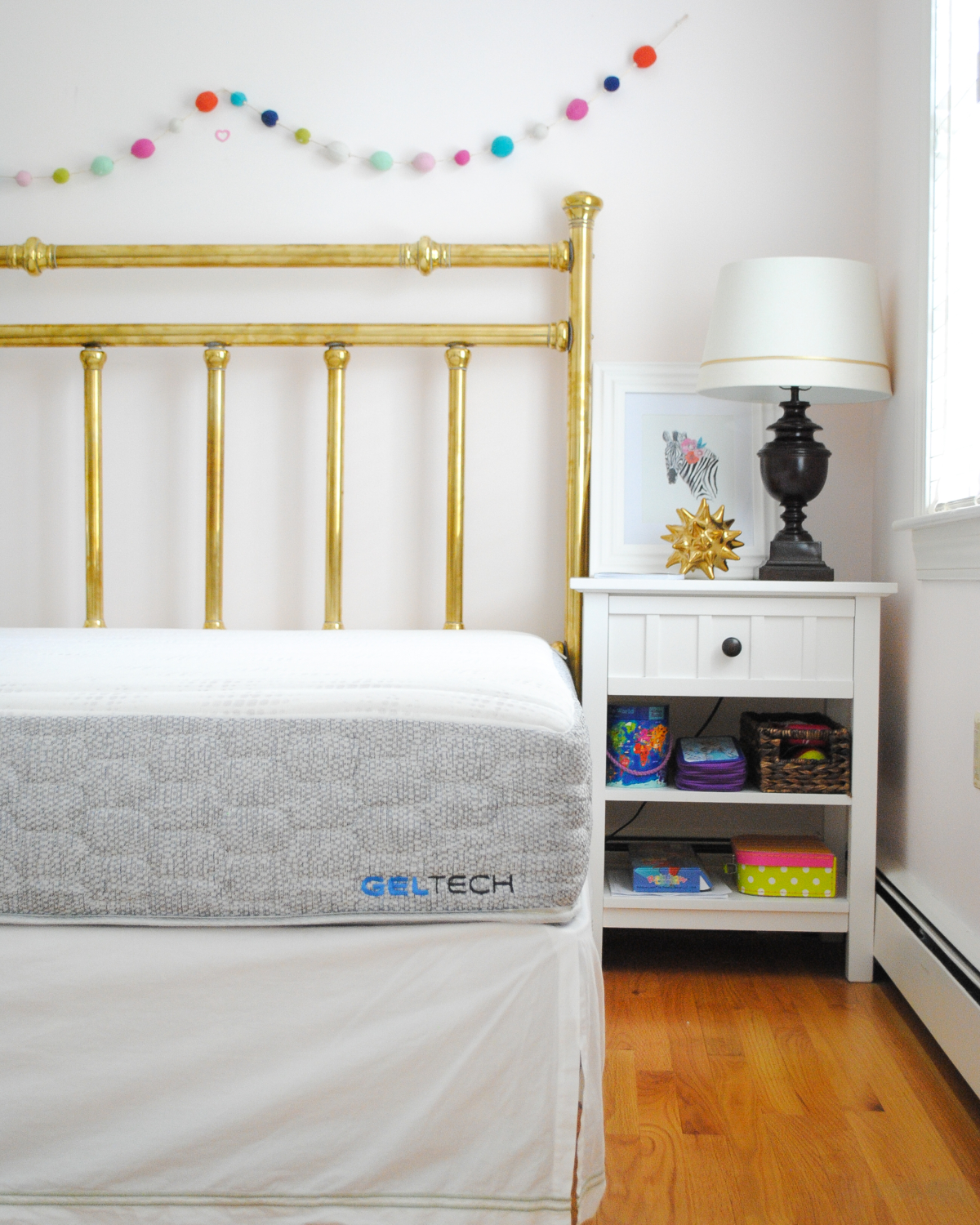 GelFoamBed mattresses are handmade with only materials manufactured in the US, and each mattress is made to order. Because they don't keep extra stock, their overhead prices are low which allows them to pass lower prices along to customers. In the infographic above, you can see the pricing for the mattress I used in Ada's room – a lot lower than most quality mattresses out there. In addition, GelFoamBed is offering $50 OFF any mattress if you enter the code chroniclesofhome at checkout. If you're in the market for a new mattress, you really have nothing to lose – pretty amazing prices to begin with, $50 off, and 100 nights to make sure you love it.
I really can't recommend this mattress highly enough. I seriously go into Ada's room multiple times a day, lie on her mattress, sigh, and daydream about getting a new, comfy mattress for myself. Scott unfortunately loves our rock-hard mattress but I think I could get him on board with the firm version of this gel foam bed when the time comes for us to replace our mattress. A girl can dream…
I promise not to wait another year before sharing the fully finished room with you. I ordered curtains for the windows last week, am deciding between two rugs, and have some alterations to make to the closet doors. And then Ada's room will be done! I hope to have finished photos and a full source list to share in July. But first I'm going to go take a little rest on her heavenly mattress while she's at school.