I mentioned last week that updating my six year old's room had sort of unexpectedly jumped up on my house updates priority list. It all started with the floating shelves I built for EHow and grew quickly from there.
Does this snowball effect happen to you? You start one simple project and all of a sudden you're waist-deep in a new project.
When I settled on Ada's room as the spot for the floating shelves, I started thinking about the wall color. The walls were green when we bought the house, and had stayed that way for the past year and a half.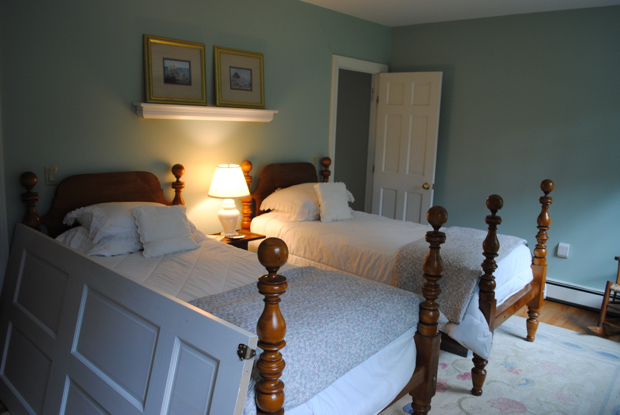 I had promised Ada she could have pink walls in her bedroom in this house and after patching cracks but before hanging the floating shelves seemed the perfect time to paint them. And so the snowball started rolling.
Most elements of the room I have already, just need to do some hanging/refinishing/tweaking/making. Here's the plan.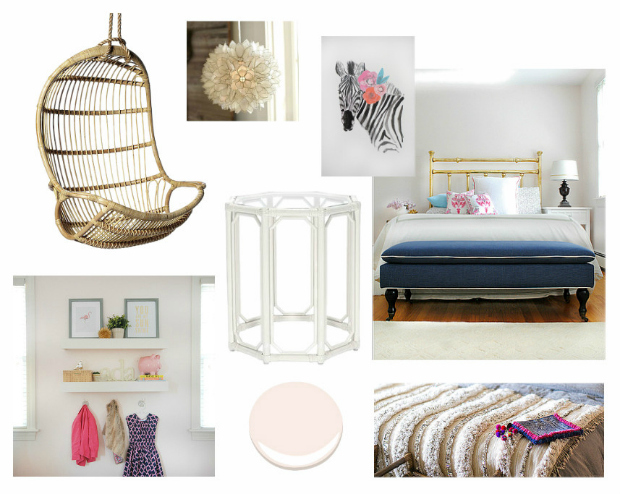 I already have the capiz pendant, which will hang over the nightstand to the left of the bed. It was in the playroom at our old house. The rattan side table is already there but is a taupey color – I'm still waffling between painting it white or black. I'm going to make a Moroccan wedding-style blanket for the bottom of the bed, similar to the one pictured. The zebra print ties all of the colors in the room together – I'm still deciding whether to hang it over the bed with a couple other prints or find another home for it.
The hanging chair is the one piece I don't have. I really, really love this one but it's more than I want to spend right now so that's the one piece that I'll probably wait a bit on.
So here are my questions for you. What color would you paint the rattan side table – black or white? And would you hang prints above the brass headboard or just leave it blank there?