Can we get sort of serious here for a minute? My little girls are still pretty little – four and six – but when Ada turned six this year it hit me that six is one third of eighteen…and eighteen is when kids off to college…meaning she was a third of the way through the time she'd live in my house full time. Which just blew my mind. But what, you might wonder, does this have to do with the prettiest navy blue bench? I will tell you.
As I've been working my way through some of the updates and personalizations to this house since we bought it a year and a half ago, I'd been thinking the bedrooms would be some of the last rooms to receive my attention. A lot of the bedrooms have cracks in the walls, need closet door repairs, new paint, things hung on the walls, etc. They're the easiest rooms to delay updating because most people who come to your house don't see them. But when I had the whole Ada-is-a-third-of-the-way-through-living-here-epiphany I decided I wanted to prioritize her room. I want her to have a pretty, cheery, personalized space to call her own.
I doesn't hurt that she's the kind of kid who totally loves and appreciates this sort of thing. She's been so excited to approve and be part of some of the decisions and is so genuinely thrilled to be getting the attention paid to her space, it's pretty much all the motivation I need. So far I've patched the cracks in the walls (video tutorial!), painted the walls a very pale blush pink shade, and built floating shelves.
There are lots more plans in the works – I'll share all the details soon – but today I wanted to show you a few little accents I've added this past week. Including that navy blue bench I mentioned!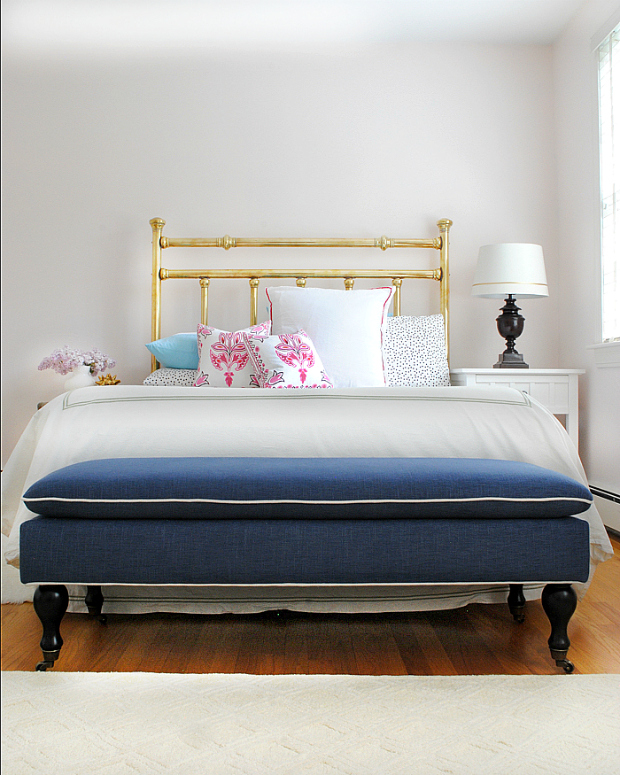 I only recently moved the vintage brass headboard into Ada's room and wanted something for the foot of her bed. I don't often meet a bench I don't love, and this pillowtop navy blue bench from Lulu & Georgia was no exception.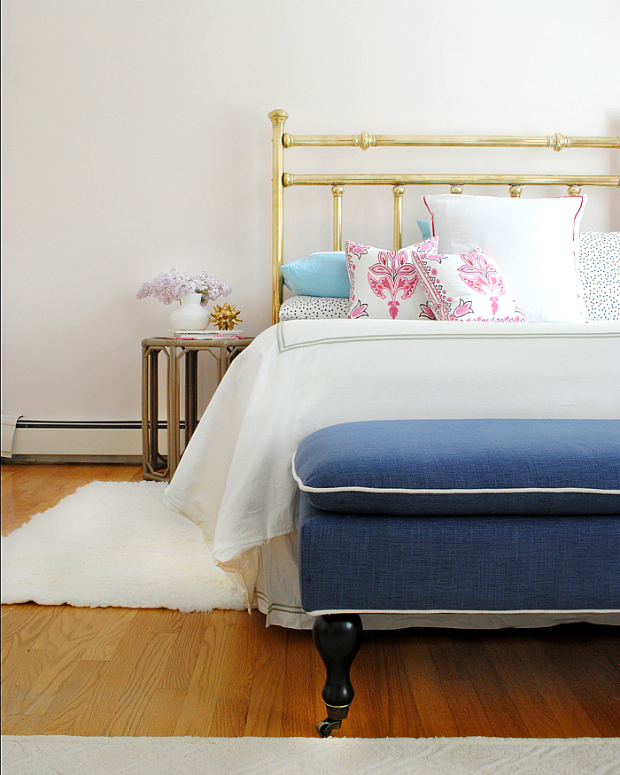 I love the punctuation of navy blue against the white duvet, and pink, navy, and gold is one of my favorite color combinations (as further evidenced by my recent screened porch makeover!). It's classic and lovely, and feels young enough for a little girl but isn't a palette she'll age out of.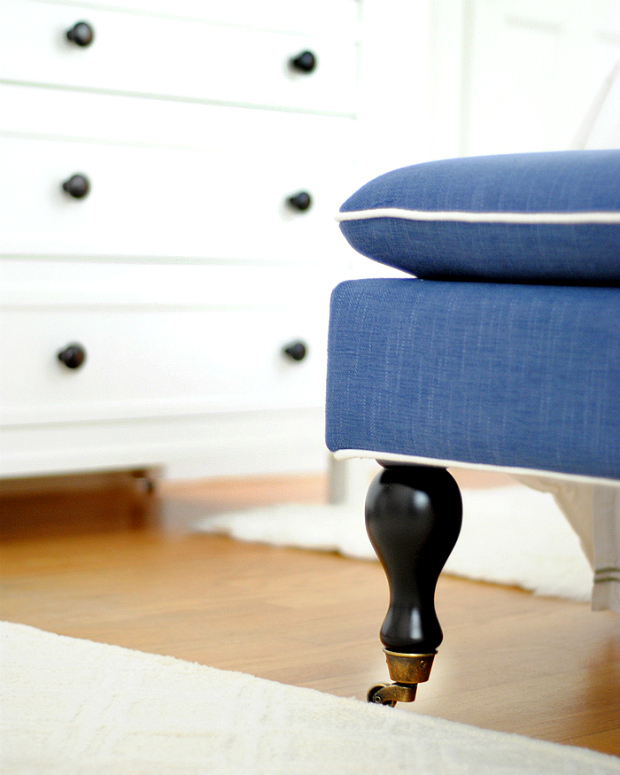 And the little brass feet with wheels. Can we talk about these? They're my favorite.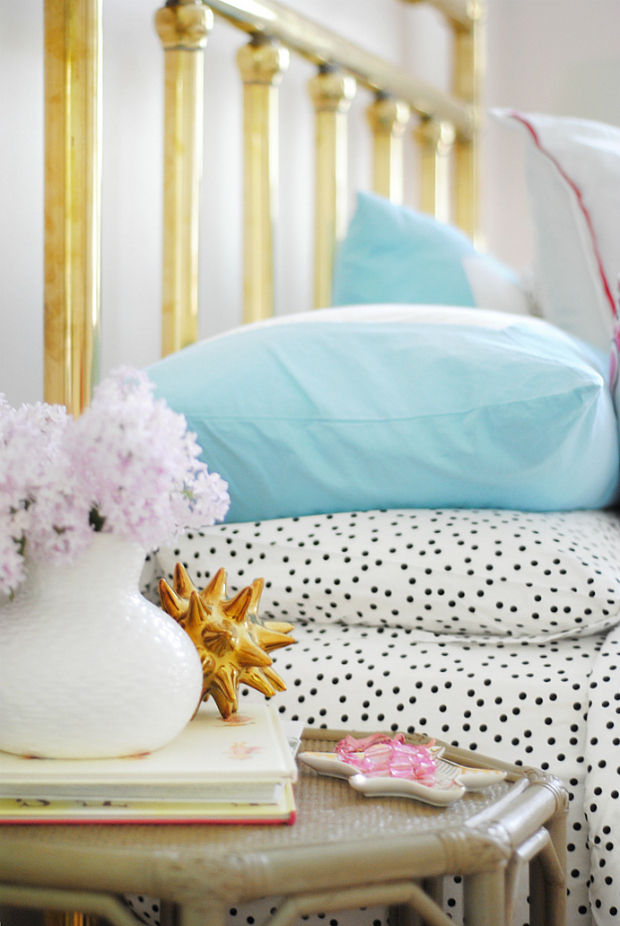 After an unfortunate middle-of-the-night stomach bug episode, I realized I only had one set of sheets for this bed. I ordered these happy black spotted sheets shortly thereafter and I love the whimsical pattern and the way the bit of black acts as a counterpoint to the other colors in the room. They're silky soft too.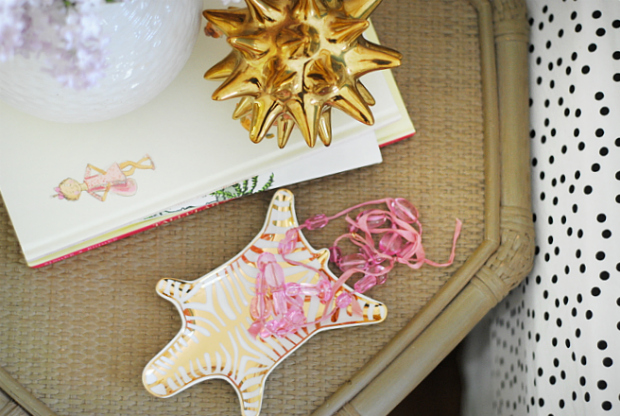 I don't want to overdo the gold in here with the brass headboard being such a strong piece, but I did add just a couple little gold accents to the bedside table. The Dwell Studio gold urchin is such a fanciful piece and what girl, little or big, doesn't need a jewelry dish next to her bed? :) The Jonathan Adler zebra dish is just perfect for holding little trinkets.
I'm so happy with how this room is coming along, and most importantly so is my sweet girl. I'll share some of my still-to-come plans for this room next week!
Lulu & Georgia provided me with the bench and accessories mentioned but all ideas and opinions expressed are sincere and my own. As always, I only share products and companies I truly love.