Nailhead trim is one of my faaaaavorite favorite furniture details. Its most basic function is to cover seams in upholstery but it's come to be used as a decorative accent on many pieces as well. You can add nailhead trim to lots of different kinds of furniture – benches, chairs, sofas, headboards, things you've made or bought, budget pieces and high-end alike. It adds such gorgeous, handcrafted detail to just about anything and I find I'm drawn to furniture with nailheads again and again. I recently added them to the DIY upholstered headboards I made for my guest room and they were the perfect finishing touch.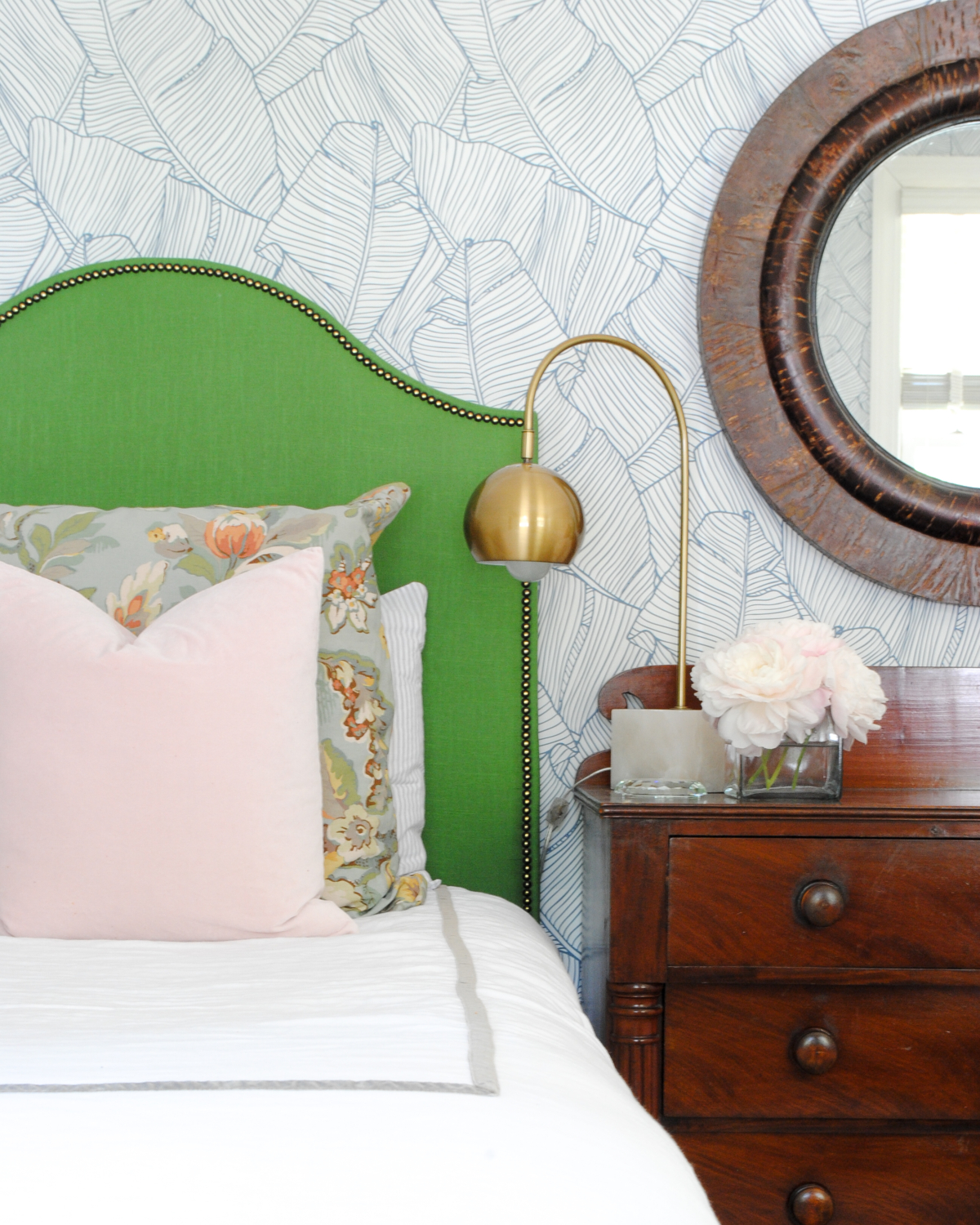 I've added nailhead trim to a lot of different furniture by now and have worked out some of the kinks from when I first started, so luckily you can learn from my trial and error! High-quality nailheads are a must. I've bought ones from hardware and fabric stores and they are a nightmare. They bend so much more easily when you're hammering them in and you wind up wasting so much time and money. Spending a little bit more on really good ones is worth every single penny.
I think nailhead trim looks best when the nailheads are applied in a tight line. You see them sometimes with space in between (and I have done it this way) but the most professional look is when they're right next to each other. The easiest way I've found to do this is to draw a line to follow and them hammer the nailheads in along the line. You can see this in more detail in the video below.
Other than high-quality nailheads, a tack puller will be your best friend. Even with sturdy nailheads, they will sometimes go sideways and you'll want to remove and start with a fresh one. Having a tack puller handy makes the removal a cinch and for less than $5 it's a really affordable tool to add to your collection. If you do any upholstery, it's great for removing old staples too!
Here's a quick list of the things you'll need to add nailhead trim to furniture.
And here's the video showing you how it's done!