What is it about a new year that makes you feel so ready to get stuff done? Well at least I feel that way! Last year, for the first time, I started the year by coming up with a list of major projects I wanted to focus on in 2016 and it really did help me keep focus through the year. That does not, however, mean I finished everything I set out to do. So before I tell you what I'll be trying to get done in 2017, how about a little report card on my progress on 2016's list?
The Mudroom – A-
I got a lot done on the mudroom in 2016 but still need to finish painting the doors in the room. I'll share the finished space with you in a few weeks, so it almost got done last year. And I do love the changes I made. It looks nicer and functions way better than before.
The Kitchen – B-
I had hoped to finish the breakfast nook to really call the kitchen DONE, but I never did get around to it. A new table is being delivered tomorrow though so things are happening this year already (see below for more details). And I do LOVE everything else that I did in the kitchen (see it all HERE).
The Guest Room – A+
This is one project on which I did absolutely everything I'd hoped to last year. And I love the finished room. You can see the whole space with before and after pictures HERE!
The Basement – C-
I actually have made progress in the BIG basement makeover, but I didn't come even close to finishing. See below for more details on what's coming there.
All in all not an absolutely terrible report card. But there is still much to be done, some carryovers and some new projects, and the year is young! This is what you can expect to see around here in 2017.
The Kitchen
Carryover project number one, and happily things are already in motion here. A gloriously chunky new dining table is being delivered tomorrow and I'll be getting right down to business finishing the rest of the space, including a built-in bench between the two cabinets, a few new chairs, and some new wall art. And once this is complete the entire kitchen renovation/makeover will really and truly, 100%, be finished. Yipppppee!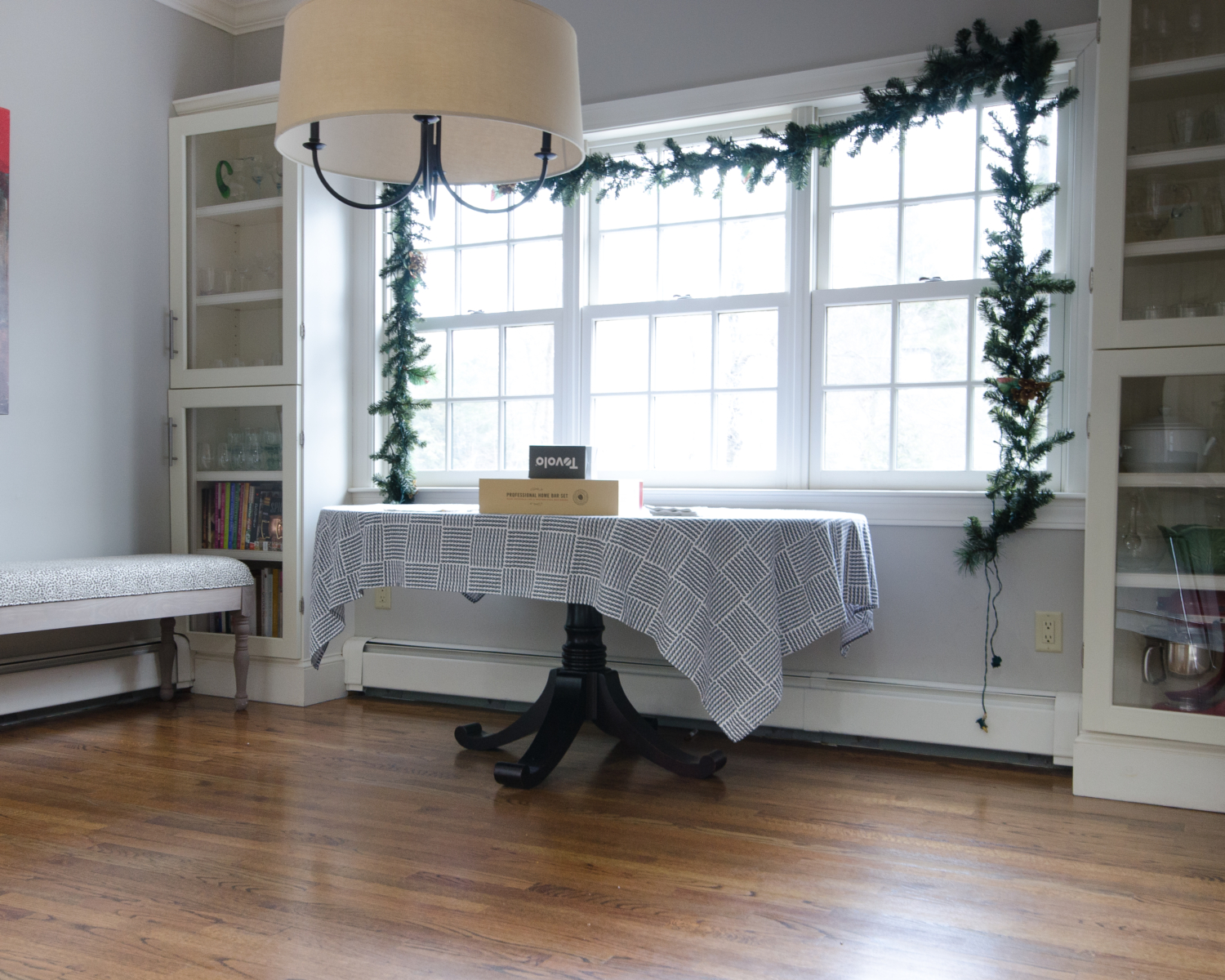 The Laundry Room
Uhhhhhhhmmmmmm. I don't even know what to say about this. I'm sorry for assaulting your eyes. This monstrosity lives right next door to my new pretty mudroom and something must be done. Besides the fact that I have some major tidying ahead of me, I also will be finishing the wallpaper and getting some organization systems in place on these shelves. You can see what I've done so far on the other side of the laundry room HERE. This project cannot start soon enough.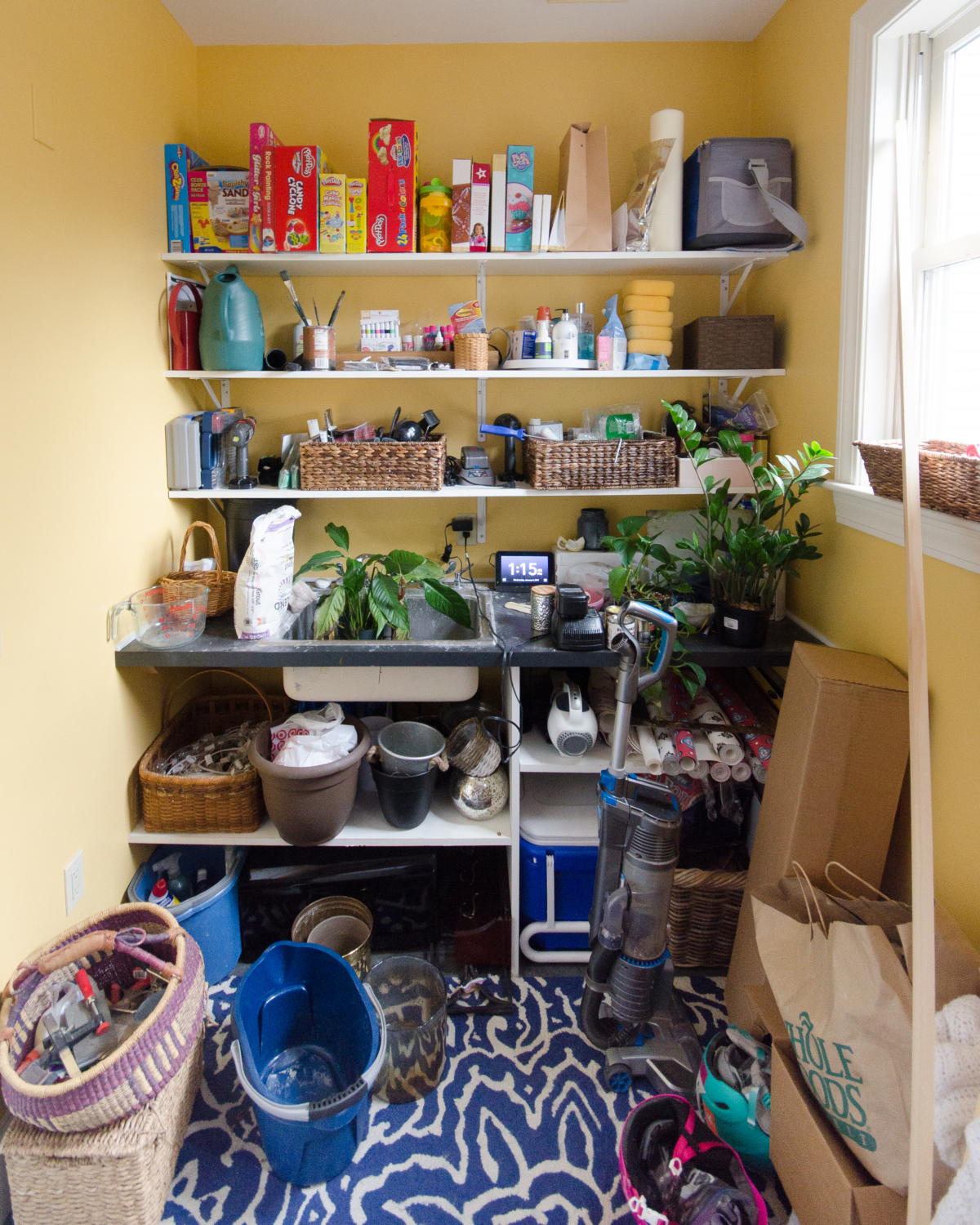 The Dining Room
I've done a lot in this room already and most of the updates will remain, though I think I'm going to move the curtains to the living room. But I need to think about some wall art, complete the wainscoting, and just do some general finishing. I have a bad habit of doing rooms 75% of the way and I'm determined to take this one to 100% this year!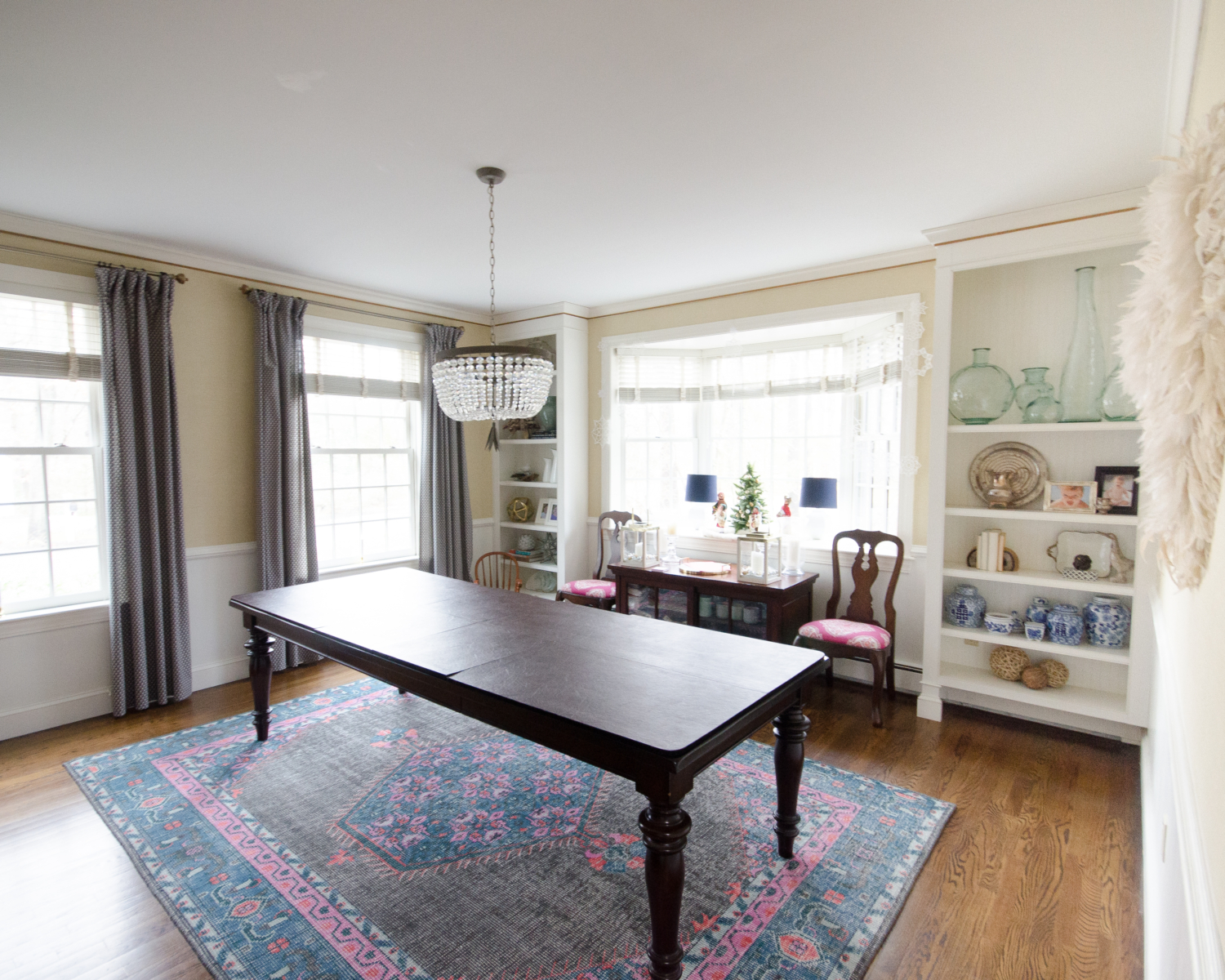 The Guest Bath
The beautiful guest bedroom I completely overhauled this past year deserves a pretty adjoining bathroom, don't you think? This will not be a gut job but my plan is to show you how you can take a builder grade bathroom and make it beautiful without ripping the whole thing out.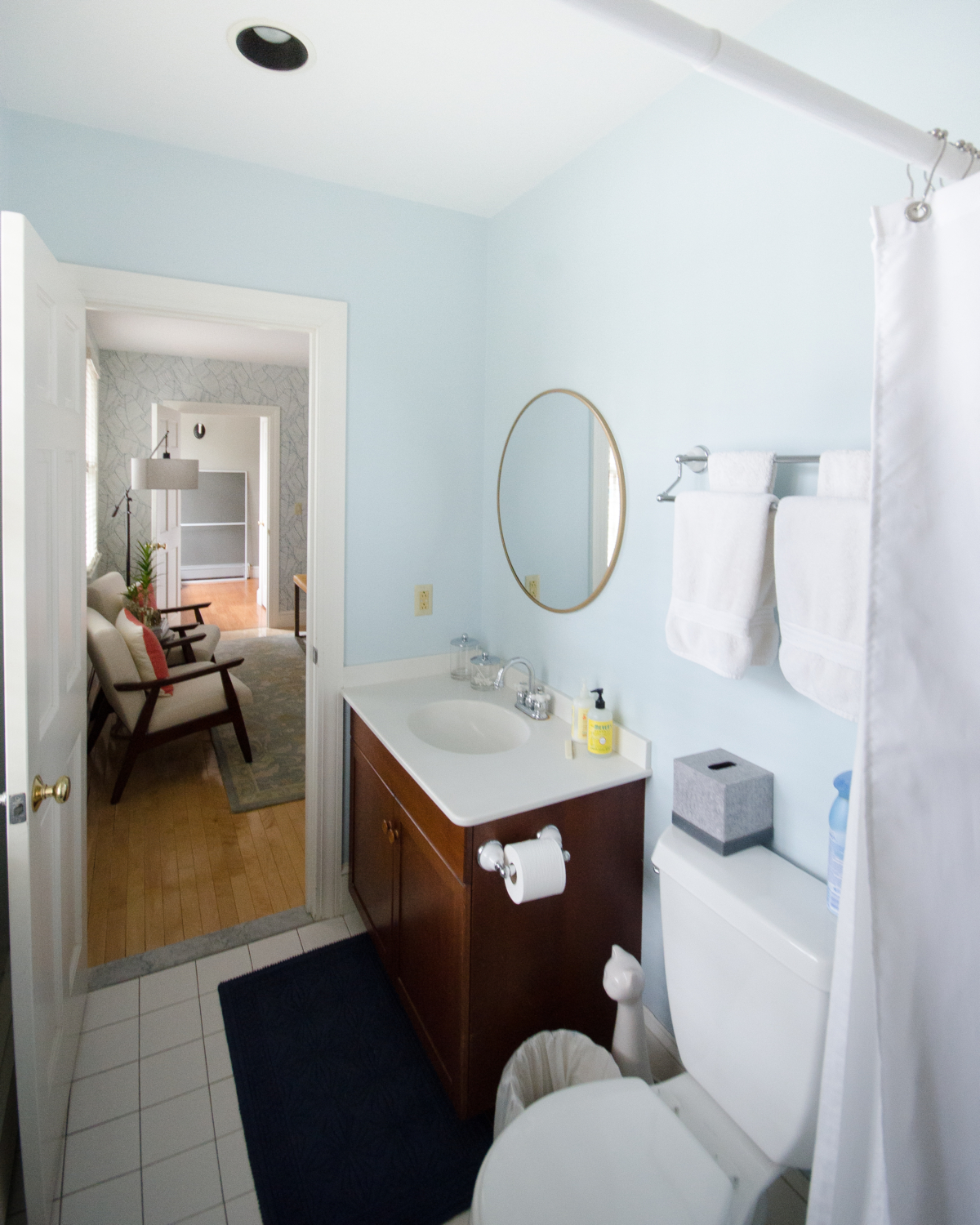 The Basement
And the biggest project of all. Just getting this space cleared out was a feat this past year. I also ripped out the rug, cleaned the floor, put down a moisture barrier, and chose and picked up the new flooring. Ahead this year will be the installation of the new floor, a new built-in unit for storage, new windows, and (I think) a wet bar. And then, of course, the finishing and furnishing of it. I am super excited to get this room done so we can start using it!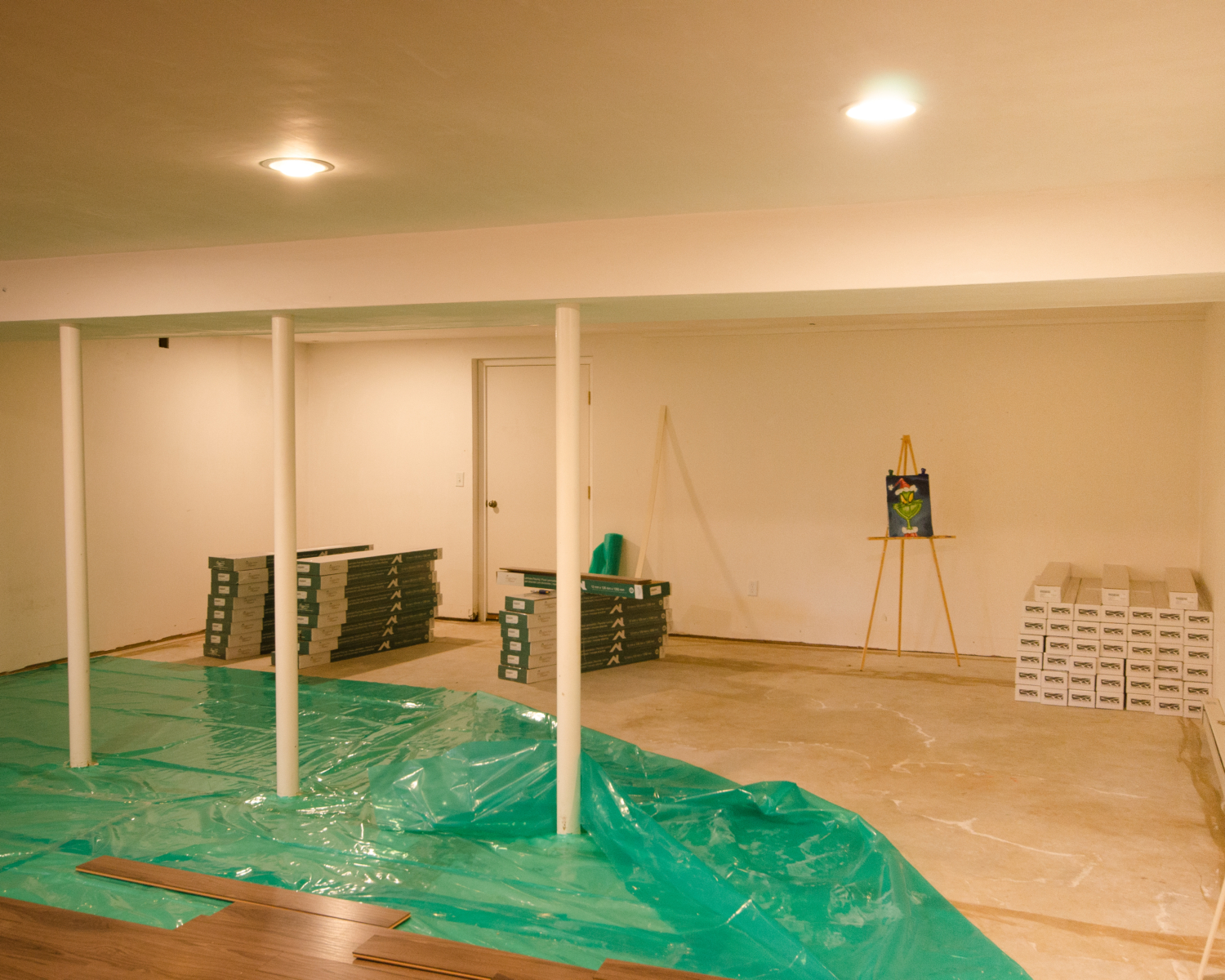 And those are the biggies ahead this year. There will be smaller projects too, and I will share my steps for completing all of these projects as I work on them. Now let's just hope I can keep up the same level of energy and enthusiasm that I'm feeling now!!