In an age where the kitchen in a house is the entertaining hub and the place anyone visiting seems to spend the most time, I sometimes find it hard not to compare my kitchen to friends' gorgeous kitchens (online and in real life) and feel a little "womp, womp…" about mine. I even get a little jealous over things like my friend's Marble dining table. It's just silly things like that though. If I were starting from scratch or my kitchen needed a gut job, there are definitely things I would do differently. I would take down a bit of wall and create an "L" shape so I could have upper and lower cabinets and more perimeter counter space. I would move the island perpendicular to where it is now. I would situate the sink so it looked out over the back yard.
I think we have all heard the phrase, "Comparison is the thief of joy," and, man, was I feeling that after awhile looking at other kitchens and thinking about all the things that were "wrong" with mine. Things I couldn't change unless I was going to rip out everything and spend $100,000+ to do it all over. That was never part of the plan when we bought this house, though, so I had to come up with some ideas for facelifting that would have major impact on a much smaller budget. I also had to decide to look at the positive and embrace the good instead of allowing myself to focus on what I couldn't have. And you know what? Two years and a lot of hard work later, I really do love my imperfect kitchen. Here's how I came to love what I have and how I chose the changes I would make.
USE YOUR KITCHEN FOR AWHILE
If you are not going to gut your kitchen, use it for awhile before making any major changes. I didn't anticipate removing the wall ovens and replacing the island cooktop with a full range when we bought this house, but after cooking in the kitchen for awhile, it drove me nuts having the ovens on the far side of the kitchen from my main work area. The basic work triangle was great – cooktop, sink, refrigerator – but the ovens were in no man's land. A relatively easy solution was cutting out the cabinets under the cooktop and sliding a full range into that space, therefore adding an oven to the work triangle area. I did my research too, and spent months looking at ranges before I found one with the perfect mix of efficiency, precision, and space.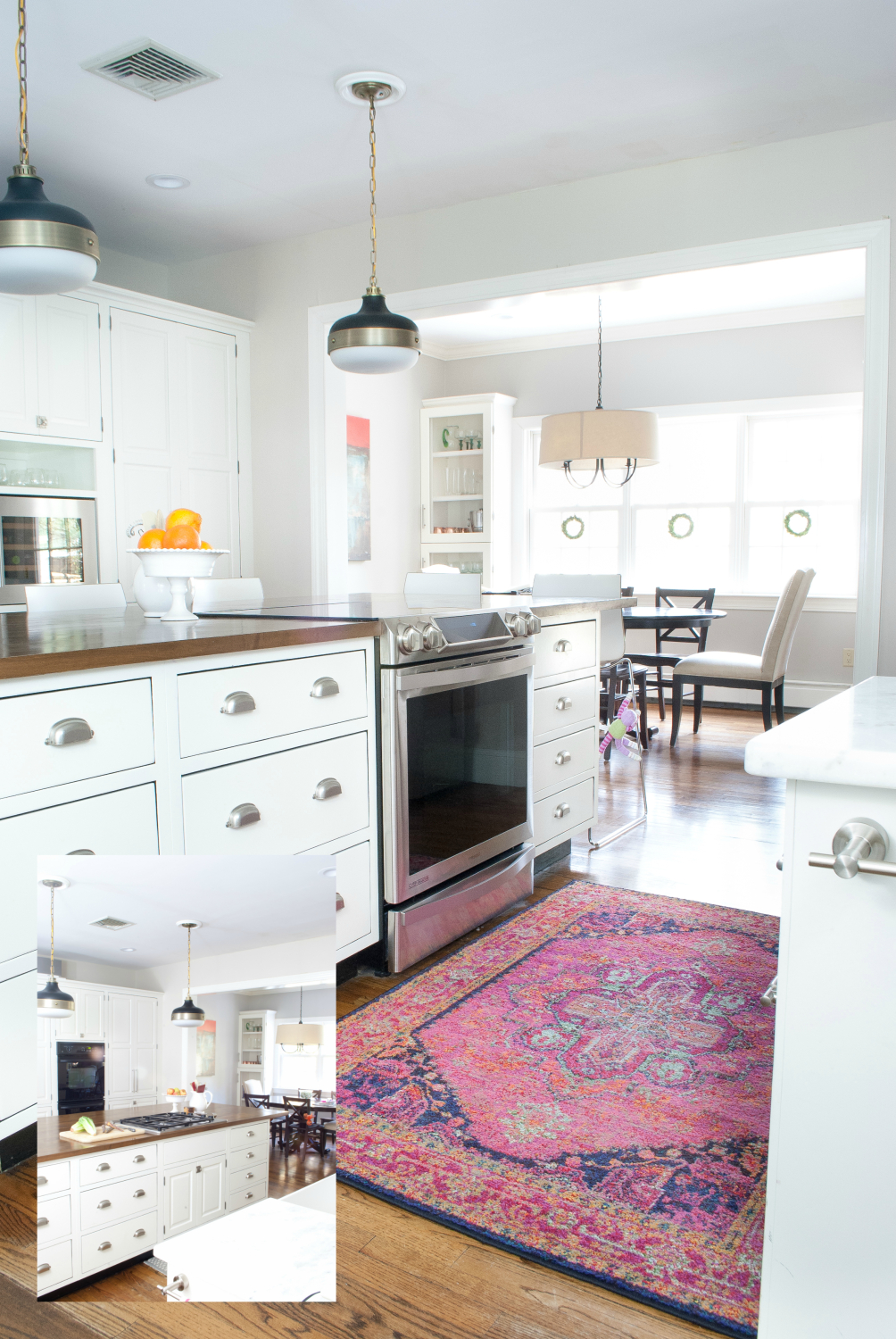 kitchen rug
CHOOSE BIG CHANGES CAREFULLY
When we first saw the kitchen in this house, the one structural change I wanted to make was to open up the wall between the kitchen and family room.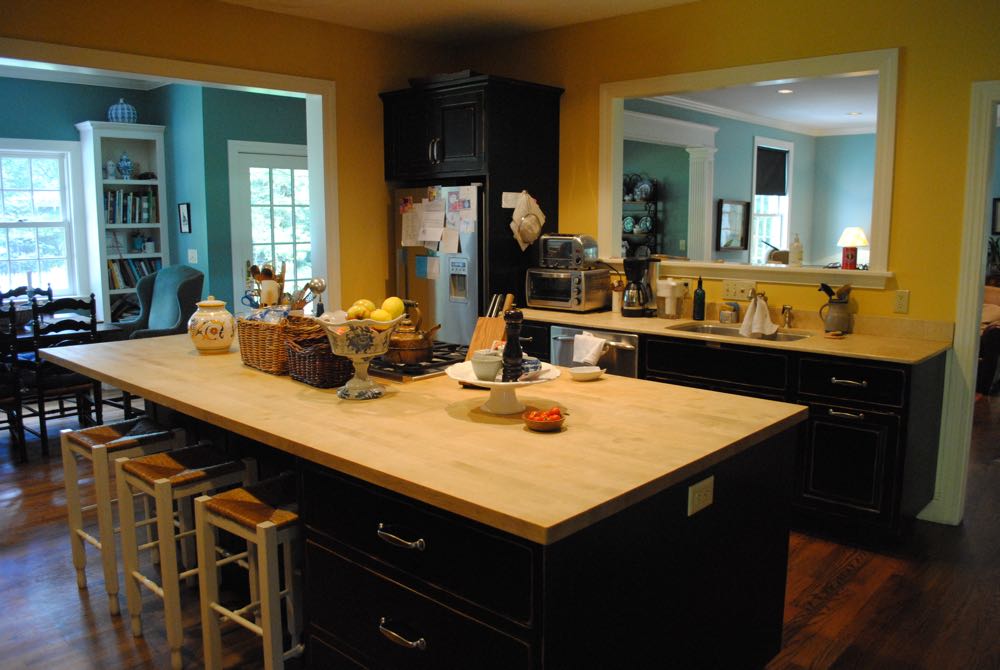 Turns out this was a great reminder of the best laid plans going awry. Our contractor poked a hole in the wall to see inside and there were pipes and wires all over where we wanted to open. We could either leave things as they were or pay a lot extra to have electricians and plumbers reroute everything. It wound up being a more costly piece of the puzzle than we'd thought but it made a tremendous difference in making the kitchen and family rooms feel open to each other and I have never regretted spending the money on doing things this way.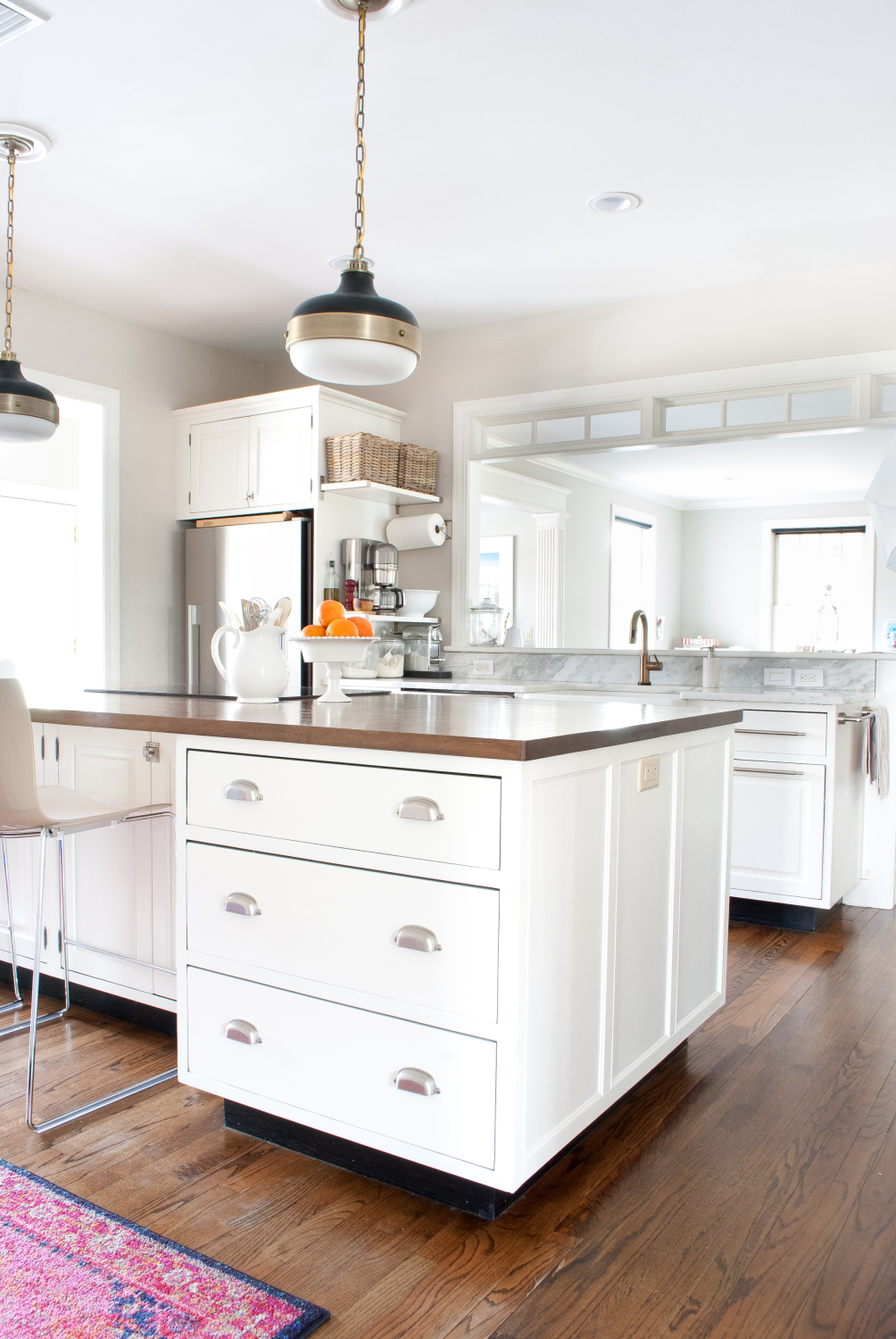 We had to choose whether to spend the money on this one big piece of the kitchen updates or use it somewhere else, like on a new island counter. Since I could refinish the butcher block island but there was no way to open up the wall without the extra work, we decided that was the better use of that money. The open wall has had much more impact than a new counter would have had.
THINK ABOUT COSMETIC CHANGES
Easy and affordable cosmetic changes you can make in the kitchen usually include paint, cabinet hardware, and lighting. I decided to do all three of these – I painted the walls, painted the cabinets, added new hardware (a combination of large bar pulls, cup pulls, and matchbox clasps) to doors and drawers, converted two recessed lights over the island to pendants, and replaced the black can lights with streamlined white LEDs. All very affordable changes with a huge visual effect.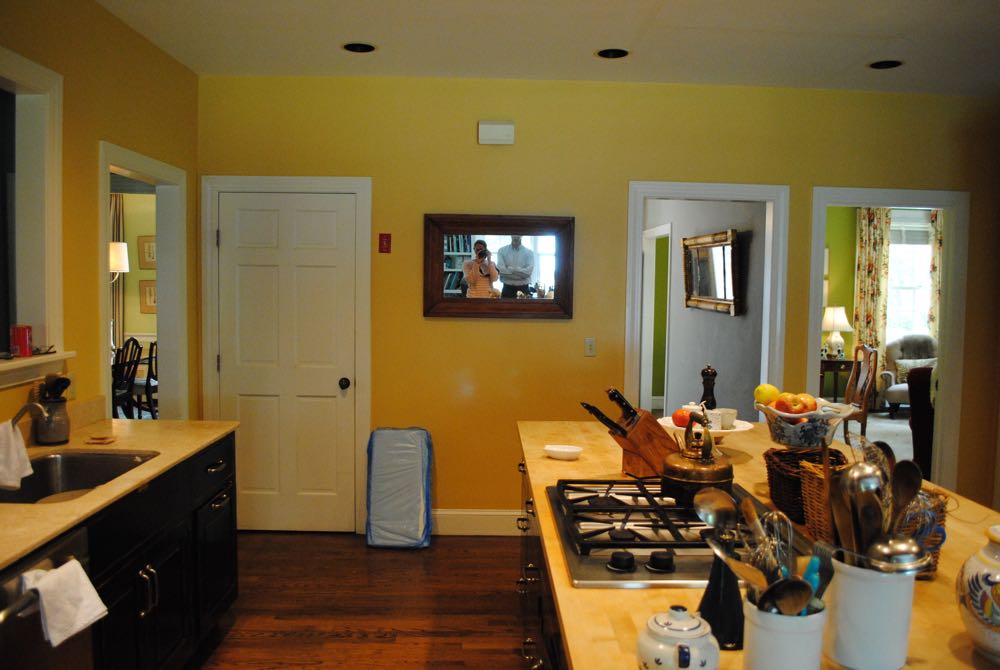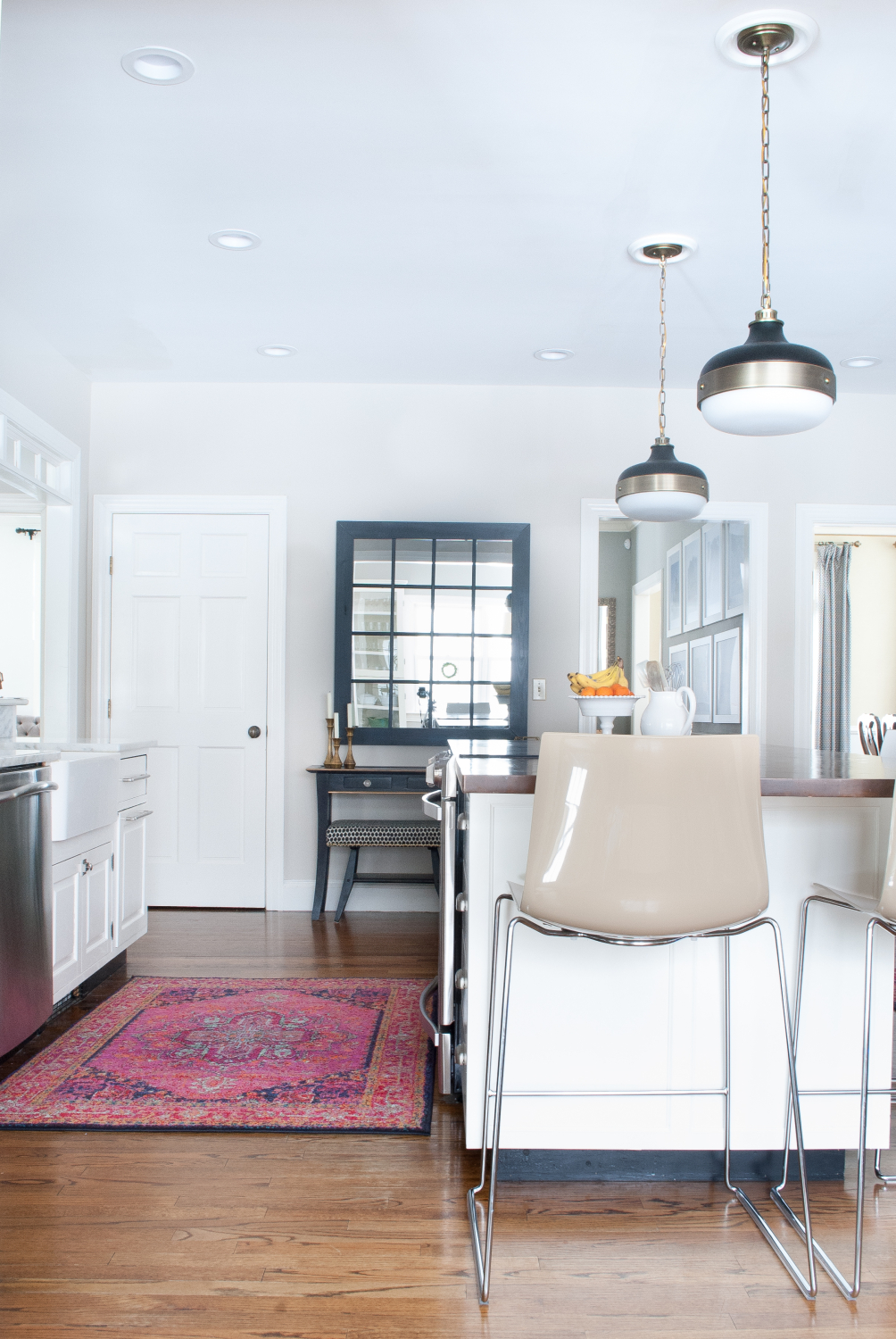 kitchen rug
A more costly upgrade but still just cosmetic (meaning nothing major moved, just got a new look) was replacing the sink, surrounding counter, and faucet. These items cost more than paint, hardware, and lighting, but we still saved money by keeping plumbing exactly where it was, and this was a great way to get the look I wanted of a white farmhouse sink and white counter without replacing the majority of the kitchen.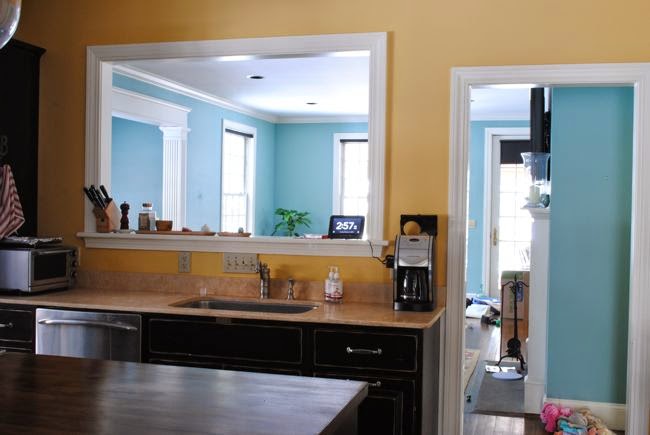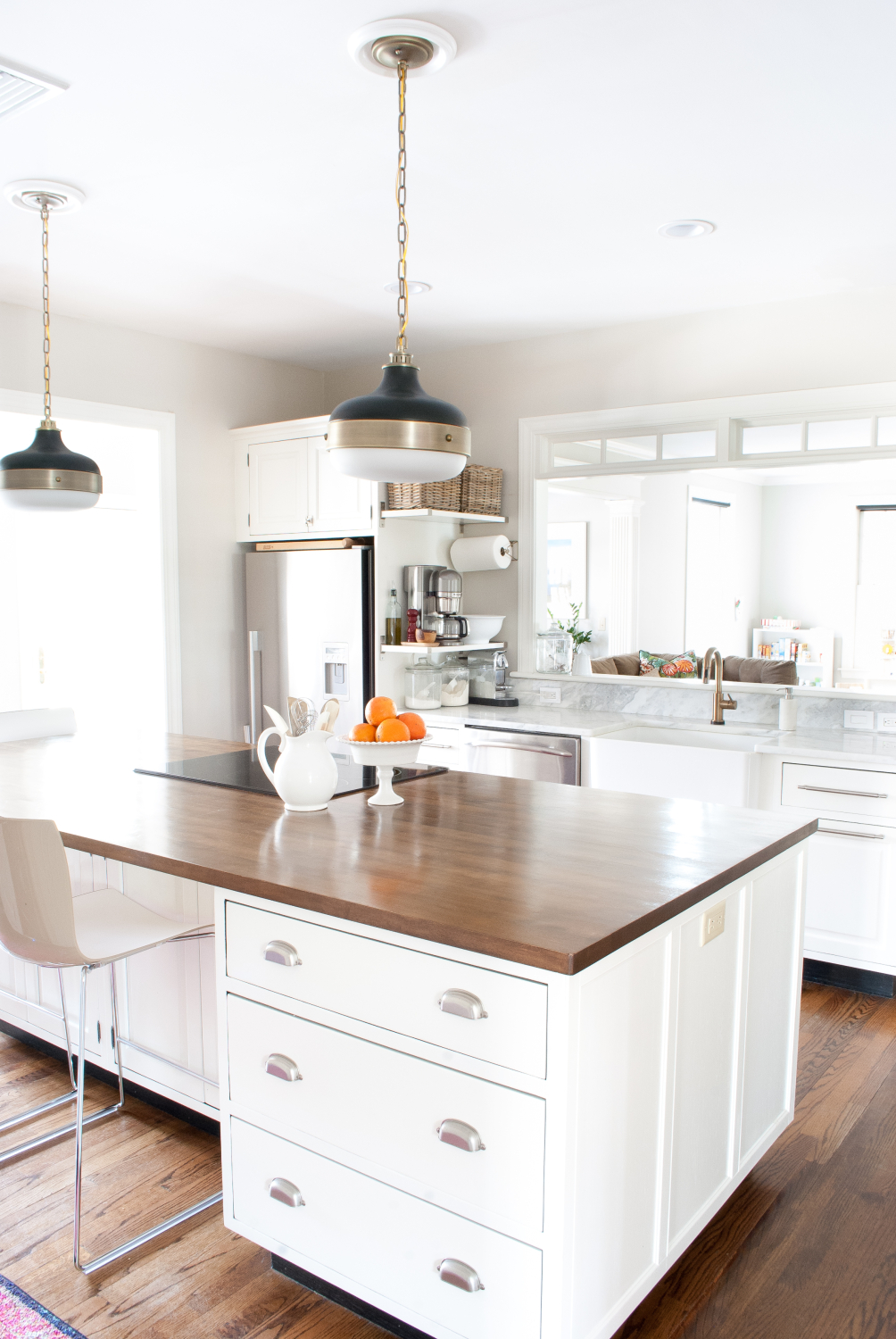 FIND SIMPLE SOLUTIONS TO PROBLEMS
One issue I had some trouble wrapping my head around was the lack of perimeter counter space, where I would typically keep a toaster oven, coffee maker, paper towel holder, etc. These items didn't look right sitting out on the island counter, which is very spacious, but if I set them all on the counter by the sink, I'd be eating up my main work and prep space. A simple solution was to add some floating shelves off the side cabinet panel around the refrigerator. Doing this cost next to nothing but gave me almost that entire counter section by the sink free and clear to use.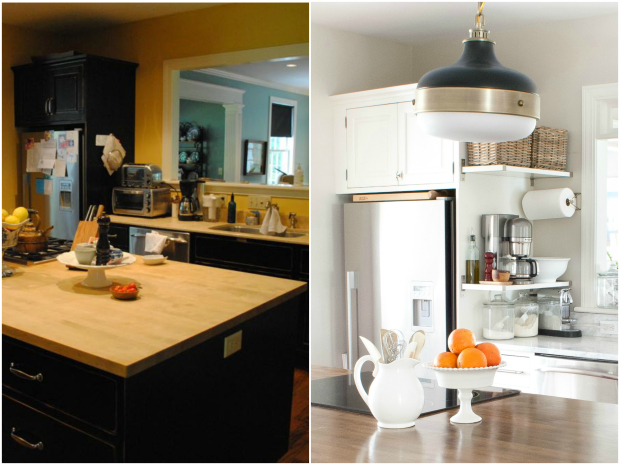 CHOOSE TO SEE THE GOOD
I also think, in the end, you have to choose to see the good. I've made very careful decisions about renovations that balance budget and aesthetics and I have chosen to focus on the good and enjoy the changes I've made. It's amazing how many positives present themselves when you shift your mind that way. I don't have a sink that looks out a window, but it does look over the family room where I can watch my family hanging out while I make dinner. I don't have a 36″ range with a big fancy hood against the wall but I have an island range that lets me face and chat with family and friends when they're sitting at the counter while I cook. I think, in general, there is usually good to be found if you look for it. In life and in your kitchen.