When we bought this house two years ago there were changes I knew I wanted to make in the kitchen (like painting the kitchen cabinets) and then there were changes that became obvious to me after living here for awhile. One of those latter changes was installing a full range where there had been just a cooktop in the island. After a full year of debating gas vs. induction ranges I decided to replace the gas cooktop with an induction stove and have been so, so happy with the choice. If you want to begin your journey gas stove to an induction stove, you will need a good gas fitter to make sure everything is safe when you disconnect the gas to prepare to install your new stove, once that happens you'll never look back. Read on to find out why!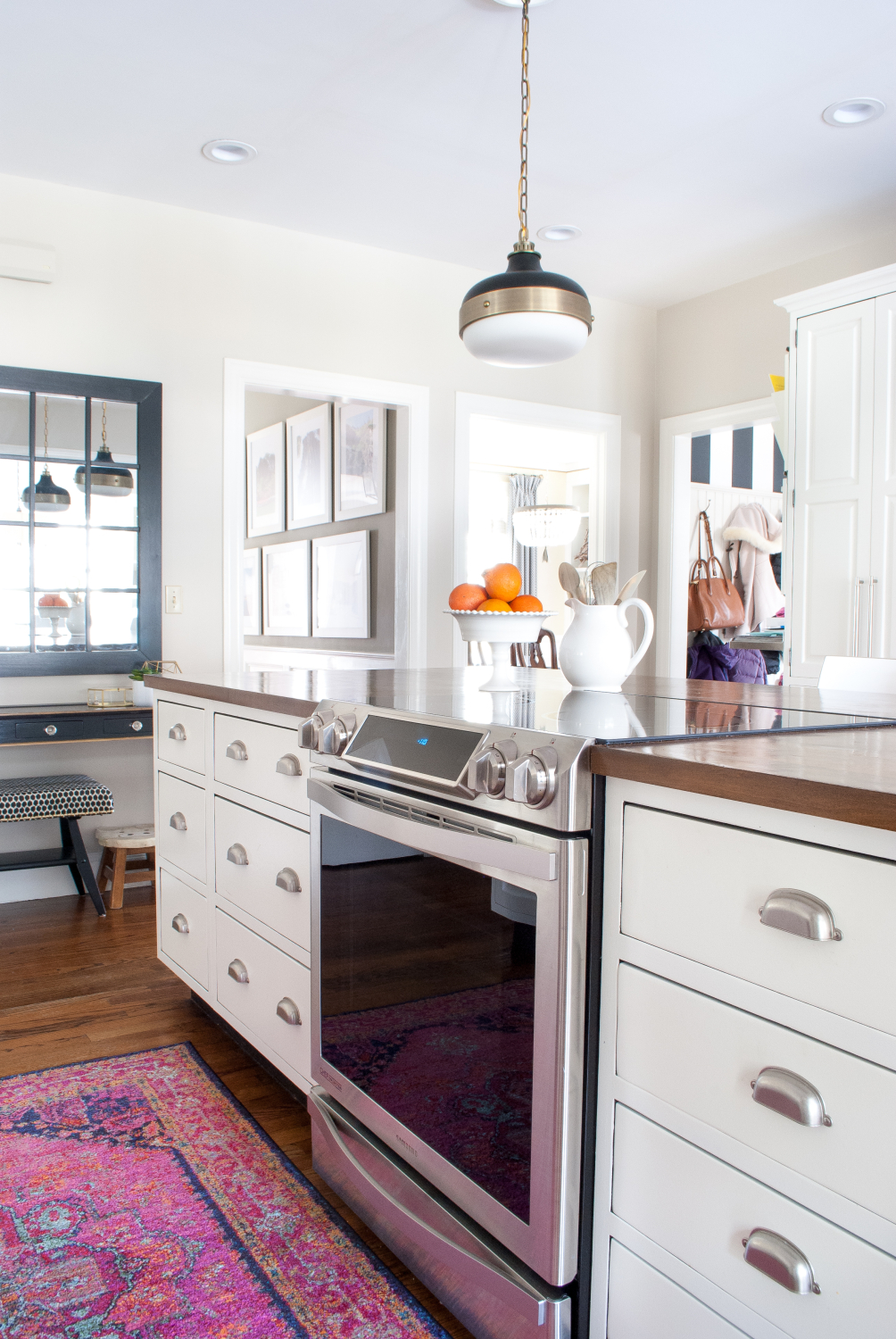 kitchen rugs | kitchen pendants
You can see where the old gas range and double electric wall ovens were here, and while this is not a totally uncommon spot for wall ovens, I found having to go around to the far side of the kitchen, so far removed from my main work triangle (cooktop, sink, refrigerator), to be inconvenient enough over time that I really wanted to figure out a way to add an oven to that work triangle space.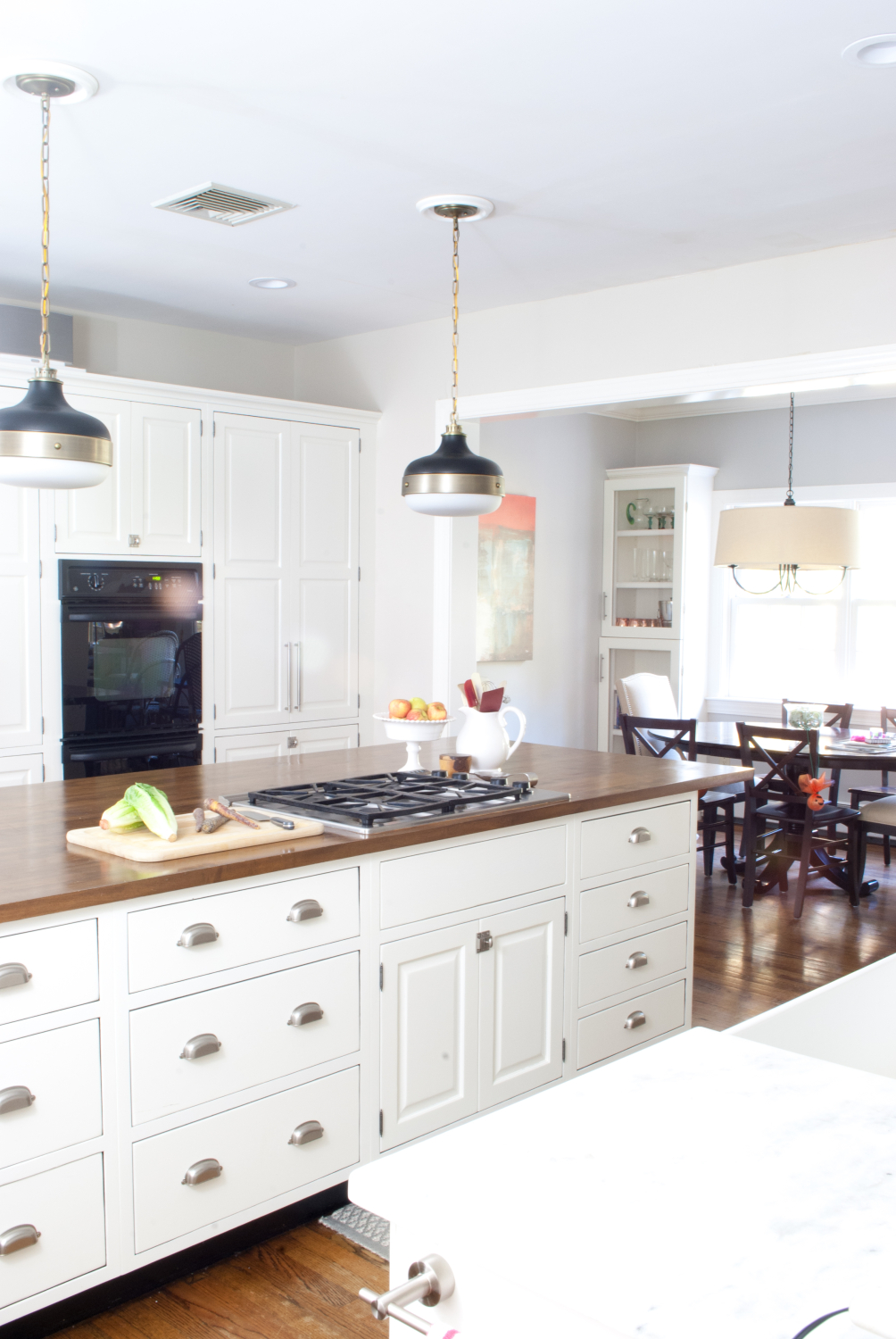 Removing the cabinet underneath the cooktop would leave me with the exact footprint I needed for a 30″ range, without having to alter any of the cabinets on either side. Initially I assumed I'd replace with a gas range, and I'd be lying if I said there wasn't a part of me that wanted the iconic chef's kitchen range, but it costs around $5,000 and ultimately my practical side couldn't justify that. So I started looking at other gas range options and things really started to snowball from there as far as venting, cutting into the back side of adjacent cabinets to accommodate everything, and I would likely have had to remove the island pendant lights and put a big hood up, which I didn't like the idea of given the layout of my kitchen.
All these hurdles were giving me doubts, and from the beginning I had been tempted to consider induction ranges but I can't tell you how many friends balked when I told them I might remove a gas stove in favor of an electric one. So many, "NOOO!," "WHY would you DO that?!," and "You will regret it!!!" comments left me feeling like I HAD to have a gas range. Nice kitchens have gas ranges. Good cooks use gas ranges. But then I was telling one particular friend about my dilemma and she cleared it all up for me in one little sentence – "It's your kitchen – do what YOU want."
I mean, how obvious is that? But I totally needed to hear it point blank and from that moment forward I focused my search on induction ranges. And I can't even begin to tell you how glad I am that I did, because I love (love, love, LOVE) this range. When I stumbled across it, it was like everything aligned and I just knew that it was the right fit for my situation. Here are all things I adore about it.
THE PRICE
At around $3,000 it's a full $2,000 less than the Wolf range. And even considering other gas ranges, the induction range came in less than most. It also didn't require any venting, so even with paying to have the gas disconnected and the existing ductwork removed, it was much less expensive than having to pay for new venting and a range hood. I didn't want to make a short-sighted decision based solely on cost, but coming out thousands ahead was hard to ignore.
THE LOOK
With chunky, European-style knobs and sleek but substantial lines, the induction range's look is clearly modeled after high-end ranges like Wolf and Viking.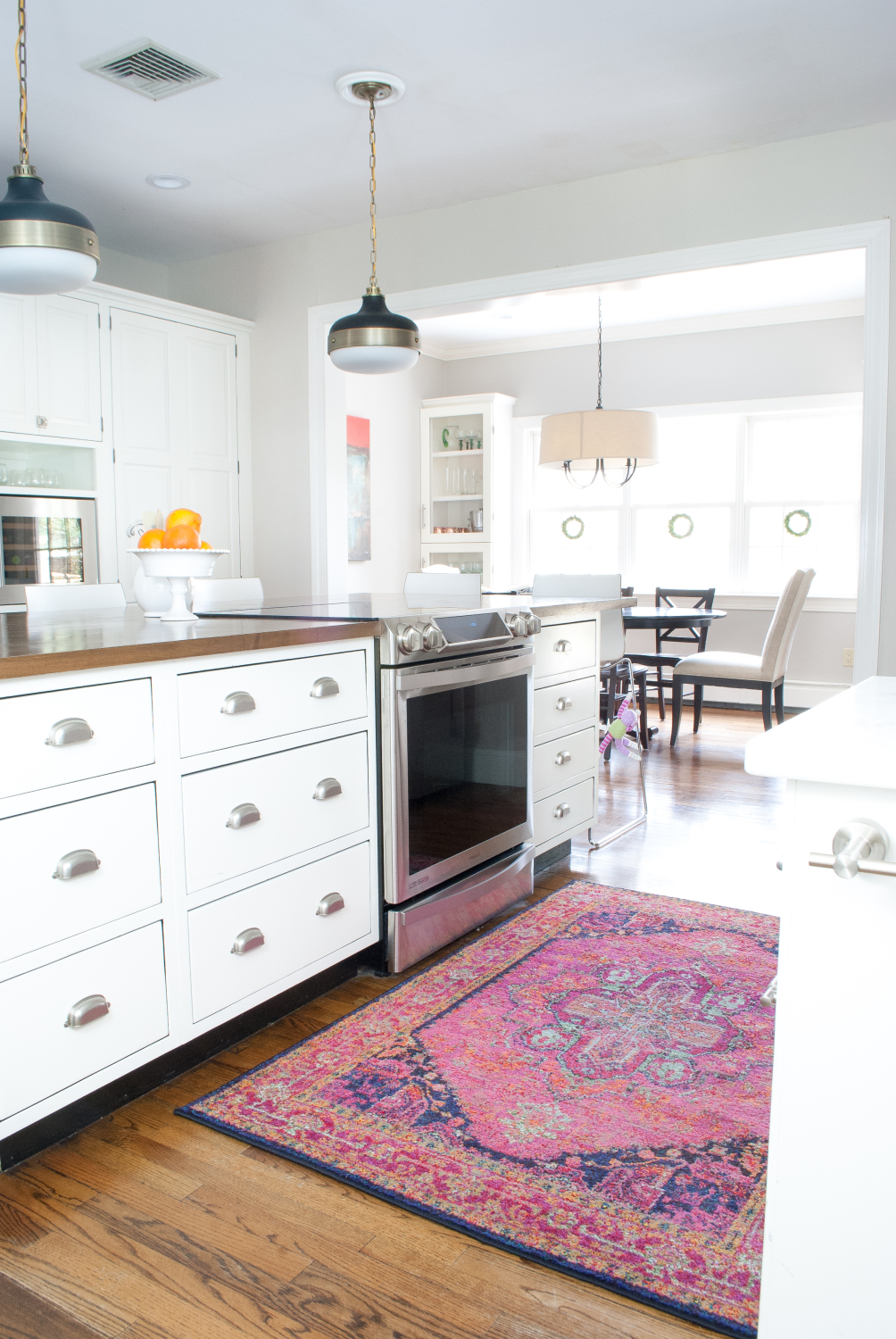 The smooth cooking surface almost disappears into the island and doesn't visually break up the island countertop like gas grates would do, which I hadn't put much thought into before installing but really love.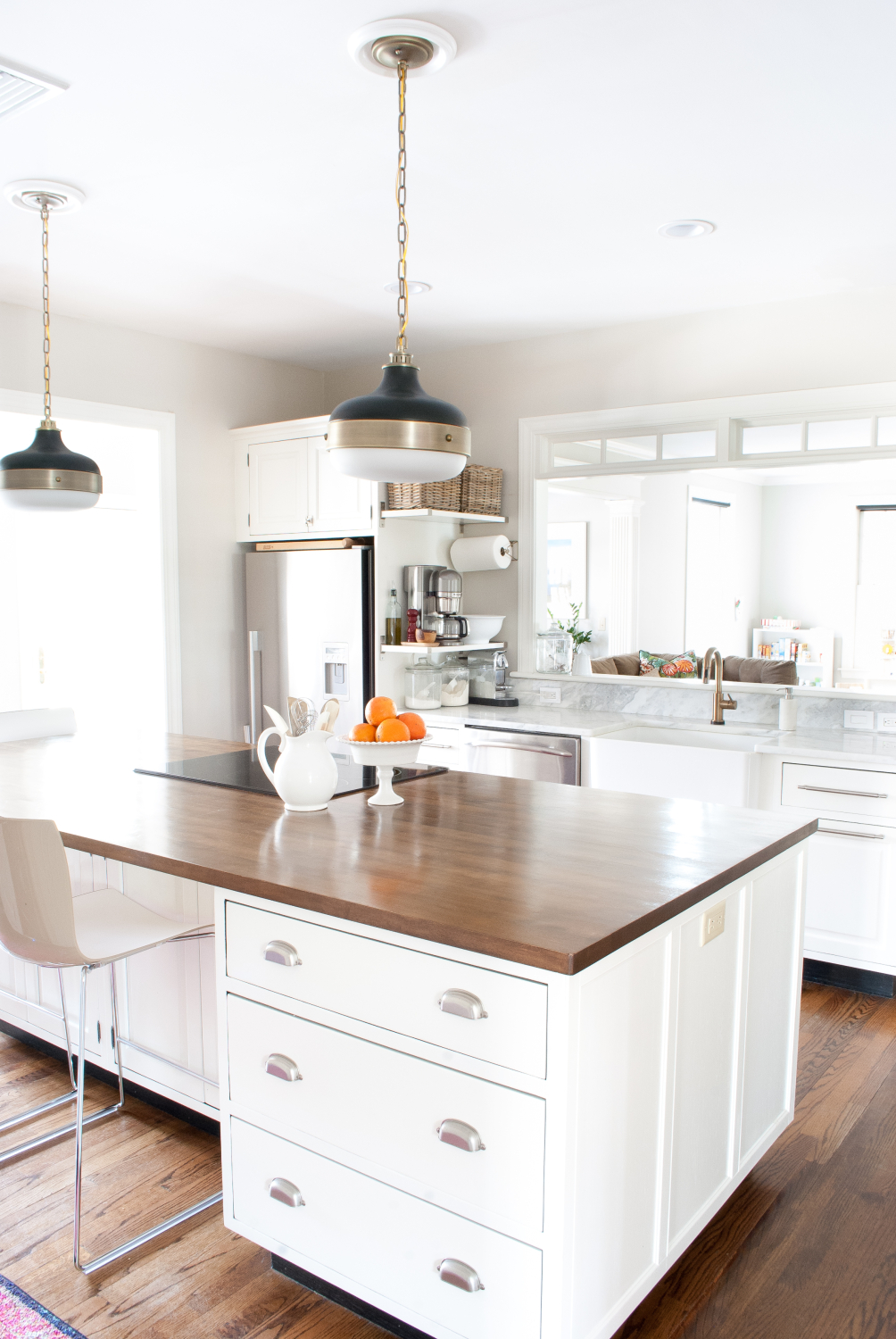 counter stools | kitchen rugs | kitchen pendants | kitchen faucet
EASY TO CLEAN
I had a full hate-hate relationship with cleaning the old gas cooktop. I would cringe every time I splattered or spilled while cooking knowing I was going to have to remove and clean all the grates and then scrub around the gas outlets, which always seemed to look grimy no matter what I did. The glass cooktop surface is a dream to clean. I bought some glass cooktop cleaner and scrubbing pads, which are great for cleaning anything hardened or stubborn spills, but most of the time I just wipe at night with a few sprays of all-purpose cleaner and a paper towel and it absolutely gleams. And as an aside, this Seventh Generation spray is brilliant on stainless steel appliances too! Aside from the cooktop, the oven has the ability to self-clean in the usual way (with high heat) but you can also steam clean by adding some water to the bottom of the oven.
EVEN COOKING HEAT
One of gas cooking's great pluses has always been how even the heat is for cooking compared to electric. But induction heat is arguably more even and constant than gas because heat is being magnetically conducted across the cooking surface for the entire time they're in contact with one another. Having spent two years cooking on gas, I am much happier with the even heat from the induction range.
QUICK TO HEAT AND COOL DOWN
Another of gas cooking's traditional perks has been how quickly it heats up when you turn it on and how quickly it cools down when you turn it off. But again, with induction technology, this process is even faster than with gas. If I start with hot water in a medium-sized pot and turn the knob to Boost mode, water boils in about a minute or two. Once the heat is turned off, the surface cools as quickly as with gas, and there is a little "h" that shows on the surface to show you when the cooktop remains hot to the touch.
HUGE DOUBLE OVEN CAPACITY
THIS was the feature that really sold me once and for all. The oven on this induction range is massive. It has almost the exact same cubic capacity as the double wall ovens I had before, but in a 30″ range footprint. The oven comes with a "flex divider" that easily slides in and out so you can use the oven as a single 5.8 cu. ft. oven or as two ovens, one with 2.6 cu. ft. and one with 3.1 cu. ft.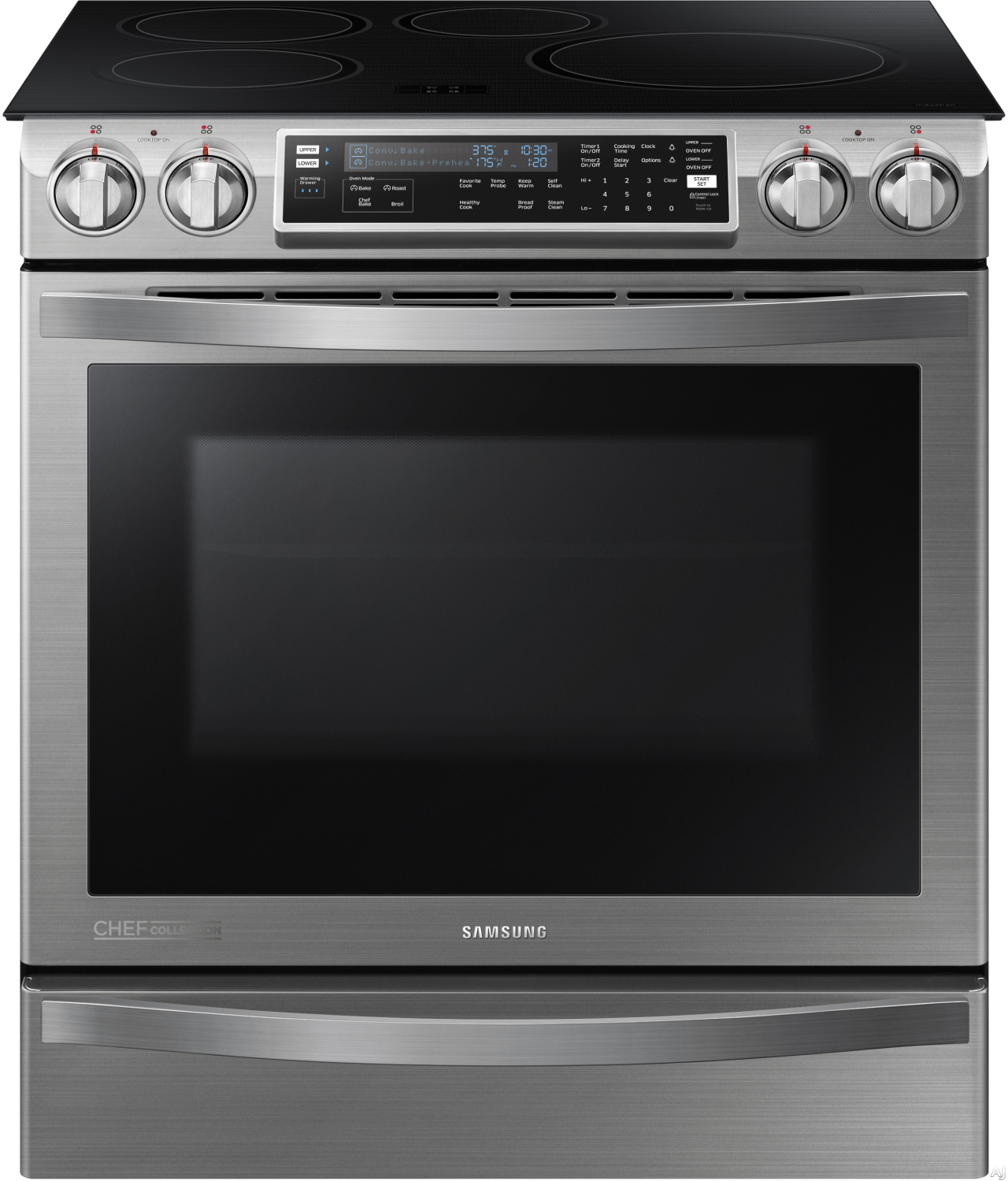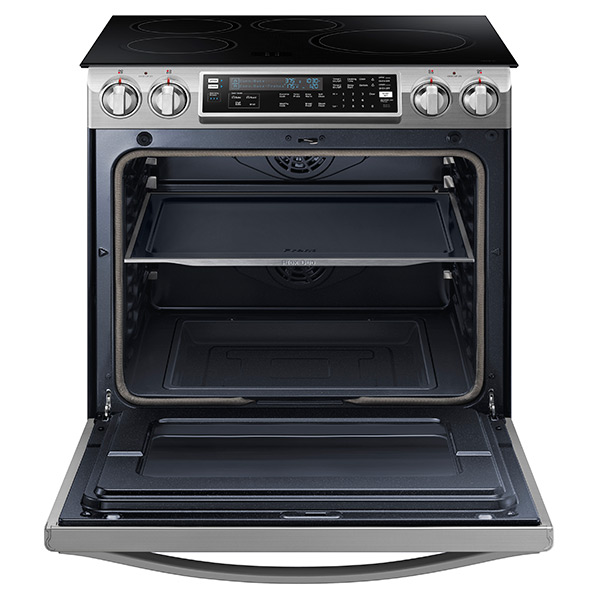 With the divider in place they function as completely separate ovens and can be set in different modes and at different temperatures. I often leave the divider in and use the top, smaller oven because it preheats so quickly, but I have used it every way since we put the oven in and it's worked beautifully in every capacity. It works great for everyday cooking and baking and was a champ for Christmas dinner. There's also a big warming drawer underneath the oven with three heat settings. I store baking sheets in it when I'm not using it.
I have been nothing short of thrilled since putting this range in. It solved my work triangle issues and I had to sacrifice nothing to get a more efficient layout. The functionality is everything I'd hoped it would be (and more) and it was a big visual upgrade over the old gas cooktop. I haven't had a single day where I have wished I'd gotten a gas range instead of induction. I love absolutely everything about it and can't recommend it highly enough.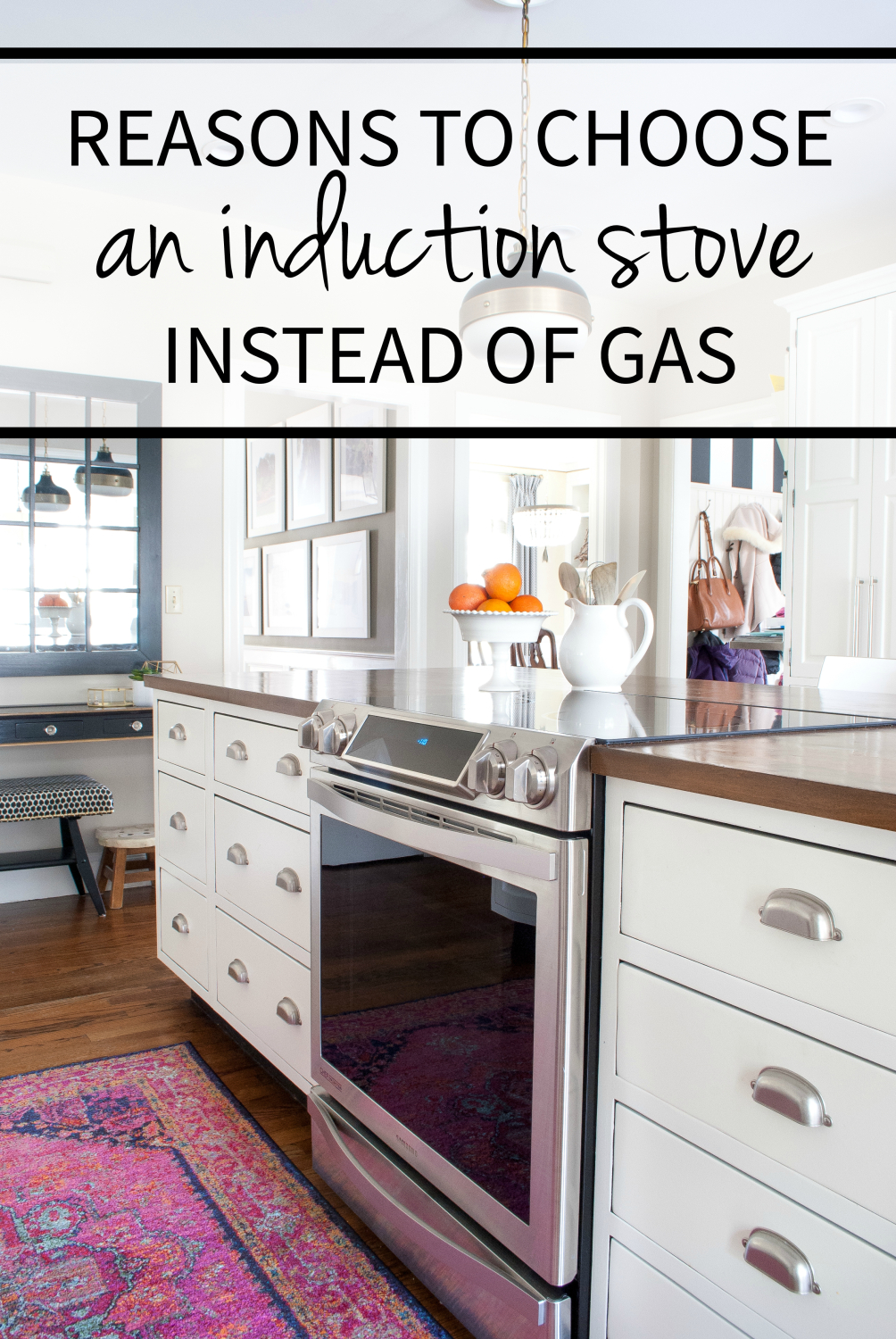 As a somewhat unexpected bonus of getting such a workhorse range, I was able to remove those black double wall ovens, which I wasn't loving with white cabinets all around. Stop by next week to see what replaced them!
And here are links to all of the projects I've done in the kitchen over the past two years:
How to Stain and Seal Butcher Block Counter
Transom Windows
New Counters and Sink
Maximizing Vertical Space in the Kitchen
The Prettiest Kitchen Faucet
How to Paint Kitchen Cabinets
Kitchen Pendant Lights
Modern Counter Stools
Vintage-Style Kitchen Rugs
How to Add Detail to a Plain Kitchen Island