If you need a quick catch-up on the progress in our kitchen makeover, you can find previous posts here:
Today I wanted to share some simple tips for maximizing vertical space in the kitchen.
Keeping the counters clear in this kitchen was a big deal for me because I do a lot of cooking, and while the
butcher block island
is really spacious, I wanted to keep the stretch of counter where the sink is as clear as possible since this is my main food prep space.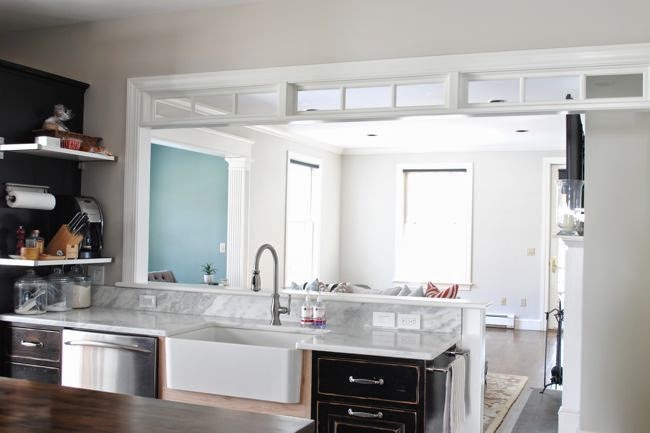 Once I started laying out the things I thought were most essential to have at my fingertips, the counters started feeling very crowded very quickly.
I kept looking at that big wooden frame around the fridge and it finally clicked into place that this would be the perfect spot for floating shelves.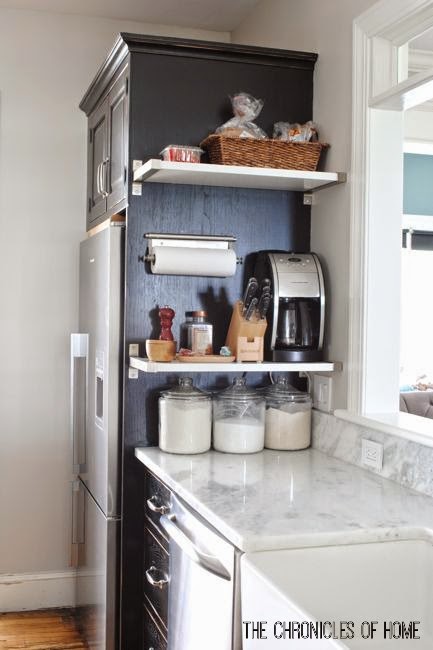 Remember that these cabinets are on their way to being white so everything will blend a lot better soon :)
The
shelves and brackets
are from Ikea and were so easy to install since I was going right into wood – no anchors needed!  I just used a level to make sure I was hanging the shelves straight, marked the holes, and screwed the shelving right in.
This way I can keep all the things I use most often – coffee maker, knives, salt and pepper, paper towels, baskets for bread and produce, and spare grocery items – right on hand without sacrificing counter space.
I have some plans to tweak the paper towel holder and will be sharing details soon.
I also wanted a towel bar somewhere my little daughters could reach after washing their hands and came across this
brushed nickel towel bar
in the bathroom section of Home Depot.  It was the perfect size and has the streamlined look I wanted.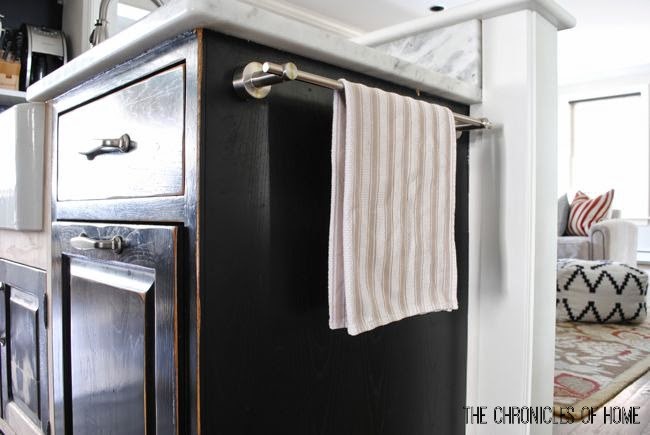 These two little additions have made my daily life in the kitchen so much easier!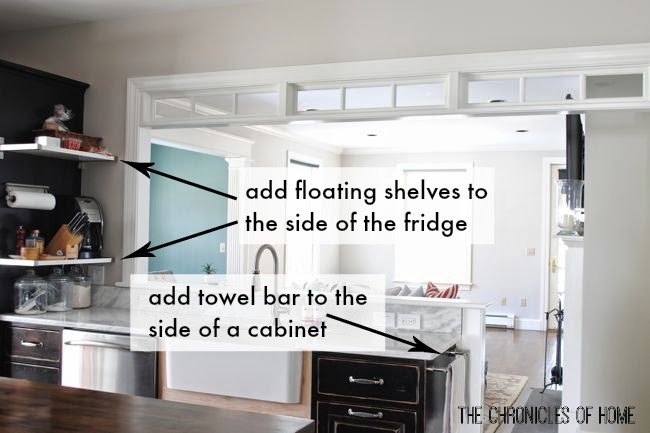 What about you?  Do you use vertical space in your kitchen?  Or do you prefer having daily-use items right on the counters?  I have to say, I am LOVING all the open space when I'm packing lunches or cooking meals every day!