Spring weather can be a bit fickle here where I live in New England, but even though we have our share of chilly days mixed in with the warm ones, I find myself mentally moving away from the soups and roasts of the fall and winter and toward simple, no-fuss, one-bowl dinners like this cucumber shrimp salad recipe. I want to spend less time standing in the kitchen and more time outdoors!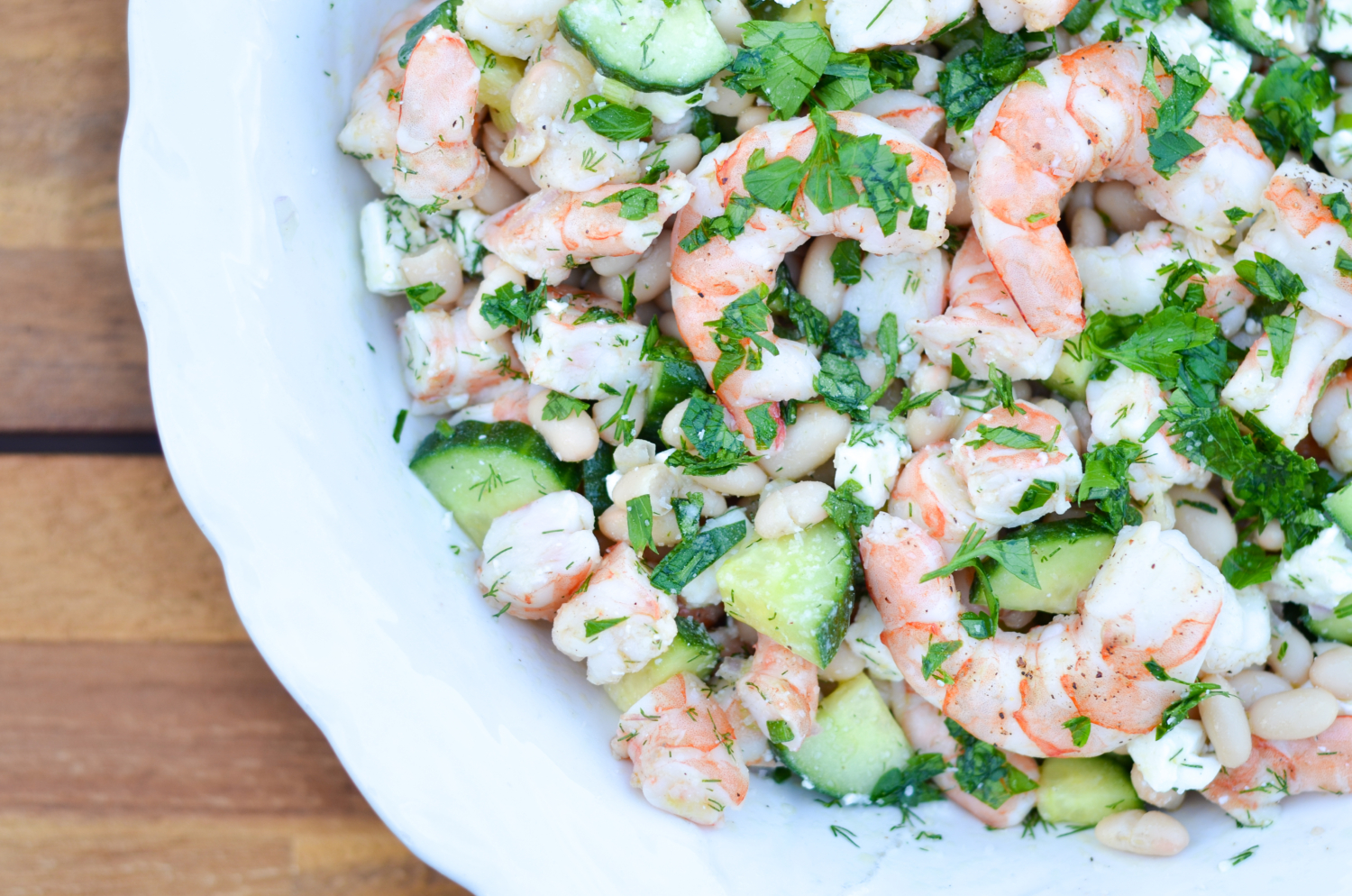 I love this cucumber shrimp salad recipe for lots of reasons. The protein content is amazing between the shrimp and the white beans so it's super filling and satisfying while still tasting light and fresh for a spring or summer dinner. Lemon, dill, and parsley are one of my favorite flavor combinations this time of year and all three really sing in this dish, especially with the sharp, salty feta cheese as a partner. And I am always a sucker for a meal that's both easy to make and easy to clean up. Everything but the shrimp goes directly from the cutting board to the bowl, so you pretty much just pop your cutting board and knife into the dishwasher and your cleanup is done. And, really, who among us wants to spend more time cleaning up after dinner? I didn't think so.
Besides a casual family dinner, this cucumber shrimp salad recipe is the perfect make-ahead dish for so many spring and summer occasions – graduation party, al fresco lunch with friends, summer barbecue, fourth of July party, beach picnic. I can't think of many occasions where I wouldn't say this shrimp salad is just about perfect. It's great served cold and only gets better over a day or two in the fridge so you can make it ahead and either whisk it out as you're ready to serve or pack it up on the go for an outing. Cheers to warm weather entertaining!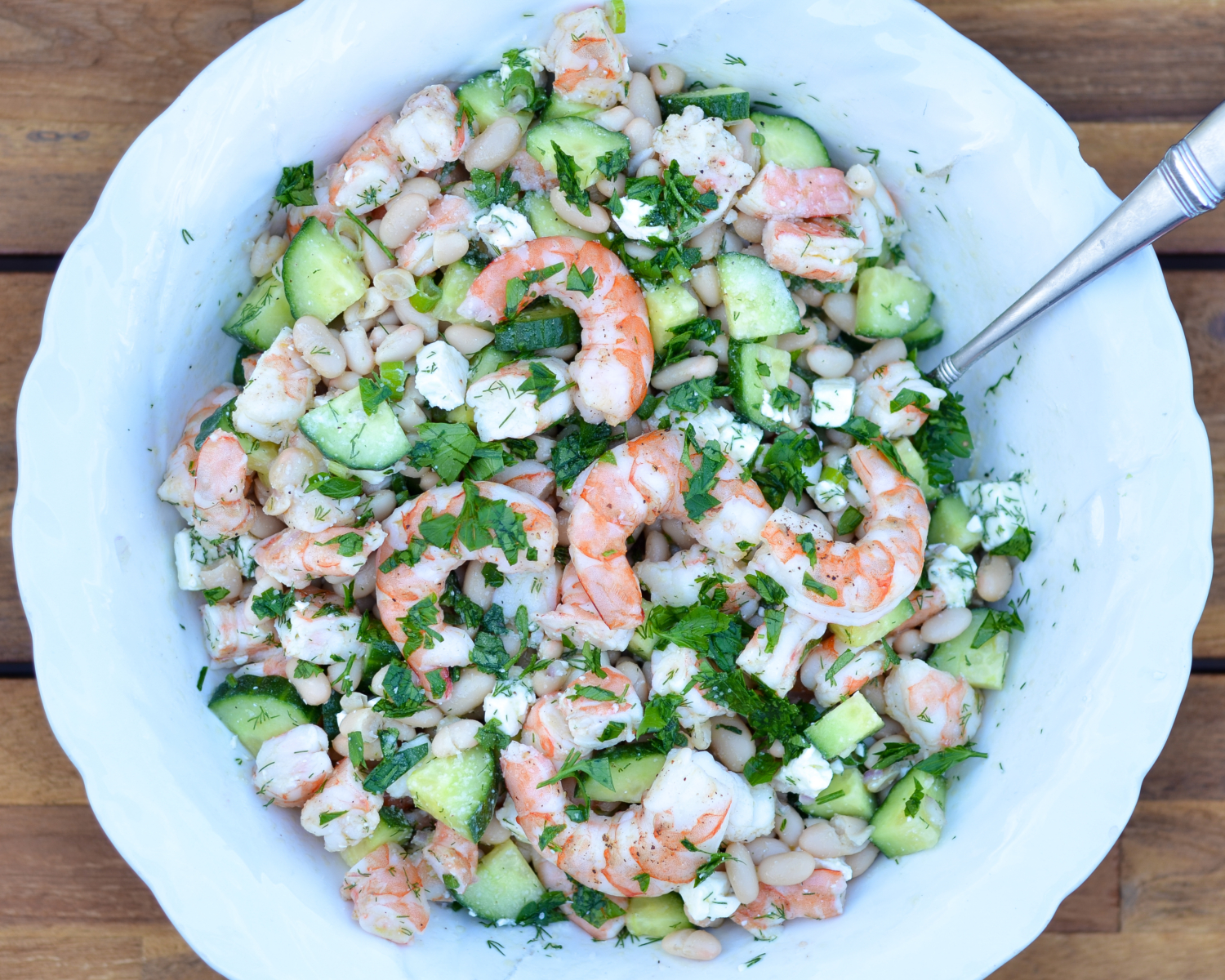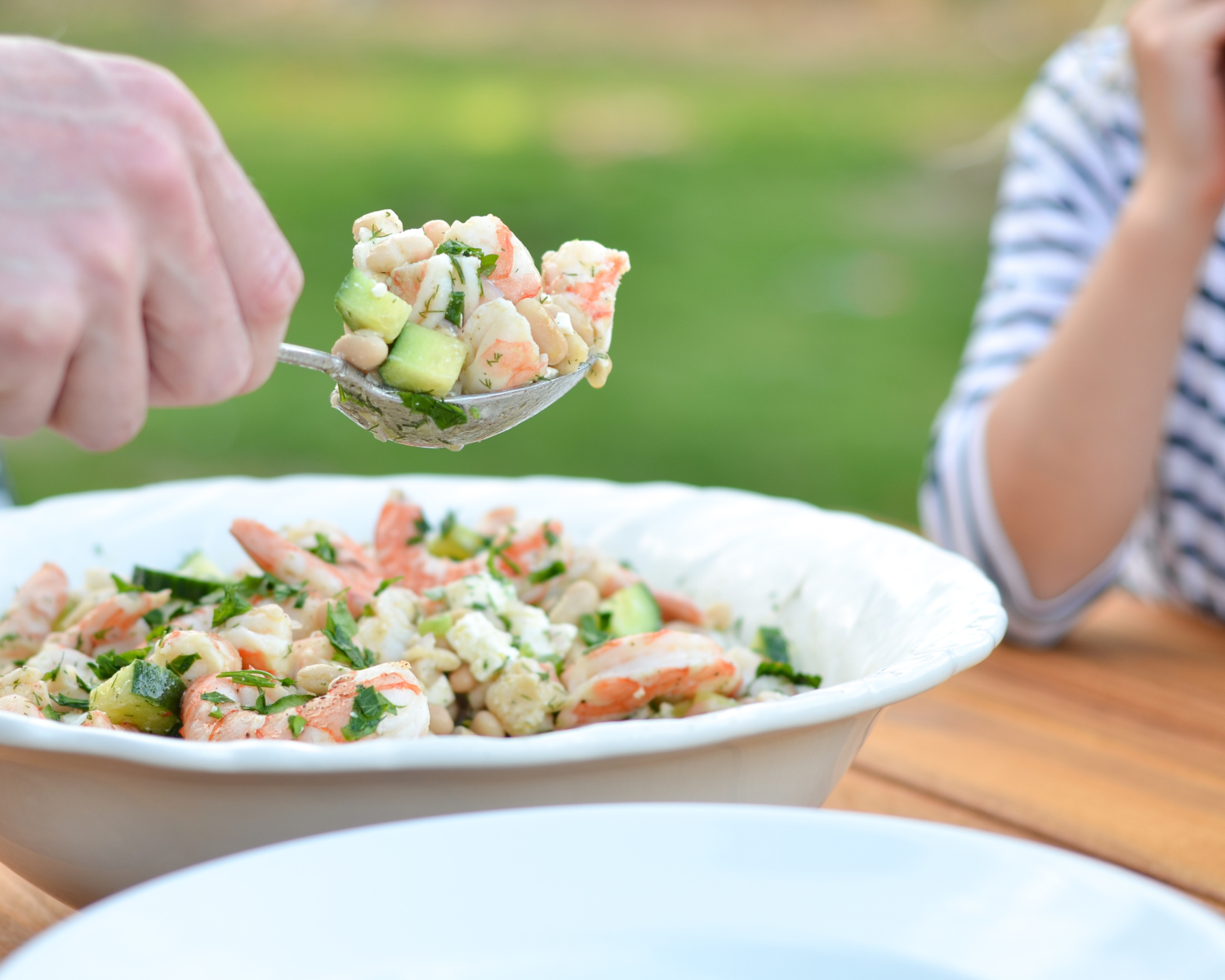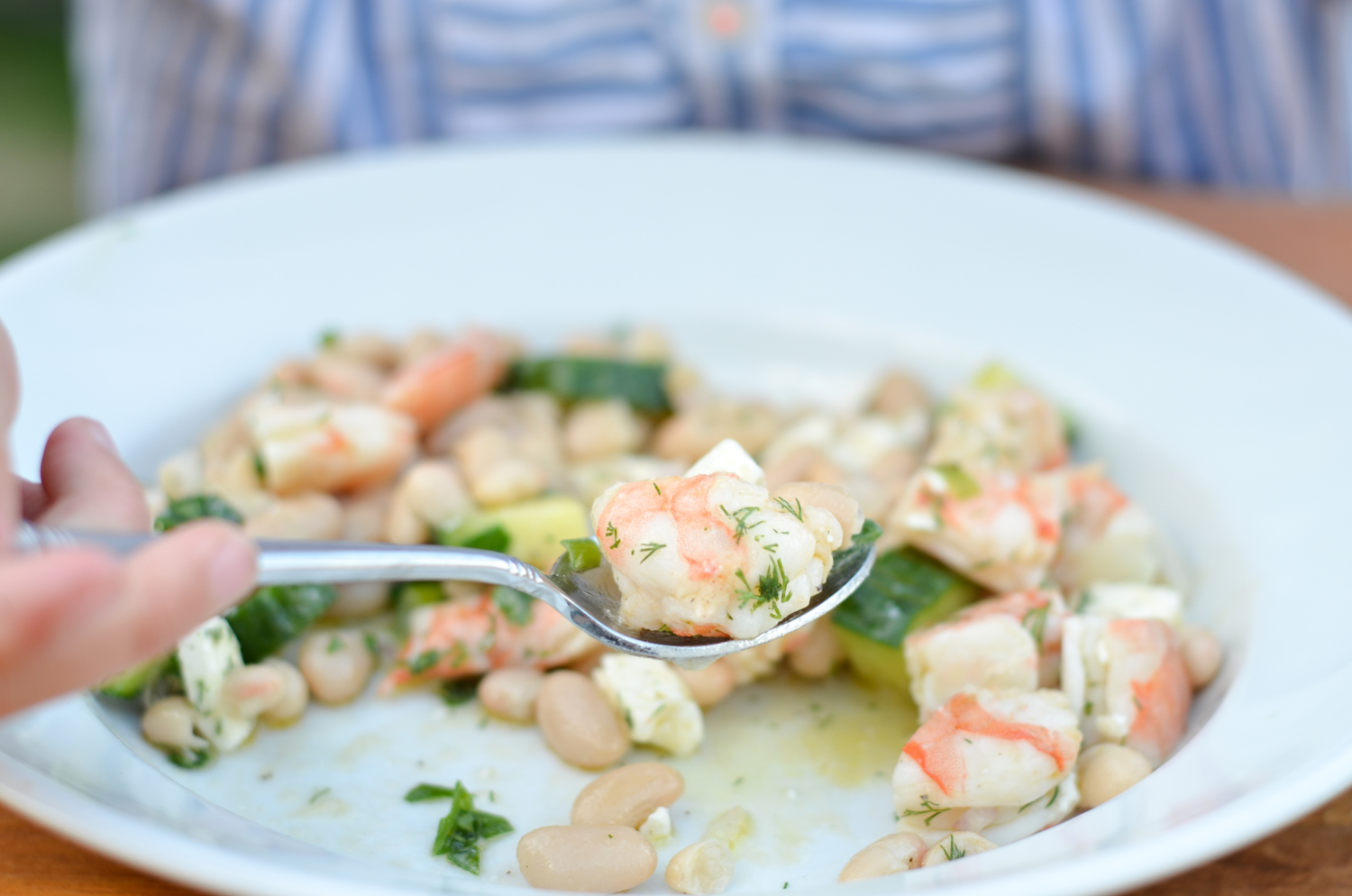 Cucumber Shrimp Salad
A salty, herby, one-bowl salad that's hearty enough to be a meal. For best quality and flavor look for wild-caught shrimp and block feta packaged in brine.
Ingredients
2 lbs. shrimp, peeled and deveined
½ c. olive oil, plus more for drizzling the shrimp
½ c. fresh lemon juice
3 15-oz. cans cannellini beans, drained and rinsed
½ c. scallions, chopped
½ c. fresh dill, chopped
½ c. flat leaf parsley, chopped
1 English cucumber, quartered lengthwise and chopped
1 medium shallot, minced
6 oz. feta cheese, medium-diced
Instructions
Preheat the oven to 400º.
Place the shrimp in a single layer on a baking sheet (line it with parchment paper for easier cleanup!). Drizzle with olive oil and sprinkle with salt and pepper then place in the oven and roast for 6 minutes, or until the shrimp is uniformly pink.
Whisk the ½ c. of olive oil and lemon juice in a large bowl. Add the beans, scallions, dill, parsley, cucumber, and shallot, season with some salt and pepper, and stir to coat everything with the dressing. Add the shrimp and feta and stir gently to combine.
Salad can be made a day or two ahead - keep covered in the refrigerator until you're ready to serve.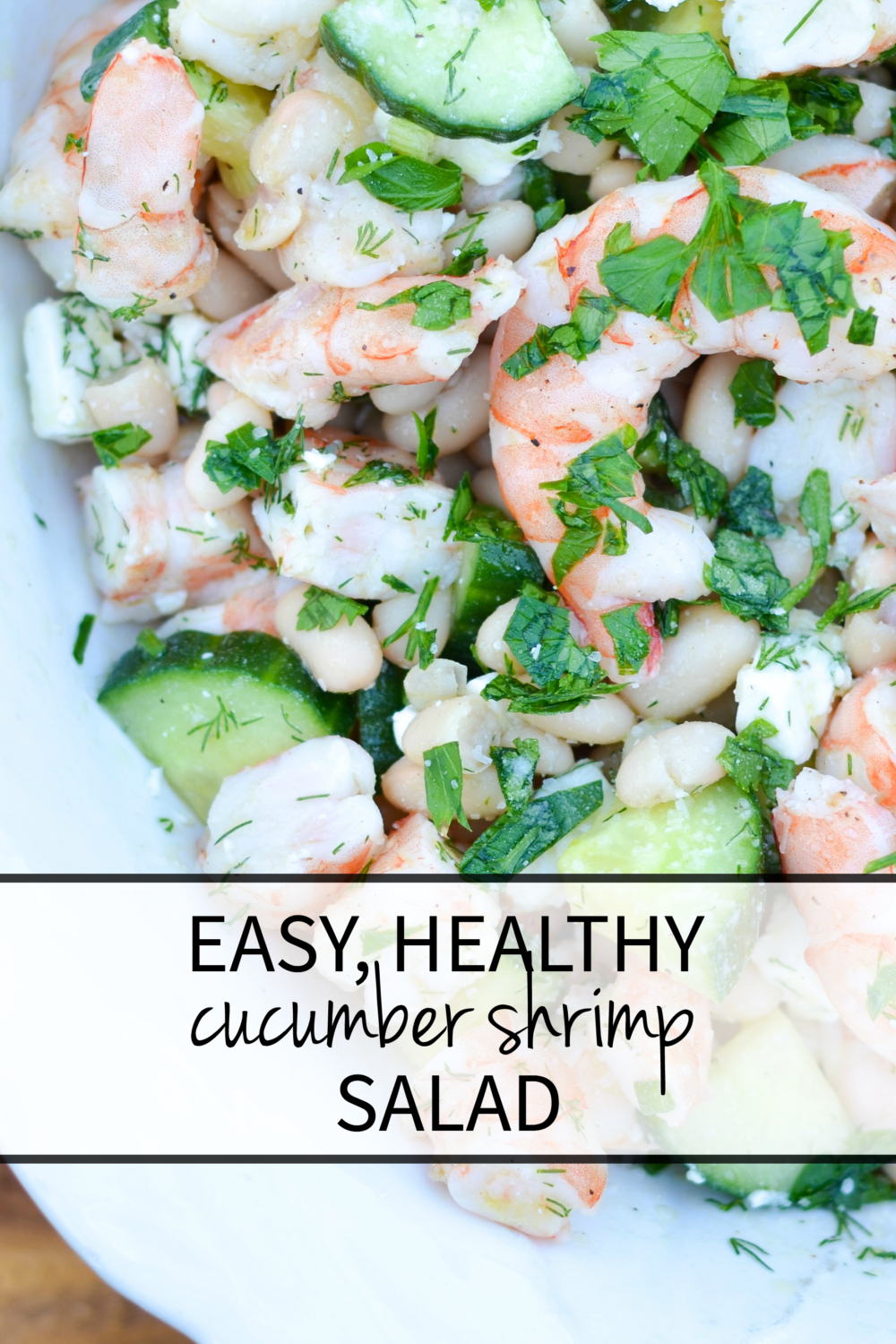 Looking for more easy summer salad ideas? Try these!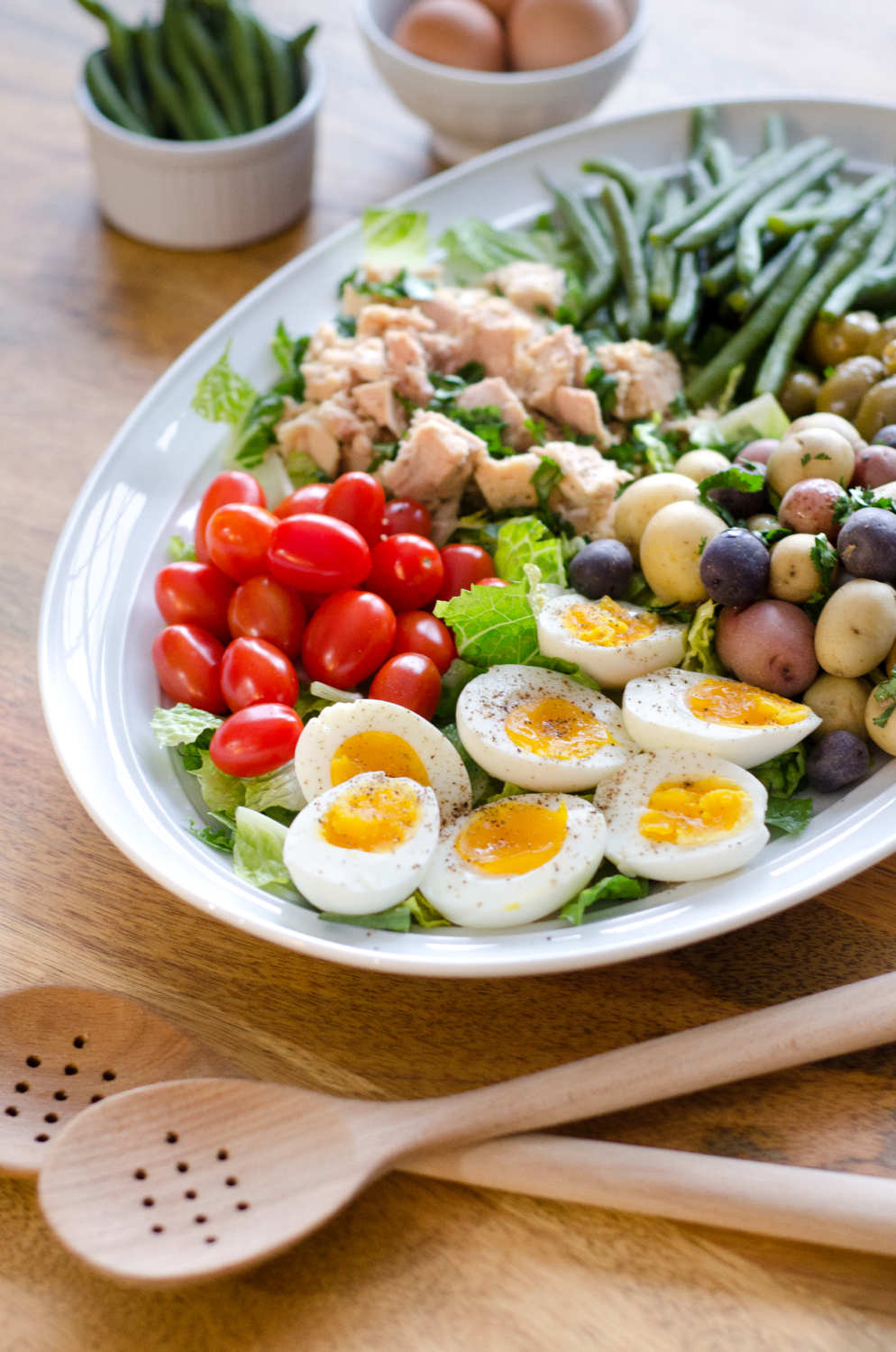 Easy Tuna Nicoise Salad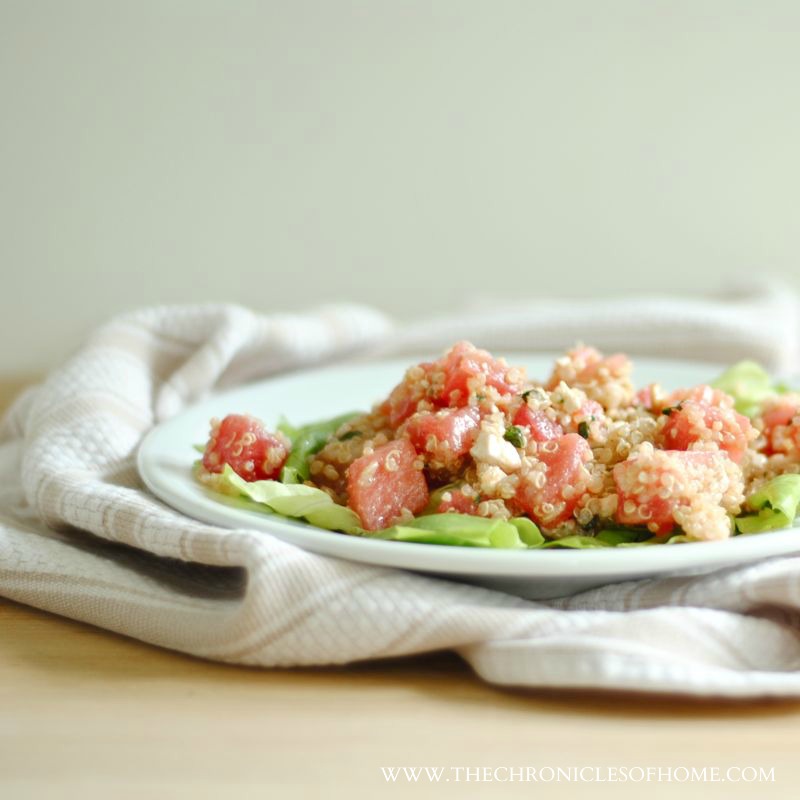 Quinoa Salad with Watermelon and Feta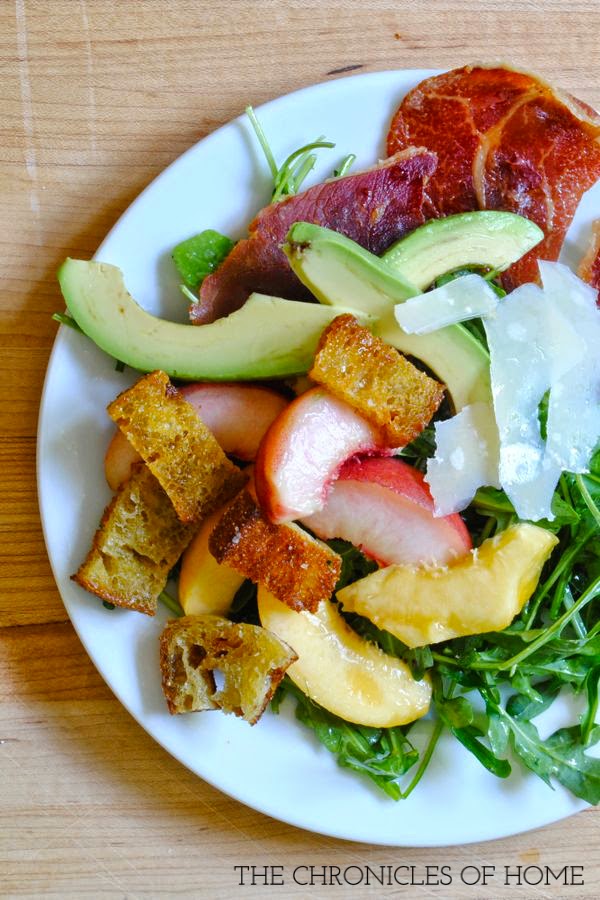 Peach, Parmesan, and Prosciutto Salad