Alright guys…today we're going to talk a little bit about something called paint paralysis. Sounds scary, doesn't it?? It's when you want to paint a room but you don't know how to pick a paint color and you just. can't. pull. the. trigger. And it's no wonder so many of us suffer from this debilitating condition – walk into any paint retailer and you will be hit square in the face with no less than a thousand color choices. Maybe you've narrowed your color selection down to blue. Yeahhhhh…there are still hundreds of blues to wade through. But fear not! I'm here to help and today I'm going to share with you a few tips for getting over paint paralysis, with the help of a handy tool and a fun event from our friends at Behr Paint.

Behr is hosting its first of five Color Clinic events on their Facebook page on January 25th and 26th, where you can join (for free!) to receive live color and design counseling. During the event, BEHR Color Clinic experts will be standing by to talk about all things color and design, with a focus on helping
consumers take the next step from project curation and inspiration overload to deciding on
a paint color. And guess who is one of those Color Clinics experts this year???  Yep! Moi! If you want some live help from me, I'll be manning the Color Clinic THIS FRIDAY, January 26th, from 10 a.m. to 1 p.m. on Behr's Facebook page. Ask me anything about your design or paint projects and I will do my very best to answer!
Plus, you can enter to win one of ten $250 gift cards to the Home Depot by participating in the Color Clinic. How's that for jump starting your spring project plans?! All you have to do to enter is comment on one of the posts on Behr's Facebook page and include the hashtag #BEHRColorClinicSweepstakes. Five winners will be selected on each of the two days of the Color Clinic.
In addition to those hours where I'm all yours during the Color Clinic, here is a breakdown of how I go about planning a room and choosing a paint color.
How to Pick a Paint Color
Don't pick paint first!
My first tip when you're trying to figure out how to pick a paint color for a room is to actually stop thinking about paint. Yep. You read that right. Don't pick your paint color first! If you pick your paint color first and then go about trying to find fabrics and rugs that match the paint, you will go insane. Having a general color in mind is fine but don't start thinking about narrowing your paint color down until some of the other pieces in the room are worked out.
Come up with a plan.
It can be time consuming to put together a solid game plan for a room (one of the reasons people hire interior designers!), but it is soooooo worth the time in the end because it allows you to test-drive colors and fabrics and see things together before actually buying anything. I use Olioboard (it's free!) and upload images of different furniture, rugs, pillows, accessories, etc. and then try them out together on the page. I mentioned in my post about project plans for 2018 that my living room is a space I'm hoping to finish once and for all this year. Here's a look at where my plans for the space stand right now.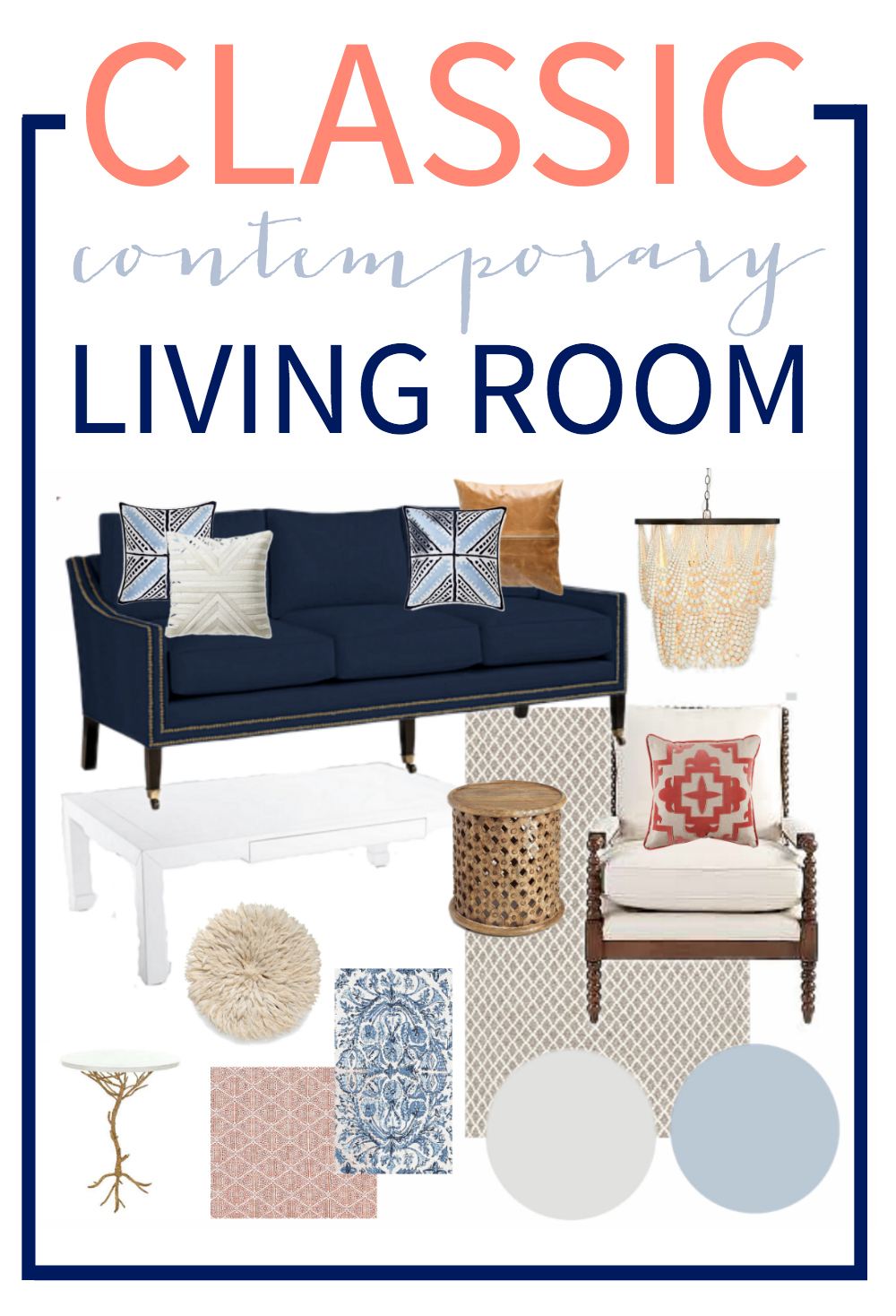 Navy blue sofa | Blue and white pillows | White patchwork pillow | Leather pillow | Beaded pendant
White lacquered coffee table | Carved wood side table | Spool chair | Coral appliqué pillow
Juju hat wall hanging | Coral fabric | Blue and white fabric | Rug
Now  you can start thinking about paint.
Once you've put in your due diligence on your room plan, you're ready to start thinking about how to pick a paint color. In my particular situation with my living room, I got about halfway through my design plan and was pretty sure I wanted to use a soft, warm grey on the walls. Believe it or not, this is still a wide net to cast. So I turned to Behr's Color Discovery Tool to help me narrow things down from there.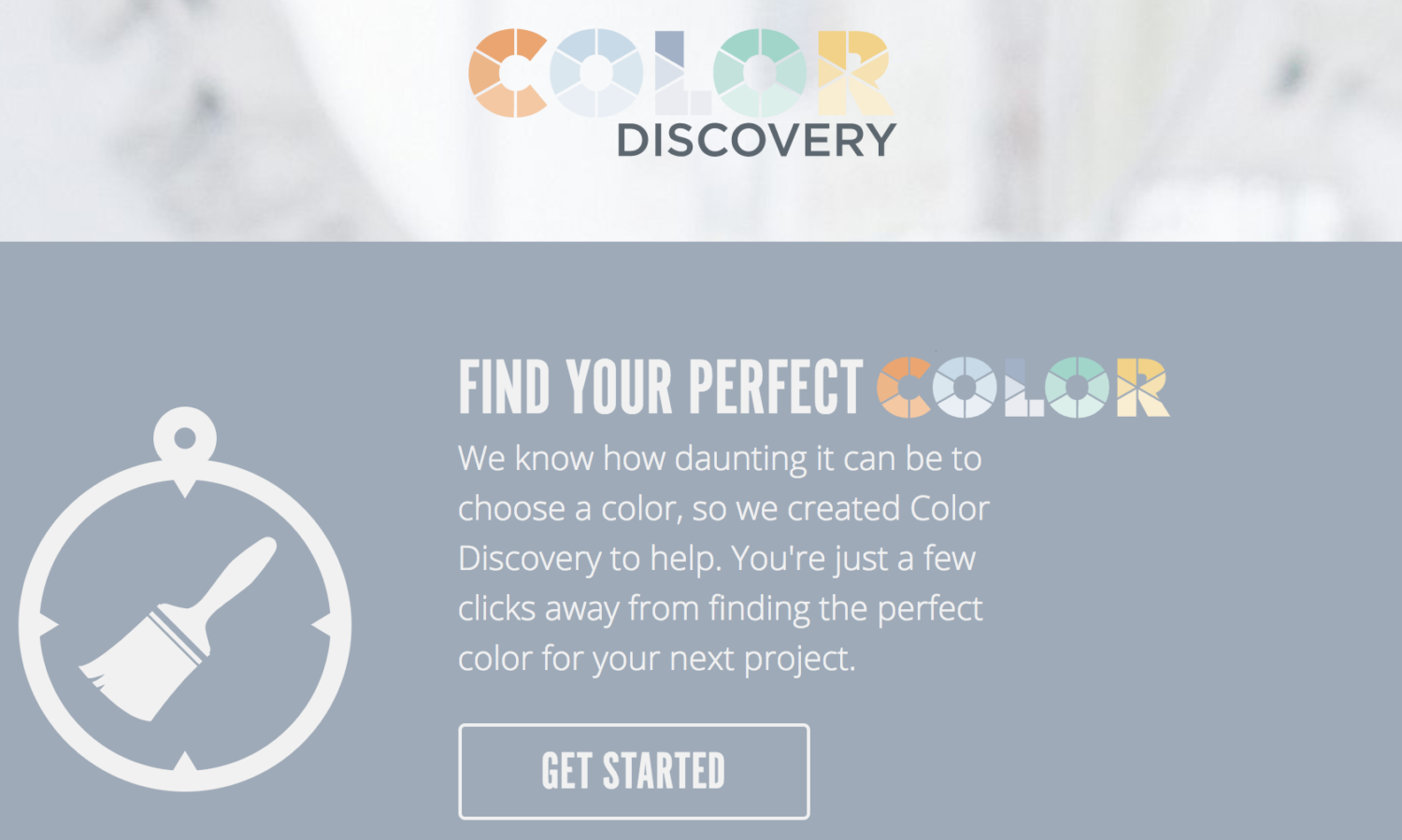 The Color Discovery Tool helps you narrow down color choices quickly and easily by taking you through a short series of questions about the room you're looking to paint. First, you identify the room on which you're focusing.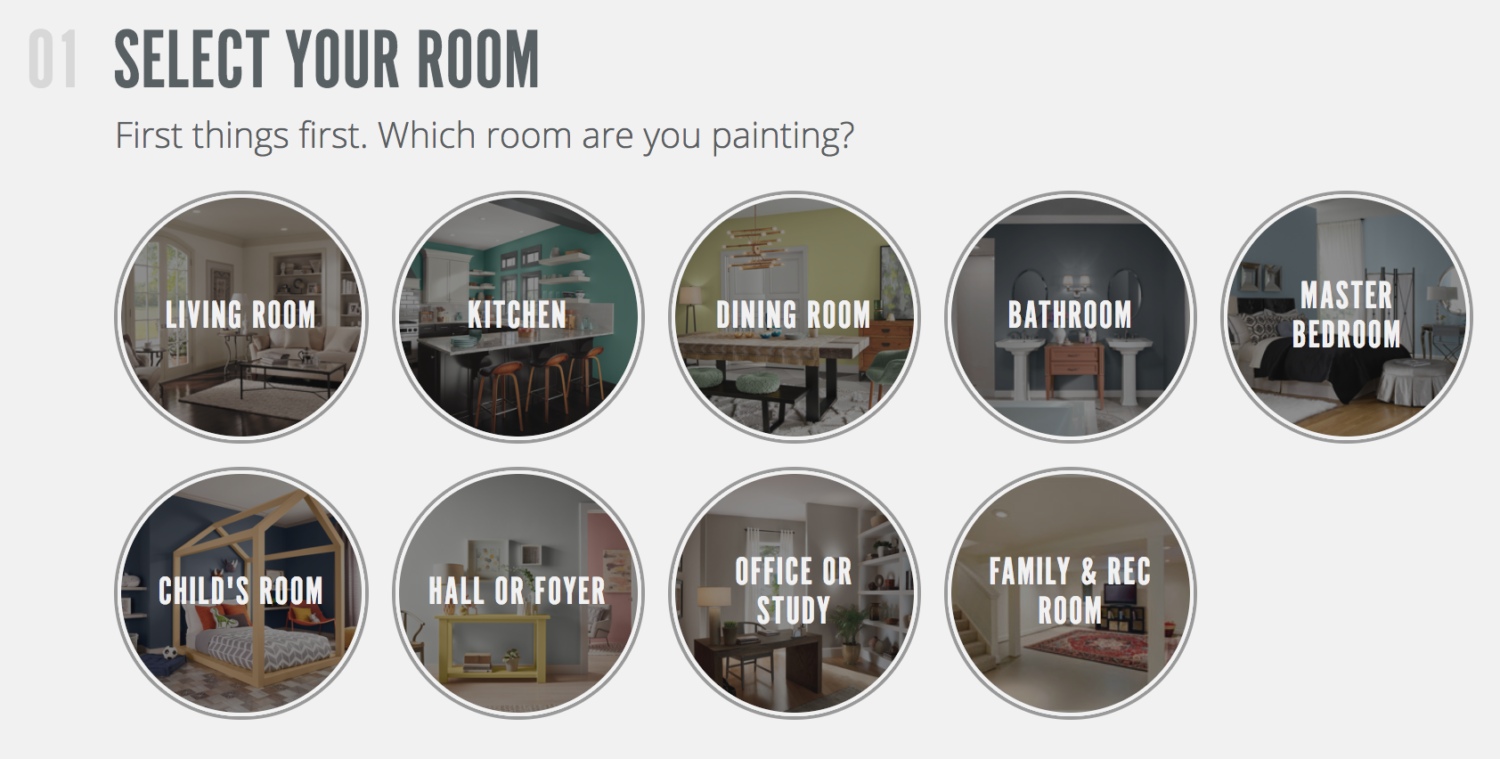 Then you choose the overall feel you want the space to have. I went with Versatile because I don't feel like my living room design fits squarely into any of the other categories.

You can also choose a second feeling (or skip this part). I skipped it and went ahead to the next step.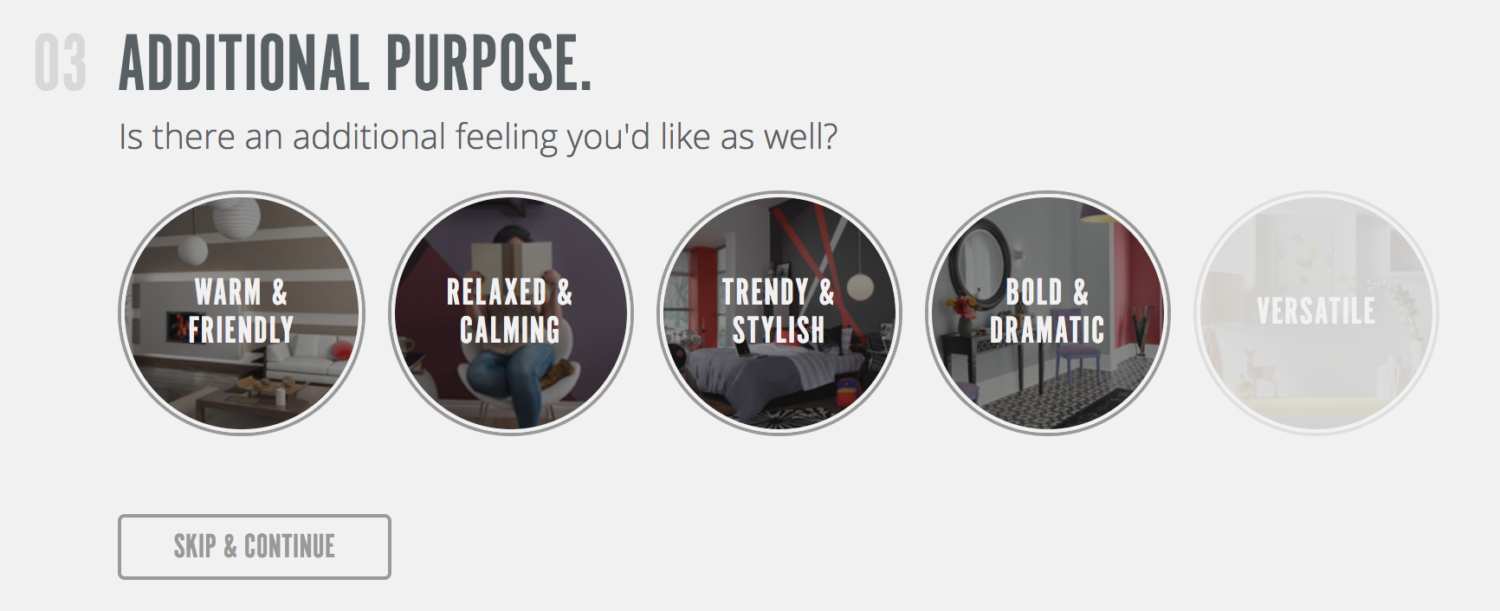 I was given five suggested colors for my living room. The brown tones were a little warmer than I wanted but I liked the look of Silver Polish so clicked that to continue, though you can select multiple colors that you'd like to explore further.

On the next page you click the colors in which you're interested to see coordinating palettes.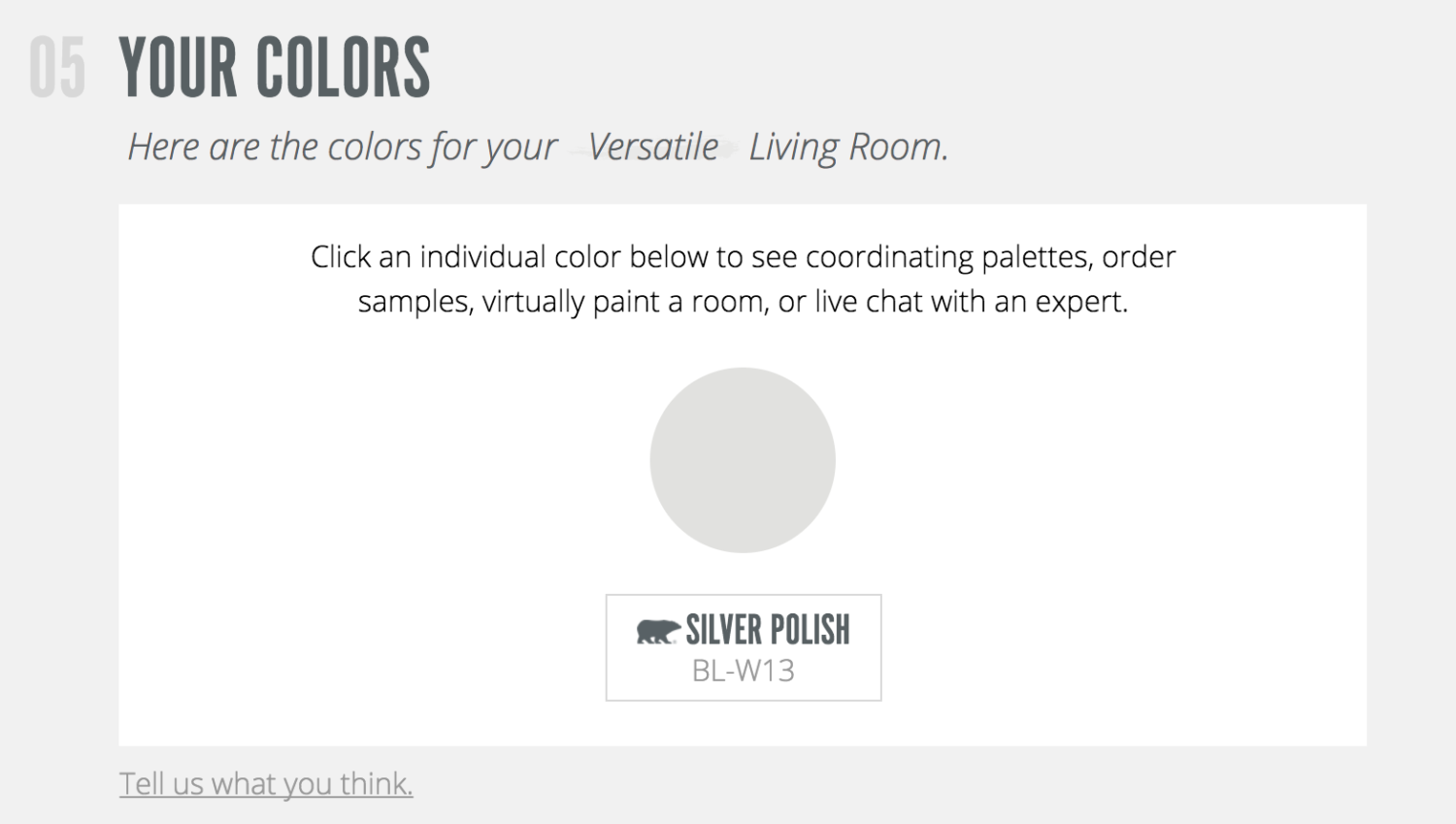 Underneath the Silver Polish swatch are lots of different color palettes you can scroll through to help you land on a combination that feels right. And really, go with your gut here. If something jumps out at you, pay attention and take a second look.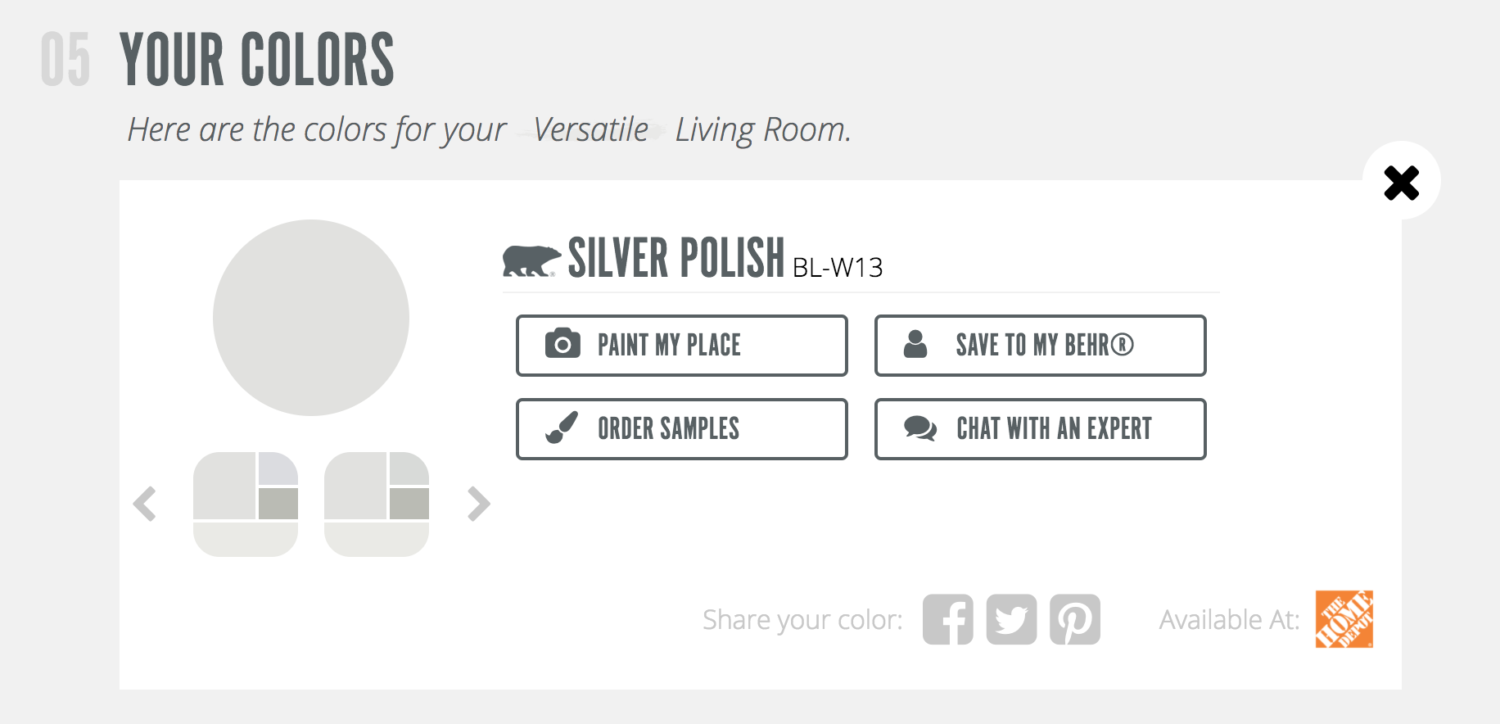 Paint Samples
Once you have a color, or a few colors, selected you must, must, MUST sample the paint in real life on your wall. This is possibly the most crucial step when you're figuring out how to pick a paint color. I learned this the hard way. In my last house, I had a soft grey kitchen in mind so I went to the store, found a grey that looked just exactly right on the paint swatch, bought a gallon of paint, and painted the whole kitchen. And then it dried and I looked at it and realized with horror that my kitchen was PURPLE. Soooo purple. Light and shade and surroundings have a tremendous impact on how a paint color reads in a home and the same color can even vary room to room in the same house. So there is just no way around sampling paint – you have to do this if you want to find the right color for your room.
And regarding this sampling business, I have awesome news – from January 22nd – January 28th, BEHR paint color samples are 50% off with FREE SHIPPING on all online orders (limit three samples per order). This includes Behr Premium Plus® and Behr Premium Plus Ultra®. To order samples at 50% CLICK HERE.
Evaluate your samples.
Once you have your samples painted and you've allowed them time to dry, take a step back and take a good hard look. Which one is speaking to you? Everyone is drawn to different colors and you should listen to yourself. If your gut is telling you something is "off" with one of the colors, evaluate that feeling. Is it off because it's too dark? Too bright? Too blue, or green, or purple, or black? Let the answers to those questions inform your further color sample choices if you're not happy with your first round of picks. You're not always going to hit on the right color right away. I sampled five different colors in November before I hit on just the green I wanted for my basement renovation project.
Take a deep breath and paint!
Color paralysis be dead! You can do this!! Honestly, in the end, it's just paint. It's not super expensive or super hard to redo so once you're feeling even reasonably confident in a color choice, go ahead and paint a whole wall. You will KNOW if it's not right when you get to the end of that wall, much like I KNEW my kitchen was purple. But if you've followed the steps I outlined above for how to pick a paint color, I bet you're going to find yourself in a good happy place with your paint choice by now because you have thought and planned and landed at your paint choice carefully and deliberately.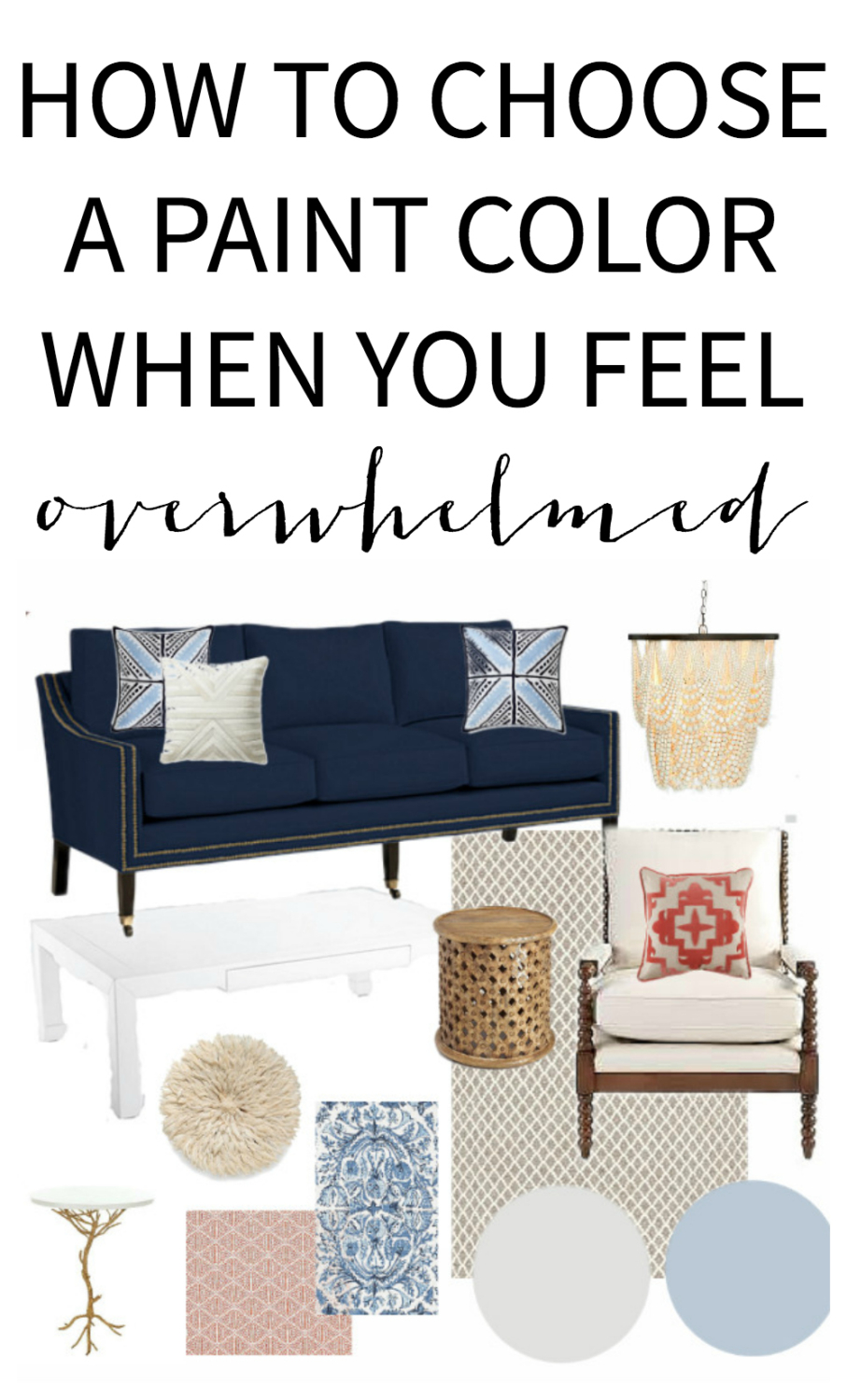 AND if you still feel like you need a little extra help with how to pick a paint color or anything else related to a project you have in mind, let me help you!!! Remember that I'll be live on Behr's Facebook page this Friday, 12/26 from 10 a.m. – 1 p.m. and you can ask me anything design or paint related to help you get going on your next project!
This post is sponsored by Behr Paint but all tips, plans, and ideas shared are my own. Thank you for supporting me and the brands that I choose to share with you!