I can't even begin to tell you how excited I am to share my finished basement family room with you today. I started conceptualizing the renovation for this space two years ago. When we bought this house four years ago we had a good start with unpainted drywall already done but it was a roughly finished space with a damaged rug, a leaky bulkhead door, holes in the walls, and no heat. Right away we installed electric baseboard heat, replaced the leaky door, and basically tossed our kids' toys down here, but it was a rather dark, unhappy space and they never really liked to play in it.
I ripped the rug out a little over a year ago and shared the process of installing a new laminate floor HERE. Then back in November I decided if I was going to get this project done, I needed to make a list of all that needed to be completed, prioritize it, put my head down and get to work! Here's the list I've been working off of, and you can see the progress I made along the way HERE, HERE, HERE, and HERE.
Assemble shelving
Trim shelving to become built-ins
Choose furniture
Choose pillows and accessories
Choose paint colors
Paint walls
Purchase and hang TV
Install baseboard and wainscoting
Trim poles to look like columns
Caulk seams
Paint woodwork
Hang barn door
Replace recessed lights with LEDs
Stage furniture and accessories
I wanted the basement to have a few different functions for my family – a play space for my daughters, a comfy lounge space for our family to watch movies and football games, and a place where we could play boardgames or do puzzles together. My husband had been looking at this site… you could of guessed, the site was about dart boards as he said he wanted to have his area where he would be able to relax. In the end, we didn't go for this as children and darts aren't a good combination! But another function that kind of came into focus as I was working on the room was having open space for a dance floor. Sounds maybe a little ridiculous but what my girls loved to do most when the room was in process and empty was turn on music and dance! So I kind of worked that in, as you'll see below.
I have so much to share with you in this space – sources for all the furniture and accessories, tutorials for how I turned Ikea shelving into built-ins, and how I trimmed the steel support poles to become columns – but that would make for one monstrously long blog post all in one. So today I'm sharing overall photos of the finished space and the furniture I added to the room from Raymour and Flanigan, and then over the next few weeks I'll share tutorials for the built-ins and columns. You can find a full source list for the room HERE.
Here's a reminder of how the room looked at the start.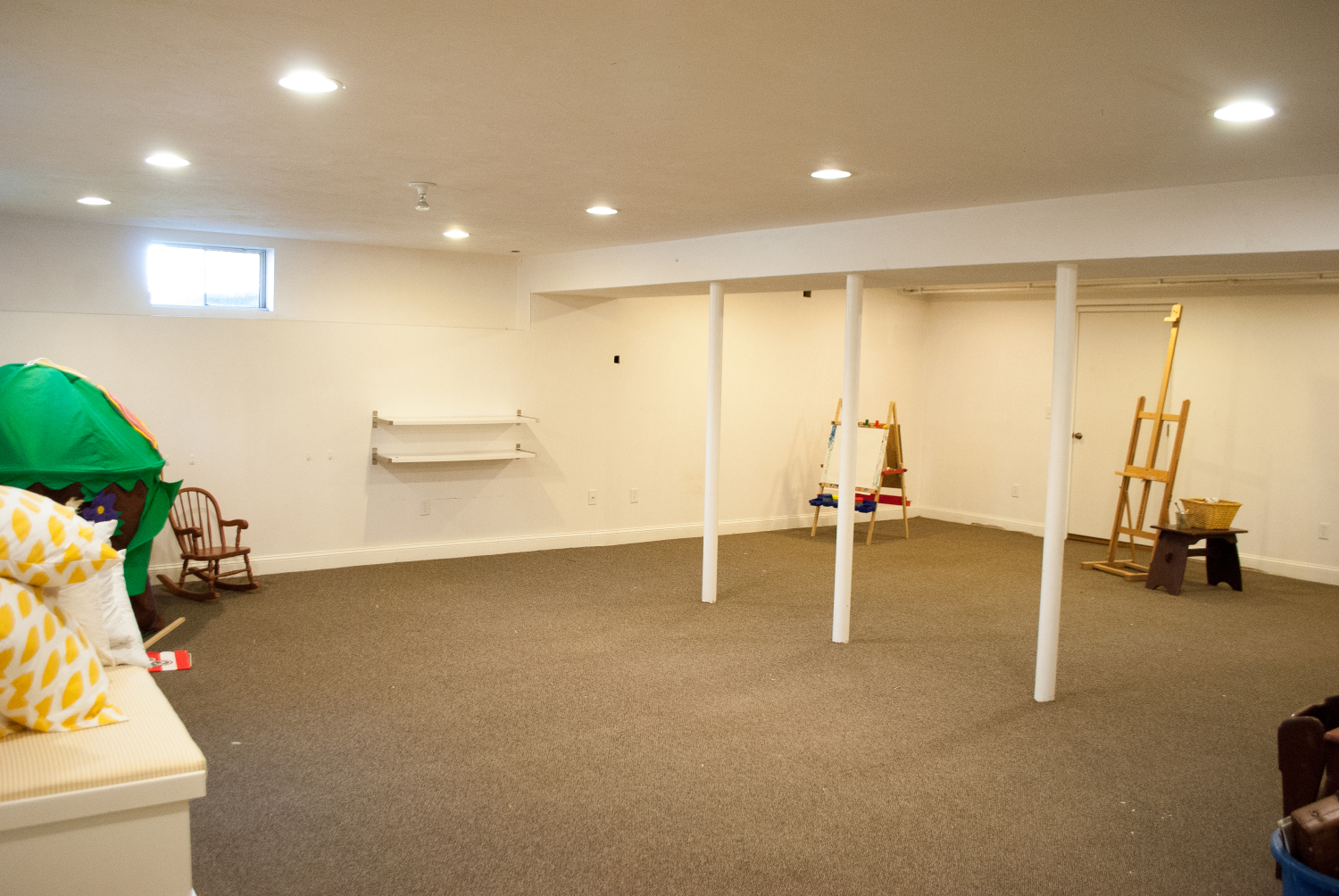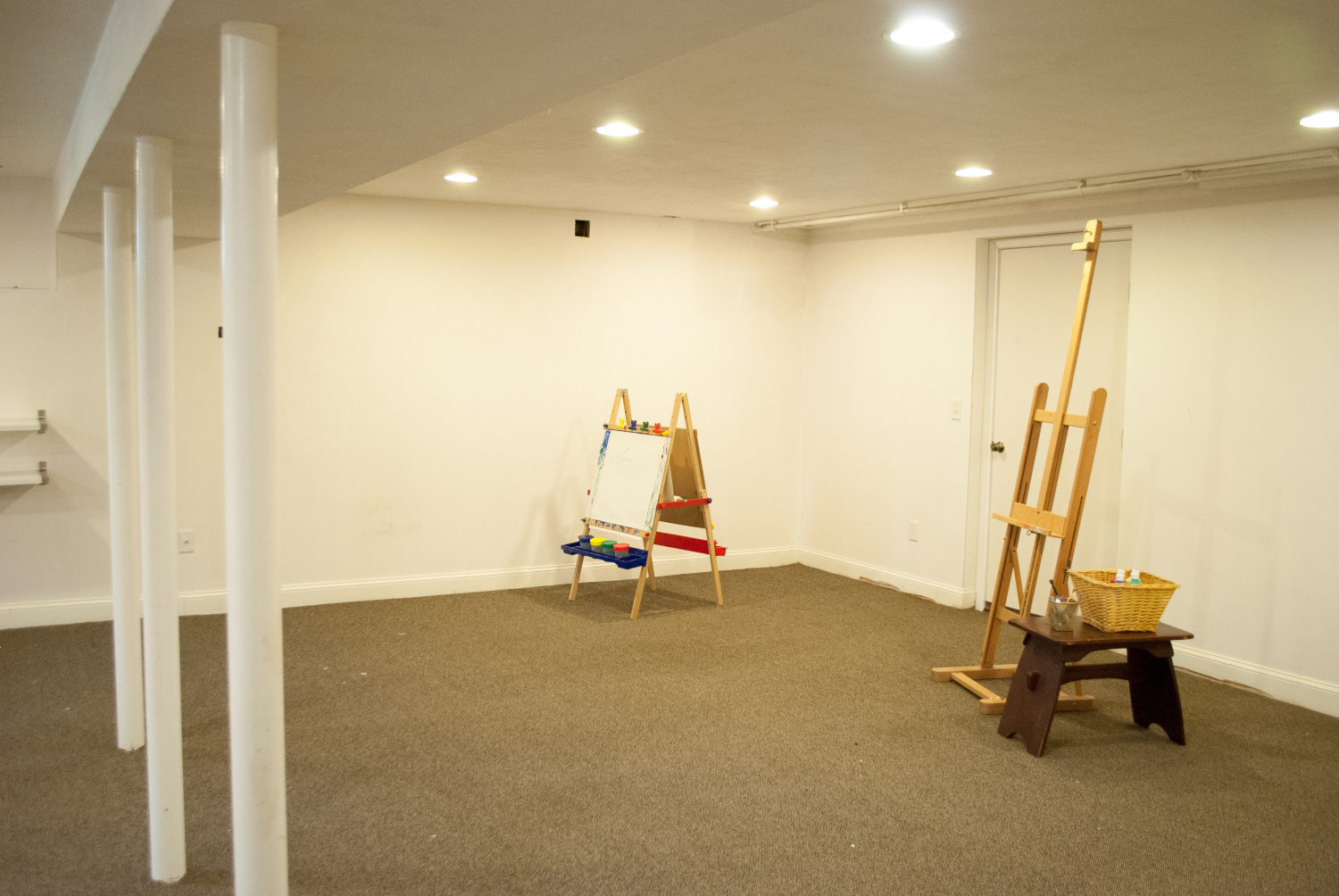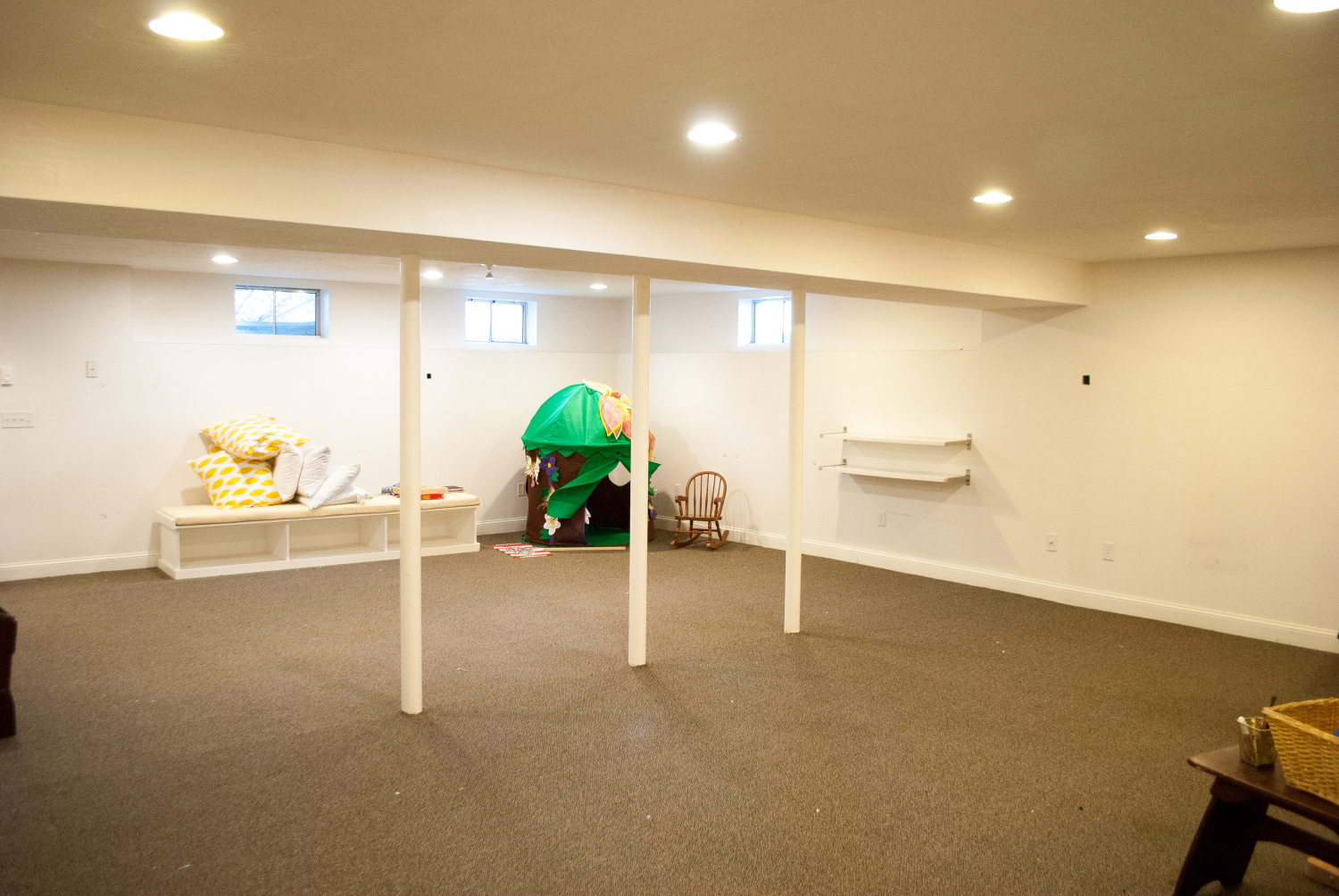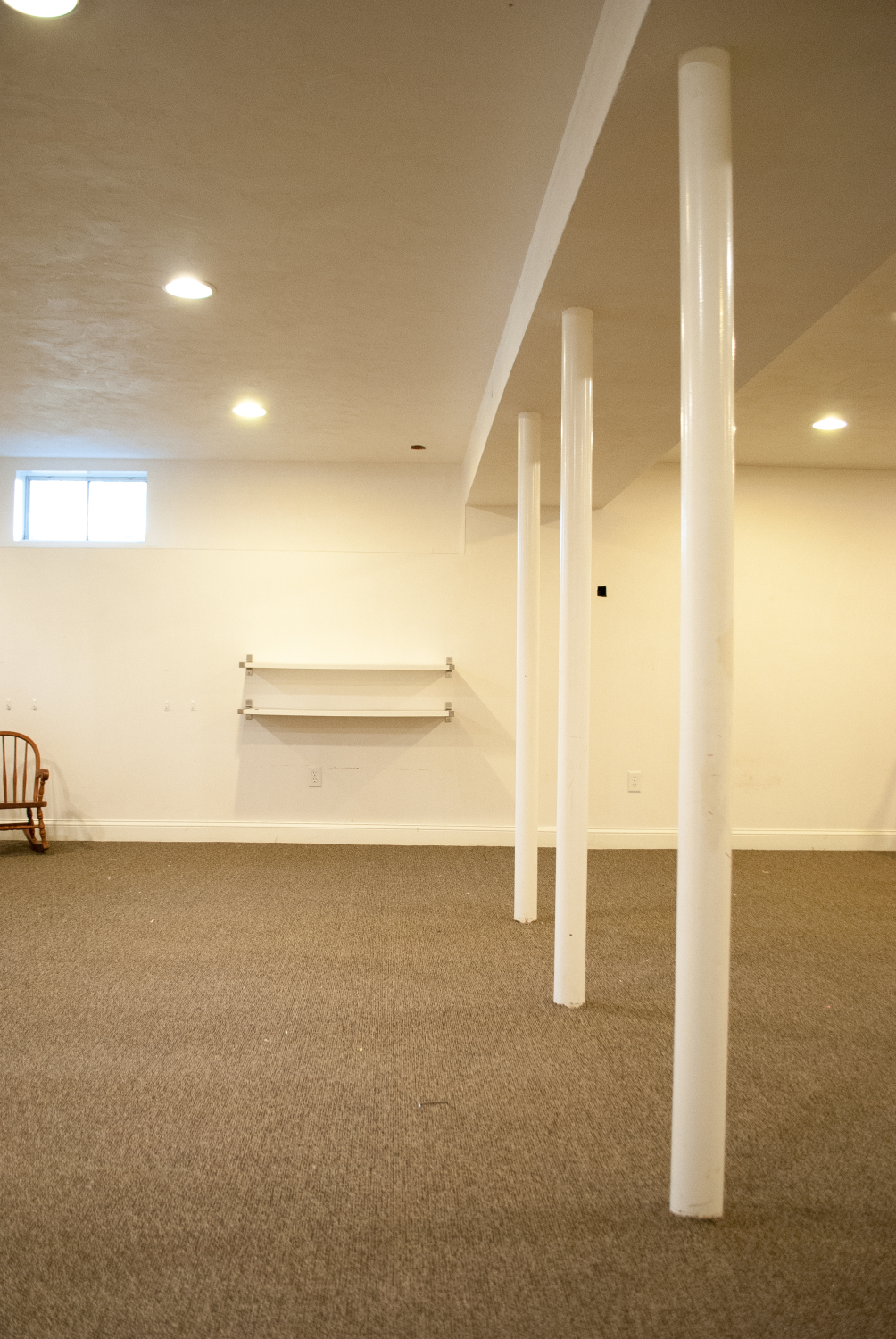 And here is our finished basement family room now!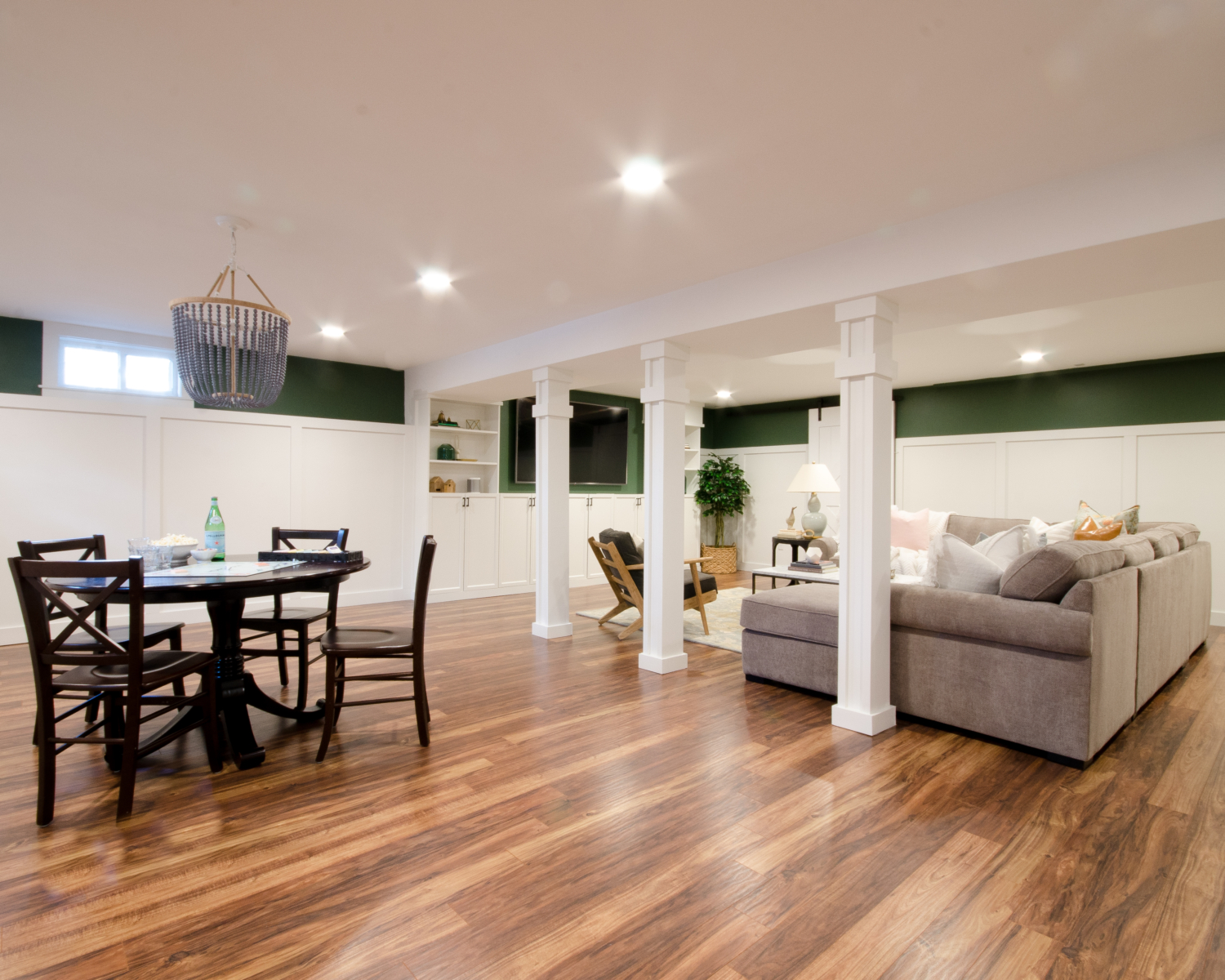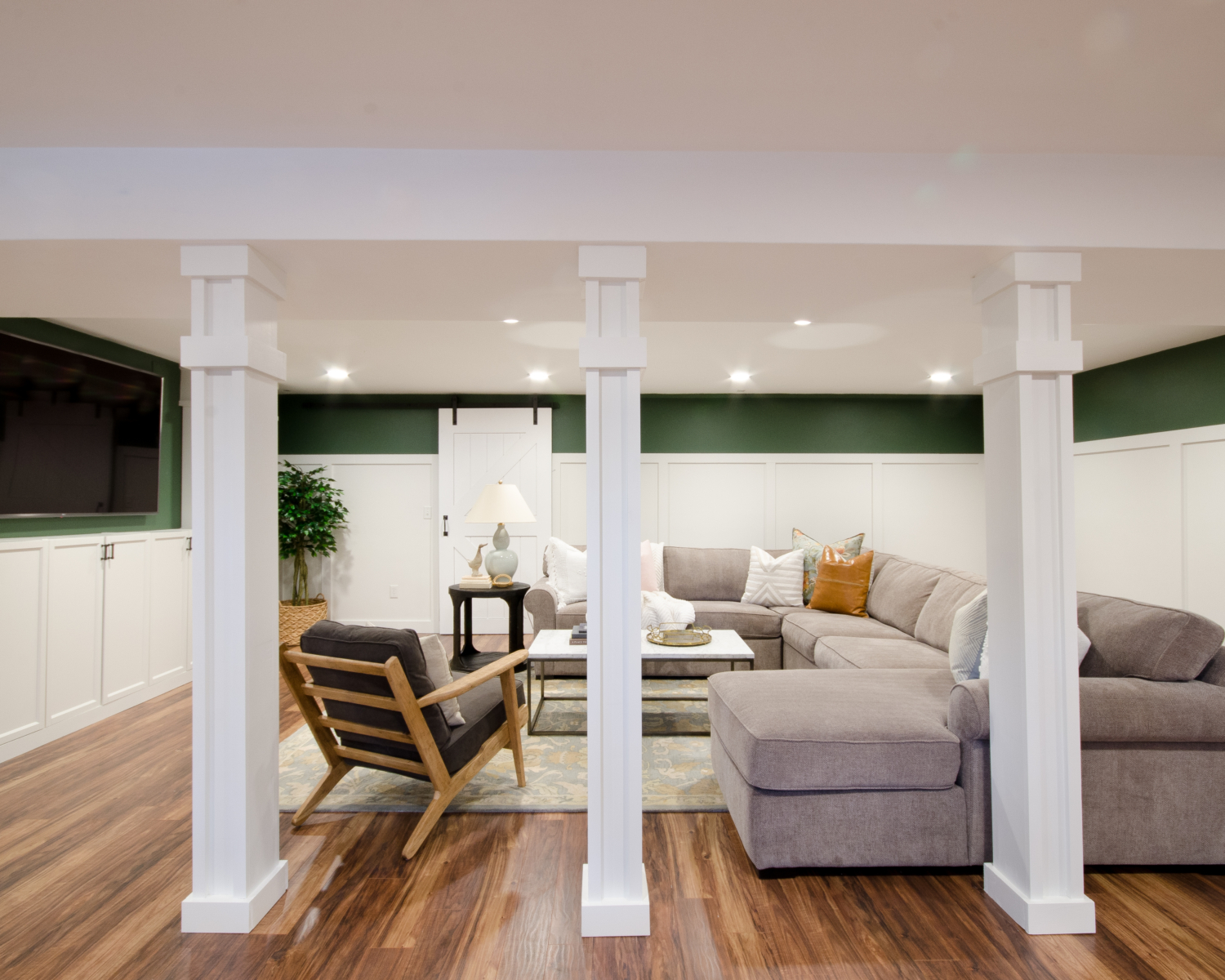 All of the furniture in the new finished basement family room seating area came from Raymour and Flanigan, whose pieces I also used to makeover my family room last year. They have an amazing selection of furniture and accessories from which to shop and their pieces fit into any budget and style. They carry traditional and modern pieces plus everything in between. There are budget options for everything from sofas to wall art as well as higher-end pieces should you be working with a wider budget. And all of their stock items are guaranteed to be delivered in three days or less, which you know is kind of amazing if you've ever ordered furniture from…well, anywhere else. Raymour and Flanigan has a great selection of special order items as well, and the pieces I chose for the basement were a mix of both stock and special order.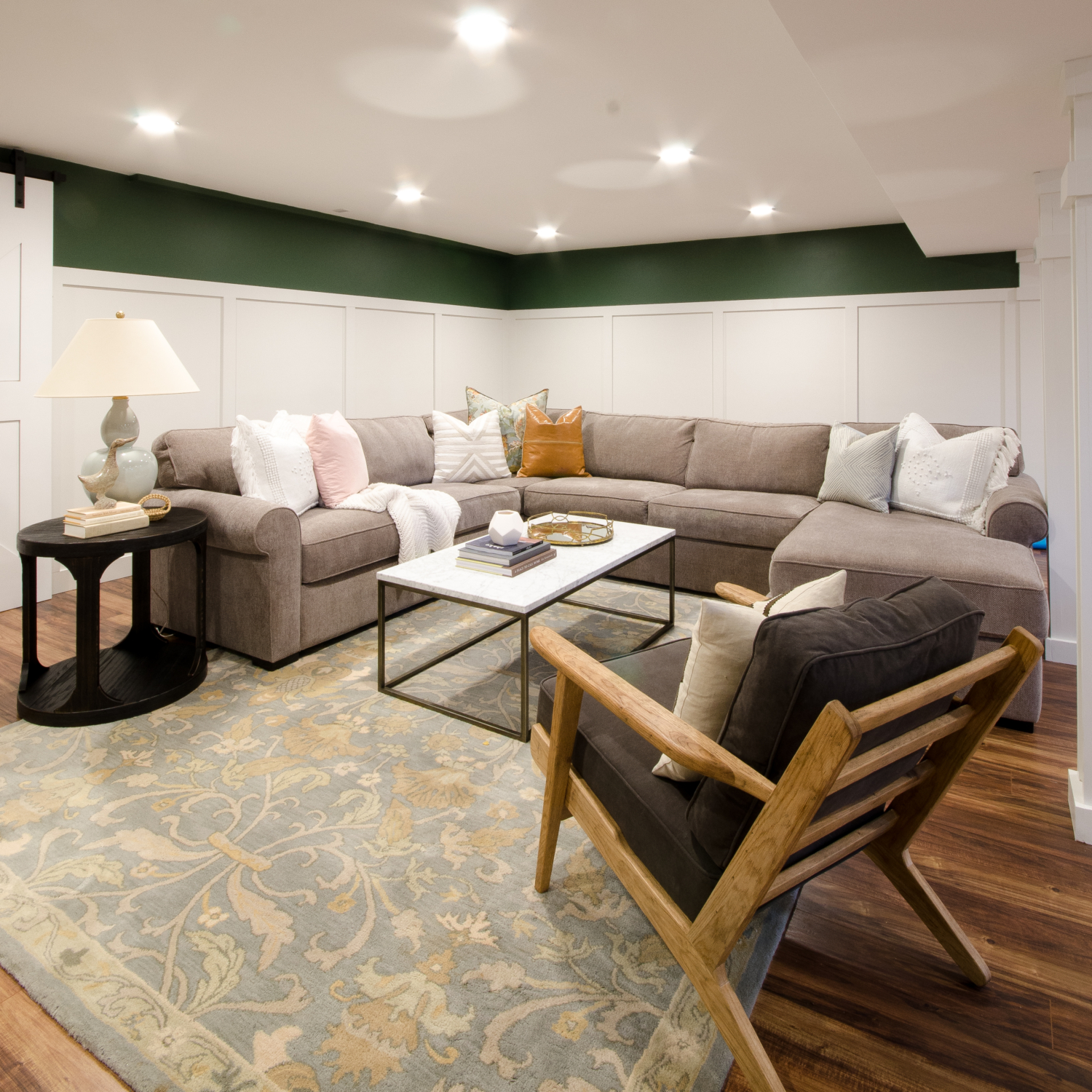 For the sofa, I decided on a sectional from Raymour and Flanigan's Kipling line – I liked the traditional rolled arms, the comfort of the deep seat and back cushions, and the fact that the grey herringbone chenille fabric would be forgiving in a room frequented by children! From there I waffled a little bit on whether to go with a traditional L-shaped sectional or the big daddy sectional that included a chaise. I ultimately decided on the BIG Kipling four-piece sectional. And I don't regret that choice one little bit. It is so comfortable and roomy and has been absolutely perfect for movie nights and football afternoons with both just our family and with friends and extended family hanging out there with us too. My girls even had a sleepover down here last week and three girls fit more than comfortably sleeping on the sofa.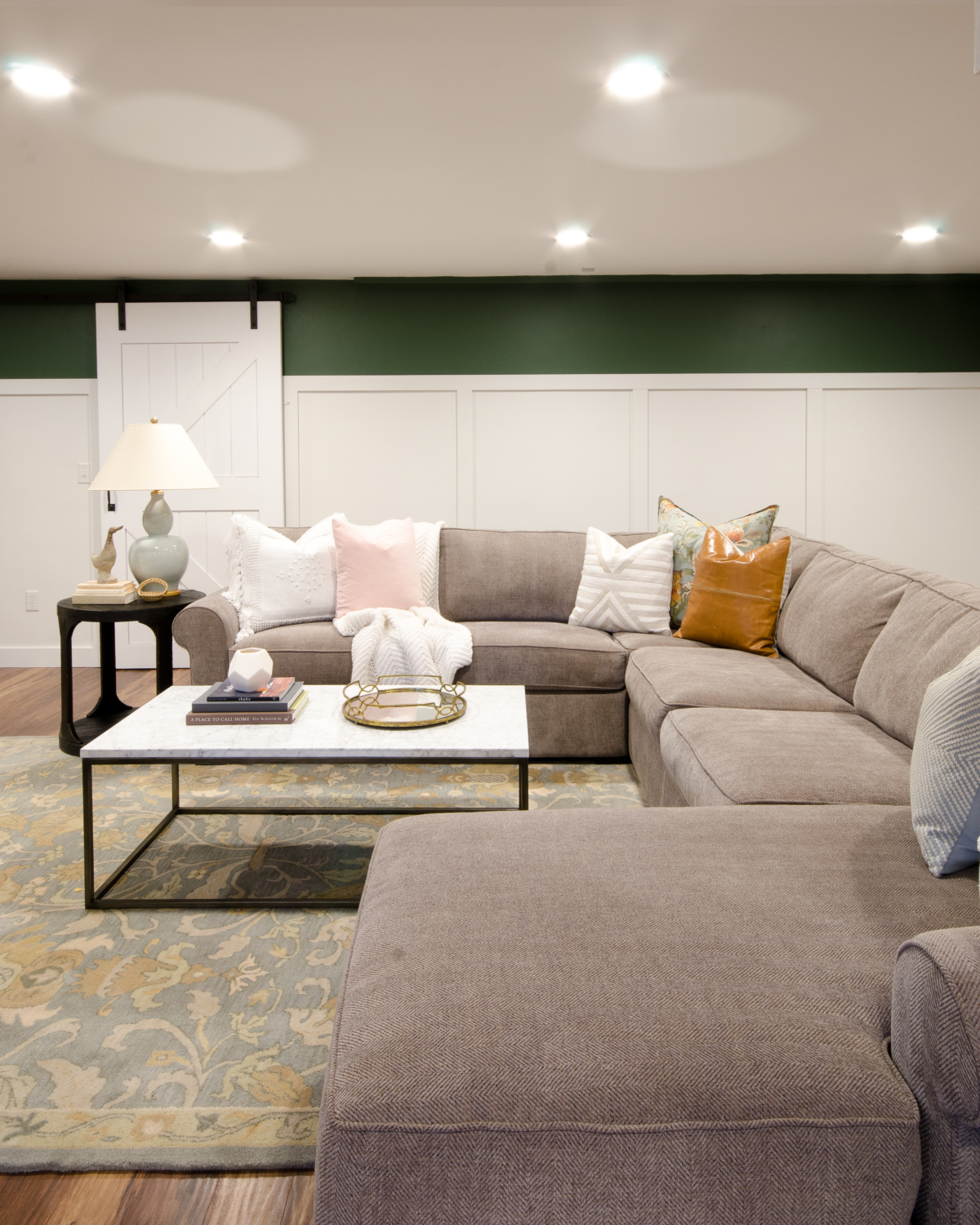 I fell in love with the Brooks Accent Chair the moment I saw it on Raymour and Flanigan's site and knew I wanted to include it in the room. I love everything about this chair. The style is a bit of a nod to Adirondack chair style but in an elevated design. It has that familiar slope that makes Adirondack chairs so comfortable for lounging but the thick seat and back cushions make it even more comfy. The Brooks chair is just as pretty from the back as from other angles, which makes it perfect for the spot where it sits in the finished basement family room, where the back is what you see when you walk down the stairs. It's light enough that it can easily be moved to face either the sofa for conversation or turned toward the TV. With the TV scenario… We were unsure whether or not to go for a TV (like we have) or a projector, as this is a chill out space we were going to get a projector from RM Projectors.com to make this area more appealing to the kids however, as we'd mainly be watching the news and basic channels, buying a projector would be a little over kill! The finish on the wood is perfectly distressed (just a little) and the cushions are this great super dark green with the slightest bit of fading to give it almost an heirloom look. Basically…the absolute perfect polished but casual chair for a finished basement family room that I want to feel both pretty and laid-back.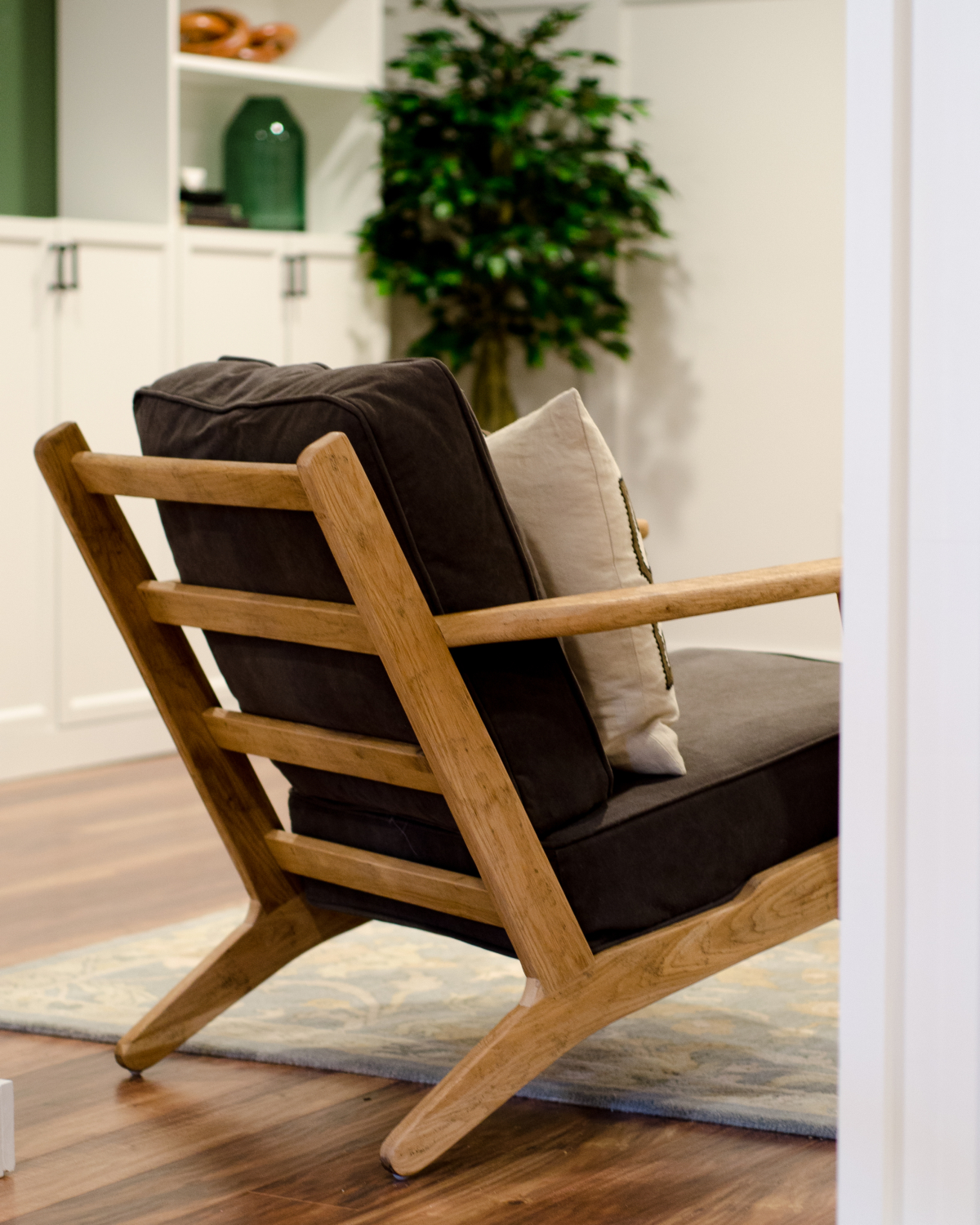 I mentioned in this post that I had to delay sharing the finished room with you because the first of this Alana marble coffee table I ordered from Raymour and Flanigan arrived at their warehouse broken. The whole experience of dealing with them when this happened was more than positive and just another example of why I will always look to them for furnishing my house in the future – amazing furniture selection and even more amazing customer care and service. They are such a wonderful company to work with. But back to the table. It is glorious – simple, clean lines and the perfect blend of modern styling and classic materials. I adore this table.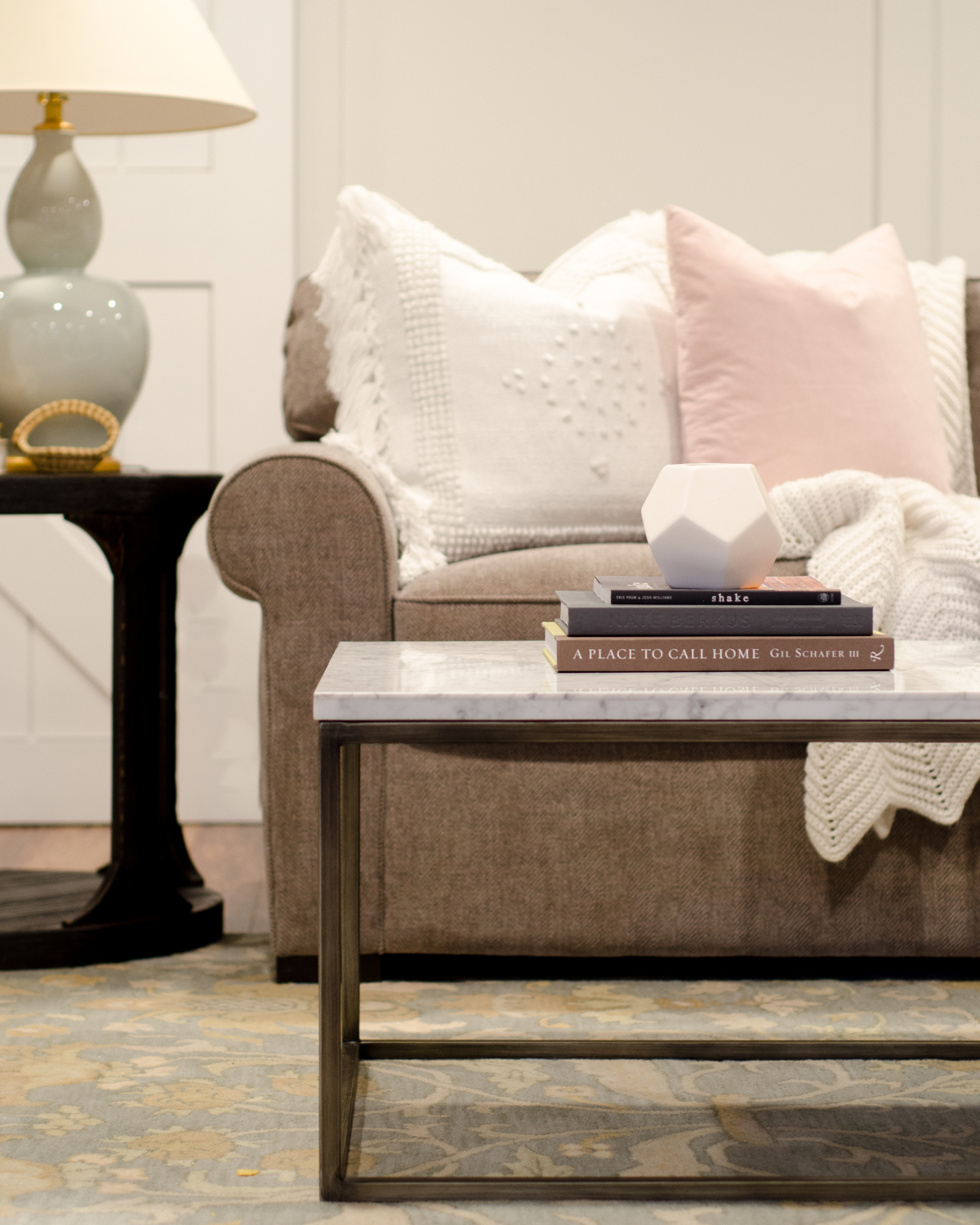 In addition to the coffee table, I chose one end table for the side of the sofa without the chaise. There was a marble end table that matched the coffee table exactly but I liked the idea of having something complimentary rather than matching, and settled on the Bellagio end table. I already had white marble and a lighter wood tone on the Brooks chair, so thought the dark wood color would be a nice punctuation point against the other lighter colors. And I love the way the legs curve out where they meet the top and bottom – such a pretty, graceful detail. Plus the big surface area leaves plenty of room for a lamp and a few other accents. It looks like the round table is not available on Raymour and Flanigan's website right now but I've linked to the square version which is the same design.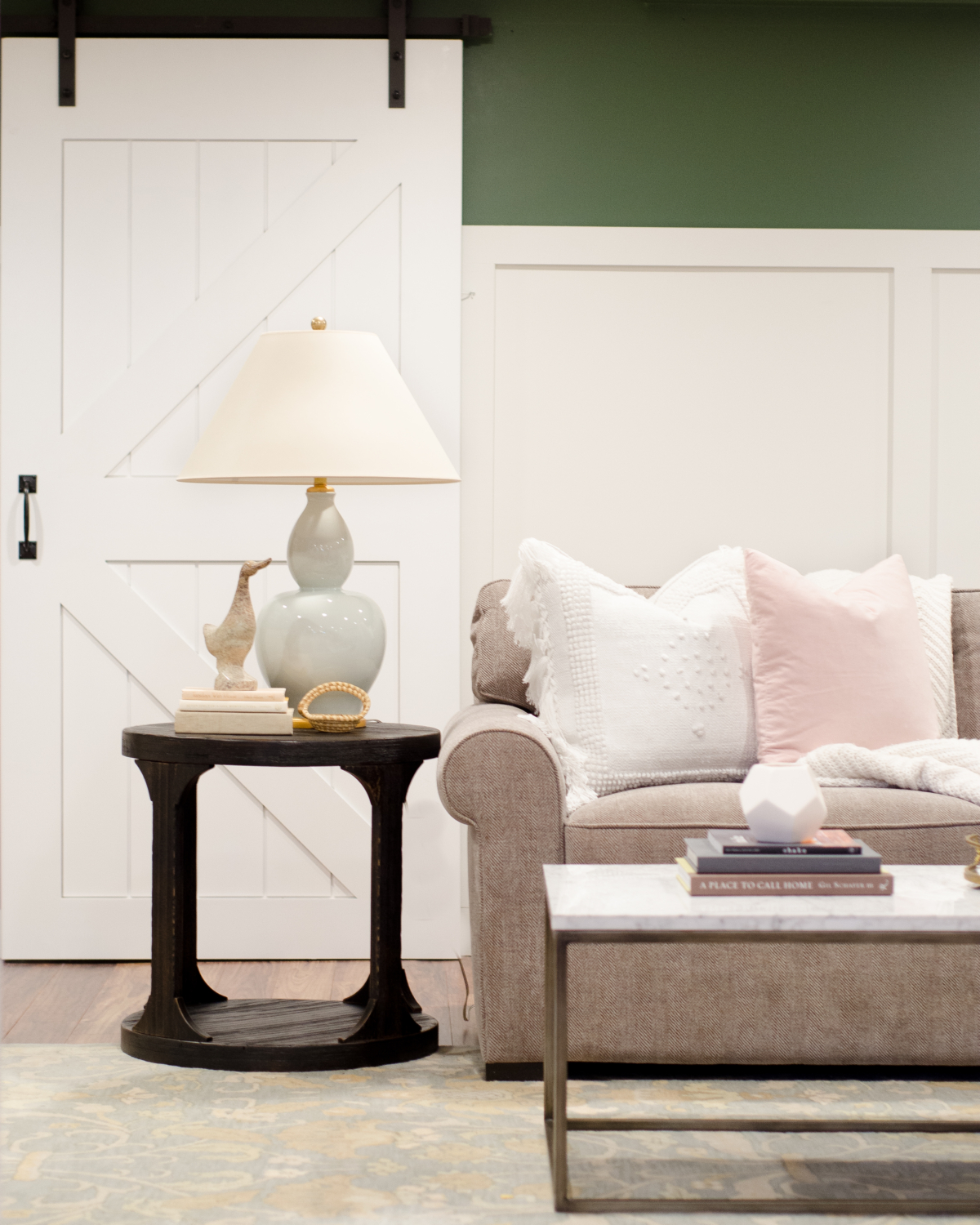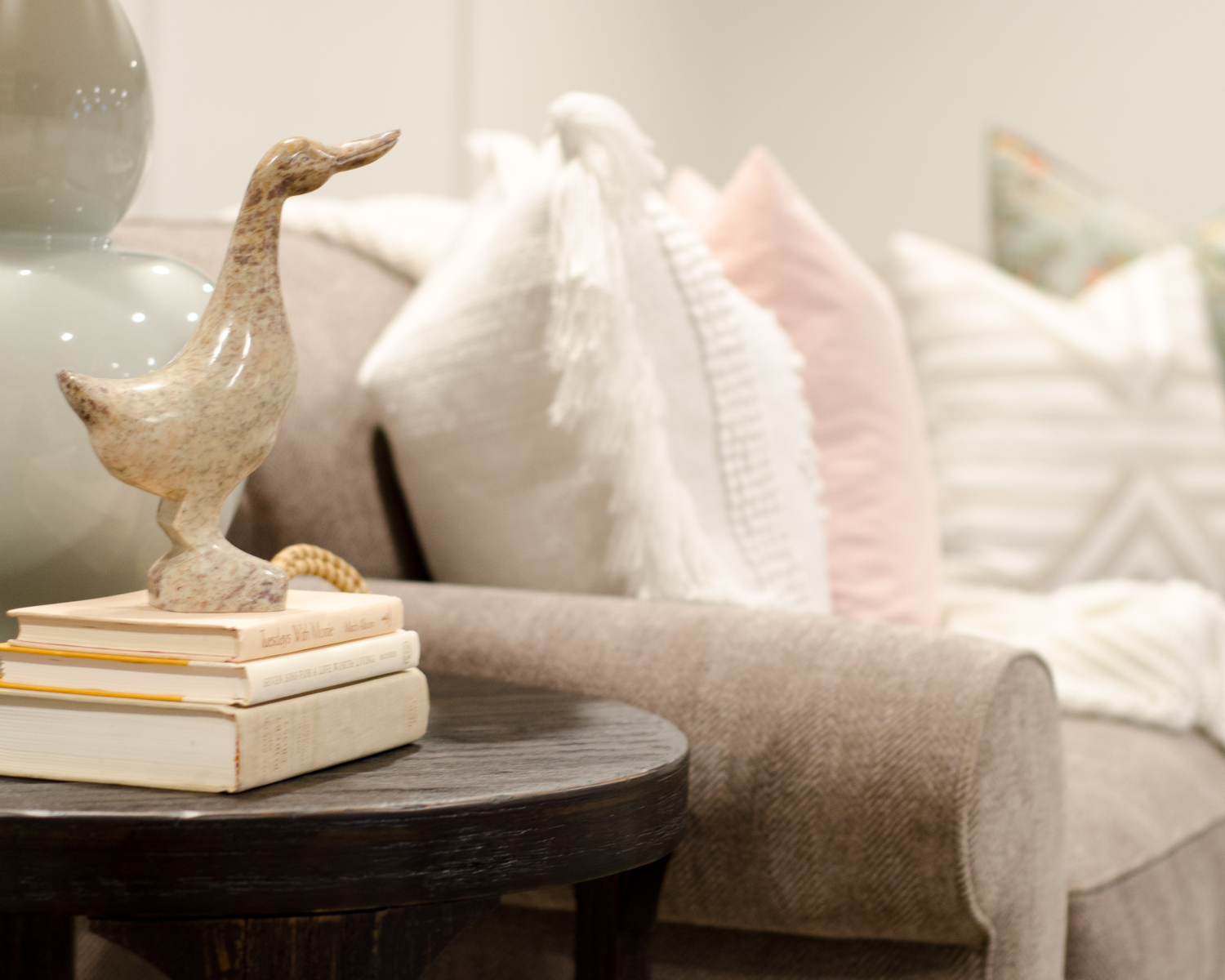 I'll share the process for installing the built-ins in the next few weeks but they have been and will continue to be key for keeping this room looking neat. All of my girls' toys and games have been relocated behind those doors but you'd never know it by looking at them! Plus the covered storage on the bottom let me run all the wires for the TV, cable box, and speaker behind the cabinets so they're not visible. But more on that later…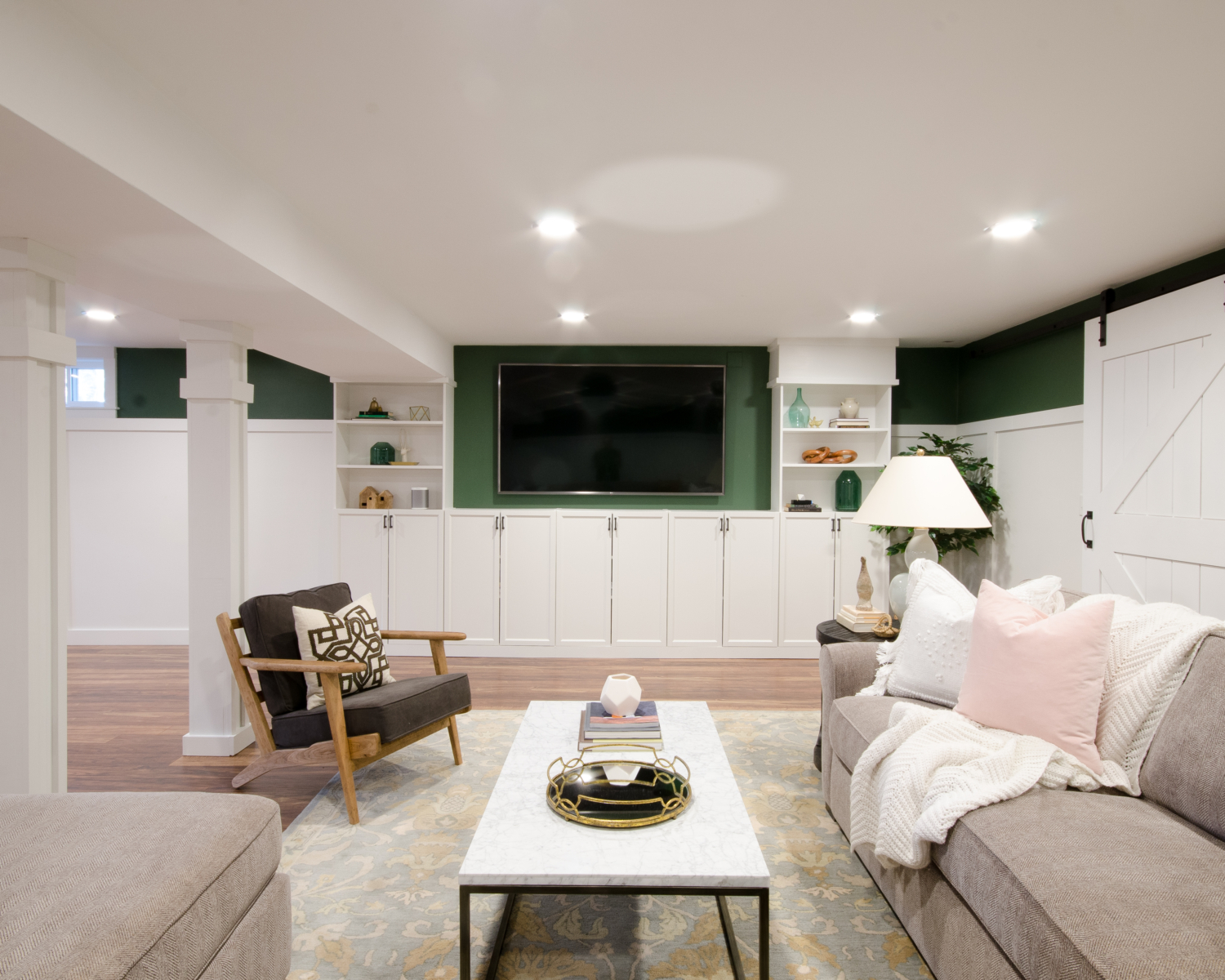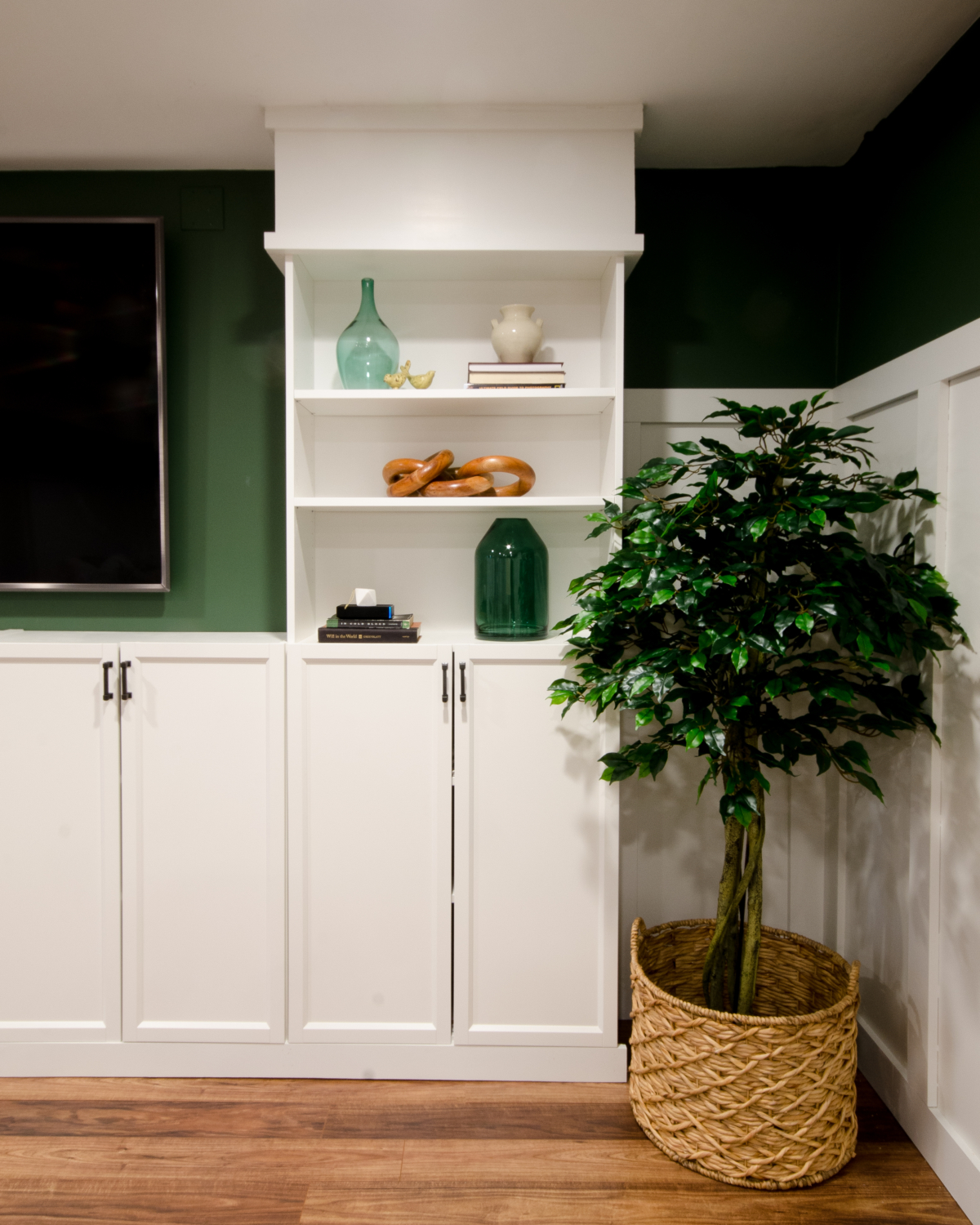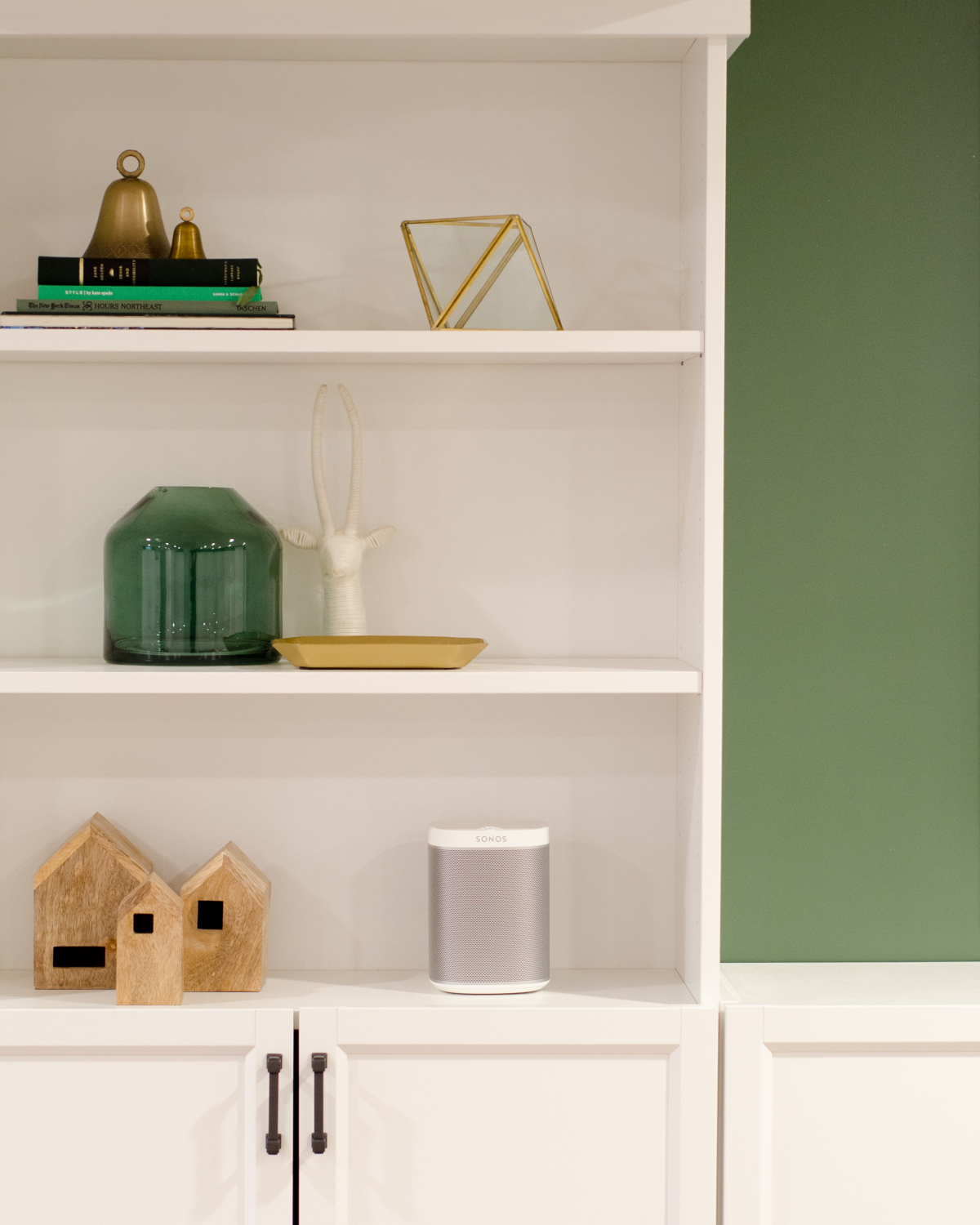 Now about that dance floor. My original intention was to leave this entire side of the room open. But as my girls have gotten older we like to play board games sometimes or do puzzles that take more than one sitting to complete. Since this finished basement family room is at least half a playroom for them, I really liked the idea of having a table and chairs where we could sit and play games or work on puzzles without having to necessarily clean it all up right away, like we've been doing on the kitchen counter or living room floor. This round table was our old kitchen table, which was just sitting on the unfinished side of the basement, so I decided to pull it out, put felt pads under the legs, and place it under the new beaded chandelier (there was a bare bulb hanging from that spot before). The felt pads mean the table can easily slide back and forth into place. Even my seven and nine year olds can scoot it out of the way when they want to do cartwheels or have a dance party.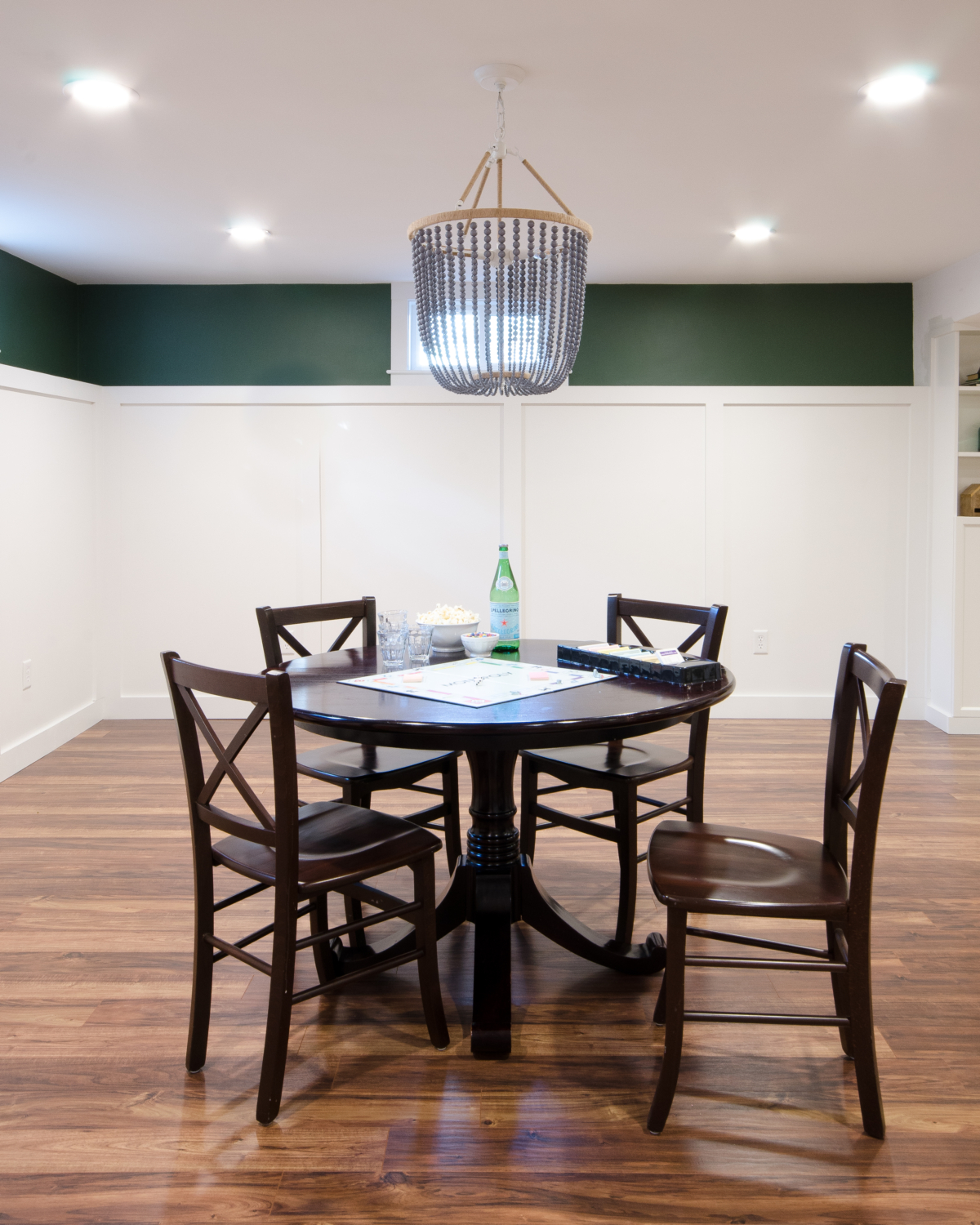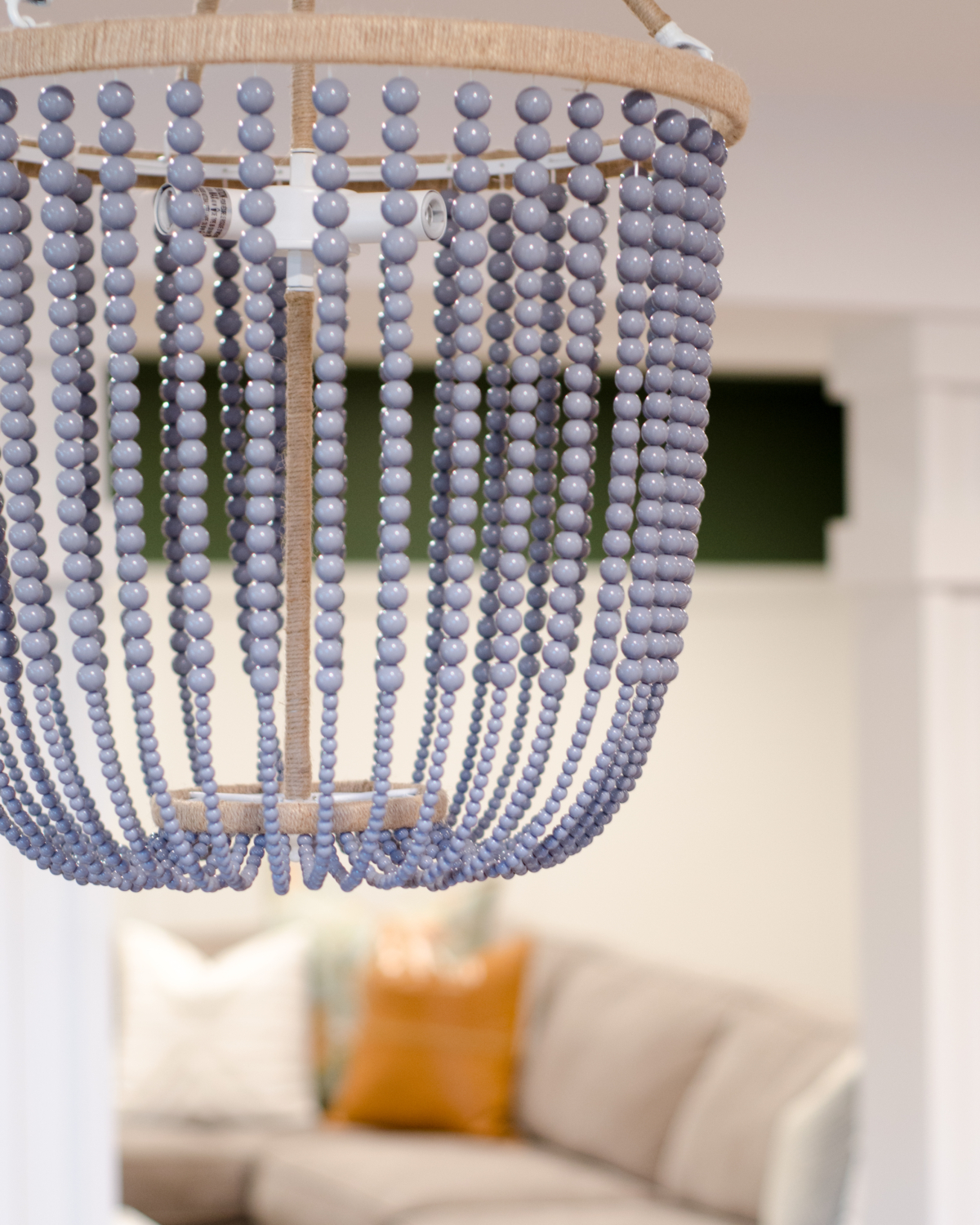 And that, my friends, is all for today. I'll be sharing full sources for the room next week and will have those tutorials for the built-ins and the poles soon after that. Thank you so much for all of your enthusiasm for this project as I worked through it. It's made it that much more fun for me to share with you. I am thrilled to the max with how our finished basement family room came together and even in just the past few weeks, it has been all I'd hoped it would for my family, and more.
Thank you to Raymour and Flanigan for providing the sitting area furniture for this finished basement family room renovation. I chose the pieces myself and meant every word I said about both the furniture and the company. I would purchase from them in a heartbeat and hope you'll take a look at their stores or on their website the next time you need new furnishings for your home!