Well hello! It's been a little while but I typically take a few weeks off around the holidays to focus on my family and recharge and this year was no exception. I'm ready to get back to work around here though, and I mean both on house projects and here on the blog. But before I dive back in headfirst, I like to take a look back at my plans from a year ago, see how I did with meeting my goals, and make a new list of project goals for the new year. You can see my report card and plans from this time last year HERE. I did…….okay with my project goals from this past year. Not amazing. But so it goes…it helps me keep focus to have an idea of what I'd like to tackle but the reality is that projects always take me longer than I think they will!
Here are last year's completed projects:
The Powder Room
This wasn't even on my list for last year but we had some issues come up that resulted in our almost completely gutting the space. The wallpaper and ceiling pendant stayed but everything else was updated – new wainscoting, floor, sink, toilet, faucet, and mirror. You can see the details of the powder room makeover HERE.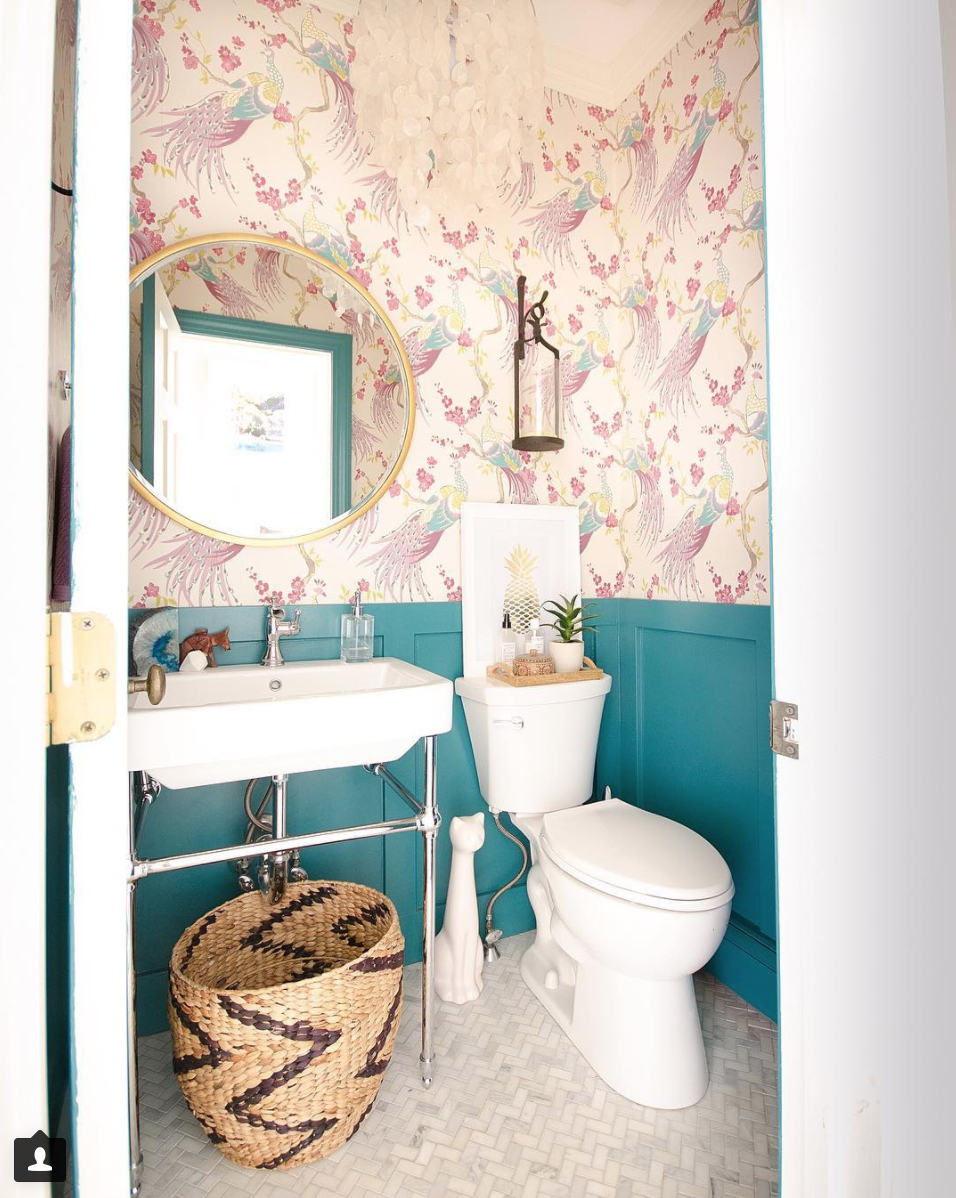 Backyard
Also not on my list for 2017 was our backyard makeover and this was a major reason a lot of the other projects I'd hoped to tackle last year never happened. We built a deck and added two paver patios and I am basically completely in love with my backyard now. We don't have a nice lawn yet…but the rest of it is looking good. See all the details about the space HERE, HERE, and HERE.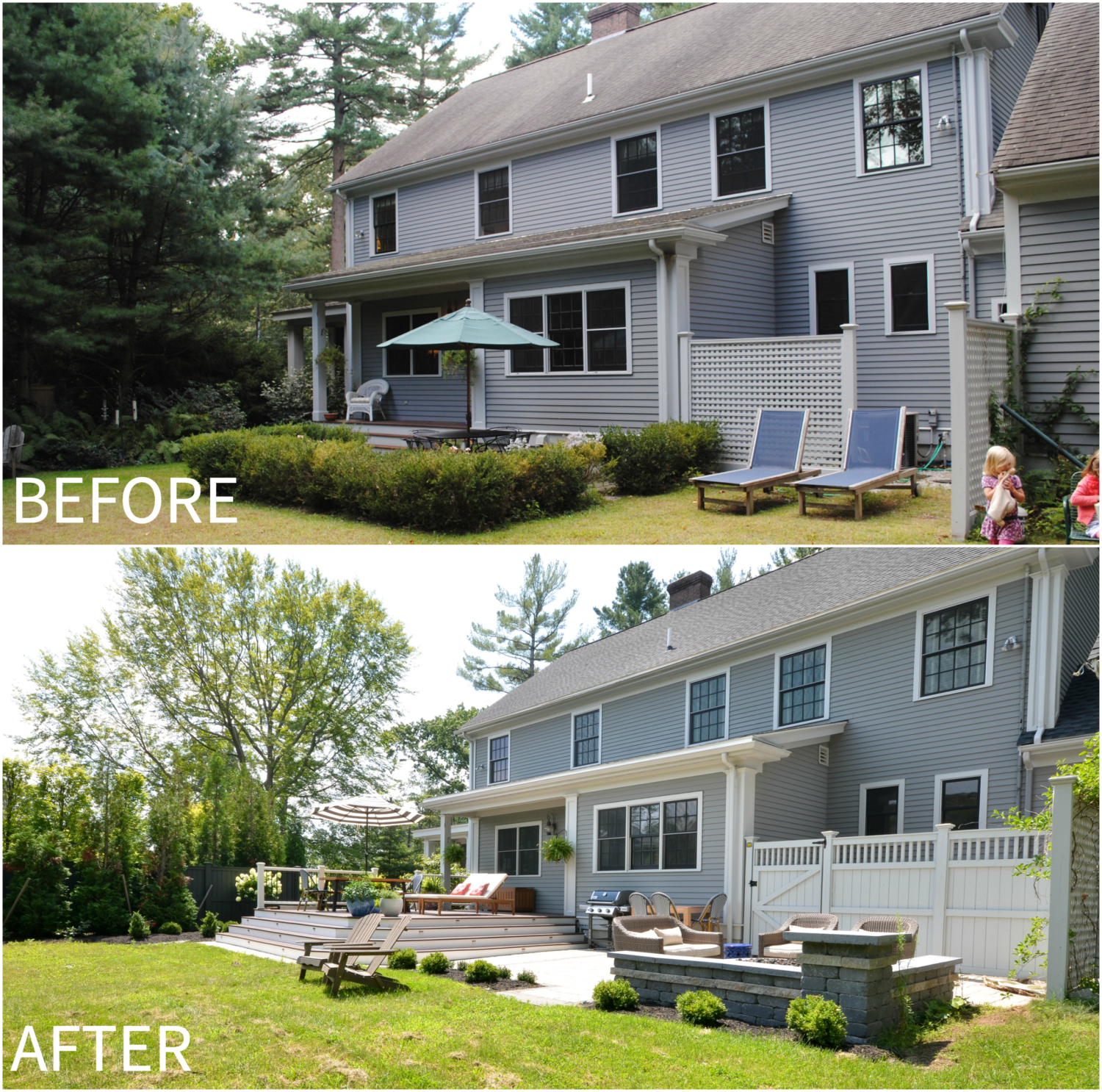 Mudroom
This was one of those rooms that is so typical of me – finished to about 75% and then sat that way for awhile. But I finally finished it all the way in 2017 and I absolutely love the finished product! I hung the striped wallpaper, built and painted the bench and cubbies, painted the doors black, and updated the door hardware. It functions so much better for my family now with the addition of the bench and cubbies! Total game changer.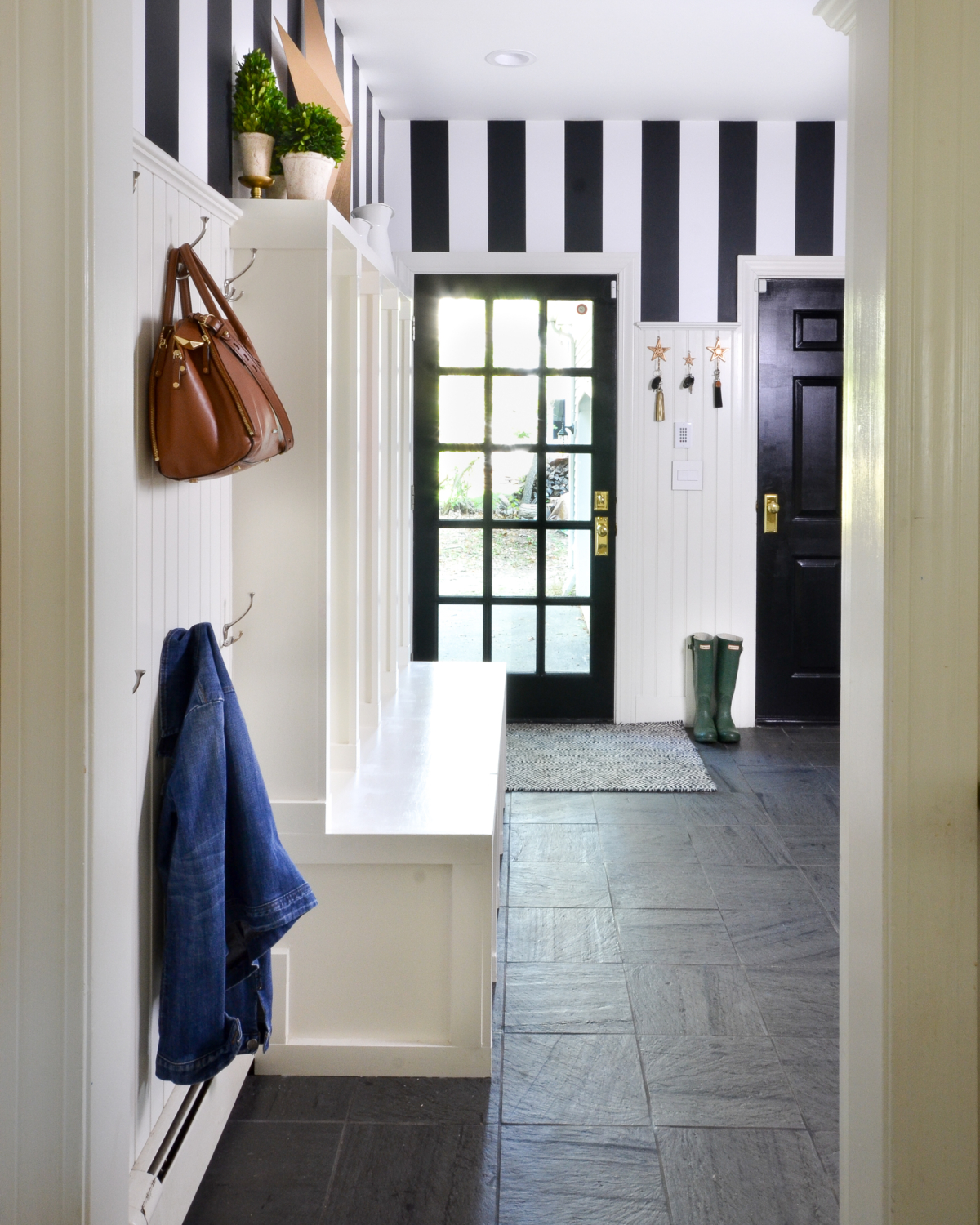 Kitchen Breakfast Nook
I didn't completely finish this area but I did add a new table and chairs and all that remains is to build a bench seat under the windows, which is on my list for 2018!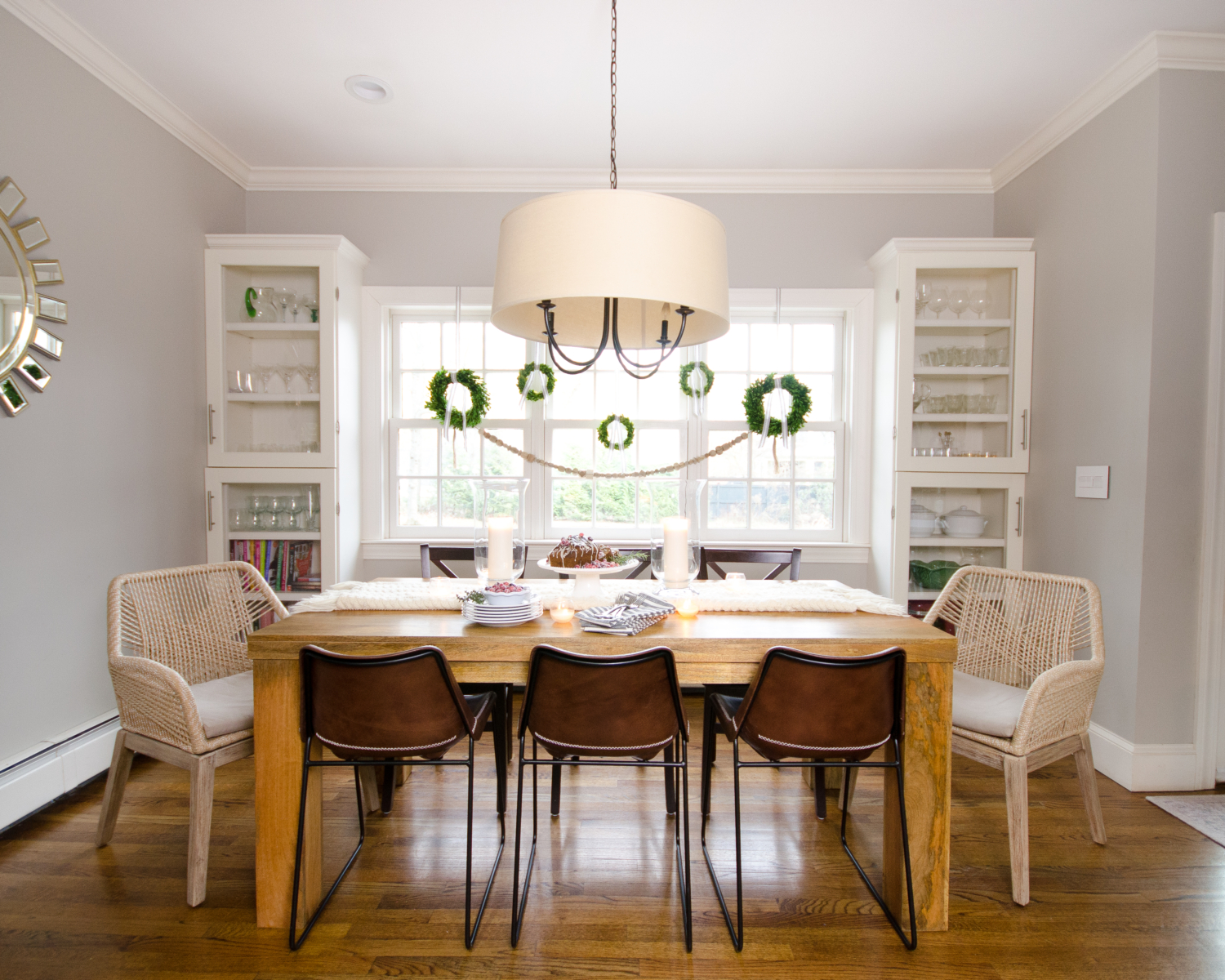 Basement
Other than the backyard, this was my BIG project for 2017. And it was my biggest solo project since I've done every bit of the work myself. I'm thisclose to being finished, in fact I'll be sharing the completed room with you in just a couple weeks! Here's a look at how the room looked this time last year and how it looks currently, with just a few finishing touches remaining.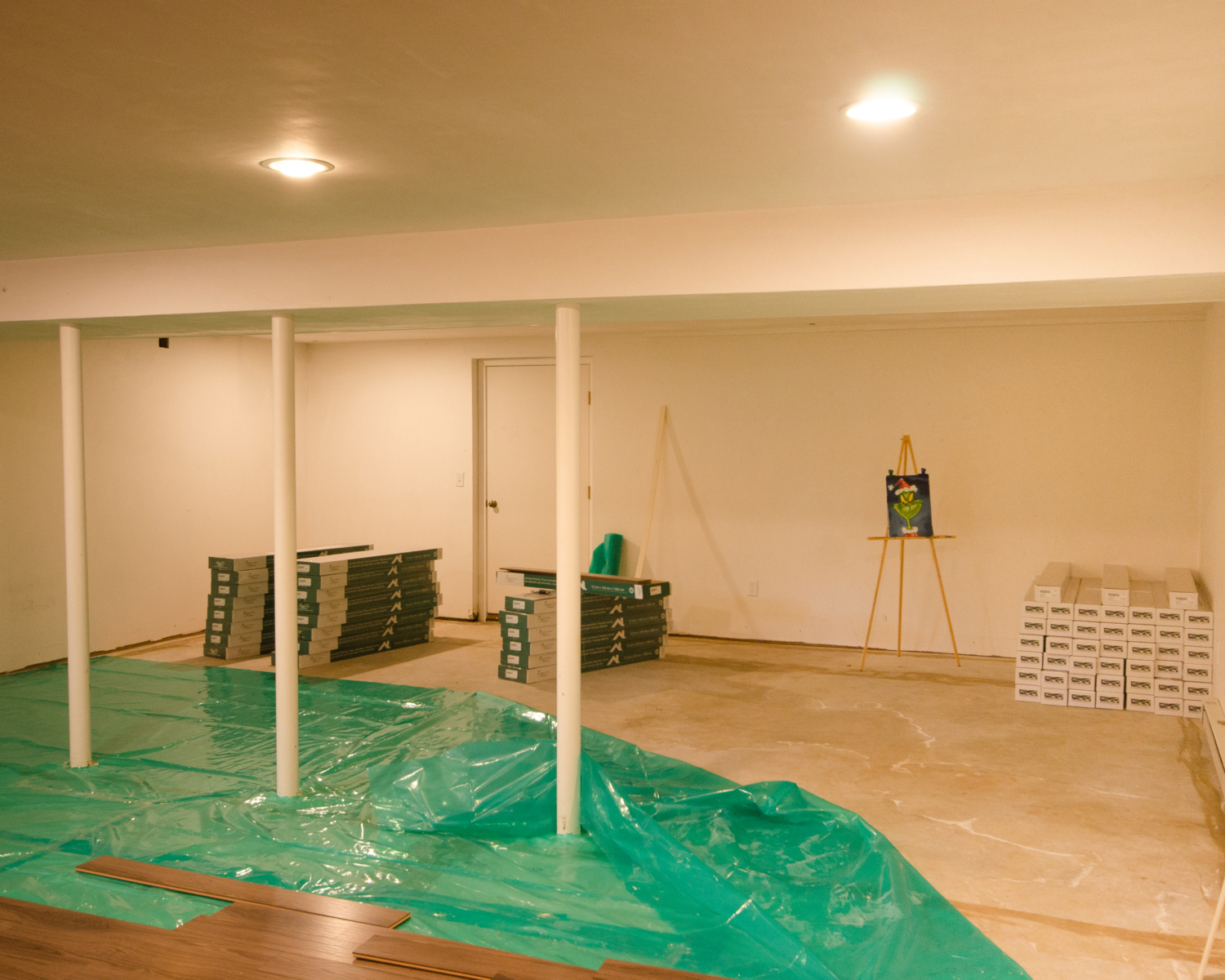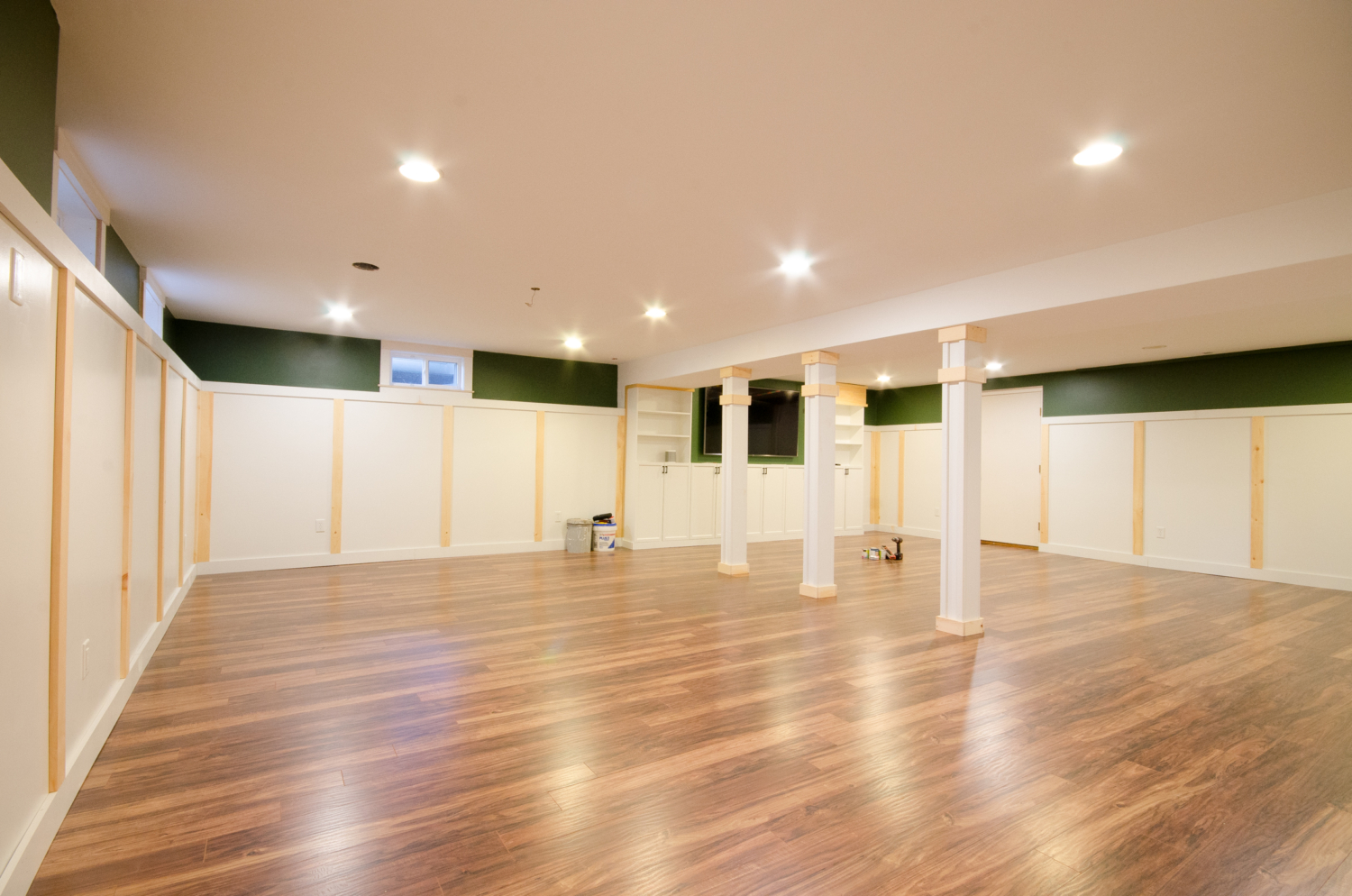 Projects that I'd hoped to get to last year that never got much attention were finishing my dining room the last 25%, organizing my laundry room and finishing the wallpaper (though I did organize some of the shelving), and giving the guest bathroom a facelift. I may shift away from those a bit in the new year as some other priorities have come into focus. Other than wrapping up those last pieces in the breakfast nook and basement, here's what I'd love to accomplish as far as projects this year.
Basement Dry Bar
There's actually a little corner of the basement that you haven't seen yet, where I'm currently storing all of my tools from working down here the last few months. My husband really wanted a bar in the basement and we had this little nook here where our oil tank used to be when we had oil heat in the house. We hired someone to insulate it, frame it out, and add the drywall and, voila! We had the perfect little spot for a bar. We talked to a plumber about running pipes so we could have a sink but it was going to be super expensive so we've decided to do a dry bar instead, with lower cabinets for storage, open shelving and/or cabinets on top, an ice maker, and a kegerator (husband's request, I'm not much of a beer drinker myself).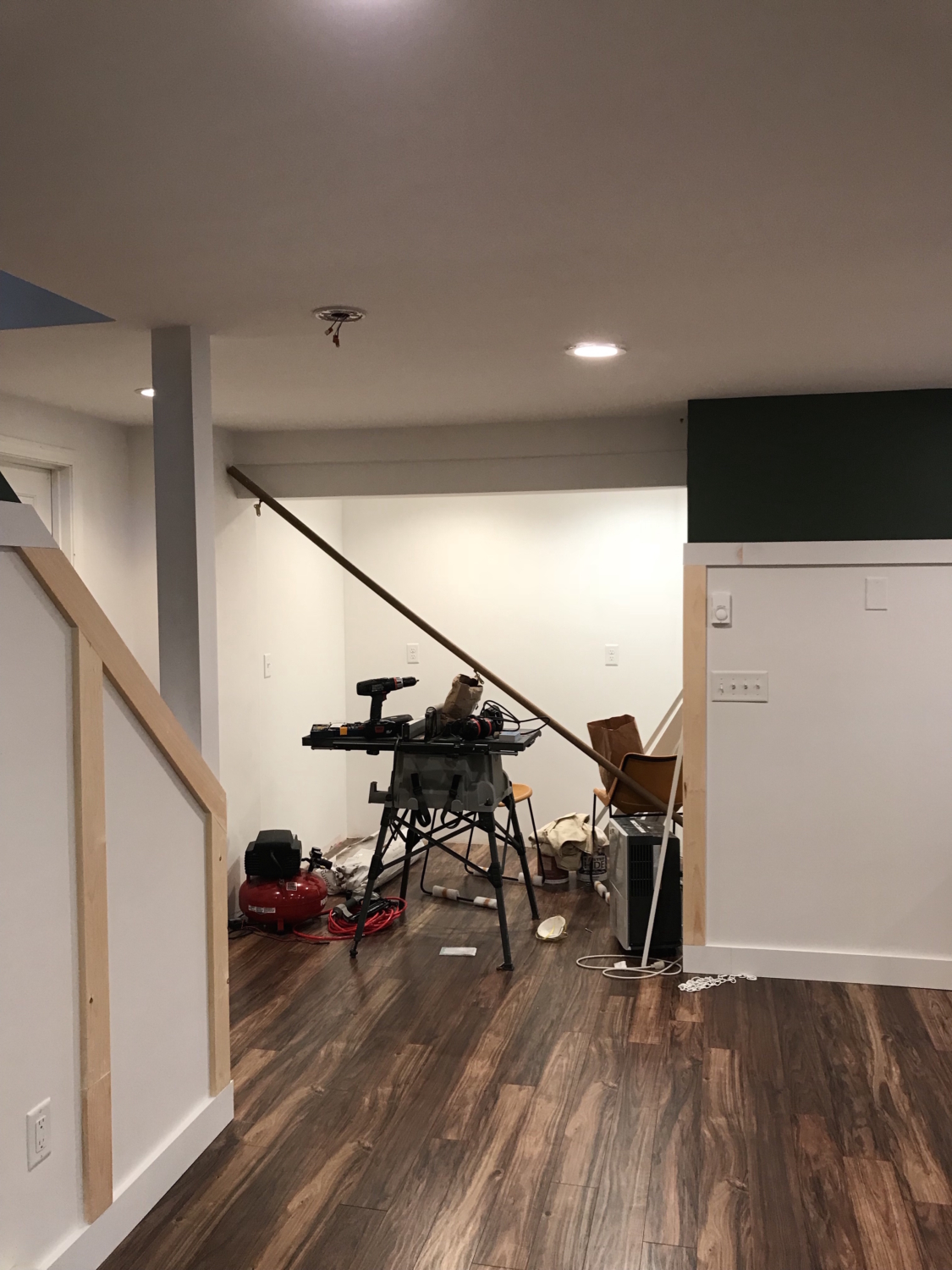 Dining Room
This is a rollover from last year. I'd really like to get this room finished once and for all, much like the mudroom from last year, it's been done about 50% for the past couple of years and I would love to take it all the way in 2018. On the list are finishing the wainscoting (I did a chair rail and wallpapered above it a couple years ago), new drapes and chair coverings, and choosing wall art. Not that much as home improvement projects go, I just need to carve out the time and make it happen! I'm feeling especially paralyzed on wall art choices for this room.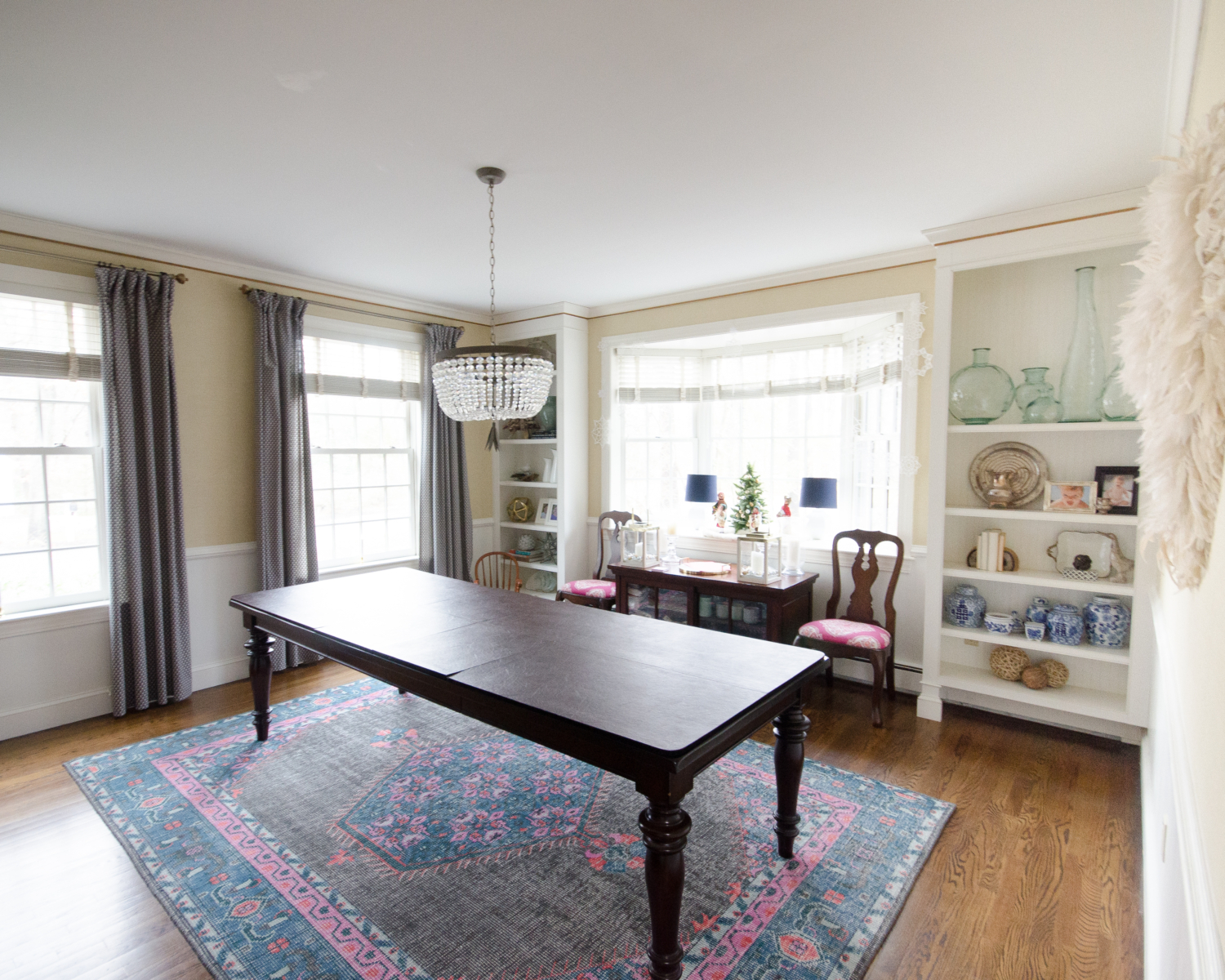 Living Room
I painted this room a couple years ago and have had vague plans for it in the back of my head since then. I've added bits and pieces to it as I've found furniture or decor that I love – my Craigslist navy blue sofa that I dyed to revive the color, a couple of spool chairs I scored at Home Goods (best price online for them is HERE), a gorgeous juju hat wall hanging, etc. But it has not been finished. Not even close. It needs curtains for one thing – there have been sad empty curtain rods mounted to the wall since about three years ago! I also want to do floor-to-ceiling wainscoting on the walls and have three vintage chairs (yes, three) that I've had for years for this room that need to be reupholstered. I'm hoping this is the year that I finally make it all happen in here. I'm actually putting together specific plans for it right now and will share those with you next week! Here's how it looks now…totally not bad at all, but not finished.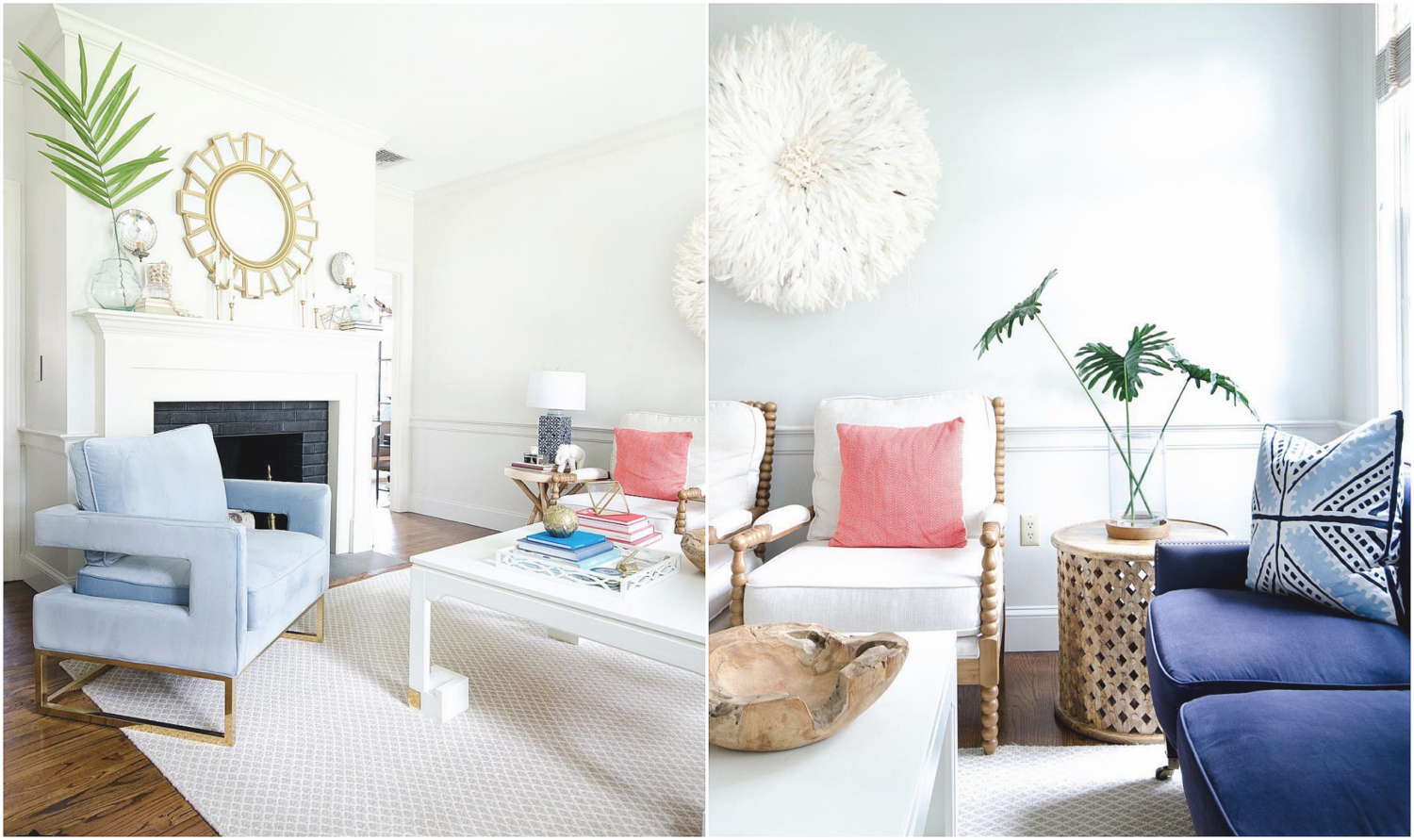 Younger Daughter's Bedroom
My Ellie (7 years old now) has been asking me for a while now when it's her turn to have her bedroom "done." I did my older daughter's room a couple years ago now and Ellie's starting to feel a little left out, I think. I have a lot of the pieces for the room in place already – an antique bed from my husband's family, a wide nightstand, a chair. I've had curtains folded in her closet for a full year but figured I'd wait to hang them until after I paint the walls. The room also needs some wall art, possibly a large rug (though I love the 5×7 one I've had since my girls were babies that's still in there), and just general cosmetic touches. I should probably take that pumpkin down too since Halloween was three months ago.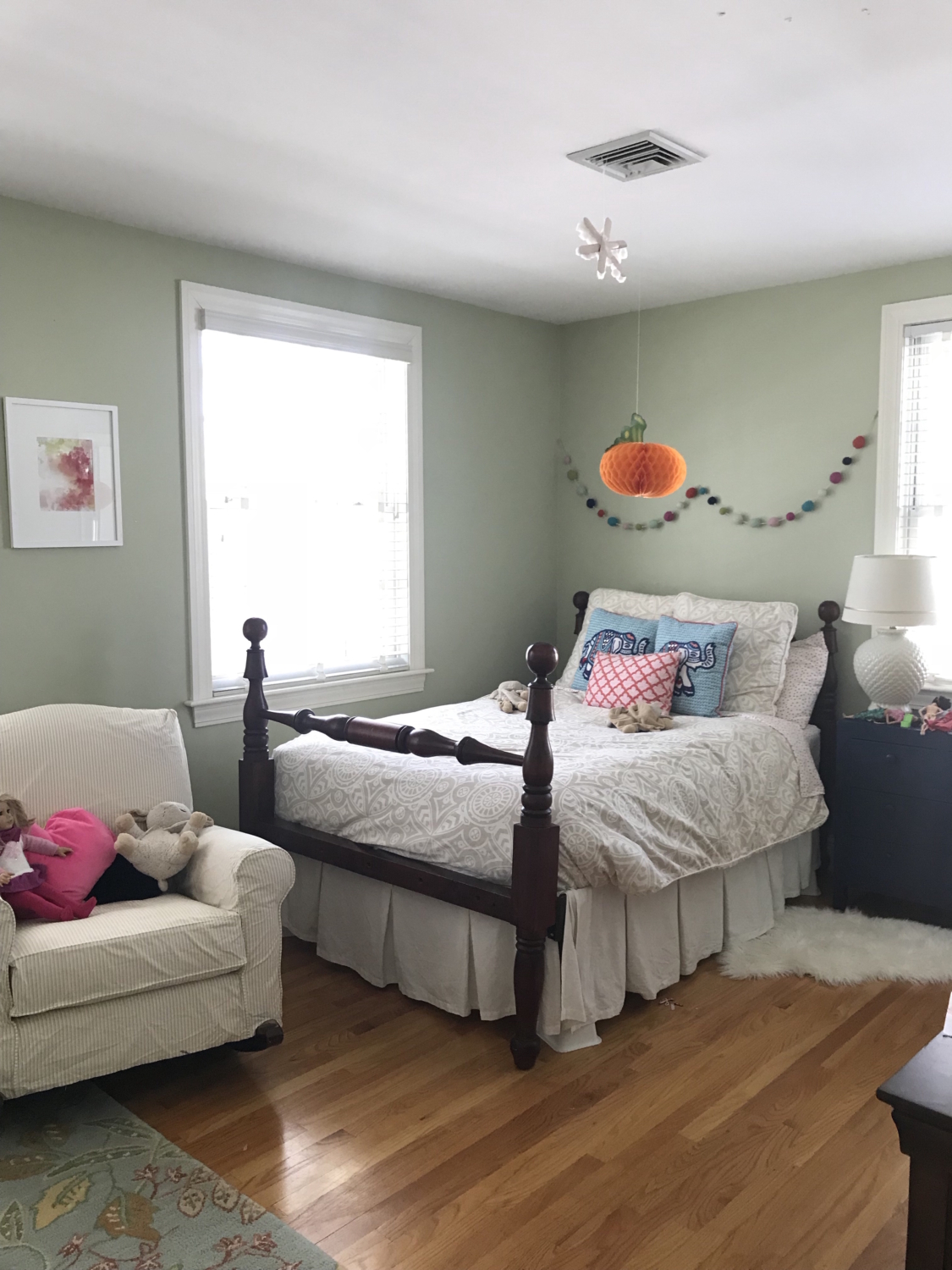 As always, there are other, smaller projects I'm hoping to tackle this year as well, but these are the big ones! Now I had better get working, huh?!