I've made a few subtle changes to my guest room over the past several months and it's safe to say that my own pretty haphazard, unfinished bedroom is jealous of the blue, green, and white bedroom around the corner! You can find links to sources underneath the photos.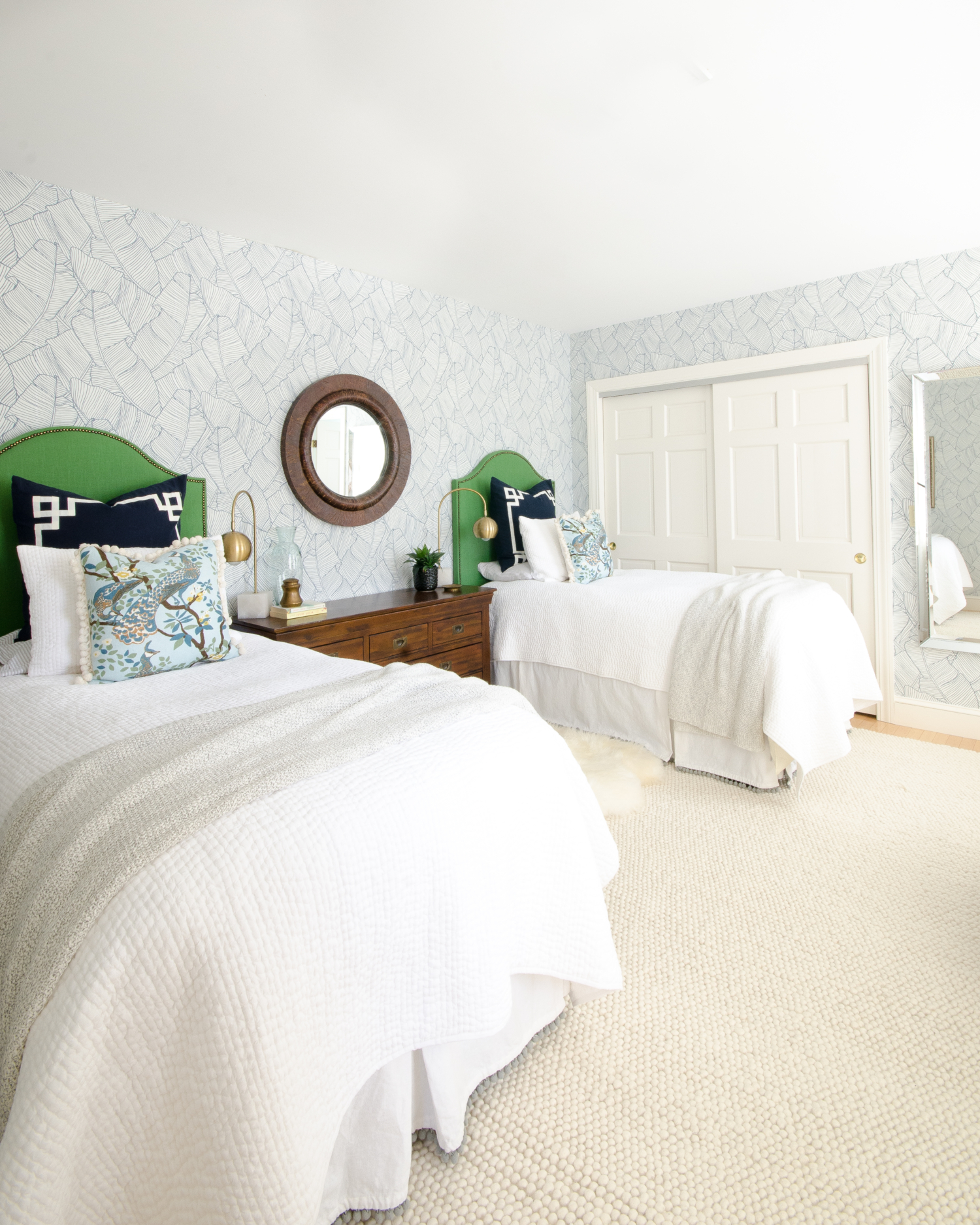 The most recent changes I made were replacing the duvet covers I had in here with new white quilts and shams from Garnet Hill. They're called the Dream Quilt and Sham – is that not the most compelling name for bedding ever?? I'm much more of a quilt person than a duvet person and these quilts and coordinating shams really are dreamy. I love the texture and traditionalism of a quilt, and I also love that there's no constant adjusting to keep an insert in place like there is with a duvet and cover. The dream quilt and sham are super soft and plush and are perfect all-season bedding for this blue, green, and white bedroom.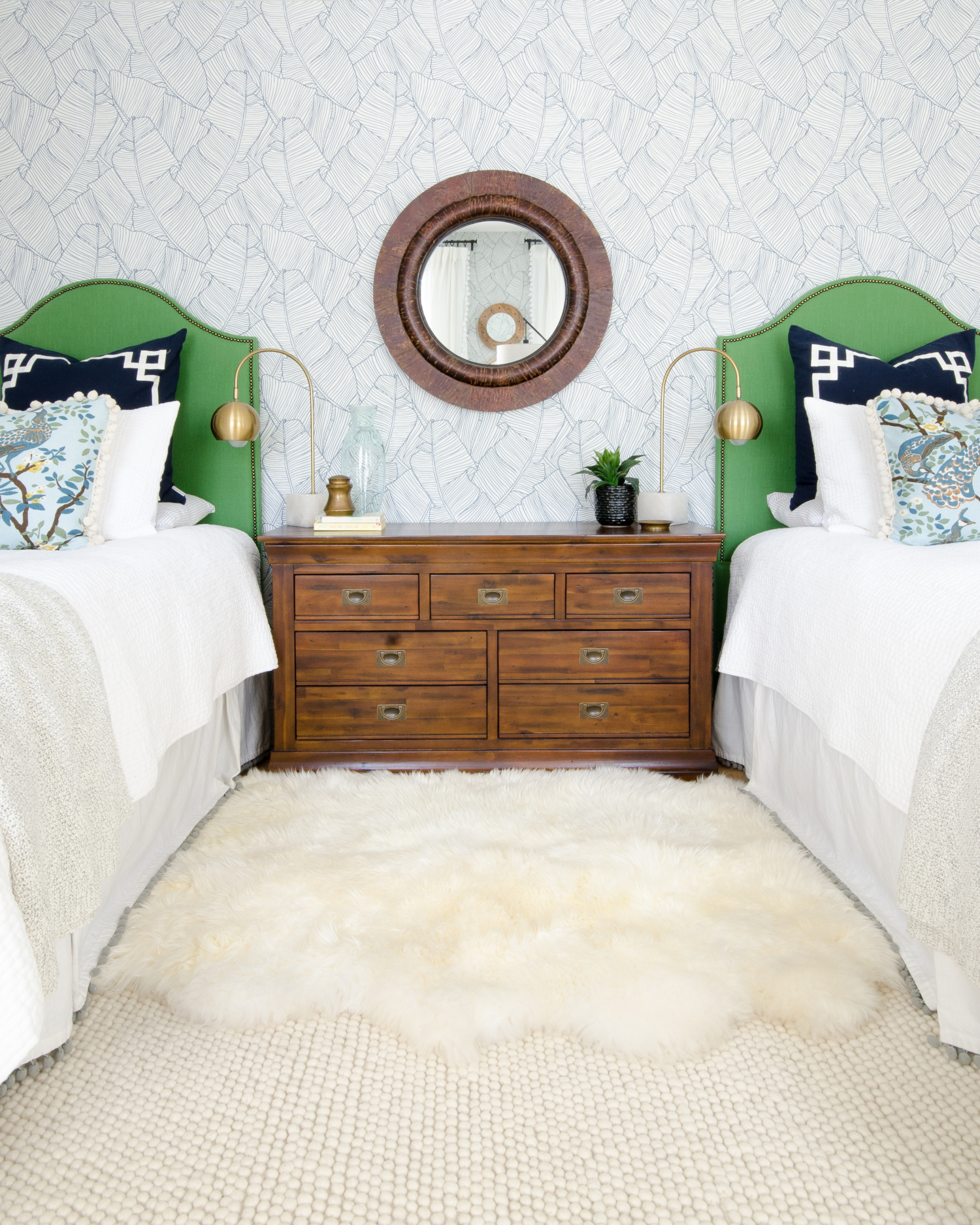 Speaking of the color palette in here, I've really simplified things in the process of adding the new bedding and accessories. I used to have pops of coral and mustard yellow in here and while I did love all of those colors together, I found myself drawn to a quieter look. As much as I love color (and really there's no shortage of it here, hello, bright green headboards) I feel like keeping to a simple blue, green, and white bedroom design really lends a sense of calm to the space.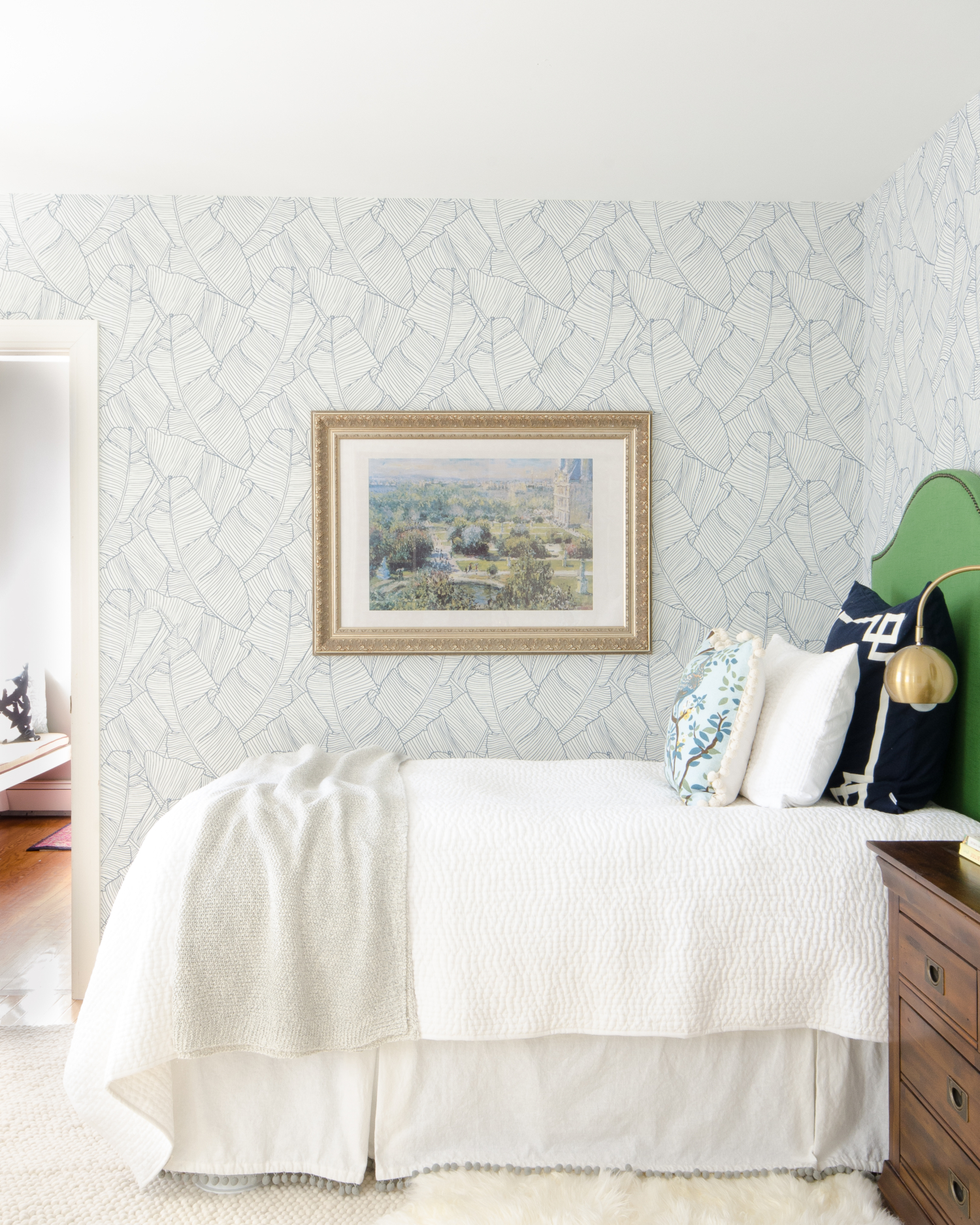 I shuffled some artwork around too and realized this framed print was completely perfect for this blue, green and white bedroom. I've had it for ages, I think I might have bought it right out of college?! I guess that goes to show that this color combo has spoken to me for a long time. It really helps to tie everything together in here.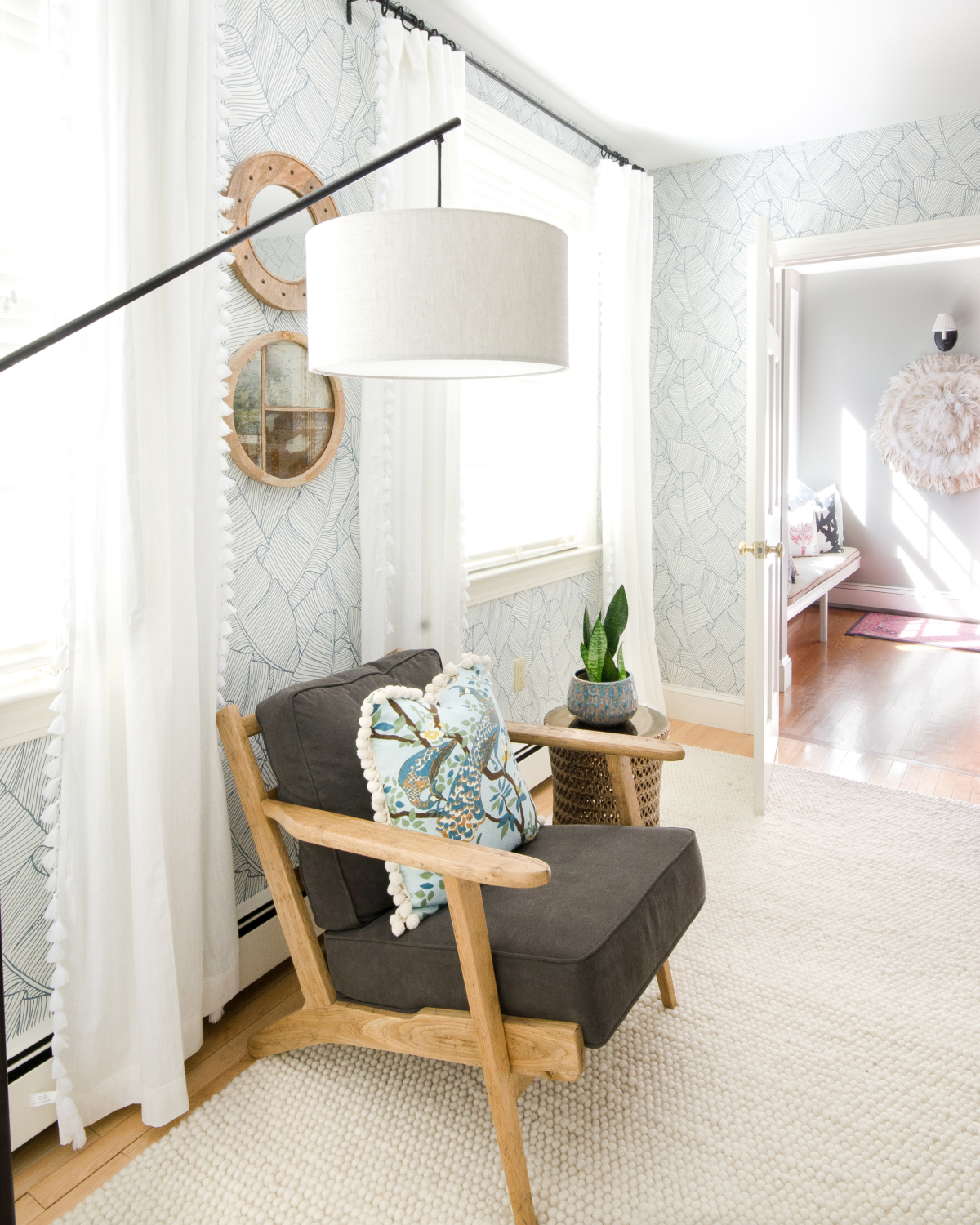 I've always had a chair across from the beds, but I think I've changed which chair lives here at least four times. Currently I have this super comfy Adirondack inspired armchair. I pilfered it from my basement (you can see the basement renovation I did HERE) and I really like that it's a neutral and understated element in the room. Not everything can (nor should be) the star of a room.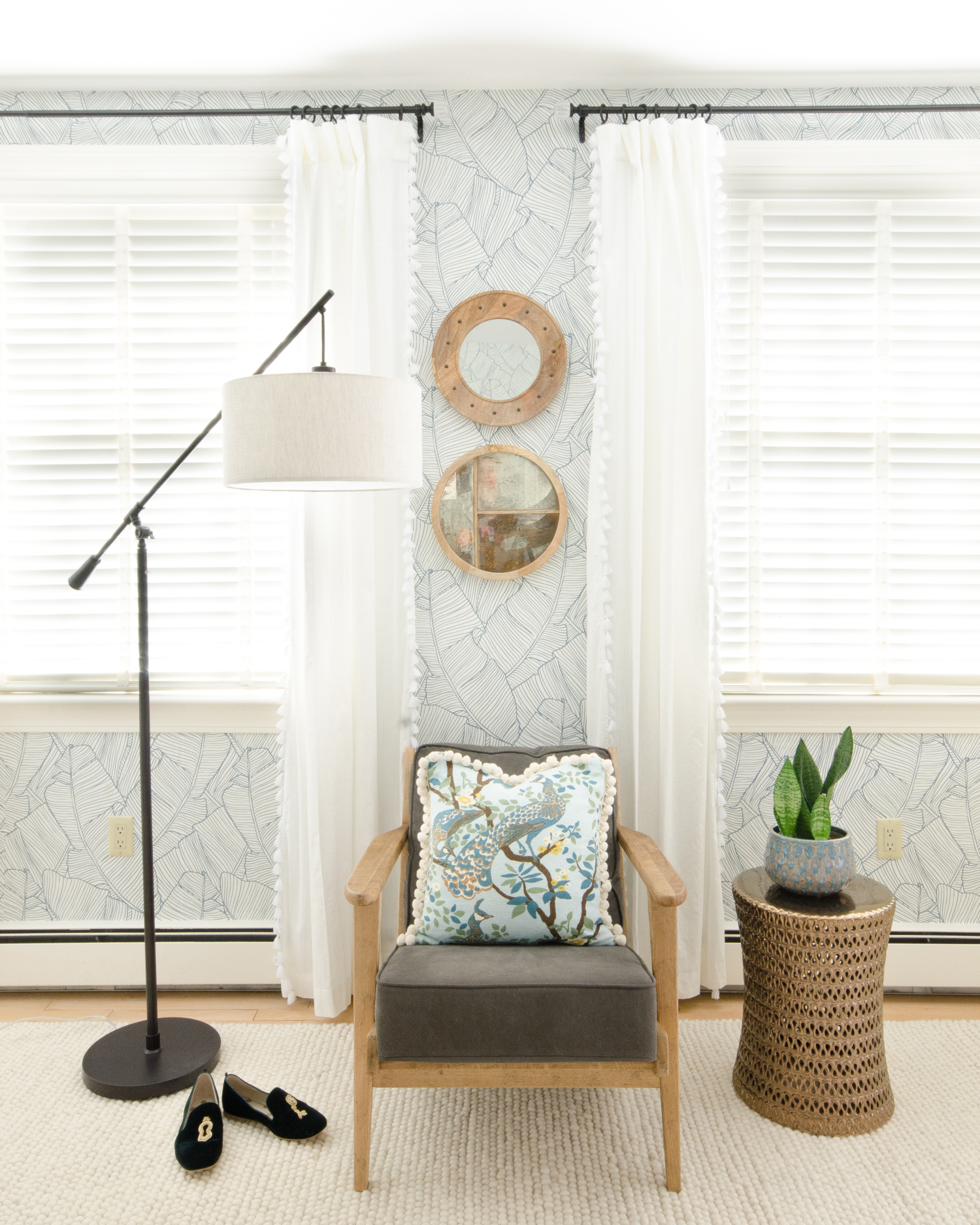 I've been holding onto the fabric I used for the pom pom trimmed pillows for so many years now, but I always loved it and just knew eventually the right place for it for would present itself. I was trolling around my disaster of a finished attic where I keep my hordes of fabric and pillows and furniture when I stumbled across the Dwell Vintage Plumes fabric and, of course, it was the perfect fabric to tie together the green from the headboards, the blue from the wallpaper, and the white from the bedding and rugs. This fabric and the wall art over the one bed are what make the color choices in this room feel intentional. I always think it helps to have at least one piece in a room that ties everything together. If you want to try your hand at sewing pillows with trim, you can find a tutorial for sewing welting to a pillow HERE (same process for attaching this pom pom trim) and another tutorial for how to sew a pillow with a zipper (SO much easier than you might think) HERE. I bought the pom pom trim at my local Joann Fabrics.
I don't really spend much time in this blue, green, and white bedroom – it's sort of tucked around a corner in my upstairs and since it's our guest room I don't have occasion to sleep in here very often. But I like knowing that when we have houseguests they have a pretty and calm space to sleep in. And I've noticed my girls love to play in this room too so I'm not the only one drawn to it! I wanted to keep it clean and simple but also pretty and polished and I feel like I landed right where I wanted to be with this round of changes.
Garnet Hill sent me the quilts and shams to try out but my opinions expressed about them here are my own and are sincere.