Oak Furnitureland sent me this storage cabinet for review but all ideas and opinions expressed are my own and are sincere. Thank you for supporting the brands I choose to work with and share with you!
After vacation followed immediately by a couple weeks of sickness (don't worry, not coronavirus) I'm finally back on my feet and ready to dive back into my hundred percent project. True to my plan, I haven't deviated from the final updates to my kitchen, and even though there are some things that have kept me from taking photos and writing about the updates that have happened in here so far, there's actually a lot of progress that's been made already. But I'll get into more detail on that next week. Today, I want to share a piece of furniture that I added to the back of my kitchen – a storage cabinet for art supplies.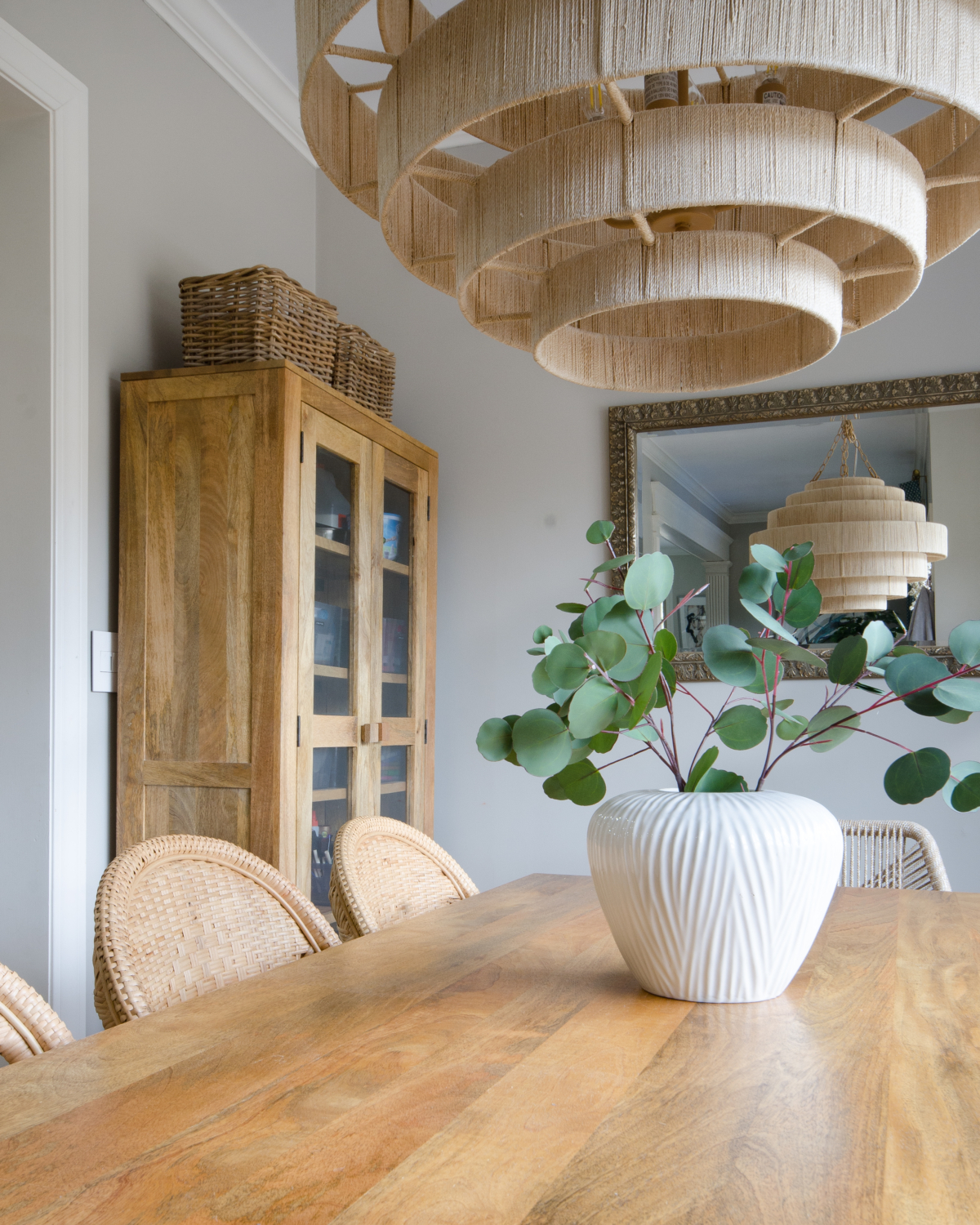 Does that seem odd, to keep art supplies in the kitchen? I just wrote that and thought maybe it sounds strange, but I like having it all right where my girls like to actually do art projects! Arts & crafts are one of their favorite things and as such we have amassed a pretty large collection of markers, paints, paintbrushes, colored pencils, crayons, yarn, thread, books, paper, shape scissors, glue, and myriad other craft supplies. I'd been keeping it all on a narrow open bookcase tucked into this back corner but it wasn't quite big enough and things were always falling off the shelves and looked messy.
I really only had three criteria when I was looking for a new storage cabinet. I wanted it to be bigger than what I had, to have doors, and to work aesthetically with my kitchen table (the 6′ Mantis table from Oak Furnitureland) since it sits right next to the table. I wrote a review of the table here. I didn't necessarily want it to "match" the kitchen table and yet when I saw the Mantis glazed storage cabinet it was so perfect in every way – virtually the exact width of the wall where the cabinet would go, with glass doors and two storage drawers – the matching piece just felt like the right way to go.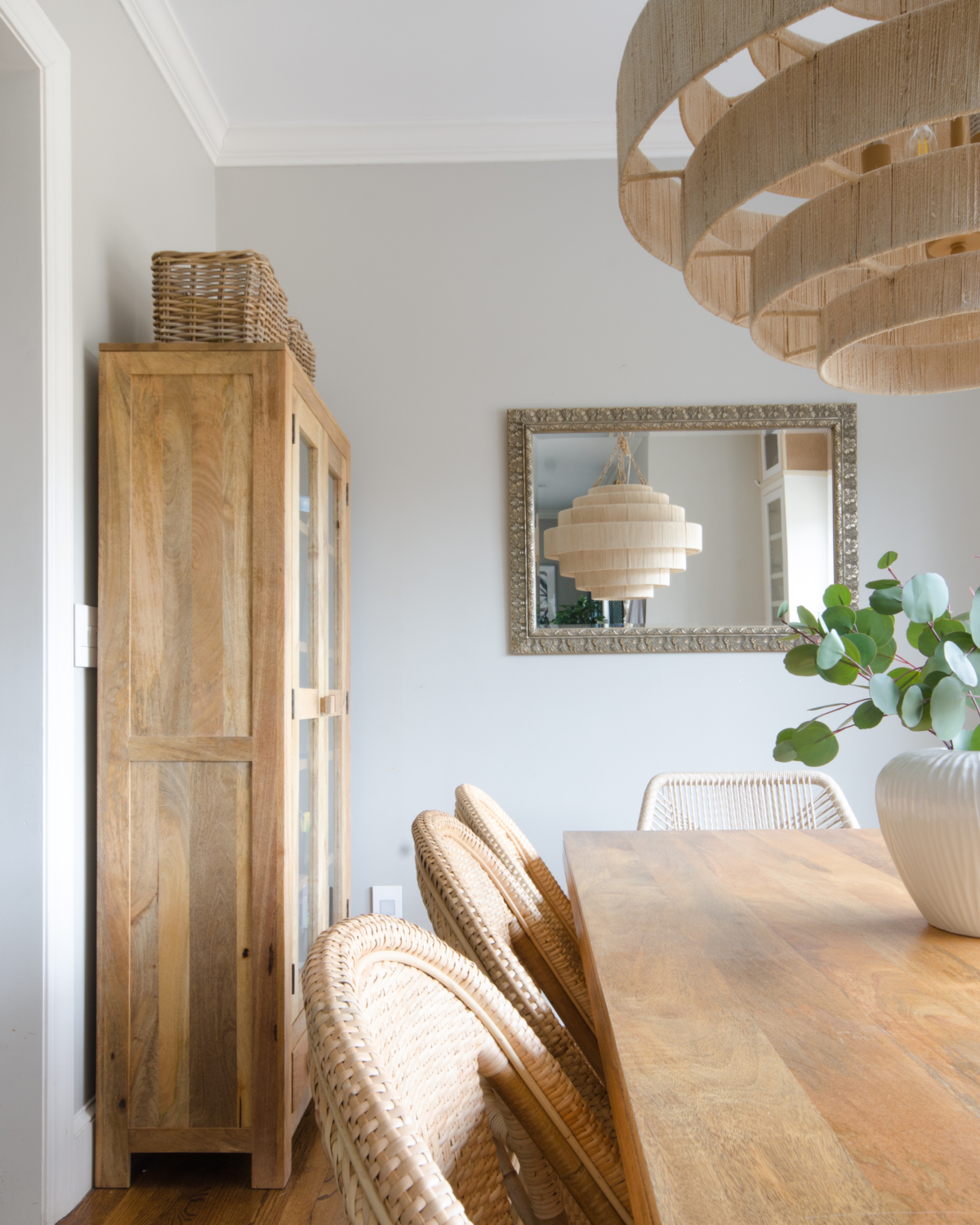 The Mantis storage cabinet has the beautiful warm and cool color variation you get with mango wood and as with everything I've gotten from Oak Furnitureland, this piece is so exceptionally well made – 100% solid wood, even including the drawer bases and backs. I've always thought the name Oak Furnitureland was a little funny but this is now my third piece from them and funny name or not, their furniture is all top quality and absolutely beautiful. I'm a big, big, fan.
To sweeten things even more, shipping is always free, and oh my gosh, you guys, my new storage cabinet is currently 50% off, bringing it to only $699. That's a truly tremendous price for such a highly crafted piece of solid wood furniture. There are amazing deals sitewide right now, so if you need any furniture right, check them out for sure!
As far as organizing those art supplies in my new Mantis storage cabinet, I knew I needed some kind of boxes or bins to keep all the small things corralled. I found these affordable plastic storage bins which were perfect both because of the price and because they're semi-clear, keeping things stored inside visible, and therefore easy to find when my girls are looking for something.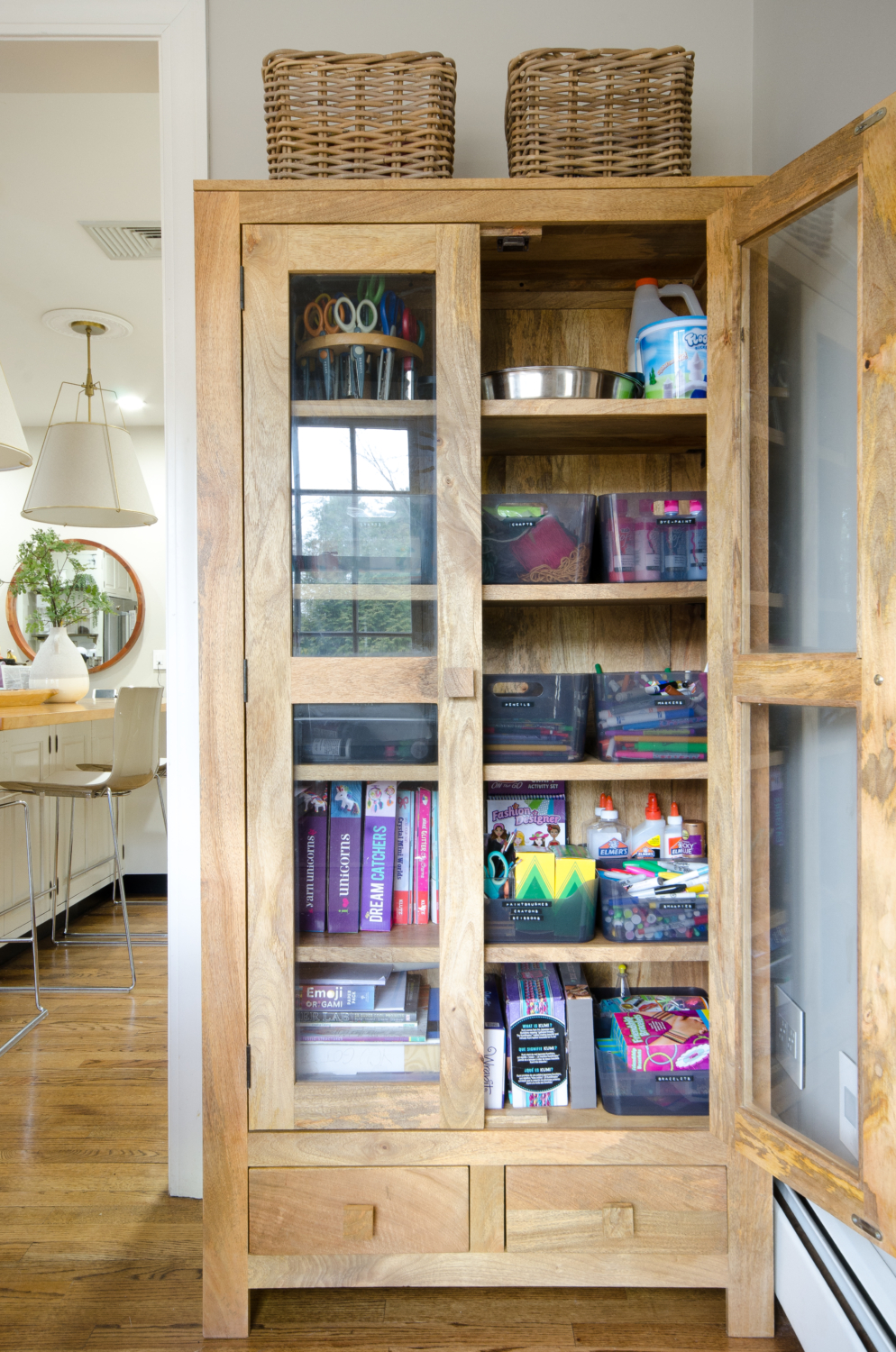 I decided to label the bins too, using my embossing label maker. It's made it that much easier for my girls to make sure things get put back where they belong when they're finished using them. The label maker is so cheap and I've used it a ton since I bought it a few months ago. You can get black tape for it here.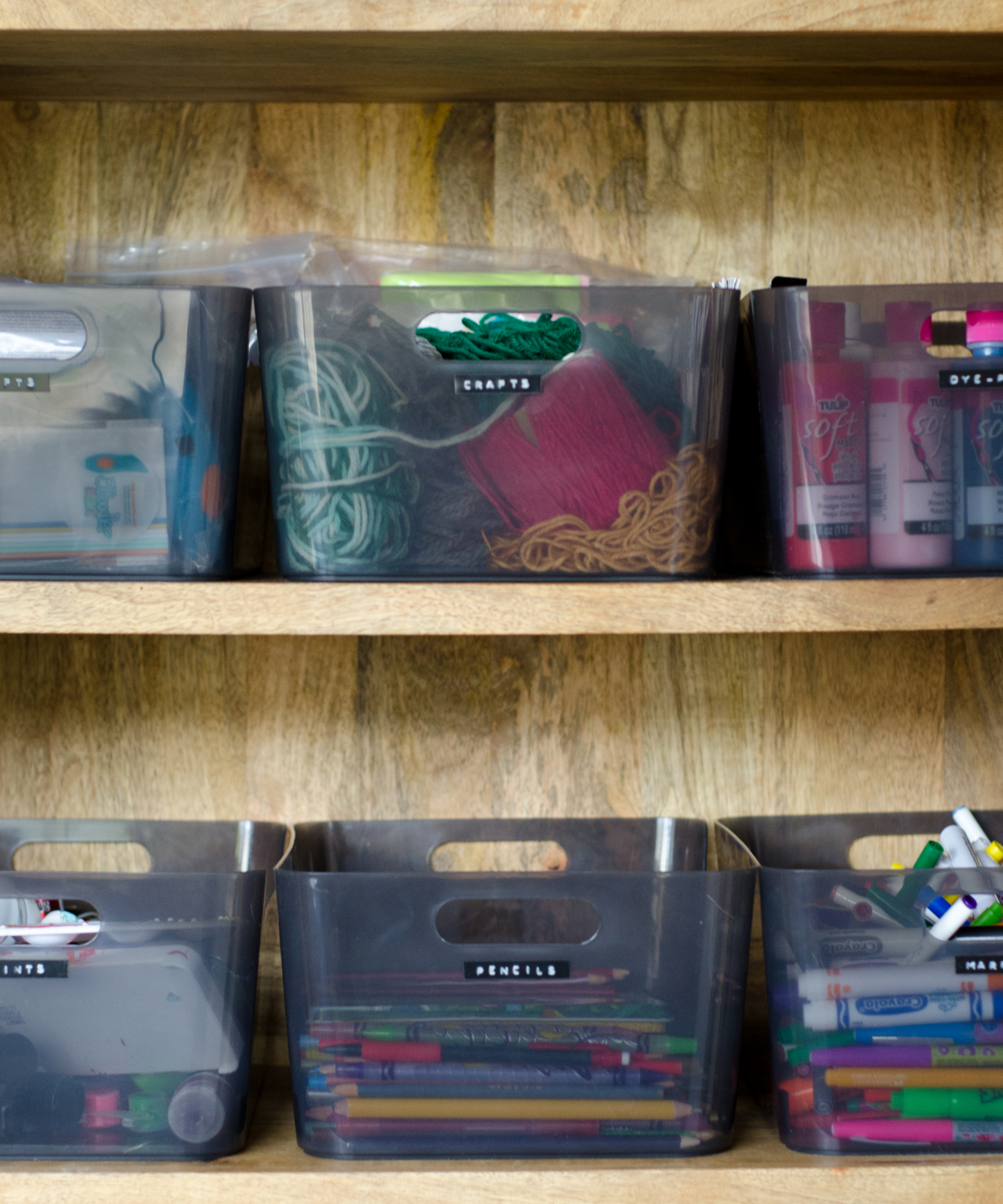 In addition to art supplies, I could see this storage cabinet used for dishes or glasses in the kitchen, for display storage in an entryway or living room, or in the bedroom for extra blanket, sheet, and pillow storage. The glass doors give an airy feel and it's a beautiful piece of furniture for any room. Oak Furnitureland's sale ends Sunday though so get on it if you're considering and new pieces, the prices are amazing right now!