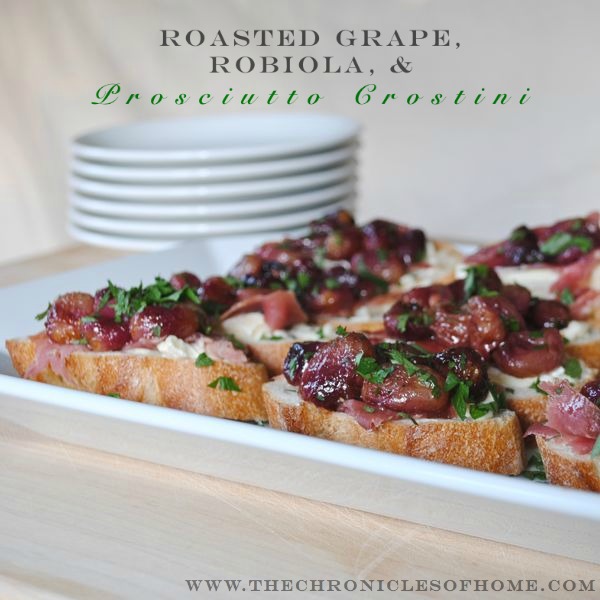 I like many different foods and lots of different flavors but my favorite taste combination, hands down, is sweet and salty.  This appetizer hits that mix perfectly for me.  It's inspired by a Tyler Florence chicken recipe that I think is wonderful and includes prosciutto and roasted grapes.
Roasting the grapes softens them and intensifies their sweetness.  Piled atop the robiola and prosciutto they add just the right touch of sweet and juicy to balance the salty prosciutto and creamy robiola.
Robiola, if you've not heard of it or had it, is similar in texture to brie but is creamier and, to me, has a subtly nutty, slightly buttery, much milder flavor than brie, which I'm not crazy about.  Robiola, however, I could eat by the pound.  And maybe did the first time I had it.
Why not add these quick, easy, delicious crostini to your Thanksgiving menu?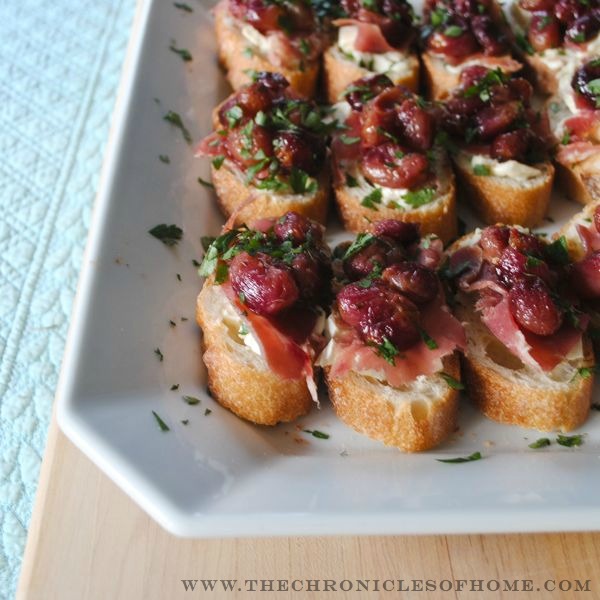 Roasted Grape, Robiola, and Prosciutto Crostini
fresh baguette, sliced into rounds
large bunch of red grapes
1 tbsp. olive oil
robiola cheese (Whole Foods usually sells it in about a 4″ square and will cut it in half if you need a smaller amount)
1/4 lb. thinly sliced prosciutto
fresh parsley, chopped
Preheat oven to 400º.
Toss grapes on a baking sheet with olive oil and sprinkle with salt and pepper.  Roast until the skins have started to wrinkle and grapes have softened a bit, about 15 minutes.  Let cool.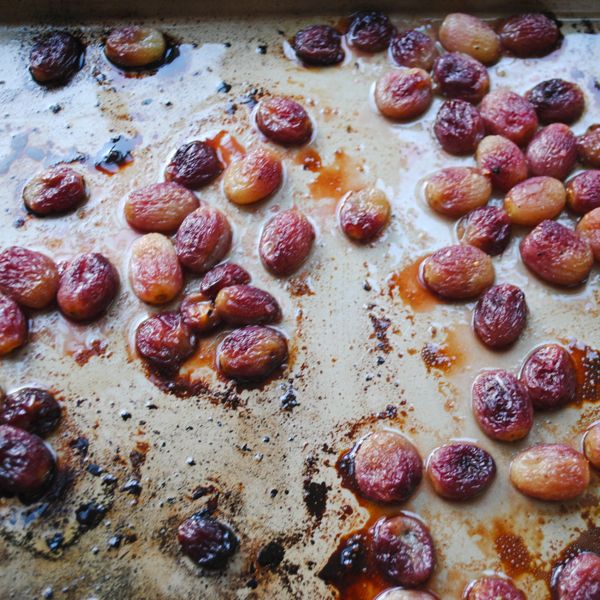 Meanwhile, spread baguette rounds with robiola cheese.  Top with a bit of prosciutto.  When grapes have cooled, spoon a few on top of each crostini and sprinkle with chopped parsley.
Serve at room temperature.