We had our first dinner on the deck over the weekend and besides the happiness at eating outside again, can I tell you how much easier it is to clean up after a couple of little people when you just have to brush crumbs over the edge?
Though…I have to give Ada credit where credit is due.  In general, her dad's eating space requires more cleaning up after meals than hers does.
She's four.
But in Scott's defense, she is a really neat eater for a four year old.
The meal was the perfect little taste of spring and included some of our favorites.  Maybe it tasted extra delicious because we were sitting in the open air while eating, but this steak marinade is my absolute go-to.  If I'm marinating a steak, this is what I use.  It's especially great on meat that's going to be grilled.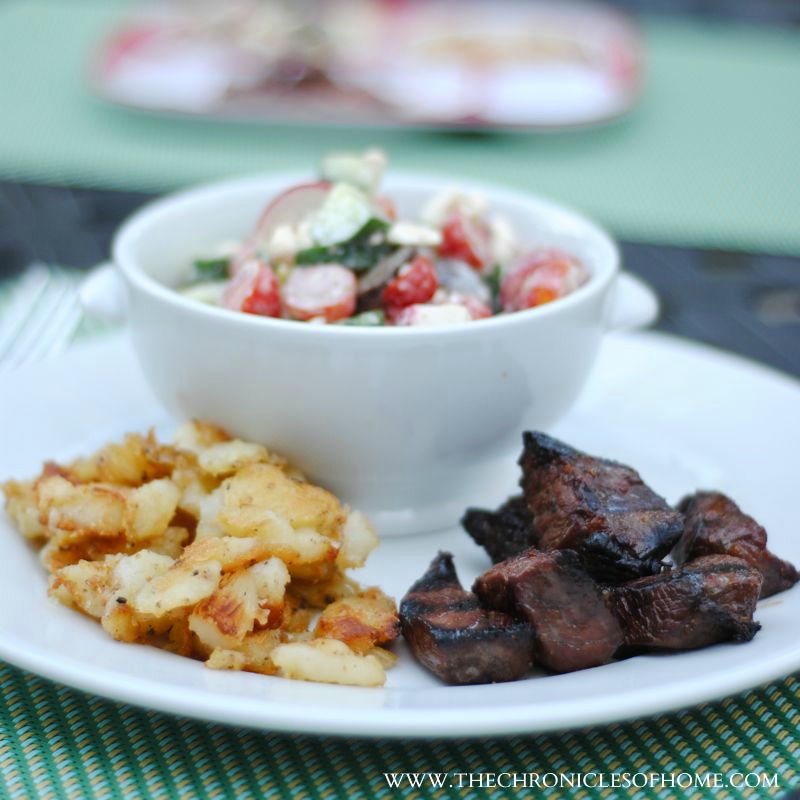 The marinade takes about five minutes to put together, and you'll want to do it in the morning so the meat can have all day to really soak up the flavor.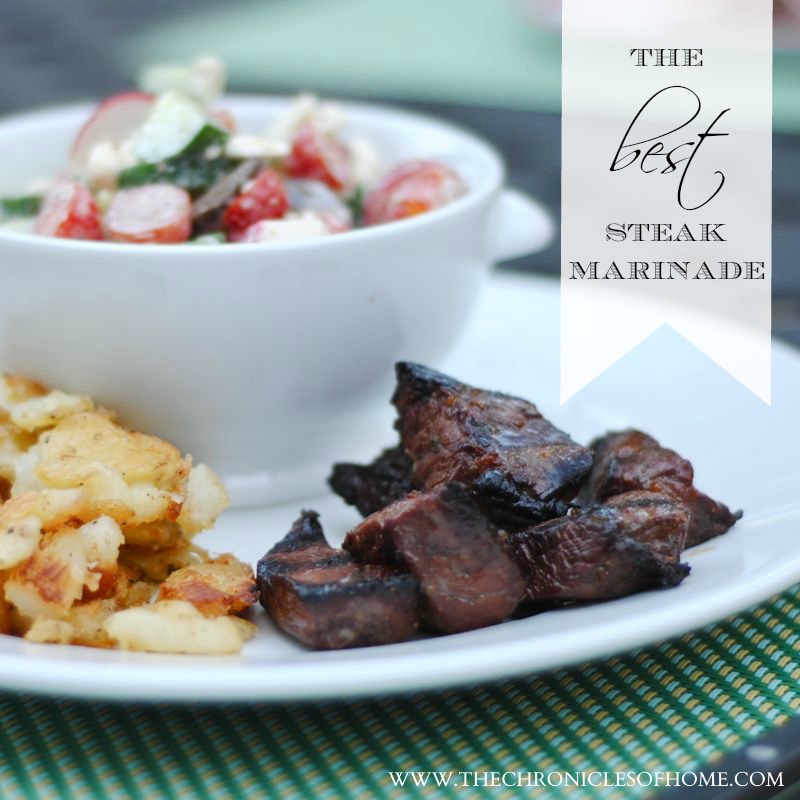 I'll share the other parts of this meal – our favorite crispy potatoes and a Greek salad with creamy yogurt dressing – later this week.
The Best, Easiest Steak Marinade
Ingredients
1 lb. flank steak or steak tips
1/4 c. olive oil
1/4 c. apple cider vinegar or red wine vinegar
1/4 c. soy sauce
1/4 c. maple syrup or honey
4 garlic cloves, crushed
1 tbsp. dried oregano
fresh pepper to taste
Combine all ingredients in a large ziptop bag and seal tightly.  Mash ingredients around with your hands and lay flat in the fridge at least 8 hours.
To cook, preheat grill, then lower to medium heat.  Place steak on grill and cook covered about five minutes until there's a bit of char on the meat.  Flip and cook another few minutes.  Remove and let rest five minutes before serving.