I realized I promised you the details on these potatoes a couple weeks ago and then they somehow slipped off my schedule after sharing my favorite steak marinade and this delicious Greek chopped salad.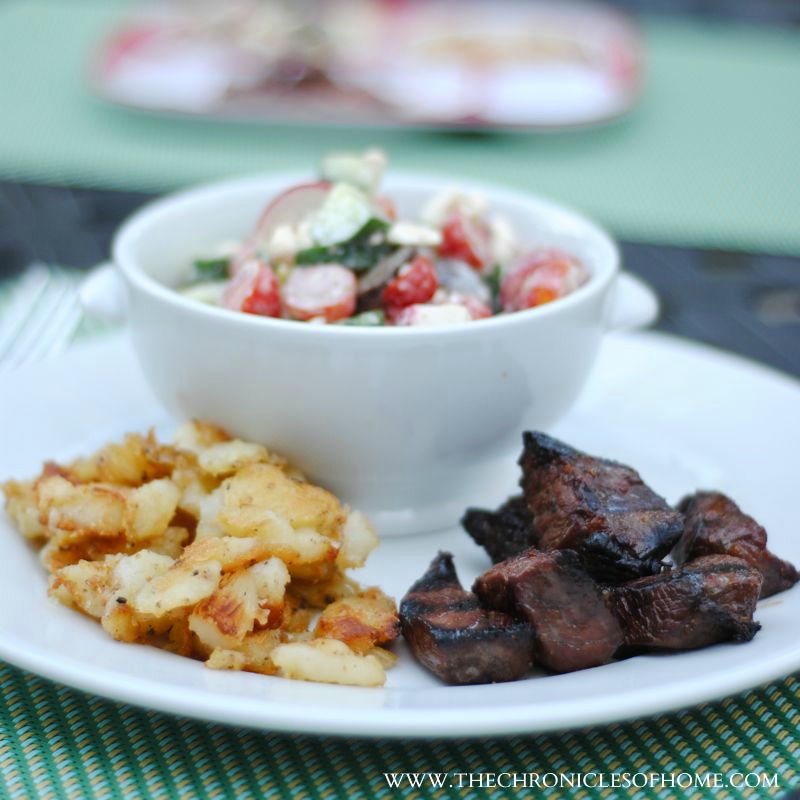 And, believe me, you do not want to be deprived of these potatoes.
I've never loved potatoes.  I've never not liked them either, they were just kind of "blah" to me.  More an afterthought than something I really wanted to make.
These potatoes I really want to make.
This is barely even a recipe, more a technique for cooking them, and one I'm sure a lot of people already use, but it was news to me, and I can't get enough.  They're crispy on the outside and soft on the inside, almost a cross between a french fry, hash browns, and roasted potatoes.
You be the judge…make these and tell me if you start dreaming of potatoes.
The Best Crispy Potatoes
Ingredients
1 lb. russet potatoes, peeled, rinsed, cut into 1/2″ cubes
1/2 c. olive oil
4 large cloves garlic, minced
1 tbsp. kosher salt
fresh ground pepper
Preheat oven to 450º.
Place potatoes in a large pot of cold water.  Cover and bring to boil over high heat.  Once boiling, lower heat to barely simmer and cook covered for 5 minutes.
Immediately drain into a metal colander and give them a good few shakes to rough up the outside of the potatoes (this is what gives them those delectable crispy edges).  They should look a bit crumbled on the outside but still generally holding their cube shape.
Pour onto a nonstick baking sheet or one lined with nonstick foil and add olive oil, garlic, salt, and pepper to taste.
Bake in oven for 30 minutes, remove, toss gently with a rubber spatula, and return to the oven for another 15 minutes, until golden and crispy.
Add more salt to taste and serve hot.
*These will still taste good the next day but won't have the crispy outside.  I usually try to make only what we'll eat in a sitting.
Click HERE for a printable recipe.
And unrelated to dreamy potatoes, thank you to Kristin for inviting me to be part of her "Great Reads" series today!  You can see it HERE.