Here she is, folks!  The dresser I've been jabbering on about for weeks, now completely finished and functioning in my little Ellie's room like a good dresser should.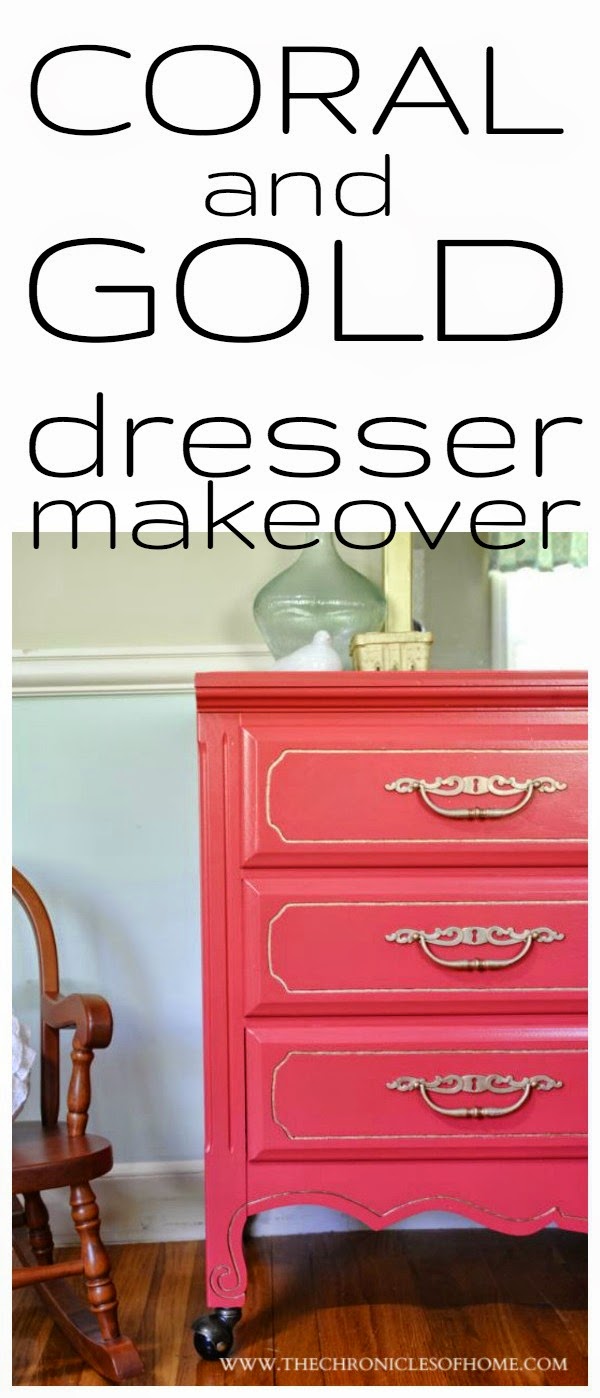 This was my childhood dresser, which has spent the past good many years sadly stowed away in my parents' basement, waiting to be brought back out into the light.  My parents had asked me years ago if I wanted it for either of our girls but I remember thinking it didn't go with the bedroom "sets" I'd envisioned.
Turns out I'm not such a fan of matchy-matchy bedroom sets after all (wish I'd realized this before buying our master bedroom collection…but that's a story for another day) and once I started going down a
more eclectic route
in Ellie's room, I knew my solid-wood, excellent quality, childhood dresser would be the perfect piece to finish off her furnishings.
Its original finish was sort of blondish with speckles and I wanted something more vibrant.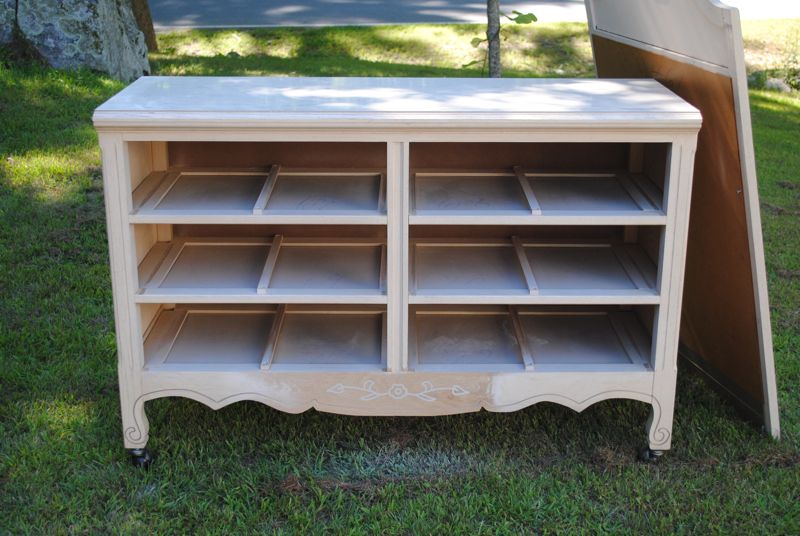 I loved the carved details on the drawers and along the bottom curves, but decided to use wood filler to smooth over a couple areas (one on the dresser and one on the mirror) that had a flower motif.  I used a spackle knife to apply wood filler and let it dry about an hour.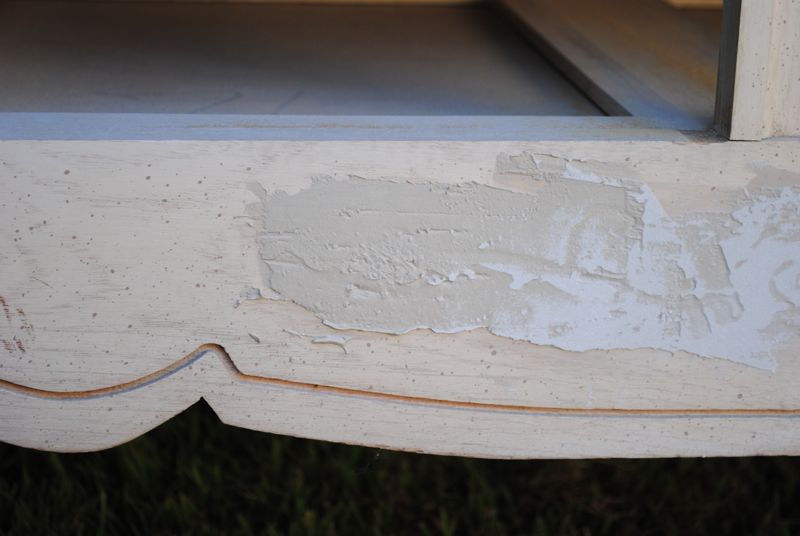 Then I used a pad sander to sand the filler flush with the rest of the dresser.  I started with a coarse grit sandpaper for heavier removal of the filler and ended with fine grit for that perfectly smooth finish.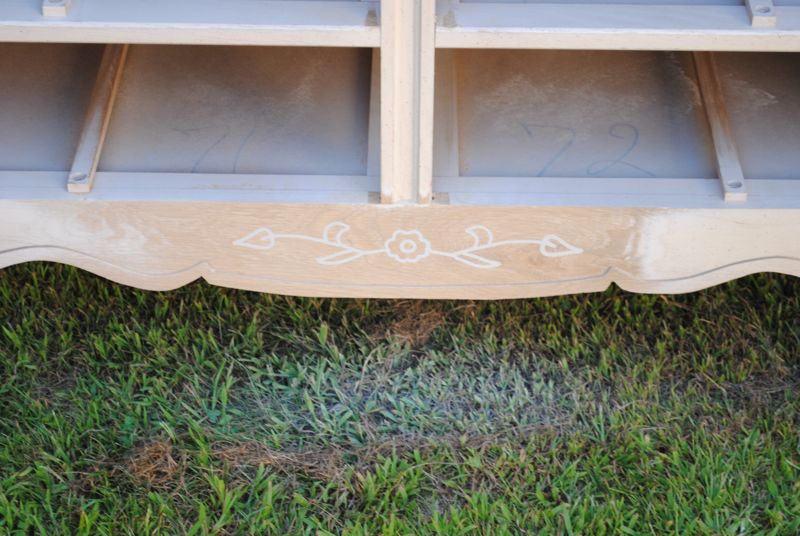 I did the same to the flower carving on the mirror.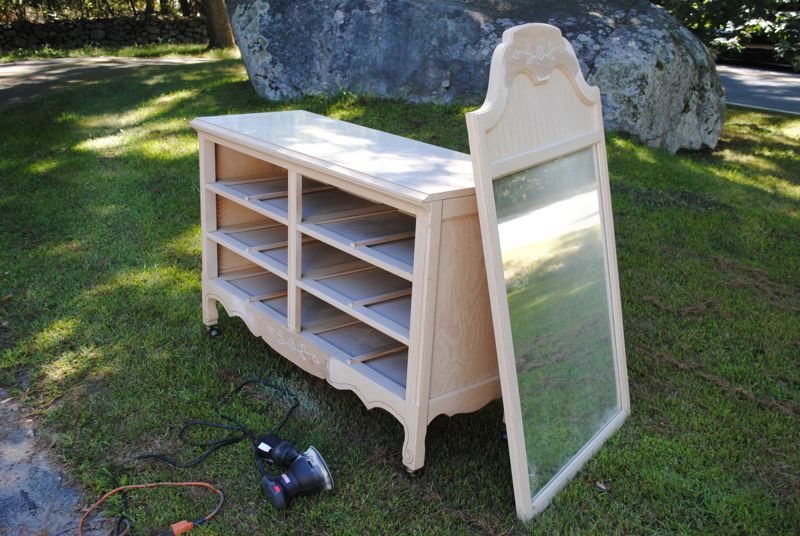 For the drawers, I removed the hardware and taped heavy-duty trash bags around the openings so the insides wouldn't get painted.  You can also see below that I covered the mirror with tape and newspaper.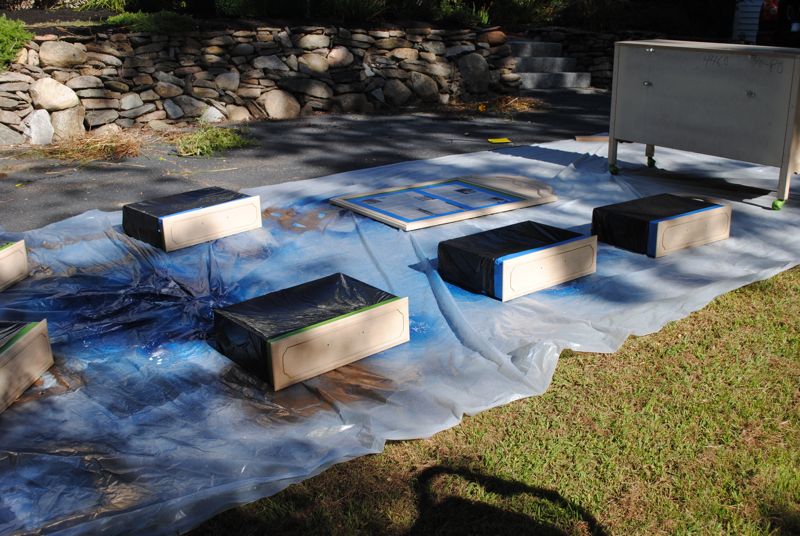 Time to get painting!  I wanted a glass-smooth finish so used my favorite painting tool, my HomeRight paint sprayer (details
HERE
).
I started with a base coat of Zinsser Bulls Eye Primer and once dry applied several thin coats (letting each one dry before applying the next) of my chosen color, Benjamin Moore Milano Red.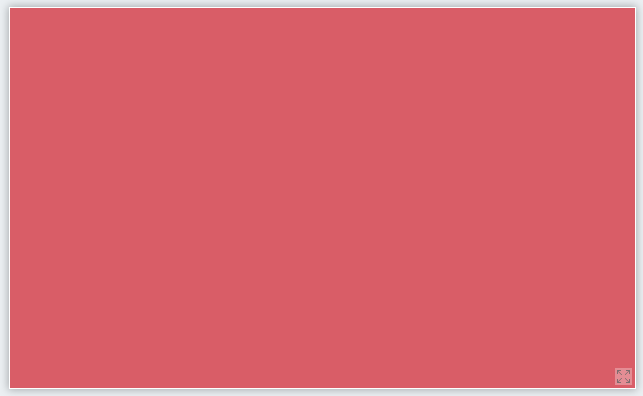 The color I was going for here was coral.  Milano Red, as it turns out, is pink.  I love a good dash of pink, but on a furniture piece this big, it was way too much pink for me.  And unfortunately it took me two days and the pieces being fully finished to realize I wasn't into it.
I stood in the driveway for awhile thinking maybe it would be okay and maybe I was overthinking it but I knew in my gut it wasn't what I wanted.  So as much as I wanted to cry juuuust a little at the wasted time, it was worth a do-over.
I went back and got the color I'd originally thought was "the one" – Benjamin Moore Holly Berry.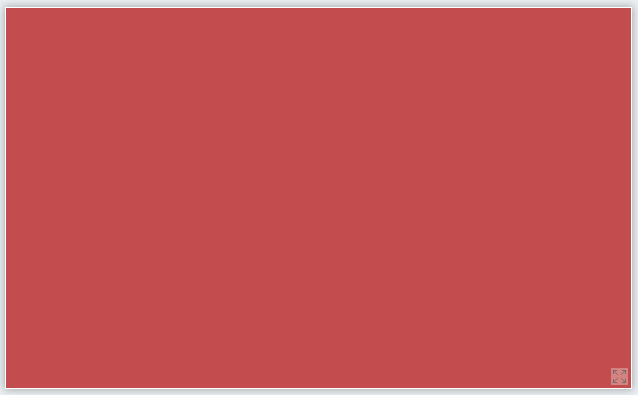 I should've stuck with my first instinct, because this time, it was right and exactly what I'd pictured.
A few more thin coats of Holly Berry with the sprayer and the paint was just as I wanted.  I finished the top of the dresser with Minwax Water-Based Polyacrylic to protect from scratches and scuffs since the top will get the most wear and tear.  The poly also removes that sticky feeling latex paint has, which you definitely don't want on a dresser top.
For the mirror, I used Krylon 18K Gold spray paint.  The first go-round I'd done the mirror in Milano Red but I wound up thinking a contrast color would be better.
I let everything dry overnight before bringing the pieces back inside and putting it all back together.
I used Antique Gold Rub-n-Buff to change the hardware from ivory to gold.  I also used a tiny paintbrush and Liquid Gold Leaf to bring out the carved parts of the dresser.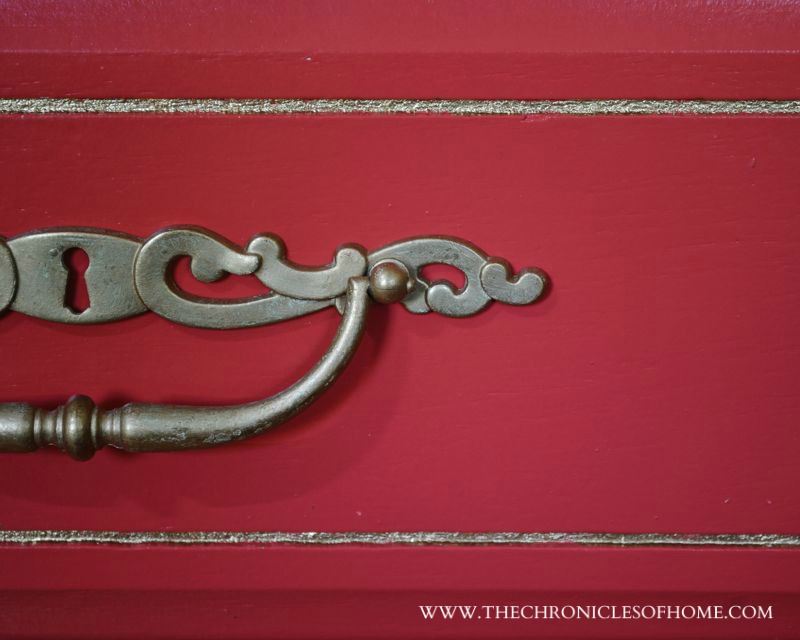 Ellie is totally thrilled with her "new" dresser and Ada is suddenly a bit depressed about the white furniture in her room.
I love the way the coral works with the navy blue nightstand and pale aqua in the rest of her room.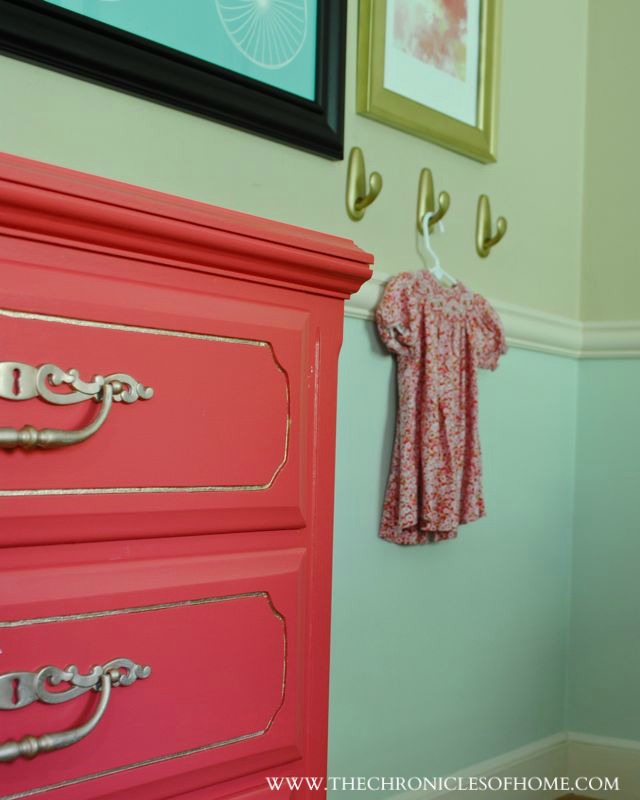 I wound up changing some of the frames on the little gallery wall from gold to black, because it felt like a LOT of gold with the mirror.  I'm not totally loving the black, feels a little harsh, but I haven't decided what I'm going to do about it yet.  Any ideas??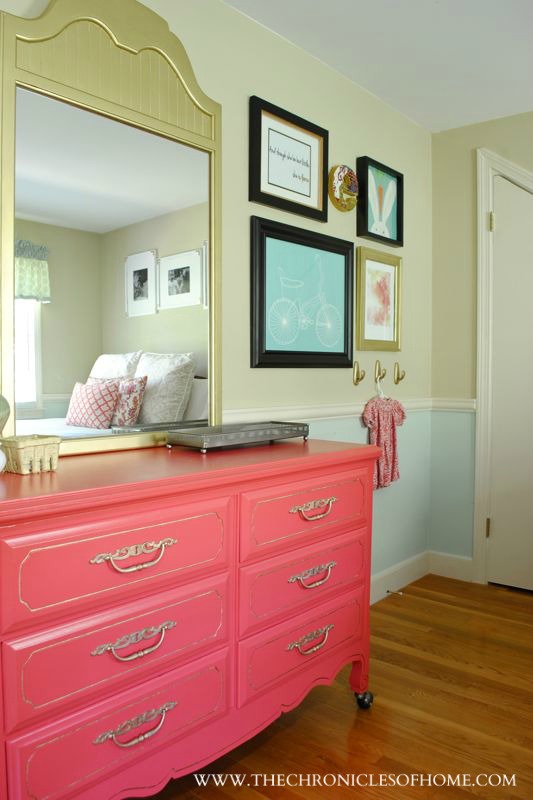 I'll share pictures of all the pieces in Ellie's room later this week so you can see everything all together.
I'd be lying if I said I hadn't gone into Ellie's room a whole bunch of times these past couple weeks and sat in her rocking chair and stared at the dresser with a goofy smile on my face.  I love how the color came out, and that I saved a boatload over buying a brand new dresser, and perhaps most of all that the dresser and I have a history that now continues with my daughter.  Not to get all sappy on you…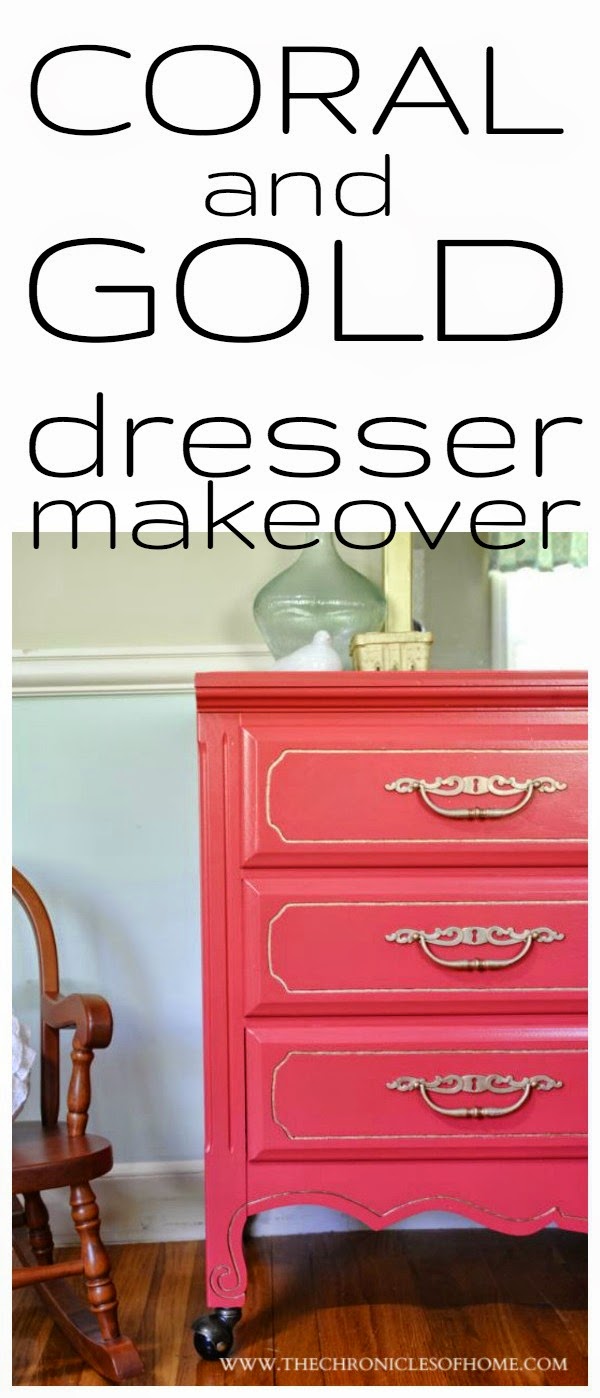 Hope you have a great start to the week.  I have some exciting stuff coming up the end of this week so stay with me!
* * * * * * *