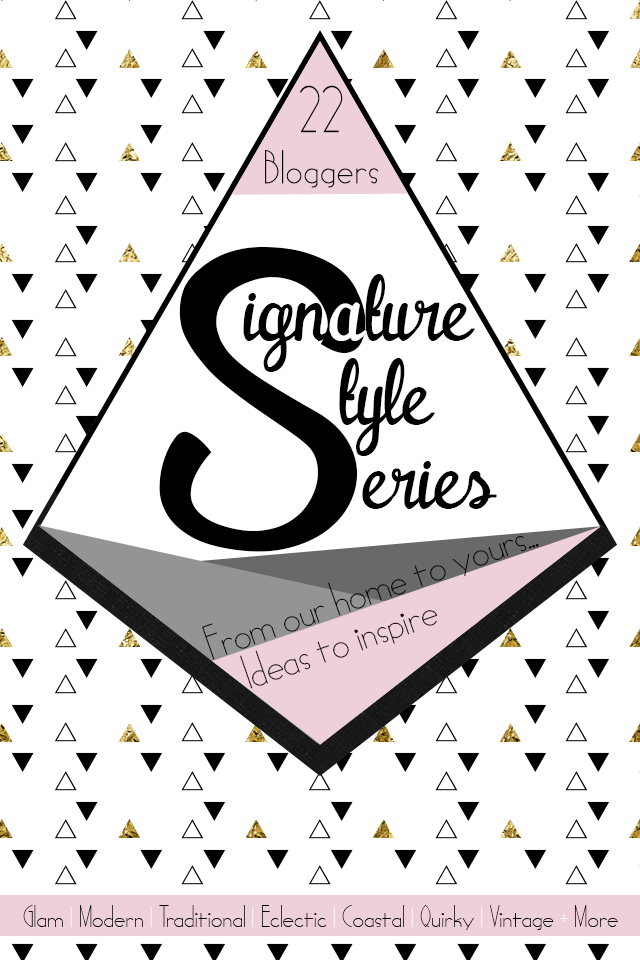 I had so much fun taking part in the Signature Style series hosted by Carrie from Making Lemonade. Carrie and I have a funny connection – she lives one town over from where I grew up in Pennsylvania and I now live one town over from where she grew up in Massachusetts.  I love small world situations like that.  We got to meet in person this summer and she is a blast!

For the Signature Style series, twenty-two bloggers are sharing their signature styles, and the inspiration has been fantastic.  If you're stopping by from Cuckoo 4 Design (another favorite blog friend of mine), welcome!  Isn't Julia's quirky, chic style so inspiring?
This is really the first time I've sat down and tried to define my style, and once I hit on it, it was a lightbulb moment for me and I can see it carried through my whole home.  Funny how you can fit into a little style box and not even know it.

My style is most definitely Colorful Contemporary-Traditional.  I'm always drawn to classic, traditional silhouettes in furniture and clothing but love them most when they've got a more contemporary flair in a punchy color or bold pattern.


Family Room – My family room has traditionally styled furniture in solid shades with pops of pattern and color.

Boden Striped Trench Coat – A classic coat with a modern, fun, striped pattern.

Lacefield Designs Pillows – These textiles and ready-made pillows and curtains have my name written ALL over them.
Layla Grace Spool Chair – I have been lusting after spool chairs for ages now.  I love the vague nod to colonial style in more current finishes and fabrics.  I WILL have a pair of them in my living room…eventually :)
Serena & Lily Coral Lattice Fabric – One of my favorite geometric fabrics.
Chiang Mai Dragon Fabric in Aquamarine – My hands-down favorite floral fabric.  There are so many colors you can pull out, you can take a room in practically any direction by starting with this fabric.
Glossy Navy Blue Bar Cart – I updated this bar cart by painting it gloss navy and adding some gold dipped legs and little wheels.
Stella & Dot Pop Geo Pendant Necklace – I love what a statement necklace adds to an otherwise plain outfit.
Do you have a "signature style?"  I really loved defining mine and feel like it snapped me even more into focus on the direction for my new house.
Make sure you swing by and check out the next stop on the Signature Style tour – Jen from Migonis Home. It seems I have connections to everyone I'm mentioning today, but Jen and I both live in the Boston suburbs.  You will love her chic coastal style.  It's so classy and calming.
Click the links below to see all of the Signature Style posts from this week.
MONDAY:
TUESDAY:
WEDNESDAY:
THURSDAY:
AND – make sure to come back tomorrow for an amazing Signature Style giveaway!