Hi there!  I have been a little autumn elf around here this week, adding some simple, colorful fall touches.  Sometimes I think it's a little silly to spend my time setting up these seasonal vignettes.  But then I notice how much I look at them and it gives me an inward smile to see something pretty. Some days a little pretty is hard to come by, especially with my two little girls who seem to leave a trail of My Little Ponies, princess dolls, and socks everywhere they go.
So frivolous or not, it adds some happy to my days to have these decorative bits around, and I will always take more happy :)
Now let's take a tour!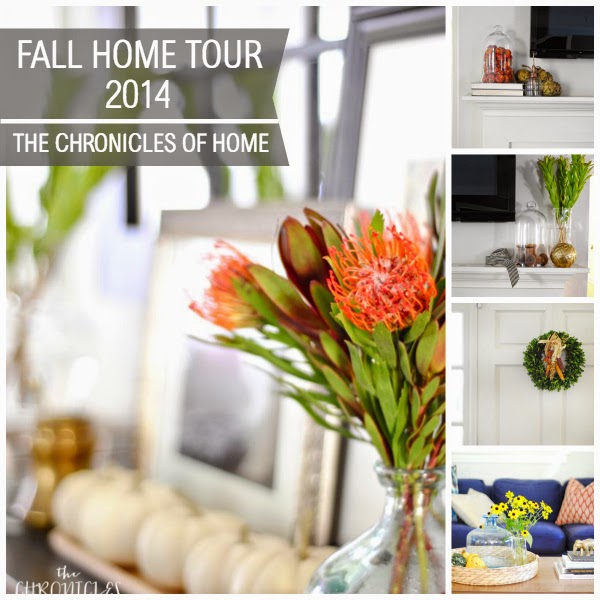 I'm so happy to be taking part in the Blogger Stylin' Home Tours again hosted by Lindsay at The White Buffalo Styling Co.
If you're stopping by from The Shabby Creek Cottage, hello there and welcome!
When thinking about bringing fall inside this year, I looked almost exclusively to what was right outside my door, and what was readily available at my local stores.  Most of the things you see in these photos I already had, but are just repurposed in a new way.
I keep a boxwood wreath on the front door year round.  To add a touch of fall I took some dried corn cobs I had and wired them to the wreath hanger to form a little bundle of cobs in the center of the wreath.  (p.s. my favorite rug in the house, below, can be found HERE!)
Across from the front door is a small vintage table I styled with a touch of peacock blue to pick up the colors in the adjacent pillow, some dried mini pumpkins (similar can be found HERE), and a few feathers I found at a local vintage/antique store.
Coming into the kitchen, I arranged my favorite white mini pumpkins in a row and added fresh, seasonal flowers and greenery on the black console table (details on the table can be found HERE and on the DIY windowpane mirror HERE).
I think the protea are especially stunning (found them at Trader Joe's!).
Moving into the family room, I broke out of my comfort zone and styled a non-symmetrical mantle. Can you even believe it?  Both that I styled a mantle for something other than Christmas, and that it does not consist of a glass hurricane on either side of the TV.  I know…big stuff happening over here.
I placed more of those dried mini pumpkins (similar found HERE) under a glass cloche and added a small cascade of dried artichokes and a coppery plant mister (found HERE).
On the other side of the mantle I added fresh greenery, antique wooden spools under another cloche (found HERE – I usually use it without the base), some black and white striped grosgrain ribbon, and a little gold feather bowl (found HERE).
I love the look of this greenery I found in Whole Foods' floral section.  I don't know what it's called but it has stayed looking fresh for a whole lot of days now – always a nice feature with fresh flowers and greens!
I put together a very simple collection on the family room coffee table – wildflowers from the backyard and some bumpy mini gourds I picked up at Whole Foods.
Thanks so much for taking a peek inside my house this fall, and I hope you enjoyed the tour.  Be sure to head over to Finding Home where the tour continues.
I'll add a list of links to all the home tours when we've all finished sharing this week.  You won't want to miss them, they've been so inspiring and lovely!