As promised in my post yesterday, I'm breaking down how I took a took a sad, naked wall in my kitchen and turned it into a pretty focal point.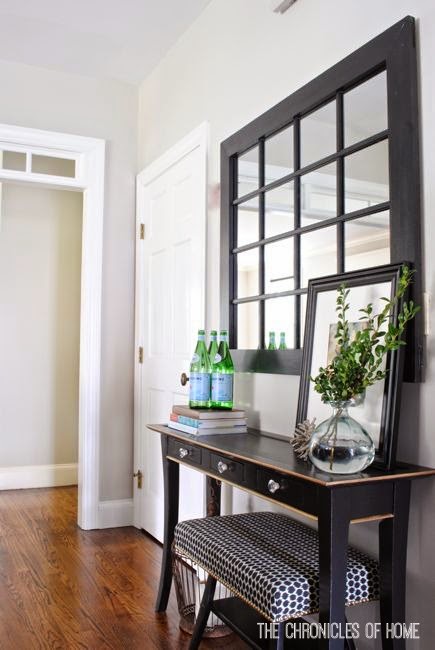 The piece that really anchors everything is this console table, which has been with me for awhile now – about 8 1/2 years, I'd say – which is pretty impressive considering it's sort of a cheapo table I bought at Target before Target furniture got kind of cool.
I'm a trendsetter that way.
You can see the basic evolution in my hands here: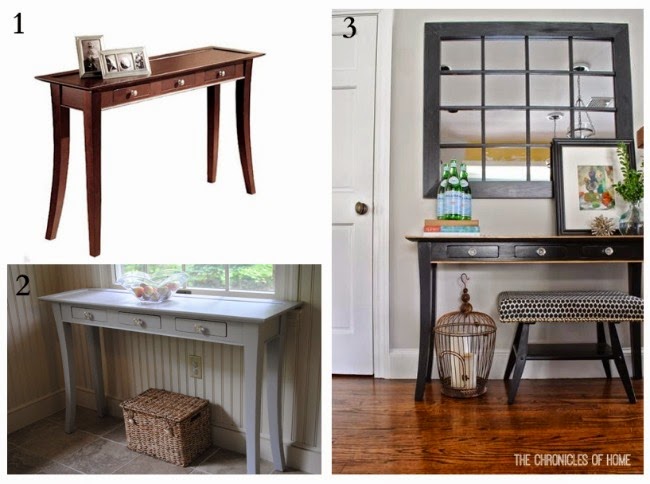 It started as an espresso-brown, unoffensive, but perhaps a bit dull, console table.  A few years later I gave it a coat of pale grey paint and some crystal knobs.  And now today it's living life in shiny black with some gold detail.
I actually didn't mind the grey all by itself, but with the Edgecomb Gray walls throughout the kitchen and family room, the table looked completely washed out.
So here's my simple 1-2-3 recipe for taking a plain table and giving it some va-va-voom!
Paint the table a color you love.  Really.  Any color.  I think something with a bit of gloss ups the glam factor.
Add some gold detail.  I used Rub-n-Buff in Antique Gold here along the top and bottom edges of the table.
Swap out the hardware it came with for something pretty.  Anthropologie always has a gorgeous selection of knobs and are usually my first stop.  I went with crystal knobs for this table.  Anthro doesn't carry the exact ones anymore, but here are a few that have a similar look (colors listed because several come in different colors).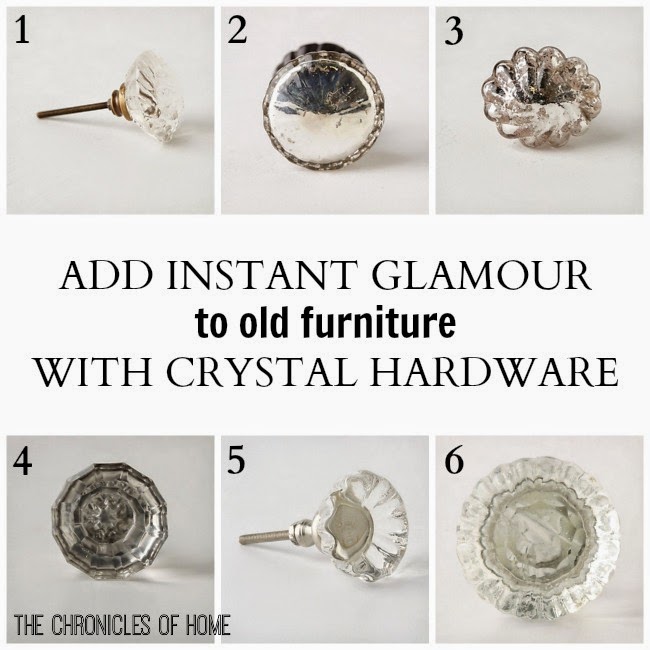 And, truly, that's all there is to it.  With a few thoughtful details, it's really quite easy to take a generic piece of furniture and turn it into something that is totally unique and looks high-end.
Several of you asked about the bench underneath the console, too.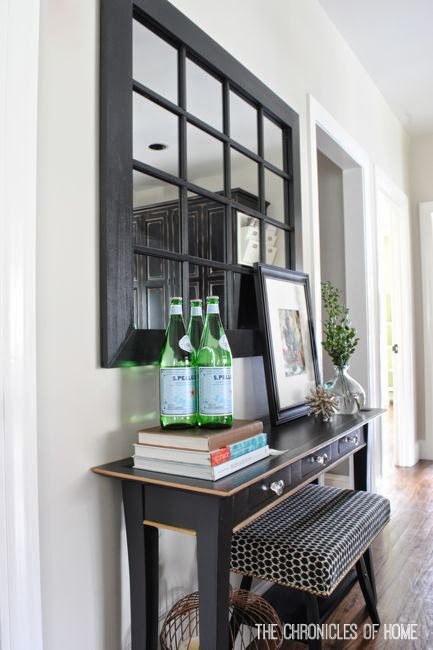 You can see how I took a cast-off table and turned it into this cute upholstered bench
HERE
.
Check back tomorrow for a tutorial on how to make the windowpane mirror I hung above the console table!
* * * * * * *