It's time for another round of Blogger Stylin' Home Tours, hosted by Lindsay at The White Buffalo Styling Co., and this time we're sharing our homes freshened up for spring. If you're coming over from The Makerista, hello and welcome! I absolutely adore Gwen's style.
I've already been focusing a bit on spring while I finished up making over my screened porch for Home Depot's Patio Style Challenge, but the rest of my house has been pretty sorely neglected in the spring department. Once I had the screened porch project finished, I turned to the indoors and how I could add a few little touches of spring life and color to the spaces I spend the most time in every day.
Flowers and fresh greenery add life and vibrance to a room any time of year, but I find them especially brightening in springtime. I placed a few small bunches of flowers on the black console table in my kitchen. Details on the DIY windowpane mirror can be found HERE.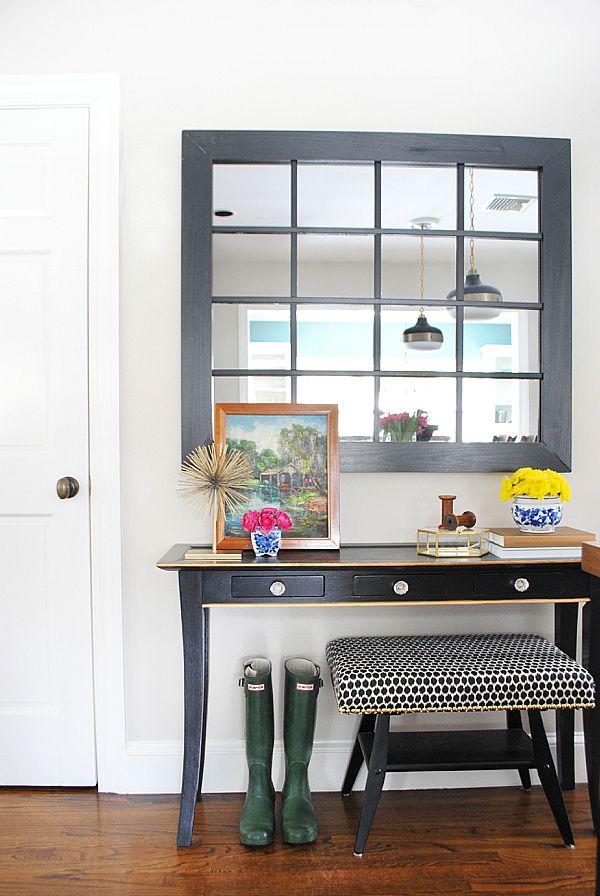 Trader Joe's in my favorite place to pick up affordable bunches of flowers, like the ranunculus and chrysanthemums I used here.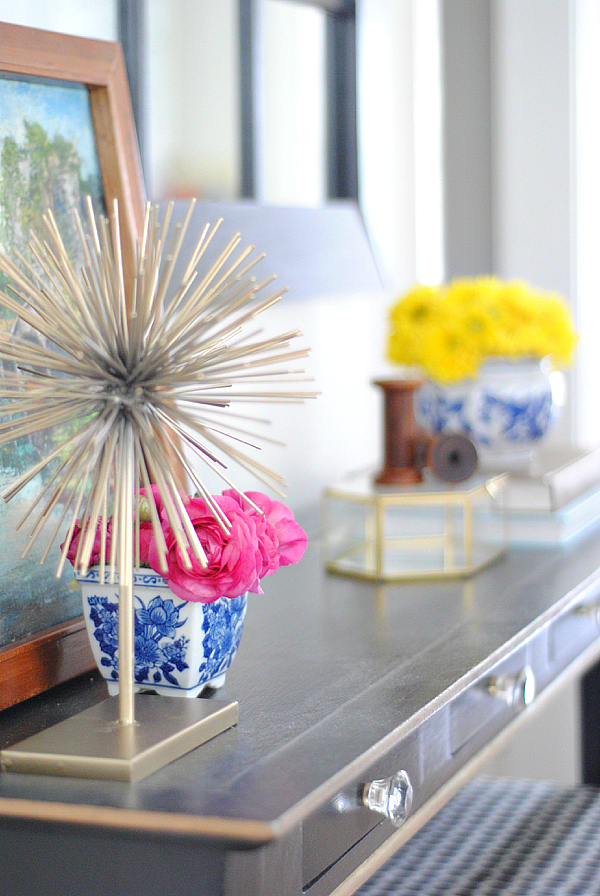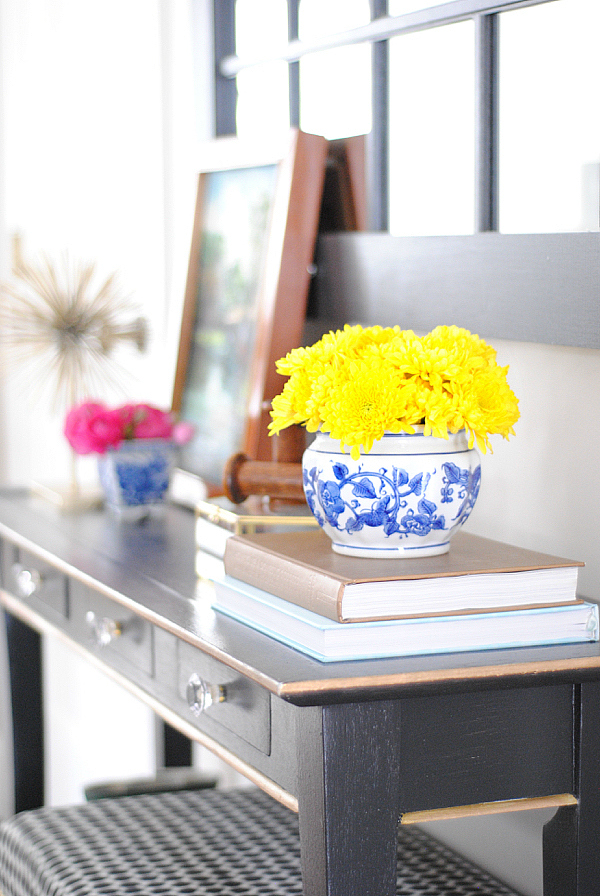 In my front entryway, I swapped out the throw pillow on the black cane chair for something a little brighter and added some more flower arrangements. And by arrangements I mean one kind of flower together in a vase :)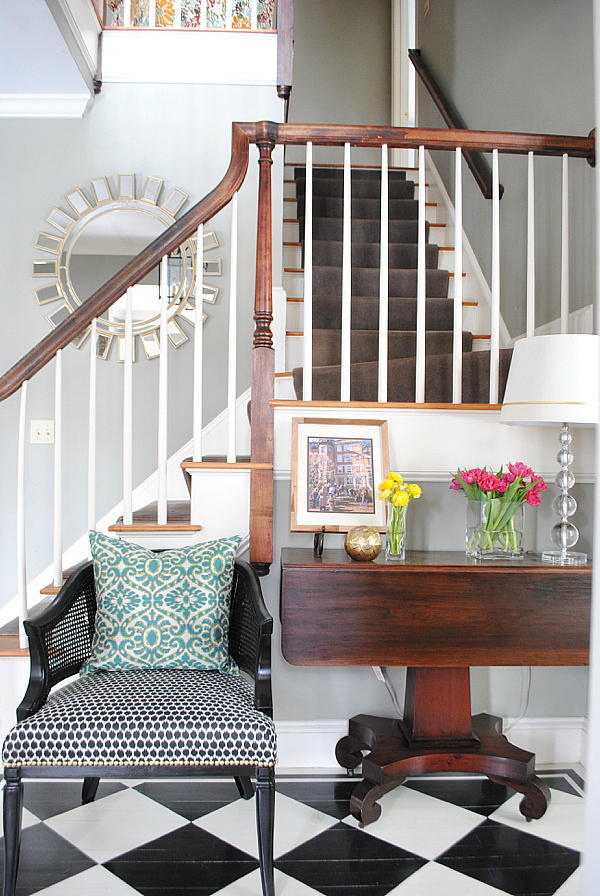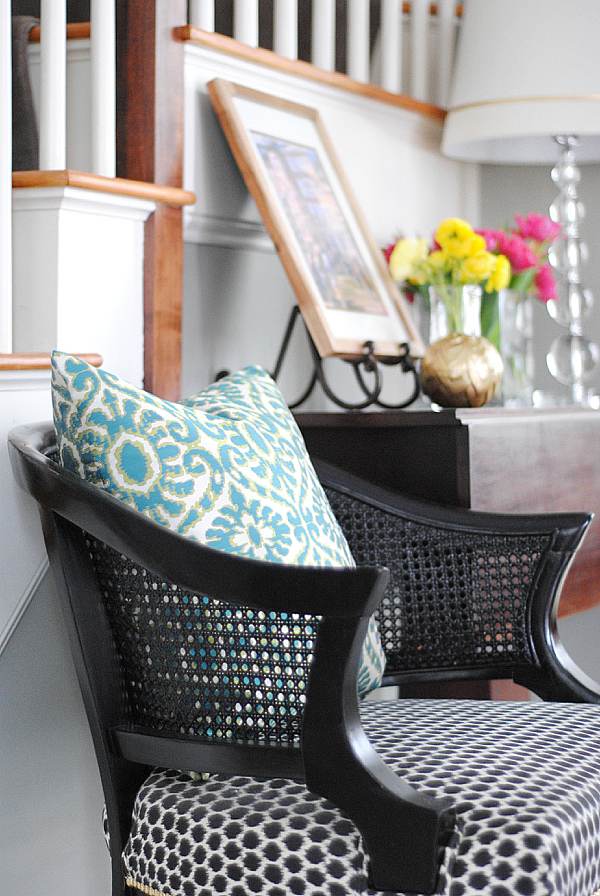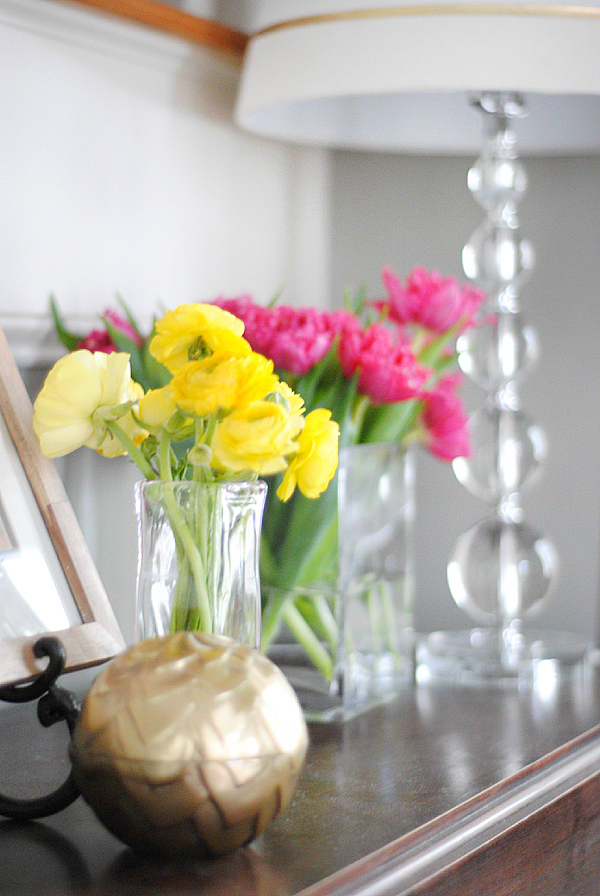 I keep the framed watercolor on the table year round – it was a print sold as a fundraiser at the school where I used to work in Boston, and they gave it to me when I left right before Ada was born. That's me there at dismissal one day :)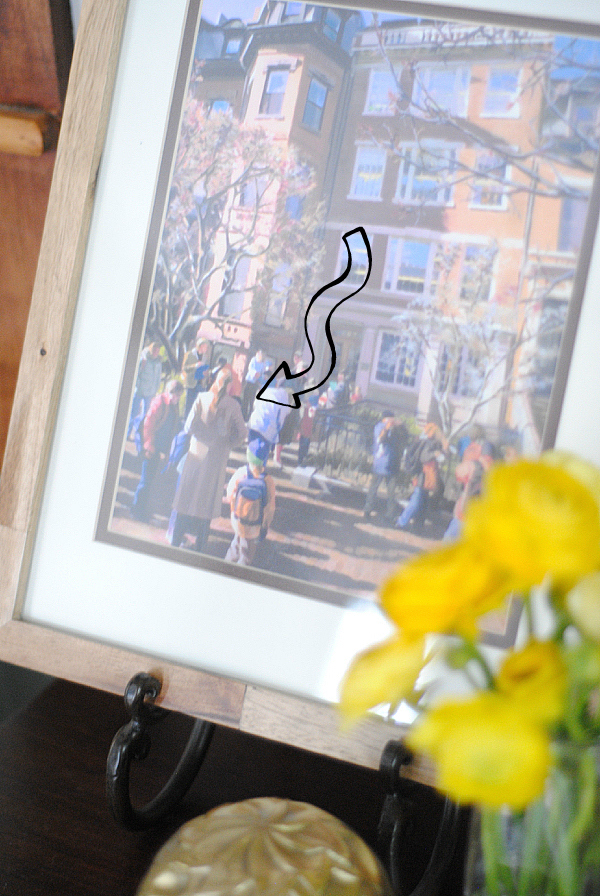 In the living room I replaced the fur and sequined pillows from the winter with another of the turquoise pillows I used in the entryway and a pink patterned lumbar pillow. A tutorial for the DIY leather pouf can be found HERE.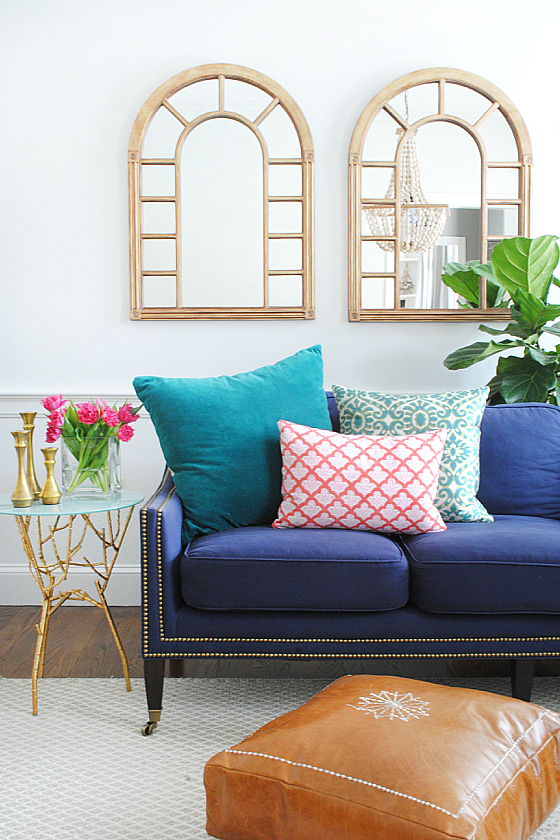 Moving into the family room, I swapped out the pillows on the sofa like I did in the living room.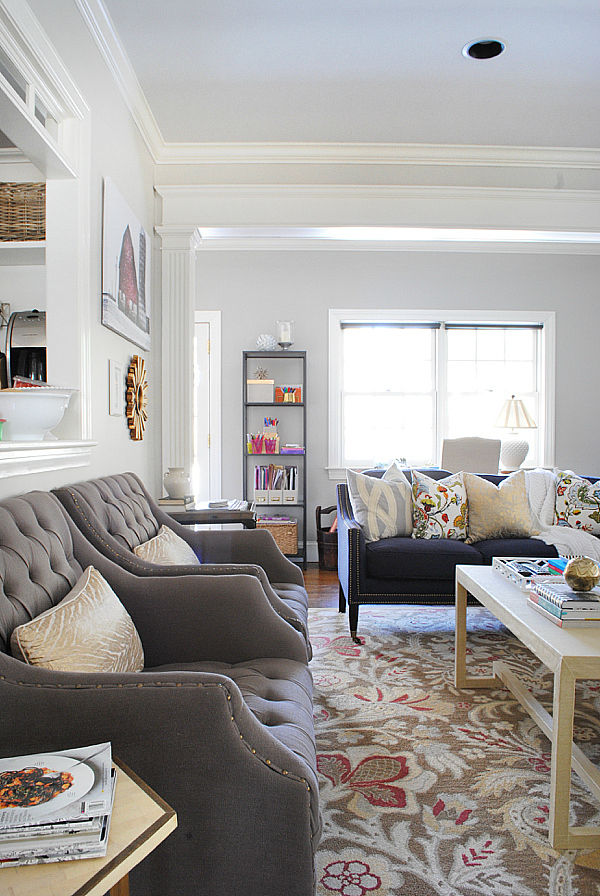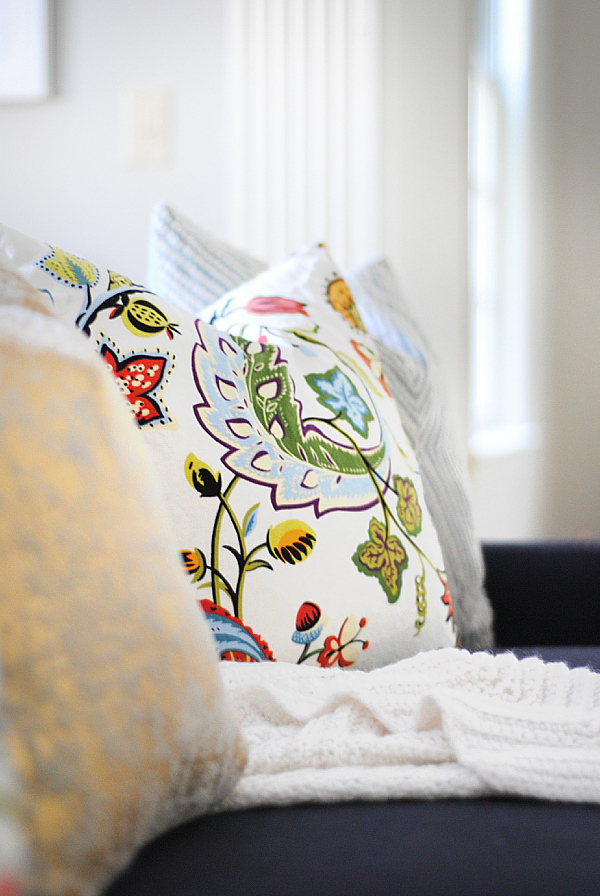 You might also notice that the navy blue sofa is making an appearance in both the living room and the family room. It's usually my living room sofa but my family room sofa had a recent run-in with my sick daughter and needs some cleanup. So the navy sofa is standing in as our everyday sofa for now.
Details on the DIY lacquered grasscloth coffee table can be found HERE.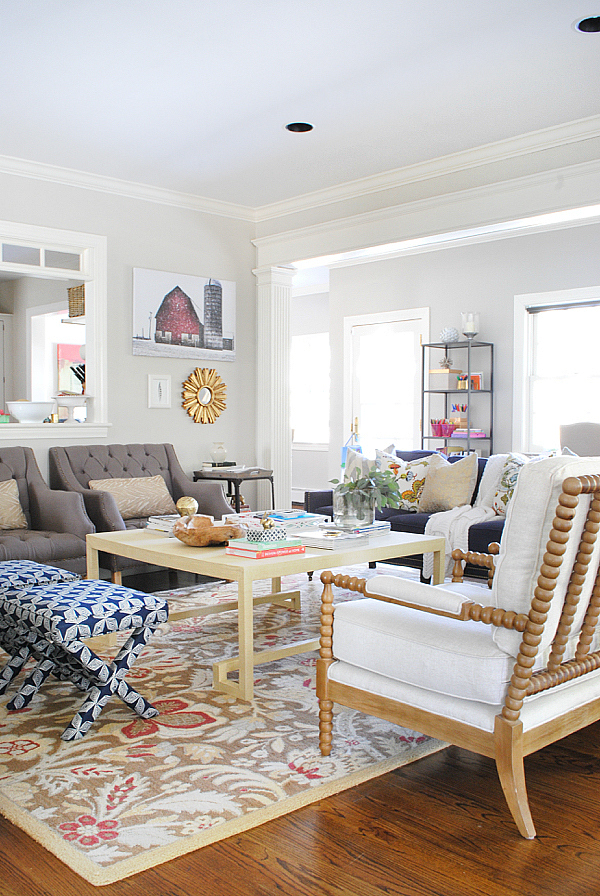 The navy x-benches are usually at the foot of my bed but one of the things I love most about them is how easy they are to move around the house when I need extra seating. Oh, and the fact that they are around $50 with discounts!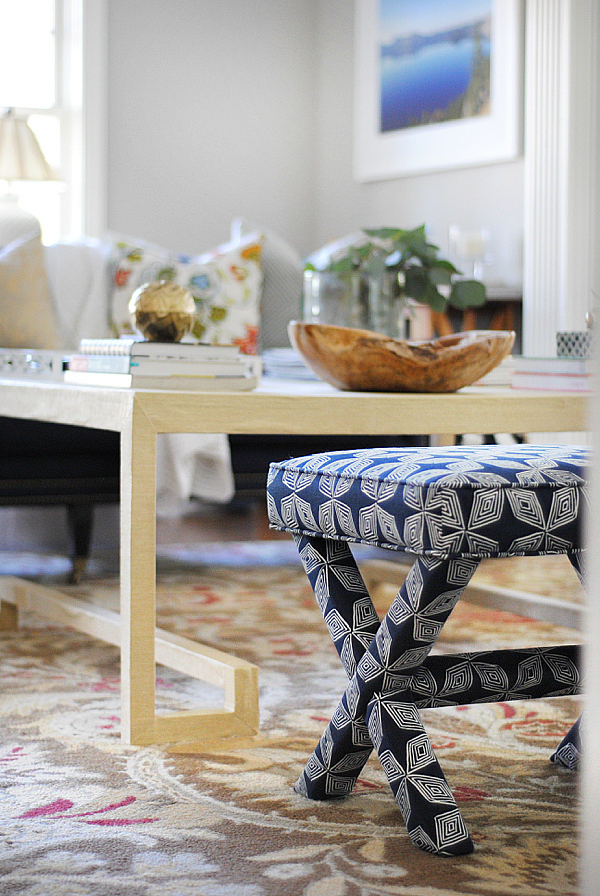 I put some drapey eucalyptus branches in a glass vase on the coffee table for a touch of fresh greenery in the family room.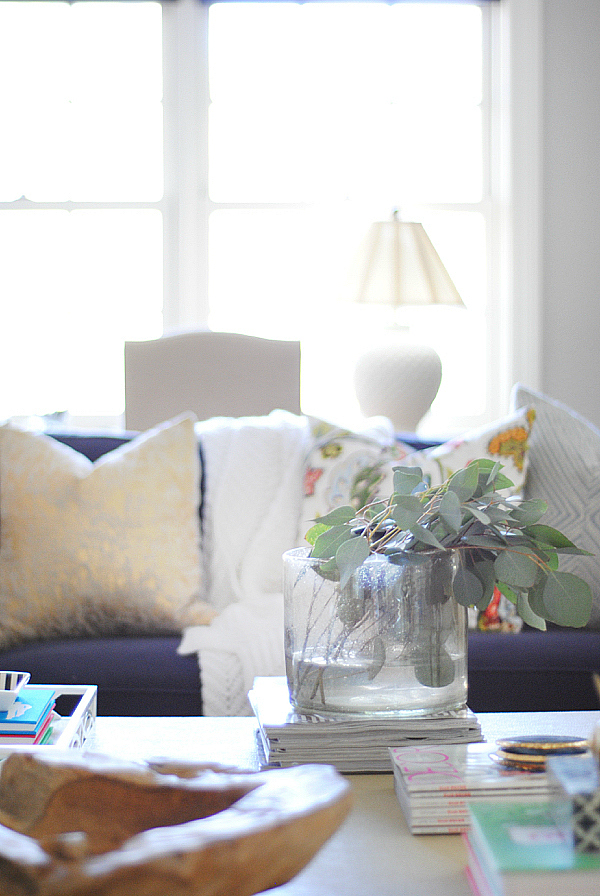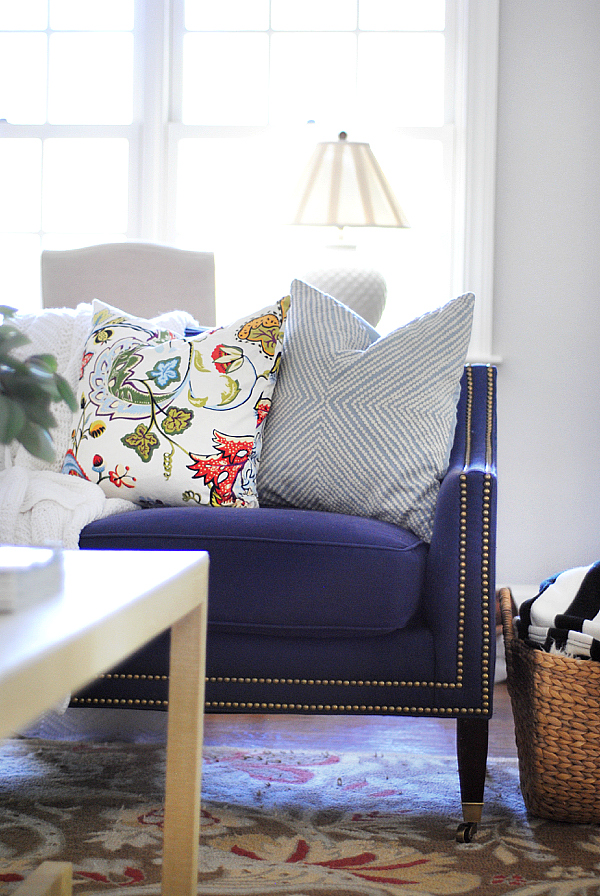 Thanks for taking this little spring tour of my home with me today! What do you do to bring some spring inside this time of year?
Make sure you don't miss the next stop on the tour – Lucy at Craftberry Bush never fails to inspire me with her gorgeous decorating and photography.
I hope you can check out everyone's spaces still to come this week – there is so much inspiration still ahead!
The White Buffalo Styling Co.
Bliss at Home
The Makerista
The Chronicles of Home
Craftberry Bush
A Place of My Taste
Burlap and Lace
Dimples and Tangles
Restless Arrow
Iron and Twine
The Nester
Simple Stylings Blog
Cuckoo 4 Design
Avery Street Design
SG Style
Sarah M. Dorsey
My Fabuless Life
House Seven
Dwellings by Devore
Inspired by Charm
Dream Green DIY
Primitive & Proper
Claire Brody
The Blissful Bee